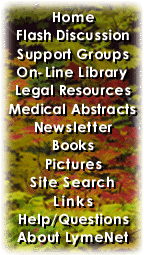 ---
LymeNet on Facebook
LymeNet on Twitter
---
---
The Lyme Disease Network receives a commission from Amazon.com for each purchase originating from this site.
When purchasing from Amazon.com, please
click here first.

Thank you.




Dedicated to the Bachmann Family


LymeNet needs your help:
LymeNet 2020 fund drive

The Lyme Disease Network is a non-profit organization funded by individual donations.

| | |
| --- | --- |
| | |
Author
Topic: sister called (you're gonna love this)!!!

randibear
Honored Contributor (10K+ posts)
Member # 11290


posted

---

well ya'll i know you won't believe this. hmm, maybe you will. yep, you will.

my sister, the radiologist, called. she said yes got the email and she "didn't see why i was all that concerned." duh!! she said dad had an enlarged heart, lots of people have them, and she works with a woman who is in congestive heart failure.

helloooo!!! "you just need to loose, what? 50-75 pounds. don't work yourself up about this. no big deal."

AND THEN THE TOPPER!!!!

"well if something does happen, ya know, hmm, i mean we're all concerned, hmmm, but you did get a share of mom's estate and we, umm, feel that mike should give that money back to us. i mean, you've saved it, you're not spending it, so we feel it should, um, stay in the family, and we should get it. besides, he's not family and he's just going to blow it on guns, boats, and stuff, and really it's our money."

TA-DA....i said "well it's in a shared account and if something happens to me, but really it won't cause you said this is no big deal, but if it should, then by texas law it's his. and no, i haven't spent a cent, because i'm saving it. because now with lyme and a heart condition, i may need it to pay some medical bills if they happen. cause insurance sure ain't gonna pay for everything. and that's the only cash i have on hand. 15 grand ain't much but it's mine. so i understand how you feel, but hey, right now it's safer where it is."

CAN YOU FREAKING BELIEVE THIS!!!

HYPERTROPHIC CARDIOMYOPATHY IS NO BIG DEAL BUT IF YOU DIE, WE WANT MOM'S MONEY BACK!!!!

now ya'll top that...my family absolutely takes the cake.

if somebody can top it i'll send you card.

they've always felt i didn't deserve part of mom's estate because i live in texas and wasn't around.

well, gang, she let it slip that mom was so malnourished when she went in the hospital that she couldn't fight off a gnat let alone mrsa, c. diff, etc., and why the friggin heck was she malnourished with three of them living right nearby? oh yeah...

forget it, i'm getting all worked up.

but i swear this to you. i am NEVER EVER emailing, calling, sending, receiving, giving, etc., one damn thing to those women.

and i can absolutely guarantee that if something happens to me, mike would blow his brains out before he'd give them the time of day, and that's the truth, pure and simple.

what kind of people are these?

mom would be absolutely horrified. but she did tell me that when she died she was afraid of what was going to happen. so, yeah, she knows.

i'm just floored. just floored.

oh my heart, my heart.....

--------------------
do not look back when the only course is forward


---

Posts: 12262 | From texas | Registered: Mar 2007 | IP: Logged |

Dekrator48
Frequent Contributor (5K+ posts)
Member # 18239


posted

---

I'm so sorry randibear, that this happened to you.

I am sorry for your health problems and the concern it causes, for the insensitive comments your sister made and how it made you feel.

I DO understand how hurtful those kind of things are.

May God watch over you, guide you to restored health and give you comfort.

I pray that your sister's heart will open and see the true power of God...love.

--------------------
The fibromyalgia I've had for 32 years was an undiagnosed Lyme symptom.

"For I know the plans I have for you", declares the Lord, "plans to prosper you and not to harm you, plans to give you hope and a future". -Jeremiah 29:11


---

Posts: 6076 | From Pennsylvania, USA | Registered: Nov 2008 | IP: Logged |

MDW005
Frequent Contributor (1K+ posts)
Member # 22706


posted

---

Sounds like my mothers side of the family! My mother disowned her sisters eight years ago.
hasn't spoken a word to them.

--------------------
God's promises mean you always have something wonderful to look forward to.


---

Posts: 2150 | From Georgia | Registered: Oct 2009 | IP: Logged |

carly
LymeNet Contributor
Member # 14810


posted

---

Well, that takes the cake for sure.

and, no I can't top it.

I'm sorry for you and Mike. Just try not to dwell on this.

---

Posts: 797 | From New York | Registered: Feb 2008 | IP: Logged |

jasek
LymeNet Contributor
Member # 12395


posted

---

You know the old saying...You can pick your friends, but you can't pick your family....too bad for you. I say cut them loose. Don't do the"dance" anymore. Each time they engage you, then your back in the dance. Don't accept calls, don't call them. I sense a lot of bad Karma coming their way. Support your mom the best way you know how. Don't throw any negitivity her way.

You have to cut the drama out of your life . People that bring you down have so much negetive energy and they are spewing it at you. You get what you put out, so you change your thinking and actions now and watch the difference it makes. Prayers and Peace to you. Jasek

---

Posts: 161 | From midwest | Registered: Jul 2007 | IP: Logged |

OptiMisTick
Frequent Contributor (1K+ posts)
Member # 399


posted

---



[ 05-04-2010, 02:07 AM: Message edited by: OptiMisTick ]

---

Posts: 1338 | From Above the Clouds | Registered: Nov 2000 | IP: Logged |

randibear
Honored Contributor (10K+ posts)
Member # 11290


posted

---

the reason i kept trying is because i had to know that i did everything humanly possible to do the right thing.

i can finally say i've had enough.

i can't change myself or make myself acceptable to them. it's not going to happen.

they have alot of bitter feelings toward me. and i think it stems from guilt and i'm the handiest target since i live so far away.

so be it.

--------------------
do not look back when the only course is forward


---

Posts: 12262 | From texas | Registered: Mar 2007 | IP: Logged |

map1131
Frequent Contributor (5K+ posts)
Member # 2022


posted

---

Money, death and family is usually not a good situation. It's known to cause many family feuds.

But to come right out and ask for "mom's" money if anything happens to you....is really bad, unbelievable bad.

Now that you have gotten the anger out, please let it go. It will only harm you.

Pam

--------------------
"Never, never, never, never, never give up" Winston Churchill


---

Posts: 6449 | From Louisville, Ky | Registered: Jan 2002 | IP: Logged |

Marrit
LymeNet Contributor
Member # 25454


posted

---

It's very painful when the ones who are blood related and ought to be your greatest support system instead are the most harsh and judgmental in their thoughts and words. "Familiarity breeds contempt."

It's as if, by virtue of that blood bond, you "belong" to them, they have some right to treat you like they wouldn't dare treat another outside the family. This only shows their low opinion of themselves, which in this case appears to be a justifiable opinion, since their thoughts have been unloving and covetous, among other things.
"To the pure all things are pure." I would add,
"To the impure, all things are impure."

People generally can forgive only to the extent that they themselves have truly received forgiveness from God.

"He that is saved from much, loves much."

---

Posts: 277 | From Pennsylvania | Registered: Apr 2010 | IP: Logged |

Remember to Smile
Unregistered



posted

---

Dear randibear,
Please know that I care and CAN relate fully.

Next, know that I'm SO grateful 'cause I was just sputtering LOL reading your first post! THX! I needed that! Your spunk & humor in dealing with baloney will see you thru!

You've got fans here who don't mind hearing all about it when you're down.

I can't "top that." TX is bigger than anything and I know not to mess with TX!

I live a parallel life. My eldest sister stopped talking to me and won't let her hubby or my nieces talk to me on the phone ever since I came up with the same idea for a wedding gift for our youngest bro that she'd thought of too yet hadn't shared. Yes, I'm serious. He's been married 3+ yrs now...

When she got married decades ago and I was wisely living out of state, big sis asked for my measurements for the ugly brides maid dress. She refused to believe my chest measurement because it was larger than hers. Insisted I get measured again at my seamstress' house and make the seamstress herself call with the TRUE measurement. Big sis was so right; I'd given her the wrong numbers. My chest was 1/2" larger than I'd stated. No apologies.

There are parallels with my widowed Mom. People from Church call me long distance all concerned about my Mom (I live 4.5 hrs away). The sibs 20 min away think everything's fine. "You just don't know old people," they say. Never mind I'm the only sib that's worked in a nursing home, then volunteered for yrs in another nursing home.

Fortunately I have more sibs. Two youngest bros have been kind. I had 3 surgeries last yr and big sis never made a peep.

But I'm gonna stop, 'cause you had the right fiesty attitude today, randibear. KNOW YOU ARE VALUABLE AND INNATELY WISE.

Fortunately, you CAN chose your friends. Major cyberhug to you.
Sincerely,
Smile

---

IP: Logged |

Remember to Smile
Unregistered



posted

---

Hey, just want to be sure you know, randibear, that I DO take your LD and heart problems seriously.
I also come from a place of believing that laughter is the best medicine. Free and so very cost-effective.

It's beyond awkward to begin a relationship in cyberspace when you don't know me already and may not recognize my frequent dry sense of humor.

SO hope no offense was taken. I want you alive and wealthy!

---

IP: Logged |

ping
Frequent Contributor (1K+ posts)
Member # 6974


posted

---

Sorry to hear it, randibear. Unfortunately, as you already know from being on this board, this kind of treatment via family isn't unusual. Sometimes it's impossible for me to believe that I'm genetically connected to these people called "relatives". (Relative whats', I'd like to know...)

Hey, why don't you utterly p*** them off by writing them a letter and telling them that you're leaving all the $$$ to Lyme research, or to Lymenet! That should make them blow a gasket a whole lot sooner than you will.

Ugh, I am sorry for your heartache (literally, no pun intended). I've so given up on family long ago for just some of the reasons you stated.

--------------------
ping
"We are more than containers for Lyme"


---

Posts: 1302 | From Back in TX again | Registered: Mar 2005 | IP: Logged |

aklnwlf
Frequent Contributor (5K+ posts)
Member # 5960


posted

---

F*** em!!!

That's what I say. Who needs that crap in their life?

You're better off without all the drama!



--------------------
Do not take this as medical advice. This comment is based on opinion and personal experience only.

Alaska Lone Wolf


---

Posts: 5651 | From Columbus, GA | Registered: Jul 2004 | IP: Logged |

lymielu
Member
Member # 5652


posted

---

I love your humor, I havent posted here in a long time, but your post really inspired me. You see, I am in similiar circumstances and have actually let the shame of being unsupported keep me from forums.
Just last week though when I called my mom, she confirmed my suspiocions that she was mad at me for not coming to see her. It is a 3 hour trip but I recently was hospitalized and still recuperating. She knows that I am housebound and have only left the house for doctors appointments. But then 11 years into this hell and she still doesn't believe I am sick. She refuses to see my lab results because she is very forthright with her opinion that she doesn't want to believe that I am sick. She decided that she wanted to believe that the doctors just keep screwing up and it is all a big mistake. But this last tiff she has decided that the reason I don't lleave the house is due to paranoid delusions and a phobia of the outside.

Then it hit me....I knew why these things kept happening. I tend to take everything to heart and as you said, I too must feel that I have done everything to keep the lines of communication open.
So if they ever came up with anything reasonable, I would be compelled to go above and beyond the grace of reason to try to please them. However, in consideration of the ridiculous things they come up with , it just confirms that this really , truly isn't about me and my illness. No sane person who was truly concerned about another human being would come up with the things I've been confronted with. I consider their tirades a little gift from God, trying to show me how much more I have going for me , even with a disability.
Bless your dear heart
Peg

---

Posts: 44 | From San Antonio, TX USA | Registered: May 2004 | IP: Logged |
Contact Us | LymeNet home page | Privacy Statement

Powered by UBB.classic™ 6.7.3

---
The Lyme Disease Network is a non-profit organization funded by individual donations. If you would like to support the Network and the LymeNet system of Web services, please send your donations to:
The Lyme Disease Network of New Jersey
907 Pebble Creek Court, Pennington, NJ 08534 USA
http://www.lymenet.org/
---
Home | Flash Discussion | Support Groups | On-Line Library
Legal Resources | Medical Abstracts | Newsletter | Books
Pictures | Site Search | Links | Help/Questions
About LymeNet | Contact Us
---
© 1993-2020 The Lyme Disease Network of New Jersey, Inc.
All Rights Reserved.
Use of the LymeNet Site is subject to Terms and Conditions.
---