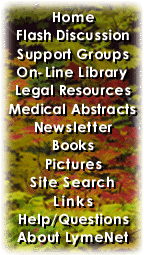 ---
LymeNet on Facebook
LymeNet on Twitter
---
---
The Lyme Disease Network receives a commission from Amazon.com for each purchase originating from this site.
When purchasing from Amazon.com, please
click here first.

Thank you.




Dedicated to the Bachmann Family


LymeNet needs your help:
LymeNet 2020 fund drive

The Lyme Disease Network is a non-profit organization funded by individual donations.

| | |
| --- | --- |
| | |
Author
Topic: He keeps telling me it's in my head... that I am just lazy.

luvema
LymeNet Contributor
Member # 26650


posted

---

I been going to doctors for 11 months (with no answer). So, I convinced my dad I need to see a lyme doctor. He was like okay fine whatever. When I saw her, through the three hours of her explaining everything my dad seemed extremely bored, and didn't want to really listen to her. She put me on some vitamins and I started herxing and I felt more sick. So my dad was like, "She is making you more sick on purpose so you keep going back to her and paying all that money."

I just don't know what to do. He keeps telling me that there is nothing wrong with me, and if I join a swimming class all my symptoms will go away. That is is just lack of exercise and I am just lazy. It hurts so bad.
I don't even know if I am going to be able to keep on seeing that doctor. We can't really afford it, and he thinks that lyme doctor is out of her mind. He keeps making fun of my lyme doctor, and everytime I try to explain things he just makes fun of them or does not want to listen at all.

I really don't know what to do. He is causing me to have more stress than the actual symptoms. I try to ignore it as much as possible, but at the same time it's in his hands for me to continue seeing that doctor or not. I can't work, so I can't really pay for the visits.

Every time I try to explain some things about it, he doesn't want to listen.

--------------------
Ema


---

Posts: 394 | From Southern California | Registered: Jun 2010 | IP: Logged |

Remember to Smile
Unregistered



posted

---

Dear Ema,
I'm sorry to hear you're getting verbal & emotional abuse from your dad. Bad deal!

I understand you're probably exhausted, and certainly not lazy since you're trying to learn more about your healthcare needs.

Lyme disease & the co-infections are tough to understand, and few bother to try.

I had an above-average healthy lifestyle (including long-term gluten-free diet) and started increasing my nutritional supplements (as per ILADS Guidelines from Dr B.) in the two months before my first LLMD appt. I had herx reactions from the extra nutrition! So, you're not the only one. Because of Borreliosis, our bodies are immune compromised and even extra nutrition may cause unusual (temporary) symptoms.

Stress may be the worst thing of all for us. We have to find ways to shed it and avoid it.

If your dad is willing to pay for you to take an exercise class, i believe Qi Gong is best. I love Qi Gong! It is a gentle, nourishing, healing art that is quite enjoyable. I much prefer it over tai chi and yoga. And Qi Gong has been studied and proven to heal chronic illnesses (like cancer) when used in conjunction with good nutrition.

Maybe borrow a Qi Gong video from the library to see if you're interested first, but don't let your father watch it or he may just mock that ancient Chinese art, too.

If you have the energy, walking is ideal. A swim class could be too demanding because others would set your pace. You probably sensed that yourself, but just weren't allowed to express your mind to your father.

Living with an abuser, like your dad, can add so much stress to a life! Abusers hate having someone else get attention (like you in your LLMD's office).

Verbal abuse is common and can be horribly draining! Maybe you can find new ways to recognize when your dad is just being abusive (so you don't waste your breath or get dragged down). Many here have struggled with domestic violence and PTSD that exacerbated Borreliosis.

Patricia Evans' book is an eye-opener:
The Verbally Abusive Relationship: How to Recognize It and How to Respond

The classic on abusive men is by Mr. Lundy Bancroft:
Why does he DO That? Inside the minds of Angry and Controlling Men
Be careful about bringing that book home, though. Your dad may choose to become more abusive if he read it.

There are wonderful books available through your local library system to help bring personal power and peace to your life. You may also wish to consider going to a domestic violence support group meeting in your area where you could receive face-to-face encouragement.

Beverly Engel wrote several helpful books for women. This book is excellent:
Encouragements for the Emotionally Abused Woman: Wisdom and Hope for Women at Any Stage of Emotional Abuse Recovery
It's written in very short one-page messages that are potent, stirring, inspirational, and healing.

Most of all, have faith in your own intuition. Keep listening to your body's messages. Find ways to escape his negativity and relax. That could be by finding a private park bench or wandering off into a favorite photo from a magazine...

Keep posting here and seek help as needed.

All best wishes,
Smile

---

IP: Logged |

Misfit
LymeNet Contributor
Member # 26270


posted

---

Smile gave you excellent advice..i cant expand on that but wanted to tell you how sorry i am that you deal with this. Unfortunately too many living with illness have similar problems as you do. Trust your gut feeling. And go to that LLMD as long as you can and leave your father in the waiting room. He doesnt sound like the kind of person who will listen to anyone. Why should he when he has all the answers? Do your best to tune him out. Not easy i know. Hugs...

---

Posts: 624 | From Oklahoma | Registered: Jun 2010 | IP: Logged |

BoxerMom
Frequent Contributor (1K+ posts)
Member # 25251


posted

---

Luvema - Trust yourself! YOU are the one who lives in your body and understands what is going on with your health.

A swimming class will not cure you. That is absurd. It is dismissive and hurtful for your dad to suggest it.

Can you live with someone other than your dad while you treat for Lyme? His inattention and negativity will not help you recover.

And please read some of the books suggested by Remember to Smile. Your dad's attitude and comments have NOTHING to do with you. The are reflective of HIM. You are simply the unlucky recipient.

Please try to continue with your LLMD. If you can't, use this board to research natural medicine alternatives.

Much love,
BoxerMom

--------------------
Must...find...BRAIN!!!


---

Posts: 2867 | From Pacific NW | Registered: Apr 2010 | IP: Logged |

luvema
LymeNet Contributor
Member # 26650


posted

---

Thank you guys.

He was also just telling me, that the antibiotics she put me on are to make me test positive for lyme, so I keep going to her office. What the hell?!

He said they are going to raise my antibodies, so I will get a false positive.

--------------------
Ema


---

Posts: 394 | From Southern California | Registered: Jun 2010 | IP: Logged |

Robin123
Moderator
Member # 9197


posted

---

Don't know if this will help or not: google for Lymedad letter. He wrote about how he didn't believe his daughter either, and then he learned to.

---

Posts: 13069 | From San Francisco | Registered: May 2006 | IP: Logged |

Geneal
Frequent Contributor (5K+ posts)
Member # 10375


posted

---

First off take a deep breath.

It is difficult for us who are infected to wrap our minds around this disease.

If someone would have told you all of their symptoms with Lyme,

How many antibiotics they took, how long they had to take them, etc.

Could your response be similar to your Dad's?

I had this issue with my whole family.

Part of their ignorance (I choose to believe) came out

Of frustration with their inability to help me get well.

The other part of their ignorance was just ignorance.

They never "googled" Lyme. Never took the time out to try to understand.

I say try, because if you haven't walked a mile in my shoes,

You couldn't possibly understand or comprehend the incredible magnitude of this disease.

You cannot have an antibody response to a disease that isn't there.

No matter how many antibiotics you take.

Maybe get a copy of Under our Skin and have your Dad watch it.

It may be a real eye-opener for him.

Continue to pursue your health no matter what anybody else says.

After all it is your health.

Come here for support and compassion.

We do understand.

I remember my Mom telling me in the beginning (prior to diagnosis)

That if I tried to just have a positive attitude, I would feel better.

Trust me, we have all been there with family members.

Now, my Mom is my biggest supporter.

Hang in there.

Sending you hugs.



Geneal

---

Posts: 6250 | From Louisiana | Registered: Oct 2006 | IP: Logged |

sixgoofykids
Moderator
Member # 11141


posted

---

I had very similar treatment from my mom when I was growing up. I had Lyme, but I would overhear her telling people I had a "low threshold of pain." I would hear her talking to doctors about how I was a hypochondriac.

Unfortunately, I never got any treatment because no one, including myself, believed I was sick.

Finally, when I got to college, my roommate made me go to the emergency room because she was so worried about me. You all can guess how that turned out, yet another person (the doctor) who didn't believe me ..... he told me not to drink so much.

It never got better. I ended up never believing myself that I was ill, but I did find that I felt good when I ate a certain way (basically the Lyme/candida diet) and when I took supplements (kyolic garlic with astragalus, multiple vitamin, colostrum, iron, over-the-counter thyroid supp, etc.). I did that for years. I even had my amalgams out and chelated, that is when I stopped having symptoms for 12 years.

Then I got bitten again and ended up bedridden. My usual "treatments" didn't work this time. I *still* managed to struggle with denial after a lifetime of being told I was lazy and a hypochondriac, but I got treatment and got better.

One of my sisters came to me when I was preparing to go to Germany for treatment and she was repentant. She said she, my mom, and my other sister had been talking about how I finally had a label for my supposed illness. They never had believed me. I had no support from them and had to cut off all communication with them through treatment. The fact that I was traveling to Europe for treatment shocked her into believing me.

I'm sorry you're going through the same thing. One thing is better though, your dad believed you enough to take you to the doctor. Be sure you look for Lymedad's letter. It is very moving. Print it out for your dad and leave it where he'll be sure to read it on his own time so he can ponder it.

--------------------
sixgoofykids.blogspot.com


---

Posts: 13449 | From Ohio | Registered: Feb 2007 | IP: Logged |

LightAtTheEnd
LymeNet Contributor
Member # 24065


posted

---

I'm sorry you have to go through that.

We have all heard words like that at some time or another.

If you were already living with an abusive person and then got Lyme, things are likely to just get worse, and you can't fix it and will have to try to find a way to get out of the situation. It's very hard, though, if you're economically or physically dependent on somebody. I don't know your age, but it's especially difficult if you're young. But it is possible to get away if you have to.

If you had a good relationship, but then that person is just completely clueless and insensitive about Lyme, sometimes taking them to your LLMD, showing them Under Our Skin, telling them about your experience, etc. can win them over. But it sounds like your dad's attitude at your LLMD's office was not one of interest or curiosity or compassion.

The thing you must do is develop your own support network and don't let these abusive comments make you doubt yourself or quit your treatment. Learn what you can about Lyme (which you're obviously working on). Find a local Lyme support group or make Lyme friends on Lymenet. Confide in a trusted friend or relative, if you have anybody you can trust to support you without question, and ask for their emotional support while you are recovering.

If you are sure of yourself and convinced that you are doing the right thing, the "lazy" or "all in your head" comments will still hurt, but they won't make you think maybe that person is right and you should quit your treatment.

I had a very close relationship with my family before Lyme. They have always been supportive of me, even when they thought I was doing something weird or ill advised.

They did not understand how sick I was for many months. They were skeptical when I said I was too sick to do things with them. (After all, I still go to work every day. What they don't know is, that uses up all the energy I have and then some.)

They accused me of "thinking too negative" when I tried to explain to them how serious Lyme could be if I didn't get treated quickly, and how long it might take me to recover. (Which has proved true; I am still sick after 14 months, but improving gradually.)

They wanted me to assume I would get well in the next month or two, and thought that any plans I made for being sick longer than that were just needless and harmful pessimism on my part. My mom actually said once that I should stop worrying so much and "making myself sick." I had to explain to her that FIRST I got sick, and THEN I got worried.

After I went to my LLMD, and then my family watched Under Our Skin with me, they hugged me, gave me some money for meds, and told me they were glad I persisted until I got my diagnosis and got started on good treatment.

If you have a good relationship (or used to have), then your relatives will ultimately be glad of your recovery. You need to do whatever it takes for you to recover, even if they don't understand or support you while you're doing it. They can thank you later, when you're well.

And I agree, Lymedad's letter was very moving.

Hang in there.

--------------------
Don't forget to laugh! And when you're going through hell, keep going!

Bitten 5/25/2009 in Perry County, Indiana. Diagnosed by LLMD 12/2/2009.


---

Posts: 756 | From Inside the tunnel | Registered: Jan 2010 | IP: Logged |

elizzza811
LymeNet Contributor
Member # 24713


posted

---

I'm going through the same thing. I finally gained weight with antibiotics for Lyme/bart/babs (I was looking skeletal), and even that didn't convince my family it was Lyme, or SOME type infection, at least in the beginning. And since I'm still experiencing most of my symptoms after years of antibiotics, it's easy for them to say now it was never Lyme and I'm just imagining these symptoms, and that this is why the antibiotics aren't helping.

But if you're like me, and you do remain ill, here's another illness nobody (even your family) will ever believe in that I'm convinced deep down is part of the Lyme mystery for all of us, whether we want to admit it or not...

http://weepinitiative.org/talkingtoyourdoctor.pdf

---

Posts: 495 | From USA | Registered: Mar 2010 | IP: Logged |

Remember to Smile
Unregistered



posted

---

Dear Ema,
Thinking of you and sending healing thoughts your way... Stay confident about your own path to healing.

elizzza811,
Thanks for posting that link. I'd like to get one of the medallions to wear as a necklace for some protection from electrical distruptions. Do you have a fav? Please PM or direct me to another thread about this.

---

IP: Logged |

luvema
LymeNet Contributor
Member # 26650


posted

---

Thanks everyone,

Helped a lot.

--------------------
Ema


---

Posts: 394 | From Southern California | Registered: Jun 2010 | IP: Logged |

Karen Mc
LymeNet Contributor
Member # 23354


posted

---

Hi Ema,

I have no idea how old you are but assume perhaps you live at home?

First of all you have a beautiful name...my grandmothers name was Emma (:

Second of all...I am so sorry you are having to go through that with your dad.

As everyone else has said..TRUST your instinsts...do not give up!!! You are not lazy.


This is definetly going to be an uphill battle.
I was diag April 2009 after being reinfected..looking back now I probably had lyme atleast 20+ years.

I finally got so sick and Dr's couldnt figure out what was wrong with me...I of course started to doubt myself but my best friend told me to NOT GIVE up...so I keep praying and searching until I got my answer...lyme..

I was tested, which came back positive but upon researching it was obvious....it was like a jigsaw puzzle and all the pieces began to fit into place.

Although others (family, co-workers, friends etc) know I have Lyme they still dont completely get it and dont understand the full picture of how it affects us.


DO NOT give up, DO NOT lose hope and please continue to get treatment.

It is easy for your father to think the LLMD is just trying to get you to return, because he doesnt understand the disease. I just had a friend tell me the VERY SAME THING 2 days ago because I have been deathly ill with an infection and been very sick. I went 1st to my primary Dr but after not getting better broke down and called my LLMD...he is 4 hrs away and I didnt want to bother him.

He immediately knew what was going on.


Botton line....keep up the treatments and continue to learn about this disease...knowledge is power...espcially when dealing with this disease.

I know this is long, sorry but please keep in touch with everyone here.


YOU DO HAVE FRIENDS HERE THAT UNDERSTAND!!!


Good luck and God bless,


Karen (:


P.S. My son was just diag. with lyme 2 months ago and at least now I know how to help counter attack some of the things people say because I know first hand how this disease can affect you.

---

Posts: 423 | From Virginia | Registered: Nov 2009 | IP: Logged |

luvema
LymeNet Contributor
Member # 26650


posted

---

Karen,

Thank you so much, and yes I do live at home.
I am so sorry to hear about your son.
I am just avoiding talking about my health with him because he puts me down everytime. My mom is starting to go on that same path, I think it's the things he tell her.
I am a bit stubborn, so I will prove him wrong; one day.

Thank you

*hugs*

--------------------
Ema


---

Posts: 394 | From Southern California | Registered: Jun 2010 | IP: Logged |

Karen Mc
LymeNet Contributor
Member # 23354


posted

---

You're welcome sweetie...keep your chin up.

Yes,it will be hard but at least you have some idea what you're up against and will be able to make sure you eventually can get the help you need on your own.


There are tons of great people here that have a wealth of knowldege... and there are many

things you can do to help improve your health..ie: supplements, vitamins diet...etc

Best thing I can say for you is research....read read and read. Make notes of important stuff as we have all learned all the info is overwhelming.

I can also add...at least from my opinion...

I never was a big fan of supplements etc but since being under treatment... I DO believe they have helped me... many things you can get from local drug store and/or vitamin shops.

I dont know how your finances are...ie: if you are old enough to work etc but if you cant come up with money maybe a church, local organization etc can help you.

Good luck and keep in touch. God Bless

Karen (:

P.S. I just reread your post and guess what.....several times over the years I tried taking mulitvitamins...well....

I would always get sick...I thought ok...1) im allergic to stuff in it or 2) Im just being weird and its "all in my head"

well at my last LLMD session I told him about it and guess what ....I had been herxing from the vitamins and never knew it...go figure...

So yes, it is NOT in your head and you ARE NOT lazy.

If the LLMD said you have lyme..u can bet the farm on it...besides it sounds like you have the symptoms.

Believe me...MANY MANY people here have been told its "all in their head" but WE ARE LIVING PROOF ..Lyme does exist...


As I always said.....


If it looks like a skunk and it smells like a skunk then you can pretty much bet its a skunk (:

---

Posts: 423 | From Virginia | Registered: Nov 2009 | IP: Logged |

METALLlC BLUE
Frequent Contributor (1K+ posts)
Member # 6628


posted

---

They're going to regret it. In your darkest hour and time of need, that's when you know who really cares. Ignorance is no excuse. When a police officer pulls you over for speeding, even if you didn't know you were speeding, you're still responsible and you will still likely get a ticket.

The world isn't fair, and for those of us who "know" we are sick, we must hold the ignorant to the same standards in my opinion. We must give them their "ticket."

It's not a matter of forgiveness, it's a matter of survival. If someone isn't helping you survive, then they're doing the opposite and that's what we can an "enemy."

Proving people wrong feels good but it often does no good. I have found that many people hold fast to their original argument even when the facts overwhelmingly disprove them.

This is why the quote "Wise men don't need to prove their point; men who need to prove their point aren't wise."

When it comes to some issues, this couldn't be more truth.

--------------------
I am not a physician, so do your own research to confirm any ideas given and then speak with a health care provider you trust.

E-mail: [email protected]


---

Posts: 4157 | From Western Massachusetts | Registered: Dec 2004 | IP: Logged |
Contact Us | LymeNet home page | Privacy Statement

Powered by UBB.classic™ 6.7.3

---
The Lyme Disease Network is a non-profit organization funded by individual donations. If you would like to support the Network and the LymeNet system of Web services, please send your donations to:
The Lyme Disease Network of New Jersey
907 Pebble Creek Court, Pennington, NJ 08534 USA
http://www.lymenet.org/
---
Home | Flash Discussion | Support Groups | On-Line Library
Legal Resources | Medical Abstracts | Newsletter | Books
Pictures | Site Search | Links | Help/Questions
About LymeNet | Contact Us
---
© 1993-2020 The Lyme Disease Network of New Jersey, Inc.
All Rights Reserved.
Use of the LymeNet Site is subject to Terms and Conditions.
---