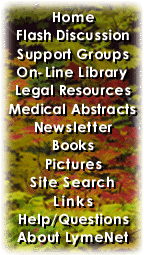 ---
LymeNet on Facebook
LymeNet on Twitter
---
---
The Lyme Disease Network receives a commission from Amazon.com for each purchase originating from this site.
When purchasing from Amazon.com, please
click here first.

Thank you.




Dedicated to the Bachmann Family


LymeNet needs your help:
LymeNet 2020 fund drive

The Lyme Disease Network is a non-profit organization funded by individual donations.

| | |
| --- | --- |
| | |
Author
Topic: How do you Deal with IGNORANT People about LYME?? suggestions please!

jenn
LymeNet Contributor
Member # 21687


posted

---

Everytime I tell someone how long I've been treating lyme (1 year oral meds abx) either a friend or a GP...I get that horrified look, like I'm crazy!!!! and I'm over treating a condition that is curable in 21 days of oral abx.

What do you do in these situations???
Is there lititure that would help explain this quiet Epedemic that is world wide....

How would you convince someone the Importance of LYME and NOT to listen to Dr's, who rely on Blood tests and will only treat 21 days if they see the rash???

How can you educate a Dr. who feels that CDC protocall is correct, and doesn't beleive in Chronic Lyme or long term treatment??

So tired of justifying my actions with ignorant people... duh!! I wish 21 days would cure EVERYONE!!

---

Posts: 501 | From Hudson Ticky Valley, NY | Registered: Aug 2009 | IP: Logged |

janet thomas
Frequent Contributor (1K+ posts)
Member # 7122


posted

---

You cannot teach someone who doesn't want to learn.

You can lead a horse to...........

--------------------
I am not a doctor and this is not medical advice but only my personal experience and opinion.


---

Posts: 2001 | From NJ | Registered: Mar 2005 | IP: Logged |

jenn
LymeNet Contributor
Member # 21687


posted

---

This is the part of LYME i hate....when I feel like I'm the ONLY one...well actually...my entire family are the only ones with LYME..

Don't have the patience to wait for everyone to catch up....ugggh

---

Posts: 501 | From Hudson Ticky Valley, NY | Registered: Aug 2009 | IP: Logged |

laceyj
LymeNet Contributor
Member # 13862


posted

---

i deal with this quite often

at my job, ive explained and explained
i give up!

my family, i have to remind also

it does get tiring defending yourself
i wish there was some sort of pamphlet you can hand out to people!

---

Posts: 187 | From FL | Registered: Nov 2007 | IP: Logged |

steve1906
Frequent Contributor (1K+ posts)
Member # 16206


posted

---

Hi Jenn, there is only one way to deal with this;;;don't talk about it with anyone, unless they have Lyme Disease!!!

Sorry, but that's the ans. as far as I'm concerned...

--------------------
Everything I say is just my opinion!


---

Posts: 3529 | From Massachusetts Boston Area | Registered: Jul 2008 | IP: Logged |

sixgoofykids
Moderator
Member # 11141


posted

---

moving to general support

--------------------
sixgoofykids.blogspot.com


---

Posts: 13449 | From Ohio | Registered: Feb 2007 | IP: Logged |

LightAtTheEnd
LymeNet Contributor
Member # 24065


posted

---

If the person is ignorant but truly wants to know, you can watch the DVD Under Our Skin with them and talk about it afterwards, and recommend the book Cure Unknown by Pamela Weintraub, if they could be bothered to go to the trouble of reading a book. It is suspenseful and interesting to read.

For most doctors and casual acquaintances, don't waste your breath--they won't get it.

However, I have found that some acquaintances have become a lot more interested when they realize that one of their children just got bit by a tick, or one of their relatives has mysterious symptoms that sound like what I'm describing about my Lyme disease. Maybe they will be ready to learn more if it touches their lives more directly.

--------------------
Don't forget to laugh! And when you're going through hell, keep going!

Bitten 5/25/2009 in Perry County, Indiana. Diagnosed by LLMD 12/2/2009.


---

Posts: 756 | From Inside the tunnel | Registered: Jan 2010 | IP: Logged |

kidsgotlyme
Frequent Contributor (1K+ posts)
Member # 23691


posted

---

I had to deal with this myself today. We have relatives in from out of town that are staying at my parent's house.

I could tell that my daughter was starting to feel run down so I quietly asked her if she wanted to go ahead and go home. She told me she did.

We were supposed to stay and visit and eat dinner with everybody, but I wasn't going to make her stay and be miserable.

I said that I thought that she was needing to go home and my Dad just went off on me. He tells me all the time that he thinks that my daughter is just fooling me so she can get out of doing things she doesn't want to do.

Get me a break!! She misses out on so much. She is the most un-lazy person I know. She even goes to their house and cleans for them even when she feels so bad because she doesn't want them to have to do it.

I am feeling so angry and hurt. It's hard enough having a sick child, but when nobody understands, it's all that much harder.

Sending out hugs to everyone who has to put up with stupid, ignorant people!

--------------------
symptoms since 1993 that I can remember. 9/2018 diagnosed with Borellia, Babesia Duncani, and Bartonella Hensalae thru DNA Connections.


---

Posts: 1470 | From Tennessee | Registered: Dec 2009 | IP: Logged |

Robin123
Moderator
Member # 9197


posted

---

I think you need to find ways to get explanations for what's going on into their hands and their heads.

To say there are two standards of care - one doesn't recognize symptoms of Lyme and co's, uses weak tests and labs, treats minimally and doesn't recognize chronic symptoms. Result: people stay ill.

The other recognizes symptoms and history, uses better tests and labs, and is willing to treat longterm as needed. Result: people have a chance to get better or at least improve, most of the time.

I'd say refer them to the ILADS site, get them some ILADS, LDA, CALDA etc brochures, the SE PA booklet. Did you know you can ask for 200 free brochures from the LDA to hand out? At least I think you can.

Ask them to google for and download the 2008 Burrascano guidelines (or hand them a copy; it's 37 pages).

Let them know CALDA has some very educational Lyme Times magazine issues for doctors and patients, etc.

Ask them to look at www.canlyme.com/seronegreasons.htm for a list of 27 reasons why people don't test positive for Lyme who have it. The Under Our Skin film, Pam's book Cure Unknown, etc. There are a lot of books out too now they they could read.

Ask them to look at the www.dogsandticks.com site - when you run your cursor over a map of the US, you can see the reported stats for 4 illnesses in dogs, including Lyme.

And you have to ask yourself then, if the vets are reporting these illnesses in the dogs, where is the human reporting? I find it very interesting.

Maybe type up the list of recommendations and give it to them, asking them to check any of it out.

Also, to learn medical facts and find ways to impart them in a simple way. Like explain what Lyme borrelia bacteria and coinfections are like and how they function in the body.

Study their mechanisms and be able to explain some of it. People just have no picture of what's going on.

And this takes time, to study the illnesses. But it seems to help, since this discussion puts it right back where it belongs, as illnesses to be studied, understood and managed.

---

Posts: 13049 | From San Francisco | Registered: May 2006 | IP: Logged |

Misfit
LymeNet Contributor
Member # 26270


posted

---

I kept it under my hat when 1st dx'ed. Id read enough by the time i got my dx that i just didnt want to open any cans of worms. Since it was last spring when my sx were SOOO bad and it was ball season i had to let the cat out. I couldnt always get my ds to the practices and had to rely on other moms. I was met with curiosity for the most part. And a few "i know someone with lyme and theyre all better now". I do know that some got afraid of lyme when they saw my struggles. They would ask tons of questions. A brochure would have been great to hand out!

---

Posts: 624 | From Oklahoma | Registered: Jun 2010 | IP: Logged |

randibear
Honored Contributor (10K+ posts)
Member # 11290


posted

---

it's like butting your head against a brick wall.

i gave up.

--------------------
do not look back when the only course is forward


---

Posts: 12262 | From texas | Registered: Mar 2007 | IP: Logged |

bcb1200
Frequent Contributor (1K+ posts)
Member # 25745


posted

---

Surprisingly, my work, family and friends are all very supportive. They know lyme is controversial and have gotten educated.

The only time I have a problem is with my step sister who is an MD and thinks she knows all.

--------------------
Bite date ?
2/10 symptoms began
5/10 dx'd, after 3 months numerous test and doctors

IgM Igenex +/CDC +
+ 23/25, 30, 31, 34, 41, 83/93

Currently on:

Currently at around 80% +/- most days.


---

Posts: 3114 | From Massachusetts | Registered: May 2010 | IP: Logged |

just don
Frequent Contributor (1K+ posts)
Member # 1129


posted

---

I didnt see this advice,,,go to LLMD's "ONLY" for tbis problems.

Dont discuss this with non LLMDs

If people refuse to learn,,dont talk about it with them. Give them flippant answers to little questions,,,like how are you doing,,,or feeling.

They feel better and so do you. 95% of the time they REALLY didnt want to know anyway

--------------------
just don


---

Posts: 4548 | From Middle of midwest | Registered: May 2001 | IP: Logged |

BackinStOlaf
Frequent Contributor (1K+ posts)
Member # 23725


posted

---

Read this letter that was posted on General Support

Dear Family of a Lyme Disease patient,

I am writing this letter to all parents and family members who are witnessing their children, wife, son, father, aunt, uncle, cousin, etc. struggle with Lyme Disease.

I am one of you.

For more than 6 years my daughter has suffered through this ugly, dark disease.

She has experienced horrible migraines, severe joint & muscle pain, nausea, vomiting, extreme fatigue and loss of her ability to speak or think logically (these are just a few of her symptoms).

She has become unable to work. She has been forced to move back into our home at the age of 23 (she is now 29). She has virtually lost her 20's, one of the most productive and exciting time of her life.

We have taken her to every known medical specialist in southern California as well as three different General Practioners.

She has been diagnosed, at differing times, as having Chronic Fatigue Syndrome, Chronic Pain Syndrome, Fibromyalgia, Lupus, Psychosis, and MS (please notice that all of these are either syndromes or descriptions of symptoms; none of them are diseases).

For the first 4 years of her struggle, I was not a good parent, even though I thought I was.

My daughter didn't have any outward sign of her illness. She looked "normal". After many, many blood tests, MRIs, CAT Scans, x-rays, psychological tests; everything came back "normal".

I was, and sill am, one of the world's biggest cynics and skeptics (I'm originally from Missouri - so "Show-Me").

Surely if you are as sick as you say you are, there must be something that will show up in your blood tests or on x-rays.

You can't possibly be this ill and not have something tangible to show for your symptoms.

You're either just faking it or your lazy or it's psychosomatic or your trying avoid the real world.

Get off your lazy butt and get some exercise or get a real job or face up to life like the rest of us.

That's the way I approached her illness. It's time you took control of your illness and will yourself well.

I was so far off-base. It took an outstanding Lyme Literate Medical Doctor to show me the error in my approach with my daughter and to show me the reality of this disease.

My daughter and I have both suffered because of my ignorance (I'm not saying all of you are ignorant, I'm saying I was ignorant. To be ignorant simply means to be uninformed not stupid). I am still working to rebuild the closeness we had before Lyme.

Lyme Disease is real, the pain is real, the problem with logical thought is real, the lack of energy is real, etc., etc., etc.

If your child or family member has been diagnosed with Lyme Disease, they are just as sick, if not more, than someone who has a more "traditional" illness, like Lupus or Multiple Sclerosis or Cancer.

I've done all the study, I've been with my daughter at all of the appointments, I've watched the misery she's been through.

Hey they just can't help the way this disease treats them. It's not their fault.

We as family members need to be there to support them. They don't need our pity. They don't need our skepticism. They don't need our criticism.

They need our understanding.

If you as family members will take the time to study this disease, you'll see that it is real. The little buggers who have invaided their bodies are real and they are making our loved ones sick.

Please spend the time you currently spend trying to figure out why your loved one acts the way they do really studying the disease. There are volumes being written on the internet as well as new books being published everyday on this disease.

We can't possibly understand the way they feel, not unless we have the same bacteria in our bodies.

My daughter has a long way to go before she's back to where she was 6 years ago. She has a lot of work and pain to endure before she can get there.

She certainly doesn't need someone who claims to love her causing her any more pain than she has already.

Families. from one who has been in your shoes, please let them know you love them.

Let them know you're there to help them.

Let them know that there's no way you can possibly understand their pain, but that you wil try to understand their illness.

I think one of the most important things I've come to learn is that my daughter's disease may be God's way to teach me a lesson.

I'm not saying God gave my daughter Lyme Disease, but He may be using this disease to teach me how to love, how to be patient and how to be more understanding.

I wish you all good health and I hope that none of you will ever have to experience what our Lyme Disease loved ones are experiencing.

Sincerely,

LymeDad

--------------------
First Symptom 9/09
Multiple docs, negative Labcorp test
LLMD: 1/10
Positive Igenex/CDC test
Treatment 2/10
2/10-8/10 Amox, ceftin, zith, flagyl
Currently: Bicillin, Minocycline, still dealing with severe breathing issues




---

Posts: 1121 | From New York, New York | Registered: Dec 2009 | IP: Logged |

Tricky Tickey
Frequent Contributor (1K+ posts)
Member # 26546


posted

---

I certainly relate to this. I recently saw my GYN doc. He saw my original LYme tests results. When I told him I was being treated by a LLMD he flatly stated "Your test showed negative. You've got to test positive for 3 bands to be positive. Nothing in your test results tells me you have Lyme"
I simply smiled & said "Well, doc, I understand...but I have Lyme.." He looked at me blankly.
Before I left I informed him of the controversy, but he wasn't interested. I could tell by the look on his face he thought I was jsut the dumbest woman. Before I walked out of his office I said, "Five years from now you're going to remember this conversation & say 'she was right'" Then I left.

--------------------
Early Disseminated LD- 2010.
Currently doing acupuncture and yoga.
Negative Igenex (IND & Pos Bands)
ISSUES AFTER: Tendonitis, letter reversal, Low immune system.
PREVENTION:SaltC,Iodine,Humaworm,
Chiropractic.


---

Posts: 1013 | From In a van down by the river. | Registered: Jun 2010 | IP: Logged |

sutherngrl
Frequent Contributor (1K+ posts)
Member # 16270


posted

---

This is such a common issue for all of us. And it drove me crazy until recently. I have been ill over 4 years and treating for over 2 now. After a while you just get tired of all the looks like youre crazy.

It mainly happens with relatives for me. They say how are you; and I answer......hanging in there. Then I don't say one more thing about lyme. For some reason that answer drives them crazy, because they want you to say more to see how nuts you are.

If they ask more detailed questions, I answer as briefly as possible and move on. If they truly seem interested, then I will open up.

So if they want to learn, tell them. If they are just being nosey because they think youre nuts, then leave them hanging.

---

Posts: 4035 | From Mississippi | Registered: Jul 2008 | IP: Logged |

AlanaSuzanne
LymeNet Contributor
Member # 25882


posted

---

Some really great and interesting responses here!

We are lucky because we do have support and understanding from family and friends in general.

And, as far as I'm concerned anyone who isn't supportive or understanding isn't worth having in my family's life. We've been through way too much as it is. I don't need more stress trying to "defend" this disease, its coinfections, the devastation it causes, the expense and duration of treatment.

I do encounter many instances where people, including docs, are clueless. I don't keep my mouth shut. I acknowledge that I understand the "controversy" (I really want to use words like b-----ds) and I just continue speaking and citing the facts. After so many years it's kind of automatic. I don't argue, but I do make my position clear. I have given out many copies of ABCs of Lyme Disease, Cure Unknown and articles regarding neuro Lyme.

A while back I had a + babesia fish test. A doc told me I couldn't possibly have it. After telling him babesia can range from symptom-free to fatal, I also told him docs can't have it both ways. Ya can't say we don't have it if we test negative and ya can't say we don't have it if we test positive. He got the point.

--------------------
You gain strength, courage, and confidence by every experience in which you really stop to look fear in the face. You are able to say to yourself, 'I lived through this horror. I can take the next thing that comes along.'

---Eleanor Roosevelt


---

Posts: 748 | From somewhere | Registered: May 2010 | IP: Logged |
Contact Us | LymeNet home page | Privacy Statement

Powered by UBB.classic™ 6.7.3

---
The Lyme Disease Network is a non-profit organization funded by individual donations. If you would like to support the Network and the LymeNet system of Web services, please send your donations to:
The Lyme Disease Network of New Jersey
907 Pebble Creek Court, Pennington, NJ 08534 USA
http://www.lymenet.org/
---
Home | Flash Discussion | Support Groups | On-Line Library
Legal Resources | Medical Abstracts | Newsletter | Books
Pictures | Site Search | Links | Help/Questions
About LymeNet | Contact Us
---
© 1993-2020 The Lyme Disease Network of New Jersey, Inc.
All Rights Reserved.
Use of the LymeNet Site is subject to Terms and Conditions.
---