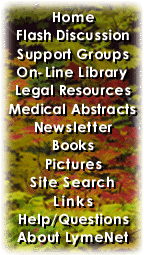 ---
LymeNet on Facebook
LymeNet on Twitter
---
---
The Lyme Disease Network receives a commission from Amazon.com for each purchase originating from this site.
When purchasing from Amazon.com, please
click here first.

Thank you.




Dedicated to the Bachmann Family


LymeNet needs your help:
LymeNet 2020 fund drive

The Lyme Disease Network is a non-profit organization funded by individual donations.

| | |
| --- | --- |
| | |
Author
Topic: Why can't any nonlymie not understand?

lyme987
LymeNet Contributor
Member # 22148


posted

---

I've been treating lyme, babs,bart, erk, clymdia pnuemonia, you name it for close to three years now.

I've had two picc lines, one hickman catheter and a total of one one if IV. I've done orals, intramuscular shots, accupunture, herbs, all of it.

I'm still symtomatic and people just don't get it. My father just passed away in Oct from Cancer and my whole family is greiving from that. I've tried to keep my pain to myself and away from my family.

My mom is staying with me for a couple of days to help me out and we just got in a huge argument (this is not normal for me and my mom)
She thinks I'm not showing enough love to my kids and why can I laugh once one the phone and later be not feeling well.

My mom was the one who I thought got it- I am such a mess most days but I try not to complain=
What do you do when the one person who you thought was there for you, isn't.

I know she is greiving very much about my dad -am I in the wrong- It's probably my babs coming out.

This is such a rambling post-I feel so helpless,
feel like I'm never going to get better , and am lucky if I make it another 10 years because I have to stay on meds to keep my lyme in check. I figure either my liver or kidneys will give out in about that time frame.

Anyone feel like this?

---

Posts: 298 | From usa | Registered: Aug 2009 | IP: Logged |

Lymetoo
Moderator
Member # 743


posted

---

Hugs to you and my condolences too. It's such a struggle to be ill and then to handle everything else life hands us too.

I'll be back tomorrow to check on you. I'm off to bed and didn't want to leave this post unanswered.



--------------------
--Lymetutu--
Opinions, not medical advice!


---

Posts: 94483 | From Texas | Registered: Feb 2001 | IP: Logged |

Remember to Smile
Unregistered



posted

---

Hi, lyme987.
I'm so sorry you just lost your father. Feels like there's not enough time to grieve when CLD has taken over.

I can imagine the added stress you've got now. You have serious dis-ease -- all the duties of a chemo nurse but without the tech support! And surrounded by others with their own pain now, too...

When my father died of cancer, I may have been in shock for awhile. Then, after he'd been gone a year, I began having dreams of him now & then, advising me on important life choices like when i was buying a car and changing jobs. Nice to have people to turn to "on the other side!"

I pray your dad has comfort & joy now. I trust he loves you and your giving heart...

We're all such unique individuals, that there's no telling how you, your mom, your children, old friends, etc will react to & heal from your father's passing and your ongoing battle with CLD. A close friend gave me a great little book yrs ago, and I've bought many copies to share since. Do you know this one?

"How to Survive the Loss of a Love"

http://howtosurvivethelossoflove.com/

Most library systems carry it. The three authors are a poet, a nurse and a counselor as I recall and they help me remember the stages of grief are an up & down & sideways thing.

You've had a bunch of losses hit in succession, and I can relate to that. Losing your health is horrible, but you haven't lost your good rapport with your mom. She'd probably like to patch things up as much as you.

Somehow, we gotta keep remembering that this winter is not forever. Bleak as things may look, healthy roots are still holding firm and buds are ready to burst into a new miracle.

Your mom's been helpful often in the past, but is grieving now. And you just had a rare argument today, it doesn't establish a new yucky pattern. The whole family is spent, probably. You all lost Grandpa, Dad, Husband... And Lyme disease can be scary... Gosh, big load!

Your recent loss was followed by darker days, literally. Seasonal affective disorder aka S.A.D. just adds more challenges to the mix...

If "hemolytic anemia" was external and Babesia protozoans spurted red blood cells from the bridge of one's nose, then maybe those who've yet to be disabled by CLD might take notice...

Yup, many Lyme patients get similar problems from family & friends. Few are intuitive enough to "go there" with us. But there are people here, and in person in support groups and churches, and on crisis-call lines. Glad you reached out here.

Since you have babesiosis, maybe focus on controlling that for now? Likely you kicked Ehrl out and can give yourself a gold star for that. You're not helpless or hopeless.

You'll have brighter days.

Keep in touch,
Smile

---

IP: Logged |

Robin123
Moderator
Member # 9197


posted

---

I think one reason people have a hard time with Lyme and company is that it's so played down, medically, as in very little validation of the reality of these illnesses.

I live in a place where there are support events for recognized health conditions - there are walks and runs for cancer, breast cancer, heart disease, lymphoma, etc.

But nothing for Lyme, which is taking a huge toll on all of us. I had to organize the FIRST walk for Lyme here, last fall, as part of six CA Lymewalks.

So then when you try to talk about it with others, they don't have that societal backdrop happening.

That puts us in a position to have to do the educating, however we can.

There are brochures, the UOS film, some good books, including Cure Unknown. The LDA will send out 200 free brochures about Lyme and co-infections. ILADS has several brochures too - we pay a small fee for 200.

I am now ready with information for anyone who wonders what it is we're going through.

So I think we have to be creative when it comes to how to educate others.

And yes, I wish you could just receive the sympathy and support you need, simply by just telling people you're having a hard time. That would be ideal.

---

Posts: 12965 | From San Francisco | Registered: May 2006 | IP: Logged |

kam
Honored Contributor (10K+ posts)
Member # 3410


posted

---

If you think about, we live with this and I don't know about you but I still don't understand why I am able to do something one moment and not able to the next or days or months or hours for that matter.

I pretty much hibernate and only come out for short periods of time and then get mad at people at times when they want to talk which does me in and I have to forget doing the laundry or whatever it was I was trying to come out of hibernation for.

I know it is not there fault and it is the disease. I keep the anger to myself. And keep my contact to people

---

Posts: 15927 | From Became too sick to work or do household chores in 2001. | Registered: Dec 2002 | IP: Logged |

randibear
Honored Contributor (10K+ posts)
Member # 11290


posted

---

i think it's "if you're not in a cast, it ain't broken" type of thing.

we look normal, no rashes, no broken bones, no cancer, etc., so as long as people don't actually see it, it doesn't exist.

--------------------
do not look back when the only course is forward


---

Posts: 12262 | From texas | Registered: Mar 2007 | IP: Logged |

Lymetoo
Moderator
Member # 743


posted

---

How are you doing today, lyme987? I hope you are feeling a bit better. We just can't make others understand. It is not possible for them to get it until THEY get sick.

--------------------
--Lymetutu--
Opinions, not medical advice!


---

Posts: 94483 | From Texas | Registered: Feb 2001 | IP: Logged |

lymeboy
Unregistered



posted

---

I lost my mom to cancer last year. 1 month later I found out I had Lyme, which explained how completely nuts I felt.
It was hard to sort out the actual depression from the disease, I think it just all lumped together and made my life a living hell for quite a while.
But the disease really bashed my head in.

I got so tired of hearing from everyone " you know the mind is a powerful thing..." and " why don't you get out and stay active.."

Everyone wants to help. Most people just say what they think is right. No one really knows what to do or what you're going through, so how can they possibly relate or understand?

I've noticed that people don't really want to believe that I'm sick. I'm not laying in the hospital, or bleeding from the eyes, so everything must be ok, nothing a little sun can't fix. I think talking to people about a weird illness with hundreds of symptoms takes them out of their comfort zone. They don't get it. I didn't until I began to learn about Lyme. It just isn't taken seriously by anyone except those of us that have it.

I personally get really mad when someone tries to play it down. But I have to keep reminding myself of the reality. These folks have no idea, and that attitude is serving two purposes:
- they want to help, but they can't so they opt for the "pep talk"
_ they are uncomfortable with illness, and dismissing it makes it "better" for them.

I'm so sorry to hear about your loss. I hope you can mend things with your mom. I'm sure you can. You could respectfully request that she watch "Under Our Skin" with you... maybe it would help her understand. Or maybe now isn't the time to watch such a film....argh - you see? here I go now, with the advice!!!! Just trying to "help" I guess!

---

IP: Logged |

onbam
Unregistered



posted

---

A worldview is a very difficult thing to part with. Accepting CLD means accepting that much of what you've been told since day 1 about how our society and government work is a lie.

---

IP: Logged |

lyme987
LymeNet Contributor
Member # 22148


posted

---

Thanks everyone for the great posts. I have been feeling better the last two days. I'm trying coartem now for my babs and it seems to be working (I don't even want to say that out loud)

I am grateful these days for moments and hours I get that I feel good and I can spend with my kids, husband , and family. I thank God for those moments. Maybe more will be in the forecast.

Thanks again for so many caring posts. They truly help.

---

Posts: 298 | From usa | Registered: Aug 2009 | IP: Logged |

Camp Other
Unregistered



posted

---

I am so sorry for your loss. It is never easy to lose a parent. I'm sorry you and your mother are also suffering your own losses, too.

Chronic illness in general is not something I find everyone understands. The model of illness they're familiar with is that people are sick then they get better, people get really sick then they die, or people get injured and take a long time to recover.

It's not so common for people to see an illness where there are a lot of lows and highs. But other conditions (whether or not one believes Lyme is to blame for them) have similar problems with recognition and acknowledgment for the pain they cause. CFS/ME, Fibromyalgia, Arthritis, IBS, and MS are all examples of conditions where patients have good and bad moments if not good and bad days and weeks. People dealing with cancer on an ongoing basis also face the fear of whether or not their treatments have put them in remission and whether or not the condition will return.

One thing I recommend when there isn't a Lyme group nearby is to find a support group for chronic conditions such as the above. It also gives you the opportunity to educate others about Lyme and coinfections so they can consider the possibility for themselves. Sometimes it's better to form a chronic illness support group first to get greater participation and bring up the issue of Lyme/coinfections during a meeting - always being careful to balance that with the need of others to speak of their own experiences and diagnoses.

I often find that this site is a good place to meet other people with chronic and invisible illnesses:

http://www.butyoudontlooksick.com/

I don't think it is just a Lyme thing to have the experiences we have, but it is certainly common to have healthy people not 'get it'.

---

IP: Logged |

jmb
LymeNet Contributor
Member # 18338


posted

---

lyme987, you said, "What do you do when the one person who you thought was there for you, isn't."

Wow. I feel the same as you. And I know how it feels. I have no advice for you. Just want you to know that I know you how you feel. Good luck.

--------------------
enjoy the day.

-jmb


---

Posts: 208 | From Maryland | Registered: Dec 2008 | IP: Logged |
Contact Us | LymeNet home page | Privacy Statement

© 1993-2020 The Lyme Disease Network of New Jersey, Inc.
All Rights Reserved.
Use of the LymeNet Site is subject to the Terms and Conditions.

Powered by UBB.classic™ 6.7.3

---
The Lyme Disease Network is a non-profit organization funded by individual donations. If you would like to support the Network and the LymeNet system of Web services, please send your donations to:
The Lyme Disease Network of New Jersey
907 Pebble Creek Court, Pennington, NJ 08534 USA
http://www.lymenet.org/
---
Home | Flash Discussion | Support Groups | On-Line Library
Legal Resources | Medical Abstracts | Newsletter | Books
Pictures | Site Search | Links | Help/Questions
About LymeNet | Contact Us
---
© 1993-2020 The Lyme Disease Network of New Jersey, Inc.
All Rights Reserved.
Use of the LymeNet Site is subject to Terms and Conditions.
---