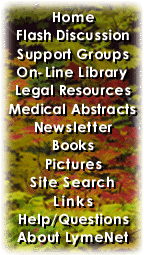 ---
LymeNet on Facebook
LymeNet on Twitter
---
---
The Lyme Disease Network receives a commission from Amazon.com for each purchase originating from this site.
When purchasing from Amazon.com, please
click here first.

Thank you.




Dedicated to the Bachmann Family


LymeNet needs your help:
LymeNet 2020 fund drive

The Lyme Disease Network is a non-profit organization funded by individual donations.

| | |
| --- | --- |
| | |
Author
Topic: I've had it! No one wants to hear how I'm doing except Lyme patients!

Rumigirl
Frequent Contributor (1K+ posts)
Member # 15091


posted

---

I've really had it with NO ONE wanting to ever hear one peep about how I really feel, except my poor husband, who hears it way too much, and occasionally another Lyme patient!!

My brothers never want to know anything. Well, that doesn't only go for Lyme, they just don't want to know anything about me anyway. I was thinking about visiting one brother soon with my husband, but decided against it, because I just feel like I'm not even there around him. He will never once ask me how I am or how my life is. Plus, I couldn't travel anyway, I'm too ill to travel. I can barely walk lately.

So I emailed him the truth about how I've gone downhill. Right after I sent it, I knew that I would never get a response. And I was furious. Yup, no response. I'm done with him. I've supported him so much, but no reciprocation.

Then, tonight after having to prop myself up with tons of meds and stimulants to be able to get out of the house, I ran into someone I know, who was never sympathetic at all if I mentioned what I was going through even a little (we were in a small meditation group together for 6 years). But he clearly only wanted to hear that I was better.

It seems that NO ONE can handle hearing anything other than cheery, "I'm better."

It makes me feel like it's my fault that I'm not better, that there's something wrong with me for not being cheerful about it all. I know that's not true, but people act that way.

On a related thread here, people like Tracy were saying how they let it all hang out. But I've tried to hide my illness for years, except with a very few people. I've hid my PICC when I had it, hid my port now. Not told most people I'm ill.

Partly because of this kind of response and also wanting to chose who I tell what. But largely because I"m a health care practitioner, and people don't want to come to a practitioner who is sick! ANd I have to work to the small degree that I can to pay for drs and treatment.

I had a "friend" recently be really hostile in talking about how I could help him with his cancer. He was basically saying, what has my work done for me?

I feel so darned alone with this. Both my husband and I feel so unsupported. No one understands this except other Lyme patients!! My best friend can't hear a peep about it either. I've had way too many health care practitioners be awful to me. I know this is common for us, but I've really had it!

---

Posts: 3753 | From around | Registered: Mar 2008 | IP: Logged |

BP-Ladybug
Member
Member # 32880


posted

---

you seem to be surrounded with a lack of empathy, specially your brothers

I can only imagine that people expect a health care professional to be will, not to be sick, no room for you to be human.

Chronic Lyme is so hard to explain anyway. It sounds like science fiction. My husband is ill, not me, but it is hard having no one to talk with about this disease. Fortunately I have found three internet forums.

I am sorry you feel alone with your condition. I imagine this is very common. Husband's sisters just did a "Well he can't be THAT sick." to us. ouch

---

Posts: 47 | From Pacific Northwest | Registered: Jul 2011 | IP: Logged |

Robin123
Moderator
Member # 9197


posted

---

One of the ways I deal with the public is to let them know that Lyme exists and THEY wouldn't want to get it.

If I have someone I can talk with, it's often only after I have explained what it is and what it can do that they then begin to consider the fact that I am living with it, and then it sinks in and they might ask me how I'm doing and listen a little more sympathetically.

Sometimes I think we have to approach people differently - I think they are mostly self-interested, and I can hang with that, since who would wish this on anyone anyway?

---

Posts: 13084 | From San Francisco | Registered: May 2006 | IP: Logged |

lpkayak
Honored Contributor (10K+ posts)
Member # 5230


posted

---

unfortuneately what you are experienceing is the norm i think. it sure is with me. i found it was too stressful to try to get most ppl to understand and i too hide a lot.

it hurts ME when they are not receptive so i don't go there

this is wrong thinking tho:

It makes me feel like it's my fault that I'm not better, that there's something wrong with me for not being cheerful about it all.

i know you know that...

the best parts of going thru this illness for me were when i had at least one person close who understood. and then we didn't talk that much about it...but we just knew what the other was going thru byt the way they walked or talked ... that closeness is very specisl

but i only had that for a few short times. mostly i try to stay away from the negative...appreciate those who care(your husband) and use LN for support.

we are here.

--------------------
Lyme? Its complicated. Educate yourself.


---

Posts: 13712 | From new england | Registered: Feb 2004 | IP: Logged |

Harmony
LymeNet Contributor
Member # 32424


posted

---

yeah, I think Robin is right, people are mostly self-interested and that is ok if you have not so much to say and plenty of time for them

I think people become afraid to talk to Lyme warriors because they are afraid that THEY will not get enough attention in the conversation

and it is hard - a conversation should be give and take,

but when you are loosing your eye sight, your ability to digest food, your ability to walk and speak, etc, etc.

that is something I need to talk about, anyone would,

and it is hard to turn around in the same conversation and get concerned for my friend's roses that are eaten by Japanese beetles

that just seems like less of a tragedy to me now

and my friend would like to be important, too,

so she turns so others to get a strong reaction about her ruined rose garden

maybe it is similar for soldiers who come back from a war zone

I am not sure what the solution is

sometimes I try to give others' problems a lot of attention, too, and make them feel better in the conversation and that often works to make them more interested in me,

but it is often tricky to do that and still be sincere

and it bothers me just like you, when my sisters, step-mom, and in-laws just turn away in silence

they will talk enthusiastically about someone having a surgery in the family and all the trimmings of how that person is doing and completely ignore me and what's going on with me

I alternate from thinking abotu just cutting them out of my life - my only self-respecting defense - or just taking them the way they come

sometimes they offer to do something for me and maybe that is all they can do

I definitely agree that the lymenet saves my butt, as far as feeling connected and supported through this by pretty strong, caring and knowledgeable / powerful people who have been there

I am soooo glad you all are here!

thanks for letting me ramble and maybe the sharing helps somebody

oh, and Rumigirl, I DO want ot hear about how you really feel! sorry I am not someone in your family and/or daily life but an internet friend - the up side is: we can talk to each other anytime from the comfort and convenience of our own homes

--------------------
Persistence, persistence, persistence!!!
"Nothing in the world can take the place of persistence...
Persistence and determination are omnipotent."
attributed to Calvin Coolidge


---

Posts: 597 | From USA | Registered: Jun 2011 | IP: Logged |

unsure445
LymeNet Contributor
Member # 15962


posted

---

I completely hear what you are saying. It is a very lonely place to be. Not having someone in the same position to discuss Lyme with, no understanding from relatives and friends.

I have old friends coming to visit that I haven't seen in 8 years and they haven't even thought to say " are you up for us coming, how have you been feeling..." and they know it's been a huge struggle for me.

I think to be able to confide in someone and get a bit of empathy makes a huge difference to someone and then it's on to lighter topics. A little understanding goes a long way.

I only know 2 other people with chronic Lyme and they see a different llmd than me so it's hard to even bounce treatment options off of other people....

Many people here can sooooo relate to your post!

--------------------
unsure445


---

Posts: 824 | From northeast | Registered: Jun 2008 | IP: Logged |

mom2kids
LymeNet Contributor
Member # 31972


posted

---

It is sad how invisible we are and how insignificant our illness is. I am fortunate that my husband is so supportive and understanding, as are my 2 best friends. My parents and brother just don't get it and my in-laws are sympathetic, but can't understand why I just don't get some medicine and be cured.

As for the rest of the world, I believe that if I can't change it or separate myself from it, then I must accept it. It takes too much energy to be mad/upset all the time or to try and change them. It is what works for me and with more than just LD.

I also try not to focus on all the "bad" that comes with being sick, I don't talk about LD all the time or how crappy I feel. People just don't want to hear it all the time and I get that. I don't want to hear crappy stuff all the time either, I'd rather talk to people that are positive and happy.

Just my own opinion though...

--------------------
Down on her knees, she wept on the floor.
This hopeless life, she wanted no more.
Dead in the mind and cold to the bone,
She opened her eyes and saw she was alone. ~Seether


---

Posts: 427 | From Rhode Island | Registered: May 2011 | IP: Logged |

jlp38
LymeNet Contributor
Member # 27221


posted

---

I know the feeling. I can't drive or do much of anything so I'm really isolated. And my husband is a chiropractor so I understand that side of it too. If he was a good doctor, he'd be able to get me well right? I can't wait to be able to drive and even work a little!

---

Posts: 707 | From Colorado | Registered: Jul 2010 | IP: Logged |

kx90
Unregistered



posted

---

People have enough problems in their lives. Why would they want to hear about yours unless they were paid specifically to hear about them, especially when your problems aren't very significant (your 'feelings')?

---

IP: Logged |

James1979
Unregistered



posted

---

kx - it's nice to meet someone so sensitive and understanding as you are.

---

IP: Logged |

marypart
LymeNet Contributor
Member # 27012


posted

---

This is going to sound so crazy, but I feel so lucky that I come from a family with TONS of chronic illness. My 20 year old son has arthritis that just won't go away... but I have 4 siblings with serious arthritis and/or Crohn's so they totally understand.

I don't know. I think people who don't have a chronic illness just don't get it.

--------------------
Son, 26, Dx Lyme 4/10, Babs 8/10
Had serious arthritis, all gone.
Currently on Valtrex
Daughter, 26,bullseye 7/11
arthritis in knees, cured and off all meds. .
Self:Lyme, bart, sxs gone, no longer treating.


---

Posts: 496 | From Washington, DC | Registered: Jul 2010 | IP: Logged |

BoxerMom
Frequent Contributor (1K+ posts)
Member # 25251


posted

---

James -

--------------------
Must...find...BRAIN!!!


---

Posts: 2867 | From Pacific NW | Registered: Apr 2010 | IP: Logged |

Rumigirl
Frequent Contributor (1K+ posts)
Member # 15091


posted

---

The truth is, I hardly ever even try or want to talk to anyone about what I am going through. With most people, including friends and family, I just say I'm fine, and most don't even know that I'm ill. I'm fine with that.

But when the very few people who are close enough that they can't avoid knowing that I am ill are so insensitive and unsympathetic, when I've put myself out there for them many times, it hurts. And I'm not talking about cataloguing my complaints, I'm talking about a brief sentence or two! At that point, I want to walk away from them.

That said, I just had two amazing experiences tonight. I was able to make it to my meditation center and ran into the guy I was referring to above. First of all, he wrote me an email today sending me best wishes for healing. For him that's a lot. And he said it again tonight. He had been extremely hurtful and awful to me in the past whenever I said anything about what I was going through. My husband thought he was trying to make up for that, which he probably was (he knew what he did was terrible before, as he did it in front of a group of people).

I ran into another friend, who works at a major cancer center. She asked in detail about how I was doing, what the treatment was, etc. She was shocked about how bad it all was. But do you know how unusual that is that someone would actually want to know?!? I think you all do know.

So I was ready to cry when the guy came up to me tonight and said, "you made it (here); get well."

So some redemption. And thank you, guys, I knew it was an all too common experience. My brothers, however, I'm afraid they are a lost cause, in spite of how I've been there for them. Oh, well. I'm just not interested in going out of my way to see people who cause me pain anymore.

And one last thing: except here, I don't even talk about this stuff with Lyme friends that much, unless I have a really specific question or need. They are usually too maxed out with their own problems. You know how it is---a lonely illness. Thank God for Lymenet!!

---

Posts: 3753 | From around | Registered: Mar 2008 | IP: Logged |

Robin123
Moderator
Member # 9197


posted

---

I have to talk with cab drivers about it, as I need them to be extra careful with me, and I see it all -

from no interest to a little interest to some interest to great interest. It's just where people are at. I can't force it. I see where folks are on the spectrum of interest and take it from there.

One driver told me recently that he was interested, but he could see that others might just want to run from the conversation, since they might see it as a big downer, and they just want to maintain focus on a doable life.

My opinion - those folks are going to have a hard time if this hits them...

---

Posts: 13084 | From San Francisco | Registered: May 2006 | IP: Logged |

ItsMyTurn
LymeNet Contributor
Member # 31469


posted

---

This all sounds so familiar. My husband is getting treatment and EVERYONE knows that he is ill. He gets all the attention and sympathy. I have only told a couple of people that I have Lyme also, but I get no "How are you feeling". Except from my children. I get nothing from my own husband. I guess since I am not bedridden or doubled over in pain, my illness is not that bad. I guess this is something that I will have to accept.

---

Posts: 182 | From North Carolina | Registered: Apr 2011 | IP: Logged |

John S
LymeNet Contributor
Member # 19756


posted

---

Unfortunately the world doesn't care if we have it.

I find it hard to deal with myself.

---

Posts: 743 | From New York | Registered: Apr 2009 | IP: Logged |

philly78
Frequent Contributor (1K+ posts)
Member # 31069


posted

---

Wow. I'm sorry Rumigirl. I've been blessed with a fairly decent support system. My MIL has chronic lyme and my son's grandmother has other chronic illnesses so they can relate to much of my complaints.

My mom? Well, it is what it is and my experience with her has been much like that what you state.

Mom2kids said it best...we are invisible and this disease is insignificant in the grand scheme of things. I can only hope that, that will change...some day!

It seems it is "socially acceptable" to just dismiss certain illnesses. I mean...can you imagine family members just brushing off someone who just had a heart attack or a stroke? Would they tell someone who is battling cancer to just "suck it up" and enjoy life? I think not.

And the thing is, that many of those who suffer with chronic lyme, chronic pain, fibro, CFS and all other related ailments suffer from sometimes debilitating symptoms!

But others have a hard time fathoming the sometimes disastrous effects. We may not "look very ill" but looks can be very deceiving.

We are all in this together and I don't know what I would do without the wonderful people on this board.

--------------------
When faced with pain you have two choices....either quit and accept the circumstances, OR make the decision to fight with all the resources you have at your disposal.


---

Posts: 1000 | From PA | Registered: Mar 2011 | IP: Logged |

faithful777
Moderator
Member # 22872


posted

---

Sorry you are going through all this.

I was not telling my out of state family what was going on with me at all. I asked my older brother, who works as a manager for medical supply company if he could get me IV supplies at a good price.

He finally asked me why I needed them. I told him all the gory details. He emailed back to say he could not get supplies for me.

He never asked how I was. I couldn't believe it. His daughter is a doctor who has been out of school just a few years. I am betting he asked her about chronic Lyme disease and she gave him the standard answer,

"there is no such thing as chronic lyme disease".

It sure does hurt, but I don't live in the same state as he does, so I have to get over it.

No one wants to be around someone who isn't well. I am so grateful that people here understand.

--------------------
Faithful

Just sharing my experience, I am not a doctor.


---

Posts: 2682 | From Colorado | Registered: Oct 2009 | IP: Logged |

John S
LymeNet Contributor
Member # 19756


posted

---

Lyme is bad enough without the IDSA making it exponentially worse. If this disease was recognized it would be a lot easier to bear.

---

Posts: 743 | From New York | Registered: Apr 2009 | IP: Logged |

Rumigirl
Frequent Contributor (1K+ posts)
Member # 15091


posted

---

That, of course, is a BIG part of the problem, probably the biggest---that no one understands that this illness exists, how bad it is, etc.

ANd it is an invisible illness, unless one is in a wheelchair or has Parkinson's, etc. So, yeah, people think you're exaggerating, making it up, just feeling sorry for yourself, being negative, etc., if you say one word about it! Well, most people anyway.

The amount of work that it takes for me (I'm speaking for all of us) to actually get out of the house, or to navigate walking down the street is unreal. Because my balance is so horrible, and my perceptions are off, and I feel so out of it a lot, it takes incredible focus and work to not fall on my face or fall into people, etc. And I used to be a professional dancer : - (

We all know the variations on what I'm saying.

I think this is a very complex subject with many different reasons why people don't want to hear anything about us. My best friend, for instance, just can't hear much of anything negative period. But she has no problem telling me her problems and talking about them (not that she does that a lot, but a fair amount). If I cut off everyone who can't hear me, I'd have no one left in my life but my husband. Not that I can have much of a social life anymore.

---

Posts: 3753 | From around | Registered: Mar 2008 | IP: Logged |
Contact Us | LymeNet home page | Privacy Statement

Powered by UBB.classic™ 6.7.3

---
The Lyme Disease Network is a non-profit organization funded by individual donations. If you would like to support the Network and the LymeNet system of Web services, please send your donations to:
The Lyme Disease Network of New Jersey
907 Pebble Creek Court, Pennington, NJ 08534 USA
http://www.lymenet.org/
---
Home | Flash Discussion | Support Groups | On-Line Library
Legal Resources | Medical Abstracts | Newsletter | Books
Pictures | Site Search | Links | Help/Questions
About LymeNet | Contact Us
---
© 1993-2020 The Lyme Disease Network of New Jersey, Inc.
All Rights Reserved.
Use of the LymeNet Site is subject to Terms and Conditions.
---