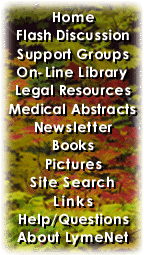 ---
LymeNet on Facebook
LymeNet on Twitter
---
---
The Lyme Disease Network receives a commission from Amazon.com for each purchase originating from this site.
When purchasing from Amazon.com, please
click here first.

Thank you.




Dedicated to the Bachmann Family


LymeNet needs your help:
LymeNet 2020 fund drive

The Lyme Disease Network is a non-profit organization funded by individual donations.

| | |
| --- | --- |
| | |
Author
Topic: Living With Our Limitations

phyl6648
Frequent Contributor (1K+ posts)
Member # 28522


posted

---

I am finding it very depressing to live with my limitations as they seem to be getting worse instead of better..I was so hoping for some improvement but the past year I am becoming more housebound and bed ridden.

I really try to push and do but I fall flat on my back in tears. 13 yrs sick , dx Feb.of this yr. and going down hill with treatment. Guess I need to accept I am sick and can't do but then I feel like I am giving up. I am only 20% functional as to what I was a few years ago..

Anyone going through this?

---

Posts: 1058 | From VA | Registered: Oct 2010 | IP: Logged |

payne
Frequent Contributor (1K+ posts)
Member # 26248


posted

---

this is the post we all hate to read,
however,
the truth and thank you for your courage to do it...
I truly hope that deep within your soul giving up is an option, as for relating to accepting this is your destiny, perhaps..
We all hope and pray that you find a small amount of happiness within your journey,
it is non stop something nagging at me, and found an hour or 2 the other day that i was about 60% able to get routine things in order...
that few hours shows me there is hope, light in this storm... and just deciding when we have a few hours of not being drained by this illness, do I get things done or lay low and preserve the time to rest ?
This is maddening and so horrific..
I am not competing for your spot -
I just, understand the wearing this does on us all, which will wear out first this illness or
Us..
i seem to see much more throwing in the towel then, hey, I had some improvements and they stayed with us... ):
PHYL6648...
Venting is a part of our support here...
I wish we had just a post for VENTING..
yet, you and I and many here are accepting our fate for now and the reality of this..
is right now and what I can handle...
Please, stay in the post here as it will forward on to others a means to deal with life and lyme...
God Speed to lead you to recovery and
find the path to being happy with each step you take...finding some small comforts in this war
wayne, words are hard to find when lyme has US pinned to the ground..

--------------------
TULAREMIA/rabbit fever ?


---

Posts: 1931 | From mid-michigan | Registered: Jun 2010 | IP: Logged |

nowishow
Junior Member
Member # 27440


posted

---

I'm so sorry you are having a hard time right now. I've been there too. Please know that you are loved. For now, just keep breathing and try not to think too much.

---

Posts: 8 | From Sonoma County, CA | Registered: Aug 2010 | IP: Logged |

momintexas
Frequent Contributor (1K+ posts)
Member # 23391


posted

---

Phyl,

I know exactly how you feel. My best advice to you is listen to your body. If it tells you to rest, then rest. You are not giving up, you are just taking things slower.

The dishes will still be there later when you are feeling up to it, the dust will still be there next week.

What matters now is you taking time for yourself and allowing your body to heal. Nothing is more important than that.

Give your mind a rest and your body will follow.

I see you wrote you started treatment in Feb of this year. For what it's worth, when I first started treatment and for the first year I felt awful.

I regretted ever started treatment in the first place because I was better off prior to starting.

I had many days that I didn't want to get out of bed in the beginning. It was hard going from an active person to someone who didn't like leaving the house.

It's been almost 2 years in treatment for myself and my son so far. It wasn't until after that first year that we really saw any progress.

I have learned to find comfort in knowing I'm doing what's best for me and for my son by taking time out to take care of ourselves. We have no other choice.

My house isn't as clean as I'd like it to be, my husband does most of the cooking around here. I had a lot of days that I stayed in my pajamas. All of those things are ok.

Take it one day at a time. Some of them are much better than others, but every day is another step towards progress. It doesn't matter if that day involves getting things done, or if it means memorizing that days channel line up.

There is light at the end of this long, foggy tunnel but that tunnel sometimes is much longer than it appears.

I hope the rest of the day for you is a comfortable one and that tomorrow is even better.




[ 08-31-2011, 03:54 PM: Message edited by: momintexas ]

---

Posts: 1408 | From Tx | Registered: Nov 2009 | IP: Logged |

phyl6648
Frequent Contributor (1K+ posts)
Member # 28522


posted

---

Payne, thank you.. so sorry but it is good to have someone that understands.

I once had a doctor tell me when I had a good day or hours to not do but rest and this is one way of healing.. So many doctors and so many different opinions/ treatments.

Would love to hear about you walk down the lyme road.

---

Posts: 1058 | From VA | Registered: Oct 2010 | IP: Logged |

Lymetoo
Moderator
Member # 743


posted

---

Great post, MominTx!

phyl.. Listen to your body and back off meds when you need to.

It took me 1-2 yrs before I felt better.

--------------------
--Lymetutu--
Opinions, not medical advice!


---

Posts: 96063 | From Texas | Registered: Feb 2001 | IP: Logged |

phyl6648
Frequent Contributor (1K+ posts)
Member # 28522


posted

---

Oh, thank all of you so so much for giving me hope.

MominTx, thank you for your encouragement, I was ready to start giving up but come to far.

I thought with treatment I would be up and going, just the opposite.

Now its time to say yes I am sick and listen to my body and live within my limits. Oh, if I can just learn to say NO..

Thank you so much..

---

Posts: 1058 | From VA | Registered: Oct 2010 | IP: Logged |

faithful777
Moderator
Member # 22872


posted

---

I am really feeling your pain. I am just starting treatment. I expect things to get worse before they get better.

I sure hope you take some mental health time out for yourself. Find something to do that you know gives you joy. You deserve it!

You don't say if you are happy with your doctor. Are you?

--------------------
Faithful

Just sharing my experience, I am not a doctor.


---

Posts: 2682 | From Colorado | Registered: Oct 2009 | IP: Logged |

missing
LymeNet Contributor
Member # 22437


posted

---

Great posts everyone!

phyl6648 I feel the same way as you.

I am trying to cope with not being able to do anything either.

I started to blog, and my goal was to try to help others.

It made me feel more useful.

i want to find crafts and other things I can do while laying in bed.

phyl, you have always posted really nice and encouraging things on this forum.

I love and appreciate so many people on this forum.

We all have our own, distinct personalities, so that makes us all so important in the process of us all getting better.

Someone should write a book about all of us.

What did you used to do?

What do you enjoy?

Why not order travel magazines, or decorating magazines, or craft magazines, etc. etc.

Then cut out the things that you really love in those magazines.

I tape each thing onto crisp white paper, hole punch it and put it into a nice binder.

This is so much fun.

Then have one binder for travel, one for decorating, and one about crafts.

I have a really nice decorating binder.

When I needed a designer to come and plan out our house, and where to put walls , and doors, and colours and textures,,, well, the designer

she just loved our binder!!

She said it made it so much easier for her to plan, and pick the colours, flooring and tiles.

You don't even need to hire a designer, just bring in your binder to Lowes or a Home Depot type of store, and get the staff to help you find the things you love.

Reward yourself! Some how! in little ways.

make yourself smile.

I learned this taking stage and theatre classes.

A rule in these types of classes was no pouting, and no comparing, no judging, no grouchiness.

So we always had to smile and be pleasant.

Wow! just making my self smile really helped me alot, and boy! oh! Boy! I sure noticed a difference around me in how people responded and felt about me.

You are awesome.

I wish you would PM me! I love PM's from anyone.

I love suggestions, ideas, and corrections.

I love advice.

So feel free.

Why not start an advice blog?

Who knows, this little set back may open lots of new doors in your life?

We just had an amazing opportunity handed to us!

It was because we kept smiling, because I smile on the phone.

It was all because I got sick, All because I was stuck in bed, just lying in the dark, curled up, crying, rejoicing, smiling,,,,

then something told me to start searching for land,,,

in doing that search, one thing led to another,

and now a huge wonderful opportunity and a dream for us as a couple, is coming true.

This has happened many times to me, and I notice they all happened because I kept smiling.

Phyl, I can tell that you already are an optomistic person who smiles and is a blessing to all those around her.

You have blessed me tremendously , on this forum.

PM me anytime.

--------------------
I am not a doctor. I have no clue.


---

Posts: 606 | From somewhere out there | Registered: Sep 2009 | IP: Logged |

phyl6648
Frequent Contributor (1K+ posts)
Member # 28522


posted

---

Faith, No I am not happy with my doctor. She has lyme and is hard to get in touch with and is to far away. I am to sick to even try to get to a doctor but do have an appt. in Oct with one closer,and for now is accepting my ins. Yeh..

Missing, tks. for all your input. When I feel up to getting supplies, I am going to do each of the children, grans and great picture albums . Then try to get all my photos organized. Would love to get all my DVD's and Videos in photo form . There will be days I can't do this but it is going to be my project.. Especially this winter would love to get each of them one by Christmas.

One thing I am going to do is get me a housekeeper at least once a week. Just hubby and me but he doesn't do houses and I can pick up and keep things tidy but no heavy duty ..Getting the house all organized would help me mentally .. I think..

Tks. will keep trying and researching.

---

Posts: 1058 | From VA | Registered: Oct 2010 | IP: Logged |

searching4truth
LymeNet Contributor
Member # 28481


posted

---

Phyl, I have been reading a book called" How to be Sick". The title is a little misleading. It should be called how to be when you are sick. I cannot read much, as it makes my head spin. But I read bits here and there.

I am not religious, although I am very spiritual. This book was written with a Buddhist point of view. It has helped change my perspective, and has allowed me to shift my thinking quite a bit.

I am coming to accept this life that I really don't want. It has allowed me to let go of some thought patterns that definitely were not helping my recovery. I can sit with my illness a little more comfortably.

I just wanted to share. I am so sorry you are so sick. I can relate. I have been sick for 14 years, treating for almost one. I am still housebound most days, bedbound a lot of them. I am 35, with kids. It sucks! I get you, and thanks to this forum, we can be here to support you as well.

---

Posts: 427 | From Pacific Northwest | Registered: Oct 2010 | IP: Logged |

Harmony
LymeNet Contributor
Member # 32424


posted

---

thanks so much for your posts - I had Lyme for over 12 years, possibly 20, and just found out in June

it's been a ride

I don't know what I would do without you all

I have been soooo ill and pushed myself sooo hard to keep my job and now I am on medical leave but could be fired when I go back

it is like a night-mare

like "this isn't happening to me"

I have worked to the last minute not wanting to admit that even my brain has stopped working properly - the memory loss and dyslexia and double vision are undeniable, though

now I am on abx and got the stiff neck again, meningitis... oh boy

Bb dying if I am lucky

still trying to grasp how sick I am / was / will be for how long, what plans to make, what I can count on

still in shock about how sick I was and never got any help, even thought that I just needed to try harder myself - not possible, really

I am ok with getting sicker at first, if I get to recover and claim my job back, and my life

but how many years now?

I already lost 10 that I was dragging through with pain and fatigue and debilitated to do anything for me or to do well at work

when is enough enough? I hear you all.

well, I guess, I am glad to be alive still, and to hear that a lot of the symptoms are reversible (even though I don't even know what I would be like when I am healthy, how well my brain might work, what I might have accomplished)

and I will eat better when I come out of this

maybe I will learn to walk on my hands and be super-fit one day

I am not giving up!

Bah, Borrelia!

--------------------
Persistence, persistence, persistence!!!
"Nothing in the world can take the place of persistence...
Persistence and determination are omnipotent."
attributed to Calvin Coolidge


---

Posts: 597 | From USA | Registered: Jun 2011 | IP: Logged |

Harmony
LymeNet Contributor
Member # 32424


posted

---

do you all know the song "Trouble" from Cat Stevens?

Trouble, Trouble let me be
I have seen your face and you're too much, too much for me-he

I, I have drunk your wine
you have made your work mine
I don't wanna fight and I haven't got a lot of time

so won't you be fair
I have to go where...




--------------------
Persistence, persistence, persistence!!!
"Nothing in the world can take the place of persistence...
Persistence and determination are omnipotent."
attributed to Calvin Coolidge


---

Posts: 597 | From USA | Registered: Jun 2011 | IP: Logged |

4Seasons
LymeNet Contributor
Member # 14601


posted

---

Please read "How to be Sick" (Toni Bernhard), as suggested earlier. Don't be dissuaded by the title.

It is a wealth of information about living a meaningful life with chronic illness.

I like your idea about the photo albums. What other things have you always wanted to do, but not had the time? Easy things that you can do in bed or on the couch.

I believe that we will either grow from this experience or become victims to it.

--------------------
"Life isn't about waiting for the storm to pass, it's about learning to dance in the rain."
Anonymous


---

Posts: 450 | From California | Registered: Feb 2008 | IP: Logged |

lou
Frequent Contributor (5K+ posts)
Member # 81


posted

---

People who have been sick a long time need longer treatment. All things considered, you haven't been treated long. Not what you wanted to hear for sure. But this gets said a lot on this forum: treating lyme is a marathon, not a sprint. So, reset your timer and maybe it will be more bearable. Hang in there.

Good for you for finding a closer doc. Hope it works well for you.

---

Posts: 8430 | From Not available | Registered: Oct 2000 | IP: Logged |

lpkayak
Honored Contributor (10K+ posts)
Member # 5230


posted

---

i was able to read most of what was written

i was sick over 15 yrs...acutely...before tx and i probably was actually sick most of my life b4 that but didnt realize my weaknesses were lyme and i was too stubborn to give into them

when dx i had one yr undertxment....then 2 yrs high dose orals and one of detox that got me 80% back...then i maintained on herbs

i got much worse when istarted tx but had to keep working cuz hubby didnt make mych money or have healthe ins and we had 4 kids ...some txing lyme

all i could do was work and collpase...i had been caring for my mom...dementia we later found out was lyme...i was hiring ppl to come take care of her but couldnt even do that so my brother took her

i had to break up my farm and find homes for my special horses and ti think that was really the hardest thing i have done in my live. i was 45 or so and had had a horse in the back yard since i was 7...it was part of my identity and painful and depressing to give up

i went thru periods of being suicidal but came out of it and got this mental out look on life of figuring what would make me feel a little happy for now...the way i was and i let myself have that

things like watching the kids...but not really playing with them...smelling a flower but being unable to pland and grow it...

i had been a mom who did a lot with the kids and put myself last. when they were gone i was supposed to have my turn at skiing and riding and surfing etc...

i had to realize that now they are gone but my body is not what it was so i have to be happy with a little of what i really wanted. sort of be glad for pony rides when i cant actually ride myself

anyway...i do think in the scheme of things you are trying to rush things a bit and it is way too soon for you to give up. it takes time. you may not get 100% but you can change the way you think and be happy with what you get...

whne i see ppl who are bitter about what lyme or cancer or a tour of duty has done to them...i am so grateful that i have this ability to see the glass 1/2 full. practice that. it gets easier. be creative...imaginative...focus on what makes you feel "happy" and let yourself do that

god bless.

--------------------
Lyme? Its complicated. Educate yourself.


---

Posts: 13712 | From new england | Registered: Feb 2004 | IP: Logged |
Contact Us | LymeNet home page | Privacy Statement

Powered by UBB.classic™ 6.7.3

---
The Lyme Disease Network is a non-profit organization funded by individual donations. If you would like to support the Network and the LymeNet system of Web services, please send your donations to:
The Lyme Disease Network of New Jersey
907 Pebble Creek Court, Pennington, NJ 08534 USA
http://www.lymenet.org/
---
Home | Flash Discussion | Support Groups | On-Line Library
Legal Resources | Medical Abstracts | Newsletter | Books
Pictures | Site Search | Links | Help/Questions
About LymeNet | Contact Us
---
© 1993-2020 The Lyme Disease Network of New Jersey, Inc.
All Rights Reserved.
Use of the LymeNet Site is subject to Terms and Conditions.
---