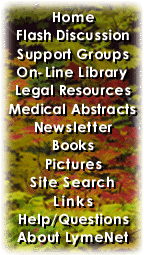 ---
LymeNet on Facebook
LymeNet on Twitter
---
---
The Lyme Disease Network receives a commission from Amazon.com for each purchase originating from this site.
When purchasing from Amazon.com, please
click here first.

Thank you.




Dedicated to the Bachmann Family


LymeNet needs your help:
LymeNet 2020 fund drive

The Lyme Disease Network is a non-profit organization funded by individual donations.

| | |
| --- | --- |
| | |
Author
Topic: Hoping for a tiny favor - please write about your pain and symptoms

missing
LymeNet Contributor
Member # 22437


posted

---

Hello gang!

I am having problems trying to communicate with my family about how sick I am.

They also get wrong information off the ineternet and from books and t.v. shows.

So I am constantly re-educating them, but it is difficult for them to understand.

They think that I am only in pain a couple of times a day. They don't realize that I feel like I am being electrocuted, tazerd, cut to shreds with razors, burned, and stomped on !!!
continuously all day, every second of the day.

They think I just need to relax and medidtate.

I would like as many as people possible to write all their symptoms, complaints, pain, here so that I can print it out to give to them to read, over and over again!

Also, if you have family members, or children with Lyme,please describe what it was like as a parent or a spouse or what ever relation to watch them suffer.

Thanks everyone! from Missing.



--------------------
I am not a doctor. I have no clue.


---

Posts: 606 | From somewhere out there | Registered: Sep 2009 | IP: Logged |

JeniferM
LymeNet Contributor
Member # 31996


posted

---

I get:
- the tripling of gravity where every little movement is too heavy. Like you're always moving through mud or something.
- squeezing pain in my arms and legs after using them. Just lifting my arms to wash my hair in the morning is painful/exhausting.
- memory issues
- can't concentrate at work, easily distracted
- can't think my way out of a garage with the door open
- sleep issues
- back pain
- joint pain
- headaches
- bladder pain / infections
- abdominal pain
- swollen organs (ovaries, bladder)
- muscle spasms, even in my face
- pain in the joints of my jaw
- tremors in hands and head
- eyes kind of twitch where I can't focus on a single point very easily
- Dr. Jeckyl and Mr. Hyde syndrome
- motion sickess just walking down the aisle of a grocery store
- lights are too bright
- sounds are too loud
- smells are too smelly
- you're standing too close!
- weight GAIN
- loss of coordination in hands and limbs
- why is the world tilting to the right all of a sudden?
- dizzy/disoriented spells. Luckily, these have gone away with treatment so that now I can drive again.
- people stress me out
- changing my routine stresses me out
- being startled really stresses me out, no more scary movies for me
- then, take all of the above symptoms and put them each on their own pendulum and swing them all randomly. Sometimes they'll swing in and show up together or any combination will just come and go.

--------------------
IgM: [18++,31+++,34++,41++,83-93+] [39 IND]
IgG: [41 IND]
Positive according to IGeneX. Negative according to CDC. Negative for co-infections.
Currently treating for Lyme, Bartonella, Babesia


---

Posts: 225 | From Minnesota | Registered: May 2011 | IP: Logged |

Dogsandcats
Frequent Contributor (1K+ posts)
Member # 28544


posted

---

Have you shown them under our skin?

I have an extra copy I can mail to you...pm if you want

I think the above said it well....

It feels like I have been pulled behind a Mac truck, left along side of the road. I finally can stand up and another Mac truck comes along and smashes me. Over and over.......

--------------------
God will prepare everything for our perfect happiness in heaven, and if it takes my dog being there, I believe he'll be there.

Billy Graham


---

Posts: 1966 | From California | Registered: Oct 2010 | IP: Logged |

Keebler
Honored Contributor (25K+ posts)
Member # 12673


posted

---

-
It would be incredibly difficult to write about my symptoms, past or present (as well as the incompetency of 99% of doctors I've gone to for answers). It's a very steep cliff, as all this is just that devastating. I have to focus on the positive, the hope.

For others who also either can't "go there" or can't spare the physical or emotional energy to go to this dark place, see the links below for explanations.

This should save many here from having to relive past trauma or to delve into present horrors. And, no mistake, tick-borne diseases (including the actual illness and the socio-economic ramifications) can become a horror of unmeasurable proportion. That's it in a nutshell.

For specifics, as there are many authors who have written at length about what lyme can do, you might ask your family to READ. They could first start with the film UNDER OUR SKIN.

They could attend your area lyme support group (with or without you, whichever would be best for all concerned).

Here are some sources to get them started if they really want to know more about TBD (tick borne disease).

If they don't want to know more, I would just drop it and limit their level of involvement in your life. Trying to "convince" anyone can become unhealthy for your own psychological health. Share the information, share your desire for their understanding but be sure not to hop in the land of NEEDING them to do so. It can set up dangerous dynamics. I find it best to learn how to let go. It's hard but, usually, better.

Best of luck for maintaining hope for regaining health on all levels. After looking over all this (and doing whatever you own daily education is with all this), be sure to enjoy something else - art, music, nature, etc. Balance can help lift us up, bit by bit, each day.

================

http://www.underourskin.com/

UNDER OUR SKIN -

http://www.underourskin.com/honors

HONORS received by this documentary

==========================

http://cassia.org/checklist.htm

Symptom checklist for lyme

=========================

This is the most comprehensive article. Much is explained, especially about sensitivities to stimuli and exhaustion.

http://cassia.org/essay.htm

WHEN TO SUSPECT LYME - by John D. Bleiweiss, M.D.

==========================

http://www.thehumansideoflyme.net/

THE HUMAN SIDE OF LYME

=====================================

http://www.borelioza.org/materialy_lyme/the_complexities_of_lyme_disease.pdf

THE COMPLEXITIES OF LYME DISEASE - by Tom Grier, M.S.

=============================

http://www.cureunknown.com/

(book) CURE UNKNOWN: Inside the Lyme Epidemic (2008) - by Pamela Weintraub

Cure Unknown wins prestigious American Medical Writers Association award for best book, 2009

Pamela Weintraub is Features Editor at Discover magazine. She also authors several articles for Psychology Today, many detailing the effects of lyme. She is a Literary and Investigative Science Journalist . . . .

----------------
http://www.psychologytoday.com/blog/emerging-diseases

One of her Blogs: EMERGING DISEASES
Patients at the crossroads of new diseases and chronic ills.
-------

http://www.amazon.com/Cure-Inside-Epidemic-Pamela-Weintraub/dp/0312378122%3FSubscriptionId%3DAKIAIRKJRCRZW3TANMSA%26tag%3Dpsychologytod-20%26linkCode%3Dxm2%26camp%3D2025%26creative %3D165953%26creativeASIN%3D0312378122

Over 80 customer reviews of the book, Cure Unknown, here. It would be helpful for family members to read these reviews to get a sense of severity of tick-borne infections and the lack of good medical care and public understanding around such.

============================

There is a wonderful letter from a father who, after some time, finally came to understand all this. I hope someone posts that link. I think it is in the "General Support" forum here, somewhere.
-

---

Posts: 48021 | From Tree House | Registered: Jul 2007 | IP: Logged |

Keebler
Honored Contributor (25K+ posts)
Member # 12673


posted

---

-
You might also consider a series of counseling sessions with a lyme literate therapist. Ask your LLMD or LL ND for some options - or ask at your local or state lyme support groups.

The book I'M OKAY, YOU'RE OKAY might be extremely helpful in understanding interpersonal dynamics in this situation and throughout your relationships, throughout life.

When we alter how we see situations and other people, what we expect and how we communicate, others will often grow with us.

Learning how to let go of expectations - and learning how to prioritize & focus - are also skills that a good therapist can guide. With such limited energy, focus is absolutely imperative. We have to be frugal in our thoughts, emotions and pursuits.

When there is less "noise" - and more clarity in communication - near magic can happen in relationships with those we love (including the "relationship" with one's self).

Now, many therapists can help with much of that but a LL one can also help you explore and verbalize your emotions in this very unique reality of lyme.

Only a therapist truly LL and ILADS-educated can have a full appreciation for the stunning complexities faced by someone who is managing lyme and all that comes with it.

Someone who understands Inner Ear conditions would also be helpful. See all the symptoms of that, as inner & middle ear issues (vestibular disorders) very often are symptoms of lyme, babesia, bartonella and other tick-borne infections.

When a therapist really understands the sensory dysfunction, they can get down to work much more effectively with you. They can also help you brainstorm for creative ways to manage.

Your local Vestibular Support group might also be of help here. I think I recall that you are in Oregon. If so, contact the Good Samaritan hospital community education department. The Vestibular Disorders support group meets there.

=============================

http://www.vestibular.org/vestibular-disorders/symptoms.php

VESTIBULAR DISORDER SYMPTOMS

Share this list with your family so they can better understand - and also help you lessen the sensory overload as best possible.

===============================

http://www.amazon.com/Im-Youre-Thomas-Harris-M-D/dp/1578660750

I'M OKAY, YOU'RE OKAY - by Thomas Harris, M.D.
-

[ 09-29-2011, 05:02 PM: Message edited by: Keebler ]

---

Posts: 48021 | From Tree House | Registered: Jul 2007 | IP: Logged |

missing
LymeNet Contributor
Member # 22437


posted

---

Thank you so much everyone. I just checked this now. I fell asleep.

Every few weeks or so , I tend to have long naps that are a bit scary. They feel intense, as if I am going into a coma.

It is a nice sleep. It makes me feel as if I am starting to recover, finally.

Very good replies.

I will print them out and hand it too her, and maybe others.

I have the same symptoms and pain too.

You are all so wonderful. Today, myy family really tried to understand what I was going through.

I think I may just need to explain it better, and a few extra times.

They pray a lot for me.

Thanks!

--------------------
I am not a doctor. I have no clue.


---

Posts: 606 | From somewhere out there | Registered: Sep 2009 | IP: Logged |

payne
Frequent Contributor (1K+ posts)
Member # 26248


posted

---

Many of us face family with disbelief...

that the support is nulled even when you show them a positive test..

I myself am still hanging a thread of
"I can hardly believe this myself"

My close Friend of 25 or more years,
whom I have farmed with, eat with, family tied to..trusted all with,
barely can Understand...

Untill just a week ago,

His son a big 30 yr old athlete has become strictened with poor health,

His mother and her re married husband are
Doctors...
she calls me for help towards getting a positive test,
because NO ONE Believes he has Lyme or all the symptoms to go with it..
Very sad for me, this kid takes to me like a son...
he said he was turkey hunting in Ohio and pulled 2 ticks of him a yr ago, and since has had flu like symptoms dragging he under..
NOW the doctor end of His family are all over me about the cure and how soon can get the pills and get his life back?

REALLY... call me the guy who's been making up lyme ??
REALLY... they are doctors and want my info to save their son..
(my Friends son too- remarried after divorced 18yrs ago)..
I was floored that this doctor doesn't have a clue or even a idea of how to google testing..

All i heard is he is making this up and we got lots of money and Mayo is easy to do
REALLY REALLY REALLY...

"this is the truth to our disease"..
I was no better then the town drunk for yrs making up why i am almost totally disabled..

So, I asked her why would your son make this up, he has everything going for him ...
like myself why would i make up and eat all these meds and destroy my body ?
when i love the outdoors and i am retired and can now enjoy my rewards..?
WHY?
so, i passed on igenex info and our sight for searching a LLMD,
she said we can treat him we are doctors... and you are calling me for a cure?

DUH on them and all doctors that are ignorant to their patcients needs..
their son (my friends son),
this 30 yr old kid with a family and great life ...
called me in tears and said NO ONE believes me?
REALLY...
So i told him to start kissing them alot everytime you can kiss them hug them...
for as i have done this to my own family of disbelievers and they now respond with
"ARE YOU CONTAGIOUS??" REALLY
avoiding contact to me is a sign they do believe ... but, only care when its them...
Try to find support and happiness from people that CARE..
I believe there are more strangers on this site that care for me then my group of supporters that say
"WE ALL GOTTA DIE SOMEHOW"
Really ?
there maybe many more americans die from this plague before we are willing to stop the wheel and look at the sqweek..
God Bless and open the minds of our Nation under GOD... wayne

--------------------
TULAREMIA/rabbit fever ?


---

Posts: 1931 | From mid-michigan | Registered: Jun 2010 | IP: Logged |

payne
Frequent Contributor (1K+ posts)
Member # 26248


posted

---

JUST BECAUSE YOU HAVE A HEART..
DOESN'T MEAN YOU CARE..
WAYNE:grouphug:

--------------------
TULAREMIA/rabbit fever ?


---

Posts: 1931 | From mid-michigan | Registered: Jun 2010 | IP: Logged |

kam
Honored Contributor (10K+ posts)
Member # 3410


posted

---

Yep. My doubts are that writing things out and having them read it will not help and only set yourself up for more disappointment.

Been there. Done that. Sorry.

---

Posts: 15927 | From Became too sick to work or do household chores in 2001. | Registered: Dec 2002 | IP: Logged |
Contact Us | LymeNet home page | Privacy Statement

Powered by UBB.classic™ 6.7.3

---
The Lyme Disease Network is a non-profit organization funded by individual donations. If you would like to support the Network and the LymeNet system of Web services, please send your donations to:
The Lyme Disease Network of New Jersey
907 Pebble Creek Court, Pennington, NJ 08534 USA
http://www.lymenet.org/
---
Home | Flash Discussion | Support Groups | On-Line Library
Legal Resources | Medical Abstracts | Newsletter | Books
Pictures | Site Search | Links | Help/Questions
About LymeNet | Contact Us
---
© 1993-2020 The Lyme Disease Network of New Jersey, Inc.
All Rights Reserved.
Use of the LymeNet Site is subject to Terms and Conditions.
---