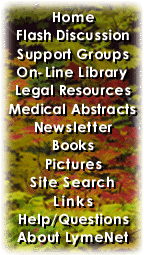 ---
LymeNet on Facebook
LymeNet on Twitter
---
---
The Lyme Disease Network receives a commission from Amazon.com for each purchase originating from this site.
When purchasing from Amazon.com, please
click here first.

Thank you.




Dedicated to the Bachmann Family


LymeNet needs your help:
LymeNet 2020 fund drive

The Lyme Disease Network is a non-profit organization funded by individual donations.

| | |
| --- | --- |
| | |
Author
Topic: Young people with Lyme

luffdaddy
Member
Member # 33447


posted

---

Hi everyone. I've just graduated college and I am about to start my first real job, but I have been battling Lyme for a while now. I have none of the strength or energy I used to have to do the things I want to do. I used to be very sociable and active and now I feel I am an entirely different person. It seems to have almost affected my personality. I am much more withdrawn because either I am too tired or my brain is too foggy to relate to people, not to mention a loss of confidence from the whole ordeal. I just feel I am missing out on a crucial period of my life! I don't know what it will be like starting a new job in a new city.

Anyone have a similar experience??

---

Posts: 18 | From Maryland | Registered: Aug 2011 | IP: Logged |

desmo
Junior Member
Member # 37727


posted

---

Your post sounds exactly like me. I graduated last year, I'm 23, and haven't been able to hold a job because of my lyme. It has really put a big damper on everything I wanted by this point in life.

My personality is shot and even among friends I feel like I'm "faking" how I'm acting. It sucks, things shouldn't be like this at this age. It takes a lot of pushing to just try and do normal stuff. The backlash I've been getting from people sure isn't helping. I guess all you can do really is push through it, be open with people about it and hope they understand!

---

Posts: 7 | From CT | Registered: May 2012 | IP: Logged |

Pony
LymeNet Contributor
Member # 32559


posted

---

Same boat here! I got sick in college a couple years ago and am now working part time. I used to be really active and social too now I don't do anything social. Partially because I'm sick and don't feel like going out but also because I don't want to have to explain myself and my illness.

It's great that you are getting a job though. As tough as it is, it really helps to have money coming in.

Like desmo said, all we can do is keep pushing on. We'll get there, sometimes it just takes a while.

Good luck

---

Posts: 169 | From The Poconos | Registered: Jun 2011 | IP: Logged |

Wonko
LymeNet Contributor
Member # 18318


posted

---

Well, I'm not sure that I'm young, but my Lyme hit in my late twenties as I was finishing up my education. (I'm early 30's now.) I've twice had to move to new cities for new jobs. My Lyme has surely affected my career, which is a tough pill to swallow.

There is more than one side to working with Lyme. While I'm grateful to be working, keeping my mysterious illness a secret adds an extra burden. I get jealous of healthy counterparts who actually have the energy work extra hours or to even run errands after work.

I pretty much work and recover from work, there is not a lot of extra room in my life. I have a very understanding spouse who is willing to not travel much, or even get out much, so I'm lucky with that.

Being sick is not a character flaw, but it can feel that way when you compare what you can do to what others can do. I often feel like I'm fighting with one hand tied behind my back, but only I know it (since I do not disclose my illness to colleagues).

So life is different than it would be without Lyme, and it took me a couple of years to get over "mourning" for my normal self. And it is an ongoing struggle to accept that others cannot/do not understand.

But life does go on, and one silver lining that I experience is that every professional accomplishment I do achieve means all the more to me, knowing what I went through to get it.

I agree with the above that despite the challenges it is great that you are working. Having something in your life that you still can do (even though it is extra hard) that takes focus away from the illness is, in my mind, a good thing for the soul. Best of luck going forward.

---

Posts: 455 | From Was in PA, then MD, now in the Midwest | Registered: Nov 2008 | IP: Logged |

Life+Lyme
LymeNet Contributor
Member # 33568


posted

---

I'm in the same boat! I first got sick at 14, and I just finished my freshman year of college. It is the worst feeling to have people around you have the ability to reach their potential and get amazing opportunities.

The worst part is that this is supposed to be the best years of your life, and it is pure misery--only more so due to seeing others enjoying it. I'm happy for them, but it is just a constant reminder of what I don't have.

I wish I didn't have a type-a personality because it would make my situation easier. Their is nothing I want more than to be able to work and fully excel in my education.

Going to college with all this going on is extremely challenging, but it also distracts me from the Lyme. Just have to find things to keep my mind occupied with things other than Lyme.

Sorry you are struggling!

--------------------
You name it, I've got it.
Full-time medical anomaly.


---

Posts: 432 | From Southeast | Registered: Aug 2011 | IP: Logged |

lyme918
LymeNet Contributor
Member # 29686


posted

---

I'm in a very similar position. I had to withdraw from college when I was 19 due to Lyme (I am 22 now).

I am currently working for my father's company and taking a few courses just to keep busy. This past month I've been watching my friends graduate, which is very difficult.

I feel as though I am missing out on the best years of my life, and those close to me do not understand. Only recently have I been able to feel more comfortable and accepting of that whole idea.

I'm sorry you are having a difficult time.

--------------------
Lyme918


---

Posts: 188 | From Massachusetts | Registered: Dec 2010 | IP: Logged |

smiles132002
LymeNet Contributor
Member # 7949


posted

---

I wish I had more positive news..I give you all props for being able to graduate college. I had to drop out when I was 20 because I was too sick and we didn't even know what I was sick with for another 10 months..and then I spent 5 years doing all different types of therapies..I had to work fulltime to get health insurance..and then ended up going on disability and was finally able to get a job fulltime 2 years ago...I still haven't gone back to school-at 28 almost..I am feeling super depressed. No college degree, no stable job (just found out my job is getting eliminated) and all of my friends are in serious relationship, engaged, or married. I am the ONLY single one..it's very very depressing. And finding someone who can understand and support this is like finding a miracle..my advice is to finish school if u can..i am going to go into even more debt and go back..but it will take me at least 3 years to finish..

---

Posts: 484 | From Burlingame, Ca | Registered: Sep 2005 | IP: Logged |

Robin123
Moderator
Member # 9197


posted

---

We live in a different universe. We rewrite the rules.

As in, tons of patience and doing everything more slowly, constant management and modification, etc.

Normal healthy people have no idea what this is like.

If it's any consolation, this is exactly what anyone will go through if they get what we have, so we are normal in that way, in our forced response to being disabled.

As far as I'm concerned, I think we all show enormous strength to be able to get through this unwanted experience.

I also think we have lessons to teach others, one being that conditional judgments are just that - conditional, and that sometimes we're forced out of them into a moment-by-moment, day-by-day presence with the reality of our lives.

Another lesson we can teach others is being grateful for simple experiences, of just being able to show up at all for something we want to do or go to.

By the way, I was a young person who didn't know I had Lyme. I got older not knowing. Now I'm an older person who knows. But boy, do I remember - all that confusion, forced into this experience without even a reason why.

---

Posts: 13084 | From San Francisco | Registered: May 2006 | IP: Logged |

Robin123
Moderator
Member # 9197


posted

---

I think I want to make another post - I have found that it is better to tell people, so that they can understand.

I tell them what the illness is like - I give them some biological facts and info about it affects us.

People are more supportive of me when they understand. They actually want to assist more, when they learn what I'm dealing with.

So my advice would be, to try telling the people you think can handle the info fairly.

---

Posts: 13084 | From San Francisco | Registered: May 2006 | IP: Logged |

tricia386
Frequent Contributor (1K+ posts)
Member # 29623


posted

---

Well here is my story.

I was perfectly healthy 24 years old going to grad school working travling the world. Living with my bf on top of the world.

After I garduated college in 2008 I decided I should get a doctor to be responsible. So It 2009 I got my first Dr. She told me I should get the gardasil vaccine. I said I didnt need one I was in a steady relationship for 4 years and we were most likely get married. She began to tell me how do I know he is not cheating on me. Anyways I decied to get the shot.

That winter I was so sick flu after flu after upper respitory infection etc. In the spring itw as my last semester of grad school. I got my last gardasil shot on a Friday in April and all hell broke loose.

I was so sick. I had only my senior thesis left but i could not complete it had to drop out of Grad school 3 credits short of graduating.

I took them 8 months to figure out what was going on with me at a wellness clinic.

The vaccine had destoryed my immune system allowing all of teh dromant virus and pathogeions to explode. This happened to many girls ify ou do research. Several had even died.

I was so sick and scared. The Wellness center startedt o treat me but soon realised I was to complexed. I got to Dr. H in March of 2011.

I have been in treatment for 14 months is so hard.

i feel like my life is passing me by. I am able to hold down and job still as I have FMLA and I have worked the whole time it has not been easy. But luckily my mom is the boss.

I still live with my BF who is an angel we have been together 6 years and he said he will never leave me. We want to get married but now till I am better. hes so postive.

My friends have been great too but its so hard to sit back and watch these health ppl do all these things and travel etc. Its so hard and I am very depressed most days.

No one understands until you have been through this.

The scariest thing is knowing that you may never recover. I just feel like there is no light at the end of the tunnel.

--------------------
Lyme activated in April 2010 by gardasil vaccine.
DX: Lyme,Babs,Myco,Bart 11/10
Treatment Started: 3/28/11


---

Posts: 1752 | From Albany, NY | Registered: Dec 2010 | IP: Logged |

nhlymeguy
LymeNet Contributor
Member # 30783


posted

---

This is really hitting home for me...

I was 19 and enjoying my college life thoroughly...maybe a little too much...it was actually the partying that led me to know I was getting sick.

I couldn't drink like other students and friends (sounds like a silly problem) I would be so hungover that I knew something was wrong.

Eventually, I was getting anxious, bed sweats, heart palpitations, and terrible fatigue...I managed to finish college without anyone really knowing anything was wrong with me.

On the inside I was a wreck...I was so scared and alone, I had no idea what was wrong...I thought I was going crazy and doctors didn't help at all.

I was told it's just anxiety, that this point in your life can be difficult...I knew that this was BS. I was so active, healthy, athletic, smart (not to toot my own horn too much)...but then to have it all crash down was just perplexing to me.

My personality changed (like others mentioned) I had no confidence...I lost a lot of friends because I would just want to be alone.

I have managed to get married to the woman that I met in college and she has stuck by me (although she never has or never will fully understand how difficult this has been and still is)...we have 2 wonderful boys and with treatment I've gotten better (not where I was, but much better)

I am angry because I know I'd have a much better career and life for my family had this not happened to me... I would have certainly gotten my master's degree and been willing to move for work and be able to be a manager or an executive.

I feel lucky to be able to function and have a family, but it hurts seeing others participate in men's bball and baseball leagues and go out on weekends and stuff like that. I feel I've missed out on so much, but you all know that too.

Sorry for going on and on, it feels good to get this out.
Nhlymeguy

---

Posts: 222 | From NH | Registered: Mar 2011 | IP: Logged |

Healerdealer
LymeNet Contributor
Member # 23032


posted

---

My son, who is now 19 and in college, is now in remission from Lyme. He's been in remission for almost 3 years. He feels fine!

As a matter of fact, we are both in remission.

I had brought him to my conventional LLMD that I was seeing at that time. He had been on antibiotics, supplements, etc. for a year there was hardly any progress.

He was still depressed, fatigued,anxiety, had difficulties concentrating, processing, sleep problems, etc.

A friend of mine had started her daughter on these holistic drops from Germany:

www.allergie-immun.de

In the meantime, I had switched to a holistic practitioner and I saw how I was beginning to feel better through holistic therapies.

My son started taking the drops. He was in remission within a year and a half.

I also took the drops and I'm also in remission. Since I was sicker and had more issues, I needed complimentary therapy and supplements.

My son took come chlorella, vitamins, probiotics while on the drops and that's it!

I wrote to the AI lab and asked if it was necessary to continue antibiotics while taking the Allergie-Immun drops.

They said, NO!

My friend and her daughter are in remission, too.

My son is active. You would never know how sick he once was.


Healer

[ 02-01-2013, 06:58 PM: Message edited by: sixgoofykids ]

---

Posts: 163 | From New Jersey | Registered: Oct 2009 | IP: Logged |
Contact Us | LymeNet home page | Privacy Statement

Powered by UBB.classic™ 6.7.3

---
The Lyme Disease Network is a non-profit organization funded by individual donations. If you would like to support the Network and the LymeNet system of Web services, please send your donations to:
The Lyme Disease Network of New Jersey
907 Pebble Creek Court, Pennington, NJ 08534 USA
http://www.lymenet.org/
---
Home | Flash Discussion | Support Groups | On-Line Library
Legal Resources | Medical Abstracts | Newsletter | Books
Pictures | Site Search | Links | Help/Questions
About LymeNet | Contact Us
---
© 1993-2020 The Lyme Disease Network of New Jersey, Inc.
All Rights Reserved.
Use of the LymeNet Site is subject to Terms and Conditions.
---