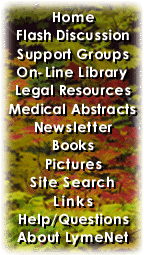 ---
LymeNet on Facebook
LymeNet on Twitter
---
---
The Lyme Disease Network receives a commission from Amazon.com for each purchase originating from this site.
When purchasing from Amazon.com, please
click here first.

Thank you.




Dedicated to the Bachmann Family


LymeNet needs your help:
LymeNet 2020 fund drive

The Lyme Disease Network is a non-profit organization funded by individual donations.

| | |
| --- | --- |
| | |
Author
Topic: Food?

August Savage
Member
Member # 40282


posted

---

Very new to this, so please excuse this posting if it's been done over and over again. I am looking for some advice on what to eat. Simple guideposts.

I've read Dr. Burrascano's paper on the ILADS site where at the end he makes some very strict recommendations.

For example, when he talks about avoiding grains/flour based foods, was this written prior to the widespread usage of gluten free products in cereals and breads? Is he suggesting avoiding the gluten.

He also states avoiding banannas (not enought fiber), for example, which I've seen on other sites, that they're OK. No fruit juices, he lists. With his other recommendations, I'm finding some consensus with other advice out there.

I realize this opens up a major conversation about diet, nutrition and supplements, so I'd like to keep it fairly direct and simple, if possible.

So, in other words -- what's for breakfast, lunch and dinner, of course in small doses?

Thanks in advance for your input!

...................................................

Breaking up the text for easier reading for many here -

[ 03-27-2013, 05:20 PM: Message edited by: Robin123 ]

---

Posts: 11 | From Mid-Hudson Valley, NY | Registered: Mar 2013 | IP: Logged |

kam
Honored Contributor (10K+ posts)
Member # 3410


posted

---

You might be interested in Dr. Nicole Mcfaden's book (sp?)

Another well known persno wrote a book on food intake with lyme too which I can't recall right now.

I have seen people be able to continue to eat what they want and get well.

But, for me...I have needed to change my food intake. It has been a gradual process.

Goats Milk Yogurt with berries when they are in season...frozen berries when not

GF toast

Lunch: gluten free toast with almond butter and fruit only jam. A gluten free, veggie chili from Amy's at noon ...if I havei t avocado's and red onion and crumbled goat's milk cheese on top.

OK brain is fading I will stop now.

---

Posts: 15927 | From Became too sick to work or do household chores in 2001. | Registered: Dec 2002 | IP: Logged |

faithful777
Moderator
Member # 22872


posted

---

Most Lyme patients are insulin resistant so watch the starches, even gluten free ones. Eat as close to nature as possible. Avoid anything white, including sugar.

--------------------
Faithful

Just sharing my experience, I am not a doctor.


---

Posts: 2680 | From Colorado | Registered: Oct 2009 | IP: Logged |

Robin123
Moderator
Member # 9197


posted

---

As Kam mentioned, Dr Nicole McFadzean's book is called "The Lyme Diet" - highly recommended.

---

Posts: 13049 | From San Francisco | Registered: May 2006 | IP: Logged |

Keebler
Honored Contributor (25K+ posts)
Member # 12673


posted

---

-
Q: "What's for breakfast, lunch and dinner?"

Always something from each of the 3 major food groups (protein, carbohydrate, fat).

WHOLE FOODS - not processed, refined, or "simple" and no "fake" foods. No "foods" that require a factory to create them. This is to make nutrition count but also to avoid additives that can derail us in many ways.

Avoid fried foods. Always. The high heat (and usually the wrong kinds of oil) can destroy oil and that can destroy the lining of our blood vessels.

Basically with each meal: Protein, Carbohydrates, Fats.

1) PROTEIN: Nuts, Legumes, Meat, Fish, Eggs

2) CARBOHYDRATES: Your entire Plant kingdom in their whole, "complex" form. Steamed, lightly sauteed, juiced (if you also consume with other whole foods &/or pulp), etc.

VEGETABLES - at least 2 with each meal, especially breakfast. Great as snacks with a nut butter.


FRUIT low sugar fruits like dark berries (if candida is well controlled. If not, even they may be too much sugar).

SEEDS & GRASSES - a bit of non-gluten seeds and grasses that "stand in" for grains. Good in small amounts: Amaranth, Millet, Quinoa (regular, red, black), Rices (never white but go for brown, red, black and WILD).

Buckwheat Groats (not to be confused with a buckwheat flour that may also contain wheat).

Nearly any of these can be added to a soup to give it some texture.

Avoid: wheat, spelt, kamut, barley and rye. They all contain gluten.

Oats, only okay if certified gluten-free on the label to know they have not been processed on equipment that processed gluten foods.

Only the thicker ROLLED or STEEL CUT OATS. Never the instant. Too much like a simple sugar.

Still, oats may not be good for everyone for a couple reasons. If incorporated, make sure it's not the focus of the meal, just a little bit with proteins & veggies the big ticket items.

3) FATS: Extra Virgin Olive Oil, Nut oils, Avocado, etc. in foods are as added oil. Ghee (refined butter) in small amounts. Or Organic Butter.


A nice meal, anytime of the day: Curry soup. This can be prepared in a thousand ways. Coconut milk is especially well suited to soups. Add at the last minute, though, to keep it from separating.

This can all seem overwhelming so start small. You are not yet on antibiotics so you have some time to make any changes. I hope the explanations provided will help explain why all this fuss. It's worth it.
-

[ 03-27-2013, 06:36 PM: Message edited by: Keebler ]

---

Posts: 48021 | From Tree House | Registered: Jul 2007 | IP: Logged |

Keebler
Honored Contributor (25K+ posts)
Member # 12673


posted

---

-
A good "first" breakfast as you prepare a fuller meal: two BRAZIL NUTS to get some protein & fat - and selenium.

A cup of MISO SOUP can also be very nice for a start (but be certain it is not made from barley as some is).

GARDEN HERBS & SPICES will enhance any meal. If you are not familiar with these, call and make an appointment with someone at a natural foods market.

They can introduce you to all kinds of vegetables that may have been hidden from you -- and the range of garden herbs and spices from around the world.

At first, changes like this in a diet - or phrase it a "food plan" if you like - can seem restrictive. Really, though, it opens up a whole new world in so many ways. Really. You will be amazed and quite able to fall in love with food, real food.
-

---

Posts: 48021 | From Tree House | Registered: Jul 2007 | IP: Logged |

Keebler
Honored Contributor (25K+ posts)
Member # 12673


posted

---

-
I see you have posted, seeking a doctor. Good luck.

To PREVENT candida from even becoming a problem in the first place, before even starting antibiotics, be sure to have PROBIOTICS in place.

Antibiotics (abx) are intended to destroy certain kinds of bacteria. But there are some good bacteria that our guts need and abx can also destroy the good guys.

Candida can also become worse with sugar. And any refined "simple" carbohydrate is basically sugar.

"If it's white, it ain't right" is the basic slogan to remember. White sugar, white rice, but not just "white" it is the flour form, the powder that makes them more like quick sugar than food that is in its whole form and takes hours to work through our digestive tract.

Candida used to be a huge problem for me if I even so much looked at an abx.

It took years to clear up and, once I did, and then was to go back on antibiotics, FIRST, I started on OLE . . . and kept on it during antibiotic treatment. Candida never became a problem.

Ask the LLMD when you first meet them if they are okay with you starting this FIRST:


http://flash.lymenet.org/scripts/ultimatebb.cgi?ubb=get_topic;f=3;t=030549;p=0

OLIVE LEAF EXTRACT - LINKS
-

---

Posts: 48021 | From Tree House | Registered: Jul 2007 | IP: Logged |

August Savage
Member
Member # 40282


posted

---

I have a doctor I'm working with and am taking 100 mgs of Doxy twice a day. I haven't been on a antibiotic in 30 years. So far, so good. Now on my 5th week. Taking the A/B probiotics twice a day. I also haven't eaten red meat in 30 years or more and within the last 8 years began to eat fish and poultry. I don't drink milk but love almond milk. All these suggestions as well as the page with other ideas, is greatly appreciated!

Dr. B's food advice seemed a bit dated, but I now understand to avoid wheat, gluten, etc. I'll pick up The Lyme Diet and take suggestions from there. But keep the ideas flowing here. We all need ideas and reminders of what to eat -- particularly those things that aren't overly complicated to shop for, keep in the house and quickly prepare. I cook for the family (5) every night, so sometimes I need inspiration.

---

Posts: 11 | From Mid-Hudson Valley, NY | Registered: Mar 2013 | IP: Logged |

beaches
Frequent Contributor (1K+ posts)
Member # 38251


posted

---

Hi there,

We are GF and trying to maintain as healthy a diet as possible. Here are some easy ideas for meals that you can mix and match.

Note that I am not including recipes for soups, stews, BBQ, etc. There are tons of those that you could use but it just seemed to me that you were looking for ideas for breakfast, lunch, dinner that didn't involve a lot of prep work.

Breakfast:

--Van's GF waffles with a tiny bit of pure maple syrup

--scrambled eggs

--fruit: oranges, pineapple, apples, berries

--yogurt

--steel cut oats (still looking for a GF brand)

--applesauce

Lunch:

--Boars Head turkey or ham

--avocado slices

--fruit: oranges, pineapple, apples, berries

--yogurt

--grilled chicken breast, grilled shrimp, lean hamburger

--cheeses: cheddar, provolone, mozzarella

Dinner:

--GF pasta (we like Schaar)

--baked chicken breasts/thighs/drumsticks

--meatballs/meatloaf (using GF breadcrumbs)

--baked flounder or sole

--broccoli or string beans sauteed with garlic and olive oil

--organic frozen corn

--sweet potatoes

--roasted red potatoes

--organic salad greens with oil and vinegar

---

Posts: 1885 | From here | Registered: Jul 2012 | IP: Logged |

cozynana
LymeNet Contributor
Member # 34270


posted

---

Breakfast- scrambled eggs and a veggie


Lunch- baked chicken and green beans or steamed cauliflower or broccoli


Supper- Grilled salmon with stir fried veggies in olive oil and garlic


Breakfast- almond butter and celery, plain greek yogurt and blueberries

Lunch- Grilled hamburger patty without bun and blended steamed cauliflower (reminds me of mashed potatoes)

Supper- Fried cabbage and chicken or hamburger with a bit of onion.

Mainly eat veggies and meat with a bit of fruit and yogurt.

---

Posts: 620 | From Ks | Registered: Oct 2011 | IP: Logged |

Keebler
Honored Contributor (25K+ posts)
Member # 12673


posted

---

-
Breakfast today was: Brussel Sprouts, sauteed onions, eggs added near the end to steam sunny side up on top of the brussel sprouts. Mushrooms would be very nice with this, too.

Seasoning: thyme & garlic, sea salt.
-

---

Posts: 48021 | From Tree House | Registered: Jul 2007 | IP: Logged |

beaches
Frequent Contributor (1K+ posts)
Member # 38251


posted

---

For Easter Sunday dinner tomorrow, we are having a special meal (GF and dairy-free):

Prime Rib with a crust of kosher salt, pepper, rosemary, garlic

Sauteed mushrooms, onions and garlic

Roasted red potatoes with onions and garlic

Organic green beans sauteed with extra virgin olive oil and garlic

Sweet potatoes (boiled, peeled, quartered and broiled with a dab of brown sugar and "Smart Balance")

Mashed carrots (boiled carrots mashed with a good bit of pepper, kosher salt, a bit of brown sugar and some "Smart Balance"

Organic frozen corn to which is added a bit of kosher salt and pepper as well as Smart Balance

A salad of organic greens, tomatoes and cucumber, dressed with extra virgin olive oil and a good vinegar

For dessert, I found a GF pie crust yesterday at a local health food store and I just happen to have a bunch of apples, so apple pie will be dessert, along with a couple of sorbets.

Hey, is anyone available to help me cook all this tomorrow?? Geez, I will be in the kitchen for hours and hours. Hoping there will be lots of leftovers!

---

Posts: 1885 | From here | Registered: Jul 2012 | IP: Logged |

TF
Frequent Contributor (5K+ posts)
Member # 14183


posted

---

August, I know you asked about diet, but I have to comment that you must not be treating with a lyme doctor because 100 mg of doxy twice per day is what the NON-lyme literate doctors give patients.

You need double that to kill lyme. Read it in Burrascano.

I hope you post in "Seeking a Doctor" so that you can find someone who can cure you.

You actually don't even have to change your diet on the dose of doxy you are on. But, when you get real lyme treatment, you will be on high doses and combinations of antibiotics, and that is when it becomes very important to follow the anti-yeast (very low carb) diet.

I followed the Burrascano diet when I treated lyme. It kept me from having a problem with yeast. I ate basically meat & seafood, non-starchy vegetables, seeds, nuts, eggs, and dairy.

I have been well now for 8 years. It worked for me.

---

Posts: 9931 | From Maryland | Registered: Dec 2007 | IP: Logged |
Contact Us | LymeNet home page | Privacy Statement

Powered by UBB.classic™ 6.7.3

---
The Lyme Disease Network is a non-profit organization funded by individual donations. If you would like to support the Network and the LymeNet system of Web services, please send your donations to:
The Lyme Disease Network of New Jersey
907 Pebble Creek Court, Pennington, NJ 08534 USA
http://www.lymenet.org/
---
Home | Flash Discussion | Support Groups | On-Line Library
Legal Resources | Medical Abstracts | Newsletter | Books
Pictures | Site Search | Links | Help/Questions
About LymeNet | Contact Us
---
© 1993-2020 The Lyme Disease Network of New Jersey, Inc.
All Rights Reserved.
Use of the LymeNet Site is subject to Terms and Conditions.
---