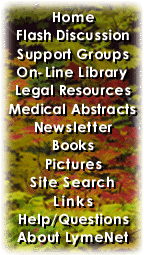 ---
LymeNet on Facebook
LymeNet on Twitter
---
---
The Lyme Disease Network receives a commission from Amazon.com for each purchase originating from this site.
When purchasing from Amazon.com, please
click here first.

Thank you.




Dedicated to the Bachmann Family


LymeNet needs your help:
LymeNet 2020 fund drive

The Lyme Disease Network is a non-profit organization funded by individual donations.

| | |
| --- | --- |
| | |
Author
Topic: Things we would all get benefits from

jory
LymeNet Contributor
Member # 50029


posted

---

"This is a feel-like thing,
do what you feel like" - Gil Scott Heron

Thinking of the most useful info I can share with everyone, I began working on this list. It consists mostly of foods and food-based products, and some other ideas that have had promise for me in the past 7 years.

This list is in the works and I'll edit and add to it as time and inspiration comes. Anyone experienced with these things is encouraged to share what you feel is useful, especially if you noticed any side effects for specific conditions or with certain meds.

Note: The numbering is imperfect, when the list gets large enough I plan to reorder them by priority.

THIS LIST IS OF RECOMMENDATIONS ONLY -
I DO NOT HAVE ANY CONNECTIONS TO ANY VENDORS

#1 is (Enzymes) Chyawanprash by Dabur
It looks like this:
https://imgur.com/gallery/DH84p

$5/500g, $9/1kg
Prices are from a local Indian shop.

It's a tasty jam made of amla (indian gooseberry), honey, piper longum (long black pepper), ashwagandha, gudduchi (tinospora cordifolia), and over a dozen Ayurvedic mainstay herbs including cinnamon and sesame.

It progressively cleanses your blood (not of critters though), helps lessen the adrenal load, stimulates and revitalizes your gastro with fresh, active, live enzymes, and contains a large dose of vitamin C (40% RDI in 1tbsp).

Buy the largest bottle you can find and keep it in a dark place.

1tsp or 1tbsp eaten straight off the spoon is not only delicious, but has effects that can be felt in 15 minutes -

especially if you have digestion issues or you were bad (like me yesterday) when you didn't take all your supplements as you should have and today you feel bleh.

It can also be mixed in hot milk, but never boil Chywanprash as it's full of honey.

#2 is (Nitrogenous Proteins) Mung Beans (vigna radiata)
They come in two varieties, whole shell (green), and hulled split (yellow).

The green ones are loaded with iodine and are tremedously good for every part of you. The yellow ones are made nearly as easy as ramen and pack a similar punch, but their taste and consistency makes them ideal for every meal including breakfast and even desserts.

The Ayurvedic dish Kitchari, or Kitchadi as some regions pronounce it, is the ideal convalescence food. It digests *very* easily, and if you're lazy, a half cup of the yellow variety boiled with a cup of water and a liberal sprinkle of good salt makes a very tasty and nutritious meal.

Mung beans are tonifying to the liver, enrich the lymphatic system, tonify the thyroid, and enrich the blood with its big dose of natural mineral content. Mung is used in both Ayurveda and Traditional Chinese Medicine. In China, "bean curd snacks" are just this, and seriously yummy.

If you are deficient you're going to get a blast of nutrients that you will feel in every part of your body, and very noticeably in the feet. The green ones take a while to cook, but oh boy.. Almost everyone I've made it for takes a step back and tells me how wickedly awesome they feel.

Looking for a salty, crunchy, delicious snack packed with natural protein? This is my favorite from Haldirams (20% protein by weight):
https://www.amazon.com/gp/aw/d/B00LHYA9OU

The price in the link above is robbery, I can find them locally for just a few dollars. Look for your nearby Ethnic, Indian, Sri Lankan, Chinese, Japanese, or Korean shops for lots of mung goodness.

#3 is (Nitrogenous Proteins) Humble, simple, Lentils
Made nearly as easily as ramen, they are iron powerhouses and are delicious cooked as a meal or cooked and dried, then sprinkled with salt as a snack. The best recipes involve making a chaunce ("vagyar" in Ayurveda), which involves a small saucepan with one, two, or three tablespoons of ghee (or butter if need be) and then lightly browning herbs in the oil for a short time, then dumping the chaunce into the boiled lentils. This same process is also done with mung beans.

My favorite chaunce (rich in iron, trace vitamin c from chilis):
- 1 heaping tbsp whole cumin seed
- (sometimes) 1/8tsp red chili pepper flakes
- 3tbsp ghee

The best and most nutrient-rich variety I have tried are dupuy lentils. Grown in the rich volcanic ashlands of French mountains, they look like no other lentil (nearly black, and small) and have a huge yum factor. Made as easy as garden variety lentils.

#4 is (Phospholipid) BodyBio PC (Phosphatidyl Choline)
This is an (unfortunately) expensive product, but is being put here because the neurological value is immense.

Cranial lipid blockages caused by overconsumption of hydrogenated oils can be cleared with this product due to the solvent nature of ethanol combined with the ability (of phospholipids) to bind to other fats (lipids) and help defragment the fatty acid bonds that exist between them.

The term "renegade fatty acid chains" coined by (I believe) Drs Patricia and Ed Kane (BodyBio founders, authors of "The DetoXX Manual Physicians Guide") gives some insight to what's going on here.

BodyBio's reference on PC:
http://www.bodybio.com/BodyBio/docs/BodyBioBulletin-Phosphatidylcholine-NC.pdf

Your fats are linked in a tapestry of sorts, rows and columns of fatty acid chains travelling through the bloodstream. Funky fats whose bonds have been broken (hydrogenates, trans-fatty acids) adhere in funky ways not intended by nature ("fatty acid distortions") and create blockages. One big cause of migraine, other causes of arterial and venous scleroisis.

Imagine pieces of a solid tub of hydrogenated oil (margarine) being in your brain at a temperature that varies at times due to atmosphere pressure or other environmental reactions, and the chunkiest chunks have stuck together (or the vein is so sludgy) that it barely lets any blood through. Phosphatidyl Choline crosses the blood-brain barrier.

20 mins after my first dose I was standing in the shower when I distinctly felt something bubble on the side of my head (as does just before a migraine caused by a high-pressure system moving in), but then, instead of halting and becoming misery, the whole thing drained and it was like I had a part of myself back that I could not even remember.

I continued taking it and switched to a non-ethanol brand (due to price, it's expensive! Natural Factors or GNC depending where I am) and continue to use it every day along with my omegas and cod liver oil. Phosphatidyl Choline is a brain cleaner (and blood, and veins, and arteries). I understand it's used in Russia quite a bit.

Think about those margarine products for a second. The ones that say they are non-hydrogenated, so what's solidifying them? In butter it's delicious milk solids. Use butter and ignore the nonsense about saturates. Ghee is an even better oil, and a useful description appears further down this list.

I haven't had a migraine since 2009. At that time I was going blind and deaf, bedridden with agonizing migraine headaches with aura-like and broken glass-like visual distortions.

#5 is (Toxicology) Osumex HM General Test
http://www.amazon.com/gp/aw/d/b007qenjx8
http://heavymetalstest.com

Osumex is a very interesting company that offers unique solutions and this is just one of them. It's an at-home urine test for detecting heavy metals blood toxicity and it's fairly priced.

It's easy to screw up, and I have, so if you follow this guide you will have useful and accurate results.

Buy two at-home heavy metals urine tests. Do one test one morning, and the second test the day after. Avoid all vitamins and meds 24 hours before testing to get an accurate color result, and use a timer for reliability - the iphone stopwatch is good for this.

I know many here cannot go 24hrs without meds, so I'll say from experience that the b-vitamins are the most troublesome to the test - yellow and not clearish urine will affect the test results. Avoid what you can for two solid tests.

Do the tests in a well-lit area and take pictures of the test tube results. Negative? Yay! Positive? Read #6

For the very sick: Some reviews in that Amazon link are not so encouraging, so assure your conscience by buying three tests ($45 or less) and do them one day after eachother in sequence.

Any big differences in test tube color between them may indicate that while in storage the regagent vial dried out too much.

Examine all your test kits to see that the regagent (clear small vial) levels are equal. Osumex is an amazing company and will help you out if a test you received is defective in any way. Can't say enough about their products and how helpful the owner was when I needed it the most.

#6 is (Decoagulation and Chelation) Garlic and Cilantro
High-Allicin garlic is a wunderkind thing, it helps fight infections of many sorts, de-coagulates (thins) your blood, reduces your blood pressure by it being thinner and making your heart pump less hard, and offers many purifying effects to nearly every system.

Using High-Allicin Garlic like Kyolic 103 every day is highly recommended for regular maintenance and to stimulate circulation.

Cilantro (leaves of the coriander plant) is nature's great chelator. Chelation is a binding process of an electrical-like nature.

Cilantro is full of negative ions which bind to positively charged minerals in the bloodstream (all the nasties like lead and mercury and cadmium, and all the good ones too including potassium, zinc, magnesium, copper, manganese, molybdenum, selenium, and iodine).

To chelate easily, buy yourself a bottle of cilantro capsules or make them fresh yourself using herbs from your local market.

Start at 2x 600mg capsules every day for a week and move up to twice daily as you see necessary, do a Osumex HM General Test to see if you've cleared it as feeling terrible is expected during the unload, but if you go into no mans land because you're so loaded up (clinical "how am I feeling" 2/10 or less) then stop all cilantro and drink a lot of water every day with mineral supplementation until it passes.

When the the chelation snowball-like accumulations are big enough, your body excretes them via the usual channels.

Unloading large levels of heavy metals is a cathartic experience and requires attention to diet (for the purpose of quick digestive/elimination transit-time) and good supplementation to restore the minerals that were lost. Any amount of chelation should be treated at the same time for mineral deficiency, it is expected and critical.

For this, Now Brand Full Spectrum Mineral Tablets (Including Iron) are recommended, or even better - the BodyBio Liquid Minerals product and it's accompanying "MTK" mineral test kit. More info on both those products further down this list.

#6.1 is (Chelation) EDTA (Dicalcium EDTA)
This is a chelating chemical. It's super effective and helpful as a controlled, slow chelator when diluted in plain water or juice. Unlike cilantro, a standardized chelation level can be established with EDTA. For example 600mg of cilantro has inactive plant matter and may vary in it's chelation ability due to freshness and growing region and method (soil, hydroponic, etc).

Osumex has a great product called HM-Chelat that does this process nice and slow.

http://www.heavymetalstest.com/detox.php

#7 is (Gastrointestinal Healing) Gum Mastic
Chios, Greece is a mythological-type place that has a very special tree that cries tears (resin) of an amazing nature. These tears, small whitish/clear pieces, are an alkaline powerhouse with exceptional calming, purification, and rejuvination effects to the most distressed gastros.

In ancient times mastic was more valuable than gold. Really! Stealing mastic was a regular occurrence in the middle ages and it was considered very serious.

The taste of mastic in your system is lovely. Try it instead of antacids or use it to rebuild and heal your stomach villi.

I shared my mastic and mastic gum with someone close to me who had ulcers and terrible acid reflux, she quickly said it helped her and that she took it every day. From then on, pretty much every time I saw her she was chewing the gum

My favorite local brand is Jarrow.
Jarrow capsules:
https://www.amazon.com/gp/aw/d/B0013OVVAK

Gum directly from Chios, potent! Worth every penny!
https://www.amazon.com/gp/aw/d/B008RT2UVI

Less expensive Middle-Eastern gum candy style, but with enough mastic to feel some benefits
https://www.amazon.com/gp/aw/d/B000LQOEY6

#8 coming soon!

(I hope this finds use).

[ 06-18-2017, 02:46 PM: Message edited by: jory ]

---

Posts: 289 | From Montreal, Canada | Registered: Mar 2017 | IP: Logged |

jory
LymeNet Contributor
Member # 50029


posted

---

#8 is (Yeast Control) Niacin
As you most probably already know, candida and yeasts are expected side effects from being on long-term antibiotic treatment. Candida and yeasts are also opportunistic infections, and a depleted immune system will let them on in.

An amazing discovery from my hometown of Montreal, Canada has left me yeast free, and cleared up my GI candida as well as a nasty nasty skin overgrowth. It took less than a week. As a man I can now say I sympathise with ladies yeast infections - oh dear.

Add no-flush Niacin (Inositol Hexonicotinate/Nicotinamide/Niacinamide, Vitamin B3) to your daily supplements for Candida control. 3g/day once a day = 6x 500mg capsules. Watch for it! There it goes.. it's a miracle!

I wont pretend to understand it, but this is what the research says:

"In yeast, histone H3 Lys56 acetylation (H3K56ac) is an abundant modification regulated by enzymes that have fungal-specific properties, making them appealing targets for antifungal therapy.

Here we demonstrate that H3K56ac in C. albicans is regulated by the RTT109 and HST3 genes, which respectively encode the H3K56 acetyltransferase (Rtt109p) and deacetylase (Hst3p).

We show that reduced levels of H3K56ac sensitize C. albicans to genotoxic and antifungal agents. Inhibition of Hst3p activity by conditional gene repression or nicotinamide treatment results in a loss of cell viability associated with abnormal filamentous growth, histone degradation and gross aberrations in DNA staining.

We show that genetic or pharmacological alterations in H3K56ac levels reduce virulence in a mouse model of C. albicans infection. Our results demonstrate that modulation of H3K56ac is a unique strategy for treatment of C. albicans and, possibly, other fungal infections."

Source:
https://www.sciencedaily.com/releases/2010/07/100708141617.htm

I used both nicotinamide and niacinamide types, and found that they worked equally well and *shockingly* fast. My overgrowth vanished within a week and has not returned. I continue to take it every day.

Also worth checking out:
Niacin (B3) Cream
https://www.amazon.com/gp/aw/d/B00VDVESLC

NOTE: ONLY BUY A "NO-FLUSH" NIACIN OR YOU'RE GOING TO HAVE A BAD TIME. NIACIN RASHES ARE AWFUL.

#9 is (Lymphatic Drainage) Cleavers (galium aparine)
The lymphatic system is responsible for draining waste products away from tissues. It's a network of one-way tubes and valves, and when your system gets sluggish and stuck all sorts of things can happen.

Sore lymph nodes and lymph stagnation are common symptoms of a tick-borne infection*, and nature offers many tools to safely stimulate motion and cause drainage.

* http://www.lyme-symptoms.com/LymeCoinfectionChart.html

Cleavers (galium aparine) and also Red Clover are well-respected tools of naturopathy for promoting lymphatic movement. Always check with your doctor or pharmacist to see if cleavers is compatible with your meds.

St Francis Herb Farm is a great brand here in Canada, I've heard wonderful stories from people who went to see their little forest.

Cleavers tincture at Amazon:
https://www.amazon.com/s/ref=nb_sb_noss_1?url=search-alias%3Daps&field-keywords=cleavers+tincture&rh=i%3Aaps%2Ck%3Acleavers+tincture

#10 and more coming soon.

[ 06-18-2017, 01:09 AM: Message edited by: jory ]

---

Posts: 289 | From Montreal, Canada | Registered: Mar 2017 | IP: Logged |

MichaelTampa
Frequent Contributor (1K+ posts)
Member # 24868


posted

---

Interesting things to consider, thank you.

---

Posts: 1927 | From se usa | Registered: Mar 2010 | IP: Logged |

jory
LymeNet Contributor
Member # 50029


posted

---

#11 is (Urinary & Kidney Protection) Chanca Piedra

Kidney and urethral cystitis are common complications from a high uric acid cycle, high calcium oxalate buildup, high cystine buildup, high struvite buildup, as well as having heavy loadings and unloadings of yeast - typical of being on long-term antibiotic treatment.

For those of us suffering with a compromised immune system, this can get terribly complicated - especially when living in a "hard water" aka mineral-rich area.

Chanca Piedra is an herb long used in indigenous medicine for gently breaking solidified accumulations in the kidney and urinary systems. This is something worth checking out.

Here's a product with some great reviews:

https://www.amazon.com/Treatment-Dissolver-Extract-Including-Gallstones/dp/B013XSN1DI/

---

Posts: 289 | From Montreal, Canada | Registered: Mar 2017 | IP: Logged |
Contact Us | LymeNet home page | Privacy Statement

Powered by UBB.classic™ 6.7.3

---
The Lyme Disease Network is a non-profit organization funded by individual donations. If you would like to support the Network and the LymeNet system of Web services, please send your donations to:
The Lyme Disease Network of New Jersey
907 Pebble Creek Court, Pennington, NJ 08534 USA
http://www.lymenet.org/
---
Home | Flash Discussion | Support Groups | On-Line Library
Legal Resources | Medical Abstracts | Newsletter | Books
Pictures | Site Search | Links | Help/Questions
About LymeNet | Contact Us
---
© 1993-2020 The Lyme Disease Network of New Jersey, Inc.
All Rights Reserved.
Use of the LymeNet Site is subject to Terms and Conditions.
---