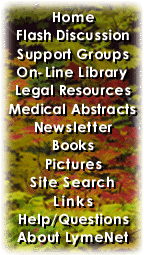 ---
LymeNet on Facebook
LymeNet on Twitter
---
---
The Lyme Disease Network receives a commission from Amazon.com for each purchase originating from this site.
When purchasing from Amazon.com, please
click here first.

Thank you.




Dedicated to the Bachmann Family


LymeNet needs your help:
LymeNet 2020 fund drive

The Lyme Disease Network is a non-profit organization funded by individual donations.

| | |
| --- | --- |
| | |
Author
Topic: my LLMD fired me

qkcam
Member
Member # 45133


posted

---

was working with a lyme /mold doc for a bit over a year. last month he sent me to an ART practitioner and mold came up as primary stress.
the lyme dr say the report from ART person and said.. "move" no appointments until you are out of the mold.

we tested my apartment last year with a HERTSMI (16) test then did a 5 day off csm challenge and C4A went down.. apartment then lyme dr said was "safe" i was very relieved.

I live in the SF bay area and rents here are through the roof. I dont believe moving is an option for me. and i feel very depressed by this last visit and not sure what to do.

any ideas? thank you

---

Posts: 34 | From california | Registered: Jan 2015 | IP: Logged |

hiker53
Frequent Contributor (5K+ posts)
Member # 6046


posted

---

Can you hire a company that has a mold sniffing dog? (yes, I am serious).

That would pinpoint the source of the mold if, indeed, it is in your apartment.

ART is not an exact science and the results can change very rapidly. If the practitioner believes something is true, the results may come out biased.

Perhaps see what a different ART practitioner says. But I think a dog who sniffs out mold would be a start.

--------------------
Hiker53

"God is light. In Him there is no
darkness." 1John 1:5


---

Posts: 8350 | From Illinois | Registered: Aug 2004 | IP: Logged |

Lymetoo
Moderator
Member # 743


posted

---

Shoot...find someone with MCS. They can sniff out the mold.

Maybe you need a "real" LLMD...?? This doctor seems to be playing around. A HERTSMI of 16 is low, isn't it?

--------------------
--Lymetutu--
Opinions, not medical advice!


---

Posts: 96108 | From Texas | Registered: Feb 2001 | IP: Logged |

Robin123
Moderator
Member # 9197


posted

---

Hi - I know about doctors in the area - am pming you -

---

Posts: 13102 | From San Francisco | Registered: May 2006 | IP: Logged |

Tincup
Honored Contributor (10K+ posts)
Member # 5829


posted

---

I had a doctor once who would tell me to take my baby home and feed him XYZ (just making up initials here cause I can't remember the exact items). When XYZ made the baby stay up all night screaming in pain I'd go back to the doc to see what could be done.

(The baby didn't scream when he only ate a certain limited number of things.)

The doc would then say to go home and give him (try) GHG. I listened and obeyed and did it, and again we were both up all night with him screaming in pain. Doc would make us come back in for another appointment.

This went on for months. I kept telling the doc he could only eat blah blah blah and not scream in pain. Doc didn't believe me I guess?

Finally one day the doctor told me to take him home and give him RSR. I looked at him and said NO! YOU take him home with YOU and YOU give him the RSR! I'm done playing this game!

My point, the docs don't always know best and can make life miserable when they don't think about the consequences, or don't care. Happens a lot.

The nice thing to do here might be....

Tell him you won't pay your bill until he finds the source of the mold for you and fixes it himself!

Refusing to see a sick patient because of a suspected mold problem diagnosed by ART is NOT at all cool. (And I do ART and think it can be useful.)

Telling you to MOVE from your home before you can be seen is unbelievable!!!

Now, I can re-write this opinion above to say what I really think of that doctor- but instead I am sharing the "nice version".

BTW- Turns out that sick baby could only eat home cooked plain turkey (cooking an entire turkey for a few servings of baby food didn't make much sense, but I had no choice), Welch's purple grape juice (babies can make lots of stains spilling that juice every day), soy milk (only one brand- the most expensive of course) and cold green beans out of a can.

YULK!

I would try to mix it up and would put the grape juice on his green beans in a bowl in the morning and pretend it was cereal cause I had to teach him to use silver wear.

And I'd cut tiny turkey pieces and heat them in a little soy milk pretending it was delicious supper of turkey and gravy.

I'd mash the green beans and some turkey together and make little rolled balls with it that I'd flatten out with a fork as a snack and pretend it was a cookie.

This diet went on for several years and that is all he ate.

Finally at about age 5 I introduced a few new things, one at a time, and he did fine. No problems at all. Now eats anything and everything and is healthy as a horse.

But, now that I think about it, I've never seen him eat cereal made of green beans and grape juice for breakfast since then.



--------------------
www.TreatTheBite.com
www.DrJonesKids.org
www.MarylandLyme.org
www.LymeDoc.org


---

Posts: 20353 | From The Moon | Registered: Jun 2004 | IP: Logged |

qkcam
Member
Member # 45133


posted

---

I love the idea of a mold sniffing dog! i have a friend in the midwest that trained her dogs to sniff out bedbugs and bodies.

i can't afford alot, maybe another HERTSMI test? although i hate to spend the money.

16 on the HERTSMI means "dangerous for those with CIRS" and there was a major leak in april 1 that saturated the entire wall..

they replaced the drywall and fixed the leak but the floor got damp and becasue you can't see the moisture the owners dont care- i measured it with a moisture meter , thats how i found out.

this dr is telling all his 'CIRS/LYME folks that are having mold issues to move out of the mold.

the ART test even showed i would benefit from some cholestryime and a few other things i have already on hand.

i have been not well for over 15 years and the last 5 years have gone down hill..been in this apartment 7 years and i know there was/is water damage on the backside of the building when it would rain water blisters formed and some water would leak inside the wooden window frame.

there must be a way to get better even in some mold.?

thanks for your ideas and support!

(breaking up the post for easier reading for many here)

[ 05-19-2017, 04:01 PM: Message edited by: Robin123 ]

---

Posts: 34 | From california | Registered: Jan 2015 | IP: Logged |

MichaelTampa
Frequent Contributor (1K+ posts)
Member # 24868


posted

---

I pay $150 for the mold dog, so they do not have to be very expensive.

Would you be going at HERTSMI again just to see if it's better? In my situation, the numbers have varied some over time.

Another thought for "getting better even in some mold" might be diffusing thieves oil regularly. I think that can help some, but would not be permanent if the source is not addressed, so it is just temporarily cleaning the air. The cost of thieves oil can add up over time, if it works.

I wish there were ready, cheap answers to this situation, but don't know of any.

---

Posts: 1927 | From se usa | Registered: Mar 2010 | IP: Logged |

Judie
Frequent Contributor (1K+ posts)
Member # 38323


posted

---

Hey, I'm in the bay area too.

My problem is mold, but it's not in the building, it's all the plant debris around the building causing the problem.

Good luck to you!

---

Posts: 2839 | From California | Registered: Jul 2012 | IP: Logged |

qkcam
Member
Member # 45133


posted

---

Judie how do you deal with the mold issue?

Michael I am going to look into a mold sniffing dog..although since i am a renter i am not sure if that would provide any recourse for me as far as having the mold removed..

when i told them about the Hertsmi test and the results they sent me info from the state regarding mold and the state actually recommends against it.. however if there is "visible mold or water leak " then they have to be accountable.

(breaking up the paragraph for easier reading for many here)

[ 05-19-2017, 04:00 PM: Message edited by: Robin123 ]

---

Posts: 34 | From california | Registered: Jan 2015 | IP: Logged |

dogmom2
LymeNet Contributor
Member # 23822


posted

---

sorry you're going thru this. I'm just starting to navigate it myself. I'm in the north bay, not as expensive as sf but getting pricey also.

Have you seen dr shoemakers website, has good info there. Can also look up info on dr brewer or dr nathans protocols. also some you tube videos about their treatments.

Of course, moving out is the first step, but I haven't been able to do that yet either, most places I've seen actually have more visible mold.

Also have to decide which stuff to get rid of, don't want to contaminate your new place when you find it. Different ideas about that on the web.

In the meantime are you on binders, clean diet, treating possible nasal mold issues?

Expensive but have you had the realtime mycotoxin test?

[ 05-20-2017, 05:39 PM: Message edited by: dogmom2 ]

---

Posts: 857 | From northern california | Registered: Dec 2009 | IP: Logged |

LisaK
Frequent Contributor (1K+ posts)
Member # 41384


posted

---

I feel for you.. I live in the same mold prison.

we cannot move at this pont.

BUT- I will say that they said "move" but did they say "don't take anything with you" ??? because that is what it will take!

you can't take moldy things from your place and put them in a new one if you are extremely sensitive to mold (like I am). it will just bring that mold to new place.

I will tell you---I found an iridologist that has an amazing machine to clear out mold from your body!!!I was so sick I could barely walk straight and tons of other symptoms and did the foot cleanse and immediately found myself like 90 %++ better in the mold area.

I recently read that if you can smell mold easily or better than others, that YOU have a great mold toxicity in your body!

and that is exactly how I was. I smelled it everywhere and very strong. after my foot cleanse I barely smell it at all.

this does not mean I am no longer allergic or etc, but it does mean my body is not full of it as it was. I feel so much better!!! so many symptoms gone or very minimal now. it is like the best thing ever.

but now we are left with the daunting task of cleaning up our house, etc.

another thing we found when we had our home tested- the mulch and dirt outside our windows was very moldy and if you open the windows it will come in! so if you have a garden check on that too.

I hope you find relief. I know how bad it can be. I was so ill.

--------------------
Be thankful in all things- even difficult times and sickness and trials - because there is something GOOD to be seen


---

Posts: 3552 | From Eastern USA | Registered: Jul 2013 | IP: Logged |

dogmom2
LymeNet Contributor
Member # 23822


posted

---

do you recall what the machine was called? Did you have emf sensitivity also and were able to tolerate the machine without making those symptoms worse?

---

Posts: 857 | From northern california | Registered: Dec 2009 | IP: Logged |

WPinVA
Frequent Contributor (1K+ posts)
Member # 33581


posted

---

It sounds like you have your answer and you know that there is mold in your apartment. Of course, moving is never easy, but you rent so you are less tied than many who own. I would not waste money/time on medical treatments or mold tests in an apartment that you already know is problematic. I would put all your efforts towards getting out of there, and yes, be very careful what you bring with you.

---

Posts: 1737 | From Virginia | Registered: Aug 2011 | IP: Logged |

qkcam
Member
Member # 45133


posted

---

the funny thing about moving is there are no guarantees any new place wont have mold.. even the new places they are building have mold. so it seems to be almost impossible to find someplace without mold.

I too would love to know about the machine LisaK that pulls the mold out of your body.

considering it will cost me $3000+ just to get into a place not counting new bed and no guarantees there wont be mold. at least at my current place i dont see mold.. and i really dont smell mold. I looked at an apartment and they wanted 5K just to move it ..it was small no kitchen no bathtub and it smelled like mildew.

i recently found out about this air filter..

http://www.pureairdoctor.com/breathe-wright-intellipure-premiumplus

this is all too stressful.

---

Posts: 34 | From california | Registered: Jan 2015 | IP: Logged |

qkcam
Member
Member # 45133


posted

---

dogmom2 I was hoping my lyme dr would keep me on binders, he had me on them before. and although i have some of them 3 containers of CSM and some takesumi supreme and zeobind he said not to do them and just told me to move.

all of it really through me over the edge..am finally just calming down..and then i get triggered again and go into panic.

it seems so many people just want to make money off you. i got a used air IQ filter and then someone told me "oh they can grow mold inside" you need to get one of these.

its so hard to know what to trust or believe anymore.

and truthfully over 3/4 of the things the LLMD told me to do last year were wastes of money, so i am not sure i trust him ..maybe only about 50% at this point

yes some things are easy than others to get rid of. right?

i have heard of some folks using a "fogging " company to fog their places of mold if they are home owners.. and it works on their possessions too so they dont have to get rid of everything.

---

Posts: 34 | From california | Registered: Jan 2015 | IP: Logged |

LisaK
Frequent Contributor (1K+ posts)
Member # 41384


posted

---

hi, I just saw this and realized I hadn't answered.

here is the infor about the cleanse I get - from the drs web site.:


Anymore, the "question of the day" is, "What is Ion Cleansing?" Ion Cleansing is a physiological method of removing toxins from the body that otherwise would remain there the duration of one's life. In the process of clearing the blood of toxins, the liver changes dangerous toxins into something less toxic or a completely different product and if not able to eliminate these toxins though the kidneys, they will be given a negative charge and stored in the tissues of the body.

Oil based pesticides, as organochloride, is one of these toxins. The human body does not favor eliminating oils. Even if the body tries to eliminate some oil in the feces, it is stopped in the transverse colon and pulled out of the feces, reabsorbs, and restored. That is why you never see an oil slick in the toilet.



Other toxins that Ion Cleansing eliminates are cellular debris. What is cellular debris? Well, very simply stated, cellular debris is the trash from metabolism that your cells put out at the curb. In a perfect world, the trash men (macrophages) would pick up all this trash and take it to the dump (the lymphatic system) to be eliminated.

Unfortunately, our perfect world has been over populated, over polluted, and over fed! So, much of this cellular debris ends up stored in the extracellular spaces. Inevitably, cellular debris added to pesticides, food dyes, heavy metals, candida albican (yeast), air pollution, drugs (of all kinds), tobacco, and thousands of other toxins accumulate in the body.



So you ask, "Why is this a problem?" That's easy…microzymes. Microzymes are what we call today, microbes. They are minute ferment living organisms that are designed to eat the toxins that build up in our bodies.

They have the ability to create germs, bacteria, parasites, and inflammation. Again, due to this toxic world we live in, microzymes are too abundant, creating too many of these woes. I am sure you have heard that inflammatory processes are always present in the body, now you know why.

Ion Cleansing helps keep the microzymes at a healthy level by removing the excess toxins. So when you get sick, you don't get as sick, when you get hurt, the injury is able to heal faster, your skin is healthier, age spots disappear, dark circles under the eye lighten up, sleep patterns improve, varicose veins decrease, and the list goes on.
It doesn't happen with only one or two Ion Cleanses, and not all Ion Cleanses are created equal.



An Ion Cleanse that you are getting the best expression for your dollar and time is the one performed by a Natural Health Care Professional. The array (the part that is in the water) and the quality of the machine make the difference.

Anyone can purchase an Ion Cleansing machine for between $700 and $1000. But of course a $3000 machine will be of better quality. It is advisable to cleanse no more than once a month, and replace minerals lost immediately following the cleanse. The minerals should be supplied by the person performing the cleanse, and the cleanse will cost, on an average, $60.



How does an Ion Cleanse work? The entire process depends on polarity. If you remember I mentioned earlier that the liver stores toxins in the body with a negative charge as we are predominately positively charged.

Our machine allows for 5 different setting variations. The client immerses his/her feet in a tub of warm water and the array is placed in the water. The array, once plugged into the machine, omits ions that make the client as negatively charged as possible.

We muscle test your polarity to get a correct setting on the machine. Salt is added to the water which gives it a positive charge. When the machine it turned on, ions are omitted into the water, absorbed into the body and the client becomes negatively charged. Now the toxins are negatively charged and you are negatively charges.

What happens to the toxins? They are pulled into the positively charged water like a magnet, expelled through the pores of the feet. It does not hurt at all, although some clients experience tingling. It is quite a pleasant experience. The end result is a tub full of black, brown, foamy, creamy, and red debris with the oil based pesticides and other toxins forming a ring around the tub and ankles. The client usually cannot see their feet through the sludge.



Obviously, it seems that this would be a very beneficial procedure for everyone, right? YES! Most Americans are more concerned about the outside of their bodies than the inside.

That is so sad as the outside of the body is a reflection of the health of the inside. Do what is right for your body; eat right, exercise, detox and be happy!

****
so there it is. I just had another. each time I have less junk in the tub. I feel pretty good considering. and I feel really greeat after the cleanses.

--------------------
Be thankful in all things- even difficult times and sickness and trials - because there is something GOOD to be seen


---

Posts: 3552 | From Eastern USA | Registered: Jul 2013 | IP: Logged |
Contact Us | LymeNet home page | Privacy Statement

Powered by UBB.classic™ 6.7.3

---
The Lyme Disease Network is a non-profit organization funded by individual donations. If you would like to support the Network and the LymeNet system of Web services, please send your donations to:
The Lyme Disease Network of New Jersey
907 Pebble Creek Court, Pennington, NJ 08534 USA
http://www.lymenet.org/
---
Home | Flash Discussion | Support Groups | On-Line Library
Legal Resources | Medical Abstracts | Newsletter | Books
Pictures | Site Search | Links | Help/Questions
About LymeNet | Contact Us
---
© 1993-2020 The Lyme Disease Network of New Jersey, Inc.
All Rights Reserved.
Use of the LymeNet Site is subject to Terms and Conditions.
---