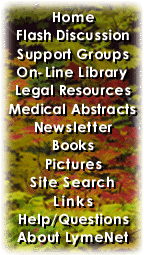 ---
LymeNet on Facebook
LymeNet on Twitter
---
---
The Lyme Disease Network receives a commission from Amazon.com for each purchase originating from this site.
When purchasing from Amazon.com, please
click here first.

Thank you.




Dedicated to the Bachmann Family


LymeNet needs your help:
LymeNet 2020 fund drive

The Lyme Disease Network is a non-profit organization funded by individual donations.

| | |
| --- | --- |
| | |
Author
Topic: Hi All--Back To The World--1st Hand Account Of The Federal Muck UP!

Kara Tyson
Frequent Contributor (5K+ posts)
Member # 939


posted

---

ORGANIZATIONS THAT CAME THROUGH
It is my firm belief that private organizations outdo the Feds each and every time.

The Salvation Army
Which according to the Mayor of New Orleans, `` they just do''. The next day, they had already set up and were serving hot meals in front of their demolished office in New Orleans. All of this despite the fact that the Red Cross insisted it was impossible to get into the area.

Allstate Insurance
When they claim they are the `good hands people', they really are. They could be seen around town helping others.

Wal-Mart
Another organization who was in New Orleans & Biloxi the next day...again, despite the fact that the Red Cross said you couldn't get into the area. They donated trucks filled with items and hired people on the spot who were left unemployed.

Shoe Station
A chain store in the Southern US. They donated over 20,000 pairs of shoes within days.

Banking Institutions & Credit Unions
You will hear that there is no way a disaster like this could have been prepared for (Gov. organizations). However, private organizations did have master plans in place. The banking industry had an emergency network that went into effect right away.

Local Churches
Know that goods that you donated to your local churches have been received and distributed appropriately. They run circles around the Feds.


ORGANIZATIONS THAT WERE A WASTE

FEMA

#1
Their Rep explained that they could take names but couldn't help a homeowner, unless the homeowner was willing to meet the FEMA Rep at their home. You, of course, must make an appt. How you will get to your home just isn't explained.

#2
The FEMA big wig explained why he wasn't doing anything to help--He was waiting on the Gov. to call and tell him what needed to be done. Uh...there are no phones you ding dong!

#3
In Baton Rouge, those who had fled the hurricane in advance were kicked out of a private hotel by FEMA to make room for their own Reps (staying in non air conditioned facilities is apparently beneath them).

#4
Various offices shut down because their own regulations allot only a certain number of people to be helped per year.


#5
FEMA declared certain areas `clear' (such as downtown New Orleans) when people were calling in from their cell phones to radio stations days later saying they were trapped in buildings. These were hundreds of people. Hundreds.

Also, many could not leave because of alligators & snakes--particularly those in Biloxi since there is an alligator farm (the gators were seeeking out people hoping to be hand fed).


RED CROSS

#1
Red Cross centers in Northern AL are telling people fleeing the damage to come back in a week.

#2
Offices (at least here in AL) have closed their doors--they are out of `client cards'. Perhaps only `official' client cards can be used. The media in Huntsville explained that this was a good thing since that way everyone will be treated the same (equally rejected, I assume). This organization is getting millions in donations. Millions. No one seems to want to question them.

**Please see news for the day, Wednesday. Church groups are already complaining that the Red Cross is taking in lots of money, but nothing is coming out.

OTHER REGULATIONS THAT ARE A HINDRANCE

#1
No Child Left Behind Act. Many of these children are coming from impoverished areas with poorly performing schools. Their standardized testing will follow them. Any school taking in these children will no longer be `highly qualified'. Communities will then be punished for helping.

#2
Problems with interstate licensing of medical personnel. A team of Dr.'s and surgeons (300) came from NC to New Orleans to help with disease & other medical conditions. They even had their own 116 bed mobile office. They were able to get within miles, but were stopped. They were not licensed in Louisiana. Even with a note from the Gov., they were denied access to the people.

#3
Prevention of out of towners to access the area. There are people in the affected areas whose family/friends from out of state are willing to load up moving trucks & help them. This is not permitted. These people must first move their goods outside the city limits then someone can help them.


SUGGESTIONS

#1
If you want to donate, please consider donating goods vs. money. There is less chance that this type of donation will be `diverted' for other uses. Some legal (going to other projects), some not so legal (such as thugs stealing the donations at gunpoint).

#2
Please write your Congressmen to have FEMA removed from Homeland Security and be independently operated.

#3
Please write your Congressmen to have all high ranking FEMA officials fired immediately. Please also demand why they have spent their resources, time and money on promotional rap songs (available on their web sites)

#4
If you support No Child Left Behind, please write your Congressmen/Pres. To have this suspended in the affected areas. Communities should not be punished for helping.


#5
Do not donate to the Red Cross & urge your employers to find other organizations. The Red Cross has proven itself over and over again to be questionable in regards to its money management & policies:

World War II
The Red Cross raised money for `our boys' then charged the GI's for their own packages. Just ask a WWII vet what they think of the Red Cross. As my grandfather put it, ``they even charged me for a lousy cup of coffee''. The Red Cross says they 'had' to charge because of laws...yet the Salvation Army didnt charge GI's.

HIV Testing
The Red Cross continued to distribute blood they knew was tainted--infecting who knows how many. They continued to have blood drives in communities known to have high HIV infection rates. They refused to test the blood for many years--even today they resist testing for Lyme disease.

Oklahoma City Bombing
The Red Cross is still in the courts on this one. Local Red Cross officials had victims PERSONAL mail sent to their office--where they then opened the mail and took money. Their reasoning was that since the Red Cross was helping these families, they were not entitled to outside help. It is a federal crime to open mail that does not belong to you.

9/11
There again money was raised. There is still a question if all the money was distributed.

*There are plenty of other organizations out there who do not have questionable management practices. Find one. Even if your company offers matching funds for Red Cross donations. 1 dollar well spent is worth more than 2 dollars wasted.

#6
Please write your congressmen/ Pres. To promote Lt. Gen. Russel Honore, commander of the 1st Army, based at Fort Gillem in Atlanta
to 4 stars. He had the mess in New Orleans under control in a matter of hours!!


#7
Write the Gov. of Louisiana, Mayor of New Orleans, Police Chief, and Congressmen of Louisiana demanding to know why innocent men, women, & children were moved to a `shelter' where there was no food, water, or security.

Armed gunmen were allowed to prowl.

These gunmen shot men, stole from the elderly, and systematically raped the women throughout the day and night (their screams could be heard but there no one to help them--those who tried were shot dead).

Please demand that the police officers that abandoned their posts, and those that engaged in criminal activity (such as stealing jewelry) not be rehired under ANY condition.

Also, I did want to add that there as been a question as to why people did not leave. For many it was lack of transportation, for the others it also was a matter of no hotel rooms open. You see...it is football season. Many of the rooms were pre-booked. My father, in MS, had to go to Missouri to find a room.

[ 07. September 2005, 08:14 AM: Message edited by: Kara Tyson ]

--------------------
Kara Tyson
Lyme Disease Support Group Of Alabama--MobileChapter


---

Posts: 6022 | From Mobile, AL | Registered: Apr 2001 | IP: Logged |

Andie333
Frequent Contributor (1K+ posts)
Member # 7370


posted

---

Kara,

First, I'm really glad you're safe. I can't tell you how agonizing it's been to see this unfolding on tv -- to watch people suffering and dying and to see what appears to be ineptitude at all levels.

You didn't say too much personal in your post, but I'm hoping you, your furry ones and your family are all okay physically. That hopefully, your homes were spared extensive damage.

Second, I can't tell you how much I appreciated your post. I've been reading first-hand accounts of experiences, especially on the Times-Picayune site (NOLA.com), because, as a journalist for many years, I trust personal experiences much more than talking heads.

In the case of such catastrophic devestation (not to mention the finger-pointing), it's especially hard for anyone outside of the region to really get a sense of the truth (a bit easier in NO, because so much media coverage was centered there).
I really appreciate your breakdown and your clarity about what worked and what was just beyond useless.

I was also grateful for your suggestions; I've already taken some of those actions. Others have never occurred to me (like the fallout from No Child...)
So thanks.

I grew up in that area and spent a lot of my life down there. There's nothing much worse than a hungry, beggin' gator.

Mostly, I'm glad you're safe and can't tell you how much I appreciated you posting this.

Andie

---

Posts: 2549 | From never never land | Registered: May 2005 | IP: Logged |

stella marie
LymeNet Contributor
Member # 7216


posted

---

Thanks this was good to know.

--------------------
Stella Marie


---

Posts: 694 | From US | Registered: Apr 2005 | IP: Logged |

Andie333
Frequent Contributor (1K+ posts)
Member # 7370


posted

---

One other thing, Kara:

You mentioned areas being declared "clear" when people were calling in, still trapped.

One of the things they post on the NOLA site is a continuously updated list of people who still need to be rescued -- most with specific addresses given, as well as descriptions of the people inside.

I spent several days reading these and it started making me crazy. So I wrote every agency I could think of to direct FEMA to that site and those posts.

It was just horrible to read this and think of people trapped, waiting to be rescued, day after day after day.

Andie

---

Posts: 2549 | From never never land | Registered: May 2005 | IP: Logged |

daniella
LymeNet Contributor
Member # 6753


posted

---

so glad you are safe KARA!!! We missed you here!


daniella

--------------------
~Things may happen in my life time to change who I am but I refuse to let them reduce me...~


---

Posts: 968 | From private | Registered: Jan 2005 | IP: Logged |

charlie
Frequent Contributor (1K+ posts)
Member # 25


posted

---

Thanks Kara and glad you're OK....We emailed copies of this post all over the place to folks we know that want to donate something and don't want to see it disappear into administrative expenses ect.

government sucks

Charlie

---

Posts: 2804 | From Texas | Registered: Oct 2000 | IP: Logged |

Kara Tyson
Frequent Contributor (5K+ posts)
Member # 939


posted

---

Andie,

Thanks for you comments. There were things that did not work, but there were things that worked very well. Much of the problems came down to basic red tape.

People basically care and I think want to help. But how to help is also an issue.


So far as myself, I am fine. I lost electricity and some large tree limbs. Mobile is located on Mobile Bay which always takes the brundt of the storm. I am enough inland where the storm surge would have to be 100's of feet to effect me.

Bayou La Batre, where the cajuns and Vietnamese live, was leveled. You might remember the located from Forrest Gump. It is where the shrimpers live.

My home is made of ship ballast and was built by a sea captain. It can withstand over 200 mph winds. The Battleship Alabama (a decommissioned battleship docked in Mobile) actually moved! Which is incredible. It weighs 280,000,000 lbs (that's millions folks).

--------------------
Kara Tyson
Lyme Disease Support Group Of Alabama--MobileChapter


---

Posts: 6022 | From Mobile, AL | Registered: Apr 2001 | IP: Logged |

duramater
LymeNet Contributor
Member # 6480


posted

---

Kara -

glad you are well and appreciate the insider view of some of what is occurring.

i knew FEMA was a mess, but didn't realize that the Red Cross was blundering wildly as well. excellent info!

on news today, heard that texas was trying to get a "bye" on the NCLB already. we're taking in 2500 folks here in MA, so wonder if our gov, who worships NCLB unlike MA residents, will do the same as TX.

in addition to preventing out of towners from helping family/friends, heard that buses moving folks (A) wouldn't tell them where they were going until folks already boarded bus, and (B) if they passed though baton rouge en route to another locale, for example, wouldn't let people off to be picked up by area family/friends. know anything about this?

heard this morning about FEMA kicking out people from hotel -- confirmation interest. even if these people have no soul, don't they at least know the media will find out about it????

again, glad you and housing are intact.

---

Posts: 689 | From western MA (we say buttER and pizzA) | Registered: Nov 2004 | IP: Logged |

ConnieMc
Frequent Contributor (1K+ posts)
Member # 191


posted

---

I saw the article about the docs going down there all the way from my state (NC) from UNC-CH getting stopped at the door, unable to get "clearance" to help. What?

They had that big medical mobile unit, ready to pitch in and help.

And were held back a whole day. Think of the lives they could have saved!

In this post-9/11 era, this is unacceptable. We need some new people running the show.

Also heard the director of FEMA was having meetings for an entire day trying to decide what to do. Apparently the reason they didn't act any faster was that the tragedy didn't fit any of the "models" they had planned for, and they didn't really know how to act.

Some rescued are arriving in our area (central NC) today. And we are all ready for them.

---

Posts: 2274 | From NC | Registered: Oct 2000 | IP: Logged |

Kara Tyson
Frequent Contributor (5K+ posts)
Member # 939


posted

---

Dura,

Have heard about people getting on buses not knowing where they would end up. Many in lily white Mormon Utah--where they dont know anyone!! Some in one of the worst housing projects of San Francisco--they would be better off in a tent city.

If you got off the bus, then you could not get back on. Despite the buses (school buses) having NO A/C!! The people were literally getting dizzy. They were in violation of the fire code (so we heard)--therefore, a delay.

As far as the FEMA Director, he was fired from his last job--which had nothing to do with disasters. He managed horse shows.

--------------------
Kara Tyson
Lyme Disease Support Group Of Alabama--MobileChapter


---

Posts: 6022 | From Mobile, AL | Registered: Apr 2001 | IP: Logged |

Mo
Frequent Contributor (5K+ posts)
Member # 2863


posted

---

Kara!!!!!!!!!!!!!!!

I'm so glad you are keeping on.


Thanks for thr reports..

I hope if anything at all positive can come out if this after all, that it will be that Americans start looking at human interests PERIOD..and drop everything else.

much like you do.

Many Blessings, and thanks for the info on what went on from your view and how we can help.

Mo

---

Posts: 8337 | From the other shore | Registered: Jul 2002 | IP: Logged |

ponytail
LymeNet Contributor
Member # 36


posted

---

Our city ended up w/ about 1100 total evacuees. Busses arrived in the middle of the night from the Super Dome to one of our churches that had been designated as a shelter for "Galveston" evacuation.

Needless to say there was some scrambling amongst the United Way folks but, by the time I was taking Katie to school, it was on the radio and donations were being requested.

I think about 600 of the folks are staying in hotels and our city is trying to open another shelter for them if they wish to stay there and save some money.

The churches are fixing dinner each night for the hotel folks and there is a rotation for manning the shelters.

Our family is fostering a dog for one of the evaucuees and we finally were able to speak w/ him today. He said he and his family (wife, 5 y/o and 5 week old) were at the Super Dome and that is was pretty bad. They were lucky enough to get out by Thursday night tho.

We hope to meet them in person on Thursday when we take "Ice" to visit at the shelter! We tried to go by yesterday but weren't allowed in because we aren't "approved" Red Cross volunteers.

I simply cannot imagine the horror that each of these folks endured and am thankful each day that nothing like this has ever affected me or my family.

I'm happy Kara that you were spared some of the effects and appreciate your comments.

Sherry

--------------------



---

Posts: 703 | From Huntsville, Texas | Registered: Oct 2000 | IP: Logged |

Andie333
Frequent Contributor (1K+ posts)
Member # 7370


posted

---

Kara, your house sounds awesome!

Sherry, good for you for taking in someone's dog.

One of the (to me) heartbreaking parts of this story are the animals that have been left behind. For some people, that's all they have left, so I think what you're doing is great.

I do believe people are always trying to do anything they can to help people. And I have to say, Sherry, you folks in TX have just been amazing.

Andie

---

Posts: 2549 | From never never land | Registered: May 2005 | IP: Logged |

cootiegirl
Frequent Contributor (1K+ posts)
Member # 3216


posted

---

Kara,
Glad to hear you are well. I really appreciate your first hand account of all of this.

I couldn't believe what you said about the Red Cross - my Mom was telling me she was skeptical about sending funds to the Red Cross because she always remembered her stepfather having nothing nice to say at all about this organization...and for the same reasons you said. He was also a WWII vet!!!! So I too will not send funds to them but work thru a church organization and send clothes or supplies....

The fed organizations really screwed up big. I saw a woman on the news today saying that she was told the only way she would get relief from FEMA was to call them and set up an appointment - hello, she was in a tent city. Do you think the FEMA people would think to pay a visit to this area??? Like these poor folks have phones to call.....
cootiegirl

---

Posts: 1728 | From New York State | Registered: Oct 2002 | IP: Logged |

troutscout
Frequent Contributor (5K+ posts)
Member # 3121


posted

---

Nice report......dead on. Good Stufff......love your house, and so HAPPY YOU are fine.

Well written...and I can confirm the bad stuff on the Red Cross....got a a few hours...I'll tell you my experience.

Trout

--------------------
Now is the time in your life to find the "tiger" within.
Let the claws be bared,
and Lyme BEWARE!!!
www.iowalymedisease.com
[/URL]


---

Posts: 5262 | From North East Iowa | Registered: Sep 2002 | IP: Logged |

GEDEN13
Frequent Contributor (1K+ posts)
Member # 4151


posted

---

i am so glad that you are ok kara.i was worried about you.i hope your dancing shoe's didn't get wet. , gary

---

Posts: 1108 | From PA. | Registered: Jun 2003 | IP: Logged |

GEDEN13
Frequent Contributor (1K+ posts)
Member # 4151


posted

---

i am so glad that you are ok kara.i was worried about you.i hope your dancing shoe's didn't get wet. , gary

---

Posts: 1108 | From PA. | Registered: Jun 2003 | IP: Logged |

Kara Tyson
Frequent Contributor (5K+ posts)
Member # 939


posted

---

If you will check today's news (Wed), you will find an article that ran today. Churches are starting to complain because plenty of money is rolling into the Red Cross, and nothing is coming out.

--------------------
Kara Tyson
Lyme Disease Support Group Of Alabama--MobileChapter


---

Posts: 6022 | From Mobile, AL | Registered: Apr 2001 | IP: Logged |

Kara Tyson
Frequent Contributor (5K+ posts)
Member # 939


posted

---

This is a great example:

The Red Cross in the cross hairs? Families of Oklahoma City bombing victims say they did not receive funds sent to them by mail and handled by the Red Cross. And questions are being raised in New York City - Nation: victim assistance - Cover Story

Kelly Patricia O'Meara


In a time of national tragedy the true spirit of America shines through, and nowhere is this more evident than in the outpouring of extraordinary amounts of money for the survivors and families of victims of the Sept. 11 terrorist attacks.

To date, nearly $800 million has been donated to various funds and charitable organizations.

And the flood continues as every day it seems some new fund is created. While it now appears that donations are likely to go well over the $1 billion mark by the end of October, issues are being raised about how much of that will make it to those for whom this outpouring was intended.

Who or what is responsible for making sure this money gets to the intended recipients? Will it go to current victims and their families or will some go into larger portfolios for future crises?

And how much of the collected funds will cover administrative expenses and fund raising or mailing-list prospecting?

To try to answer these questions Insight has been looking at what happened to the huge sums collected in the aftermath of the bombing of the Alfred P. Murrah Federal Building in Oklahoma City on April 19, 1995.

While the families interviewed were reluctant to discuss the level of support provided them by charitable organizations, this magazine discovered a different picture than was (and is) being publicly portrayed.

For instance, Insight has learned that letters of condolence and donations sent through the U.S. Postal Service and deemed "undeliverable" often are turned over to charitable organizations involved in disaster relief.

Sometimes mail would be addressed in care of a charity or fund. A case in point: the American Red Cross. The Postal Service received thousands of cards, letters and gift packages that were addressed, for example, to "the woman who lost two kids" the "rescue dogs" or the "family who lost the little boy"

Both the Postal Service and the Red Cross have confirmed that within weeks of the bombings most of this mail was forwarded through the postal system to the Oklahoma City chapter of the American Red Cross where it was opened and read by volunteers.

When possible, letters and packages were forwarded to the intended families.

Mike Ellis, the postal inspector in Oklahoma City at the time of the bombing, tells Insight: "These procedures will change post office to post office depending on the situation.

There is no set policy. The Postal Service sat down with the American Red Cross, the Salvation Army and the governor's and mayor's offices, and it was decided the post office would deliver it if it was addressed to specific places and people and the Red Cross would take any undeliverable mail."

"The Red Cross," continues Ellis, "had volunteers who would open the mail, and if there were donations in the envelopes they would go into a general fund that the Red Cross had set up. The general fund was distributed to the victims at the time."

Three of four families directly affected by the bombing who spoke with Insight about the mail-delivery system acknowledged that all of the mail they received from the American Red Cross had been opened.

More notable, however, is what these families reported about the surprising change in their mail deliveries after the American Red Cross took over for the Postal Service.

"The first days after the bombing" says one family member, "people from all over the country were sending checks in lieu of flowers and we were getting a lot of checks and cash every day -- hundreds, even thousands, of dollars. Then the Red Cross went down to the post office and made arrangements to collect the mail and they would deliver it to us in bulk.

All the mail had been opened, and from that point on there never was a dime, even in letters that said money was enclosed."

A member of another family recalls a similar experience: "We got this big box from the American Red Cross with more than 100 letters and each one of them had been opened. People told us that there was money in the envelopes, but we never got it.

We heard that volunteers were opening the mail and putting the letters in one pile and the money in another. We complained to the Red Cross that it was mail fraud to open our mail. The letters, after all, were addressed to our family.

We even went to local television stations asking them to do a piece on it, but they said it would make us look money-hungry. That wasn't it, of course. We were upset that our mail was being opened. We were so angry we just blocked it out and moved on."

One member of a third family recalls a large number of opened letters addressed to the family that it received from the American Red Cross but says, "We don't think there was any suspicion that any money was removed in the mail.

We didn't see any of this" The family did note, however, like the others, that money had been enclosed in the mail delivered to their home prior to the American Red Cross taking over distribution of the mail -- but none was received afterward.

Formal complaints were lodged with the Postal Service and an investigation was conducted by Ellis, who in the process turned information over to the U.S. attorney in Oklahoma City. A grand jury needed to issue subpoenas to the Red Cross.

It took testimony from a variety of individuals. Ultimately, as far as Insight has been able to learn, nothing came of the investigation. Bill Blaul, American Red Cross senior vice president for communications and marketing, tells Insight that his organization "cooperated with the U.S. attorney and he found no inappropriate handling of the matter, and it was closed."

When asked to respond to the allegations that cash or checks may have been removed from the mail prior to its delivery to the intended parties, Blaul says: "The families may feel that way. I'm not sure what their memories and recollections are.

The only motivation of the American Red Cross is to provide service to victims and families of the Oklahoma City and Sept. 11 attacks. We have no other motivation in opening individual mail."

Insight then provided Blaul with specific instances where money apparently had been removed from envelopes' clearly intended for a specific family. For instance, members of one family were so upset about what had happened to their mail that they wrote to people who had sent correspondence asking them to confirm whether a donation had been included.

In one instance, a donor confirmed that $50 in cash had been sent along with the letter of condolence. The envelope delivered by the American Red Cross was addressed to the family through the Oklahoma City chapter of the American Red Cross. Despite the apparent intent of the donor to provide the enclosed money directly to the family, it did not receive it.

Asked about this specific example, Blaul becomes defensive and says, "I don't know what more I can say about it. If mail is addressed to an individual we don't open it" he declares, contradicting what inspector Ellis told Insight.

"I'm beginning to resent the implication that the Red Cross is opening mail and lifting money from the envelope" Blaul insists.

Insight did not suggest anything untoward was or is going on in such cases. Rather, it followed up on questions raised by Oklahoma City families and victims who voiced concern about their mail and what they -- and some donors -- later learned about the handling of cash and other monetary donations. Specifically:

* Cash donations may have been lost in the shuffle between and among agencies.

* Checks made out to the Red Cross and intended for specific individuals didn't always go to those individuals and weren't returned to the donor.

* Sometimes cash or checks went into a general fund for the Red Cross and then checks were delivered to the intended recipient.

* Money received for intended relief work may not have gone directly to specified funds or charities but was absorbed into larger operating funds for future disasters.

* Public accounting for how much money was received and then distributed is not readily available for public and/or press review and, apparently, not audited by government agencies.

* Government funds established to receive funds for disaster relief and provide assistance did not make public "cash-in" and "cash-out" ledger records. And requests for such an accounting have not been provided.

All of which has raised disconcerting questions in the minds of many of those interviewed by Insight concerning the hundreds of millions of dollars pouring in to the New York City, Washington and Pennsylvania funds and charities working with the families and victims.

For example, how are these groups cataloging the monies received, selecting individuals for disbursements and making sure that intended recipients of direct donations are, in fact, receiving them?

In the case of New York City, according to Blaul, "Thousands of pounds of mail is coming in and the American Red Cross is working with other agencies up there.

We've got a room set aside for the mail that is coming in and we're sorting through it. Where there are specific categories, such as firemen, we're taking the mail without opening it and routing it to the appropriate sources.

We're not opening mail if it is addressed to individuals. The American Red Cross is doing this in a secure room with other entities and appropriate oversight."

He does not elaborate on who or what those other entities might be.

Nor is Blaul able to provide Insight with the total amount of money received through this mail-review process. "I believe we are keeping track of only the money that is specifically meant for the Red Cross" he says.

He does not volunteer how much this amounts to, but published reports indicate the Red Cross thus far has received about $258 million in donations. How much other money Blaul's organization has collected that was not "specifically meant for the Red Cross" could not be determined by press time.

How much ultimately was collected to assist the victims of the Oklahoma City bombing wasn't available either. But, as a result of their own experiences, victim families of the Oklahoma City bombing have begun working with families touched by the Sept. 11 attacks.

What advice have they for dealing with charitable organizations? "Don't expect anything," says one family, "and that way you won't be disappointed." Another family spokesman summed it up this way: "Oklahoma is doing great, but what about the New York families?

I guess I'd tell them, `Don't leave anything for someone else to do when it comes to your well-being.' And I'd tell them to watch how the money is disbursed."

Kelly P. O'Meara is an investigative reporter for Insight magazine.

COPYRIGHT 2001 News World Communications, Inc.
COPYRIGHT 2001 Gale Group

--------------------
Kara Tyson
Lyme Disease Support Group Of Alabama--MobileChapter


---

Posts: 6022 | From Mobile, AL | Registered: Apr 2001 | IP: Logged |

bpeck
Frequent Contributor (1K+ posts)
Member # 3235


posted

---

Thanks so much for your 1st hand account - exactly as I ( a northerner) suspected.
There's alot of people that should lose their jobs based on their (NON) performance.
Barb

---

Posts: 1875 | From VT | Registered: Oct 2002 | IP: Logged |

Linda LD
Frequent Contributor (1K+ posts)
Member # 6663


posted

---

Kara,

I wrote my congressman (I'm his stalker girl--I write at least once a month about Lyme).

I did stick in a line about misquetos and lyme. Sent your letter to him.

L

---

Posts: 1171 | From Knoxville, TN US | Registered: Dec 2004 | IP: Logged |
Contact Us | LymeNet home page | Privacy Statement

Powered by UBB.classic™ 6.7.3

---
The Lyme Disease Network is a non-profit organization funded by individual donations. If you would like to support the Network and the LymeNet system of Web services, please send your donations to:
The Lyme Disease Network of New Jersey
907 Pebble Creek Court, Pennington, NJ 08534 USA
http://www.lymenet.org/
---
Home | Flash Discussion | Support Groups | On-Line Library
Legal Resources | Medical Abstracts | Newsletter | Books
Pictures | Site Search | Links | Help/Questions
About LymeNet | Contact Us
---
© 1993-2020 The Lyme Disease Network of New Jersey, Inc.
All Rights Reserved.
Use of the LymeNet Site is subject to Terms and Conditions.
---