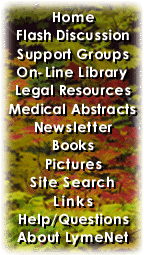 ---
LymeNet on Facebook
LymeNet on Twitter
---
---
The Lyme Disease Network receives a commission from Amazon.com for each purchase originating from this site.
When purchasing from Amazon.com, please
click here first.

Thank you.




Dedicated to the Bachmann Family


LymeNet needs your help:
LymeNet 2020 fund drive

The Lyme Disease Network is a non-profit organization funded by individual donations.

| | |
| --- | --- |
| | |
Author
Topic: What's WRONG with people?

pineapple
LymeNet Contributor
Member # 11904


posted

---

This is so disturbing in the news today. They showed a video. An elderly man gets hit by a car, the car does not stop and just keeps going, and bystanders and cars passing by do not stop to render aid. The poor man just lies in the street is now paralyzed! I would have ran to the man's side right away and people should have stopped traffic. They said eventually people called 911.

What is wrong with people???? I have come across numerous accidents in my life and always stop to help. My husband witness a severe accident right in front of him and immediately got out to render aid.

How sad.

---

Posts: 339 | From nowhere | Registered: May 2007 | IP: Logged |

Lymetoo
Moderator
Member # 743


posted

---

I know! I always give people the benefit of the doubt. Seems to me that SOMEONE off camera was using their cell phone to call for help.

And in defense of SOME of the drivers of the cars,... do you think they actually SAW him after he was hit???

The biggest trouble I had with all that was that SOMEONE should have stepped out to protect him from further damage/cars.

I WAS very shocked no one got out there to stop traffic or warn drivers what was going on in case they didn't see him.

Really a nightmare for this poor man's family!!! So tragic!

--------------------
--Lymetutu--
Opinions, not medical advice!


---

Posts: 95436 | From Texas | Registered: Feb 2001 | IP: Logged |

creativeguy
Member
Member # 15046


posted

---

I'm afraid this is what has become of our society. It used to be that an old man would be helped across the street. I read this news report and I was sickened. One bystander was quoted as saying, "I didn't help him because it made me feel uncomfortable." That's really disgusting. I think the person who said that should have their name & town posted all over the national news. Let them feel more uncomfortable for not helping by all the angry mail they'd get.

One report I read stated that a person on a bike circled around the man once or twice and then rode off. If he wasn't going to help, what was he looking for?? Was it some kind of momentary sick curiosity - out of sight, out of mind?

When you think of so many people in this country who need help, this incident is so indicative of the increasing apathy people have in regards to helping others. The only hopeful thing I think about it is the fact that it hit national news out of many decent people being outraged.

In my opinion, the mayor of that city should institute an annual "Help Thy Neighbor" Day to remind people of this awful event, and give them an incentive to make a difference - to turn something good out of something bad.

My .02

--------------------
"Soylent Green is lymies!!"
- New IDSA Sci-Fi Film


---

Posts: 58 | From East Coast | Registered: Mar 2008 | IP: Logged |

sizzled
Frequent Contributor (1K+ posts)
Member # 1357


posted

---

"Be the change you want to see in the world."

I forget who stated that.

I try to commit to, at least, one act of kindness everyday.

Perhaps THAT will help change things?

---

Posts: 4258 | From over there | Registered: Jul 2001 | IP: Logged |

Caryn
Frequent Contributor (1K+ posts)
Member # 366


posted

---

i used to think most people at heart were good people. that changed after i was laughed at by drs when i ws deathly ill with lyme. my husband had lyme also. and so did my two young children now grown.

the abuse from upenn drs as well as the strange and mean behaviour of the "fellow moms" at the small private school in bucks co., PA, that we had to send our daughter to because despite being brilliant, needed to be in a small school because of problems due to her undx lyme.

feeling guilty that i could not do much with my young daughter due to not knowing what hit me ( multiple infections with lyme; my daughter contracted it from breast milk, my son was born with it) i signed her up for an afterschool program called "Odessey of the Mind".

i just did not know what hit me. drs said "nothing" or "fibromylgia" and the "discomfort" ( off the charts pain that no living creature should ever have to endure) was doing "no damage".

did not know that a wealthy "fellow mom" whose daughter ws in my daughter's class and she had an older daughter and younger son at the school too. she gives lots of money to the school. some people gave anonomously, but she made sure her name was listed so people knew how much she gave.

she is of the variety who had posted on her south jersey hospital website where she worked ( she removed it a few yrs ago...well, ask her why) that the outcome for lyme and "post lyme syndrome" patients is excellent, and 10 days of antibiotics are all that is necessary to treat lyme.

she was voted a "best of philly" and "best of NJ" pediatric infectious disease specialist as well as hwer colleague.

i nearly died from this. my kids were obviously infected. she either is such a clueless idiot who has no idea what lyme is (or even serious illness) and cannot recognize serious neuro symptoms and other very serious symptoms in either children or adults, or she is a crimminal with a medical degree. or both. i like to think both.

she was quite chummy with the principal of the school who, when i became so gravely ill, and was so weak i had to use the walls to walk, he would smirk at me. when i was near death, two small children who obviously were sick, and a husband, who although he appeared well, was sick also. and this is a religious school with a supposed pacifist, ( i've gone blank - can't remember the work i want to use, so will substitute "open-minded" ) religion.

i will never recover from the damage the drs and certain "fellow moms" did to me. making fun of a dying person because you can is not funny. leaving young children to sicken with each year - with joy - is not funny. even if by fourth grade your offspring finnally gets a better grade on it's test than your child.

they cheat at odessey of the mind. parents are not supposed to give thier kids ideas, do work and credit that work to thier kids...but it is so important thier offspring win. this was elementary school. basically it is adults with extensive edjucations (sp?) sparring with the elementary school age children on other teams whose parents are honest.

"best of philly pediatric infectious disease specialist". no she is not. even if they print in the magazine that she is. and i think she is just as ugly on the inside as she is on the outside.

what is really sad is that our friend Scott Saft in April ( i think 2004 ) had tied weights on himself and jumped into the Delaware River. at the time, we thought he was doing OK, but knew he previously had been having some serious issues. we thought he wae doing OK.

many of the things wrong appeared to me to be lyme symptoms. at the time, i had pressure on me to not utter the "L" word. it brought out such venom in most arround us if i brought it up. i even realized my husband had lyme too, but he would not listen to me, then a year later, to appease me, he had a PCR test done, and to his supprise, but not shock it was pos. he still does not think he needs treatmentn

well, when i was finnally dx with lyme, and started to warn the other "fellow moms" in the Odessey of the Mind program ( the only adults i saw freqently and confided in for the most part during those yrs. and some of them were very nice. others were pediatric infectious disease specialists and their intimate friend and others who were greatly influienced by such a "great" dr) or social with her and had motivations, several of them would do thier best to shut me up when i would try to say what was happening to me, worried about symptoms in my chilren ( which i did not realize were lyme until i found a photo of me when my daughter was a nursing baby and another right after that trip of me conforting her with what the pediatrition ( who later wrote an article filled with mis-info about lyme) told me was just the summer flu and she did not need to see my daughter. and i am a very quiet person to begin with so it was rare that i spoke up. it wasn't until the end of the last yr my daughter was at that school that i found out my children had lyme.

Carol Saline, a senior writer at Philadelphia magazine was best friends with the mom of our now dead friend Scott. in winter 2000 i called his mom's art gallery to get the phone number of Carole Saline. she was not thier, but a nice young man who worked at the gallery intently listened to my story. he was shocked by what i told him and assured me he would forward this to Scott's mom.

not long after, i got a call from Carole Saline. she told me that my story was horrendous and she had also heard from another woman who had told her a similar story. she asked for my contact info and told me she planned to do an expose in the spring.

not knowing that among the "fellow moms" who i was confiding in, but were confusingly and suprisingly callous, i told them i had just spoken to Carole Saline and told them about the Lyme expose she was doing in the spring.

spring came around, and may 2000 was not an expose on what was happening to victims of lyme, instead it was a "best of philly pediatric specialists" issue. one of them was the not so nice "fellow mom". best pediatric neuro-opt was grant t liu, a pathetic excuse for a man that was extremely abusive to me when i was near death. a man who put lies in my records and didn't even bother doing a real med exam. ( you could look at me and see i was seriously ill. put lies in my records that kept me from getting med care after i left UPENN's "care". and did not bother to tell me that a mother this sick very likely had it for a very long time and her children may be infected. and her husband should be tested.

when i phoned Carole Saline to ask why the lyme expose she told me she was going to do was not in this issue but instead the "best pediatric specialists" instead and two of them were drs i know are not dxing or treating most cases of lyme, Carole told me her editor told her lyme stories had been done before. and told me the "fellow mom" and turned out to be pediatric infectious disease specialist and a member of the infectious disease society of america had been well reccommended to her'

this was before i realized i had gotten the bullseye rash several times and realized i passed it on to one of my children thru breast milk, and the other was born with it.

our lives did not need to be destroyed. and after i went to some lyme support meetings and learned more and then learned i got lyme so many times that during our trips to Nantucket Island, we actually unwittingly took photos of me with the bullseye rash.

and i strongly believe our friend Scott who loved the outdoors was infected with lyme and although there may have been other issues in his life, it was a neuro infection that made him feel so bad that he would take his life. and although most people did not take me seriously, if that article came out, he would have believed what i said.

too sad.

alot of long-time friends dumped us becuase i got sick. people i thought were friends for life. and a number of neighbors were nasty to me, but worse, nasty to my children. we have made some new friends. good friends. not suprisingly, many of them were dx with lyme. undertreated, but doing OK or dealing with stuff that they think is unrelated. and others with something else, but show the obvioua symptoms.

i don't look sick. i'm 47 but still get carded. only a few of our friends quite understand that i am as sick as i am, but they don't realize just how crimminal all of this is and what effect it is having on them and thier loved ones.

wow, i did not feel like typing, but i have typed quite a bit.

it just hurt so much to be laughed at by drs when i was not going to live much longer without treatment for lyme and babesia, and since "great" drs said there was nothing wrong, even my husband thought i was over-reacting when i would be in tears after drs appts - grant t liu thought severe pain and severe insomnia and severe neuro=lyme symptoms histerical. he played an "invisible patient" joke on me. a lot less than funny. it would be hysterical if he went to prison for harming patients. he now specializes as a pediatric opthamologists and has had his had in developing four drugs to treat symptoms in children with M.S. i think most of us know that M.S. where we live is usually lyme. he needs to be exposed! nausiating.

so the video of the poor man crossing the street and being hit by reckless drivers and no one stopping to help or even run to a nearby buisness or pull out their cell phone to call for help does not suprise me at all. most people really don't care until it happens to them. i think our society has become numb to the pain of fellow humans.

[ 12. June 2008, 10:32 PM: Message edited by: Caryn ]

---

Posts: 1086 | Registered: Nov 2000 | IP: Logged |

sizzled
Frequent Contributor (1K+ posts)
Member # 1357


posted

---

Don't give in to the dark side.

---

Posts: 4258 | From over there | Registered: Jul 2001 | IP: Logged |

adamm
Unregistered



posted

---

sizzled--

'Tis a Gandhi quote.

---

IP: Logged |

sizzled
Frequent Contributor (1K+ posts)
Member # 1357


posted

---

Thanks, adamm!!!

---

Posts: 4258 | From over there | Registered: Jul 2001 | IP: Logged |

Keebler
Honored Contributor (25K+ posts)
Member # 12673


posted

---

-

I wonder if those who aren't up on their feet to help just have differences in their brains from those first on the scene.

While some just may not give a rip, others may be too empathetic and unable to put themselves in a vunerable position. Others may get "stage fright" and be too nervous under pressure.

-

[ 26. June 2008, 05:06 PM: Message edited by: Keebler ]

---

Posts: 48021 | From Tree House | Registered: Jul 2007 | IP: Logged |
Contact Us | LymeNet home page | Privacy Statement

Powered by UBB.classic™ 6.7.3

---
The Lyme Disease Network is a non-profit organization funded by individual donations. If you would like to support the Network and the LymeNet system of Web services, please send your donations to:
The Lyme Disease Network of New Jersey
907 Pebble Creek Court, Pennington, NJ 08534 USA
http://www.lymenet.org/
---
Home | Flash Discussion | Support Groups | On-Line Library
Legal Resources | Medical Abstracts | Newsletter | Books
Pictures | Site Search | Links | Help/Questions
About LymeNet | Contact Us
---
© 1993-2020 The Lyme Disease Network of New Jersey, Inc.
All Rights Reserved.
Use of the LymeNet Site is subject to Terms and Conditions.
---