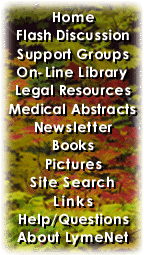 ---
LymeNet on Facebook
LymeNet on Twitter
---
---
The Lyme Disease Network receives a commission from Amazon.com for each purchase originating from this site.
When purchasing from Amazon.com, please
click here first.

Thank you.




Dedicated to the Bachmann Family


LymeNet needs your help:
LymeNet 2020 fund drive

The Lyme Disease Network is a non-profit organization funded by individual donations.

| | |
| --- | --- |
| | |
Author
Topic: IDSA Settlement Agreement .pdf

hcconn22
LymeNet Contributor
Member # 5263


posted

---

Yea, and the IDSA signed and agreed to this because.... they are nice guys and did nothing wrong.....

http://www.ct.gov/ag/lib/ag/health/idsaagreement.pdf

This goes above and beyond Lyme disease. It it just unbelievable & unethical and at the highest level.

No wonder Lyme is political, and not solution based. It id due to people and organizations such as the IDSA.

--------------------
Positive 10 bands WB IGG & IGM
+ Babesia + Bartonolla and NOW RMSF 3/5/09 all at Quest

And still positive ELISA and WB two years after IV treatment
http://www.lymefriends.org/profile/blake


---

Posts: 607 | From Tick Town, Connecticut | Registered: Feb 2004 | IP: Logged |

nellypointis
LymeNet Contributor
Member # 1719


posted

---

It's going to be interesting to see if they manage to follow the instruction and get ANYBODY at all on the new panel
Nelly

---

Posts: 416 | From france | Registered: Oct 2001 | IP: Logged |

lou
Frequent Contributor (5K+ posts)
Member # 81


posted

---

Can't get the link to work.

My impression from the IDSA response to this is that they will do everything they can to subvert the process. The AG agreement calls for "good faith" efforts, and that is just what they are not going to do. Someone is going to have to watch this every step of the way and be prepared for their tricks.

---

Posts: 8430 | From Not available | Registered: Oct 2000 | IP: Logged |

lou
Frequent Contributor (5K+ posts)
Member # 81


posted

---

Have read this document now and am worried about several aspects, including these:

1. the panel chairman has to be trained in infectious diseases. Don't know if that means board certified, but how many ID docs are going to be willing to brave peer pressure and diverge from the IDSA views?

2. the review panel discussions are going to be secret, with no access to anyone except the AG. So how are we going to monitor the proceedings?

3. only one panel member is required to have lyme treatment experience!

[ 05. May 2008, 11:08 AM: Message edited by: lou ]

---

Posts: 8430 | From Not available | Registered: Oct 2000 | IP: Logged |

lymeinhell
Frequent Contributor (1K+ posts)
Member # 4622


posted

---

Ditto Lou.

--------------------
Julie
_ _ ___ _ _
lymeinhell

Blessed are those who expect nothing, for they shall not be disappointed.


---

Posts: 2258 | From a better place than I was 11 yrs ago | Registered: Sep 2003 | IP: Logged |

roro
LymeNet Contributor
Member # 13383


posted

---

I read the entire thing. It took me three hours, with naps in between. It is the first long paper I have finished reading (I start to read many things, but never finish)

I am floored. It is becoming real to me now and not just a "conspiracy theory" I really had a benefit of the doubt that maybe these guys had a purpose other than their own selfish interests.



---

Posts: 615 | From maryland | Registered: Oct 2007 | IP: Logged |

sometimesdilly
Frequent Contributor (1K+ posts)
Member # 9982


posted

---

regarding who can be included on the guidelines review panel-

(snippets from the B's settlement doc)

1- (look under action plan (B7))

NO member of the review panel may have previously served on a Lyme guidelines panel. (IDSA or ILADS)
--------------------------------------

2- the chairman -" must be trained in infectious diseases"

3- the chairman "must not have previously published a particular viewpoint regarding Lyme diagnosis and treatment."

4- on the panel of 8-12, "at least one" physician with clinical experience treating Lyme must be included.

5- the review will be conducted in private sessions, and session transcripts will not be made public. Blumenthal will review.

6- there will be a SIXTY DAY window for input open BEFORE the review process can begin, for the purpose of collecting "medical and science evidence."

---

Posts: 2505 | From lost in the maze | Registered: Aug 2006 | IP: Logged |

cs
LymeNet Contributor
Member # 15270


posted

---

Ok, something else I noticed, at the top of page 5, it states:

c. Panel determinations/recommendations shall require a supermajority vote of 75% or more of the total voting members.

My lyme-addled brain may be mistaken, but that doesn't seem to say a supermajority is necessary to keep the reccomendations, that sounds like a supermajority is needed to change the reccomendations. It doesn't seem to jive with the AG press release. Someone please tell me I am mistaken?
-karen

---

Posts: 205 | From northern california | Registered: Apr 2008 | IP: Logged |

adamm
Unregistered



posted

---

Oy! This review ain't gonna' do squat for us...

---

IP: Logged |

Eight Legs Bad
LymeNet Contributor
Member # 13680


posted

---

quote:

---

Originally posted by adamm:
Oy! This review ain't gonna' do squat for us...

---

It could actually do us harm, despite the good intentions of Blumenthal and all those who advised him.

Although Prof Brody, an ethics professor, will be vetting panel members for conflicts of interest with insurance and other commercial firms, there is no provision in the Agreement for excluding those whose conflict arises from their employment with the US or NATO military establishment.

A massively disproportionate number of Steerites, including Steere himself, have a background in biowarfare.

Being a biowarfare scientist is an enormous conflict of interest. The priority of such a person is not to heal.

The history of study of Borrelia species as a bioweapon goes back decades; the butchers of the Japanese Unit 731, exposed in the 1980's for their horrific human experimentation and biological attacks on China, studied borrelia.

More recently we have found endless "printing mistakes" showing that Lyme Disease is studied in BSL-4 labs, the highest level of biosecurity reserved for dangerous airborne transmissible pathogens. One leak from CDC went to the Associated Press before efforts were made to quietly withdraw the story.

While Lyme is not generally thought of as something transmitted via the airborne route, it is clear that facts about the cell wall deficient forms are being concealed from the civilian scientific community.

I believe we need to pressure the IDSA to make it clear which panel members are being chosen right now, and to demand that those with a military conflict of interest are excluded. We also need to find a way to ensure that panel members without such conflict are not browbeaten by the CDC or other organisation to falsify their findings for the sake of so-called "national security".

The billions of dollars spent on "defense" against biological warfare only makes us less secure, and convinces anti-western nations that we are imminently about to attack them and that they therefore should build up their own bio-armoury. Ken Alibek, former Soviet bioweaponeer who defected to the US made this clear.

When asked how he could spend his career developing horrific agents like anthrax, Alibek replied that his government told him that the US was developing them, and so the only way to save his family and his nation from total carnage was to develop better ones.

Meanwhile the American population was told the same about the Soviets.

If half the biowarfare money was spent on developing understanding between and prosperity for all nations, we wouldn't need an arms race in the first place.

Elena Cook

--------------------
Justice will be ours.


---

Posts: 786 | From UK | Registered: Oct 2007 | IP: Logged |

Tincup
Honored Contributor (10K+ posts)
Member # 5829


posted

---

May I explain some of the process?

PRE- Attorney General Decision....

1. We have squat now. We have a harmful IDSA document that is destroying lives, with NO one or NOTHING stopping this nightmare from continuing for years on end.

2. We have a document (IDSA guidelines) that is used by IDiots and insurance companies to deny treatment... which is thought by the unsuspecting powerful people to be a "reliable" source... and as you know, it is FAR from that. But THEY don't know it.

3. We have NO voice. Everything is their way or the highway. Papers, TV, radio, medical journals and other media outlets connected to the IDSA/insurance guidelines won't help us. We have NO credibility with them or anyone. We've been called every name in the book in public for years non-stop... and behind the scenes it has been even worse.

4. We have good doctors being threatened for even THINKING of stepping outside the parameters of the IDSA guidelines and helping patients. Our LLMD's are open targets for Medical Boards, Insurance Companies, ducks with ruffled feathers, etc.. and we are losing our ONLY help and hope... one by one.

5. We have doctors on the fence who want to treat us properly and who KNOW they can't do it or even try without risking everything... so they bow to the pressure and ship us right into the mouths of the wolves (referral to IDiots) and we are "stuck".

6. Out of the entire government and all their powerful agencies we have but a mere handful of people who have listened to our leaders and who now want to help us ... and who have the ability to actually do something for us.

Those trying to help us are up against BAD odds too and are WAY outnumbered everywhere due to bad politics, lack of education about Lyme by others in the medical and business fields.... and by the prior "supposedly good" reputations of large medical organizations.

7. The ONLY support for the ones in power who WANT to help us consists of a handful of LLMD's who have been under attack for years and whose reputations have been sullied left and right by those opposing us..... and a bunch of "dumb patients" who aren't physically sick but who are all fanatical, vocal individuals and groups and very mentally ill... as portrayed to all by the IDSA for years.

`````````````````````````````````````````````

I am SURE I have left out a lot... but let me move forward.

What we have now.. since the AG started the investigation and came out with the press release.

1. Our worst nightmares- the ones who have stood in our way from all levels of government and private industry- have been exposed. First by having the investigation in progress. Keep in mind it took a LOT of work to even make that happen. Now....

Imagine- every time we would tell folks that the IDSA was under investigation by a government agency for fraud, anti-trust, monopoly, etc... it made others not want to get too close to them.. and many decent doctors and IDiots too... have been backing away from these boys with the stinky pants.

2. We were given a foot in the door to many avenues previously closed to us... because if this investigation into corruption were true or possible... folks in power were wanting to know if it was, where for years we've been ignored and no one cared.

Keep in mind OUR taxes are used to fund these idiots... and OUR research dollars are going to support them and their institutions. That is research money we could have used to find tests that work, meds that would help and even possibly a cure.

Using our good money (taxes) for bad things is bad news. Example- If YOU donated $50.00 to what you thought was a good organization that was helping others (like Congress and state legislators are doing by giving the IDSA research money).... and later learned it was really the Klu-Klux-Klan masguarating under the guises of religion... well, OOPS!

No one wants to get caught in that kind of situation... sooooooooo ... now more powerful people are looking into this "Lyme" situation that wouldn't usually care.

````````````````````````````````````

SORRY! It hasn't rained here in over 40 days... and I hear thunder! Gotta shut down... back later to finish.



--------------------
www.TreatTheBite.com
www.DrJonesKids.org
www.MarylandLyme.org
www.LymeDoc.org


---

Posts: 20353 | From The Moon | Registered: Jun 2004 | IP: Logged |

Eight Legs Bad
LymeNet Contributor
Member # 13680


posted

---

Tincup, I think you have misunderstood me. I fully agree with everything you say about the economic conflicts of interest of the Steerites, and I am very glad that Blumenthal has publicly stated that this was the case. I know full well that many years of extremely hard work has gone into this. I myself have had plenty of harassment, including death threats, from the moment I began stating on the internet that Steerites were corrupt and had conflicts with insurance, biotech etc..

The reason I am casting a shadow where so many others are celebrating the sunshine is because I am very afraid that this will backfire on us.

There is not ***only*** straightforward financial greed and crookedness motivating the Steerites. I believe that some of the leading Steerites, some who have done the most damage to us and are most directly responsible for the suffering of hundreds of thousands, if not millions, worldwide, actually have no financial conflict of interest at all. McSweegan himself may come into this category.

These people are ***military*** scientists and doctors. Their goals are very different to those of civilian healers. In fact, healing is the last thing they are concerned with. Many leading scientists are campaigning right now that there is no such thing as bio-"defense" - ALL the work is "dual purpose" - ie can be used for both offensive and defensive purposes.

If you look at the reaction of the IDSA director to Blumenthal's agreement, (in heir press release), you will see that the man shows not a trace of remorse, not the slightest bit of humility. He arrogantly states that IDSA never put a foot wrong.

Where in the past has an organisation been caught out with such corruption and the director has not at least apologised, and however grudgingly, and promised changes?

The IDSA director's arrogance, IMO, confirms that the hand of CDC and other government organisations is behind this whole thing. He will have been instructed by federal biowarfare scientists that the Lyme committee of IDSA must promote the Steerite view, and no other. Hence his arrogance.

We need an opportunity to vet each proposed panel member for conflicts due to involvement with the US or NATO military. Because however positive it is that the agreement condemns financial crooks, if the new panel declares the old guidelines were correct, that will be a tremendous setback for us.

Elena Cook

--------------------
Justice will be ours.


---

Posts: 786 | From UK | Registered: Oct 2007 | IP: Logged |

Aligondo Bruce
LymeNet Contributor
Member # 6219


posted

---

Does this panel intend on addressing just lyme disease, or is it addressing the coinfections like babesia too?

There is going to be tremendous pressure on whomever is a panelist to toe the line. The scientists involved will fear losing grants, for starters.

---

Posts: 523 | From Stillwater,OK,USA | Registered: Sep 2004 | IP: Logged |

Eight Legs Bad
LymeNet Contributor
Member # 13680


posted

---

quote:

---

Originally posted by Aligondo Bruce:
Does this panel intend on addressing just lyme disease, or is it addressing the coinfections like babesia too?


---

Basically the new panel is supposed to examine each Guideline from the 2006 IDSA guidelines document, and vote as to whether it should remain the same, be amended or scrapped altogether.

Elena

--------------------
Justice will be ours.


---

Posts: 786 | From UK | Registered: Oct 2007 | IP: Logged |

bettyg
Unregistered



posted

---

copying above link here and breaking it up for neuro lymies like myself to comprehend/read....

Your e-mail address and/or phone number will not be published. Leave your name or hometown blank if you do not want it published.


Health experts say Lyme cases to soar

By [email protected] (JENNIFER DUVAL )


The Connecticut Post

updated 5:00 a.m. CT, Mon., May. 26, 2008


Headaches, joint pain, fatigue and fevers -- it may feel like the flu, but from May until August, risks are higher for Lyme disease to be the symptom-causing culprit instead.


According to the state Department of Health, Lyme disease, a bacterial infection caused by the bite of an infected blacklegged tick, can cause flu-like symptoms, and may be accompanied by a bulls-eye shaped rash surrounding the tick bite.


In 2007 the Department of Health recorded 3,058 cases of Lyme disease in Connecticut; roughly one person in 1,000 was infected.


This year's numbers could see a significant increase, according to Grace Kim, an infectious disease specialist at St. Vincent's Medical Center in Bridgeport. She said doctors have seen a "tremendous" increase in tick bites already this year.


"During the winter, many ticks will either die or hibernate," said Kim. "This year, we've had a relatively mild winter with no prolonged hard freeze, which is why, when it warmed up, the ticks were ready to go."


An increase in tick bites may or may not lead to more cases of Lyme disease.


The Department of Health says that if ticks are removed within 24 hours of attachment, the chances of getting the disease from an infected tick significantly decrease.


Often, however, tick bites will go entirely unnoticed until a patient complaining of fatigue and joint pain undergoes testing.


Randall Nelson, the public health veterinarian of vector-borne diseases for the state Health Department, suggests people send any ticks they may find on themselves to their local health department, which will then forward them for testing to the Agricultural Experiment Station in New Haven.


Last year, however, only about 2,600 ticks were submitted, while there were more than 3,000 reported cases of Lyme disease.


"People don't always know they have been bitten," said Kim. "In many cases, the bites are in places where people don't see them, like behind the knee.


They will have symptoms that may mimic the flu, and some people's skin may be too dark to see the light pink rash around the bite."


In an attempt to jump-start Lyme disease awareness in Connecticut, Gov. M. Jodi Rell declared May Lyme Disease Prevention Month.


Her announcement came only days after the Infectious Diseases Society of America and Attorney General Richard Blumenthal reached a May 1 settlement in an antitrust investigation into the IDSA's treatment guidelines for Lyme disease.


The IDSA has agreed to create a new panel to review Lyme disease guidelines, particularly in relation to long-term treatment options for people who suffer from chronic symptoms.


"It's always good," said Kim, "to review and make sure we're doing something right, and this is an area that requires much more research into both the diagnosis and treatment processes."


Prior to the settlement, IDSA was accused by Blumenthal of having "improperly ignored, or minimized consideration of alternative medical opinion and evidence," because of undisclosed financial interests in Lyme vaccines, patents, and test kits.


The IDSA has publicly denied these claims in a statement on its Web site, calling the accusations "unfounded," as it reiterated its viewpoint that long-term antibiotic treatment of Lyme disease can be "ineffective, and expensive, and potentially harmful."


Doctors, however, said that while a long-term, or four-week course of intravenous antibiotics can be incredibly dangerous, it is occasionally necessary for patients with severe cases of Lyme, though the treatment should be used sparingly because of the risk of contracting sepsis, an infection of the bloodstream.


"You have to understand that I'm a specialist," said Kim, "so I get the more difficult cases and I probably prescribe intravenous antibiotics for maybe two patients a month -- those who are affected in the nervous system, heart or joints.


The whole process is dangerous, and there is up to a 1 percent chance you can get sepsis, which is immediately life-threatening."


St. Vincent's, however, is known for its Picc Out Patient Service program.


It was the first hospital in Connecticut to utilize ultrasound technology to insert the Picc lines used for receiving intravenous antibiotics.


"The Picc lines allow patients to have intravenous antibiotics once a day, usually for 28 days," said Donna Caserta, the nurse who heads up the POPS program at St. Vincent's. "It allows them not to be in the hospital 99 percent of the time."


Caserta said the program saves patients time because after they are trained by visiting nurses, they can administer antibiotics to themselves at home in as little as 10 minutes each day.


The IDSA and much of the medical community, however, are still skeptical about the benefits of intravenous antibiotics for Lyme treatments.


"Those who rely heavily on it are definitely in the minority," said Kim.


While the antitrust settlement may make it easier for hospitals to gain approval for intravenous antibiotic treatment of serious Lyme sufferers and also ease the approval process making it easier for patient coverage, the previous standards will remain in effect until the IDSA has chosen a new board.


Rate this story Low High
Current rating: 4.5 by 2 users
********************************


to our newbie who posted this, i suggest you do a block copy of your post about link AND MY BRINGING ARTICLE here, and start a new thread in MEDICAL, SHOW NAME OF ARTICLE and whose site/published this.


go to lower left hand side and mark box for ALL REPLIES GO TO YOU.... thanks!

---

IP: Logged |
Contact Us | LymeNet home page | Privacy Statement

Powered by UBB.classic™ 6.7.3

---
The Lyme Disease Network is a non-profit organization funded by individual donations. If you would like to support the Network and the LymeNet system of Web services, please send your donations to:
The Lyme Disease Network of New Jersey
907 Pebble Creek Court, Pennington, NJ 08534 USA
http://www.lymenet.org/
---
Home | Flash Discussion | Support Groups | On-Line Library
Legal Resources | Medical Abstracts | Newsletter | Books
Pictures | Site Search | Links | Help/Questions
About LymeNet | Contact Us
---
© 1993-2020 The Lyme Disease Network of New Jersey, Inc.
All Rights Reserved.
Use of the LymeNet Site is subject to Terms and Conditions.
---