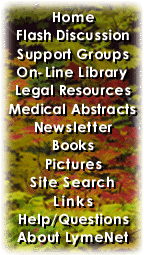 ---
LymeNet on Facebook
LymeNet on Twitter
---
---
The Lyme Disease Network receives a commission from Amazon.com for each purchase originating from this site.
When purchasing from Amazon.com, please
click here first.

Thank you.




Dedicated to the Bachmann Family


LymeNet needs your help:
LymeNet 2020 fund drive

The Lyme Disease Network is a non-profit organization funded by individual donations.

| | |
| --- | --- |
| | |
Author
Topic: Iowans, District 4; vote for Kevin Muskell; others pls read! activism tonight 5.28.

bettyg
Unregistered



posted

---

...

TO ALL IOWANS IN DISTRICT "4" and others!,
*****************************************


Tonight, I went to last minute meeting unannounced prior in newspaper in our Ames city hall for 4 democratic candidates running against INCUMBENT TOM LATHAM, 4 !!


Tom Latham was the house rep who wrote me a 2 page letter lately where he wrote PALLONE & ranking member DEAL of house rep. committee to ACT on this bill; it is very detrimental to Iowans!!


Lucy Barnes, aka tincup, said it's a rarity for another house rep to WRITE another house rep, so Latham got 5 stars for this!!

I also told audience about this, and how I've bull-doged Latham constantly on our lyme bills.

2 showed only:

Kevin MUSKELL, Story City, 50
and
Kurt Meyer, St. Ansgar, 46-50

After hearing them both being given the same 5 questions, and then 7-8 Q/A from the audience, including CHRONIC LYME DISEASE BILLS IN CONGRESS FROM ME, I want to recommend:


KEVIN MUSKELL, STORY CITY be your dem. choice for June 3, 08 primary !!


When I introduced myself, I said I had a long intro since this was a complex subject, C.Lyme disease. Can you believe I forgot to tell them I've had this 38 yrs; 34 yrs. misdiagnosed by 40-50 drs.

I proceeded to tell them about our lyme disease bill in DC ON HOLD by senate/house reps and THIS FRIDAY IS CUT-OFF DATE to get our bills on "their agendas" for a hearing!!


Told them about Blumenthal's involvement and what he found out. Mentioned how much Pallone was paid off by MEDICAL LOBBYISTS, etc.


Note: Kevin had just gotten done before my statement talking about "follow the money" !!
*******************************************


So my question/statement to them both was this:


You've both been raised by Iowa farmer's work ethic including the GOLDEN RULE; how can you remain faithful to the moral issues of NOT BEING PAID OFF TO VOTE FOR LOBBYISTS VS. US CONSTITUENTS?


Kevin said he's always voted that way; he's been involved in agricultural matters since he's a farmer too, and has a high up job where he's in DC all the time representing the farms and working with the UNION members.


[/B] HE'S UNINSURABLE FOR HEALTH INSURANCE!! His wife has a good job, and with that he and his birth children whom they raise are ALL covered on it!!

I told them too I had some literature with me but was going to email more about what I discussed tonight, etc. to them & got emails.


Miskell gave me publicly his PRIVATE email as HIS AUNT, LOIS HEINTZ, DIED OF LYME DISEASE LATELY!! Also, a close friend/classmate from my hometown has this and is very bad and losing the battle.[/b]


Afterwards, Kevin, I, and another woman approached me for my email; HER NIECE HAS LYME IN CALIF. and she was going to send me her name, etc. We talked a good 10 minutes.


Kevin's aunt had been everywhere, etc, and it was a recent story so VERY PERSONAL FOR HIM!


He told me about milk colostrum, and I said yes, Iowa's congressman Berkley Bedell went on that.


His request of me before we departed was this: Betty, will you let 10 people or more know about me, and encourage them to VOTE FOR ME JUNE 3; PLUS BRING 1 EXTRA PERSON W/YOU TO POLLS?


I said I'd do what I could. So since 60 nationwide are getting this; that part is done!!


I just don't know how many IOWANS are on my list from district 4 !! Thanks for your attention and listening to my activism tonight!


Betty G, Iowa lyme activist
***************************

---

IP: Logged |

MaryL
Member
Member # 11997


posted

---

Thanks, Betty, for all you do for Iowa activism. Unfortunately I don't live in district 4, but sure glad you're out there!

---

Posts: 81 | From Iowa | Registered: May 2007 | IP: Logged |

bettyg
Unregistered



posted

---

..

maryl, i was hoping you/hubby and mom all lived in district 4 !! i thought you might see this.


who is your house rep for your area of iowa?
have they sent you anything IF they support our lyme bills OR have written PALLONE/DEAL from HOUSE

or KENNEDY for the senate version? THANKS!!

---

IP: Logged |

bettyg
Unregistered



posted

---

,,, here is what i sent to the 2 named people above running for congress house reps! this might help others who are THINKING of writing their state's house reps/senators, which you could send them too ok!


i also included the info i sent to our local police chief for DEER TASK FORCE group meeting i attended.

************************

Hi Kevin and Kurt!
Nice meeting you both last night at city hall's political forum!

I promised you both info, so I'm going to send you these things including what i sent ames police chief about for their DEER TASK FORCE MEETING items! That would deal w/agriculture issues too in addition to HEALTH !!

Betty/treepatrol is my 122 pages of NEWBIE info galore for those diagnosed with lyme disease and around 20-25 pages at beginning are the TABLE OF CONTENTS. It's what I sent to all who join: www.lymenet.org.

Also, Yankee Magazine article was written by LYME patient/writer, and is the best COMPREHENSIVE I'm read to date giving all the lyme history!

Hope this will explain things better to you! Please SAVE this, and if you hear of others with LYME DISEASE, please forward this compilation of info to them..thanks!

Betty G
********************


Please watch this video of Storm Lake, Iowa's Alex Hermstad!!
..
http://www.youtube.com/watch?v=W40ZI1nSpX0
4.44 length

story about Alex Hermstad, 14, Iowa, paralyzed and on ventilator slowly dying from Bartonnella and other UNKNOWN DISEASES; her daily life being assisted 24/7.


I also started a post about LYME VIDEOS COMPILED HERE:

http://flash.lymenet.org/scripts/ultimatebb.cgi?ubb=forum&f=3&submit=Go


Letter from Lyme Disease Assn. President Pat Smith on latest shenanigans with our 2 lyme disease bills in congress:
HR 741, S 1708 !!
******************


The Lyme & Tick-Borne Diseases Research Center at Columbia University is now open! Thank you everyone for making it happen!

Pat Smith
President
Lyme Disease Association, Inc.
PO Box 1438
Jackson, NJ 08527
888-366-6611 Toll free info line
732-938-7215 (F)
LymeDiseaseAssociation.org


Behind the Scenes of the Pallone Decision:


Congressman Frank Pallone Prevents Patients from Receiving Lyme Treatment, Rubber Stamps IDSA, Excludes Patients


Dear Lyme Community,

I apologize in advance for the length of this letter, but you need to understand what is happening to you and why.


Last night, Congressman Christopher Smith, bill sponsor, and a friend and leader to the Lyme community, called me to provide words of encouragement after a very discouraging day.


He told me to tell you how sorry he is for everyone suffering out there and for what happened that day, and he asked that I tell you that he is "outraged" at this bill decision.


He said we must not give up, what we are doing is right and just, and that he will never give up until this bill is passed, a bill which he feels has the ability to go a long way to melding research dollars and policy for Lyme disease.


He is a bright light in a world filled with those who lack substance and conscience.


What follows is the reason for his message.


In an act reminiscent of the ones IDSA has been rebuked for by Attorney General Blumenthal of Connecticut, Congressman Frank Pallone, House Health Subcommittee Chair, rubber stamped IDSA and its guidelines.


Shocked and saddened are two words that come to mind to describe how I feel about what occurred yesterday in my own state, my own county.


The Chair of the very committee in the House of Representatives that is charged with reviewing bills which affect the health of people across this country today took an unprecedented step, he capitulated to the powerful Infectious Diseases Society of America (IDSA).


The IDSA was under investigation by the Attorney General of Connecticut for a year and a half, and it has been forced to scrutinize its Lyme guidelines under the oversight of a specialist in conflicts of interest.


Rather than own up to the misconduct of its members, the IDSA is publicly denying culpability in the matter.


Rational people must examine why a Society would settle if there were nothing to the AGs allegations as this powerful Society claims.


The Attorney General found:

significant conflicts of interests for the panel member of the guidelines,
bias in the selection of participants,
suppression of scientific evidence,
blocking of divergent viewpoints and
foreclosure of treatment options for patients.

These are the types of findings that a responsible medical society would take seriously and would launch an internal investigation into the guidelines panel.


Rational people must also examine why Congressman Frank Pallone would chose to endorse IDSA over patients nationwide, patients in NJ, and his own constituents.


Mr. Pallone has chosen no treatment for chronic Lyme patients, no alternative treatments and no supplements. [Pat's emphasize, not Betty's!]


This is the IDSA philosophy:

the one whose development was investigated,
whose development was challenged,
whose philosophy development was found by the Attorney General to be riddled with conflicts of interest
and exclusionary conduct.


Yet yesterday, during the protest outside his Long Branch office, Mr. Pallone issued a press release saying he would not post the Lyme bill until the IDSA convenes its new guidelines panel and issues a decision.


This panel is part of the settlement which was forced upon the IDSA by process and by threat of legal action by the AG.


After the new panel convenes and deliberates:

Mr. Pallone has given IDSA carte blanche to make its recommendations to Congress about the Lyme bill,
a bill which does not relate directly to treatment but relates to monies for much needed research and a much-needed voice for Lyme patients and treating physicians.

What does this mean to patients?


He has knowingly placed the fox in charge of the hen house, a fox already caught with chicken feathers dangling from his mouth.


One might also wonder why IDSA was in DC on Friday after the AG settlement with a lobbyist, their CEO, their lawyer, and a new man on their team, Dr Phillip Baker.


Dr. Baker is the former NIH Lyme Disease Program Officer on whose shift the Klempner study was approved,
terminated early, and
subsequently touted as the kiss of death for all extended antibiotic treatment for Lyme patients,
although the conclusions drawn by the authors were nothing more than a sham attempt to halt treatment for patients.

At a meeting I attended related to the Klempner study, Dr. Baker allowed

researchers who were anti-chronic Lyme to publicly trash treating physicians, researchers and even a patient who was present, all in the name of science.


It was so bad, I wrote a letter to him when I arrived home expressing my horror at how unprofessionally this government-sponsored meeting was run.

Industry interests continue to drive government.

A primary example of this "revolving door" between industry and government officials is demonstrated by the fact that Dr. Baker is now advocating for the IDSA.


Given Baker's affiliation with the commercial interests of a medical society, it is now clear that there never was anyone involved in that Klempner study that viewed his job as protecting patients or the public health.


How does this relate to what happened in NJ today?


What we have here is a cartel of vested interest masquerading under the banner of science.

This is not about patients, it is not about the greater good, it is about greed.

Patient health has been sacrificed by IDSA to pave the way for those who hold patents,
those who have an interest in Lyme testing and vaccines,
and those who have a consulting relationship with insurance companies.


Dr. Baker's now public alignment with the commercial interests of the IDSA, and now it would seem, patients own elected representative's alignment, show how powerful commercial interests in medicine can drive healthcare and exclude the interests of patients, entirely.


We understand that the IDSA went to Washington the very day after the Attorney General announced its findings of conflicts of interests, suppression of scientific evidence, and denial of treatment options for patients, and met with Mr. Pallone's COMMITTEE Members.


What Mr. Pallone has done is tell Lyme patients that their ability to have research hinges on the decision of a private medical society that has commercial interests in the results and that has been under investigation for allowing its panel of researchers with extensive commercial interests to corrupt its guidelines panel.


Essentially, he is delegating public policy decision to a medical specialty society whose guidelines are under scrutiny and that has evidenced a profound lack of accountability and responsibility in policing the rampant conflicts of interests of its panel members.


Yesterday, 5-7-08, patients in wheel chairs, and IV drips, and mothers whose children are out of school for years peacefully picketed Congressman Pallone's office and carried signs and did chants at a protest organized by the grass roots Lyme Rights Group.


Reporters and radio media attended and many interviews were conducted.


Suddenly one reporter on some silent cue left the patients to rush inside to pick up a statement issued by Mr. Pallone's office.

No one else was then allowed to have the statement.


I asked the reporter if I could borrow it, and I read to a stunned crowd the news that essentially Pallone supports and endorses the IDSA.


I requested from his office a copy of the release. They refused to provide it, telling me it was available online.


Obviously I had no access and again requested the document. They told me they were not authorized to give me the document.


But you gave it to the reporter I said, well, they replied, that was authorized.


I reiterated, so the Congressman issued a public document but would only provide it to a reporter "wouldn't" even provide it to a constituent who was right there. Silence followed.


While this transpired, that constituent of his was trying without success to gain an appointment with Mr. Pallone, a process that began months ago when Congress was on break.


They refused then and now to grant her a meeting.

She asked what she could do to get this meeting as her nephew is in a wheel chair due to Lyme. They could offer no insights, so I suggested she join the IDSA.


It seems that one must be wealthy, powerful, and being investigated to gain the attention of Mr. Pallone.


Most Lyme patients do not fit those categories.


However patients have something which IDSA does not have:

they have numbers,
commitment,
no vested interest to get in the way, and
they now have a large combined voice which stretches across this great country of ours.


It is now obvious to all that this voice must be raised loudly and often in DC, NJ, CA, CT, MN, NY, PA, TX and every state of the
union.


All of us nationwide need to start in NJ today.
*********************************************

We need to be respectful,
we need to be angry,
we need to be unrelenting in our quest to dismantle this amoral cartel.


We start by calling, faxing, visiting, emailing Congressman Pallone's
"DC" office. NOTE: PAT'S EMPHASIS!!


We must be relentless.
We must let them know that patients are out here.
Patients will not tolerate being ignored.
Patients will not rest until Mr. Pallone puts their health above moneyed interest.
No stone can be left unturned.


If we allow IDSA to manipulate us through its representative in Congress (Mr. Pallone), in a year we will find ourselves in an untenable position.


Congress will not only have turned its back on us entirely, but the IDSA will get a bill of its choice, a political plum that they have "earned" in some manner which we have yet to uncover, but we will.


Meantime, tens of thousands more people will become sick and tens of thousands of those already sick will be further banished to obscurity as they await their death sentence without treatment.


This message is long, but you need to understand, your plight as a Lyme patient has now been placed in jeopardy again with a casual but deliberate action taken by Mr. Pallone to revoke any rights you may have had to treatment.


The time for action is today, tomorrow and all the tomorrows to come until we find out what is really behind this great Lyme cover-up that denies you, the patient, a basic human right---the right to be treated for your disease.

Pat Smith President LDA


Here is the link with the numbers...

http://www.lymediseaseassociation.org/HR741/HR741.html#Actions


Call call call.
Congressman Pallone (NJ)
(P) 202-225-4671 / (F) 202-225-9665

BettyG, Iowa activist
****************************

KUDOS Pat Smith for a very powerful letter and informing us all of EVERYTHING that transpired at the protest! I had wondered when you were notified by Pallone of his decision!! Now we all know! BettyG
****************************************

CONN. ATTORNEY GENERAL DICK BLUMENTHAL'S PRESS RELEASE ABOUT HIS ANTI-TRUST FRAUD AGAINST IDSA, infectious disease society of America; BAD infectious drs. who don't believe in chronic lyme and who treat UNDER 30 days!!

California Lyme Disease Association

News alert, May 1, 2008


Settlement Announced in Landmark Investigation of Lyme Disease Diagnosis and Treatment Guidelines


Patients' Rights Groups Applaud Connecticut Attorney General Blumenthal's Settlement in Anti-trust Case Against Powerful Medical Society


Hartford, CT - Patients' rights groups today hailed Connecticut Attorney General Blumenthal's announcement of a settlement in a landmark antitrust investigation into the Lyme treatment guidelines of the Infectious Diseases Society of America (IDSA).

"My office uncovered undisclosed financial interests held by several of the most powerful IDSA panelists," said Blumenthal. "The IDSA's guideline panel improperly ignored, or minimized, consideration of alternative medical opinion and evidence regarding chronic Lyme disease, potentially raising serious questions about whether the recommendations reflected all relevant science."

The groundbreaking settlement announced today forces a complete review of the IDSA guidelines by a new panel free from conflicts of interest, specifically excluding previous panel members. This panel will consider a range of scientific evidence in a public forum broadcast live over the internet and will be overseen by a specialist in financial conflicts of interest in medicine.

"This settlement makes it clear that the IDSA guideline development process was corrupted by a commercially driven panel that excluded evidence supporting longer term treatment of Lyme disease," said attorney Lorraine Johnson, Executive Director of the California Lyme Disease Association (CALDA). "This settlement allows suppressed scientific viewpoints and evidence to be heard, and it is promising news for patients."

This is the first-ever antitrust investigation against a medical society's guidelines development process.

"We congratulate Attorney General Blumenthal for exposing the IDSA's conflicts of interest and helping reduce the suffering of Lyme patients everywhere," said Pat Smith, president of the national Lyme Disease Association (LDA). Diane Blanchard, co-president of Time for Lyme in Connecticut agrees. "The IDSA guidelines are dangerous for patients who suffer longer-term Lyme symptoms that do not fall within the IDSA's narrow disease definition," Ms. Blanchard added.

The IDSA guidelines are treated as mandatory within the medical community. More than 50 physicians who use longer-term treatment approaches have been investigated or sanctioned by state medical boards. The guidelines can also result in financial problems for patients, since insurance companies refuse to reimburse for longer-term treatment and pharmacies may refuse to fill prescriptions.

The majority of individuals involved in the IDSA guidelines development process held direct or indirect commercial interests related to Lyme vaccines, patents, and/or test kits, and did not take the opinions or experiences of the competing Lyme groups into account.

While the announcement of a settlement comes as a huge relief to suffering Lyme patients, the case has much broader implications for a health care system that often contends with conflicts-of-interest in guideline processes - guidelines which are often used by insurance companies to limit diagnosis and treatment options.

"Today's settlement marks an important victory for all patients who suffer Lyme disease, but it is also a victory for anyone concerned about health care," said Johnson. "Commercially driven guidelines that limit patient treatment options are a major issue today in healthcare, and this decision marks an important step towards addressing it."

The national Lyme Disease Association, (LDA), CALDA, and Time for Lyme are non-profit organizations that were founded by individuals who had personal experience with Lyme disease, in order to address the lack of education and support services available for this newly emerging infection.


Connecticut Attorney General's Office

Press Release

Attorney General's Investigation Reveals Flawed Lyme Disease Guideline Process, IDSA Agrees To Reassess Guidelines, Install Independent Arbiter

May 1, 2008
Attorney General Richard Blumenthal today announced that his antitrust investigation has uncovered serious flaws in the Infectious Diseases Society of America's (IDSA) process for writing its 2006 Lyme disease guidelines and the IDSA has agreed to reassess them with the assistance of an outside arbiter.

The IDSA guidelines have sweeping and significant impacts on Lyme disease medical care. They are commonly applied by insurance companies in restricting coverage for long-term antibiotic treatment or other medical care and also strongly influence physician treatment decisions.

Insurance companies have denied coverage for long-term antibiotic treatment relying on these guidelines as justification. The guidelines are also widely cited for conclusions that chronic Lyme disease is nonexistent.

"This agreement vindicates my investigation -- finding undisclosed financial interests and forcing a reassessment of IDSA guidelines," Blumenthal said. "My office uncovered undisclosed financial interests held by several of the most powerful IDSA panelists. The IDSA's guideline panel improperly ignored or minimized consideration of alternative medical opinion and evidence regarding chronic Lyme disease, potentially raising serious questions about whether the recommendations reflected all relevant science.

"The IDSA's Lyme guideline process lacked important procedural safeguards requiring complete reevaluation of the 2006 Lyme disease guidelines -- in effect a comprehensive reassessment through a new panel. The new panel will accept and analyze all evidence, including divergent opinion. An independent neutral ombudsman -- expert in medical ethics and conflicts of interest, selected by both the IDSA and my office -- will assess the new panel for conflicts of interests and ensure its integrity."

Blumenthal's findings include the following:

* The IDSA failed to conduct a conflicts of interest review for any of the panelists prior to their appointment to the 2006 Lyme disease guideline panel;

* Subsequent disclosures demonstrate that several of the 2006 Lyme disease panelists had conflicts of interest;

* The IDSA failed to follow its own procedures for appointing the 2006 panel chairman and members, enabling the chairman, who held a bias regarding the existence of chronic Lyme, to handpick a likeminded panel without scrutiny by or formal approval of the IDSA's oversight committee;

* The IDSA's 2000 and 2006 Lyme disease panels refused to accept or meaningfully consider information regarding the existence of chronic Lyme disease, once removing a panelist from the 2000 panel who dissented from the group's position on chronic Lyme disease to achieve "consensus";

* The IDSA blocked appointment of scientists and physicians with divergent views on chronic Lyme who sought to serve on the 2006 guidelines panel by informing them that the panel was fully staffed, even though it was later expanded;

* The IDSA portrayed another medical association's Lyme disease guidelines as corroborating its own when it knew that the two panels shared several authors, including the chairmen of both groups, and were working on guidelines at the same time. In allowing its panelists to serve on both groups at the same time, IDSA violated its own conflicts of interest policy.

IDSA has reached an agreement with Blumenthal's office calling for creation of a review panel to thoroughly scrutinize the 2006 Lyme disease guidelines and update or revise them if necessary. The panel -- comprised of individuals without conflicts of interest -- will comprehensively review medical and scientific evidence and hold a scientific hearing to provide a forum for additional evidence. It will then determine whether each recommendation in the 2006 Lyme disease guidelines is justified by the evidence or needs revision or updating.

Blumenthal added, "The IDSA's 2006 Lyme disease guideline panel undercut its credibility by allowing individuals with financial interests -- in drug companies, Lyme disease diagnostic tests, patents and consulting arrangements with insurance companies -- to exclude divergent medical evidence and opinion.


In today's healthcare system, clinical practice guidelines have tremendous influence on the marketing of medical services and products, insurance reimbursements and treatment decisions.


As a result, medical societies that publish such guidelines have a legal and moral duty to use exacting safeguards and scientific standards.


"Our investigation was always about the IDSA's guidelines process -- not the science. IDSA should be recognized for its cooperation and agreement to address the serious concerns raised by my office.

Our agreement with IDSA ensures that a new, conflicts-free panel will collect and review all pertinent information, reassess each recommendation and make necessary changes.

"This Action Plan -- incorporating a conflicts screen by an independent neutral expert and a public hearing to receive additional evidence -- can serve as a model for all medical organizations and societies that publish medical guidelines. This review should strengthen the public's confidence in such critical standards."


THE GUIDELINE REVIEW PROCESS


Under its agreement with the Attorney General's Office, the IDSA will create a review panel of eight to 12 members, none of whom served on the 2006 IDSA guideline panel. The IDSA must conduct an open application process and consider all applicants.

The agreement calls for the ombudsman selected by Blumenthal's office and the IDSA to ensure that the review panel and its chairperson are free of conflicts of interest.

Blumenthal and IDSA agreed to appoint Dr. Howard A. Brody as the ombudsman. Dr. Brody is a recognized expert and author on medical ethics and conflicts of interest and the director of the Institute for Medical Humanities at the University of Texas Medical Branch. Brody authored the book, "Hooked: Ethics, the Medical Profession and the Pharmaceutical Industry."


To assure that the review panel obtains divergent information, the panel will conduct an open scientific hearing at which it will hear scientific and medical presentations from interested parties.


The agreement requires the hearing to be broadcast live to the public on the Internet via the IDSA's website.


The Attorney General's Office, Dr. Brody and the review panel will together finalize the list of presenters at the hearing.

Once it has collected information from its review and open hearing, the panel will assess the information and determine whether the data and evidence supports each of the recommendations in the 2006 Lyme disease guidelines.


The panel will then vote on each recommendation in the IDSA's 2006 Lyme disease guidelines on whether it is supported by the scientific evidence. At least 75 percent of panel members must vote to sustain each recommendation or it will be revised.


Once the panel has acted on each recommendation, it will have three options: make no changes, modify the guidelines in part or replace them entirely.


The panel's final report will be published on the IDSA's website.


ADDITIONAL FINDINGS OF BLUMENTHAL'S INVESTIGATION


IDSA convened panels in 2000 and 2006 to research and publish guidelines for the diagnosis and treatment of Lyme disease.


Blumenthal's office found that the IDSA disregarded a 2000 panel member who argued that chronic and persistent Lyme disease exists. The 2000 panel pressured the panelist to conform to the group consensus and removed him as an author when he refused.


IDSA sought to portray a second set of Lyme disease guidelines issued by the American Academy of Neurology (AAN) as independently corroborating its findings.


In fact, IDSA knew that the two panels shared key members, including the respective panel chairmen and were working on both sets of guidelines a the same time -- a violation of IDSA's conflicts of interest policy.

The resulting IDSA and AAN guidelines not only reached the same conclusions regarding the non-existence of chronic Lyme disease, their reasoning at times used strikingly similar language.


Both entities, for example, dubbed symptoms persisting after treatment "Post-Lyme Syndrome" and defined it the same way.


When IDSA learned of the improper links between its panel and the AAN's panel, instead of enforcing its conflict of interest policy, it aggressively sought the AAN's endorsement to "strengthen" its guidelines' impact.


The AAN panel -- particularly members who also served on the IDSA panel -- worked equally hard to win AAN's backing of IDSA's conclusions.


The two entities sought to portray each other's guidelines as separate and independent when the facts call into question that contention.


The IDSA subsequently cited AAN's supposed independent corroboration of its findings as part of its attempts to defeat federal legislation to create a Lyme disease advisory committee and state legislation supporting antibiotic therapy for chronic Lyme disease.


In a step that the British Medical Journal deemed "unusual," the IDSA included in its Lyme guidelines a statement calling them "voluntary" with "the ultimate determination of their application to be made by the physician in light of each patient's individual circumstances."


In fact, United Healthcare, Health Net, Blue Cross of California, Kaiser Foundation Health Plan and other insurers have used the guidelines as justification to deny reimbursement for long-term antibiotic treatment.


Blumenthal thanked members his office who worked on the investigation --

Assistant Attorney General Thomas Ryan,


former Assistant Attorney General Steven Rutstein

and Paralegal Lorraine Measer under the direction of

Assistant Attorney General Michael Cole, Chief of the Attorney General's Antitrust Department.


To view the entire IDSA agreement, go to the Attorney General's website.


http://www.ct.gov/ag/cwp/view.asp?a=2795&q=414284

[ 04. May 2008, 03:22 PM: Message edited by: daise ]
******************

Date: Tue, 27 May 2008 00:48:48 -0700 (PDT)

From: Betty G

to: chief of police

Subject: DEER TASK FORCE .... links about deer, deer meat, newbie package/brochures!


Charles,

The below is what i promised you/committee the other night when i stopped. Thank you all for your kindnesses shown to me that night.


Hope the brochures I left will help you and also EDUCATE you! Hope you didn't throw them away; money out of OUR/MY pocket!


These links deal with scientific and other info regarding, IS DEER MEAT SAFE TO EAT?


http://flash.lymenet.org/scripts/ultimatebb.cgi?ubb=get_topic&f=1&t=066693#000011



Betty G's LYME/TICK BROCHURE with 2 LDA brochures combined together plus other stuff from Betty including: lyme books, support groups, lyme/co-infection illnesses, symptoms, diagnosis, treatments, hunting/gardening ... how to dress; how to remove ticks, etc.

prints out to 9 pages 2 columns per page!

http://flash.lymenet.org/scripts/ultimatebb.cgi?ubb=get_topic;f=1;t=045337


Also, I have attached of what I send "newbies" who find out they have chronic lyme disease or suspect lyme!


This explains what it is all about and how it might be USEFUL to each of you!!


WELCOME, would you like a FREE copy of my newbie package of 120 pages info galore sent by LYMENET'S PRIVATE MESSAGE system here; includes TREEPATROL'S LINK of his archive of over 1000 links of good lyme info?


I've been completely REORGANIZING it; NOT DONE YET; but up to page 60 since I have now created a TABLE OF CONTENTS WITHOUT PAGE NUMBERS since it changes DAILY! The part NOT organized yet is the last 30 pages of SSDI, ss disability insurance benefits tips/forms!


also, please go to TREEPATROL'S NEWBIE INFO IN MEDICAL; at top being features; mark it as a favorite! over 1000 links of good lyme info. He/I have some duplicates.


most of mine is very DETAILED info on certain things: SSDI/ss diability insurance benefits; FINANCIAL BURDENS; about IGENEX blood testing, symptoms lists for the basic types, NOIR/no infrared SUNGLASSES, etc. and how to use this board!


If you would like my newbie package, please send me a PRIVATE MESSAGE. PMs are the 2 people standing together icon to right of your name. Just ask me to send you lyme package, and I'll get it to you promptly. Thank you!
*********************************************

---

IP: Logged |

bettyg
Unregistered



posted

---

...so disappointed, the above person didn't get enough votes today to be the democrate running against incumbent tom latham!


out of 4 running for office; he was dead last!

an area local stopped last night saying he'd been really sick with MONO IN MARCH, and hadn't been raising money.


sick with MONO; THAT'S HOW MY LYME BEGAN! will get ahold of him...

shucky darn! he would have had LYME CONNECTIONS; his aunt died of chronic lyme and a close friend is very critical.

and he is UNINSURABLE! he would have been perfect for the CHRONIC LYME COMMUNITY!!!
*****************************************


maybe a few years from now!

---

IP: Logged |

daise
Unregistered



posted

---

Betty,

You did your best!

daise

---

IP: Logged |

bettyg
Unregistered



posted

---

daise, yes, daise; i did ...

question daise for you

received something from paralyzed vets of america today out of tenn...a FUNDRAISING outfit for the vets.


NO WHERE in there does it show the percentage given to tenn. fundraising company doing this.


do you happen to know any details? thx


it's just you/me on my post anyway

---

IP: Logged |

daise
Unregistered



posted

---

Howdy,

There have been scams similar to this one. Anyone would wonder how can anyone use disabled vets as an excuse to scam.

I will say that I've never heard of this group ... but that doesn't mean anything.

Then again, maybe this one is for real. You might contact the Tennesssee Attorney General's website and ask if they are legit, via email.

daise

---

IP: Logged |
Contact Us | LymeNet home page | Privacy Statement

Powered by UBB.classic™ 6.7.3

---
The Lyme Disease Network is a non-profit organization funded by individual donations. If you would like to support the Network and the LymeNet system of Web services, please send your donations to:
The Lyme Disease Network of New Jersey
907 Pebble Creek Court, Pennington, NJ 08534 USA
http://www.lymenet.org/
---
Home | Flash Discussion | Support Groups | On-Line Library
Legal Resources | Medical Abstracts | Newsletter | Books
Pictures | Site Search | Links | Help/Questions
About LymeNet | Contact Us
---
© 1993-2020 The Lyme Disease Network of New Jersey, Inc.
All Rights Reserved.
Use of the LymeNet Site is subject to Terms and Conditions.
---