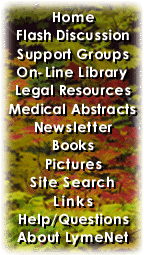 ---
LymeNet on Facebook
LymeNet on Twitter
---
---
The Lyme Disease Network receives a commission from Amazon.com for each purchase originating from this site.
When purchasing from Amazon.com, please
click here first.

Thank you.




Dedicated to the Bachmann Family


LymeNet needs your help:
LymeNet 2020 fund drive

The Lyme Disease Network is a non-profit organization funded by individual donations.

| | |
| --- | --- |
| | |
Author
Topic: Attempts to kill the bill

Tincup
Honored Contributor (10K+ posts)
Member # 5829


posted

---

Due to the length of my response to Karen Forschner (and others) posts to kill the bill, I am posting it on its own post.

`````````````````````````````````````````````````

The reasons provided by Karen Forschner, encouraging people to take negative actions against our Lyme disease bills, are not based on the bills content, her experience passing successful bills, her knowledge of the actual bill, or her knowledge of the appropriate procedures required to pass a bill.

Her call to action is not supported by the overwhelming majority of patients and groups across the country, as she has claimed.

I am writing in response to this action because I am appalled by efforts to once again destroy what so many patients have worked on for years.

I have received calls and emails from patients and groups with neither the time nor ability to express their views adequately, however, I am not speaking for anyone else. These are my observations and my opinions.

First of All

I am asking that the hateful actions, rumors and the attempts to destroy others projects, stop. Enough is enough. If people in the community can't play well with others, go play elsewhere and stop interfering.

Recognize if you repeatedly attack others without any provocation, you may have an unhealthy obsession (Lyme or not) and get professional help.

As some of you may have noticed recently, I will no longer ignore these vile and senseless attacks anymore. That approach, while seemingly sensible, doesn't work.

Left unchecked, the trashing of innocent people (doctors and patients) working to help the community over the last couple of years has exploded to levels I've never witnessed before.

Like others, I am sick of getting up every day and working myself to death trying to help our cause- as a volunteer no less- while having rocks thrown at me and co-workers by people who don't have a clue what they are doing and who have become troublemakers with obviously nothing better to do than seek out and destroy work done by others.

The Bill and Support For It

The Lyme disease bills (HR-741 and S-1708) were written by members of Congress and their staff- those who are experienced in the legal, medical and political arenas. They support our views and patient's rights.

Case in point- listen to the passion for this bill that is expressed by Wolf/Smith on the floor of Congress this past week.

http://www.lymerights.org/

The Lyme bills have been reviewed and approved by Lyme literate lawyers, accountants, health care professionals, national organizations, doctors, patients and support groups nation wide.

In fact, the LDA, ILADS, CALDA, TFL, numerous LDA affiliates, chapters, as well as numerous independent support groups and individual patients studied this bill and its impact on all of us- and they support it.

There are over 120 organizations/businesses across the country that have publicly signed on to support the bill and many more behind the scenes.

Over 125 Congressmen- the ones who can make a difference for the community- have reviewed the bill and they don't only support it whole-heartedly, they have signed on to cosponsor it (a very impressive number indeed).

Many other Congressional members from across the country have pledged their support for the bill, come time for a vote, including some in the committee where it has been stalled by Pallone.

For the record, those who support the bill are not siding with the IDSA as Forschner claimed.

In addition, you have confused all of us by stating in four different posts that you do support parts of the bills, then you turn around and say you don't, then you state the IDSA does this and that, then they don't, but LDA does that and this, etc.

I am not sure at this point if you even have a set position besides arguing against whatever someone else said.

And I am not sure if you are the only one supporting your position, or is the LDF and all its board members also taking this position?

Or is this part of the Lyme Disease Caucus opinions - which consists of you and: National Capital Lyme Disease Association, Lesley Fein, MD (NJ), Michigan Lyme Disease Association, Greater Hartford Lyme Disease Support & Action Group Lyme Disease Society and the LDF Midwest Task Force?

Bill Work to Date and Why We Are Moving Forward

The arduous job of finding and then educating Congressional representatives who are willing to climb out on a limb to take our side against multiple government agencies and private entities with boat loads of money and power (rare for politicians to do) has been a difficult and time-consuming process.

There are countless phone calls, letters, meetings, presentations, briefings and trips involved with this process- things many of us never see going on in the background and which have spanned over many years.

For the bill efforts and many other projects, I can't express the gratitude I have for the Lyme Disease Association, those associated with them, and specifically Pat Smith, who I first met at a conference a few years back.

I have worked on various LDA projects in the past with her and a number of LDA members. I have the interesting position of having an outside/inside view of what they actually do, which is so much more than I could have ever known.

Without Pat Smith's leadership, organizational skills, non-stop work and sincere passion to help us all, we would have nothing. I mean nothing. She IS the Lyme movement.

I've never known anyone, in the public or private sector who has been as dedicated as Pat is to this cause and who has been able to take a bunch of people scattered across the country, especially chronically ill and disabled patients with all sorts of limitations, and not only bring out the best in them, but make them feel good about what they can do to help our efforts.

Talk about herding cats... she has a full-time job just keeping the community together and continually having outstanding results in whatever projects she takes on.

I honestly don't know of anyone in the Lyme community who has come close to accomplishing what she has managed to do over the years.

I also don't know anyone- doctor, lawyer or Indian Chief- who is as knowledgeable and experienced as Pat Smith in all of the varying aspects of Lyme, including our researchers, scientists and doctors.

She is a jack-of-all-trades and also a master.

I have also been privileged to work with many of her all-volunteer staff and have the deepest respect and appreciation for them and their hard work.

They are getting the job done without a lot of fanfare and jumping up and down.

I am not only very comfortable with the Lyme Disease Association leading the way, I am honored to have Pat Smith and her LDA volunteers working on my behalf.

I trust her judgment on matters that affect my life, my family and our entire community.

Even though we've disagreed on things in the past, when asked to help out, I am ready to jump in and try to do my best FOR THE COMMUNITY, as she has also done.

By the way, when we've disagreed on Lyme related matters, I am not happy to admit it, but she is usually (ok- always) right- which is not so much an endearing quality in my book. ~smile~

Anyhow- after gaining Congressional support and finally having CHRONIC LYME on the big table in DC in the form of this bill, we should be thanking these valuable LDA members, our Congressional members and their health aides rather than suddenly, at the last minute, start kicking up our heels and telling them we don't want their help or need their bill.

To do something so insane leaves Congress and our organizations with the impression that we are truly the ``nut cases'' and ``crazy'' people the IDSA makes us out to be, a misnomer we've worked hard to correct and do not need to be saddled with again.

This current action to try to stop our bill also takes us back in time when this same thing happened and our chances of getting a bill passed were destroyed; not by the IDSA as would be expected, but by a handful of people following the lead of Forschner and company.

It took years for the community to repair the damage these people caused and we really can't afford for this to happen again.

This small group of people have wasted too much of our precious time already. They need to stop the in fighting so more people don't suffer at their hands.

IMPORTANT- Congress must know that we are united in our efforts or they will not deal with ANY of us. Any of us.

They will not throw out this bill because a few people bad-mouth it.

That only serves to annoy them, nothing more. They also will not present a new bill for consideration if this one is eliminated. Why should they? They drafted this bill and want THIS bill.

If somehow someone did get a bill considered by a Congressional member, who would do the years of work it takes to bring it to fruition? I don't know anyone with the skills, experience, energy, money or ability who can accomplish this feat, not even a paid lobbyist or several independent groups working together on it.

And personally, I don't want to be forced to wait for someone else to waste the little time I have foundering around and failing.

I've seen the other bills submitted in the past. They didn't pass at the Congressional level, nor at the state levels where they were also tried.

If a few disgruntled members of our community continue their habit of trashing the LDA, ILADS and others to Congress- like has been happening (yes, I know)- or if Congress gets confused by or annoyed at the mixed messages, they WILL, I repeat, they WILL wipe their hands of the whole Lyme mess and move on to more pressing national issues, leaving ALL of us in their dust.

So I must ask, why would anyone promote something that they know will hurt us? If they don't know it will, they should run, not walk to the nearest exit because they aren't fit to be in a position to lead.

Members of Congress are already disturbed by people contacting them for the purpose of trashing other people and groups in order to promote their own agendas (and some offices have told these people so).

This slamming is not only a dangerous thing to do in such a fragile situation, it is putting lives of innocent people in jeopardy by nixing our chances to get them help.

Bottom line... if anyone interferes with this bill process they will be responsible for hurting the entire community, again, and delaying our access to help by X number of years, assuming we even get another chance.

Our collective goal should be what is best for patients and our doctors. Period.

So listen up. If you've had a beef with someone in the past about a bill or any matter, this is NOT the time to express your dissatisfaction and ``get back'' at him or her. In fact, it is way past time to get over it and focus on putting the welfare of the patients first, rather than promoting your own agenda or carrying out some twisted sort of revengeful act.

Motives

Those who have read Forschner's announcement have asked me.... ``WHAT IS SHE TALKING ABOUT? WHAT IS SHE DOING? IS SHE TRYING TO RUIN THIS FOR ALL OF US?''

In my opinion...

The reasons provided by Forschner to fight the bill are not accurate portrayals of the facts.

They lack substance and continuity and have the classic malevolent attitude, assumptions, opinions and conjectures typically displayed by Forschner thrown in the mix; not to mention insults and digs against others, which I might add, are very unbecoming for someone desiring to be taken seriously.

The attempt here by Forschner, et al, to once again jump in (after most of the work has been accomplished and we are close to reaching our goals) for no other purpose than to disrupt the progress we are making, is not only self-serving and unprofessional, it is inexcusable.

Forschner's ``urgent'' action post has been publicly shared without the blessing of (in fact- to the objection of) the overwhelming majority of support groups and patients across the country; many who are sick themselves and/or have sick children who need help and who are depending on us to work together to make things right.

Threatening to turn the patient's world upside down (Dr. Jones can't help children if the bill is passed? Get real!), while in turn offering nothing substantial or sensible in its place is a heartless move that needs to be taken off the table immediately.

This call for action against the Congressmen's bill is a slap in the face to those who have worked so hard to get our collective voices heard on the floor of Congress.

If anyone sincerely wanted to comment on this bill process or make constructive suggestions for improvement, they have had many years and plenty of opportunities to do so.

Pulling a snake out of the hat and tossing it in the ring at the last minute is typical of what has happened in the past and is very upsetting to people who are depending on help to come their way.

Forschner, author of this ``urgent'' action and/or others she refers to have hurt our combined efforts on numerous occasions and I do not support their actions.

History speaks for itself and their track record has been quite miserable in my opinion. A few questionable actions that don't benefit the community include-

A. The LDF going against the Lyme community and accepting a contract and large sums of money (at least $90,000) from Smith-Klein -the vaccine/drug companies- then attempting to collect another $200,000.00 from the companies after the vaccine was released and many were being injured by it.

B. Repeatedly going against the majority consensus of patients, organizations and doctors in the Lyme community when we should be united. Forschner's June 2007 last minute letter (snake in the ring) to the CDC supporting Feder, the IDSA and the CSTE's proposed change in surveillance criteria was a disaster for us all.

This move is already having extremely negative effects on the reported case numbers, in the very first year of implementation.

I personally spent months researching this topic and wrote a 70-page document explaining why it would be a bad thing to do for the community and the facts were totally ignored by Forschner, et al.

Example of damage- Maryland had over 2,500 reported cases last year. This year the figure has dropped to about 600 cases.

CT had over 3,000 cases last year. This year- zero cases.

So far this year, 36 states have fewer reported cases than last year.

The year before the new criteria was implemented, only six states had figures that were lower than the previous year, with three of those states being lower by only 1 reported case.

Bottom line, we've lost almost 1/2 the total number of cases between last year and this year.

Unless another 10,000 plus cases are reported before the end of December, it will appear to officials the cases have been drastically reduced, that health departments and the IDSA are doing a good job, the non-treating doctors are properly responding to the problems, there are only a few being affected by chronic Lyme disease and Lyme disease isn't an important issue.

If Lyme disease isn't taken seriously by those who ``watch'' and ``need'' the numbers to take actions and who also hold the purse strings, there will be little to no research funding for anyone, nor will there be changes in insurance reimbursement policies, new or more accurate tests on the market, medical board changes in the way they handle charges against our LLMD's, or positive changes in the status quo.

Worse yet, those supporting the new surveillance criteria proposal have done nothing to try to fix the terrible problems they have caused for us.

If they were sincere in their efforts to help patients, they would be feverishly working to reverse the damage they've done.

C. Writing letters to try to force an ILADS doctor (president) to resign his position. This despicable act was done by a handful of people falsely claiming to represent numerous patients who were unaware this was even happening.

It was totally unsuccessful, not to mention, very hurtful to all. It served no purpose, and like this attempt, it wasted valuable time we could have used to work on other projects.

D. The general attitude expressed by some that whenever the LDA and ILADS tries to do something it should be interfered with or destroyed ONLY because it is being done by the LDA and ILADS. is ludicrous.

Bad-mouthing (privately and publically) other support groups, doctors and individuals in an attempt to promote one's own personal agenda is not acceptable and is not in the best interest of anyone.

Notes to Consider About the Bill

After reading the bill- consider the following additional thoughts.

The bill is only one part of the efforts being made for patients. Other efforts are ongoing and will compliment the bill and its goals.

If anyone wonders why these actions are taking place behind the scenes rather than being publicized, they have to look no further than the most recent call by Forschner to kill this bill and the other interferences mentioned above. (That is only ONE reason, of course.)

The same actions must be done when you are dealing with disruptive children. You don't involve them in an important project because you know they don't understand what is going on and they will do all they can to upset the process.

The scientific advisory committee addresses CHRONIC Lyme as a disease, something that has never been accepted by mainstream nor placed on the record.

Having CHRONIC Lyme acknowledged will help people receive treatment for their infections, rather than some ``post-Lyme syndrome''.

Having CHRONIC Lyme officially noticed at the federal level allows it to trickle down to state levels where it can be utilized in future bills, as needed.

Once we have CHRONIC Lyme accepted on the record by way of this federal bill and advisory committee, it will be instrumental in protecting our doctors. It will also assist us with insurances issues.

Those expressing concern that any money attached to the bill will go to the ``government'' or to the IDSA, please note the following.

Remember the Attorney General's action where the IDSA panel was discredited? This was one step in the process of taking care of business. There are more steps in progress that will also address this situation.

If some of the money were to go to the IDSA, so what? They already have billions coming to them via other bills and grants and always have. They don't need this money.

But we do. If 50 percent made it to our researchers that is 50 million we didn't have before.

If you were in charge and were deciding who was to get the money, would you, knowing the IDSA is in BIG trouble, be stupid enough to hand them more money- knowing it will come back to haunt you? And it will.

If worse comes to worse and we get nothing and it all goes only to those with a bad track record, we would just have to hope that some of the research will help us, like we are now doing.

Consider this- how many times have the ``other sides'' studies actually helped us? It does happen.

BTW- any money appropriated by Congress must go to the government agencies and be accounted for at all times. That is the way it is, their rules.

The advisory committee provided for in the bill will be watching the process when our side is represented, which equals another watch dog in place.

I hope this response addresses any concerns others have.

[ 03. October 2008, 03:00 AM: Message edited by: Tincup ]

--------------------
www.TreatTheBite.com
www.DrJonesKids.org
www.MarylandLyme.org
www.LymeDoc.org


---

Posts: 20353 | From The Moon | Registered: Jun 2004 | IP: Logged |

bettyg
Unregistered



posted

---

ditto to grandma's comments!

well done tincup!


UNITED WE STAND; PASS OUR LYME BILL! betty

---

IP: Logged |

pmerv
Frequent Contributor (1K+ posts)
Member # 1504


posted

---

This bill is the best we can hope for - not guaranteed insurance coverage of whatever treatment your doctor orders -- wouldn't that be a dream? But it's a good bill. We've been round and round with it for a number of years. It's time we got it passed.

This bill may not be easy to pass, indeed, it has not been easy to pass, but that's because it actually does accomplish something if it were to pass. It makes real changes that would benefit us.

My opinion is that if something is worth doing, it's worth doing well. Let's get this bill passed! If not this year, then next. We are not going away!

--------------------
Phyllis Mervine
LymeDisease.org


---

Posts: 1808 | From Ukiah, California, USA | Registered: Aug 2001 | IP: Logged |

LPurdy1040
LymeNet Contributor
Member # 6543


posted

---

Just to set the record straight.. The Michigan Lyme Disease Association has not been invloved in the Lyme Disease Caucus in many years. To the best of my knowledge this group has been defunct for 4 years.


TinCup Wrote:
"Or is this part of the Lyme Disease Caucus opinions - which consists of you and: National Capital Lyme Disease Association, Lesley Fein, MD (NJ), Michigan Lyme Disease Association, Greater Hartford Lyme Disease Support & Action Group Lyme Disease Society and the LDF Midwest Task Force?"

---

Posts: 107 | From Michigan | Registered: Nov 2004 | IP: Logged |

Tallahasseeborrelia
Member
Member # 13828


posted

---

I am really sick of all the bull that goes on in the Lyme community.

I can see the IDSA, Steere and his cronies, doubling over in laughter because of this crap.

We're doing their work for them aren't we?

The in fighting must stop before anything can be accomplished. Why can't we all come together for a common cause?

I don't know what Karen's motives are. I am an innocent bystander.

However, I think I can understand some of the confusion and mistrust in the Lyme community.

I was witness to the pulling of a bill that was trying to get passed in the state of Florida in, I believe, '05.

I know it was pulled by the leader of one of the national groups because we (the support group I belonged to) were told so by the representative who was working on it.

We were led to believe by a certain party, who we found out later was working with said leader, that it had been "killed" during the legislative process.

Why would this leader do this and then lie? If the bill were weak, why not just come forward and say so?


I think I have every right to know as a disabled chronic Lyme patient and activist, what is going on in my own state as it DIRECTLY affects me!

And furthermore, if I want to stick my two cents in I will, whether anyone likes it or not!!

The day we allow anyone, especially those in power/leaders to be beyond reproach, albeit to have absolute power, will be a very sad and disatrous day.

I am not trying to disparage anyone. I am merely telling the truth.

---

Posts: 27 | From Tallahassee, FL | Registered: Nov 2007 | IP: Logged |

Tincup
Honored Contributor (10K+ posts)
Member # 5829


posted

---

Hey TB...

Hot enough in sunny Florida for you?

The weather channel seems to think so from what I can tell. Much warmer than up north about now... wish I were there.

Glad you joined LymeNet to post an opinion on this topic.

I heard the same story you are referring to, years ago.

Key words being... "years ago".

You said.. "We were led to believe by a certain party, who we found out later was working with said leader, that it had been "killed" during the legislative process."

The he said, she said, they said stuff is kind of hard to follow... but I assume you aren't happy with what you believe transpired years ago that was told to this or that person and relayed back and forth.

Key word again being, "years ago".

Since we can't change the past....

Can you tell us what is in the bill before Congress now that you object to.... if anything?

Thanks.



--------------------
www.TreatTheBite.com
www.DrJonesKids.org
www.MarylandLyme.org
www.LymeDoc.org


---

Posts: 20353 | From The Moon | Registered: Jun 2004 | IP: Logged |

pmerv
Frequent Contributor (1K+ posts)
Member # 1504


posted

---

Tallahassee, you aren't actually telling the "truth," you are telling what someone else told you. Now, were THEY telling you the truth or were they just trying to lay the blame on someone else?

I know something about the FL legislation, at least FL HB 1013, 2006-2006, Homan; Lyme Disease/Insurance; cites act as "Lyme Disease Insurance Coverage Act"; provides definitions; requires certain health insurance policies & HMO contracts to provide coverage for Lyme disease diagnosis & treatment; provides applicability for referrals made in accordance with procedures authorized by health insurance policies & HMO contracts, etc. Creates 381.801, 627.64194; amends 641.31. EFFECTIVE DATE: 07/01/2006, if that is the bill you are referring to.

The "national leader" was invited to Florida by Florida activists; the "national leader" would not and did not and could not kill your bill. The national leader - if we are talking about the same person - also does not lie.

I remember talking with a Florida activist who was working on the Homan bill and advising her that they should start with something easy - not insurance, the very hardest kind of bill to pass because of the insurance lobby. And she told me Homan had insisted this was the bill to go with. I thought to myself, either he doesn't want a Lyme bill and is leading her up the primrose path OR he knows something about FL politics that I don't know and that is different from any other state that has tried to pass an insurance bill.

People think that because RI passed a good insurance bill, they should be able to, also. But RI had a very unique situation, with the brother of a Lyme patient being chief of staff to the governor. If any other state has that situation, that is the year to introduce your insurance bill!

So my suspicion is that the Florida insurance bill died a natural death, and you were told a story. You may have been lucky, because if it passed, you would probably have a requirement to consult with an IDSA physician and be limited to 4 weeks of treatment max.

Each state needs to develop strong leadership and then unite behind that one leader to go where you want to go. If you have two competing groups who both want to outshine each other in the same areas, god help you.

Phyllis Mervine

--------------------
Phyllis Mervine
LymeDisease.org


---

Posts: 1808 | From Ukiah, California, USA | Registered: Aug 2001 | IP: Logged |

pmerv
Frequent Contributor (1K+ posts)
Member # 1504


posted

---

PS my files and brain are full of this kind of stuff. He who forgets history is doomed to repeat it.

--------------------
Phyllis Mervine
LymeDisease.org


---

Posts: 1808 | From Ukiah, California, USA | Registered: Aug 2001 | IP: Logged |

Tallahasseeborrelia
Member
Member # 13828


posted

---

This reply is to pmerv.

Regarding the Florida bill, I have some questions.

If the bill was indeed not a good one, why not as I stated in my first post, just come forward and say so?

People would understand.

Why is everything so "cloak and dagger"?

Secondly, why would the rep. and his office lie and place the blame on another?

Also, not everyone agrees that the Rhode Island bill is a good one. In fact, I have heard that it is not and that people still have to go outside the state for treatment and that doctors are still afraid to treat chronic Lyme.

Now, whether or not these statements are "true", they still warrant an honest answer and that is not happening.

That is one of the reasons why some people are not happy with the present national group.

You can't ask for help from people and then not keep them informed or only tell them what you want them to know.

This is the reason, or at least one of the reasons, why we have so much discord in the Lyme community.

The support group I belonged to was one of the ones that had asked for the resignation of Dr. S.

Now, I had no idea this was being done (and neither did most of my group)until it was already done and the repercussions were already in gear.

So, naturally as part of that group, I am guilty by association and I resent that.

I had to chuckle when I was reading Tincup's run down on Karen and the LDF and their alleged sabotaging of other Lyme groups and their efforts, specifically LDA.

I have heard the same thing about LDA.

It's seems to be a case of he said, she said and what makes one person or group more credible than another.

I am not taking sides. I can see good in both groups.

I am simply spouting off my frustration at the lack of unity in this fight as I sit here with achy joints and crippling foot drop.

---

Posts: 27 | From Tallahassee, FL | Registered: Nov 2007 | IP: Logged |

MaryL
Member
Member # 11997


posted

---

For someone who's new at Activism - What's going on? I don't get why anybody would want to thwart any progress, no matter how small, we make toward bringing greater awareness to Lyme.

Is there a Lyme primer for new activists so we can figure out what we're up against within our OWN community? I think I kind of have a handle on what we're up against "out there", but I haven't a clue to what's happening in my own "neighborhood".

Where's Mr. Rogers when you need him?

---

Posts: 81 | From Iowa | Registered: May 2007 | IP: Logged |

NP40
Frequent Contributor (1K+ posts)
Member # 6711


posted

---

I receive these pro and con e-mails in my inbox constantly. I understand there's two sides to any argument. Generally, I don't pay them much heed.

However, one thing I do pay heed to are all the newbies who contact me needing help because their local GP won't treat them, treat them inadequately, slapped with a misdiagnosis or treated with derision by those entrusted to their care.

Anything and I mean ANYTHING that helps to alleviate this situation is OK in my book. Blumenthal handed us a huge advantage in his investigative findings and to squander it with opinion differences borders on incredulity.

Bottom line, nothing has changed for patients, knowledgable doc's are still persecuted, and mainstream GP's remain blissfully ignorant. Look, change comes in increments and it always comes from the bottom up. Politicians, doctor's will never voluntarily do one damn thing. We have to do it.

In order to win the game you have to get on the field. Their not going to build a new stadium for us. Once engaged in action we have a chance to win. We'll never win watching from the sidelines.

---

Posts: 1632 | From Northern Wisconsin | Registered: Jan 2005 | IP: Logged |

lymie tony z
Frequent Contributor (1K+ posts)
Member # 5130


posted

---

I have'nt been around lately and don't know what Tinney is sounding off about, but I can imagine

after having to "DEAL" with the "T" word types of folks who have nothing better to do or are

paid to do that kind of inhumane disruption on a website that is here to help! I only know

tincup from this website but I respect tinney and don't really have to know specifically why tincup wrote whatever.

Anyway, like I said I have'nt been around much here in lymenet territory but I can tell you one thing.

If at any time we were to have a lymie ralley all that would show up would be legitimate lyme sufferers.

The folks who cause derision and junk on the website would'nt have the cajone's to

PERSONALLY go to a lyme ralley and spout out junk, because they're all COWARDS!

It's probably a good thing that they are cowards

because as sick as I am....well....YOU can get the picture!

It seems Tinney that your speach was somehow waisted on some of the posters after you.....

In the first place....I've been down here since 01 and I can't for the life of me remember

ANY SUCH FLORIDA BILL OR REFERENDOM!

I CAN remember the Massettchusetts "REFERENDOM" as I recall at this time...

I may be mistaken but I think I recall something out of Rhode Island as well...

but I don't EVER remember a "BILL" going to "CAPITOL HILL" concerning lyme disease accept

for the recent bills that were quoted by tinney above! Which have been there going on two years now....

I did see what WOLF said somewhere...and he did good stuff demanding an investigation and

all....as I remember....so "GO WOLFIE"!

I DID GO to BILLIRAKIS'S office personally back whenever the Mass referendom came out....but nothing was ever done by him or NOW HIS SON!

THIS SON OF HIS IS SO PHONEY HIS EMAIL ADDRESS ON HIS BROCHURE TO ELECT HIM DID'NT EVEN WORK.

Neither did the one on his letter back to me delivered by snail mail!

I have a reply for him and I might as well just go up nineteen and deliver it myself....

cuz I can't seem to get ahold of him on my [email protected]

GO TINNEY!

I'm behind ya all the way baby!

zman



--------------------
I am not a doctor...opinions expressed are from personal experiences only and should never be viewed as coming from a healthcare provider. zman


---

Posts: 2527 | From safety harbor florida(origin Cleve., Ohio | Registered: Jan 2004 | IP: Logged |

TX Lyme Mom
Frequent Contributor (1K+ posts)
Member # 3162


posted

---

quote:

---

Originally posted by Tincup:
Up, because...

TEN YEARS LATER we are STILL having problems with Karen Forscher and others who are listening to her.


---

The Forschers have been "on the take" from the insurance companies from the get-go.

Yes, they were among the very first folks to sound the alarm about ticks and Lyme disease (besides Polly Murray and one of her neighbors in Lyme, CT), and the Forschers also started the first LDF and to hold the first Lyme conferences for many years until ILADS finally got started ca 2002.

That's why the Forschers aren't going to change their tune because their LDF is most likely still being funded by donations from the insurance companies.

You can read about their role in the book "The Widening Circle" by Polly Murray.
https://www.amazon.com/Widening-Circle-Disease-Pioneer-Tells/dp/0312140681/ref=sr_1_2?keywords=The+Widening+Circle&qid=1562051034&s=books&sr=1-2

IMO, the Forschers need to give it all up and get a real job for a change. They are letting themselves be used by vested economic interests (insurance companies) and they need to recognize that they are NOT helping the Lyme community.

Thanks, TC, for bringing this old topic back up again after more than a decade.

---

Posts: 4563 | From TX | Registered: Sep 2002 | IP: Logged |
Contact Us | LymeNet home page | Privacy Statement

Powered by UBB.classic™ 6.7.3

---
The Lyme Disease Network is a non-profit organization funded by individual donations. If you would like to support the Network and the LymeNet system of Web services, please send your donations to:
The Lyme Disease Network of New Jersey
907 Pebble Creek Court, Pennington, NJ 08534 USA
http://www.lymenet.org/
---
Home | Flash Discussion | Support Groups | On-Line Library
Legal Resources | Medical Abstracts | Newsletter | Books
Pictures | Site Search | Links | Help/Questions
About LymeNet | Contact Us
---
© 1993-2020 The Lyme Disease Network of New Jersey, Inc.
All Rights Reserved.
Use of the LymeNet Site is subject to Terms and Conditions.
---