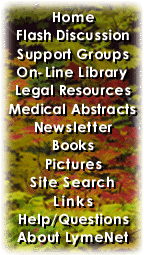 ---
LymeNet on Facebook
LymeNet on Twitter
---
---
The Lyme Disease Network receives a commission from Amazon.com for each purchase originating from this site.
When purchasing from Amazon.com, please
click here first.

Thank you.




Dedicated to the Bachmann Family


LymeNet needs your help:
LymeNet 2020 fund drive

The Lyme Disease Network is a non-profit organization funded by individual donations.

| | |
| --- | --- |
| | |
Author
Topic: Share your lyme story with Obama

maritzap
Member
Member # 11146


posted

---

One of our San Diego support group members has made contact with a Barack Obama volunteer who is also partly responsible for getting the movie UNDER OUR SKIN shown in San Diego.

This is an excerpt from their email.

``Hearing your story yesterday when we talked, helped me to be even more inspired to bring the message of Lyme Disease and Health Care Reform to as many people will listen.
I encourage you to help bring to light the plight of Lyme patients.
This is a once in a lifetime moment when we can share our health care stories.
The Obama administration is listening and they want to help. Please visit
http://my.barackobama.com/page/content/healthcarestory

to share your story and take the time to encourage all Lyme suffers in your association to do the same and then forward this message on to more Lyme sufferers.
The more Lyme stories received the more likely they will get recognition at the federal level. Lyme disease so poignantly illustrates all that is wrong with health care in America.''

Regardless of your political opinions, this is an opportunity to get extensive media coverage about LYME Disease, which can only be a benefit to those currently suffering, and hopefully prevent the future suffering of others.
Maritza

---

Posts: 75 | From San Diego, CA | Registered: Feb 2007 | IP: Logged |

bettyg
Unregistered



posted

---

i'm going to take advantage of this OPPORTUNITY!


3-23-09, I went to obama's health conference in des moines, iowa where we met the director of the health movement; can't remember her title, but i posted about it that day...

anyway, i had planners find someone from washington dc, her staff, and i gave him 2 pages of things i would have addressed that day there IF i were called.


when talking to him about lyme disease war controversies, he knew quite a lot based upon his answers, was very kind, considerate, and said he'd give my comments to his boss, the director!


so again, THEY ARE AWARE OF LYME CONTROVERSIES; let's try again folks.


CONN. LYME BILL WAS SIGNED BY GOV. JUNE 5; opportunity is knocking.

let's work on our HR 1179 IN CONGRESS to get it scheduled to be on their AGENDA to finally be discussed/cussed after 10.5 years in DC !! xox

---

IP: Logged |

kam
Honored Contributor (10K+ posts)
Member # 3410


posted

---

I added my two cents worth.

---

Posts: 15927 | From Became too sick to work or do household chores in 2001. | Registered: Dec 2002 | IP: Logged |

ticked-offinNc
LymeNet Contributor
Member # 15420


posted

---

I think we should all write our stories and send it to Michelle Obama, with pictures.I think she would have a better chance of actually reading them, and the picture would make it more personal. She could connect the story to the person.

Just a "thought"

---

Posts: 261 | From Piedmont | Registered: May 2008 | IP: Logged |

bettyg
Unregistered



posted

---

ticked off,

fyi until last week, an iowa lady was chosen as her personal asst. and managed all her business. it was a 24/7 job, and she has 3 kids all under 7 !! no time for them.

so left that job and going to another one there as a director with regular hours.

so we almost had an IN THERE on your suggestion!


another source we could have is IOWA'S FORMER GOV. TOM VILLSACK WAS CHOSEN SEC. OF AGRICULTURE! his wife is very political too, and that might be another avenue to get our concerns to michelle.

betty, iowa activist

---

IP: Logged |

bettyg
Unregistered



posted

---

well, i got busy and sent them my 9 page story!

i used my story i submitted to pj langhoff's it's all in your head series, book 2, and just updated it a little. very detailed.


for those submitting, after it is submitted, they ask for a contribution, but it is NOT MANDATORY! i skipped over it. just fyi; i was shocked; i was not prepared to see that.

i hope the rest of you send your stories too! xox

---

IP: Logged |

MaryL
Member
Member # 11997


posted

---

Shared our story & my son's story.

---

Posts: 81 | From Iowa | Registered: May 2007 | IP: Logged |

mtree
LymeNet Contributor
Member # 14305


posted

---

.....and why can't this be in Medical...or General....?

I think it should...
I truly believe that most people on the board do not go to Activism....

just my 2 cents...
mtree

--------------------
worrying about tomorrow takes its strength away from today


---

Posts: 968 | From Point PLeasant , NJ | Registered: Jan 2008 | IP: Logged |

bettyg
Unregistered



posted

---

mtree, i just checked poster's posts ... she DID put it in medical; not general

---

IP: Logged |

kam
Honored Contributor (10K+ posts)
Member # 3410


posted

---

I received this email and updated my story.

Katherine --

Thank you so much for sharing your story about health care and for allowing us to share it with the public to support health care reform.

Whether it's a story of personal experience with the deficiencies in our current system or of the experience of someone close to you, it is invaluable to us as we tell the larger story of why reform is necessary to the American public.

We're launching a new feature on our website next week to dramatically increase the visibility and impact of the stories that we have received.

This new section of our website -- "Health Care Stories for America" -- will make hundreds of thousands of stories available for folks to read and share challenges so many Americans face in getting quality, affordable health care.

Before they go live, we wanted to give you the opportunity to add a picture to your story and make any other final edits to it before it gets posted.

Could you add a photo to your story, and make any other edits you'd like to add?

Add a photo to your story

As with your story, your photo may be used in a variety of ways to build support for health care reform.

We've gotten hundreds of thousands of stories like yours, and we can't wait to show the American people -- and those opposing the President's plan -- why it is that we need reform.

Putting a human face on the health care crisis is exactly what's needed. We've all been affected by our health care system in some way or another, and it's through your story and others like it that the need for reform can be truly driven home.

So please upload a photo to go with your story and make any edits you feel are necessary to make your story even more powerful.

If for any reason you've changed your mind about sharing your story publicly, that's okay, too. Please let us know and we will not include it on the site:

http://stories.barackobama.com/healthcare/stories/update_landing

Thank you,

Mitch

Mitch Stewart
Director
Organizing for America

P.S. -- Please note that while we hope to post as many stories as possible, we cannot promise that all stories submitted will be posted to the site.

---

Posts: 15927 | From Became too sick to work or do household chores in 2001. | Registered: Dec 2002 | IP: Logged |

bettyg
Unregistered



posted

---

good for you kam!! glad you got a reply

---

IP: Logged |

kam
Honored Contributor (10K+ posts)
Member # 3410


posted

---

Here is my story. Please let me know what I need to edit.

I came down sick in Oct 2001 as did others at work. This was the start of my long journey towards finding a diagnosis and starting treatment.

I was forced to find out why my health went south. I was no longer able to put a sentence together, read, walk, sit upright, do household chores or work.

I had no idea how limiting our current health care system is/was. I shook the hands of over 35 specialist in an 18 month period.

Most seemed to work out of the same tool box. I had an HMO at the time, then a PPO.

it took me awhile but I finally caught on that the insurance company was paying my doctors and business came first.

My health second. I went from earning $50,000 a year to no income and then SSI of $700 a month.

I am thankful for the SSI and the mediCaid I am on but I would prefer to have my health back and be working again.

The others who came down sick were higher functioning than I am. They ended up getting approved for the CALPERS or state disability and workmens' comp.

Workmen's comp is still pending for me. I was too sick to file the appeal for CALPERS Disability.

I would prefer to have my health back instead of going on permanent disability.

We all had something attack the inside of our bodies. We looked fine on the outside.

The others are higher functioning than I am but did get diagnosed with valley fever and then CFS/fibro and fibro brought on by stress at work.

We all came down sick within a 2 week period from each other with the same bizarre symptoms.

I am typing this as I lie in bed. I no longer am able to sit upright at the computer. Although I am slowly improving, I am very limited on what I can do each day.

I do believe the answers are out there. It is a complicated and multi solution task at hand.

I was finally diagnosed and started treatment for lyme and company. Getting the medications needed and having the funds to build the body back up are very limiting.

I have seen those who are able to pay out of pocket for health care regain their health.

It will be 8 years in Oct 2009 that I have been struggling with this.

In my case, the need for better education of the medical field in general regarding lyme and the co infections are in a great need.

The need for better testing is also an issue and better treatment or the acceptance of Igenex Lab testing by the general medical field.

The IDSA has written guidelines stating that only a few weeks of antibiotics and if we are still sick...good luck.

But, for the most part, the insurance companies are using these guidelines to deny treatment.

ILADS (International Lyme and Associated Diseases) will be presenting at the hearing for these guidelines the end of June.

My hope is for a positive outcome and those on the board will listen to the doctor's that are actually treating lyme patients and seeing results.

This illness is hitting all ages. I can not imagine being a child and battling this.

Adults are taking their lives or dying in their sleep as the body just gets too tired of fighting.

Others are regaining their health and living full lives again.

I have always felt I would regain my health with this. I just did not know it would take so long.

I started this when I was 50. I am now 58.

I think a big obstacle for me is due to the lack of resources to get the supplements, water therapy and other medical needs and medicines to regain my health sooner.

If I had been diagnosed and treated right away, I wonder if I would have had my health back by now.

I was a teacher in a low level prison in CA at the time my health went south. One of my students/inmates came to me with a bite on his leg with a ring around it.

He asked if I would contact medical on site. I did. They saw him right away and gave him antibiotics to take.

When, I told outside medical about the bite with a ring around it on my arm I was told that there is no lyme in CA.

They were wrong. I later found out that lyme and company has been found in all counties of CA.

I came to several doctor's with a check list of the lyme symptoms. I had all but one of them.

I was still told that I did not have lyme disease.

Instead I was tested for MS, Myasthenia Gravis, AL's. Parkinson's and many other conditions.

These tests were done several times by several doctors. When I told them I had the test results from the other doctor's I was told that the testing is frequently done wrong so they wanted to do their own testing.

The waiting list to get in to see a specialist was month's at times.

Then most just shook my hand, talked with me for a few minutes and then billed the insurance.

I was told to see a psychiatrist because my symptoms were not medical.

I saw the psychiatrist who spent an hour with me vs the few minutes a regular MD spent with me.

He told me my symptoms were not mental but physical and I needed to find a good doctor.

I also had several primary doctor's put off letting me know test results for 3 months or longer.

I would then be told the tests were lost when I asked to see the results.

I was told that the insurance denied me getting the testing that was suggested by a specialist.

When I contacted the insurance company, I was told the doctor never requested that I was tested or sent to a certain specialist.

So, I changed primary doctor's several times trying to find a doctor who had the same goal I had...to regain my health.

I later learned that the doctor received a bonus if they stayed within the budget that they signed with the insurance company on how much they would spend on each patient in a 3 month period.

I even had one primary doctor tell me she was not going to pay for me to see a specialist that was recommended at Stanford.

I did not understand what she was talking about at the time. I had insurance. I was not asking her to pay for it. This did not make sense.

I later learned what she meant was that she would not get her quarterly bonus if she sent me to the Stanford doctor.

The bottom line is that the doctor's that are doing a good job need to be rewarded for this.

Those that are just shaking someone's hand and then billing the insurance company need to go out of business.

They should not get paid for not doing their job.

And we all have a lot to learn when it comes to things attacking the inside of the body.

We need the funds for research. There is a doctor who is doing research at home on his own for lyme and company.

He is seeing a possible connection between untreated lyme disease and alz, MS, Al's and other similar conditions.

Why is it taking so long to have this research available and solutions found?

Good resources for more information are: The book "Cure Unknown" and the documentary " Under Our Skin" by Open Eye Productions.

Both not only deal with lyme and company but the politics involved in medicine in general.

I had no idea one could get so sick from something no bigger than the period at the end of this sentence.

I thought that one just got the flu for a few days and then returned to work.

Ok. Time to veg for several hours now. My brain and vision are really struggling.

Resting....next day or so

I also wanted to add that it was not until I paid out of pocket that I was able to get a diagnosis and start treatment.

I also paid out of pocket for testing.

Even after having 3 different doctor's confirm the lyme diagnosis I still had trouble finding doctors that were provided by the insurance willing to treat me.

A doctor at Samsun clinic in Santa Barbara told me not to be surprised if many of the doctor's I saw did not believe in lyme disease.

He was right. I had a confirmed diagnosis by a lyme specialist, positive western blot with Igenex Lab and most importantly the debilitating symptoms.

I went back to the original primary doctor in the small town I lived in who took my insurance and he refused to read the information I brought him.

He told me all he could do was look up sympathy in the dictionary for me. He was not going to prescribe the antibiotics needed.

I had to lie on the floor of the waiting room office as I was not able to sit upright or stand and did not have a reclining power chair at that time.

A reclining power chair with leg lifts was donated to me in 2007.

I am not able to get out of the house for about 20 min average in the power chair. An hour and a half on a good day.

I also am thankful for the household help I received from the county. But, it is up in the air at this time as to whether or not that will continue due to budget cuts.

I am slowly beginning to do my own household chores and would prefer to be able to do all of them.

I still need help with vacuuming, fixing meals, cleaning the kitchen, grocery shopping, cleaning the bathrooms, changing the bedding, etc.

The main goal here is to regain my health and once again become independent and make a positive difference in the lives of others.

I continue to run into people who ask me why my family is not helping. I have the kind of family that makes things worse instead of better.

I also am thankful for the section 8 housing that I am living in.

All of this was not the plan when I started teaching at the low level prison in CA.

The plan was to purchase a home again and travel to National Parks and enjoy making a positive difference in the lives of others.

---

Posts: 15927 | From Became too sick to work or do household chores in 2001. | Registered: Dec 2002 | IP: Logged |

bettyg
Unregistered



posted

---

kam, OUTSTANDING; good examples in the entire story.

1 change is this paragraph and i'm deleting word NOT at the beginning ok.


I am able to get out of the house for about 20 min average in the power chair; 1.5 hours on a good day.

you mentioned books,
please add this important new one

THE BAKER'S DOZEN, lunatic fringe, by PJ LANGHOFF; it's all about the IDSA/infectious drs. with over 1000 links of rebuttals on things they say & in official medical records/files!


kam, again, way to go; i learned so much more about you i didn't know. best wishes! xox
'

---

IP: Logged |
Contact Us | LymeNet home page | Privacy Statement

Powered by UBB.classic™ 6.7.3

---
The Lyme Disease Network is a non-profit organization funded by individual donations. If you would like to support the Network and the LymeNet system of Web services, please send your donations to:
The Lyme Disease Network of New Jersey
907 Pebble Creek Court, Pennington, NJ 08534 USA
http://www.lymenet.org/
---
Home | Flash Discussion | Support Groups | On-Line Library
Legal Resources | Medical Abstracts | Newsletter | Books
Pictures | Site Search | Links | Help/Questions
About LymeNet | Contact Us
---
© 1993-2020 The Lyme Disease Network of New Jersey, Inc.
All Rights Reserved.
Use of the LymeNet Site is subject to Terms and Conditions.
---