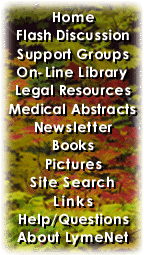 ---
LymeNet on Facebook
LymeNet on Twitter
---
---
The Lyme Disease Network receives a commission from Amazon.com for each purchase originating from this site.
When purchasing from Amazon.com, please
click here first.

Thank you.




Dedicated to the Bachmann Family


LymeNet needs your help:
LymeNet 2020 fund drive

The Lyme Disease Network is a non-profit organization funded by individual donations.

| | |
| --- | --- |
| | |
Author
Topic: Dr. J will need more help! in CT

lymewreck36
Frequent Contributor (1K+ posts)
Member # 4395


posted

---

Conn. court upholds discipline of Lyme disease doc
Westport News, Westport, Connecticut via Dave Collins, The
Associated Press

http://www.westport-news.com/news/article/Conn-court-upholds-discipline-of-Lyme-disease-doc-1421843.php
or http://tinyurl.com/5sgxxb2
June 13, 2011

HARTFORD, Conn. (AP) - The state Appellate Court on Monday
rejected the appeal of a New Haven pediatrician who claimed
state officials were wrong to discipline him in 2007 for the
way he treated two children he diagnosed with Lyme disease.

Dr. J, who has been a polarizing figure in
the treatment of Lyme disease, was reprimanded, fined
$10,000 and placed on two years of probation by the
Connecticut Medical Examining Board.

Full story and comments: http://tinyurl.com/5sgxxb2
Free registration required to comment.

Letters to the Editor, James Doody: [email protected]

**edited name of LLMD**

[ 06-21-2011, 12:50 PM: Message edited by: Lymetoo ]

---

Posts: 1009 | From North Carolina | Registered: Aug 2003 | IP: Logged |

Beachinit
LymeNet Contributor
Member # 21040


posted

---

The way it works in Connecticut the DPH/department of public health dose the investigation of suspect doctors, then presents those findings to the Medical Board for their action. . . the following recent CT board decision exemplifies how they do things.

Greenwich Sex Offender MD Allowed To Resume Practice
By George Gombossy | Last updated May 29, 2011, 3:30 am
BY Lisa Chedekel

In a controversial move, state officials are allowing a Greenwich physician who is registered as a sex offender to resume his medical practice in Connecticut.In a recent decision, the Connecticut Medical Examining Board, an arm of the Department of Public Health, voted to allow Clifford Berken of Stamford to resume practicing medicine in the state, under certain conditions. Berken is a registered sex offender in Connecticut and New York, following his arrest and sentencing in New York State on a first-degree charge of attempting to disseminate indecent material to a minor.
The medical board, in allowing Berken to resume practicing, placed his license on probation for five years, required him to be overseen by a psychiatrist or psychologist, and barred him from treating patients under the age of 18. The board's order also requires that Berken have another employee present during ``any examination or treatment of a patient,'' the records say.
Berken, 58, a doctor of internal medicine and gastroenterology, had surrendered his medical privileges at Greenwich Hospital and left his private practice in Greenwich, following his arrest in New York in 2008. In April 2009, the Connecticut board had issued an interim consent order in which Berken agreed to refrain from practicing medicine, pending further investigation.
His license status in New York remains inactive, meaning he cannot practice medicine there indefinitely, under the terms of a January 2009 order by that state's Board for Professional Medical Conduct.
``I'm just stunned,'' said Jean Rexford, executive director of the Connecticut Center for Patient Safety. ``To think that someone can walk into [Berken's] office and never know he's a registered sex offender - I am so offended by this.''
Rexford noted that the state Department of Public Health [DPH] recently proposed legislation intended to make it easier for Connecticut to sanction physicians whose licenses are revoked or suspended by other states.
``They're about to pass this law - and yet they're letting a guy practice here, who will never be allowed to practice in New York?'' she said. ``It's incredible.''
Anne C. Doremus, chair of the state's medical examining board, said in an interview Tuesday that the board adopted the recommendation of a three-member hearing panel, which based its decision largely on the testimony of two therapists who had treated Berken, The therapists said Berken could return to practice with restrictions in place, as long as he continued in therapy.
Doremus said the decision was not an easy one.
``It bothered me and it bothered other people on the board'' to allow Berken to resume his practice, Doremus said. ``For God's sakes, here's a physician who was arrested for immoral conduct... But we have to rely on what we feel is the best evidence we can get'' from the DPH, which investigates charges against physicians and presents cases to the medical board.
The three-member hearing panel included two physicians, Steven Wolf and Donald Grayson, and one non-physician, Richard Harris.
Berken pleaded guilty last year to charges by the Westchester County District Attorney's Office that he had engaged in sexually explicit online conversations with an undercover officer posing as a 15-year-old boy. Police said Berken discussed various sex acts on numerous occasions and attempted to meet the ``boy'' in White Plains, where investigators arrested him.
As a result of the charges, Berken was required to register as a sex offender in New York and Connecticut. He will remain on Connecticut's registry for 10 years.
Medical board members were not sure where Berken intended to resume his practice. The order requires him to practice in an office setting that has other physicians on-site while he is working.
He was not working at the Center for GI Medicine of Fairfield & Westchester, where he previously practiced, a receptionist there said Monday. ``He's no longer practicing,'' she said. Berken could not be reached for comment.
According to the April 21 Memorandum of Decision by the Connecticut board, Berken was diagnosed with ``various emotional disorders and/or mental health issues'' that affected his ability to practice medicine from December 2008 through June 2009.
``Although respondent's emotional disorders and mental illness are currently controlled with medication and intensive group and individual therapy, respondent's current emotional disorders and mental illness may continue to affect his ability to practice medicine,'' the order says.
Under state law, the board has the right to suspend or revoke the license of a physician for emotional disorder or mental illness, if it finds the physician poses a threat to the health and safety of any person.
But the board's order goes on to say that two therapists who treated Belken believe that he may ``return to his practice of medicine with certain restrictions in place, so long as he continues to address the emotional disorders, mental illness, family issues and various stressors that adversely impacted his ability to cope and severely impaired his judgment.''
The report does not identify the therapists or explain why the hearing panel agreed with their recommendations.
The report concludes: ``The Board finds that respondent can practice medicine with reasonable skill and safety under the terms of this Order.''
Connecticut initiated action against Berken in 2009, after the New York State Office of Professional Medical Conduct ordered that he not engage in the practice of medicine in that state because of the criminal case.
Berken's reinstatement comes on the heels of a December report by C-HIT that revealed that Connecticut was allowing some doctors whose licenses were revoked or suspended in other states to practice freely in Connecticut. The DPH is now proposing legislation that would explicitly empower the state to sanction physicians who have been disciplined in other states.
The state's medical licensing statutes do not specifically allow the DPH to revoke the licenses of convicted sex offenders.
Doremus said that, by statute, the board has to consider whether a physician's criminal wrongdoing impacts his or her ability to practice medicine.
She also said the panel is dependent on the state DPH to investigate charges against physicians; other states have independent medical boards, with their own investigative staff.
She said she would support a change to the statutes that would give the board the right to revoke or suspend the license of a physician who is convicted of a sex crime.
``You just get so frustrated at times,'' she said. ``No one wants to see a [psychologically] impaired person practice.''
She added, however, that the restrictions placed on Berken's license were ``very serious'' and would ensure that he is closely supervised.
Earlier this month, the New Haven FBI office released a list of people, including a Vernon physician, who were arrested in a special initiative targeting child-exploitation crimes. In July 2010, members of the Connecticut Computer Crimes Task Force arrested Carl G. Koplin, a family practice physician in Vernon, on a criminal complaint charging him with receipt and distribution of child pornography. A judge ordered that Koplin be subject to electronic monitoring and that he have no contact with patients under the age of 18. His medical license remains active, according the state's online licensing records.
Published reports indicate that Connecticut has denied a medical license to at least one known sex offender in the past. Dr. David Livingston, who was convicted of sexual misconduct in New York in 1988, was denied a medical license in Connecticut and Massachusetts in the early 1990s and ended up practicing in Tennessee, reports say.
In recent years, Connecticut's rate of imposing serious disciplinary sanctions against doctors has been relatively low, in comparison to other states.
A new analysis of data from the Federation of State Medical Boards shows Connecticut ranked in the bottom five states in imposing serious discipline against doctors from 2008 to 2010, according to the non-profit Public Citizen's Health Research Group. The national average was 2.98 serious actions per 1,000 physicians over those three years; Connecticut's rate was 1.69, the fourth lowest rate in the country.
Serious discipline includes license revocations, surrenders, suspensions, probation and other restrictions.
A spokesman for the state Department of Public Health has said Connecticut takes a wide range of actions against doctors, some of which are not counted in the rankings.
http://newhavenindependent.org/index.php/health/http://newhavenindependent.org/index.php/health/

--------------------
Ideas not advice.


---

Posts: 448 | From Downeast Maine | Registered: Jul 2009 | IP: Logged |

lou
Frequent Contributor (5K+ posts)
Member # 81


posted

---

Brilliant.....they let sex offenders practice medicine but a doctor who only helps patients is sanctioned. Those state medical boards are a joke. And apparently the state courts are also. What good does it do for CT to have a lyme law protecting doctors if the state board just pretends the issue is something else. Liars.

---

Posts: 8430 | From Not available | Registered: Oct 2000 | IP: Logged |

Tracy9
Frequent Contributor (1K+ posts)
Member # 7521


posted

---

This is terribly upsetting. Blake and I are the ones who identifed the biased panelist and we worked closely with Elliott Pollack and testified in Superior Court.

We went through being reported to DCF for Munchausen's by Proxy last fall after our son was hospitalized for a non lyme condition by the doctor who was a key state's witness against Dr. Jones; no surprise once he got hold of our son's chart, Dr. Jones notes, and our name.

It makes me sick that all our efforts were just thrown out. Dr. Jones and Elliott Pollack were so hopeful. How they could let this decision stand when one of the three panelists was so clearly biased, and didn't even deny it on the stand, is beyond appalling.

--------------------
NO PM; CONTACT: [email protected]

13 years Lyme & Co.; Small Fiber Neuropathy; Myasthenia Gravis, Adrenal Insufficiency. On chemo for 2 1/2 years as experimental treatment for MG.


---

Posts: 4480 | From Northeastern Connecticut | Registered: Jun 2005 | IP: Logged |

lymewreck36
Frequent Contributor (1K+ posts)
Member # 4395


posted

---

It is obvious to me that there are politics. This case has not been decided on the merits of evidence.

Steere and his buddies will burn in hell. Don't y ou worry.

---

Posts: 1009 | From North Carolina | Registered: Aug 2003 | IP: Logged |

dmc
Frequent Contributor (1K+ posts)
Member # 5102


posted

---

Tracy,
You and your family are true warriors. Your kindness, honesty, and efforts merit heaven's blessings.

---

Posts: 2675 | From ct, usa | Registered: Jan 2004 | IP: Logged |

t9im
Frequent Contributor (1K+ posts)
Member # 25489


posted

---

Hi Tracy9:

Our education department reported us to DCH last fall as well for not educating our child. Her neuro was so bad we had to stop the tutor and the staff person and nurses didn't agree with the letter from Dr. J.

I met Elliott last year. Unfortunately I fear Dr. J is in a no win situation with the State. We have to keep helping him as the ramifications to the children are terrible.

Sad and sickening what Yale and Hartford are doing.

--------------------
Tim


---

Posts: 1111 | From Glastonbury, CT | Registered: Apr 2010 | IP: Logged |

daisyrlb
Frequent Contributor (1K+ posts)
Member # 15686


posted

---

Woe to those who call

evil...good

and

good...evil.

Corruption. Politics. Crazy.

---

Posts: 2188 | From Oklahoma | Registered: May 2008 | IP: Logged |

AlanaSuzanne
LymeNet Contributor
Member # 25882


posted

---

This is a disgrace and a travesty of justice.

Dr. J's ONLY crime has been treating very sick children. Notice how the article didn't mention the fact that the original complaint came from a non-custodial father, who likely did not want to pay medical bills (or the transportation costs of same) for his children.

I've read these children are now well.

We need to continue supporting Dr. J as best we can. For God's sake this man is in his 80s. And despite what he has been through continues to see and treat sick kids.

I wonder if any of those opposing him have read "Cure Unknown" or seen "Under Our Skin"

Guessing not. Apparently they were blessed with the gift of healthy children. Either that or they're living in the land of denial.

Tracy and T9, all I can say is OMG. And this happens in CT of all places--original home of Lyme Disease! I find your situations to be a bit surreal to say the least.

Daisy, can you please start a special prayer for this?

**edited name of LLMD**

[ 06-21-2011, 12:55 PM: Message edited by: Lymetoo ]

--------------------
You gain strength, courage, and confidence by every experience in which you really stop to look fear in the face. You are able to say to yourself, 'I lived through this horror. I can take the next thing that comes along.'

---Eleanor Roosevelt


---

Posts: 748 | From somewhere | Registered: May 2010 | IP: Logged |

HopesAlive
LymeNet Contributor
Member # 29774


posted

---

I know that Dr. J has a special place in heaven, waiting for him someday.

That this man came out of his retirement and has dedicated his entire life to helping the children of this world, when others turned their backs, speaks volumes about what type of man he is.

That he continues to fight...and to hold his head high, that he continues to move forward and do what he KNOWS is right. Where is the justice, and like Lisa's YouTube name, "Where is the Karma."

I will pray every single day that I live to see it.

**edited name of LLMD**

[ 06-21-2011, 12:53 PM: Message edited by: Lymetoo ]

--------------------
Best Wishes,

Hope

"Hope is a good thing, maybe the best of things, and no good thing ever dies."

~~The Shawshank Redemption~~


---

Posts: 234 | From Minnesota | Registered: Dec 2010 | IP: Logged |
Contact Us | LymeNet home page | Privacy Statement

© 1993-2020 The Lyme Disease Network of New Jersey, Inc.
All Rights Reserved.
Use of the LymeNet Site is subject to the Terms and Conditions.

Powered by UBB.classic™ 6.7.3

---
The Lyme Disease Network is a non-profit organization funded by individual donations. If you would like to support the Network and the LymeNet system of Web services, please send your donations to:
The Lyme Disease Network of New Jersey
907 Pebble Creek Court, Pennington, NJ 08534 USA
http://www.lymenet.org/
---
Home | Flash Discussion | Support Groups | On-Line Library
Legal Resources | Medical Abstracts | Newsletter | Books
Pictures | Site Search | Links | Help/Questions
About LymeNet | Contact Us
---
© 1993-2020 The Lyme Disease Network of New Jersey, Inc.
All Rights Reserved.
Use of the LymeNet Site is subject to Terms and Conditions.
---