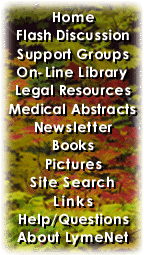 ---
LymeNet on Facebook
LymeNet on Twitter
---
---
The Lyme Disease Network receives a commission from Amazon.com for each purchase originating from this site.
When purchasing from Amazon.com, please
click here first.

Thank you.




Dedicated to the Bachmann Family


LymeNet needs your help:
LymeNet 2020 fund drive

The Lyme Disease Network is a non-profit organization funded by individual donations.

| | |
| --- | --- |
| | |
Author
Topic: conspiracy

roro
LymeNet Contributor
Member # 13383


posted

---

I cannot help but believe there is a conspiracy about this disease.

it seems that doctors are acting very weird. I never realized it before because I had no idea I might have lyme, and I wasn't as sick back then.

when I started getting severely ill, heart failure, bloodwork flagging all over the place, the reactions were very strange.

doctors would look at my signs/tests and be very concerned and want to run a lot of tests and be aggresive, because apparently they could see I was gravely ill. then when they "realize" it is lyme (not telling me of course, but I knew) they wouls all of a sudden not be concerned about me anymore.

if I have signs that I am at risk of heart attack/stroke, its significant, no matter what is causing it.

this has been a pattern.

also, i noticed if you mention lyme to a dr, they become very defensive and act strange.

anyone else have this experience? do you think it means they know more than what they are telling us?

---

Posts: 615 | From maryland | Registered: Oct 2007 | IP: Logged |

blazinglyme
Member
Member # 13320


posted

---

hey roro,

Yes I have experienced this with some doctors.

Its like I had 6 eyes on my head

I have doctors find I had ld and refuse to treat me!

Than reading about lab 257 in NY... makes u wonder about what is going on

best wishes

--------------------
don't give up the fight


---

Posts: 49 | From Frankford, DE | Registered: Sep 2007 | IP: Logged |

WakeUp
LymeNet Contributor
Member # 9977


posted

---

roro and blazinglyme--

TRUST your instincts--- there IS a HUGE coverup that spans Lyme, Gulf War Syndrome, Fibromyalga, Morgellons and even AIDS....

Watch Len Horowitz' videos (I posted them here) to see the extent of the stench,the greed and the stupidity... (watch them fast.. they'll probably be deleted soon)

google "Operation Mockingbird" to see how the CIA actively controls the press for the benefit of greedy companies...

Check out www.prisonplanet.com for Alex Jones' library on this medical conspiracy and deceit..

You will not BELIEVE the extent of the deceit, greed and fraud that is going on right now at the NIH, the EIS, the CIA the FDA and in their allies, the private drug companies.......

These people will infect you with Simian 40 cancer virus for the price of a $30 vaccine....they couldn't care less about the public... and their cronies at NIH just lie, lie,lie.....

We and millions of others are victims of this unbelievable evil.... The more I learn, I can't even grasp--- it's that bad... and its going to get worse.. if people don't speak out and get informed very soon...

---

Posts: 696 | From New York | Registered: Aug 2006 | IP: Logged |

Freethinker
Member
Member # 13002


posted

---

Google:

Operation Paperclip

Plum Island

This is WHY we are all so sick!

Prescott Bush, Rockefeller, etc helped finance Hitler. After the war, Operation Paperclip helped bring many of the nazi scientists over here.

Plum Island first began its service to the United States in 1789, where then-president George Washington ordered construction of a lighthouse to identify turbulent tidal waters and shoals, aiding merchant vessels trafficking in and out of New York. Fort Terry was constructed there in 1879 and was fortified for use in both the Spanish-American War and World War II. The island remained a military installation until 1954, when ownership was transferred to the USDA, officially to be used in the study of exotic animal diseases such as African Swine Fever and Foot and Mouth Disease. The Army barracks and weapons batteries were left on the island, and are still there today.

In 1954, operating under the guise of an animal research facility, the USDA and the Army jointly constructed two bio-containment quarantines, Lab 257 and Lab 101. During this time, the United States was in the beginnings of the Cold War, a time best noted for nuclear proliferation and the space race. One of the lesser-known activites of this period was OPERATION PAPERCLIP, a top-secret program in which the Unites States government recruited former Nazi scientists of varying specialization and brought them to America, along with employment contracts and full citizenship, to continue their studies in the Cold-War rush for military superiority. The full number of scientists recruited in this way is unknown, but estimated at anywhere from five hundred to two thousand persons.

One of the most infamous of these former Nazis was Erich Traub, who had worked directly for Adolf Hitler's second-in-command, SS Reichsfuehrer Heinrich Himmler, on live germ trials involving various bioweapons.

Among the many biological agents cultivated on Plum Island were Dawson's Encephalitis (now known as West Nile Virus), and Lyme Disease.

No conspiracies here...just total facts!



--------------------
Stop Lyme Cryme!

-Data Over Dogma
Evidence Over Egos
Patients Over Politics.
-EJ Masters

Peer Observations Magazine


---

Posts: 40 | From Southern Illinois | Registered: Aug 2007 | IP: Logged |

WakeUp
LymeNet Contributor
Member # 9977


posted

---

Freeethinker-- excellent point.

We must do EVERYTHING in our power to fight in this "LYME DISINFORMATION WAR." This grand media war is the fight of our lives.We must win it--- and not be deterred or intimidated by smear tactics.


Our opponents have billions of dollars at their disposal to promote media disinformation campaigns, infiltrate, divide and conquer our support groups, promote bogus science, and promote spurious lawsuits against our doctors.... and they are doing it NOW as we speak....like the sneaky little bastr***ds they are.....

This is why we must all wage an internet infowar campaign to bring out the truth on this issue. I suggest:

--TALK about Michael Carrol's book Lab 257---- send your copy to your congressman.. Google Erich Traub.
--TALK about the fraudulent Lyme diagnostic tests...
--TALK about the aerosolization of the Lyme cyst-- that, like Anthrax, has bioweapons properties.
--TALK about the damaging Lymerix vaccine and the lies put forth by the NIH regarding why this vaccine was withdrawn..
--TALK about the many articles PROVING persistence of infection after treatment--
--TALK about how Blumenthal is investigating the Lyme crooks and why it is necessary.
--GOOGLE and familiarize yourselves with Operation Mockingbird, COINTELPRO, MKULTRA and Project Paperclip-- proven Government programs that injure our health and prevent the free flow of information!
Get ANGRY about the $44 billion bioweapons budget-- and the fact that most prominent Lyme researchers are now on the bioweapons payroll.. and are not employed in finding new treatments because they are too busy denying the existence of Chronic Lyme disease-- which they are aerosolizing as a bioweapon. Write your congressman about this dangerous misuse of resources.
Get ANGRY about the fact that the Washington Post and the New York Times have former EIS officers in their science editorial positions...

ABOVE ALL -- do not allow these people to divide, manipulate and conquer us here-- which is their objective... I can assure you.. (just google COINTELPRO for a complete list of their evil "divide and conquer" disinformation smear tactics used against activists they find most threatening...)


Michael Carroll-- the author of Lab257-- has been the target of a smear campaign in Swiftboat fashion.... but lots of Lyme patients are reading his book--- so the truth is coming out.
"Smear and Lie" is what these people do for a living---and they won't stop until we, the victims stop them.

I know from personal experience--my alias... "snapcrackle" that I use everywhere ---was hijacked on another forum... and that person starting posting bizarre posts under the snapcrackle name to try to discredit all my previous posts.... and to try to intimdate me from further posting there or here under this alias......

They lied about--- and attmpted to discredit Lisa Masterson, Karen Forschner, Ilena Rose and a number of other activists who have touched on truth.

These people are evil liars and the more I have to do with them--- the more I realize that we must speak out more loudly to expose their tactics and deceit for what it is...

.....WE HAVE THE POWER TO DEFEAT THEM IF WE UNDERSTAND THEIR TACTICS.....AND USE SOME OF THESE SAME TACTICS AGAINST THEM...

---

Posts: 696 | From New York | Registered: Aug 2006 | IP: Logged |

roro
LymeNet Contributor
Member # 13383


posted

---

some theories state that the doctors arew not "in on it" that they are simply brainwashed in medical school.

but the behavior I have witnessed speaks otherwise.

---

Posts: 615 | From maryland | Registered: Oct 2007 | IP: Logged |

WakeUp
LymeNet Contributor
Member # 9977


posted

---

Roro--
Nice point. Doctors are selected on the basis of both intelligence and on their "herd" like personality traits.
Hence.... when the medical industrial complex wishes to manipulate the mass of doctors in a certain direction, all they need to do is to place key editorial committee members in these journals....and voila-- their disinformation campaign is virtually guaranteed-- Lyme patients are shut up and consigned to a wastebasket diagnosis with no access to treatment!!!

Personally, I believe that most doctors just follow along with whatever propaganda the journals and newspapers are printing--- they are lazy and don't want to bother looking at other research-- so they let one or two biased committee members on a medical journal influence the entire debate-- and their willingness to treat.

I told my Harvard educated doctor about Erich Traub, and he dismissed me. I then gave him a copy of Lab 257... and I challenged him to google it for himself... so next time I see him... I'll see what he thinks...

The infowar is on OUR shoulders folks... we must get informed and then tell everyone we know--and REPEAT the information over and over again!!!

We must be confident and informed....

THIS IS WHY WE MUST ALL GET EDUCATED ON GOVERNMENT PROPAGANDA AND SCIENCE PROGRAMS LIKE 1)OPERATION MOCKINGBIRD, 2)PROJECT PAPERCLIP AND 3)COINTELPRO--- SO THAT WE BETTER UNDERSTAND OUR OPPONENTS' TACTICS....

regards---
-the former snapcrackle

---

Posts: 696 | From New York | Registered: Aug 2006 | IP: Logged |

barksplinter
Member
Member # 13249


posted

---

I think the look on their face is closer to horror. They are having to face the fact that Lyme very well DOES cause all the issues Chronic Lyme advocates claim. Denial is a lot easier than the truth many times.

They have a choice... treat you appropriately or get you to leave and never come back... letting them off of the hook.

Know this: the true LLMDs are true heroes. The others are ignorant and afraid or both.

---

Posts: 70 | From AZ | Registered: Sep 2007 | IP: Logged |

roro
LymeNet Contributor
Member # 13383


posted

---

I know that look of horror all too well, I have seen it on the faces of several doctors after they realize just how sick I am.

there are three types of doctors I have encountered.

the evil ones. these seem to know what I have but refuse to treat me or acknowledge I am sick. they barely look at my records, or if they do they only look unitl they realize "oh this is lyme" then they tell me its psychiatric or something.

the scared ones, who after looking at all my MRI, labs, etc, look at me with that look of horror. that scares me, because I feel like they must think I am dying. they are usually new, not very knowledgeable, and don't know what else to do but refer me to a specialist. (neuro, ID)

then there are the 3rd type, I don't know what to call them. they look at everything and say they are going to help me, they know I have something, they are going to get to the bottom of it. they run a boatload of tests. when I go to follow up with them, they turn into the evil ones. maybe they are even more evil, because they want to make money on all the tests first.

---

Posts: 615 | From maryland | Registered: Oct 2007 | IP: Logged |

minimonkey
LymeNet Contributor
Member # 8693


posted

---

Just in the interest of keeping "facts" factual -- there is only circumstantial evidence that Bb was studied at Plum Island (albeit a very convincing trail of circumstantial evidence.)

West Nile was studied there -- that has been confirmed.

Likewise, Plum Island as the origin of these diseases is also circumstantial.

The bad science and intentional discrediting of the Lyme community by certain doctors IS documented as fact.

--------------------
"Looks like freedom but it feels like death..
It's something in between, I guess"

Leonard Cohen, from the song "Closing Time"


---

Posts: 822 | From California | Registered: Jan 2006 | IP: Logged |
Contact Us | LymeNet home page | Privacy Statement

Powered by UBB.classic™ 6.7.3

---
The Lyme Disease Network is a non-profit organization funded by individual donations. If you would like to support the Network and the LymeNet system of Web services, please send your donations to:
The Lyme Disease Network of New Jersey
907 Pebble Creek Court, Pennington, NJ 08534 USA
http://www.lymenet.org/
---
Home | Flash Discussion | Support Groups | On-Line Library
Legal Resources | Medical Abstracts | Newsletter | Books
Pictures | Site Search | Links | Help/Questions
About LymeNet | Contact Us
---
© 1993-2020 The Lyme Disease Network of New Jersey, Inc.
All Rights Reserved.
Use of the LymeNet Site is subject to Terms and Conditions.
---