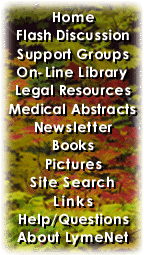 ---
LymeNet on Facebook
LymeNet on Twitter
---
---
The Lyme Disease Network receives a commission from Amazon.com for each purchase originating from this site.
When purchasing from Amazon.com, please
click here first.

Thank you.




Dedicated to the Bachmann Family


LymeNet needs your help:
LymeNet 2020 fund drive

The Lyme Disease Network is a non-profit organization funded by individual donations.

| | |
| --- | --- |
| | |
Author
Topic: Thank you, thank you, and thank you

Tincup
Honored Contributor (10K+ posts)
Member # 5829


posted

---

Tonight I was stopping by for a few minutes before hitting the bed.. when suddenly I saw a post about something I've been NEEDING to research and didn't have the time.

I read it .. every word.

Then.. like magic.. suddenly another topic I've needed to research appeared. WOW!

Then..

You guessed it.. ANOTHER one.. the THIRD one... was RIGHT there before my eyes. No muss, no fuss.

Soooooooooo.. I want to say to all who take time to post.... and reply to posts... and share their info and comments...

THANK YOU!

You are doing a great job and I appreciate it.



PS.. Tonight's topics happened to be questions I needed answered for ME specifically. That is ONE reason I never took time to search them out and I didn't know the info. Had it been for someone else.. I would have already MADE time to do it. So you have personally helped ME tonight.. with garlic info, theralac info, and chlorella info.

I really thank you.



--------------------
www.TreatTheBite.com
www.DrJonesKids.org
www.MarylandLyme.org
www.LymeDoc.org


---

Posts: 20352 | From The Moon | Registered: Jun 2004 | IP: Logged |

Michelle M
Frequent Contributor (1K+ posts)
Member # 7200


posted

---

Glad yer back, Cup!

Michelle

---

Posts: 3193 | From Northern California | Registered: Apr 2005 | IP: Logged |

Kayda
LymeNet Contributor
Member # 10565


posted

---

Yes! That's what makes this such a great place full of a wealth of information!

---

Posts: 582 | From midwest | Registered: Nov 2006 | IP: Logged |

5dana8
Frequent Contributor (1K+ posts)
Member # 7935


posted

---

tincup

love love these people here too

glad to see ya back
Blessings
Dana

--------------------
5dana8


---

Posts: 4432 | From some where over the rainbow | Registered: Sep 2005 | IP: Logged |

Tincup
Honored Contributor (10K+ posts)
Member # 5829


posted

---

Well, you all really helped!

I did have another question though.

About the Chlorella.. aside from how to spell it!

Seems I heard it WAS suppose to be good for toxin removal? I may have missed that in the articles.. but still interested if anyone knows.

THANKS again for being here to help!



--------------------
www.TreatTheBite.com
www.DrJonesKids.org
www.MarylandLyme.org
www.LymeDoc.org


---

Posts: 20352 | From The Moon | Registered: Jun 2004 | IP: Logged |

Lisianthus
LymeNet Contributor
Member # 6631


posted

---

I have more on Chlorella... Not sure if its exactly what you want but I will keep looking.

Heres one:


Chlorella (Chlorella pyrenoidosa)


Chlorella Benefits


Chlorella is a fresh water, single-celled algae that grows in fresh water. Chlorella emerged over 2 billion years ago, and was the first form of a plant with a well-defined nucleus. Because Chlorella is a microscopic organism, it was not discovered until the late 19th century, deriving its name from the Greek, "chloros" meaning green and "ella" meaning small. In fact that chlorella contains the highest amount of chlorophyll of any known plant.

It is thought to boost the immune system and help fight infection. It has been shown to increase the good bacteria in the gastrointestinal (GI) tract, which helps to treat ulcers, colitis, diverticulosis and Crohn's disease. It is also used to treat constipation, fibromyalgia, high blood pressure and high cholesterol. Chlorella has been used to treat cancer and also help protect the body from the effects of cancer radiation treatment.

The algae, which is a popular food supplement in Asia and has been used as energy-producing food for centuries, is often used to prevent or curb the spread of cancer, enhance immunity, promote a good balance of bacteria in the gut, and lower blood cholesterol. In Japan, it is traditionally used as a treatment for duodenal ulcers, gastritis, hypertension, diabetes, hypoglycemia, asthma, and constipation. More recently, it is has been touted as an effective therapy for elevated cholesterol levels, a prophylactic to ward of infections and, and adjunct treatment for cancer.

Chlorella is now used as an adjunct supplement during radiation treatment for cancer. Its abundance of chlorophyll is known to protect the body against ultraviolet radiation.

It is a nutrient-dense superfood that contains 60% protein, 18 amino acids (including all the essential amino acids), and various vitamins and minerals. One of its unique properties is a phytonutrient called CGF.
Latin Name: Chlorella pyrenoidosa

Common Names: Chlorella (Algae)

Properties: anti-oxidant, anti-tumour, prophylactic.

Contains:
Calcium, CGF (phytonutrient), beta-carotene, biotin, carotenoids, chlorophyll, Essential fatty acids (EFAs), folic acid, inositol, iodine, iron, magnesium, PABA, pantotheneic acid, phosphorous, potassium, proteins, RNA/DNA, vitamins A, C, B1, B2, B2, B3, B5, B6 and B12, E and K, zinc

Indicated for:
Asthma, boosting immune system, cancer, colitis, constipation, Crohn's disease, diabetes, diverticulosis, duodenal ulcers, fibromyalgia, gastritis, high blood pressure, high cholesterol, hormone balance, hypertension, hypoglycemia, preventing and fighting infection, protecting the body from the ill-effects of both cancer radiation treatment and ultraviolet radiation, toxic chemical disposal, ulcers and ulcerative colitis.




Chlorella provides all of the dietary-essential amino acids in excellent ratios. It is also a reliable source of essential fatty acids that are required for many important biochemical functions, including hormone balance. Chlorella also contains high levels of chlorophyll, beta-carotene and RNA/DNA. More than 20 vitamins and minerals are found in chlorella, including iron, calcium, potassium, magnesium, phosphorous, pro-vitamin A, vitamins C, B1, B2, B2, B5, B6, B12, E and K, biotin, inositol, folic acid, plus vitamins C, E and K.

Although the algae grow naturally in fresh water, Chlorella destined for human consumption is generally cultivated outdoors in mineral-rich freshwater ponds under direct sunlight. The entire process from strain maintenance in the laboratory to harvesting of the final product is monitored by microbiologists to ensure optimal nutrient value and product purity. It is often combined with other natural green foods such as spirulina, wheat grass, barley greens, and sometimes seaweed.

Chlorella has been the focus of many medical and scientific research projects. Based on very early research, it appears that chlorella may play a role in fibromyalgia, hypertension, or ulcerative colitis and has an effect on the immune system. More studies are needed to confirm initial findings.

Research conducted in Japan suggests that chlorella may have antitumour activity against breast cancer. However, its main use in cancer therapy is to help remove radioactive particles from the body after radiation treatment.

So far, the bulk of evidence for chlorella's long list of medicinal powers comes from animal studies. Studies in mice have shown that Chlorella vulgaris can protect against the development and spread of cancer, and other rodent studies have shown that it lowers cholesterol and helps organisms get rid of toxic chemicals, such as dioxins.

Note:


Do not use Chlorella if you are pregnant or breastfeeding.

Although unlikely, chlorella may cause allergic reactions such as breathing problems or tightness in your throat or chest, chest pain, skin hives, nausea, diarrhea or stomach cramps, rash, or itchy or swollen skin and heightened sensitivity to the sun. In the event of these occuring stop taking the capsules. As with all allergic reactions, it is always prudent to seek medical advice from your doctor.

Chlorella supplements can be rich in vitamin K, which can reduce the effectiveness of the blood-thinning drug warfarin.


_________________________________________________


Heres another :

http://www.healingdaily.com/oral-chelation/health-benefits-of-chlorella.htm

Health Benefits Of Chlorella

Heavy metal removal using chlorella
Chlorella is a powerful detoxification aid for heavy metals and other pesticides. Numerous research projects in the U.S. and Europe indicate that chlorella can also aid the body in breaking down persistent hydrocarbon and metallic toxins such as mercury, cadmium and lead, DDT and PCB while strengthening the immune system response. In Japan, interest in chlorella has focused largely on its detoxifying properties - its ability to remove or neutralize poisonous substances from the body.

This detoxification of heavy metals and other chemical toxins in the blood will take 3 to 6 months to build up enough to begin this process depending on how much chlorella a person is taking. Chlorella is a food. As such, it is almost impossible to take too much chlorella. It is also this fibrous material which greatly augments healthy digestion and overall digestive track health.


How Does Chlorella Detoxify Your Body?
Chlorella is comprised of a fibrous, indigestible outer shell (20%) and its inner nutrients (80%). It is the fibrous material which has been proven to actually bind with the heavy metals and pesticides - such as PCBs - which can accumulate in our bodies.

A clean bloodstream, with an abundance of red blood cells to carry oxygen, is necessary to a strong natural defense system. Chlorella's cleansing action on the bowel and other elimination channels, as well as its protection of the liver, helps keep the blood clean. Clean blood insures that metabolic wastes are efficiently carried away from the tissues.

Chlorella gets its name from the high amount of chlorophyl it possesses. Chlorella contains more chlorophyl per gram than any other plant. Chlorophyl is one of the greatest food substances for cleansing the bowel and other elimination systems, such as the liver and the blood.

Green algae are the highest sources of chlorophyl in the plant world. And of all the green algae studied so far, chlorella has the highest, often ranging from 3 to 5% pure natural chlorophyll.

Chlorella is a key detoxification tool
Hemoglobin is the protein in our red blood cells which binds with oxygen and gives blood its bright red color. Chlorophyll cells are nearly identical to hemoglobin, with one exception: Chlorophyll has a magnesium molecule at its center while hemoglobin has an iron molecule at the center of it.
This is important because magnesium is essential for the heart to function properly. Every time our heart beats, it is utilizing magnesium to do so.
Chlorophyll is effective against anemia and stimulates the production of red blood cells in the body. It also helps carry oxygen around the body and to the brain. This is why chlorella is often called a 'Brain Food'.
Several researchers have suggested the use of chlorophyll as a medical therapy for anemia.


Chlorella Will Improve Your Digestive System
Since chlorella has such a high chlorophyll content, people find chronic bad breath is often eliminated in just a few days on chlorella. Foul smelling stools are also greatly improved and chlorophyll has been attributed to relieving constipation.


Chlorella Shown To Be Helpful in Fighting Cancer
Interferon is one of our body's greatest natural defenses against cancer. One of the ways we fight cancer is to use agents to stimulate macrophage production and activity. Interferon is a natural secretion of the body which is thought to be a stimulator of macrophages and tumor necrosis factor.

Chlorella stimulates the activity of macrophages and T-cells by increasing interferon levels thus enhancing the immune system's ability to combat foreign invaders whether they are viruses, bacteria, chemicals or foreign proteins.


Chlorella Contains Natural Digestive and other Enzymes
Chlorella contains enzymes such as chlorophyllase and pepsin, which are two digestive enzymes. Enzymes perform a number of important functions in the body. Chlorella has many different types of enzymes that our bodies need.

It is essential that any chlorella you take is NOT freeze dried or pasteurized. If it is, then you have lost the crucial benefit of enzymes such as these.



Chlorella is Alkaline and Helps Balance Your Body's pH
It's important that we maintain a balance body pH of ideally about 7.2-7.4, which is about neutral. However, because of our poor diet of junk food, overcooked, processed foods, fast food, which include soft drinks which have a pH of 2.7, most of us are not balanced.

This is important because most diseases start, live and thrive in an acidic environment and do not live well in an alkaline environment. Cancer rates have risen steadily so that now fully 1/3 of all people in the U. S. will get cancer in their lifetime.

The rise of fast, junk and processed foods match those of rising cancer rates. 30 years ago, cancer in children was almost unheard of. Now they have entire hospital wards given over to children with cancer. Including whole foods like chlorella in your diet is one step you can take toward reducing your risks for cancer.

Chlorella Normalizes Blood Sugar and Blood Pressure
Studies have shown that chlorella tends to normalize blood sugar in cases of hypoglycemia. In hypoglycemia, blood sugar is too low. Proper levels of blood sugar are necessary for normal brain function, heart function and energy metabolism, all of which are crucial in sustaining good health and preventing disease.

High blood pressure is one of the major risk factors in heart attack and stroke, which account for more fatalities in the United States than any other disease. Laboratory experiments have shown that regular use of chlorella reduces high blood pressure and prevents strokes in rats.

You can find the best price on the internet for high quality chlorella here . I encourage you to compare with other merchants on the internet and you will see what I mean.

The pillars of a good mercury detoxification program are chlorella, N-acetyl-cysteine (NAC), MSM and the herb cilantro, which is discussed here. My favorite source for organic cilantro in 1 pound bags is here. Garlic is also a good mercury chelator.


Hope this helps, I will keep looking
Lisi

--------------------
yahoo 360 http://360.yahoo.com/my_profile-UqSNGiA9crUMRW.lFNGN5Jk-?cq=1


---

Posts: 986 | From Michigan | Registered: Dec 2004 | IP: Logged |

Lisianthus
LymeNet Contributor
Member # 6631


posted

---

More on Chlorella as far as dosage:


How Much Chlorella Should You Take Per Day For Mercury Detoxification?

3 grams per day is a good maintenance dosage of Chlorella for a person to take. With this amount, you will not notice significant changes, however, your body will get many of the nutrients it must have to function properly such amino acids (protein), vital minerals, vitamins, carbohydrates and enzymes.

However, a person taking 5-7 grams per day is quite common and at this level you will notice significant changes in digestion, energy and overall health.

One teaspoon of powder is equal to 5,000 mg. If you are taking tablets or capsules you would have to divide the mg of that pill into 5,000 mg to find out your dose. For example if you had 500 mg tablets you would divide 5,000 by 500 and determine you would need ten tablets for 5,000 mg of chlorella.

What Results Should You Expect When You Begin Taking Chlorella?

The first thing is better digestion, especially if you have bad breath or constipation. Both these are readily handled by taking small doses of chlorella. However, many of the benefits of chlorella are subtle and not easily determined by how a person feels.

For instance, chlorella has been demonstrated to remove heavy metals and other synthetics from the body by actually binding with them so they may be pulled from the bloodstream. However, this result can only be measured if the level of heavy metals in the bloodstream are known before and after a person starts taking chlorella.

It takes approximately 3-6 months once starting chlorella for heavy metals to begin to be removed from the blood depending on the amount of chlorella taken. If it has been determined that a person does have heavy metals in their body, they should begin by taking 15-20 grams per day depending on the level of heavy metals that are present. Remember that chlorella is a food and as such is very safe.

What Time Of Day Or Night Should You Take Chlorella?

Chlorella can be taken at any time of the day. It can be taken all at once but preferably it should be taken in small dosages throughout the day. Morning is also a good time to take chlorella, but never just before or after drinking coffee or soft drinks since caffeine is extremely detrimental to the digestive process.

Chlorella causes the bacteria in our stomachs, the Lactobacilli, to multiply at 4 times the rate of normal. This is why it is best to take with meals as chlorella helps provide very good digestion and more importantly, better assimilation of nutrients.

Can Everyone Tolerate Chlorella?
Because of the fiber content in chlorella's cell wall and other nutritional factors, when some people begin to take chlorella for the first time they may go through cleansing reactions, sometimes referred to as a "healing crisis". This cleansing reaction comes in the form of intestinal activity such as gas, cramping, constipation or diarrhea.

This same type of cleansing reaction frequently occurs when people switch from a low-fiber, "junk-food" diet to a high fiber, natural food diet.

For this reason, some individuals may wish to start out with less than the suggested amount and gradually increase up to the recommended dose in 1-2 weeks. Very sensitive individuals may want to start with as little as 1/16 of a teaspoon per day (300 mg).

If you have not been eating many fresh raw vegetables in your diet, it is probably a good idea to start out with one 1/16 of a teaspoon with each meal and increase by 1/16 of a teaspoon every 2-3 days.

As long as you are not showing an allergic reaction (such as hives) or throwing up, you can safely continue the chlorella. In a couple of months, the reaction should decrease. And as it decreases, you can increase the dose.

Can You Take Too Much Chlorella?
It is best to think of chlorella as a food because that is exactly what it is: one of the purest, most potent foods on earth. A person can not take too much chlorella because it is naturally detoxifying. Therefore, the fear of chlorella accumulating and becoming toxic to the body is not present.

However, there is a "comfort level" with every person where he or she knows how much Chlorella to take per day. In general, that level will be about 5-8 grams per day.

A person taking 15-20 grams of chlorella per day is not at all unheard of if someone is trying to combat a disease with the amazing medicinal properties of chlorella. It is a whole food, not a concentrate or extract, therefore you can NOT take too much of it because of its detoxifying abilities.

I spend a lot of time researching the best prices for supplements on the internet, and in my opinion the lowest prices for high quality chlorella can be found here.

Can Chlorella Be Given To Children?
Absolutely. In fact, chlorella has been shown to promote rapid growth in children, as well as build in them superior immune systems. Children can take 1/2 to 1/4 the adult dose described above.


_________________________________________________


I bolded what I thought was very interesting about the good bacteria....

Lisi

--------------------
yahoo 360 http://360.yahoo.com/my_profile-UqSNGiA9crUMRW.lFNGN5Jk-?cq=1


---

Posts: 986 | From Michigan | Registered: Dec 2004 | IP: Logged |

Meg
Honored Contributor (10K+ posts)
Member # 22


posted

---

Chlorella causes the bacteria in our stomachs, the Lactobacilli, to multiply at 4 times the rate of normal.

Whoa!!

Ok question--anyone can take this right? and you don't necessarily have to remove amalgams? Or will it harm you if you don't do that?

I thought I read somewhere that removing them before taking Chlorella was necessary.....?

--------------------
Success Stories---Treatment Guidelines


---

Posts: 10010 | From somewhERE OVER THE Rainbow | Registered: Oct 2000 | IP: Logged |

Tincup
Honored Contributor (10K+ posts)
Member # 5829


posted

---

PERFECT!!!

I strolled around and came back to the Medical Section.. and already had a reply with ALL the answers!

Thank you Lisianthus for going the extra mile. Just knowing folks here will readily offer help makes me ALMOST want to keep on my meds!

Actually I AM trying. I have let myself go down the tubes for the past couple of years.. and stress took it's toll. I've relapsed badly.. tried to ignore it... and that didn't work.

So I am now on a campaign to FIX ME!

Since I am a HORRIBLE sissy baby about taking ANY meds.. I am thankful there are so many here willing to spend time holding my hand as I crawl through this new journey.

Thank you very much!



--------------------
www.TreatTheBite.com
www.DrJonesKids.org
www.MarylandLyme.org
www.LymeDoc.org


---

Posts: 20352 | From The Moon | Registered: Jun 2004 | IP: Logged |

trueblue
Frequent Contributor (1K+ posts)
Member # 7348


posted

---

Hey Sissy Baby!
I'm with you on this. I'm working real hard trying to take my meds and be a med-taking sissy baby.

If you'd like to form a sissy baby med support group... count me in, otay?


I'm so very thrilled to hear you're finally on a campaign to help someone we all know and love. Anyway I can help, you know where to find me, right?


------------------------------------------------------------------


Thank you so much for the information on Chlorella, in one place Lisi! Most excellent! I think you may have convinced me it's a good way to go, at this time. I'll check with my doc soon. I have been hesitating, worried it might raise iron levels, so will ask before I jump.

--------------------
more light, more love
more truth and more innovation


---

Posts: 3783 | From somewhere other than here | Registered: May 2005 | IP: Logged |

Lisianthus
LymeNet Contributor
Member # 6631


posted

---

Meg,

You DO NOT have to remove your analgrams to take Chlorella. I have 9 to be removed (yes 9 big ugly ones left) and my doctor specifically told me it was safe for me while those are still in. He did say he wanted them ASAP. But I have been on Chlorella for over a year, but have recently increased my dose after everything I read about it.


Everytime you chew your food you are leaking mercury while you have them in your mouth and the chlorella helps bind what is escaping just from chewing, so its a good idea to take it.


--------------------------------------------------------------------------------------------------


Tin,

I'm sorry to hear your going down the tubes. Please try to shimmy your way back up those tubes please! We need you (as I'm sure others do to)


I really understand about not wanting to take your meds, I dread it also. I am taking a slight siesta this week (just taking cats claw, along with my millions of other herbs) But no abx. We'll see how I do, last time I took a siesta, I ended up at the bottom of that tube!


Sometimes ya just need a break, hopefully it won't be my leg!


Take care,
Lisi

[ 05. March 2007, 11:42 AM: Message edited by: Lisianthus ]

--------------------
yahoo 360 http://360.yahoo.com/my_profile-UqSNGiA9crUMRW.lFNGN5Jk-?cq=1


---

Posts: 986 | From Michigan | Registered: Dec 2004 | IP: Logged |
Contact Us | LymeNet home page | Privacy Statement

Powered by UBB.classic™ 6.7.3

---
The Lyme Disease Network is a non-profit organization funded by individual donations. If you would like to support the Network and the LymeNet system of Web services, please send your donations to:
The Lyme Disease Network of New Jersey
907 Pebble Creek Court, Pennington, NJ 08534 USA
http://www.lymenet.org/
---
Home | Flash Discussion | Support Groups | On-Line Library
Legal Resources | Medical Abstracts | Newsletter | Books
Pictures | Site Search | Links | Help/Questions
About LymeNet | Contact Us
---
© 1993-2020 The Lyme Disease Network of New Jersey, Inc.
All Rights Reserved.
Use of the LymeNet Site is subject to Terms and Conditions.
---