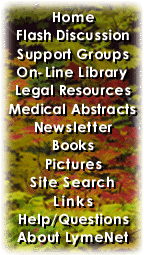 ---
LymeNet on Facebook
LymeNet on Twitter
---
---
The Lyme Disease Network receives a commission from Amazon.com for each purchase originating from this site.
When purchasing from Amazon.com, please
click here first.

Thank you.




Dedicated to the Bachmann Family


LymeNet needs your help:
LymeNet 2020 fund drive

The Lyme Disease Network is a non-profit organization funded by individual donations.

| | |
| --- | --- |
| | |
Author
Topic: Big Blob of Herbal Babesia Treatments

Nobody
LymeNet Contributor
Member # 16041


posted

---

Here is my big mess of cuts and pastes from posts here on babesia treatments, mostly herbal, non-prescription stuff.
Thanks to Selma most of all

Maybe some posts on what combos everyone is using is in order?

One thought I'd like to add is if we could use a transfer factor (one that has babesia antibodies) as a combo-therapy with herbs to prevent resistance?

------------

Natural Babesia Treatment

Natural treatments:
1. cryptolepis
2. artemisinin
3. boneset tea
4. red root tincture
5. tonic water (the best option if you can find
diet one - without sugar)
6. KMT-24 machine
7. PC-Noni - there are many Noni juices, I think this one is right:
http://www.ink-stuttgart.de/wellness_produkte.php
It is only 30 ml, but people take only few drops per day. I don't know exactly how many drops.

Also:

- Alinia
- Nutramedix Quina
- Nutramedix Enula


Another possibility is heparin. Here is a study out of Japan from PubMed:

We examined the inhibitory effects of three heparins on the growth of Babesia parasites. The multiplication of Babesia bovis, B. bigemina, B. equi, and B. caballi in in vitro cultures and that of B. microti in vivo were significantly inhibited in the presence of heparins, as determined by light microscopy. Treatment with various concentrations of heparin showed complete clearance of the intracellular parasites. Interestingly, a higher percentage of abnormally multidividing B. bovis parasites was observed in the presence of low concentrations of heparin. Furthermore, fluorescein isothiocyanate-labeled heparin was preferably found on the surfaces of extracellular merozoites, as detected by confocal laser scanning microscopy. These findings indicate that the heparin covers the surfaces of babesial merozoites and inhibits their subsequent invasion of erythrocytes.
http://www.ncbi.nlm.nih.gov/entrez/query.fcgi?cmd=Retrieve&db=PubMed&list_uids=14693545&dopt=Abstract


Buhner is the one who recommends Boneset Tea and Red Root with Artemisinin. He now recommends cryptolepsis INSTEAD of Artemisinin. His recommendations for the main herb (Crypto or Art) are for relatively short periods of time--15 days to a month.

Personally, I think taking Artemisinin and Cryptolepsis at the sime time would be very risky.

Tonic water is very dilute and the PC-Noni is taken in very small doses. These would be easier to control and back off if needed. Also, these two are usually taken for a very long time. for example, PC-Noni is recommended by Dr. K to be taken for a YEAR!!

Buhner recommends Boneset and Red Root as adjuncts in treating Babesia for very specific reasons. Neither of them actually kill the parasite. From what I've read, people use the quinine water in a similar way--as a boost to whatever else they are doing to kill the Babesia, but how it works and what it actually does hasn't been really explained.



I have been using 300mg a day of artimisini for babs and have noticed that my sweats are decreasing. YaY!

I was wondering if there is anything else out there that can be used to treat babesia naturally in cogunction with artimisinin

- think Dr. Klinghardt (sp?) recommends using PC-Noni extract for one year. Biopure sells it.

There is one lymenetter, Selma, who has used it and found it effective. I just got some recently and started at only a couple of drops/day.

Seems to me to be a powerful supplement, and there is lots of info about noni on-line if you google search.


From Sforgen:

PC-Noni
Cryptolepsis
Researched Nutritionals LymPlus Transfer Factor
Cumanda
Banderol


Try testing cardamon seeds (in powder) for babesia cysts. I kept relapsing from babesia and cardamon did an excellent job on both killing cysts and cleansing (only muscle tested). You buy it in any natural food shop. I used it in my tea.

I did a combo of Noni tincture and cardamon seeds in powder for babesia cysts. This ended my eternal relapse on babesia.


My wife tested positive for Babesia and took Mepron/Zith last year for a few months. It failed to eradicate the Babesia.

My personal belief is that you need to treat Babesia for 12 to 24 months continuously in order to fully clear the parasites at all the hatching cycles. Obviously such a lenghty treatment would not be possible with Mepron/Zith because of the side-effects and insane cost. That's were herbs come in - they're relatively cheap and can be tolerated indefinitely.

My wife's been on Artemisia Annua tincture since January. Her Babesia symptoms have decreased by about 80 to 90% (Mepron/Zith never achieved this). She plans to continue for another year or more on it to make sure it gone for good.

There are other "add-on" herbs we are contemplating for her Babesia treatment which could act in synergy with the Artemisia Annua. We might start Myco Capsules from Raintree. It contains 7 or 8 South American herbs, several of them with known anti-malarial properties. We also recently purchased an anti fungal formula from "Quantum Herbal Products". It's a tincture containing around 15 herbs, many of which are anti-protozoan such as Pau D'arco, Olive Leaf, Neem, Oregano and several others.

So to all the Mepron/Zith flunkies: try a prolonged (12-24 months) multi-herb protocol, with a bit of switching-up/rotating between formulas (you might just eradicate other bugs in the process).


Research claims grapefruit juice TURNS off the enzime that destroys ART in the 4th day, so, if you drink a cup of that juice with your daily art, and you should take art every hour! Grapefruit juice messes with alot of liver enzimes so beware!
Anyway, so thats the way around that. Glucosmine is claimed to kill babsia I forgot how, its in the babs book. I also hear lyme loves it.


Quina , banderol ( nutramedix ) have also been suggested for babs , with enula.

Personally , I believe babs is my biggest problem. IMO , the worst herxes and the twitching sensations always come for me with
oil of oregano ( NOW product ) . I believe it kills babs .

There are 2 other people here who had SUCCESS with herbs from Seven Forest Formulas .

Other possibilities include cryptolepsis and teasel , andrographis .


Zhang:

"Artemesinin acts like a bomb. It has two oxygen atoms that break apart in the presence of iron. The malaria parasite inhabits a person's red blood cells, which are rich in iron. When an artemisinin molecule encounters the parasite, it explodes, releasing lethal toxins that destroy the parasite.

Zhang's dosage (**33mg arteannuin** in a 500mg herbal combo 3x 4 months)

Zhang- 500mg, 3xday;

"D. Clinical Applications:

1) Malaria

Clinically, while used for treating malaria, a 100% cure rate was achieved in 485 cases of tertian malaria and 105 cases of subtertian malaria. These two groups were all treated with the tablet made from the dilute alcohol extract of the herb at a total dose of 72 or 86.4 grams of crude herb in divided doses spread over 3 days. In comparison with chloroquine, the herbal preparations and arteannuin had fast-acting antipyretic and anti-plamodial actions. It can also be used for treating systematic lupus erythematosus. [30]

2) Babesiosis,

In my clinical application, usually one treatment course is 40 days. Most patient will see their Babesiosis title turns to negative after one course treatment. Very few people need a second course.


You could always try quinine and clindamycin -- much cheaper but many docs won't prescribe it.

Or maybe Alinia -- this is a parasite med that seems to work on Babesia. Not exactly cheap either, but may be less than Mepron. Seems to be working for hubby -- but he had had lots of previous Babs treatment.

Or do something like Flagyl and artemesia/artemesinin to see how bad your Babesia problem is before committing to one of the long-term pricier options.

Talk to both your pharmacist and LLMD -- there is almost always more than one option.

Hubby was allergic to Mepron. Would not recommend Larium although it was pretty cheap if I remember correctly -- hubby had too much anxiety/depression on that.

Another herb to try is Cryptolepsis. Hubby definitely herxed. Not sure if that alone with get Babs though.


Tosho, don't be crazy with quinine. Read previous about quinine (google). If you don't have babesia/ malaria, quinine can KILL you!

If you could test it before you give it a try, it would be great (ART).

I bought another malaria killer from Rain tree (called 'amargo'), it NEVER tested good (ART) for me so I never took it.

My first babesia went down with Riamet, artemisinin, pc-noni and B's protocol.

My approach this time with babesia is: artemisia annua, artemisinin, frozen garlic, gervao (from rain-tree too), phellodendron, gardenia, pc-noni, bee pollen ALL of them seem to get either babesia or babesia cysts (by muscle tests) - I dont take them all together, of course. Even astragalus tests like helping killing babesia for me this time!

Neem is another unexpensive herb that seems to help on babesia for some people, but it never tested good for me neither, so I never took it. I'm giving it to my cat, it seems to help his parasites!

The problem is not lack of good killers, it is if your body will accept that 'killer', if this killer will reach the places in your body that you need it (brain is the most difficult usually), if it's a good timing to use this now (or better wait)...

My opinion! Don't play with quinine, wait to test it!!! Can cause A-fib, heart problems, death...

Selma


Hi Ruth, This is Joyce the one taking Cryptolepsis. I am on my 3rd go round of it. I did at first take the suggested amount and it kicked my butt. I am now doing half the dose and its much more gentle. Since Bear Creek is out of it I am getting it from Woodland Essence 315-845-1515 . Buhner recommends Cryptolepsis if Art does not work. Hi Selma, I am glad to be back on line after 4 mo. Please E-mail me at my yahoo address. I lost all my addys. Blessings All Joyce


From Selma (hardynaka):

I think I got rid of my second babesial infection. At least, my lyme doctor couldn't find it anymore (nor me).

I only do energetic testing, and so does my doctor (ART), so skip the post if you don't believe on these types of diagnostic. I'm symptom free too, of course. No brain fog, no sweats, no change of body temperature, no hot flushes, etc.

I believe there are two levels to treat babesia: first is to kill lots of them, when you get next to symptom free; the treatment has to be aggressive. Second level is to try to get rid of cysts to avoid relapses; this is the most difficult in my opinion.

Then another thing to have in mind in my opinion is that babesia loves the intestines and it loves the brain. So we need things to kill on both.

My first babesial infection in 2005-2006 was treated with:
- Riamet (knocked all symptoms of 4 months very fast but I relapsed 2 weeks after); turmeric/ curcuma; artemisinin low doses 30 days (relapsed); artemisinin high doses 3 days then repeated 2 weeks later (relapsed and was sent to emergency with air hunger attacks); what finally did the trick was PC-Noni low doses for a few months. It's a cyst buster.

With this time infection, I couldn't get rid of relapses only with PC-Noni.
--------------------------

Here's more or less what I did for this time babesial re-infection. I started having night sweats and strong brain fog in the 2nd night after tick bite in May. I had nigh sweats every night for a while and that convinced me I had babesia again. ART tested positive (2 practioners) and my kinesiological tests too.

I took then (in May/part of June):
- homeopathic tick 'soup' from the tick that bit me (started potency 30C or so and went up to 65C) for about 2.5- 3 months

- ledum 200C - gets babs (few globules, once every couple of days)

- PC- Noni tincture (from Biopure, gets babs' cysts), 4-15 drops a day for about 3.5 months

- thyroid sarcode homeopathic for thyroid support (as my thyroid gets messed up everytime babesia is flaring, for about 3 months)

- iron supplements + iron homeopathic (also a babesial symptom; I get lower amounts of Ferritin in the blood very fast with babesia for 2.5 months)

- lots of cleansers: specially chlorella, bear garlic tincture, and loads of MSM, plus some lymph support (for that I use homeopathics mostly OR lymph drainage, but I keep reading red root can do wonders too). This mix of cleansers kept my brain functioning. Sometimes I added chitosan, mucuna bean powder (intestines) and Destroxin. And also a mystery oil (I will call it Endoflex, but I'm not sure, rubbed on skin).

- frozen garlic (gets babs in the intestines very well; but it doesn't cross B/B barrier according to my tests)- 3 "00" capsules a day, after meals. It tested very good for acute phase (middle term: about 1.5 months or so)

- gardenia decoction (it was my main babesia killer, together with phellodendron decoction) (amount: was about 10-15 'fruits' a day for about 3 months)

- phellodendron: gets babesia and other stuff, according to my tests it crosses b/b barrier. (I took decoctions for more than 2 months, 1-2 soup spoons). It has berberine as a chemical component (it gives to it its yellow color).

- Artemisia annua decoction: twice a day (it tests better than powder; I took it for less than 1 month; then was on and off when it tested, but not too much).[it can't be taken together with other decoctions]

- astragalus: on and off, tested good for babesia acute infection.

- KMT program 2 (babesia and borrelia). (on and off)

- bee pollen (helps to get bab's cysts; I took on and off, when it tested, short term)

- artemisinin low doses (about 300mg/400mg a day for about 5 days, then pause for 3 days then continue for about 3 weeks) (artemisinin doesn't get cysts)

- pau d'arco tincture tested once as babs cyst buster (but I didn't retest it to check; I use it still for candida; this time reinfection, it was useful, it tested on and off).

- grapefruit seed extract: tested as babs cyst buster too, but only in the GI tract (it doesn't cross b/b barrier); it never tests good for too long (few days only)

- gervao (rain-tree): gets babs' cysts: it tested very good as it gets so many other things, I took it for about 2 months (or more).

- neem tested good against babesia, but my body can't take it, so I didn't take it.

- cats claw + Japanese knotweed: always (I don't know if they get babs, but I was on these for the whole time).

-------------------------
In June, when I was getting desperate I couldn't get rid of babesia with low artemisinin again, I decided to do a high dose treatment of artemisinin (1,000mg/ day) and high doses turmeric (6 teaspoons/ day) in combo for 3 days, repeated in two weeks interval to lower the number of critters. Turmeric hits hard on the stomach, so I did with full stomach, while artemisinin I used with empty stomach.

First high dose treatment I herxed immensely. I felt very toxic. Second treatment, I almost didn't herx, nor felt ANY toxicity in 90% of the time (except for the first dose of 400mg artemisinin in the first day, then NOTHING in the following 2 days).

I also took pyrogenum 200K, as it tested good to get babs and babs' cysts (3 globules/ day for a week).

I thought I was rid of it, but symptoms came back fast after stopping artemisinin. In about 2 days, I felt fatigue, chills, brain fog, etc. Exactly like my first babesial infection. Babesia kept coming back and back again.

-------------
About July:
- amargo (rain-tree): gets babesia (it doesn't cross b/b barrier, it seems, only gets babs in the GI tract and in blood). [watch out for side effects though, better to test for each organ and use it only temporarily] It's used for malaria. It is to be used very short term (less than artemisinin). I took 2 "00" capsules if I remember well, but it's too strong.

- gervao + phellodendron continued

- turmeric lower doses

- pc-noni: 15 drops or so

- KMT program 2 on and off
----------------------------

The babesial load was much smaller by the end of July, but still there. That's when I discovered CARDAMON by chance. That was what was missing to get the rest of cysts this time.

I introduced cardamon seeds in powder (mixed in my tea, 2-3 times a day), and I think my babesia hated it. I felt my brain clearing while still having my cup of tea with cardamon.

Then few days on cardamom + pc-noni, I finally got an EM rash, which meant, borrelia surfacing again. Exactly like with my first babesial infection. Once I got it down (that time, only with PC-Noni), borrelia surfaced. This time, I needed the PC-Noni and the cardamon to get it down.

-------------
So AFTER the aggressive treatments above, my cyst treatment was:

- lonicerae caulis decoction: test good against babs and bart (I took it short term, about a week or so; it can be mixed with gardenia + phellodendron decoction).

- Allicin from Wonderlabs (2), milder than frozen garlic;

- cardamon in powder in my tea (2-3 times a day),

- ledum homeopathic 200K once every 3 days or so, 3-4 globules each time (tests against babs and borrelia) (it must have a 10 minute interval from everything else, before and after intake).

- Pc-Noni was testing at that time at about 15-35 drops a day (I put in a bottle and drank separately from cats claw; 2 times a day).

This is what did the trick this time. I'm not treating babesia since about middle of August.

But I know it can still be hiding as ALL of my other coinfections (and inclusive borrelia).

This IS a messy and long report! BAbesia was the most difficult coinfection for me to get rid of this time. I'm still crossing fingers for it not to come back as I HATE babesia!

Selma


NORTHSTAR: yes,it was complicated. I was on more than 40 different stuff a day (some taken 3 times a day or more) for about 2 months to get my acute infection down.

Herbs work well but mostly in combination (in my experience). Buhner thinks that too.

My lyme doctor said he had never seen another chronic lyme patient got well so fast after a strong reinfection. He was very surprised when he saw me last time. He thought he was going to find me in rags!

The only frozen garlic suppl I know is from Biopure/ INK (here in Germany). I don't know if there are others. I tried many garlic supplements, but that's the one that is certainly the strongest. Much stronger than pure garlic.

I think one would need to ingest so much garlic to get the effect of one frozen garlic capsule that we never really reach the amount, got it?

But garlic is not systemic (it doesn't reach everywhere). Buhner spoke about that. And in my kinesiological tests, it doesn't cross the b/b barrier. But it is still an excellent killer in the GI tract. The GI tract is one of the most infected places with babesia, in both my experiences with babesia.

But remember that I was infected in Europe, so my strain is probably the Bab. divergens (if my memory is good), different from the US strains (microti + others). It's worse than microti.

Try cardamon, it's such a common spice! Curcuma/ tumeric is harder on the stomach.

Good luck!


GARDENL, welcome! No I haven't tried cryptolepsis, it was on my list of next thing to buy in case I continued relapsing. If I get babs back, I think I'll give it a try, although it's a difficult herb to find.

But as it can only be taken short term (very strong), I suspect it gets only the active form of babesia (?)

I NEVER so far found anything that gets BOTH the active form of babesia AND cysts at the same time (except for homeopathy, because it works different than herbs/ medicine).

Neither for babs, or for borrelia. Never anything tested good for both borrelia cysts AND active form. It's either one OR another.

So, I'm just deducing that if cryptolepsis hits well babesia, it will be only in one form, which I suppose, it's the active form. You'll still need something for cysts. This is just a guess though!


OXYGENBABE, phellodendron is one of the herbs used by Chinese practioners to fight lyme disease.

Once I bought many of these lyme herbs from a Chinese shop at once, as they are unexpensive, and kept them in my herb closet. I kept taking them to my practioners to test before I learned to test myself. There are still many others to fight lyme.

Google 'phellodendron' and 'lyme', if you don't find anything, I can try to look into my archives! Just tell me.

I only recently discovered that what gives the yellow color to the decoction of phellodendron is berberine. Berberine is an antimicrobial chemical, lots of research on it. I was already taking phellodendron for a while when I read about that!!

It's a pretty easy herb, like gardenia and gervao, I mean, they didn't cause me any discomfort, side effects, nothing.

I owe this trio - gervao + gardenia + phellodendron - about 40-50% of my recovery from reinfection (mycoplasma, babesia, bartonella, candida, ehrlichia and borrelia). They were wonderful.

If you try it, please let me know. I'm sure 1stChinese shop have all.

As for borrelia resurfacing, I don't know why, but I have been having such experiences one after another in this recent reinfection. I knock one pathogen, I get new set of symptoms as other back stage pathogens come to front stage.

Two things happen once a pathogen is erradicated (or gone into backstage): my protocol changes very much from a day to another (things start to test 'no' and I get a need to change herbs) and new set of symptoms emerge. It's not a relapse, it's just new ecossystem balance.

Babesia was one of the last coinfections to have gone. Now I think I even don't have borrelia anymore (still early to know though), but I'm not taking anything that tests against borrelia nor borrelia cysts. I'm still in fight with different forms of candida (in my blood and in a tooth).

But who knows, when all candida are down, I'm still knocking on wood NOT to get borrelia or his friends back as they certainly can hide and wait better days to come out.

I'm AMAZED to see how these infectious agents live in symbiosis, trying to knock our immune system the best they can. They live pretty well inside the tummy of a tick, and when they infect us, they are still friends!!

Selma


Oxygenbabe, it takes lots of herbs to nail these critters. I guess you're on the right track too!

SUE: PC-Noni is from Biopure (biopureous.com, if I'm not mistaken). I only needed little of it, few drops a day but I had heard that some people need much more (in dropperfuls).

I also heard another person on another Noni tincture having good results (but I didn't try it myself).

The Noni tincture has to be taken away from cats claw / samento (about minimum 30 minutes, if I remember well). Noni works better with electrolytes (see Gigi's posts). I added Himalayan salt instead as the local dr. K's institute is not selling electrolytes anymore.

Gervao (rain-tree brand) was more multifactorial (got babs' cysts and many other tick born coinfections), so that's possibly the reason I didn't need much of PC-Noni either.

I hope this helps!
Selma


Eleutherococcus is testing as helping to awaken my immune system very well. A big help, it is the only herb that tested 'excellent' so far. I wonder if it is not one of the reasons of my body chasing the infections in my teeth roots...

Just bumping for people who kept asking me my babesia herbs.

I'm entering my 3rd month symptom-free. I'm off most herbs, except for astragalus and propolis.

I do believe cardamon + Noni tincture did a good job on the babesia as so far, no relapse. I was relapsing very fast every time I stopped killing babesia.

Selma


Hi all , Cryptolepsis did the trick for my Babesia. No relapse. I am still doing Buhner core protocal for Lyme and Aug added MMS which is really helping big time. I am not seeing any other lymies say this yet about the MMS. Not sure what its killing or oxidizing. Candida, heavy metals or other critters. I am so greatful. Its been a long hard 26 yr journey.


JYC, great news!!!! Happy for you. And great to see cryptolepsis worked. How did you take it? I know it needs pulsing. did you take it many times?

Do you think MMS is still getting babesia's cysts?

Were you symptomless from babesia BEFORE you started MMS?

Good continuation on healing!

SPOOKYDEW: I posted that before, it's self muscle test, kinesiology, supported by my lyme doctor and a naturopath that do ART.

I posted a site before, explaining how to learn by yourself. So far, no one else seemed to have mastered the techique though...

I don't do ART, I merely do muscle tests (but I get checked by these practioners). I'm learning more with DVDs and booklets from dr. K's courses, but I don't have all stuff to do ART (missing polarity filter, for example).

YANIV:

I don't know most of the herbs... And their names are not complete anyway (which polygonum, for example?).

I would first muscle test these, one by one. I never took a multi-herb product for fear of bad reaction to single components.

If you react badly, you'll never know from what. If you improve, too, how to pinpoint and choose what worked and take more of it?

In my experience, RIGHT DOSAGE is essential for improvement, so I can't see how to tune dosages with multiherbal products.

Having said that, there were some people here that improved CONSIDERABLY with Seven Forest products or other mixed stuff. So, who knows this could be still good for you!!?

Selma

---

Posts: 111 | From Nowhere | Registered: Jun 2008 | IP: Logged |

Keebler
Honored Contributor (25K+ posts)
Member # 12673


posted

---

-

Good discussion here.


I have a little different information than this for Dr. Z's tx time - but it may vary for each patient.


For babesia: His materials state: "Treatment course is approximately 40 to 80 days (usually prior to beginning main Lyme protocol).

The artmesia is an EXTRACT of the entire artemesia plant - and even in its formula with two other ingredients, it is NOT A STAND ALONE formula.

It is to be used with other formulas such as allicin so as to potentiate the action and guard against relapse.


www.sinomedresearch.org/ZCprotocols/formulas/Artemesia.htm

www.sinomedresearch.org/ZCprotocols/LD.htm#Lyme%20Flow%20Table

Note: allicin and Circ. P go along with the artemesia extract formula

(If these links require a password: try "clinic" and then "clinic" again - or contact www.hepapro.com

-

---

Posts: 48021 | From Tree House | Registered: Jul 2007 | IP: Logged |

Clarissa
Frequent Contributor (1K+ posts)
Member # 4715


posted

---

Excellent research and great resource.

Thanks so much!!

--------------------
Clarissa

Because I knew you:
I have been changed for good.




---

Posts: 1625 | From Florida | Registered: Oct 2003 | IP: Logged |

Keebler
Honored Contributor (25K+ posts)
Member # 12673


posted

---

-

www.rain-tree.com/chanca.htm


Stone Breaker (Chanca Piedra) might be interesting. I know I saw a citation at the end of an article on this - the citation mentioned use in babesiosis.

I am looking for that but it may take a while.


-

Ah-hah ! This is the article.

toward the very end of their citataions, in the section: Antiparasitic, Antimalarial, Wound-Healing, & Other Antimicrobial Actions: :

Subeki, S., et al. "Anti-babesial and anti-plasmodial compounds from Phyllanthus niruri." J. Nat. Prod. 2005; 68(4): 537-9.


-

---

Posts: 48021 | From Tree House | Registered: Jul 2007 | IP: Logged |

jl123
LymeNet Contributor
Member # 15594


posted

---

Nobody,

"Buhner is the one who recommends Boneset Tea and Red Root with Artemisinin. He now recommends cryptolepsis INSTEAD of Artemisinin. His recommendations for the main herb (Crypto or Art) are for relatively short periods of time--15 days to a month.

Personally, I think taking Artemisinin and Cryptolepsis at the sime time would be very risky."

My doc currently has me on both- but I can only take a bit of each before I get totally weak and have to go to bed. Why do you fell both at the same time are risky? thanks, JL

---

Posts: 268 | From new york city | Registered: May 2008 | IP: Logged |

Nobody
LymeNet Contributor
Member # 16041


posted

---

quote:

---

Originally posted by jl123:
Nobody,

"Buhner is the one who recommends Boneset Tea and Red Root with Artemisinin. He now recommends cryptolepsis INSTEAD of Artemisinin. His recommendations for the main herb (Crypto or Art) are for relatively short periods of time--15 days to a month.

Personally, I think taking Artemisinin and Cryptolepsis at the sime time would be very risky."

My doc currently has me on both- but I can only take a bit of each before I get totally weak and have to go to bed. Why do you fell both at the same time are risky? thanks, JL

---

Hi

Almost all of these posts are cut and pastes from other posts on lymenet (not my original material). I am just trying to put them all into one thread.

Searching on that text will give you the original post (and poster).

Just trying to put everything together.

---

Posts: 111 | From Nowhere | Registered: Jun 2008 | IP: Logged |
Contact Us | LymeNet home page | Privacy Statement

Powered by UBB.classic™ 6.7.3

---
The Lyme Disease Network is a non-profit organization funded by individual donations. If you would like to support the Network and the LymeNet system of Web services, please send your donations to:
The Lyme Disease Network of New Jersey
907 Pebble Creek Court, Pennington, NJ 08534 USA
http://www.lymenet.org/
---
Home | Flash Discussion | Support Groups | On-Line Library
Legal Resources | Medical Abstracts | Newsletter | Books
Pictures | Site Search | Links | Help/Questions
About LymeNet | Contact Us
---
© 1993-2020 The Lyme Disease Network of New Jersey, Inc.
All Rights Reserved.
Use of the LymeNet Site is subject to Terms and Conditions.
---