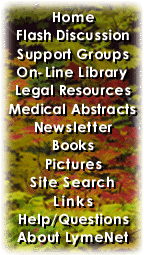 ---
LymeNet on Facebook
LymeNet on Twitter
---
---
The Lyme Disease Network receives a commission from Amazon.com for each purchase originating from this site.
When purchasing from Amazon.com, please
click here first.

Thank you.




Dedicated to the Bachmann Family


LymeNet needs your help:
LymeNet 2020 fund drive

The Lyme Disease Network is a non-profit organization funded by individual donations.

| | |
| --- | --- |
| | |
Author
Topic: Natural Medicines effect the liver?

jpsolitude
Junior Member
Member # 18267


posted

---

My mom had been prescribed Cat's Claw and Bromelean.
Are natural medicines harmful to the liver or kidneys? She is on about 4-5 prescription medicines in addition-for her heart and RA and I just want to make sure that she is not harming her organs.

---

Posts: 4 | From New Jersey | Registered: Nov 2008 | IP: Logged |

Keebler
Honored Contributor (25K+ posts)
Member # 12673


posted

---

-

I don't know what all your mother is taking but normal doses of these are much safer than most pharmaceuticals. If I had to narrow my support measures down to just one thing, (regular) Cat's Claw would be it, for sure. I find it fabulous.

Bromelain is a wonderful help in relieving pain and inflammation.


Some prescriptions should not be used with certain herbs. I assume the doctor has experience with blended, complementary medicine and has taken into account your mother's history and current prescriptions.

As well, being sure that the herbs are of top quality from certified sources is vital. It's not a place to cut corners (although one place to find good prices for good products is at www.vitacost.com ). I'm sure your mother knows how to select quality and her doctor, most likely, has suggested trusted brands.


You can read all about both Cat's Claw and Bromelain here:


www.ncbi.nlm.nih.gov/sites/entrez?db=pubmed

PubMed Search:

Cat's claw - 76 abstracts

Uncaria tomentosa - 103 abstracts

--

Bromelain - 1437 abstracts

--

Other medical abstracts of interest at PubMed:


Liver protective herbs - 27 abstracts

Neuroprotective herbs - 34 abstracts

Milk Thistle, liver - 118 abstracts


=========================

www.rain-tree.com/catclaw.htm


CAT'S CLAW (Uncaria tomentosa)

(Be sure to scroll all the way down to see links to a large body of 3rd-party research.)


======================

www.itmonline.org/arts/catsclaw.htm


Uncaria tomentosa (Cat's Claw)


---------

From the same site:

http://tinyurl.com/8a8e2m

Five articles either about or mentioning Bromelain.


=============


www.alantillotson.com/important-herbs/bromelain-enzyme-ananas-comusus.html


BROMELAIN ENZYME (Ananas comusus)


-=======================


You might want to save this to your file for future reference:


www.itmonline.org/arts/herbdrug.htm


THE INTERACTIONS OF HERBS AND DRUGS


Part Two:

www.itmonline.org/arts/herbdrug2.htm


Checking for Possible Herb-Drug Interactions


==============================
==============================


This book, by an ILADS member LLMD, holds great information about treatments options and support measures:


http://tinyurl.com/6lq3pb (through Amazon)


THE LYME DISEASE SOLUTION (2008)

- by Kenneth B. Singleton , MD; James A. Duke. Ph.D. (Foreword)

You can read more about it here and see customer reviews.

Web site: www.lymedoctor.com


========


http://tinyurl.com/5vnsjg


Healing Lyme: Natural Healing And Prevention of Lyme Borreliosis And Its Coinfections - by Stephen Harrod Buhner


web site options: www.gaianstudies.org/lyme-updates.htm


================

http://tinyurl.com/5drx94


Lyme Disease and Modern Chinese Medicine - by Dr. QingCai Zhang, MD & Yale Zhang


web site: try www.sinomedresearch.org and use "clinic" and then "clinic" for the passwords or call Hepapro through www.hepapro.com


==================

Also of interest:

www.itmonline.org/arts/neuro.htm


NEUROPROTECTIVE HERBS and Active Constituents: Approaches to Preventing Degenerative Diseases - by Subhuti Dharmananda, Ph.D.


-

---

Posts: 48021 | From Tree House | Registered: Jul 2007 | IP: Logged |

Keebler
Honored Contributor (25K+ posts)
Member # 12673


posted

---

-


www.vrp.com/articles.aspx?ProdID=art2218&zTYPE=2


Inflammation: Its Surprising Role in Everything from Depression to Insulin Resistance - By Kimberly Pryor


Excerpts:
. . .

Bromelain and papain have both been shown to increase levels of IL-6, thereby enhancing wound healing and tissue regeneration.15

. . .

Conclusion


Although the results of inflammation are often obvious when we cut our finger or sprain our ankle, a more silent and potentially lethal form of inflammation may be at work inside our bodies.


This chronic inflammation may be responsible for a variety of conditions, including heart disease, hypertension, diabetes, weight gain, cancer, arthritis, depression and Alzheimer's. Proteolytic enzymes provide one way to help control inflammation and strengthen our health.


- Full article and citations at link above.


============


www.vrp.com/Search.aspx?page=LIST&search_in=articles&free_text|1229830664487=Bromelain


Nine articles that detail or mention Bromelain's effects.


-

---

Posts: 48021 | From Tree House | Registered: Jul 2007 | IP: Logged |

Keebler
Honored Contributor (25K+ posts)
Member # 12673


posted

---

-

The books cited above will answer many questions about complementary medicine in the treatment of tick-borne infections.

THIS book will answer many questions about herbs in general.

This is not a book about lyme (it has only one reference to that with sarsaparilla/smilax). However, this is an excellent resource for learning about natural medicine. Much of the book is, generously, on line. I find having a copy on my desk to be a great reference tool - and I find it very interesting reading, in general.


http://oneearthherbs.squarespace.com

THE ONE EARTH HERBAL SOURCEBOOK

- by Alan Keith Tillotson, Ph. D., A.H.G., D.A, , Nai-shing Hu Tillotson,O.M.D., L.Ac. and Robert Abel Jr., M.D.

. . . a resource and learning tool for physicians and health care practitioners around the world who want to learn practical ways of solving complex health problems using natural methods.

--


www.amazon.com/One-Earth-Herbal-Sourcebook-Everything/dp/1575666170/ref=sr_1_1?ie=UTF8&s=books&qid=1229831827&sr=1-1

At Amazon, you can take a look inside the book and read customer reviews.


-

---

Posts: 48021 | From Tree House | Registered: Jul 2007 | IP: Logged |

Keebler
Honored Contributor (25K+ posts)
Member # 12673


posted

---

-

I just recall that you said your mother is being treated for RA. I assume you are here because YOU have lyme/TBD. However, has she been assessed for lyme and other tick-borne and chronic stealth infections?


Often, one or more of these can be the underlying cause of RA. A good ILADS-educated LLMD would know how to sort it out.


-

---

Posts: 48021 | From Tree House | Registered: Jul 2007 | IP: Logged |

luvs2ride
Frequent Contributor (1K+ posts)
Member # 8090


posted

---

Keebler,

You give the best posts. Please don't ever leave lymenet, not even after you are well. What a great resource you are.

jp,

I also have RA and can answer so much for you and your Mom. I was diagnosed lyme in 8/05 and I sought the opinion of two doctors. Both clinically diagnosed lyme and Igenix test found me CDC positive for having had lyme, but unsure if I have active lyme infection.

I began lyme treatment, first homeopathically and then with ketek and flagyl.

The homeopathy was extremely effective at clearing my migraines, brain fog, hearing loss and stiff neck. Only the stiff neck has ever returned and that is gone now too.

Unfortunately (depends on how you look at it) the homeopathy was very effecient at killing the bacteria but my body/liver was not very efficient at clearing the toxins. So, my whole body became horribly inflammed and I became housebound and helpless in just 5 short months.

Jan 06 I was diagnosed RA. The rheumy wanted to start me on methotrexate. I'm sure you know about this drug. I was so sick at this point, I felt I could die. I believed I had lyme and thought an immune suppressant like MTX would kill me. Literally.

I researched RA and right away found many potential causes and most with incredible research to back them up.

#1 Diet. www.drmcdougall.com has an excellent article titled "Hope for Arthritis". He promotes a vegan diet. You can learn all you need to know about this on his website for absolutely free. He says leaky gut is behind many cases of RA and if you have leaky gut, try a lowfat, vegan diet for 2 weeks. You will see SIGNIFICANT improvement in your RA symptoms. If you do not see SIGNIFICANT improvement, you do not have leaky gut.

Ok. I could certainly change my diet for 2 weeks and I was serious about it so I followed the diet religiously. I also emailed questions to Dr McDougall and he quickly replied. He made no money off of me.

Two weeks later I estimate my symptoms improved by 50%. It was visable to everyone. Prior to the diet, I could not stand on my swollen feet/ankles long enough to take a shower. After 2 weeks I was able to walk through a large airport to change flights and even took a 2 hr walking tour of a commissioned naval aircraft carrier. That was up and down ladders too.

My whole family changed their diet based upon my results.

#2 Infectious causes to RA. Tons, Tons, TONS of scientific research showing 3 principle bacterias 1-lyme 2-strep 3-mycoplasmas. You can learn all you need to know about this at the following sites.

www.roadback.org (this site has been having some technical difficulties and I'm not sure they have resolved yet)

www.arthritistrust.org

www.immed.org

If you and your mother will study these sites, you will be shocked and angered to see all the evidence supporting ongoing infectious causes to RA. Identifying and healing these infections puts RA into full remission 70% of the time.

MTX has a 40% success rate. hhmmmm.......

I don't understand the field of rheumatology. I can only assume their resistance to this approach has money lying at the root. Better profit in immune suppressing drugs that keep you coming back for more.

I did not have to remain vegan, but I do follow a mostly vegetarian diet with meat just a few times a week.

I decided right then and there that I was only going to work with doctors who had expanded their practice to include CAM (complementary and alternative) medicine. I needed to know if I had leaky gut, which the diet certainly indicated I had) and if I had heavy metal toxicity (mercury causes joint pain) what about my root canal teeth and I needed tests for mycoplasmas and strep. I already had the lyme test.

Two biological dentists identified the same 3 out of 5 root canals as infected. Also one of my two cavitation cites from where my wisdom teeth had been pulled was infected and both dentists identified the same site.

I am certain infection resides in my teeth but as of today, I simply have not done anything to my teeth other than remove the remaining amalgam fillings and replace them with resin.

I am living a mostly painfree life today and my RA is nearly dormant.

I found a wonderful GP CAM doctor who tested me for leaky gut, heavy metal toxicity and parasite and bacteria. He did not run tests that would identify which bacteria because he does not use antibiotics. He really hates antibiotics. He believes in bringing the body back into balance and then the immune system deals with the bugs.

So in 2/06 I began a journey of trying to heal myself. I really saw myself as the person in charge and the doctors were my team of advisors and healers. They were working for me, I was not thier puppet. If a doctor didn't want to work with me this way, goodbye.

I was very angry and determined at this point. I am a horserider. RA was going to take that away from me, but not if I could help it. I made a list of every possible cause to RA and I went in search of doctors and dentists to help me determine which of these causes related to my illness.

If I had not done this, if the internet did not exist, I am certain I would be in a wheelchair today.

The very first step I took was to go to my pastor and request the elders annoint me with oil. This is biblical. God is the great physician. There is so much biblical instruction on how to be well and how to get healed.

I prayed without ceasing for God to heal me of this horrible disease. Of course the rheummy pooh-poohed all the research behind possible causes to RA. He didn't care that I had a lifelong history of infections including strep throat every year of my life as a child.

He didn't care about the diet improvements even though they were clearly visable to him. He kept saying there is no scientific proof of a diet connection. He said that infection probably did start the RA but the infection is gone and I am left with RA. He said this without any tests. I just stared at him all redfaced from yelling at me and I thought "you have already told me that you do not know what causes RA and that you do not know how to cure it but you can try to slow it down". How dare you put down all the research and results other doctors have had over the years. Bonifide research from respected medical universities like Brown University under rheumatologists who are willing to research like Dr. Thomas M. Brown.

I didn't argue with him, I needed him to prescribe low dose minocycline. I hadn't yet met the wonderful dentists and doctors who were going to save my life. At this moment, I had #1 God, #2 information from the internet and books #3 my own knowledge about my body.

He angrily agreed to prescribe 6 mths worth of minocycline but he refused to test me for mycoplasmas and strep. It took me a year before I found a rheumatologist who ran those tests for me. I am soooooo heavily infected with mycoplasmas I should pursue a lawsuit.

I grabbed that prescription for mino and went in search of professionals who could actually help me.

First I found the dentist and had my amalgams removed. He referred me to a physician who identified high levels of lead and mercury. This physician began to slowly detox me. We had to go so super slow, but one year later the rheumatologist (the screamer) diagnosed me nearly dormant. He was humble enough to acknowledge that whatever I was doing it seemed to be working.
I had gone from severe to weak positive in just one year.

At that point, I learned of the rheumatologist who is lyme literate and believes in infectious causes to RA. She ran the tests and determined I have M. pneumoniae, CPN, EBV, Babesia duncani, H. Pylori.

She started me off on antibiotics and I just got better and better. She also practices CAM medicine and fine tuned all the orginal physician had been doing.

After 7 mths though, things began to reverse and inflammation started coming back into my body. I said at this point that I did not believe I detox very well.

We ran the DetoxiGenome test which is a gene test. It showed that I am a very poor producer of glutathione. Out of the 6 genes needed to make this life saving amino acid, I only had 5 and of those 5 only 2 were functioning normally.

The first CAM physician was giving me IVs of glutathione. Cruciferous vegetables help the body produce glutathione. I had also been supplementing NAC which is a glutathione precursor (primes the body to produce glut)

So, are you following my picture?

#1-Vegan diet was so effective for me because it increased my glutathione production.

#2-Removing mercury source stopped one of the toxin sources.

#3-detoxing me with glutathione and other supplements was removing the toxins from my body that were actually causing my RA inflammation.

#4-High doses of Abx which initially made me feel better, eventually began to contribute to my toxicity due to killing of bugs and the toxic properties of the abx themselves.

My rheumatologist looked at my gene test and said "I have been poisoning you". Yep. So had every other physician my entire life who had prescribed me abx after abx after abx. I was sick in the first place with every bacteria that came down the pike because of my poor ability to produce glutathione. Then all the toxins kept building up inside me until my immune system collapsed.

Read this literature about glutathione. People whose body's produce high levels of glutathione live healthy lives. They bounce off every disease. People who are sickly and especially chronically ill people, produce very low levels of glutathione and become toxic. They can't clear pathogens from the body.


http://www.vrp.com/articles.aspx?page=LIST&ProdID=1181&qid=&zTYPE=2


http://www.leakygut.co.uk/index.htm

See why the first CAM physician had such good results? See why I am certain methotrexate would have killed me? And see why the homeopathy and ketek and flagyl just added to my problems?

Killing the bugs was just putting more toxicity into my body as well as the toxicity of the drugs themselves.

Today, my rheumatologist uses only herbal alternative treatments for me and I am 100% normal painfree life. I ride my horses as much as my busy life allows. I tend to them daily including pitching around 35 to 45lb bales of hay.

We do a little bit of killing and a whole lot of detoxing.

Glutathione suppositories have replaced the IVs and I will take them the rest of my life.

I eat a diet rich in nutrients to keep my immune system strong and my body detoxing optimally.

I praise God every day for guiding my healing.

If your mother wants to get well, she has got to get away from standard rheumatological care. They will put her in a wheelchair.

BTW, my doctor will use abx and biological medicine as needed. She is a rheumatologist who is lyme literate and beleives in identifying and resolving your triggers so you can put your RA into remission and keep it there.

The first CAM doctor saved my life by detoxing me when I was life-threateningly toxic and my current LLMD is taking me all the way back to good health.

PM me if your mother would like a second opinion from my doctor. She practices just outside D.C.

If you are too far away for that, here are some good websites for finding a CAM doctor. Above all else, your mother must become the leader of her healing and I hope she will seek God's healing.

Jehovah Ropheka...The God who Heals!

www.acam.org
www.functionalmedicine.org

Luvs

--------------------
When the Power of Love overcomes the Love of Power, there will be Peace.


---

Posts: 3038 | From america | Registered: Oct 2005 | IP: Logged |

luvs2ride
Frequent Contributor (1K+ posts)
Member # 8090


posted

---

As to alternative medicine and your liver,

Natural herbs do not have toxic side effects like antibiotics do. (Unless of course you ingest a toxic herb like arsenic )

Anything that kills though is going to produce toxic die off from the bug and herbs will do this as well.

My doctor has me on Liver PF by Jarrow, Maiden Berber and White Mallow all to protect my liver. She has me taking some detoxing herbs that encourage sweat.

By sweating, I detox through the skin and this takes some burden off the liver and kidneys. That is why FIR saunas can be so good for you, but be careful.

If your mom is very toxic and is poor at detoxing, something as strong as a sauna can pull too much toxin and instead of removing it from her body, it may land somewhere else in her body and make her seriously sick.

I learned early on to follow my doctor's protocol and stay away from all the recommendations I read here and elsewhere on the net. If something sounds promising, I run it by my doctor first.

--------------------
When the Power of Love overcomes the Love of Power, there will be Peace.


---

Posts: 3038 | From america | Registered: Oct 2005 | IP: Logged |

MariaA
Frequent Contributor (1K+ posts)
Member # 9128


posted

---

wow, these are great posts with a lot of information. Thank you, Keebler and Luvs2ride for posting all of this. I'm adding this one to the Herbal Links thread (see my signature for link to it).

Correction, though- it IS possible to get liver toxicity by using herbs, but it's not very common. For any drug regimen with a lot of antibiotics or other drugs, you probably want to get liver enzyme levels checked regularly, this is something your doctor can tell you more about. Usually herbs are not a problem.

--------------------
Symptom Free!!! Thank you all!!!!

Find me at Lymefriends, I post under the same name.
diet: http://lymefriends.ning.com/group/healthylowcarbrecipes
Homemade Probiotics thread
Herbal Links Thread


---

Posts: 2552 | From San Francisco | Registered: Apr 2006 | IP: Logged |

MariaA
Frequent Contributor (1K+ posts)
Member # 9128


posted

---

offtopic to the original question: What do glutathione suppositories cost you per month? I have a glutathione production problem and havne't really addressed it other than with glutathione precursors, but I'm going to have to start doing more to deal with the problem soon.

--------------------
Symptom Free!!! Thank you all!!!!

Find me at Lymefriends, I post under the same name.
diet: http://lymefriends.ning.com/group/healthylowcarbrecipes
Homemade Probiotics thread
Herbal Links Thread


---

Posts: 2552 | From San Francisco | Registered: Apr 2006 | IP: Logged |
Contact Us | LymeNet home page | Privacy Statement

Powered by UBB.classic™ 6.7.3

---
The Lyme Disease Network is a non-profit organization funded by individual donations. If you would like to support the Network and the LymeNet system of Web services, please send your donations to:
The Lyme Disease Network of New Jersey
907 Pebble Creek Court, Pennington, NJ 08534 USA
http://www.lymenet.org/
---
Home | Flash Discussion | Support Groups | On-Line Library
Legal Resources | Medical Abstracts | Newsletter | Books
Pictures | Site Search | Links | Help/Questions
About LymeNet | Contact Us
---
© 1993-2020 The Lyme Disease Network of New Jersey, Inc.
All Rights Reserved.
Use of the LymeNet Site is subject to Terms and Conditions.
---