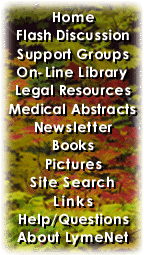 ---
LymeNet on Facebook
LymeNet on Twitter
---
---
The Lyme Disease Network receives a commission from Amazon.com for each purchase originating from this site.
When purchasing from Amazon.com, please
click here first.

Thank you.




Dedicated to the Bachmann Family


LymeNet needs your help:
LymeNet 2020 fund drive

The Lyme Disease Network is a non-profit organization funded by individual donations.

| | |
| --- | --- |
| | |
Author
Topic: Made a BIG connection!

Marnie
Frequent Contributor (5K+ posts)
Member # 773


posted

---

I couldn't sleep and have been up researching for awhile.

Now...I've been back thinking about the Western Fence Lizard and feeling very strongly that it IS melatonin produced by that lizard that is capable of knocking off Bb.

Okay...melatonin chemical structure has what is called an "indole"...stay with me...this is hydrogen with a double bond to nitrogen...H=N

The nitrogen is just sorta "sticking" out there.

It is believed this is the "antioxidant" part of melatonin.

Now...indoles apparently trigger bicarbonate release..which makes sense...this pathogen -> acidosis, metabolic. The bicarbonates can help correct this.

Now what is it about melatonin ...what does it take to MAKE melatonin...and what does Bb need?

Melatonin is synthesized (made) by the pineal gland and retina. It is the chemical messenger which allows seasonal animals including man to perceive day length changes.

It is derived from serotonin by an acetylation catalyzed by serotonin N-acetyltransferase to form acetylserotonin.

Next, it is methylated to melatonin. The methyl group is donated from S-adenosylmethionine and the reaction catalyzed by N-methyltransferase.

So...serotonin + N-acetyltransferase + N-methyltransferase = melatonin.


HERE COMES THE REALLY IMPORTANT STUFF:

The critical (rate limiting) step in melatonin's synthesis depends on N-acetyltransferase.

B. burgdorferi Enzyme: acetyl-CoA C-acetyltransferase / 3-ketoacyl-CoA thiolase

There are two conserved cysteine residues important for "thiolase" activity.

The *first* located in the N-terminal section of the enzymes is involved in the formation of an acyl-enzyme intermediate;

the second located at the C-terminal extremity is the active site base involved in deprotonation in the condensation reaction.

Now...go back up...see where

Bb's enzyme is C-acetyltransferase

and

the enzyme in melatonin is N-acetyltransferase.

Yup ...it IS the ``indole'' or the H=N...more specifically...it's the nitrogen...

Looks to me like Bb doesn't particularly like nitrogen.

While there is much nitrogen in the air we breathe, we cannot utilize it...it is taken up in plants, animals eat plants and we eat both to get the nitrogen.

Now...nitrogen is high in proteins. Proteins are made from amino acids.

Is there a particular amino acid that is needed...yup.

This diurnal variation in melatonin synthesis is brought about by

norepinephrine

secreted by the postganglionic sympathetic nerves that innervate the pineal gland. The effects of norepinephrine are exerted through interaction with b-adrenergic receptors. This leads to increased levels of cAMP, which in turn activate the N-acetyltransferase required for melatonin synthesis. Melatonin functions by inhibiting the synthesis and secretion of other neurotransmitters such as dopamine and GABA.

The majority of tyrosine that does not get incorporated into proteins is catabolized for energy production. One other significant fate of tyrosine is conversion to the catecholamines. The catecholamine neurotransmitters are dopamine, norepinephrine, and epinephrine.

Remember the Tyrosine, or L-Tyrosine NFkB connections? Tyrosine is the only one on the list that is directly connected to norepinephrine.

Now...can you say ``Cheese''?

Tyrosine (from the Greek tyros, meaning cheese, as it was first discovered in cheese).

Go here to learn more about tyrosine (see the thyroid and ``kinase'' links?):

http://www.en.wikipedia.org/wiki/Tyrosine


Acetylcholine and noreinephrine are the to major neurotransmitters present in BOTH the brain and body (more ...many more in the brain).

Tyrosine -> norepinephrine -> N-acetyltransferase.

BINGO.

Don't you dare ask me how much, how often...I don't have a clue. Get your doctor's help with this esp. the LLMDs who already "get" the Mg connection...they are up to speed.

P.S.

Nitrotyrosine is an oxidative stress marker. I think our body was trying to help out...maybe?

"Tyrosine nitration has been shown to be commonly found in a large number of diseased tissues including amyotrophic lateral sclerosis (also known as Lou Gehrig's disease), atherosclerotic arteries, lungs of septic and ARDS patients, multiple sclerosis, Alzheimer's disease, and Parkinson's disease (1)."

http://www.upstate.com/misc/protocols.q.prot.e.ihcnitrotyrosine/
Immunohistochemical+Methods+
to+Detect+Nitrotyrosine

(I wrapped the link...if you want to go there, highlight it, cut and paste it and drop it into your search engine.)

[ 24. July 2006, 12:37 PM: Message edited by: Marnie ]

---

Posts: 9402 | From Sunshine State | Registered: Mar 2001 | IP: Logged |

just don
Frequent Contributor (1K+ posts)
Member # 1129


posted

---

Marnie and others,

OOPs, I was following then I got lost again. Can anybody detone this for us mind impaired beginners.???

I was with you when you were talking nitrogen. I understand THAT part. I am sure you understand this BUT nitrogen is what the body collects when scuba-deep sea diving(being a former one). Maybe thats the connection of the scuba diver herxing at depth or exertion at depth. And the key ingredient in the Hyperbaric chamber dives!! Coming up TOO fast causes the "bends" where the nitrogen cant get out of the body fast enough and causes air embolisms and painful death,, in your lungs(those little sacks arent too strong)and they pop.

--------------------
just don


---

Posts: 4548 | From Middle of midwest | Registered: May 2001 | IP: Logged |

robi
Frequent Contributor (1K+ posts)
Member # 5547


posted

---

How much.How often? ok,ok I just HAD to do that.

So which LLMD's really know about this line of thinking??

Marnie, thanks once again for your brilliance

robi

--------------------
Now, since I put reality on the back burner, my days are jam-packed and fun-filled. ..........lily tomlin as 'trudy'


---

Posts: 2503 | From here | Registered: Apr 2004 | IP: Logged |

SuZ-Q
LymeNet Contributor
Member # 5903


posted

---

Marnie,

Where does MSH (melanocyte stimulating hormone) come into play with this? My doctor says that it is involved in the production of melatonin. My daughter and I are extremely deficient in MSH and wonder what impact that has.

Keep up the good work. I so admire you and the research you have done.

Thanks,
Suzy

---

Posts: 260 | From Virginia | Registered: Jul 2004 | IP: Logged |

Catsmeow
Member
Member # 9485


posted

---

Marnie: I'm too neurologically impaired to follow this.

For someone as far gone as I am...does this simply mean I should take lots of melatonin?

It seems that when I took large amounts of melatonin a few years ago, I felt better. Now, I feel horrible.

Maybe I'll go buy a ton of melatonin and start taking it again. Perhaps it will help ...

[ 24. July 2006, 01:09 PM: Message edited by: Catsmeow ]

---

Posts: 47 | From New Mexico | Registered: Jun 2006 | IP: Logged |

Marnie
Frequent Contributor (5K+ posts)
Member # 773


posted

---

I added a P.S. to the original post.

I have "heard" some of your LLMDs recommend Mg...those are the docs who are on top of research.

Share the info. with them and the website I linked re: chronic infections...this gal knows why (the NFbK info).

No...do NOT load up on melatonin or take tyrosine without checking with your doctor!!!

There are some conditions and some drug interactions with this "nonessential" amino acid.

Tyrosine competes with other Large Neutral Amino Acids (LNAAs) for transport across the blood-brain-barrier.


Re: "suntans"...

Melanin and melatonin

Any of these factors are dramatically intensified with even mild sun exposure.

In the specialized cells in the dermis called melanocytes, the chemical tyrosine is converted to DOPA, which is then coupled with proteins to produce melanin, the pigment responsible for skin color.

Melanin, the pigment responsible for dark skin in some peoples and for tanning after exposure to sunlight in light-skinned peoples, is produced from the

"natural" indole

and amino acid, tryptophan.

Melatonin, which is synthesized by our bodies only in the dark, blocks the synthesis of melanin.

Other structurally-related compounds have the potential for either blocking or mimicking melatonin depending upon the ligands that are attached either to the indole or to a related functional group (teleocidins or ethoxyquin, respectively).

It is interesting that the teleocidins promote skin cancer while

other indoles inhibit the induction of neoplasia.

It is also interesting that ethoxyquin shares antioxidant properties with melatonin, but that the non-nutritive preservative has toxic side effects.

Melanosomes from human skin have been shown to inhibit micro-organisms in laboratory tests.

Dr Mackintosh said: "Melanin is a sticky molecule. The bacteria and fungi get all tangled up and it stops them from proliferating."

Also, a protein called attractin is known to regulate both melanisation and immunity in humans, suggesting a link between the two.

http://cogweb.ucla.edu/ep/Melanin.html

Just Don...for whys of scuba-nitrogen and airplanes:

http://en.wikipedia.org/wiki/Decompression_sickness

---

Posts: 9402 | From Sunshine State | Registered: Mar 2001 | IP: Logged |

dontlikeliver
Frequent Contributor (1K+ posts)
Member # 4749


posted

---

Marnie,

I really appreciate all the research you do and the effort you put into sharing with us - but I simply cannot take it in/understand it, maybe due to the fact I don't have a chemistry/biology/medical background.

DLL

---

Posts: 2824 | From The Back of Beyond | Registered: Oct 2003 | IP: Logged |

Marnie
Frequent Contributor (5K+ posts)
Member # 773


posted

---

Mg = Magnesium.

---

Posts: 9402 | From Sunshine State | Registered: Mar 2001 | IP: Logged |

mlkeen
Frequent Contributor (1K+ posts)
Member # 1260


posted

---

OK here is my take from pondering Marnie's research.

We have known for a long time that Mg(magnesium) is needed. Marnie has written in detail why. All I need to know is that it is needed by the nervious system to heal and that it alkalines the body, assiting yeast and mold( and maybe bacteria and viruses) to die. I think the alkalining part is vital, because it ties to the healing of the gut which is needed for the body to heal.

My llmd has recommended meletonin, NO MORE THAN 1/2 mg at a time, to help with sleeping. I add this because he has said the 3 mg tabs that are sold are way to much and can be dangerous. This is not something that you want to take too much of. If you add a small amount of mg and zinc with it works better. I forget why.

We know that if it is not pitch black when we sleep and dim near bedtime the body doesn't make melatonin well.

Solution- wear a sleep mask, like the movie stars, to keep out all light. Since I generally fall asleep ok but don't stay asleep, (clock light, street light, cars going by ihibiting melatonin) I take my dose now when I stir in the night. I have been trying the mask for about two weeks and do sleep longer. Sometimes I wake up but do go back to sleep. Sometimes the mask if off in the morning, but I was sleeping so who cares at that point.

Could it be as simple as blocking ALL light from the retina when we sleep to make enough melatonin?

I am mostly better so sleep issues are not a huge issue except at full moon, maybe because all the extra light comes in my room?

Please correct or add to these thoughts as needed.

Mel

---

Posts: 1572 | From Pa | Registered: Jun 2001 | IP: Logged |

Marnie
Frequent Contributor (5K+ posts)
Member # 773


posted

---

In the daylight...when exposed to the "blue" in light (which we can't see..all by itself):

In addition, the blue wavelength was more effective in

decreasing melatonin levels in the former (plasma)

and

increasing the levels in the latter (eye).

Nevertheless, red light at sufficient intensity proved effective at significantly suppressing circulating melatonin.

PMID: 11841598


We actually start the shift back from serotonin to melatonin to when the sun goes down...not with Jay or David ;-)

(But then we invented lightbulbs.)

We were made to get up with the sun...go to bed when it gets dark.

Okay...it is not melatonin...the complete hormone that is helping fight this infection, it looks to be a PART of it. An "indole" with "N" sticking out...

Bb contains C-acetyltransferase
Melatonin (to be made) involves N-acetyltransferase.

What a difference a "N" makes.

From the "nonessential" amino acid, tyrosine -> norepinephrine -> N acetyltransferase.

Mg is needed to make antibodies (with Ca...calcium's help)

Mg is needed to MAKE all proteins...including hormones, and enzymes.

Mg is needed to stimulate DNA REPAIR

Mg can displace zinc (Zn)

Mg can INactivate HMG CoA reductase and halt VLDL (very low density lipoprotein) release in the liver...halting excess cholesterol...the bad kind (we will still get cholesterol from foods)

Mg INactivates PFK...helps control sugar levels

Mg and ONLY Mg is attached to our energy transporter, ATP.

The list goes on and on...

---

Posts: 9402 | From Sunshine State | Registered: Mar 2001 | IP: Logged |

Bothrops
LymeNet Contributor
Member # 7393


posted

---

What does the w. fence have that the e. species does not? Or how about the green anole or whiptails, racerunners, etc. Why all the talk about the western species?

---

Posts: 208 | From Greenville SC USA | Registered: May 2005 | IP: Logged |

Penn92
LymeNet Contributor
Member # 9207


posted

---

quote:

---

Originally posted by mlkeen:
My llmd has recommended meletonin, NO MORE THAN 1/2 mg at a time, to help with sleeping. I add this because he has said the 3 mg tabs that are sold are way to much and can be dangerous. This is not something that you want to take too much of. If you add a small amount of mg and zinc with it works better. I forget why.
Mel

---

Just wanted to clarify that zinc should be taken VERY separate from melatonin. It inhibits melatonin's absorption or some such thing.

I take zinc in the morning with breakfast and take melatonin at night - 2 mg. right now, but will cut back to 1 mg. soon. For me, the melatonin has made a big difference in clearing brain fog and thinking abilities.

I'll ask my LLMD about all of this deep science stuff next visit.

--------------------
Getting older is when we would rather not have a good time
than have to get over it. - Oscar Wilde


---

Posts: 386 | From Radnor, PA - where the ticks run free | Registered: May 2006 | IP: Logged |

Marnie
Frequent Contributor (5K+ posts)
Member # 773


posted

---

"Lyme disease spirochetes were *more prevalent* in sand lizards (Lacerta agilis) and common wall lizards (Podarcis muralis) than in small rodents.


At our central European study site, lizards, which were previously considered zooprophylactic for the agent of Lyme disease, appear to perpetuate B. lusitaniae."

PMID: 16820453

Definition of zooprophylactic:
*protective attribute conveyed by an animal *
that diverts a vector from contact with a person or other reservoir host

So it looks like they thought all lizards could prevent transmission by the infected ticks feeding on all lizards...NOT.

So far...only the Western Fence Lizard.

Interesting...the 2 above lizards are "day feeders".

I've already contacted a bat expert re: do they make melatonin...nope.

A couple of weeks ago, I had my dog in at the vet and the gal at the desk and I got to talking about lyme. She said that in all the years she worked in Florida (several) she had NEVER seen a dog with lyme that DIDN'T come from up north.

What is protecting our animals down here from getting lyme?

Not alligators.

Science. 1980 Oct 31;210(4469):548-50.

Nonpineal melatonin in the alligator (Alligator mississippiensis).

Roth JJ, Gern WA, Roth EC, Ralph CL, Jacobson E.

All living and most fossil representatives of the reptilian subclass Archosauria lack pineal bodies.

Arrhythmic, low-level, nonpineal melatonin is present, however, in the blood of Alligator mississippiensis.

Although pineal bodies have been implicated in circadian phenomena, these results suggest that arrhytmic melatonin in alligators may not be involved incircadian events and indicate that the pineal is not the only source of the hormone melatonin.

The evolutionary loss of the pineal in Archosauria occurred during the Mesozoic, and era noted for its seasonal stability. Arrhythmic melatonin titers inalligators and pineal loss in alligators and other archosaurs may be related to Mesozoic seasonal stability.

PMID: 7423204

Our very noisy frogs?

---

Posts: 9402 | From Sunshine State | Registered: Mar 2001 | IP: Logged |

treepatrol
Honored Contributor (10K+ posts)
Member # 4117


posted

---

Adding in Link from Marnies post:
Marnies And the winner is...

It's a battle...

Acetylcholine versus all the other neurotransmitters.

"***Except for acetylcholine***, all biogenic amines are derived from

***aromatic amino acids tryptophan and tyrosine.***"

What is life link

Pay really close attention when I do this ***

Note: You canNOT take tryptophan/5HTP IF you are already on SSRIs (Prozac and the like).

Do NOT ask me doses, timing, etc. of tyrosine and tryptophan. I don't have a clue...okay, I really do...they are supposed to be taken at bedtime so tyrosine doesn't have to "compete" with all the other amino acids.

The key is one "nonessential" amino acid (tyrosine)..the runt of the litter...the last to go into the brain working together with all that sleep inducing "turkey" (the tryptophan in turkey is what makes us sleepy after Thanksgiving dinner).

A day to be truly thankful...tryptophan looks to supply the "indole".

It appears to me that Bb... by using Acetyl CoA and C acetyltransferase...is forcing the formation of acetylcholine. It is going up...and the other neurotransmitters HAVE to compensate to "downregulate" this.

Now when acetylcholine is made...it works for a short time and then is broken down (this is happening very fast -made, broken down, made). When acetylcholine is broken down choline is available...which would make Bb a happy camper.

Bb cannot break down acetylcholine. If it wants choline, it is forcing us to make it, forcing US to break it down...thus supplying choline.

That is extremely simplified.

Bb does NOT have a tyrB gene...that, is tyrosine.

Ancora Imparo.

--------------------
Do unto others as you would have them do unto you.
Remember Iam not a Doctor Just someone struggling like you with Tick Borne Diseases.

Newbie Links


---

Posts: 10564 | From PA Where the Creeks are Red | Registered: Jun 2003 | IP: Logged |
Contact Us | LymeNet home page | Privacy Statement

Powered by UBB.classic™ 6.7.3

---
The Lyme Disease Network is a non-profit organization funded by individual donations. If you would like to support the Network and the LymeNet system of Web services, please send your donations to:
The Lyme Disease Network of New Jersey
907 Pebble Creek Court, Pennington, NJ 08534 USA
http://www.lymenet.org/
---
Home | Flash Discussion | Support Groups | On-Line Library
Legal Resources | Medical Abstracts | Newsletter | Books
Pictures | Site Search | Links | Help/Questions
About LymeNet | Contact Us
---
© 1993-2020 The Lyme Disease Network of New Jersey, Inc.
All Rights Reserved.
Use of the LymeNet Site is subject to Terms and Conditions.
---