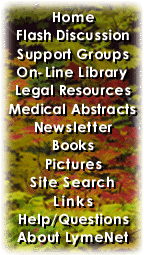 ---
LymeNet on Facebook
LymeNet on Twitter
---
---
The Lyme Disease Network receives a commission from Amazon.com for each purchase originating from this site.
When purchasing from Amazon.com, please
click here first.

Thank you.




Dedicated to the Bachmann Family


LymeNet needs your help:
LymeNet 2020 fund drive

The Lyme Disease Network is a non-profit organization funded by individual donations.

| | |
| --- | --- |
| | |
Author
Topic: Lots of questions...spirochete? bacterium? parasite? and respective treatments?

aMomWithHope
LymeNet Contributor
Member # 19255


posted

---

I'm hoping someone with better scientific knowledge and understanding can help me better understand Lyme, Bartonella, and Babesia.

Lyme is a spirochete bacterium, right?

Bartonella is also a bacterium, but not a spirochete, right?

Babesia is a parasitic disease, right?

Lyme is so difficult to treat because of the spirochete and its ability to change forms into the cell wall deficient and cyst form and because it is slow and/or has a long lifespan.

Bartonella is not a spirochete, so why is it so difficult to treat?

Same question with Babesia. If it is a parasitic disease, why can't it easily be treated?

Or is it rather that Bart and Babs are fairly easy to treat ONCE they are diagnosed. It is just that many people aren't diagnosed properly with them?

Is it true that once these co-infections are treated and "cured" then Lyme can be treated more fully and effectively?

So, co-infections should be treated first?

Which of the two--bart or babs--should be treated first? Or is treatment based on which symptoms are showing more prevalent?

It seems that Lyme being curable is debatable.

What about the co-infections? Are they definitely curable or also in the possibly "curable" category?

Sorry for all the questions. Just trying to completely understand what my daughter's future and treatment may involve.

Thanks.

---

Posts: 648 | From northeast | Registered: Feb 2009 | IP: Logged |

aMomWithHope
LymeNet Contributor
Member # 19255


posted

---

Anyone? I'm sorry if I sound so naive, but I am!

Just trying to learn as much as I can about all this.

Thanks again for your patience.

---

Posts: 648 | From northeast | Registered: Feb 2009 | IP: Logged |

nenet
Frequent Contributor (1K+ posts)
Member # 13174


posted

---

Hey aMom,

I don't think anyone thinks it's a naive question at all, it's just a lot of very complex deep questions all at once, and a bit daunting to try to respond to.

I don't know whether you will be able to gether enough responses in this thread to properly answer your questions, because they are so complicated. But we can try to point you in a good direction for more info as well.

One thing I can respond to definitively is there is NO cure for Lyme. It is called remission, and it can come back (relapse) later due to stressors or another sickness or sometimes seemingly out of the blue.

Many people who have managed to reach remission once and then relapsed, find that it is much easier to get into remission again, and each remission lasts somewhat longer than the one before. Some people have yet to relapse.

As for the specifics about Lyme and every coinfection, and the microbiology and pathology of each of them, I don't know that my brain is ready to tackle that right now. Maybe someone else can come along and help. In the meantime I would highly recommend searching the forum archive ("search" link near the top) for more info, or reading through the Lymebrary.

There are a lot of other great informational resources and studies out there, but my brain is kaput right now. sorry! You are asking GREAT questions, but like we each are at the beginning, you have so many of them all at once. I know how it feels - it will take some time to wrap your head around it all, so please be patient with yourself.

--------------------
Dr. C's Western Blot Explanation

Lymenet Success Stories

ILADS Treatment Guidelines

Medical & Scientific Literature on Lyme

"Long-Term Antibiotic Therapy Improves Persistent Symptoms Associated with Lyme Disease"


---

Posts: 1176 | From KY | Registered: Sep 2007 | IP: Logged |

seibertneurolyme
Frequent Contributor (5K+ posts)
Member # 6416


posted

---

To answer a couple of your questions.

Babesia is very similar to malaria. It is a red blood cell parasite. Not at all the same treatment as for a gastrointestinal parasite. Actually many tickborne illness patients also have G.I. parasites -- the longer you have been sick the more likely that is.

Most meds used for babesia are malaria drugs. Very little testing has been done on babesia itself in humans. Treatment needs to be a minimum of 4 - 6 months. The life of the red blood cell is 4 months. Babesia meds are probably the most toxic of the meds a tickborne patient takes.

Lyme, babesia and bartonella all require different meds. There is a little overlap but not much. Also some of the meds can't be mixed and taken at the same time. Most people treat Lyme and one of the other coinfections at the same time. Usually do not treat all 3 of these infections at the same time.

Every LLMD has their favorite meds that they are more experienced with just like any other regular doc. It is impossible to predict which meds will work with which patient. There are too many variables -- different strains of infection etc.

There is some debate as to whether Babesia has a liver form like malaria. With Babesia something like only 1 or 2% of your cells may be all that are infected, but that can make someone as sick as someone else with a higher % of infected cells. Just like malaria, babesia may appear to be gone for months at a time and then reappear.

Some docs treat Lyme first to knock down the load before attempting to treat coinfections. There is a lot of symptom overlap between the 3 infections. Don't think there are any real statistics documenting success rates in treating the different infections in any particular order.

There are still a few older docs who side with the IDSA and think there is no such thing as chronic babesia or chronic bartonella. They think you have an accute case and the immune system handles the rest. Wish it worked that way, but unless you are treated immediately for Lyme following a tick bite your immune system will get knocked down very quickly and just can't fight off any of these infections.

And when that happens old viruses may be reactivated. Some LLMD's will add antiviral treatments as well. Especially for HHV-6, CMV, EBV etc. But usually that comes later if the tickborne treatments don't seem to be working.

As for the bartonella -- it is the only known bacteria that can suppress the immune system to the point where it doesn't produce sepsis with the expected fevers and organ system failure etc. Bartonella can be intercellular (inside the red blood cells -- just like babesia) or extracellular (outside the red blood cells). It also needs to be treated a minimum opf 4 - 6 months.

Don't know the age of your daughter, but children generally bounce back quicker than adults from these infections. Expect treatment to take anywhere from 1 - 3 years.

There is no way to predict the course of your daughter's illness -- the most important thing is to have an LLMD -- regular docs and infectious disease docs just don't know enough to treat tickborne illnesses. And if you can afford it then often an alternative medicine doc is useful to help with detox, G.I. issues or other complications which may arise.

As for supplements and meds the most important rule is to take notes and to only make one change at a time. If the person is sensitive to meds then it may be advisable to start with a lower dose and work up to the suggested therapeutic dose.

Especially since the treatment is longterm it is up to the patient to work with the doc and be a partner. Please read up on the herxheimer reaction -- this is a very real issue and something you need to understand. Note that a patient can and often does herx with each new medication. And there are some unfortunate people who do have allergic reactions to meds. And symptom meds may be required for pain, sleep, mood etc. Get to know your pharmacist and also what is covered by your insurance plan.

Good luck on your journey.

I am actually feeling pretty optimistic right now -- I think in the not too distant future there will be some significant developments that may improve testing and thus help with treatment choices as well.

Bea Seibert

---

Posts: 7306 | From Martinsville,VA,USA | Registered: Oct 2004 | IP: Logged |

susanschn
Member
Member # 19352


posted

---

About how long after finally getting an antibiotic prescription of Doxy does it take to start affecting the symptoms? My mother has extreme neck pain and stiff neck and cannot straghten her neck, etc. She had a tick on the back of her ear for over a week. She started having the stiff neck about five days after the tick attached to her ear. She waited to go to a doctor for a little over a month. He did some blood tests and told her to come back in a week. He gave her two steroid injections and a steroid prescription and a muscle relaxer. I know, I know that this is not recommended. She went back this week and she insisted he give her the antibiotic. All of her blood test restuls are not back yet, but of course, what did come back does not confirm Lyme's. I'm just wondering if it is Lyme's of about six weeks duration and she starts taking this antibiotic, how long should she expect to wait to feel any positive effects of taking the antibiotic. Your input is greatly appreciated. Thanks!

---

Posts: 34 | From Florida | Registered: Mar 2009 | IP: Logged |

aMomWithHope
LymeNet Contributor
Member # 19255


posted

---

Thank you all for your answers.

I know I'm asking too many questions at once and it can get overwhelming for all of you as well as me!

I apologize for that.

I'm just trying to cram all this information into my brain as fast as possible so that I can understand--and possibly better accept--the fact that my daughter will be having treatment for so long.

The idea that Babs treatment and meds is the most toxic is scarier still, since that is what my daughter is doing right now--Zith and Mepron.

I truly hold my breath every time I give those meds to her and I don't sleep at night because

I'm worrying that she is going to have an allergic reaction during the night and won't wake up--

or that she will be deaf in the morning from the Zith!

Anyway, knowledge is supposedly power, so I appreciate all the information. Everyone's knowledge here is amazing. I know I can learn so much from all of you.

I just hope I don't freak myself out too much in the process--LOL!

My daughter is 12. She is seeing very competent LLMDs; however, they are only prescribing antibiotics, so I need to learn as much about treatment options and supplements as possible.

I've started her on milk thistle for liver detox, but this is something I'm doing from having read about it here. The LLMDs haven't mentioned anything about this.

Help with all that will be another post--hopefully tomorrow!

I've just never been one to trust western medicine nor doctors in general, so this has been very hard for me to put my trust in them.

Anyway, thanks again for the info on these particular diseases. It really helps me if I can better understand how these diseases work and better understand why they are so difficult to treat.

I pray that you all will see remission soon and that the remission lasts FOREVER!

---

Posts: 648 | From northeast | Registered: Feb 2009 | IP: Logged |

Pinelady
Frequent Contributor (5K+ posts)
Member # 18524


posted

---

susan, She will see results as slowly but surely.

Many patients get sicker in treatment but

results are worth it. I cried every day in pain.

That pain is gone but has been replaced with

other things caused by Lyme. It takes at least 2

weeks to get a WBlot done. Many lyme patients are

low on Vitamin D, and many test pos. for Ana.

Many also have low thyroid. Low Sodium is common

also. I had high hemoglobins, low sed rate of 2

so doc said I was just depressed. I cried from

pain not depression. Thats a duck for you. I did

not know low body temp was a bad thing. It is

always 96-97.Once

the bugs are throughout metabolically they wreak

havoc. Hence once you start to kill them many

get sicker. Loss of cells causes loss of

electrolytes and nutrients. It is best to support

with both. Most take something to prevent yeast

which may prevent biofilm from protecting the

borrelia/Lyme. We take Nystatin 4 a day. I suggest high dose Vitamin E and

C also. Which may help. If she

gets sick you can back off and let the body

recoup. My 13 year old has just started

treatment. She has experienced bone chilling

chills, and vision blurry, very tired. I also

have her on the c and e to hopefully prevent the

biofilm our number one goal. She does not like to

sleep with me so I have her a bed close by.

--------------------
Suspected Lyme 07 Test neg One band migrating in IgG region
unable to identify.Igenex Jan.09IFA titer 1:40 IND
IgM neg pos
31 +++ 34 IND 39 IND 41 IND 83-93 +
DX:Neuroborreliosis


---

Posts: 5850 | From Kentucky | Registered: Dec 2008 | IP: Logged |
Contact Us | LymeNet home page | Privacy Statement

Powered by UBB.classic™ 6.7.3

---
The Lyme Disease Network is a non-profit organization funded by individual donations. If you would like to support the Network and the LymeNet system of Web services, please send your donations to:
The Lyme Disease Network of New Jersey
907 Pebble Creek Court, Pennington, NJ 08534 USA
http://www.lymenet.org/
---
Home | Flash Discussion | Support Groups | On-Line Library
Legal Resources | Medical Abstracts | Newsletter | Books
Pictures | Site Search | Links | Help/Questions
About LymeNet | Contact Us
---
© 1993-2020 The Lyme Disease Network of New Jersey, Inc.
All Rights Reserved.
Use of the LymeNet Site is subject to Terms and Conditions.
---