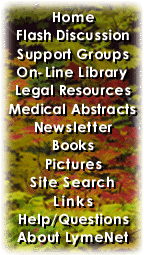 ---
LymeNet on Facebook
LymeNet on Twitter
---
---
The Lyme Disease Network receives a commission from Amazon.com for each purchase originating from this site.
When purchasing from Amazon.com, please
click here first.

Thank you.




Dedicated to the Bachmann Family


LymeNet needs your help:
LymeNet 2020 fund drive

The Lyme Disease Network is a non-profit organization funded by individual donations.

| | |
| --- | --- |
| | |
Author
Topic: Getting off seizure meds

Clan Destine
Member
Member # 36825


posted

---

I've been on 75 mg of Lamictal/Lamitrogine twice a day a week or so now. Before then it was 100 mg in the morning for about 3 months. It's going pretty well. I haven't started treatment for Lyme yet though. I've been on 250mg of Azithromycin for Bart.

Once I start on my antibiotic treatment for Lyme and the disease starts to clear up how soon do you think I'll be able to get off the Lamictal? I've been following my diet pretty hardcore, I'm trying to read and work my mind as much as possible, I'm reading about neuroplasticity when I can so I can learn some tricks to rewire my mind and help me learn faster.

Does anyone have experience with this? How is the come down?

--------------------
I do not forgive in my friends the failure to know a fine character, and to entertain it with thankful hospitality. - Ralph Waldo Emerson


---

Posts: 14 | From Rochester Hills | Registered: Mar 2012 | IP: Logged |

Keebler
Honored Contributor (25K+ posts)
Member # 12673


posted

---

-
Basics:

MAGNESIUM

FISH OIL

LIVER SUPPORT

ADRENAL SUPPORT

= = = = = = = = = = = = = = = = = = = =

I could never tolerate seizure medicines. However, there have been other things to be of great help to me in the articles below.

My advice is - before you change your dose - talk to your LLMD so that the transition can be gradual and safe.

Your LLMD will be the best person to suggest when it may be safe and how to go about that. He or She knows YOUR body, YOUR case, etc.

You may also want to find a good LL ND (naturopathic doctor) to guide you with supplements that are specific to your body at this point in time. I will post the LL ND thread after a few others of interest.

Many LLMDs know some LL NDs. Just ask - &/or ask as the area lyme support groups.

======================

Either of these can be very helpful in re-training the brain:

Qi Gong or Chi Gong (usually rather still but still very powerful)

Tai Chi (involves more turning of the head and movement)

Be sure to research the FORM of either - and the instructor. Not all are the same. Some are designed for healing (such as Soaring Crane Qi Gong); some are more militaristic.

Meditation can also retrain the brain, however, it's never been something I could focus on. Qi Gong works far better for my purposes.

======================

http://www.thorne.com/altmedrev/.fulltext/12/1/9.pdf

Alternative Medicine Review, Vol. 12; Number 1, 2007

Natural Approaches to Epilepsy - by Alan R. Gaby, M.D.

-------------------

http://www.drlwilson.com/articles/epilepsy.htm

Epilepsy and Seizures - by Lawrence Wilson, MD © April 2011

-------------------

http://www.vrp.com/brain-health/seizures-a-nutritional-approach

Nutritional Approach to Seizures - by Ward Dean, MD

-------------------

http://www.livestrong.com/article/302297-what-are-the-benefits-of-magnesium-for-epilepsy/

What Are the Benefits of Magnesium for Epilepsy?

- by Melissa Lingohr-Smith

Excerpt:

. . . the anticonvulsant effect of magnesium seems to block the activation of certain excitatory receptors in the brain. . . .

- full article at link above.

---------------------

www.mbschachter.com/importance_of_magnesium_to_human.htm

The Importance of Magnesium to Human Nutrition

---------------------

http://flash.lymenet.org/ubb/ultimatebb.php/topic/1/89790

Topic: NATURAL SLEEP & ADRENAL SUPPORT

---------------------

http://findarticles.com/p/articles/mi_7396/is_324/ai_n54480513/

HEAL THE HORMONES TO HEAL FROM LYME DISEASE

- by Connie Strasheim - Townsend Letter - July, 2010

be sure to scroll down past a section of ads that looks like the end of the article. This is a four-page article.
-

[ 07-29-2012, 03:32 PM: Message edited by: Keebler ]

---

Posts: 48021 | From Tree House | Registered: Jul 2007 | IP: Logged |

Keebler
Honored Contributor (25K+ posts)
Member # 12673


posted

---

=
-
When considering herbal / nutritional / adjunct methods:

if at all possible - because each person & each case is different - it's best to consult with an ILADS-educated LL (lyme literate) doctor who has completed four years of post-graduate medical education in the field of herbal and nutritional medicine -

- and someone who is current with ILADS' research & presentations, past and present.

Many LL NDs incorporate antibiotics (depending upon the licensing laws in their state). Some LLMDs and LL NDs have good working relationships.

When possible, it's great to have both a LLMD and LL ND and even better when they have a long-standing professional relationship.

-----------------------

http://flash.lymenet.org/ubb/ultimatebb.php/topic/2/13964

How to find an ILADS-educated LL:

N.D. (Naturopathic Doctor);

L.Ac. (Acupuncturist);

D.Ay. (Doctor of Ayurvedic Medicine);

D.O.M. (Doctor of Oriental Medicine);

Integrative / Holistic M.D., etc. (Be aware that those in this category can have various levels of formal herbal &/or nutritional education, perhaps even just a short course. Do ask first.)

Links to many articles and books by holistic-minded LL doctors of various degrees who all have this basic approach in common:

Understanding of the importance of addressing the infection(s) fully head-on with specific measures from all corners of medicine;

knowing which supplements have direct impact, which are only support and which are both.

You can compare and contrast many approaches.

BASIC HERBAL EDUCATIONAL & SAFETY links,

BODY WORK links with safety tailored to lyme patients ---

In that post, see the FELDENKRAIS TECHNIQUE link. That would be very helpful for anyone transitioning off of seizure meds and entering a new phase of their life -

- it can help with body mechanics of balance, something that is greatly affected by both seizures and by seizure meds that are sedating.
-

---

Posts: 48021 | From Tree House | Registered: Jul 2007 | IP: Logged |

Keebler
Honored Contributor (25K+ posts)
Member # 12673


posted

---

-
As stated in Wilson's article above, be sure to avoid Glutamine, L-Glutamine and Glutamic Acid - if in excess of what's in basic foods. But Dr. Wilson also instructs to limit the food sources for glutamine, too.

He speaks to that in his article. Here's more about why:

-----------

http://www.itmonline.org/arts/glutamine.htm

AMINO ACID SUPPLEMENTS I: GLUTAMINE with Reference to the Related Compound Glutamate

-by Subhuti Dharmananda, Ph.D.

2/3 of the way down, see section:

"Glutamate in Neurological Diseases"

Excerpts:

. . . it is found that glutamate levels in the central nervous system become unusually high at sites of pathology . . . .

. . . Also, glutamate is excreted by immune cells that take part in inflammatory processes; the result is high local concentrations at the neurons in progressive neurological diseases such as MS and ALS. . . .

[poster's interjection: I would add lyme & co. to that list, too, as there is a clear connection as lyme being one cause of MS and ALS.]

. . . The excess glutamate at the neuron acts as a poison; . . .

. . . Laboratory research has revealed that in the progressive, debilitating disease ALS, one of the many processes involved in disease progression appears to be damage of nerve cells by accumulation of glutamate.

In relation to multiple sclerosis, changes in control of glutamate homeostasis in the central nervous system might contribute to demyelination of the white matter of the brain (19).

Based on preliminary animal studies, it has been suggested that glutamate dumped by immune cells can exacerbate the nerve damage (20).

One of the means by which a stroke (causing blockage of blood circulation to the brain) results in brain damage is through an increase in glutamate levels in the brain cells (of course, oxygen deprivation and other effects are also contributors).

These findings point to local glutamate excess as an important factor in brain diseases.

The role of glutamate in neurological disorders has raised the question as to whether persons with such neurological diseases

might have to be careful not to get high levels of either glutamine or glutamate via their diet and/or by taking glutamine supplements . . . .

. . . .

- Full article at link above.
-

---

Posts: 48021 | From Tree House | Registered: Jul 2007 | IP: Logged |

Keebler
Honored Contributor (25K+ posts)
Member # 12673


posted

---

-
I would like to hope that even before anyone is placed on any anti-seizure medicine that they've been screened for effects of food additives that may be the cause, or in some way contribute to seizures.

You probably are clear of additives but, just to be sure:

http://flash.lymenet.org/scripts/ultimatebb.cgi?ubb=get_topic;f=3;t=029690;p=0

Excitotoxins; MSG; Aspartame; & "Natural" Flavors

========================================

GLUTEN can also cause seizures for many (especially those with lyme). Does for me.

I hope your LLMD has suggested going gluten-free.

You should also get a blood / DNA test for celiac. IMO, the other tests are not accurate enough. Both stomach bioposy and saliva tests missed it for me but the DNA test proved that I have the genes for celiac.

This helps me be much more certain to not have even a trace of gluten. When I do (by mistake of trusting what someone says they put in a dish at a potluck), within 3 days, an intense seizure would hit.

I stopped eating all prepared foods, even if someone tells me it's gluten free. Just can't trust them.

If you are not yet gluten free, many LLMDs strongly suggest that for lyme patients, anyway and you can enjoy healthful and delicious foods without gluten.

There are many sites and threads here to help you with that so I will not elaborate beyond this:

----------------------

HIDDEN SOURCES OF GLUTEN (each link has detail the others may not):

http://www.glutenfreehelp.info/wp-content/uploads/2011/03/TS-Hidden-Sources-of-Gluten1.pdf

http://www.celiacsolution.com/hidden-gluten.html

http://www.tacanow.org/family-resources/hidden-sources-of-gluten/

http://blog.primohealthcoach.com/blog/bid/74158/Hidden-Sources-Of-Gluten

http://www.practicalgastro.com/pdf/September08/HlywiakArticle.pdf

7-page pdf

= = = = = = = = = = = = =

As in some of the articles above, other foods that can problems may be DAIRY (and casein that is in dairy); Corn; Soy.

= = = = = = = = = = = = =

If you don't have a glucose meter, you might want to get one and periodically check your blood sugar to be sure it's neither too high nor too low.

You can get one free by calling one of the meter companies and few free test strips. Refill strips are very expensive, though, and will not be covered by insurance unless one has been diagnosed diabetic - and they would have to be prescribed by your doctor.

I assume you've had basic blood tests but they only check for one point in time.

When you call the glucose meter company, though, just ask if you might be able to get a meter for purposes of checking to see if blood sugar irregularities might be contributing to seizures.

Low blood sugar certain can. Now, both low and high can be well controlled by diet (and key supplements or Rx) most of the time but it's just good to be able to get a cross section of your numbers over a few weeks.
-

---

Posts: 48021 | From Tree House | Registered: Jul 2007 | IP: Logged |

Keebler
Honored Contributor (25K+ posts)
Member # 12673


posted

---

-
Also helpful: limit computer and television time, especially in the evening.

Same with any cell phones that light up but cell phones can be harsh for those with seizures, anyway. Try to stay away from them, even when they are off and especially stay away from chargers.

Limit cell phone use and use a land-lined phone as often as possible when making a call. Also try to avoid long conversations with those who are using cell phones.

Do not allow ANY electronics to be plugged in in your bedroom when you are resting or sleeping - other than a clock, across the room, not next to your bed. A combination alarm clock and CD player set to sleep can be nice but even better

try to avoid loud alarms that startle. Alarms can lower the seizure threshold. Set a CD to play as your alarm or get a light that will gently wake you.

ONLY RED LIGHT for any clock radio in your bedroom. If it's not red, fully cover the light but be sure to NOT cover the air vents for the unit or it could over head and cause a fire. Cover JUST the clock face. You really don't need to see what time it is if you awaken during the night.

You can keep a small watch by your bed (but NOT a cell phone).

TV programs better for the brain are those that get you thinking and take you places, so to speak. I love PBS for that.

It's best to avoid commercial TV that has sudden shifts, violence, sharp flashes or fast soundtracks. The commercials on commercial TV are terrible for our brains, especially for those with seizures.

Attend Lectures if you can.

During daytime or early evening you might enjoy

www.ted.com/talks

TED TALKS

-------------------

Movies, too, should be less stimulating - and totally avoid all previews and commercials in the theater. Go in and put down an old sweater to save your seat and then go to a quiet part of the lobby or hallway to wait until the film begins.

Some with concerts, avoid the flash.

There are plenty of fabulous concerts that will help your brain, not fry it. And it need not put you to sleep.

-------------------------

CLASSICAL MUSIC

But start with MOZART, VIVALDI & HADYN (either Pappa or the son). These composers have been scientifically proven to help your brain and none of them dumped heavy anger into their works (unlike a few of the classical composers).

For a start, Google: Haydn Horn concertos

Google: Vivaldi, Four Seasons

Listen to Mozart, Haydn or Vivaldi AT LEAST ONE HOUR EVERY DAY.

Best, though, to not have a cell phone or iPod or any personal electronic device on your body. If you rely on any of these for music, get a docking station and keep your distance.

The electronic / electromagnetic frequencies of such devices can adversely affect brain waves, especially in those more sensitive.

Until seizure free for some time, it's best to limit such electronics that are so close to your body.

However, when you are out in traffic, an iPod can be very helpful to keep you on track with certain music and not be overwhelmed by traffic / city noise. Same with being at the dentist.

Just be sure to keep the volume down and avoid ear pods, go for over the ear muffs. They need not be bulky but are safer for the ears. And that will stress all sensory nerves less.

CDs for classical music are lower priced than most and you can also find them at most libraries.

ACOUSTIC MUSIC

FOLK music that is more acoustic in nature is better than music heavy with synthesizers. Check out www.folkalley.com - once in a while they may have a string of tunes that does not suit my ears but, by and large, they are up to date, eclectic and very engaging for brain and mood.

If you like folk, bluegrass or other kinds of acoustic music, Google for area SONG CIRCLES and HOUSE CONCERTS in smaller venues. Very good for your brain and spirit.

Find what you like but also explore new music if you want to grow new brain cells, so to speak.

You might learn to play a MUSICAL INSTRUMENT - or one new to you -- or tunes news to you if you already play. This helps the brain grow, too.

DANCE. DANCE. DANCE. (at your own speed, of course. No need for speed. Just move your body to music as often as possible.)

SING. SING. SING.

And

Sing, Dance and Play with others, too.
-

[ 07-29-2012, 02:58 PM: Message edited by: Keebler ]

---

Posts: 48021 | From Tree House | Registered: Jul 2007 | IP: Logged |

Keebler
Honored Contributor (25K+ posts)
Member # 12673


posted

---

-
Now, all this is a lot at once. I've collected it over time. I hope you can copy & paste to your desktop for easy reference as you explore more.

Frankly, there is not one paragraph in any of the links that is not "required reading" for anyone with seizures, IMO.

In my experience, all the detail in each link is very important and much of it has really helped in my understanding &/or practical aspects.

Two more thoughts and then others can add to this.

-------------------------

PORPHYRIA?

I saw that you are on a ketogenic diet. That may help with seizures but you may also need more complex carbohydrates especially if porphyria might be a player here. It sure can be with the toxicity issues of lyme and with strong medicines.

A ketogenic diet is also very low in fiber, that is not a good thing when treating toxic infections. You need a lot of fiber (and nutrients) from a lot of vegetables.

Also, be sure that all the animal protein you eat is from organic sources, grass-fed, free range, etc.

In my case, porphyria has certainly set me up for seizures. Long-lasting complex carbohydrates (and at times of emergency, simple carbs) are essential at controlling porphryia.

You might just want to know a bit about that. Your LLMD should be able to discuss it with you.


http://flash.lymenet.org/scripts/ultimatebb.cgi/topic/1/91842?#000000

Topic: what type of M.D. tests for PORPHYRIA

Many good links here, also about HPU / KPU

---------------------------

NEUROFEEDBACK ?

I saw in a past post that you had a QEEG for a neuro check. If possible, you might consider QEEG neurofeedback but I'd wait until you are well into treatment for lyme - and other possible connections are adjusted.

I had many sessions but it did not hold because at that time I was unable to get adequate treatment for all the infections.

Qi Gong works in a similar fashion, though, and is much less expensive. You just don't see your brain waves on the screen but you'll be able to tell when it's helping.

Hope you have good LL doctors to guide you. Also hope you get suggestions from other posters. My path is rather limited in scope.

Good luck.
-

---

Posts: 48021 | From Tree House | Registered: Jul 2007 | IP: Logged |

seibertneurolyme
Frequent Contributor (5K+ posts)
Member # 6416


posted

---

Have not read all of Keeblers info. But based on hubby's experiences it could be months or years. You will know when it is time. It is impossible to predict a time frame in my opinion. As hubby's LLMD told him -- getting off of ativan is the least of his worries right now.

He tried many seizure meds that did not work or just made him more tired or caused other side effects. Ativan has helped the most consistently.

He also took topamax for a couple of months in the past and stopped it for about 1 1/2 years but recently went back on that med.

Just go with your gut instincts and be sure to discuss any med changes with your doc.

Bea Seibert

---

Posts: 7306 | From Martinsville,VA,USA | Registered: Oct 2004 | IP: Logged |

Keebler
Honored Contributor (25K+ posts)
Member # 12673


posted

---

-
Yes, to be clear, I agree with Bea in that your LLMD is the best guide. That is mentioned in my first post but the message could get lost with all the other things.

Your LLMD likely has experience with others who have seizures. He or She will know your body, your issues, the causes for you, etc.

If lyme related (as is likely) treatment can take months or years - and until lyme is well into remission, your brain will need tender loving care.

All these links are in case the seizures may be caused by something you are inadvertently doing, consuming, etc. or by some nutrient that you may lacking.

It's important to consider all causes - just in case there may be an important key that has been overlooked.

Even if so, though, since seizures have occurred there is the matter of "kindling" and even if key corrections are made, anti-seizure meds may still be needed for a certain time.

Still, your LLMD is your best guide. Do be sure to include liver and adrenal support and the basic support supplements, though.

Adrenal support in that the adrenal dysfunction caused by lyme can also cause a lowering of the seizure threshold.

Many anti-seizure meds can be hard on the liver so liver support is really important, but do not take together at that same time. Ask your LLMD the best way to proceed.
-

---

Posts: 48021 | From Tree House | Registered: Jul 2007 | IP: Logged |

Clan Destine
Member
Member # 36825


posted

---

Thanks a lot to both of you. I used to eat a lot of junk food before I started this but now I've cut out most sugars and carbs. There is no gluten in my diet.

I just read about the magnesium before I read this post but I didn't have specifics. Apparently my LLMD gave me a multivitamin w/ 1000% DV Mg in it but I've been wary about taking because it had been messing with my antibiotic regimen.

The seizure med doesn't bother me much. It actually helps a lot but I don't want to be on it long. I don't want my body to adjust to it to the point that it becomes necessary. I have to get off it quickly.

The liver support is something I had thought about when they first put me on it but have forgotten since. Thanks for reminding me!

I'm going to start hanging out with my ex again soon hopefully. She's really into meditation and yoga so maybe she can help me with that. At least give me someone to do it with. For about a week I was doing an hour and a half breathing exercises so I could probably keep that up.

That's a lot of info but I'm sure I can get through it. Thank you both for your help.

You seem like the best resource there is on this forum Keebler. Thanks for your time.

--------------------
I do not forgive in my friends the failure to know a fine character, and to entertain it with thankful hospitality. - Ralph Waldo Emerson


---

Posts: 14 | From Rochester Hills | Registered: Mar 2012 | IP: Logged |

Keebler
Honored Contributor (25K+ posts)
Member # 12673


posted

---

-
First, I admire your dedication but no one should have to do an hour and a half of breathing exercises just to maintain.

Perhaps with a trained instructor, you can learn how to achieve that "place" in just a couple minutes and then still have longer sessions of 15-30 minutes twice a day.

I also would NOT - never, ever - have a friend (especially an former "ex") teach me any mediation technique. The personal dynamics can be just too complex.

You need an independent teacher, one who will have no emotional ties whatsoever, no history, no expectations other than your concentration, no judgements. It's just really hard for two people who know each other to be teacher & student.

It's a lot of responsibility for the person who has to take on the role of teacher, too. And you need someone trained in whatever methods you choose.

Besides, it's really best to never, ever, learn spiritual or emotional exercises from someone for whom you have romantic feelings, even if things are going well.

I'm old enough to look back and see the mistakes I've made even trying to learn just regular stuff from someone I was all dreamy-eyed or hopeful about. Please take my advice on this.

This needs to be for you. This is your time, your learning, your experience. Share other things or discuss some aspects of this - but do not tie your romantic feelings to your learning of any new skill that is to help you save your life.

-----------------------------

Next, you say that you: " don't want my body to adjust to it to the point that it becomes necessary. I have to get off it quickly. " (end quote)
-----------

I certainly understand your feelings but disagree about the need to get off of it quickly. There is no need for speed here. The brain is very tender right now, and the way these meds work, you need stability over all.

You say you've been on Lamictal/Lamitrogine for 3 months. It may take at least six months - or longer.

It's not so much about developing an addiction if that is your worry as pulling out the rug from under your brain function if you lower dose too fast or too soon. Your brain needs time to heal. The protection by the anti-seizure med is just that: protection.

LLMD's thoughts are very important here. They will have much more information upon which to base the treatment decision.

As long as you are getting good overall support, and you feel okay on this and it's helping you, just take it easy. Let it help you.

Do not let my need for finding everything else that might work influence a hasty retreat. I just could never tolerate any Rx in this category. So I had to look outside that box.

As long as the medicine helps, let it help while you learn more.

It can take a long time for the brain to heal after a seizure. It has to reset "kindling" cues, etc. Give it time.

It is quite possible that, when ready, you'll be able to safety lower dose and work off of this. I know of others who have done so.

It's just really important to have expert medical advice regarding the specifics about your case. Let your LLMD guide you.
-

---

Posts: 48021 | From Tree House | Registered: Jul 2007 | IP: Logged |

Keebler
Honored Contributor (25K+ posts)
Member # 12673


posted

---

-
I've mentioned "kindling" a couple times. I assume your neurologist has discussed this with you but just in case they did not:

http://en.wikipedia.org/wiki/Kindling_model

Kindling

-------------

Not mentioned there but with lyme (or any infection that causes seizures) that "kindling" can keep occurring from the ongoing inflammation / toxicity / damage / imbalances created by the infection.

This is why other things to help support the body are helpful but may not be enough so that is where the Rx can be a huge helper, too. As long as the infection is a player, you need all hands on deck.

You do not want to jeopardize the stability that you've achieved with a med that has you feeling okay and works.

Still, as you make your way through the articles, you will have a broader base and be better able to discuss with your LLMD support to add now and also transitional options for later.
-

[ 07-29-2012, 06:25 PM: Message edited by: Keebler ]

---

Posts: 48021 | From Tree House | Registered: Jul 2007 | IP: Logged |
Contact Us | LymeNet home page | Privacy Statement

Powered by UBB.classic™ 6.7.3

---
The Lyme Disease Network is a non-profit organization funded by individual donations. If you would like to support the Network and the LymeNet system of Web services, please send your donations to:
The Lyme Disease Network of New Jersey
907 Pebble Creek Court, Pennington, NJ 08534 USA
http://www.lymenet.org/
---
Home | Flash Discussion | Support Groups | On-Line Library
Legal Resources | Medical Abstracts | Newsletter | Books
Pictures | Site Search | Links | Help/Questions
About LymeNet | Contact Us
---
© 1993-2020 The Lyme Disease Network of New Jersey, Inc.
All Rights Reserved.
Use of the LymeNet Site is subject to Terms and Conditions.
---