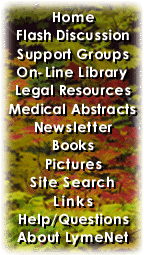 ---
LymeNet on Facebook
LymeNet on Twitter
---
---
The Lyme Disease Network receives a commission from Amazon.com for each purchase originating from this site.
When purchasing from Amazon.com, please
click here first.

Thank you.




Dedicated to the Bachmann Family


LymeNet needs your help:
LymeNet 2020 fund drive

The Lyme Disease Network is a non-profit organization funded by individual donations.

| | |
| --- | --- |
| | |
Author
Topic: Need help getting off Benzos please

klutzo
Frequent Contributor (1K+ posts)
Member # 5701


posted

---

Has anyone else here taken benzodiazepine drugs for a long time?

I have been on Xanax for muscle spasms from Fibromyalgia that I have with Lyme for 33 years and now am trying to come off since the dose I am on no longer works well,

I've already had it raised twice, and I can see a total ban on benzos coming soon, just as in parts of Europe.

They are far harder to quit than heroin from what I read and take a very long time to come off of safely. I did cold turkey opiate withdrawl after 12 yrs. on them and as awful as it was, it was a piece of cake compared to just lowering the dose of xanax.

I currently take .5 mgs. 4 x daily, plus 5 mgs. valium just added by a new doctor to handle the drop offs from xanax's short half life.

I took the dose down too fast, and went into the worst hell of my life.....never been so sick and appear to be stuck here until it kills me.

My new doctor told withdrawal would take more than a year and had me put it back up to my regular dose to restart more slowly,

but now it doesn't work anymore, not even after he added 5 mgs. Valium, with it's long half life to help me out.

My regular doc is out on sick leave and it looks like he will not make it. I am afraid to ask for more from the new doc, since he is the only one I could find to help me with this.

I need to be functional before I can withdraw still more drug. I have a plan made up for a 22 month withdrawal, but can't sleep at my current dose.

I called every addiction specialist and rehab in our area and none would even return my call except for a suspected quack who charges about $55K to do it in 5 weeks using scary methods.

I've tried benzodiazepine buddies but could not find help, since I do not crave the drug, I hate it and never took more than prescribed, usually less, and always was working to lower my dosage so I find it difficult to relate to their discussions.

I did read a blog by a doctor who got hooked, saying not to go to any rehab, since they don't understand benzos and always take you down in 6 wks., not nearly enough time for benzos.

Hospitals do it in 7 days, even worse. This doctor did it too fast and ended up in bed for 10 months.

I read about a man my age who'd been on them as long as I have and he had two heart attacks when rehab switched him to Klonopin and took him off in 6 wks.

I am in severe withdrawal, can only eat baby food and liquids and only do that by taking Benadryl around the clock. I shake all the time and do not sleep at all, and I mean zero sleep. I have had appx. 14 hrs. sleep in the last 15 days and am now having trouble walking.

Yesterday, I did not have nausea and felt somewhat normal, but then could not sleep even 5 minutes all night.

Has anyone else gone off benzodiazepine drugs, and have any ideas to help me to sleep, etc.?

I am miserable enough I'd rather die if I must live like this forever, don't see how anyone can live without any sleep, but must go on,

since my DH is in such bad shape from the govt. crackdown on pain meds that he can't work enough now to make it w/o my disability check,
klutzo

(breaking up the post for easier reading for many here)

[ 12-29-2016, 02:19 AM: Message edited by: Robin123 ]

---

Posts: 1267 | From Clearwater, Florida, USA | Registered: May 2004 | IP: Logged |

Jordana
Frequent Contributor (1K+ posts)
Member # 45305


posted

---

Are you sure it's not just Lyme? What you're describing sounds like me pretty much every day.

If you find a sympathetic doctor, you could ask for the following: Phenergan for sleep, flexeril for tension and spasms, and then take OTC Immodium -- it's a mild opiate and jams the receptors.

There's also a product called Gabamax that works to increase GABA. It had a paradoxical effect for me but it might work for you just to take the edge off.

---

Posts: 2057 | From Florida | Registered: Feb 2015 | IP: Logged |

Marz
Frequent Contributor (1K+ posts)
Member # 3446


posted

---

I'm worried the benadryl could be making it worse for you. Years ago it worked for me for sleep but gradually didn't work even though I used only occasionally.

At last colonoscopy I was wired and awake and found out they had used benadryl that time.

Would an llmd rx a sleep med short term so you could catch up on sleep?

I know it's another Benzo but you need to sleep!

---

Posts: 1273 | From USA | Registered: Dec 2002 | IP: Logged |

dbpei
Frequent Contributor (1K+ posts)
Member # 33574


posted

---

Gosh this sounds like such a nightmare for you, klutzo. From what I understand, Medical Marijuana can help with addictions and withdrawal from other drugs and it can certainly help with sleep.

I wonder if you could contact a medical marijuana doctor to consult with over this. I think MM just became legal in FL. In MA, in order to be approved specializes in this.

Try to find out who the doctors are in your state who specialize in MM and make an appointment to discuss this with him/her. I found out about this through a Lyme conference! MM also helps to reduce many symptoms of Lyme disease and has actually been considered to be a cure for some!

There is also another LYmenet member that has been through benzo withdrawal that I will try to find screen name of and send PM to you with info. I am so sorry you are suffering like this.

---

Posts: 2338 | From New England | Registered: Aug 2011 | IP: Logged |

klutzo
Frequent Contributor (1K+ posts)
Member # 5701


posted

---

Thanks all! My brain is not functioning well enough to divide you up into separate posts. I am sorry.

Phenergan causes abnormal heart rhythms for me, dangerous ones. It is a heart stimulant, otherwise I'd have asked for that. It is an excellent suggestion otherwise and I know it would work if only I could take it.

Flexeril was tried before Xanax, but I could not stand up on even the tiniest dose. I was a wet noodle. I did not know that about Immodium and will check it out, thanks.

I do have GABA, but it does not do anything, so I guess I don't have a leaky blood brain barrier. Precursors like glutamine can turn into glutamate instead and wire us up with Lyme, so I avoid them.

MJ had a very bad effect on me when I tried it in college and I wouldn't go near it after that. Not aware of any place to get it near me yet either and it's not covered by insurance.

I know this is controversial, but in the 1960s I saw many people I knew get psychologically addicted to MJ,

to the point where they had zero motivation to actually do anything, had zero memory, and even got scurvy, since it robs the body of vits. A & C.

I am in favor of letting people in pain use it, but it is not benign from what I saw. If there was no THC in it, I'd try it, but am not sure how it is made for this new purpose.

Benadryl definitely helps sedate me a bit, and I really need it to control the nausea so I can eat my baby food. It is also a heart stimulant, as are all antihistamines, but much milder.

Higher histamine has been noted in people during benzodiazepine withdrawal, so that may be why it helps and why Phenergan would help, if only I could take it.

There are only 2 so-called LLMDs around here and both are quacks who ought to be in prison. You would not believe what these two get away with doing as "treatment' or how much they charge.

They have both been sued and squirmed out of it in court. I am too sick to travel and too poor to pay for a doc w/o insurance.

It definitely got worse when I lowered the dose of xanax and all those symptoms I blamed on Lyme are also listed as common symptoms of those in protracted addiction withdrawal syndrome, or PAWS.

That is why I wonder how many of you were on benzos before you got sick, especially if your original dx was fibro. If so, you may have PAWS, not fibro or Lyme.

At benzobuddies they said lots of people get dx'd with fibro after going off benzos.

My new doc, the only one I could find to help me, does not believe in chronic Lyme, not even in someone like me who has never had any ABX! He did not care about my two positive tests or my 3 rashes either. I have to take what I can get.

I just listened to over an hour of binaural beat music guaranteed to put you to sleep. No dice. Not even a minute of sleep. You would think I'd crash eventually, but I was hospitalized for no sleep once, back in the start, when I had no dx.

I don't want that to happen now, since they might force me into a 7 day detox, since they do not know that doing that to someone on benzos can kill them.


If I get desperate, I will risk an OD of my blood pressure med, which is also used for seizures and so it is very sedating. (Clonidine) It is the only reason I ever slept with this DD.

I do hope you can find that other member who has withdrawn successfully. My searches under xanax, alprazolam and benzos came up with no results.

I am surprised so few here were ever put on these, considering the muscle pains, spasms, anxiety, balance problems, etc. all of which they work well for.

Thank you all so very much for trying to help,
klutzo

(breaking up the post for easier reading for many here)

[ 12-29-2016, 02:21 AM: Message edited by: Robin123 ]

---

Posts: 1267 | From Clearwater, Florida, USA | Registered: May 2004 | IP: Logged |

dbpei
Frequent Contributor (1K+ posts)
Member # 33574


posted

---

Here is the thread with reference to Lyme and benzo addiction.

http://flash.lymenet.org/scripts/ultimatebb.cgi/topic/1/130974?#000023

I hope it will help! Be sure and read to the end. There is some very good info.

Also, I do not smoke marijuana. I get the tincture and edibles and try to get strains including combination of CBD and THC that do not cause me to get high. I hated it when I tried smoking it in my younger years! When using for medicinal purposes, it is so different!

---

Posts: 2338 | From New England | Registered: Aug 2011 | IP: Logged |

SickSam
LymeNet Contributor
Member # 45330


posted

---

Sorry you are suffering with this What about Neurontin? When I came off of clonazepam, I doubled my Neurontin, and that seemed to help some. I took the Neurontin back down to my normal dose later on.

---

Posts: 748 | From Texas | Registered: Feb 2015 | IP: Logged |

bcb1200
Frequent Contributor (1K+ posts)
Member # 25745


posted

---

Contact LSG Scott. He was on them for years and managed to get off. The symptoms were as bad as Lyme

--------------------
Bite date ?
2/10 symptoms began
5/10 dx'd, after 3 months numerous test and doctors

IgM Igenex +/CDC +
+ 23/25, 30, 31, 34, 41, 83/93

Currently on:

Currently at around 80% +/- most days.


---

Posts: 3101 | From Massachusetts | Registered: May 2010 | IP: Logged |

Robin123
Moderator
Member # 9197


posted

---

Yes, that would be me, dx'd with fibro and taking benzos in the beginning to sleep. I went on and off benzos 4 times.

The 4th time, my family caught on and told me what they knew, which is it's really hard to stop. So I stopped and never went back on them. I think I found benadryl then.

What I recall is I couldn't sleep for around 2 or 3 weeks when I quit each time. And keep in mind I had no idea what was going on, so just went through it each time - I was already out on work leave at that point in time.

Am no expert in this, other than to tell you it took a couple weeks and then I could sleep on benadryl. I think I also was put on nortryptaline and I lasted 9 months before I got tired of feeling drugged out.

I have heard that LDN - low dose naltrexone - can help with sleep and pain. That's another possibility for you to check into. People start with around 1.5, then go to 3.0 and sometimes go up to 4.5.

For the fibro pain, I am finding that turmeric really helps take it down - I just get it in bulk at the health food store and dip empty 00-size capsules into it and take a couple a day - I feel it working fairly quickly.

We're all different when it comes to what works for us - for me, I aced it with clindamycin antibiotics - 150mg a couple times a day. It took my fibro pain to zero in a week's time. I took clinda for 5 years, then it stopped working.

Also, magnesium for muscle spasms? Have you experimented to discover which mg works for you and how much?

---

Posts: 12968 | From San Francisco | Registered: May 2006 | IP: Logged |

bluelyme
Frequent Contributor (1K+ posts)
Member # 47170


posted

---

Maybe kratom while you still can...

--------------------
Blue


---

Posts: 1538 | From southwest | Registered: Dec 2015 | IP: Logged |

Jordana
Frequent Contributor (1K+ posts)
Member # 45305


posted

---

If you can't do phenergan you could try cyproheptadine. It's one of the oldest antihistamines and the safest, and it will knock you right out.

---

Posts: 2057 | From Florida | Registered: Feb 2015 | IP: Logged |

klutzo
Frequent Contributor (1K+ posts)
Member # 5701


posted

---

Thank you for all your advice and links, and people to contact, all of which I will check out.

I have already read the Ashton Benzo Bible, but can't get my PCP to do a complete change over to valium.

He just wants to smooth the drop offs from alprazolam with valium.

He agrees with the slowness of Dr. Ashton's taper though.

Neurontin made me hurt ten times worse, so I can't take it. Lyrica did not work and made my feet swell so much I could not wear shoes.

Thanks for the info on the difference between medical MJ and what I remembered from the sixties in college.

I've never heard of cyproheptadine. If Benadryl stops working, will check it out, thanks.

Have taken max doses of turmeric with piperine for years with no results.

Fibro pain not too bad anymore. Lyme is in brain now. Depression and anxiety are worst sx now, and I suspect alprazolam is cause.

After getting zero sleep last night, I risked calling my new doctor, who raised my bedtime valium to 10 mgs.

It's ironic that I must go up in dose first, in order to go down safely.

I assumed I could do this as fast as I did withdrawal from opiates after taking them for 12 yrs. and have learned a hard lesson.

I am to cut the alprazolam only at 1/8 pill every two weeks, once stabilized, and cut the valium last, about 2 years from now.

My taper will take 26 weeks or more as planned now, assuming this stabilizes me.

I pray this will work and I thank you all so much for your help.

Blessings be yours,
klutzo

---

Posts: 1267 | From Clearwater, Florida, USA | Registered: May 2004 | IP: Logged |

LSG Scott
LymeNet Contributor
Member # 21624


posted

---

just another Benzo Nightmare story out here glad you have a good plan with Dr. Ashton's taper go slow dont rush you will get free

--------------------
LSG Scott


---

Posts: 487 | From Boston, Cape Cod, Mass | Registered: Aug 2009 | IP: Logged |

Donna Campbell
Member
Member # 52157


posted

---

To be honest, when I hear about Xanax I feel horrible. I know a lot of people who have escaped from this addiction very hard. Every kind of addiction is destructive, in my opinion. I don't know yet persons who used to be on hard drugs often or consumed alcohol a lot, and they just gave up. It is very hard and I think we should help our closest ones, to be free of all this. I think every addicted person should go through a detox treatment that will clean all this stuff from their bodies. You may check this link below https://fherehab.com/detox/ .

[ 11-22-2020, 03:22 PM: Message edited by: Donna Campbell ]

---

Posts: 24 | From Newark | Registered: Jul 2020 | IP: Logged |
Contact Us | LymeNet home page | Privacy Statement

Powered by UBB.classic™ 6.7.3

---
The Lyme Disease Network is a non-profit organization funded by individual donations. If you would like to support the Network and the LymeNet system of Web services, please send your donations to:
The Lyme Disease Network of New Jersey
907 Pebble Creek Court, Pennington, NJ 08534 USA
http://www.lymenet.org/
---
Home | Flash Discussion | Support Groups | On-Line Library
Legal Resources | Medical Abstracts | Newsletter | Books
Pictures | Site Search | Links | Help/Questions
About LymeNet | Contact Us
---
© 1993-2020 The Lyme Disease Network of New Jersey, Inc.
All Rights Reserved.
Use of the LymeNet Site is subject to Terms and Conditions.
---