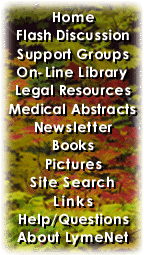 ---
LymeNet on Facebook
LymeNet on Twitter
---
---
The Lyme Disease Network receives a commission from Amazon.com for each purchase originating from this site.
When purchasing from Amazon.com, please
click here first.

Thank you.




Dedicated to the Bachmann Family


LymeNet needs your help:
LymeNet 2020 fund drive

The Lyme Disease Network is a non-profit organization funded by individual donations.

| | |
| --- | --- |
| | |
Author
Topic: Experts dispute Lyme disease-violence claim

Tincup
Honored Contributor (10K+ posts)
Member # 5829


posted

---

Looks like they want their cake and Edith too.

Either we HAVE mental problems associated with Lyme.. which has always been their battle cry... or we DON'T!

What ever suits these idiots at any given moment.

And it is the HO HO HOpkins NUT... and the Worm and Sha Sha Na peer-o.

Go figure.

Thanks Lou for making my day.

I owe ya one.



--------------------
www.TreatTheBite.com
www.DrJonesKids.org
www.MarylandLyme.org
www.LymeDoc.org


---

Posts: 20353 | From The Moon | Registered: Jun 2004 | IP: Logged |

bettyg
Unregistered



posted

---

copying it for neuro patients like me and breaking up as needed.


Experts dispute Lyme disease-violence claim


By LINDSEY TANNER,
AP Medical Writer Lindsey Tanner,
Ap Medical Writer -
Mon Mar 9, 5:46 pm ET


First Baptist Church Worship Pastor Mark Jones speaks to the news media outside AP - First Baptist Church Worship Pastor Mark Jones speaks to the news media outside the church as the staff ...

* Illinois Church Shooting Slideshow: Illinois Church Shooting


CHICAGO -

The mother of a man charged in the Sunday shooting death of a church pastor blames Lyme disease for his mental problems.


However, leading disease specialists say there's no convincing evidence linking the tickborne ailment to such violent behavior.


"Lyme disease doesn't cause people to shoot people," said Dr. Eugene Shapiro, a Lyme disease specialist at Yale University.


He recalled an ax attack in Connecticut in which the perpetrator "pleaded Lyme disease defense. That didn't fly."


The most common Lyme symptoms, caused by bacteria spread by the tiny deer tick, include a bullseye-shaped skin rash and fever. Most people recover with antibiotics, although some symptoms can persist.


According to the federal Centers for Disease Control and Prevention's Web site, Lyme disease can spread to the bones, heart and nervous system if not treated.


It can cause brain inflammation and in rare cases, problems with concentration, short-term memory and sleep disturbances.


Sometimes there is severe headache and neck stiffness, which can be treated by antibiotics, Shapiro said.


Occasionally, nervous system problems can develop months or even years after a tick bite, including irritability and nerve damage in the arms and legs, according to the National Institutes of Health.


But Shapiro said that while there are isolated reports of hallucinations and psychotic illness blamed on Lyme disease, these are controversial.


He said these cases likely involve people with pre-existing mental problems or who were misdiagnosed and never had Lyme disease.


Some patient-advocacy groups use the term "Lyme rage" to explain aggressive psychiatric symptoms. Dr. Paul Auwaerter, an infectious disease specialist at Johns Hopkins medical school,

noted that the condition was even implicated in a highly publicized chimp attack last month that severely injured a Connecticut woman; the animal was said to have Lyme disease.


But at least in humans, mental illness is much more common than Lyme disease, and it would be "extraordinarily rare" to develop a true psychosis from the disease, Auwaerter said.


Dr. Gary Wormser, infectious diseases chief at New York Medical College in Valhalla, said he has done research showing that in areas where the Lyme tick is rampant, psychiatric patients are not more likely than other people to have Lyme disease.


Auwaerter said believers tend to be community doctors in the trenches -- primary care physicians in areas where Lyme ticks are prevalent and who diagnose Lyme disease based on symptoms rather than blood tests.


These include Dr. Daniel Cameron, an internist in Westchester County, New York, where Lyme disease is common.

Cameron is president of the International Lyme and Associated Diseases Society, a group of mostly primary care doctors.


He said he has had many patients with Lyme disease who complain of psychiatric problems, including anxiety, panic and aggression.

Some, usually young people, have resorted to violence including hitting family members, he said.


He defended diagnosing patients based on symptoms, saying blood tests aren't perfect. And, Cameron argued, research suggesting there is no link is not strong enough "to dismiss the medical and psychiatric issues that we see in our practices."
___

On the Net:

CDC: http://www.cdc.gov

National Institutes of Health: http://www.ninds.nih.gov/disorders/lyme/lyme.htm


Copyright © 2009 The Associated Press. All rights reserved. The information contained in the AP News report may not be published, broadcast, rewritten or redistributed without the prior written authority of The Associated Press.

---

IP: Logged |

pineapple
LymeNet Contributor
Member # 11904


posted

---

Remember the article from 2007 in Newsweek called "Diseases of the Mind" that discussed infectious diseases as a cause of psychosis and other mental health disorders? It included Lyme in it's discussion. I cannot find it online any more but I saved it to my computer.

Do you all remember Wyatt Sexton and his psychotic episode in the street? I happen to know a lyme patient who was very confused and psychotic due to lyme disease. Neuropsych symptoms are NOT uncommon unlike what those IDSA idiots want people to believe. What the bleep is their freaking motive here. There own ALDF website has even stated that it can cause neuropsychological problems. Grrr.
*********************************************


Wyatt Sexton will miss 2005 season


By D.c. Reeves FSView & Florida Flambeau
Tallahassee, FL (U-WIRE) -- Florida State quarterback Wyatt Sexton has been diagnosed with Lyme disease and will miss the entire 2005 football season, the Sexton family confirmed through Florida State's Sports Information Office Saturday.

Dr. Chandra Swami, a Lyme Disease specialist in Hermitage, Pa., confirmed Thursday that Sexton was in the "advanced stages" of the disease. Lyme disease is curable, but recovery will take months.

"Wyatt has active Lyme Disease that has resulted in neuropsychiatric and cardiovascular deficits," Dr. Swami told the Sports Information office. "I have strongly recommended intensive therapy with a goal to obtain an optimal state of health. This should include academics and athletics. He should not be stressed by these two disciplines for now."

Sexton, a Tallahassee native, was penciled in as the starting quarterback for the Sept. 5 season opener against the University of Miami at the conclusion of spring practice. But strange behavior from the junior signal caller on June 13 -- including referring to himself as "God" in the middle of a street -- raised many questions and eyebrows.

Wyatt Sexton's father and assistant head coach Billy Sexton released a statement two days later saying that Wyatt was "under the care of physicians for a medical problem" and that "drug abuse is not the problem."

Saturday's report was the first news of the situation since Billy Sexton's statement.

According to The American Lyme Disease Foundation's website, "the more severe, potentially debilitating symptoms of later-stage Lyme disease may occur weeks, months, or, in a few cases, years after infection. These can include severe headaches, painful arthritis and swelling of joints, cardiac abnormalities, and central nervous system (CNS) involvement leading to cognitive (mental) disorders."


On the field, Florida State will now turn to a pair of highly-touted redshirt freshmen as quarterbacks: Xavier Lee and Drew Weatherford.

"Going into this, the only thing we did was come up with a plan A and a plan B. Plan A, of course, was if Wyatt was healthy and ready to go," Bowden said. "Plan B was what we would do if he wasn't able to go. Obviously, now we have to go with plan B. Xavier (Lee) and Drew (Weatherford) will start out even when we return to practice and we'll have three and a half weeks to see if one can separate himself from the other. If not, we will go into the season with two quarterbacks ready to go."

(C) 2004 FSView & Florida Flambeau via U-WIRE


***********************************


Disoriented, suspended FSU QB Sexton hospitalized
June 14, 2005
CBS SportsLine.com wire reports



TALLAHASSEE, Fla. -- Suspended Florida State quarterback Wyatt Sexton was doused by pepper spray and taken to a hospital by police after he was found lying in the street and identifying himself as God.

Sexton was hospitalized Monday night. A school official said Tuesday he was still under medical care at an undisclosed location. Sexton had not been charged with any crime.

Florida State assistant athletic director Rob Wilson said Sexton was suspended from the team two weeks ago because of a previously undisclosed violation of team rules. He declined to elaborate, and said this incident appeared to be unrelated.

Sexton, 20, is the son of Florida State's assistant head coach and running backs coach, Billy Sexton. Wilson said neither head coach Bobby Bowden nor Sexton's father would comment.

Sexton, who will be a junior in the fall, took over the starting job for the Seminoles at midseason last year. He was expected to compete for the spot this year with Drew Weatherford and Xavier Lee, who were redshirted as freshmen last year.

An incident report by Tallahassee police officer Zachary Lyne said he was called to a residential neighborhood about reports of a man doing push-ups in the street and jumping on a car.

Lyne said he found Sexton in the middle of the road wearing only a wet pair of shorts. The officer asked Sexton several times to identify himself, and eventually he said he was God.

Sexton later got on his hands and knees, yelled obscenities at the officer and stared at him. He was doused with pepper spray and handcuffed, and identified himself as Sexton.

Police said Sexton "appeared to be under the influence of some unknown narcotic or alcohol." Hospital officials said they didn't have any information on him.

Once at the hospital, Sexton continued to say he was God and that he didn't know why he was in the hospital, Lyne wrote.

Police said Sexton's roommates told them he had been at a Dave Matthews Band concert in Tennessee with them earlier Monday. They said he had been stressed out over trying to win the starting quarterback job.

---

Posts: 339 | From nowhere | Registered: May 2007 | IP: Logged |

ping
Frequent Contributor (1K+ posts)
Member # 6974


posted

---

My thanks to tincup for so aptly expressing my feelings in this matter. LOL

Look at it like this - As horrible as this incident is, the one (and only) benefit that might come of it is that it happened in Oprah's backyard.

"We are more than containers for Lyme"
ping

--------------------
ping
"We are more than containers for Lyme"


---

Posts: 1302 | From Back in TX again | Registered: Mar 2005 | IP: Logged |

Robin123
Moderator
Member # 9197


posted

---

Finally, we see an ILADS spokesperson, Dr C, in the article Lou found.

---

Posts: 13049 | From San Francisco | Registered: May 2006 | IP: Logged |

btmb03
Unregistered



posted

---

I agree there is a lot of misinformation in this article but I think Lyme can exacerbate an already-depressed/psychotic individual.

Not everyone gets Lyme rage and not everyone's behavior should be attributed to Lyme.

Just my 2 cents' worth.

---

IP: Logged |

johnnylight
LymeNet Contributor
Member # 18518


posted

---

But Dr. Eugene Shapiro, a Lyme disease expert at Yale University, said it would be unlikely that the tick-borne illness would make someone so violent. "Lyme disease doesn't cause people to shoot people," Shapiro said.

Here we go again with this MORON he is so pathetic it makes me want to have Lyme rage on him.

http://news.aol.com/article/illinois-church-shooting/374149

---

Posts: 128 | From web | Registered: Dec 2008 | IP: Logged |

map1131
Frequent Contributor (5K+ posts)
Member # 2022


posted

---

I doubt I would allow myself to become ill enough to shoot someone. Angry, yes, swinging at, maybe?

But I've been blessed enough along the way to find help when I needed it the most. I have a therapist and a PCP/Internist that listen and help me.

If I was alone in this horrible lyme world for the last 10 yrs with no support or meds and the ablility to find information for myself...?????

There is most likely more to this young man than lyme. We all know how bad things can be. Image how bad it was for him that he would kill someone.

I didn't know there was a lyme expert at Yale? HHHHUUUMMMM?

Pam

--------------------
"Never, never, never, never, never give up" Winston Churchill


---

Posts: 6444 | From Louisville, Ky | Registered: Jan 2002 | IP: Logged |

lymemomtooo
Frequent Contributor (1K+ posts)
Member # 5396


posted

---

I am unsure if it is Lyme or Bartonella but my daughter was normal with no psych issues and after infection, there were a few years where she could easily have killed me.

I have been kicked in both knees by Doc Martin boots. I have been ripped with an insulin lancet and I have had a metal rod swumg at me in an attempt to kill me.

Wish I could have invited some of the wonder Ducks to have spent a couple of days at our house to live thru the worst of this. lmt

---

Posts: 2360 | From SE PA | Registered: Mar 2004 | IP: Logged |

roysbaby
Junior Member
Member # 19256


posted

---

I hate that the church incident happened but I have to say I am thankful because my family is finally giving me the support I have been needing to fight my brand new diagnosis after 4 years of misdiagnosis.

It just sucks it took this idiot to bring Lyme Disease into the Lime Light (yea failed attempt at humor).

And even though my friends and family are terrified that I am going to go on a Lyme's Homicidal Rage, I am glad at least they are being more supportive.

--------------------
Kelly
[email protected]

Diagnosed after 4 years of madness on February 25, 2009


---

Posts: 8 | From auburn, alabama | Registered: Feb 2009 | IP: Logged |

Geneal
Frequent Contributor (5K+ posts)
Member # 10375


posted

---

I like how it is "rare" for people with Lyme to have memory issues,

Sleep distubances and cognitive issues.

Shucks, that basically at least one symptom

Of everybody on this board.

Guess we are rare.

Same old IDSA Propoganda.

Notice that at every opportunity they knock the whole disease,

Denying our plight and suffering and not just addressing the issue at hand.

Par for the course for the IDSA.

Reminds me of a family member who is a pathological liar.

He tells stories, but changes them to make him the fastest,

Strongest, wealthiest, etc.

Sad thing is that after repeating these altered stories over time,

He starts to believe they are true.


Hugs,

Geneal

---

Posts: 6250 | From Louisiana | Registered: Oct 2006 | IP: Logged |
Contact Us | LymeNet home page | Privacy Statement

Powered by UBB.classic™ 6.7.3

---
The Lyme Disease Network is a non-profit organization funded by individual donations. If you would like to support the Network and the LymeNet system of Web services, please send your donations to:
The Lyme Disease Network of New Jersey
907 Pebble Creek Court, Pennington, NJ 08534 USA
http://www.lymenet.org/
---
Home | Flash Discussion | Support Groups | On-Line Library
Legal Resources | Medical Abstracts | Newsletter | Books
Pictures | Site Search | Links | Help/Questions
About LymeNet | Contact Us
---
© 1993-2020 The Lyme Disease Network of New Jersey, Inc.
All Rights Reserved.
Use of the LymeNet Site is subject to Terms and Conditions.
---