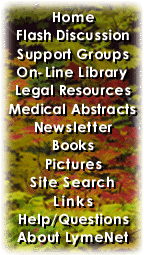 ---
LymeNet on Facebook
LymeNet on Twitter
---
---
The Lyme Disease Network receives a commission from Amazon.com for each purchase originating from this site.
When purchasing from Amazon.com, please
click here first.

Thank you.




Dedicated to the Bachmann Family


LymeNet needs your help:
LymeNet 2020 fund drive

The Lyme Disease Network is a non-profit organization funded by individual donations.

| | |
| --- | --- |
| | |
Author
Topic: antibiotics and terrible psychosis-very scared-help

lark1067
Member
Member # 6433


posted

---

does anyone know whether the mix of antibiotics can trigger terrible psychosis and out of body experiences. Once antibiotics have stopped will the psychosis go away with time? It has been a month and they have not gone yet, yet slightly better. very very scared

---

Posts: 10 | From New York City, NY, USA | Registered: Oct 2004 | IP: Logged |

Lyddie
Unregistered



posted

---

Are you having this experience yourself, or are you scared for someone else? My daughter was psychotic for 2 months on tetracycline. When I took her off, she was much better in 2 days, but continued to have some weird experiences including major panic attacks for a few months.

She did not just stop antibiotics, but went onto amoxicillin for a month or two, then Biaxin

What drug or mix of drugs are you talking about? We ended up having a psychiatrist research psych. side effects of antibiotics for us, and also there is a woman I found online who researched for me. I believe that it was the med stirring up the Lyme in my daughter's brain and nervous system, not a side effect, but there are some psychiatric side effects to some anitibiotics (although any reported side effects might in fact be herxes from die-off of infecting organisms).

We were very very scared and understand how you feel. Others will come along and share their experiences too. Can you be a llitle more specific about what drug(s) and what the psychosis is like. I hope things continue to improve.

---

IP: Logged |

Tincup
Honored Contributor (10K+ posts)
Member # 5829


posted

---

Hey lark..

Sorry to hear you are feeling so bad.

First thing.. have you checked with your doctor about these problems?

Second.. in order to try and help... other than to offer a shoulder to cry on .. we would need to know more about the whole situation. For example:

Do you have Lyme?

Do you have co-infections?

Have you had them a long while, etc. etc.

My best suggestion would be to call the doctor for the best answers. Of course we aren't doctors.. but we do understand how you feel.. and yes.. your symptoms can happen in folks with tick borne diseases.. but we can't say why they are happening to you.

I hope you understand our situation. We are not trying to avoid an answer.. just can't try give a good one unless we have more details.

I do hope you feel better real soon.

Let us know how we can help.. ok?

---

Posts: 20353 | From The Moon | Registered: Jun 2004 | IP: Logged |

Health
Frequent Contributor (1K+ posts)
Member # 6034


posted

---

Ive had this on Doxy, and on herbal I used for lyme. It was absolutely a nightmare.
Like I had something evil in my mind.

I thought it was a bad reaction but had it with the Zithromycin too, and the flagyl.

Doxy has been the worst. I would cut back if you have to, I had to before.

Also, the depression i had sometimes, was feeling suicidal, and there was not way to know this at the time. I would lay there in bed, in the blackest hole you could imagine, no way to get out but die.

Call LLMD. talk about this. For some it is too much to take, so cut back, or keep a journal near you written down about how yesterday the SAME thing happened and it was a herx, you have to keep reading it because it is so real. Keep reading and just lay in bed until it passes, or cut back.

I remember when I upped the Doxy, thought it was ok to, I had the mind shaking like going to just die in it, so insane feeling... went on for hours. Went back down to lower dosage, then upped later.

Trish

---

Posts: 1250 | From Canada | Registered: Aug 2004 | IP: Logged |

WIZARD
LymeNet Contributor
Member # 4597


posted

---

It would be helpful to have more information about what abx you are speaking of.

I will tell you our experience though. Hubby was on Mepron/Zithromax and tolerating it well. LLMD added tinidizole and within days he had become psychotic and unsafe.

It took me almost a month to stop making excuses about all the "accidents" he was having at home. A call to the LLMD and he stopped all meds immediately. Dr. feels that the tini was really working, but the idea is to kill the bugs, not the patient.

Please check with your Dr. ASAP.


---

Posts: 252 | From USA | Registered: Sep 2003 | IP: Logged |

lark1067
Member
Member # 6433


posted

---

thank you so much to all who. my daughter is 19 (misdiagnosed for 4 years) and seeing top LLMD for lyme and babesia. treatment was working very well after 1 year and a half. most lyme and babesia symptoms were gone. she was on zith/plaquinel/malerone(4 pills a day) as well as anti-depressants for months. She became psychotic out of the blue a month age. she is off of all meds for the last 3 weeks. My LLMD says he has never had this reaction. she has dissociation, panic attacks all day on and off and severe anxiety and depression.she is scared to death. Has anyone had this or know of anyone. Is is permanent? help.

---

Posts: 10 | From New York City, NY, USA | Registered: Oct 2004 | IP: Logged |

lymiecanuck
Unregistered



posted

---

My personal experince was major psyhchaitic type stuff when I was about 17. I think the teends are more vulnerable years for this kind of reaciton to lyme.

Last year, 33 now, I couldn't feel my body. It was horrible and frighting, I was in constant panic, and would break down crying several times a day. I was at the doctor 3 times a week, I didn't have lyme dx yet and no meds yet, but a allergic reaciton I had stirred up the lyme and down I went with a million symptoms.

To describe, was like being in a big space suit, the suit was my body and was like seeing out of eye holes in suit. It was completely freaky. This was after being in severe agonisng pain for a few weeks.

I wonder if they stirred up the keets and now they are running free, with her not being on treatment.

I hope she feels better soon. I find the worst part of lyme besides severe pain is constant panic.

Good Luck
lymiecanuck

---

IP: Logged |

nan
Frequent Contributor (1K+ posts)
Member # 63


posted

---

Antidepressants can have some very adverse effects. I would be more suspect of them than the antibiotics...and think you really should check with her doctors. Sometimes the sudden cessation of anti-depressants can trigger some really scary symptoms.
Most need to be gradually withdrawn.

Here is the complete list of adverse reactions attributable to SSRI medications:

Insomnia
Vivid and violent dreams
Inability to detect dreams from reality (The world takes on an other-worldly aspect)
No emotions
Inability to feel guilt or cry
Nausea
Loss of appetite
Rash; Breathing or lung problems
Heart fluttering
Shaking - jitteriness
Unusual energy surges at times producing super human strength (adrenalin rushes)
Memory impairment
Hair loss
Blurred vision or pressure behind the eyes
Inability to discontinue use of drug and increasing own dose
Cravings for alcohol, sweets, and other substances or drinking large sums of alcohol, coffee or other caffeinated drinks, diet pop with NutraSweet, etc.
Headaches
Swelling and/or pain in joints
Burning or tingling in extremities
Muscle twitching or contractions
Tongue numbness and slurred speech
Sweating
Dizziness
Confusion
Chills or cold sweats
Muscle weakness
Extreme fatigue
Diabetes or hypoglycemia
Lowered immune system
Seizures or convulsions
Weight gain or weight loss
Mood swings
Altered personality
Symptoms of mania, ie., inability to sit still or restlessness, racing thoughts, acting silly or giddy (like a teenager again)
Sexual promiscuity leading to unwanted pregnancy or divorce
Irresponsibility, wild spending sprees, gambling, criminal behavior, shoplifting, embezzling, stealing, hostility, etc.
Deceitfulness
Blank staring
Inability to see any alternatives in situations
Hyperactivity
Aggressive or violent behavior
Wanting to ram other cars or driving irrationally
Impulsive behavior with no concern about consequences
Numbness in various body parts - legs go numb and right out from under patient
Sexual organs go numb making orgasm impossible
Pulling away from loved ones and others (isolating oneself)
Divorce
No desire to be touched
Paranoia
Falsely accusing others of abuse - family members or acquaintances
Loss of spirituality
Feeling "possessed" or that something evil is inside
Self destructive behavior and suicidal ideation
Suicide attempts
Muscle tremors
Loss of co-ordination
Mania
Psychosis


---

Posts: 2135 | From Tick Country | Registered: Oct 2000 | IP: Logged |

lark1067
Member
Member # 6433


posted

---

thank you so much for the replies. In fact, she had none of these pwychotic out of body feelings for the year and a half that she was in treatment. they in fact started when we stopped the anti-depressants suddenly. or maybe it was the heavy doses of malerone. she keeps saying she does not know what life is, she does not want to die. all day long. it is terrifying. the psychiatrist thinks the lyme may have triggered an underlying psychosis. i really do not think so. i just need to know if anyone has had a resulution of the psychosis after the a period of time.

---

Posts: 10 | From New York City, NY, USA | Registered: Oct 2004 | IP: Logged |

Lyddie
Unregistered



posted

---

What antidepressants was she on? Did she taper off slowly? Could some of this be withdrawal from the antidepressant?
If any MD told you to give her half the dose for one week and then stop (a commn pice of advice) this is WRONG for a lot of people and can cause a lot of problems.

It is also possilbe that the antidepressants and other meds (esp. zithromax) might have interacted in such a way that the antidepressant built up in her system to levels that are too high. Many doctors including our LLMD's don't know about this. Auntybiotic's daughter recently had a problem similar to your daughter's for this reason. You could search her posts.

Also, if these drugs were interacting in this way, then if your daughter stopped the antibiotic and the antidepressant at the same time, then the extreme and abrupt drop in blood levels of the anitdepressant would cause major problems. Just stoping the antibiotic alone could also cause major withdrawal if it affected blood levels of the antidepressant.

I can explain this further or direct you to online information on it, if you give more specifics on the type of antidepressant, and when each drug was stopped, and whether they were tapered. Is she totally drug free right now? Was every med stopped abruptly?

A pharmacist might be very helpful to you. Auntybiotic went that route for help.

If your daughter started off with a psych. reaction to Lyme treatment, hypothetically, but all drugs wre stopped abruptly, she could have a very confusing mixture of things going on.

My daughter had a psychosis on tetracycline, which I mentioned., But she also had a lot of weird things happen on a combo of antibiotics and antidepressnats (seizures, out-of-body stuff, "Alice in Wonderland syndorme" in which the world got smaller in her vision). AND she also had weird stuff getting off Zoloft, even with a very careful and slow reduction of the drug over two months' time. Some of the same stuff just mentioned, and also electric brain "zaps" commonly experienced by people in withdrawal.

Sorry, let us know more! We are not doctors or pharmacists but could maybe suggest a few ideas...

Oh, and despite all these experiences, my daughter is completely her normal self now. it took a few moths in each instance (with the tetracycline episode,a nd with teh drug withdrawal) but one of it appears to be at al permanent. Hope this gives some comfort...




---

IP: Logged |

Lyddie
Unregistered



posted

---

Lark, stopping antidepressants can cause these symptoms! And even more so if the antidepressant was taken along with certain antibiotics.

I am not a doctor, obviously, but if this psychosis began when your daughter got off the meds, then many would recommend you put her back on the antidepressant and then do a "taper." There is a lot of information online about this. The best tapering advice I got was from Fred over at MGH neurology/headache site.

Some people need to take months to get off antidepressants. You should decrease the dose very gradually. You can get a liquid form to help with this. You can also use time to taper, meaning take doses farther apart in a gradual manner.

You can observe how the taper is going and once your daughter is stable at a certain dose and timing, take the next baby step,and continue like this. Ths can be in very small increments. People say that getting off the last 5-10mg is the hardest.

You can also use very small doses of another antidepressant to cushion this process, if the withdrawal is really bad.

Finally, if your daughter is one of those people who have the interaction of antidepressant with antibiotic which results in buildup of the antidepressant in the blood...then just stopping the antibiotic, while still on a full dose of antidepressant, will be a big deal by itself. So you want to consider stopping the antibiotic as the first big step in the taper, and wait until the withdrawal from that is over until you reduce the antidepressant at all.

This suggestion is based on your saying that the symptoms started when your daughter stopped all drugs abruptly.

Auntybiotic's daughter also had such high levels of antidepressant in her body from the interaction with Biaxin, that she
had possilbe "seratonin syndrome" which can also cause a lot of weird symptoms.
Sof if things got bizarre while still on the meds you might want to have her seratonin levels checked.

I feel uncomfortable giving this advice in such a serious situation, but it might help you to know that very few doctors know about antidepressant withdrawal problems or interaction with other drugs.
There are sites like "Prozac truth" (I think it's called) or you could search Yahoo to look up "SSRI withdrawal" for help. And if you could find an MD or pharmacist who is knowledgeable, that would be the best way to get help.

Forgive all mytypos, my fingers aren't good today! Good luck...These drugs are so much more of a problem than anyone knows, and it is a crime that we are not adequately warned.




---

IP: Logged |

HaplyCarlessdave
Frequent Contributor (1K+ posts)
Member # 413


posted

---

I wouldn't stop everything "cold turkey"- I's ease back onto abx, and perhaps test the herbal treatment artimesia anua instead of atovaquone, possibly continuing the atovaquone (malaron) at a later date. Be sure diet has lots of whole grains and veggies. Supplemental vitamins are good, but with doxycycline you must avoid any with zinc or glucosamine sulfate or condroitin sulfate, except perhaps occasionally, taken as far "between-abx-doses" as possible, if it has helped enough in the past to be worth it.
Keep in mind her symptoms could well be part of a "herx", too.
I say the following in humor, but who knows, maybe there's something to it: -- maybe the lyme 'chetes got mad when they started being killed with the abx, now they're still mad but not being killed! ( )
Aother thing that may well help (for a while, try one thing at a time, perhaps) is the herb gingko biloba. It helped me with the lyme blues.
In any case, I hope the problem resolves soon.


[This message has been edited by HaplyCarlessdave (edited 03 March 2005).]

---

Posts: 4567 | From ithaca, NY, usa | Registered: Nov 2000 | IP: Logged |

Lymied
LymeNet Contributor
Member # 6704


posted

---

Hi Lark - I am sorry your daughter is experiencing this. It has to be terrifying. I can tell you with Babesia, Lyme, and Ehrlichia I have had feelings of disassociation and depression. There have been overwhelming feelings of helplessness at times.

I would have to agree about the antidepressants though. Especially after the studies they are showing re: teenagers and antidepressants.

I would make sure she is doing everything she can to detox her body of toxins. This might help move her through this faster although I would talk to someone that specializes in lymphatic drainage and ask if this will make it worse.

She needs to be drinking tons of water and doing some things to get her lymphatics moving. I have heard jumping on a rebounder (mini-trampeline) or just simply jumping up and down a few times every hour.

Also bathing in epsom salts and hydrogen peroxide can help or just sea salts. Fill up the bath tub with hot water - then regular size bottles of hydrogen peroxide and one cup of epsom salts - soak for 1/2 hour. Also skin brushing with a back brush or loofah can help detox the body.

I hope she gets through this soon.

Take care...

---

Posts: 655 | From NC, Exit 88 on the Deer SuperHighway | Registered: Dec 2004 | IP: Logged |

Tincup
Honored Contributor (10K+ posts)
Member # 5829


posted

---

Lark...

I am not familiar with the antidepressants..

I was wondering though..

Has she been checked or treated for Bartonella?

Another thought of course would be a relapse.. which I hope not.

I do hope she improves much.

Wishing you well.

---

Posts: 20353 | From The Moon | Registered: Jun 2004 | IP: Logged |

DR. Wiseass
LymeNet Contributor
Member # 6777


posted

---

Lark -

So sorry to hear about this.

As a relative "newbie" myself, I don't think I can give you any helpful info. I wish I had the answers for you.

I can say, however, that I am discovering first-hand some of the overwhelming fear & frustration that comes along with many of the psychiatric symptoms. Many days I feel like I could be losing my mind.

Most days, at the very least, I've managed to offend someone because of something that comes flying out of my mouth or off my enraged typing fingers.

I can go from hysterically laughing (often at inappropriate things) to hysterically crying/raging at remarkable speeds.

What I can tell you about feeling like I'm losing control of myself is that it does offer me comfort that I'm not alone in this...meaning that I am fortunate enough to have my mother reading & researching & showing up at doc appts when necessary & advocating for me...and I'm pushing 40 yrs old!

It means more than I can express to you - to know that in the midst of what feels like utter insanity - to know that I am loved & that my family is not gonna let me go down without a fight.

As a mom, I can only imagine how scared I would be if my child was experiencing this & I didn't know how to help.

But as a daughter, I think it's important for you to know HOW MUCH YOUR UNCONDITIONAL LOVE means to your daughter - even if she's not in a place where she can articulate her appreciation.

I just felt compelled to write you & let you know that you are supported here - even if many do not always respond.

There are so many intelligent, passionate, caring people here at this site. They can help support you, as you support her.

AT this point there doesn't seem like much I can do for you other than to pray for you & your daughter.

Consider it done.

Blessings,


------------------
DR. Wiseass - not a real doc - just a real wise ass.
www.twistoflyme.blogspot.com

---

Posts: 792 | From USA | Registered: Jan 2005 | IP: Logged |

hwlatin
LymeNet Contributor
Member # 4123


posted

---

I will tell you that my son was doing great until November rolled around then took a sharp turn downward. He started having very psychotic episodes and it has continued ever since.

I suspected it might have been from the Ketek, but he has been off of that for 4 weeks now and it is still going strong. Several environmental factor have occured in that time period, heavy rains, a dump that started moving alot of dirt and a water company that switched water sources during a maintenance cycle.

I only mention this because it is possible with the winter season that even mold could cause a relapse, as well as other potential toxins or other infections.

An then the psych meds. Stopping them abruptly could cause a great deal of problems.

I am in the process of having my sons levels checked to see if he has abnormal levels. It is possible to produce antibodies to both serotonin and dopamine, in which case it is possible that can be a factor.

I will tell you that not alot of doctors check these levels, but I talked to one that thinks it is imparative to check the levels before and after starting or stopping psych meds.

[This message has been edited by hwlatin (edited 04 March 2005).]

---

Posts: 533 | From Las Vegas, NV | Registered: Jun 2003 | IP: Logged |

paulscha
LymeNet Contributor
Member # 6334


posted

---

Boy, am I ever right there with ya. Could be the malarone, I'm on second course and definitely sketchy. I think these reactions are far more common than some LLMDs realize, people just are often afraid/embarrassed to say what's happening.

To say 'oh, that's normal' would be kind of ridiculous, but I do want to say that my own experience (Biaxin did it bigtime, Malarone too) is that these anti-infective drugs, all by themselves, can create what feels like psychosis.

Neurolyme - at least the version I have - taxes the sanity in itself. I have vertigo, horrible hyperacusis, exaggerated startle response, various buzzing-stinging-itching-searing neuropathies, 'ataxia' (involuntary, chronic flexing of muscles in hands and toes), tinnitus...this on top of a LOT of pain, in my case, but even without the pain, the sheer volume of sensory and nervous system weirdness could drive to distraction. I have episodes several times a week where all of the sudden I don't know what day or time it is, whether it is light or dark outside, whether I'm alone in my apartment or there's someone else here. They're brief, but absolutely terrifying. And this is BEFORE you factor in the antibiotics / antiprotozoans.

On those drugs, I've had a kind of anxiety that does not seem to depend on what i'm thinking at all, that is like sticking your finger in a socket. I've had real trouble breathing, and that is not just classic 'panic attack' but a mix of lung involvement, muscle spasm and rigidity, and heavy-duty brain cross-talk.

I'm plenty eccentric, but I never had anything like these experiences before this disease took me down in a big way a couple years back, and on Lyme / Babesia tx it's gone to a whole other level.

On Biaxin, I saw things that weren't there, had waking nightmares...for several nights running, saw a blurry, man-like figure in the front room from my bed...for the better part of an hour saw what looked like a mummified baby trying to wrestle free on my ceiling.

I write about these things without shame or fear of what people will think, because I know that they are the disease, not me.

For what it's worth, my working theory is that when you get these things on Lyme / Babesia tx you're getting a kind of preview of where you'd end up if you left the condition untreated. Scares the crap out of me, but seems to abate during breaks in tx, and I am hopeful that by braving these things now I am avoiding more of them in the future. Of course, I could just be trying to make myself feel better.

I've just been put on a low dose of seroquel, we'll see if that helps. LLMD says Dr. Stricker is using it with a lot of his neurolyme patients, and finding it helps with neuroherx. LLMD also has me starting the Actos / Cholestramine thing for toxin binding, not sure it'll help but determined to do all she can to make this process easier on me.

I don't know how it is with your daughter. For me, the best remedy for these terrifying things is human contact and rest, in roughly equal portions. So I have family calling to check in, keep in touch with other patients, and when it's all too much try to practice controlled breathing and rest my senses in a quiet, dimly lit room. A friend got me some industrial ear protectors, which except for the tinnitus create a wall of silence - sometimes is vary helpful.

It's no picnic to quiet your thoughts when all your senses are bombarding you with chaotic and disturbing impressions, which is one of the nasty forms that neurolyme can take.

Sorry to natter on, your post struck a strong chord with me, obviously. I wish all the best for you and your daughter.

Paul


---

Posts: 199 | From Santa Cruz, CA | Registered: Oct 2004 | IP: Logged |

DR. Wiseass
LymeNet Contributor
Member # 6777


posted

---

Lark -

Thank you for bringing this whole issue up...I think this is an issue that many of us experience in different ways - the psychatric manifestations - but don't often bring up as a topic ourselves.

So thank you, Lark. I'm just so sorry that it was becuase of what you & your daughter are experiencing. (How is she doing now?)

As for all the others whom have posted, I thank you for your candor.

I've not had all the treatment you've had; and I haven't had the "psychosis" experiences many of you describe but I did have a weird dream-like experience one night when "titering down" off my anti-depressant.

HWLATIN - I'm curious about what you said about us possibly making antibodies to our own seretonin & dopamine. ARE there actual tests that can check for that? As someone with an auto-immune disease already, and knowing that one auto-imm. can lead to another...I find this both interesting and potentially disturbing. Let us know.

Blessings,

------------------
DR. Wiseass - not a real doc - just a real wise ass.
www.twistoflyme.blogspot.com

---

Posts: 792 | From USA | Registered: Jan 2005 | IP: Logged |

lark1067
Member
Member # 6433


posted

---

God bless all of you who replied. It makes me feel less alone. my daughter has a top LLMD and a top neuropsychiatrist also who is LL. She was on IV for 5 months and then treated for bartonella and finally babesia for 9 months. the babesia treatment finally took away the horrible nausea she had and the flu like symptoms, but what a cost!! these psychotic episodes are terrifying and relentless. She never had them before a month ageo Yes, she was also on very low doses of anti-depressants and athen ahti-psychotics, the last two days were seroquel which she believes made her worse. She says she is sucked in to a hole and cannot get out. she keeps saying over and over again "i do not want to die" "i do not want to be in a coffin forever". "what is life". sometimes she can draw herself out. Her LLMD says he has never encountered this, Her psychiatrist says that it is not a herx (she stopped all antibiotics a month ago) and does not now have ANY other lyme or co-infection symptpms), he also says that if it was a herx then she would have had these symptpms over the last year and a half of treatment. Her internist says that the psychosis is probably from the malerone--she was on 4 pills a day for 5 weeks--and that malerone is stored in the fatty tissues of the brain and it will take perhaps a month more for it to leave her brain. He suggested chlorasteramine, which binds the toxins, but she got severely constipated. This is un bearable. If only I had a crystal ball that could tell me that the internist is right and that these meds did not do permanent damage to her brain. This girl was sick for 4 years misdiagnosed yet still got herself into a top university in the country and could not go. She is supposed to go in September. At this point, I just want her to be normal again mentally.

---

Posts: 10 | From New York City, NY, USA | Registered: Oct 2004 | IP: Logged |

DR. Wiseass
LymeNet Contributor
Member # 6777


posted

---

Lark -

How I wish I had a crystal ball, too.

I will BELIEVE that your daughter will return to "normalcy" - actually to a state better than normalcy - to complete mental, physical, emotional health.

It's often hard to hang on to hope when you feel like you're living your life in the middle of an F5 tornado.

But people on the outside can BELIEVE for you; hang on to HOPE for you - when you can't seem to find any.

You will remain in my thoughts & prayers. I will hold a space in my mind where I envision your daughter healthy, peaceful, vibrant. That will be my thought - that will be my prayer.

Keep us posted.

Email anytime.
[email protected]

Blessings,
DR

---

Posts: 792 | From USA | Registered: Jan 2005 | IP: Logged |

Linda LD
Frequent Contributor (1K+ posts)
Member # 6663


posted

---

Lark,

You are a life saver--I never thought this was the lyme. My son, seven, told me this mornng that he turned around and saw a man in our family room standing there. My grandmother died yesterday after really suffering...

It really scared him.

He only takes one antibiotic a month.

Once when he was two he saw a man in black run across our porch.

Could this be the antibiotic or just the lyme?

I told my husband this morning that he is either phycotic, or desperate for attention--I NEVER suspected the lyme. THANK YOU!!!

Linda

---

Posts: 1171 | From Knoxville, TN US | Registered: Dec 2004 | IP: Logged |

paulscha
LymeNet Contributor
Member # 6334


posted

---

I don't know what to make of the psychiatrist saying your daughter is now 100% Lyme-free. This person is supposed to be Lyme-literate? I know it isn't exactly cheering to say it ain't so, but I think it ain't so.

I've read a LOT about the various ways that Bb can evade both antibiotics and the immune system. I don't buy it, that anyone can say 'oh, the bugs are all gone now, whatever symptom you're having is not Lyme or Babesia.'

However, I do appreciate that the brain needs time to repair itself, and so do less physical entities like the psyche and the soul.

Possibly the term 'Post Traumatic Stress Disorder' needs to be considered. When the mind has been led down a thousand dark alleys by this disease, it may find it difficult to avoid those alleyes once the disease is in remission. So whether your daughter has crossed the threshold into Lyme dormancy or not, I would still say that her difficulties are more 'Lyme' than anything else.

I wonder what the hell it is about malarone that makes them suspect it in your daughters case? I'm on my 2nd course of it now (first course plus two courses of Mepron behind me). I appreciate the heads up that this drug has been suspected of playing a role in mental/emotional distress.

And yikes, if your daughter thinks seroquel made it worse, I'm inclined to take that seriously. Will be on watch to see if it's exerting any nasty voodoo on me.

I feel like everythng I can say in the face of your predicament is so lame and inadequate. Yet I believe in my gut your daughter will pass through this and find her bearings again. She is stronger than she thinks, or she would not have made it this far.

If there is anything worse than going through this dreadful disease, it's got to be watching it happen to someone you love. My heart goes out to you, and I tell you as someone who has been on the ropes and still is, don't ever stop hoping for the best.

Paul


---

Posts: 199 | From Santa Cruz, CA | Registered: Oct 2004 | IP: Logged |

lymemomtooo
Frequent Contributor (1K+ posts)
Member # 5396


posted

---

Lark, I may be the worst one possible to reply at the moment with my daughter in the psych ward for her 8th? suicide attempt..

I blame it on Bartonella and lyme and what ever else is out there..No one knows for sure and I have one of the best lyme psychs available..Dr's at the hospital do not have answers just say this is a very complicated case..And they are starting to get the lyme thing..She also has uncontrolled juvenile diabetes and it can cause almost as much depression.

My thoughts are to pray, find a good lyme psych, try some valium, low strength to only use to get you thru,(you control ownership of the bottle) and test for neurotoxins..Go to chronicneurotoxins.com and buy one of the $8 something tests..Some, including my daughter, have a gene that does not permit them to motabalize and excrete toxins. And a final hope that a cure will happen soon!!!!!!!!!!

You could go up top and do a search for psychiatric symptoms, etc and it might give you some other posts..Also in the links for new members, there should be a link to psychiatric manifestations, I think..

And if it's neuro toxin problems also, search some of GiGi's posts.

Good luck..I will include you in my prayrers..This is hell..

Also start looking for Obsessive compulsive things..Like picking, cutting, germ things..If the progression would be similiar to my daughters, then that is next..

Also put extra knives away,Scissors, put nails in upper story windows, make sure all usual, portable appliances have ground fault things on them...Hide extra meds..All types, even OTC. Start being proactive, just in case and I pray it will all be in vain and will not apply in your case..

---

Posts: 2360 | From SE PA | Registered: Mar 2004 | IP: Logged |
Contact Us | LymeNet home page | Privacy Statement

Powered by UBB.classic™ 6.7.3

---
The Lyme Disease Network is a non-profit organization funded by individual donations. If you would like to support the Network and the LymeNet system of Web services, please send your donations to:
The Lyme Disease Network of New Jersey
907 Pebble Creek Court, Pennington, NJ 08534 USA
http://www.lymenet.org/
---
Home | Flash Discussion | Support Groups | On-Line Library
Legal Resources | Medical Abstracts | Newsletter | Books
Pictures | Site Search | Links | Help/Questions
About LymeNet | Contact Us
---
© 1993-2020 The Lyme Disease Network of New Jersey, Inc.
All Rights Reserved.
Use of the LymeNet Site is subject to Terms and Conditions.
---