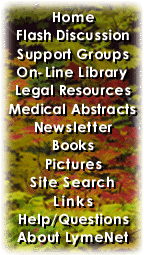 ---
LymeNet on Facebook
LymeNet on Twitter
---
---
The Lyme Disease Network receives a commission from Amazon.com for each purchase originating from this site.
When purchasing from Amazon.com, please
click here first.

Thank you.




Dedicated to the Bachmann Family


LymeNet needs your help:
LymeNet 2020 fund drive

The Lyme Disease Network is a non-profit organization funded by individual donations.

| | |
| --- | --- |
| | |
Author
Topic: what do you do with carb cravings?

danielb
LymeNet Contributor
Member # 8522


posted

---

i am always plagued with requiring bread, and passing out. it's made even worse by my stomach acting up and needing something to weight it down and getting rid of the acid and fumes that come up. drinking the water in my building is impossible and only makes that worse, (i through up yellow crap (bile?) minutes later.) worse is that the tap water only appears to bother one other person in the whole building and she is sick with everything you could ever imagine.

is there anything that can ease my stomach, and make the uncontrollable carb cravings and the huge need to pass out they cause afterward? i cannot follow any lyme/candida diet like this, it's impossible. i am also vegan, so that seems to take away a lot of what other people would eat as well.

maybe the diets allow you to eat rice? i don't even know if that would work with my type of cravings... do any diet-focused meds help?

---

Posts: 244 | From Ottawa | Registered: Dec 2005 | IP: Logged |

Lymetoo
Moderator
Member # 743


posted

---

Do you take chromium? It can help with carb/sugar cravings.

Buy distilled water and drink LOTS of it!!

Buy Ezekiel bread at the health food store. They also have Ezekiel tortillas, but they are nothing to write home about!!

I'm assuming that the "bread" making you pass out is white bread?? [then it's really like eating sugar, which could cause someone with hypoglycemia to pass out I suppose]

--------------------
--Lymetutu--
Opinions, not medical advice!


---

Posts: 94838 | From Texas | Registered: Feb 2001 | IP: Logged |

cantgiveupyet
Frequent Contributor (1K+ posts)
Member # 8165


posted

---

have you tried almond butter? It usually helps me with the cravings. It sticks in my stomach. I eat it by the spoonful.

--------------------
"Say it straight simple and with a smile."

"Thus the task is, not so much to see what no one has seen yet,
But to think what nobody has thought yet, About what everybody sees."

-Schopenhauer

pos babs, bart, igenex WB igm/igg


---

Posts: 3156 | From Lyme limbo | Registered: Oct 2005 | IP: Logged |

TerryK
Frequent Contributor (5K+ posts)
Member # 8552


posted

---

Chromium does help some. I've been eating low carb for over 5 years. It can be hard to withdraw from carbohydrates so consider getting some low carb cookbooks and going slowly.

You can make low carb pancakes, crepes, bread and even chili. I buy canned black soy beans and make a hamburger chili with it. Buy low carb flat bread. I buy it at the health food store.

This is an excellent book:
The Low-Carb Comfort Food Cookbook

You will find lots of recipes in it using soy protien powder and whey powder.

If you must have a treat, use flat bread, lightly fried in a little coconut oil with some (no sugar added) jam or jelly but use sparingly. If you can eat nuts, buy sugar free peanut butter and have that as a treat once in awhile with celery.

Buy protien powder (low carb), add a few strawberries, or a very small amount of Jam, vanilla, pb, ice and water and mix into a milkshake concoction. Very satisfying. Play around with it until you get a good consistency.

Another good book:
Low Carb Recipes Fast & Easy by Belinda Schweinhart

She has a 2nd book out as well.

Eat small amounts often (every few hours)and preferably something with protien. It is much easier to get used to low carb because you will keep your blood sugars steady. Don't let yourself get hungry until you are used to eating low carb.

You can buy low carb yogurt or make your own. Don't drink caffiene as it will destabilize your blood sugar and cause more cravings. The idea is that a steady blood sugar causes fewer cravings.

Realistically, you will have some cravings. If you feel that you really need bread, either buy or make low carb bread and go slowly in getting used to eating low carb.

You can do it but don't be hard on yourself if you mess up once in awhile. You will feel a lot better eating low carb if blood sugard is problem for you.

Terry

---

Posts: 6282 | From Oregon | Registered: Jan 2006 | IP: Logged |

TerryK
Frequent Contributor (5K+ posts)
Member # 8552


posted

---

Oh, BTW, no rice. Follow the glycemic index if you need low carb and it sounds like you probably do. Cravings and feeling like passing out after you eat carbs, excessive feelings of hunger or like a gnawing in your stomach are all signs of carb intolerance or a hypoglycemia, blood sugar problem.

If you do have this problem, going low carb could really help you feel a LOT better. In addition to clearing up mental fogginess you will have more energy, less irritability and relief of many other symptoms *if* blood sugar is causing exacerbation of these symptoms and it sounds like it very well could be.

As far as your water problem, getting rid of the pollutants very much depends on knowing what the pollutants are.

We called our water company and they came to our house and took a sample and tested it for free. Your water can be fine according to their standards but can still be bad for you. I would at least make sure it is OK by their standards.

Perhaps you are sensitive to chlorine or any number of other contaminants in the water. The water company told us that the closer you are to the plant, the more chlorine your water will have in your water. Ours was very high in chlorine. We bought shower filters to get rid of some of it because high chlorine can cause liver cancer or other problems.

I'd buy one of those little pitchers that has a filter in it, sorry I don't remember the name. We have a reverse osmosis filter that works really well but is expensive up front but not over the long run.

Sounds like you really need to figure out what is going on with your water and either filter it to remove the problem or move somewhere else with better water.

I wish you the best.

Terry

---

Posts: 6282 | From Oregon | Registered: Jan 2006 | IP: Logged |

beachcomber
Frequent Contributor (1K+ posts)
Member # 5320


posted

---

Brown rice, millet, barley, quinoa, rolled oats, and most other organic, unrefined, whole grains are loaded with B vitamins and minerals and are low on the glycemic index. They will not give you the sugar rush that can often make one feel like passing out later.

Your body needs carbs. I tried the very low-carb diet and was sicker than ever, passed out alot.

Look into macrobiotics to better understand what carbs are essential to maintain health. There is a reason why our planet supports the cultivation of grains just about in any soil.

Stay well.

Bc

---

Posts: 1452 | Registered: Feb 2004 | IP: Logged |

TerryK
Frequent Contributor (5K+ posts)
Member # 8552


posted

---

Sorry to hear that you've had such a strong reaction to low carb Beachcomber! I've heard of a few others who have felt bad on low carb but not very often and never heard of anyone passing out. Do you mean literally fainting or do you mean being fatigued and unable to function?

I've always understood that rice is one of the highest foods in the glycemic index, brown rice is higher than white bread by some accounts.

This resource states that there can be a wide range in the same food group but I also think that there is a wide range from one index to the next.
http://www.acu-cell.com/gi.html

Beachcomber is right, your body needs carbs. Fortunately, vegetables are chock full of carbs, the right kind of carbs, balanced by plenty of fiber so that they are low on the glycemic index and don't cause the big crashes that high glycemic index carbs cause.

Each body is different and we all need to listen to our body and determine what is best for us. I can't eat much in the way of carbs without suffering tremendously but I'm sure there are many degrees of tolerance to carbs. The key to not having terrible symptoms from carb withdrawal is to go slow while your body adjusts to a new way of eating.

Terry

---

Posts: 6282 | From Oregon | Registered: Jan 2006 | IP: Logged |

beachcomber
Frequent Contributor (1K+ posts)
Member # 5320


posted

---

Terry:

Yes, I was literally blacking out from lack of nutrients. My body was not able to absorb enough of the nutrients in a high fiber (raw veggies) diet and meat was simply fermenting in my gut. I find that I retain more nutrients from high quality whole grains and vegetables, mostly cooked.

The glycemic index is deceiving. It all depends on how your body metabolizes the starches (sugars). Brown rice takes a while to metabolize, a slower release of sugars.

Yes, veggies are full of carbs. But, be careful. Things like green peas (which I love) are chock full of "sugar". So, I believe you need to mix veggies and grains. A balanced diet is necessary.

I also eat almost no dairy any longer. I found that to be the worst source of sugar (lactose) for my body. I tried eating 32 oz. of 0 (added) sugar yogurt every day, at one of my MD's urging. I ended up with Systemic Candida & a rotten gut.

The raw foods diet did clear up the Candida but, I was exhausted and dropped 60 pounds in 3 months.

Macrobiotics has given me back my strength and more energy. I work out 5 days a week now and need the carbs to sustain that ability.

Hope this personal experience helps.

BC

---

Posts: 1452 | Registered: Feb 2004 | IP: Logged |

Christine202
LymeNet Contributor
Member # 6158


posted

---

I am the same way... No carbs are downrigth dangerous for me... I black out, shake, cant think straight... My body is not the type for this kind of eating.

I do complex carbs...

www.delandbakery.com is a bakery in Fla that makes all yeast free millet products.

I order by the case full, and their things are delicious!!

Also I do brown rice, quinoa, oats, a little spelt.....

But never do I eat only protein...

---

Posts: 437 | Registered: Sep 2004 | IP: Logged |

Linda LD
Frequent Contributor (1K+ posts)
Member # 6663


posted

---

Christine202,

Is it o.k. to eat oatmeal if you put it in water that has already been heated?

I am going to call your bakery today!

For Lent I'm giving up sugar and that includes yeast--does it matter that I'm not Catholic?

Linda

---

Posts: 1171 | From Knoxville, TN US | Registered: Dec 2004 | IP: Logged |

Christine202
LymeNet Contributor
Member # 6158


posted

---

Linda - I dont know what I did before I found deland Bakery! They have a big sortment of things from Breads, rolls, bagels all millet and no yeast.... Delicious!

As far as adding oatmeal to heated water I am not sure what it could do?

I usually buy steel cut oats from the health food store since they are a complete grain....They taste pretty good.

I also eat an oat cereal with rice milk now and then....

Let me know how you like the bread....!

---

Posts: 437 | Registered: Sep 2004 | IP: Logged |

TerryK
Frequent Contributor (5K+ posts)
Member # 8552


posted

---

Wow Beachcomber, your reaction to lack of carbs sounds awful! I'm impressed that you are able to work out 5 days a week. I've been very ill for a long time and have learned over the years that even a moderate amount of carbs drive me right over the edge. I think whether one does well on low carb or not really depends on each individual's needs.

Those who have symptoms like danielb after eating carbs might benefit from a low carb diet whereas you do not. I've seen many have fantastic results with a low carb diet such that it is worth the effort of severely reducing carbs for those who truely need it. *If* one needs low carb, you can reduce many symptoms by eating that way such as anxiety, irritability, fatigue, brain fog, carb cravings, weight gain and so many more.

danielb, I don't know for sure what your needs are but I think you can still eat a reasonable amount of carbs while on the candida diet. I was on a candida diet for several years before I went really low carb and I used to make baking powder biscuits that were quite good.

Sounds like you would benefit by looking around for recipes for vegan, low carb or vegan candida diet. It might be worth playing around with your diet to see if you can improve any of your symptoms.

I wish you the best.

Terry

---

Posts: 6282 | From Oregon | Registered: Jan 2006 | IP: Logged |

jbgoth
LymeNet Contributor
Member # 5567


posted

---

I just wanted to tell everyone that their is another bakery in Tampa called Samis Bakery. I bought some of their products at Whole Foods. You can also buy their products on line.

Im not sure whats up with Florida and why these bakeries are popping up, but i sure am happy about it.

They make a spinach-millet-flax seed lavash that is amazing. They also have bread and some pita chips which are really good. They are all yeast free.

I dont feel like im on a candida diet when i eat their stuff.

Jordan

---

Posts: 593 | From Miami, Florida | Registered: Apr 2004 | IP: Logged |

MizMo
LymeNet Contributor
Member # 8389


posted

---

I'm currently going by "Potatoes Not Prozac" by Kathleen DesMaisons (www.radiantrecovery.com)
and learning how to eat correctly so that I can get my blood sugars under control. It's a great book and I highly recommend it.

I definitely empathsize with the carb cravings!

--------------------
http://scottsbt.com/maureen/mo2.htm


---

Posts: 145 | From Mystic Island, NJ 08087 | Registered: Dec 2005 | IP: Logged |

liz28
Unregistered



posted

---

The cravings definitely went down when I added two dietary elements: one bottled soy shake from the corner deli every morning, and a spoonful of refrigerated flaxseed oil in the morning and at night.

---

IP: Logged |

5dana8
Frequent Contributor (1K+ posts)
Member # 7935


posted

---

hey danielb

I found these waffles at my grocery store.

They are "Vans all natural organic soy-Flax waffles" -Vegan-dairy free-eggless-yeast free-sugar free.

Listed on contents on one waffle are :
0 grams of sugar
13 g of carbohydates.
3 grams of fiber

I wouldn't make them a staple of my diet, but every once in a while when I have to have a baked goods or carb these are pretty good.
I use butter & sugar substitute to sweeten.

--------------------
5dana8


---

Posts: 4432 | From some where over the rainbow | Registered: Sep 2005 | IP: Logged |

Christine202
LymeNet Contributor
Member # 6158


posted

---

I just looked up Samis Bakery.... I have to order some of their things they look so GOOD!!!

Thanks so much for the tip

---

Posts: 437 | Registered: Sep 2004 | IP: Logged |

skimpbiz
LymeNet Contributor
Member # 4433


posted

---

Is limiting carbs mandatory? What if yeast isn't too big a problem for you? My LLMD says he doesn't think it's a big problem for me.

Anyway, I did have a HORRIBLE diet...things like nachos, pizza, hot dogs, chicken fingers, wings...not just once in awhile but every day.

I am scrapping that and want to go the healthier route but it IS and WILL be an adjustment. I went to the store yesterday and here's what I got....what do you think? Is this an acceptable lyme diet for someone without too much yeast?

fruit blend - strawberries, pineapples, oranges
whole wheat spaghetti
splenda
one frozen pizza
17 carb egg, sausage, and hashbrown breakfast
frozen mixed veggies
frozen meal - steak, green beans, potatoes
frozen meal - meatloaf, mashed potatoes, carrots and green beans
frozen meal - penne chicken and broccoli
stone ground whole wheat bread
muenster cheese
american cheese slices
low carb tortillas
two caesar salad packages
Tyson brand Chicken breasts (to cook on my foreman grill)
Perdue brand sliced chicken "short cuts" (for salads)
milk
grapes
apples
one frozen chicken pot pie
carrots
bottled water
eggs
grapefruit


How'd I do?

---

Posts: 173 | From Lakeland, FL 33813 | Registered: Aug 2003 | IP: Logged |

Areneli
Frequent Contributor (1K+ posts)
Member # 6740


posted

---

I just eat carbs whenever have cravings ... but realize that not everybody can do it without a price.

---

Posts: 1538 | From Planet Earth | Registered: Jan 2005 | IP: Logged |
Contact Us | LymeNet home page | Privacy Statement

Powered by UBB.classic™ 6.7.3

---
The Lyme Disease Network is a non-profit organization funded by individual donations. If you would like to support the Network and the LymeNet system of Web services, please send your donations to:
The Lyme Disease Network of New Jersey
907 Pebble Creek Court, Pennington, NJ 08534 USA
http://www.lymenet.org/
---
Home | Flash Discussion | Support Groups | On-Line Library
Legal Resources | Medical Abstracts | Newsletter | Books
Pictures | Site Search | Links | Help/Questions
About LymeNet | Contact Us
---
© 1993-2020 The Lyme Disease Network of New Jersey, Inc.
All Rights Reserved.
Use of the LymeNet Site is subject to Terms and Conditions.
---