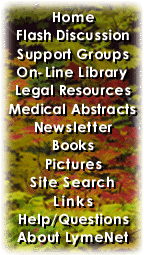 ---
LymeNet on Facebook
LymeNet on Twitter
---
---
The Lyme Disease Network receives a commission from Amazon.com for each purchase originating from this site.
When purchasing from Amazon.com, please
click here first.

Thank you.




Dedicated to the Bachmann Family


LymeNet needs your help:
LymeNet 2020 fund drive

The Lyme Disease Network is a non-profit organization funded by individual donations.

| | |
| --- | --- |
| | |
Author
Topic: Deep Sleep? What works?

sunnyslumber
LymeNet Contributor
Member # 7065


posted

---

... Especially anything that works without making you feel groggy in the morning. I get about 25% of the deep sleep I should be getting according to a somewhat dated Polysomnogram. I suppose that could go a way towards explaining the general feeling of like something the cat dragged in (and bit and clawed on the way).

Anyhow I've searched the internet, and Pubmed, and I can't find a comprehensive article or webpage detailing which sleep drugs affect which stages of sleep. Ideally you'd want to know not only if a sleeping drug increased one stage of sleep but what it did to the others. I think I know some that help stage 4 (like tricyclic antidepressants?).

Does anyone have a comprehensive or more or less comprehensive understanding of what does what or know a webpage where this sort of thing is detailed?

I would think it's best to increase stage 4, but not affect the other stages (except 1, since that is what intrudes on stage 4) & REM. Does anyone here know one? What has worked for you guys to get a good sleep?


Thanks all,

john duncan

---

Posts: 122 | From San Diego, CA, California, United States | Registered: Mar 2005 | IP: Logged |

Jellybelly
Frequent Contributor (1K+ posts)
Member # 7142


posted

---

Hi John

I am also from the SD area. Sleep study showed I get O stage 3 AND 4, with almost no REM.

I think finding a way to get stage 3 and 4 are critical, that is when healing occurs, especially in 4.

My silver bullet was the tricyclic, Elavil or Amytriptaline.

This was the first med I went on for anything and it literally changed my life. Pain stopped, IC stopped, migraines stopped, fatigue stopped, the list goes on and on. It works on nerve pain, and that is where our pain originates.

I was still sick, no doubt about it, but I felt like I was alive again.

I did have to take a cousin to Elavil, Flexeril low dose for awhile. This enabled me to get down to 10 mgs of Elavil.

After treatment with heparin for 3+ years and a small amount of abx, I am in a high state of remission.

I was able to go for about a year and a half without anything for sleep. Just recently I have added back 10 mgs of Elavil. Not that I wasn't sleeping all night, was getting achey alittle.

I don't know if it is the Lyme or other factors, I am 50.

You need to start low like 5 mgs and on the weekend or when you don't have to be anywhere early. It does create a little grogginess at first, but that does clear in a couple of weeks.

I really believe it to be something that should be tried.

---

Posts: 1251 | From california | Registered: Apr 2005 | IP: Logged |

sunnyslumber
LymeNet Contributor
Member # 7065


posted

---

Thanks Jelly!

I've read a lot of your posts and am really glad you're doing so well! I'm glad the heparin has worked to put you in a high state of remission. Thanks for telling me about the Elavil, I will definately research that.

I do remember noticing you being from san diego on the immunesupport boards! I don't know if there is enough people for there to be a sd support group or no? Maybe there is one already and I'm just ignorant.

Congrats & good wishes to keeping the stable remission--

john duncan

---

Posts: 122 | From San Diego, CA, California, United States | Registered: Mar 2005 | IP: Logged |

k-lyme
LymeNet Contributor
Member # 5574


posted

---

John,

STAY FAR AWAY FROM TRICYCLIC ANTIDEPRESSANTS!!! They are bad stuff. They mess with brain chemistry and in some instances that I have read have caused people to commit and want to commit suicide. For me, it made me suicidal and, infact, it made it hard for me to sleep and I slurred my words a lot. You have many, MANY, other options.
Have you tried Melatonin for sleep? You've probably heard of it, but in case you haven't, it is a natural medicine that is actually a safe form of the hormone that the pineal gland in the brain makes for sleep anyway. Also, other non-barbituate sleeping meds that I can recommend are Lunesta, Rozerem, Tylenol PM, and Seroquel. Now, with the Lunesta, something that my doctor told me is that often times it is not effective as a stand alone medicine, that often times you have to take it with something else. I take Lunesta w/ Tylenol PM and it works really well for me. Rozerem works pretty well too.

Take Care, and get some sleep!

K-lyme

---

Posts: 227 | From CA | Registered: Apr 2004 | IP: Logged |

randibear
Honored Contributor (10K+ posts)
Member # 11290


posted

---

Just to show you how different we all are -- Elavil is the only thing that helps me sleep. And i've tried them all, and I mean ALL. Lunesta scared me, drugged me flat out. the house could have been burning down and I wouldn't have gotten out.

Melatonin worked for about an hour and then wham--headache, nausea, jitters. Never took it again.

I even tried sominex -- couldn't do that either. Nothing worked except elavil and i only take 10 mg, a very small dose.

--------------------
do not look back when the only course is forward


---

Posts: 12262 | From texas | Registered: Mar 2007 | IP: Logged |

wenan
LymeNet Contributor
Member # 10993


posted

---

I've tried everything and now find this combo works best for me. 5Htp around 4pm. Cal/Mag at dinner with more 5HTP and StressX. Magnesium glycinate (3caps) right before bed along with 100mg 5HTP, 1 stress X, 2Zyflamed PM, and melatonin liquid. Bed time same time every night and usually around 9 or 9:30. Some of this is based on the book The Mood Cure.

I also do a hot, epsom salt bath right before bed.

I still wake at night and will take 5HTP (50mg) whenever I wake up and sometimes with a dropper of melatonin. Was taking .25 Klonopin if I woke up or .5 but I am now off it - wanted to stay away from it. Still some nights all of this is hit or miss. Most nights I am now getting 8 hours although not straight through.

good luck - we all need sleep so badly to help us heal.

---

Posts: 104 | From connecticut | Registered: Jan 2007 | IP: Logged |

5dana8
Frequent Contributor (1K+ posts)
Member # 7935


posted

---

low dose doxepin- like 25-50 mg- yes it's an older tri-antidpressant. (sorry about the sp)

I have to take very early like before 7:30 at night, so as not to lag over into the next day.

Took me a while to get used to it, but does help keep me in deep ream sleep. I can sleep un-interupted for 10-12 hours at a time. I am in very deep sleep.

Now falling alseep for me takes an elephant dart

hope you can get some zzzzzzzzzzz
Dana

Make sure to talk over everything first with your LLMD

--------------------
5dana8


---

Posts: 4432 | From some where over the rainbow | Registered: Sep 2005 | IP: Logged |

kelmo
Frequent Contributor (1K+ posts)
Member # 8797


posted

---

Rozerem is great. My daughter, however, needs a couple of meds to sleep. She has night terrors from this disease. Racing thoughts, extreme anxiety.

She has to take Geodon. She was on Seroquel and decided to get off of it because we felt it was contributing to weight gain. It was real good, otherwise.

Start out small...Rozerem is non-habit forming. It works like melatonin, but is more reliable.

Kelly

---

Posts: 2903 | From AZ | Registered: Feb 2006 | IP: Logged |

mtnwoman
LymeNet Contributor
Member # 8385


posted

---

Sleep disturbance has been a major part of my lyme.

Elavil 10mg is one of the best for me and I have tried a lot: multiple herbs and herb combos; 5HTP; tryptophan; melatonin; magnesium; glycine, taurine, tyrosine; lunesta, ambien, sonata, trazodone, rozerem; benadryl; bioidentical hormones, cortef.

I try not to take it every day, but instead mix it up with some combo of the above. My bedside table (and floor) looks like a cross between a pharmacy and a health food store shelf!

---

Posts: 211 | From NC | Registered: Dec 2005 | IP: Logged |

bv
LymeNet Contributor
Member # 9578


posted

---

temazepam (15mg) has worked wonders for me. When my LD symptoms came on strong, I was waking after 3/4 hours and could not get back to sleep.

With temazepam, i sleep 9 hours every night. Took a few weeks to adjust & then no drowziness the next day. I highly recommend it.

---

Posts: 213 | From ohio | Registered: Jul 2006 | IP: Logged |

sunnyslumber
LymeNet Contributor
Member # 7065


posted

---

Thanks Jelly, k-lyme, randibear, wenan, 5dana8, mtnwoman, and bv for responding. Sorry to take so long to respond, it seems I always overestimate my "upswings" and have been in a major downturn lately (though I always read the posts even if I don't respond).

It seems what helps most people here is the tricyclics, or the Lunesta, Rozerem or Seroquel (I'm guessing those are the same class of drugs).

Okay then, my question is how much? Can some of you give examples of how it helped you (how you were before, and how you are prior)?

My main problem is alpha intrusion into stage 3 or 4. So if anyone who has that could mention it as well? I'm not sure if it's general for everybody or no, for me a polysomnogram showed that result.

Also about research. Does anyone know if there are any research articles supporting the idea that one of these types of drugs increased stage 3/4 sleep?

Or what was your source of information if you heard that? (A doctor, patients, etc)

If someone finds a study abstract that helps with one of these questions please feel free to post.


Wishing all improved health,

john duncan

---

Posts: 122 | From San Diego, CA, California, United States | Registered: Mar 2005 | IP: Logged |

susan2health
LymeNet Contributor
Member # 10446


posted

---

Elavil is very cheap (generic),but blurred my vision. I don't know if it helps stage 3/4.

---

Posts: 233 | From United States | Registered: Oct 2006 | IP: Logged |

Jellybelly
Frequent Contributor (1K+ posts)
Member # 7142


posted

---

Alpha wave intrusion seems like a pretty common problem for us. Here is some info on Elavil and other tricylics.....

Tricyclic anti-depressants
Tricyclic anti-depressants that are commonly used in the treatment of fibromyalgia include Amitriptyline (Elavil), Nortriptyline (Pamelor), and Doxepin (Sinequan). Amitriptyline is perhaps the most common as its efficacy has been demonstrated in controlled studies and it is known to enhance stage 3 and 4 sleep.

In a study of 70 fibromyalgia patients that evaluated the efficacy of 50 mg of Amitriptyline, patients receiving the Amitriptyline had significantly improved quality of sleep, morning stiffness, pain analog and global assessment. Interestingly, tender point score did not improve. 40

Common side effects of Amitriptyline may include morning sedation, dry mouth, confusion and urinary retention. Fibromyalgia patients seem especially sensitive to these side effects. Therefore, the dose should be individualized and generally begun at the lowest possible dose (such as 5 to 10 mg) at nighttime. Taking the drug 1 to 2 hours prior to sleep can minimize difficulties with morning sedation or "hangover". If there is no response, the dose can increase after 2 to 3 weeks.

Info link

/there is also some info on Flexeril or Cyclobenzaprine which I found helpful along with the Elavil. Flexeril works as a msucle relaxant.

---

Posts: 1251 | From california | Registered: Apr 2005 | IP: Logged |

Jellybelly
Frequent Contributor (1K+ posts)
Member # 7142


posted

---

More on sleep.....

link

by John. W. Addington
ImmuneSupport.com

10-10-2000

Advertisement

Sleep can be one of the most illusive quests for those with Chronic Fatigue Syndrome (CFS) or Fibromyalgia (FM). In fact, unrefreshed sleep, sometimes accompanied by insomnia, is a hallmark of these disorders. Fortunately though, a host of drugs (see table below), are being used by many CFS and FM to improve these symptoms. This article outlines these medications and how they are being used.

Sonata (zaleplon) One of the newest sleep aids on the market, Sonata, is unique among other sedatives in the speed and short duration of its affect. The majority of patients using Sonata fall asleep within 20 minutes and the affects of the drug usually last only an hour. This makes Sonata excellent for both those who have difficulty initially getting to sleep and for those who awake at night and need to take something to return to sleep.

Because the affects of other sleep aids can last 8 hours or more, those that have to rise from bed within several hours usually cannot use them. However since Sonata's sedation is brief it is excellent for persons in this situation. Additionally Sonata is not addictive, and its side effects are few and not serious.

Ambien (zolpidem) Another quick acting sleeping pill with few side effects is Ambien. Ambien has the advantage of not worsening the sleep cycle like other sedatives can, and it normally does not cause any grogginess the next morning. Its affects, however, are longer than Sonata making it a better choice for those having difficulties with frequent awakenings. Studies have shown Ambien improves sleep quality by decreasing the time needed to fall asleep and increasing total sleep time resulting in greater evening energy levels. Further Ambien has shown to continue to be effective even with daily use. Nancy Klimas, M.D., cautions however, that this kind of medication may just trap you into a lighter sleep instead of the more restful deeper stages of sleep.

Klonopin (clonazepam) In a class of medications like Ambien, is the drug Klonopin (clonazepam). "In sleep management, one of the best things we have found is Klonopin," states Charles W. Lapp, M.D. Klonopin can help you get to sleep fast and sleep longer and thus have less fatigue the next day. It also is a muscle relaxant that can help with restless leg syndrome and, as it is closely related to Valium, can relieve anxiety and panic attacks. Klonopin is not without drawbacks though, since it can be addictive, and thus if you need to discontinue its use, you must carefully taper it under a doctor's care. Also as with many sedatives one can build up tolerance to Klonopin's effects, thus reducing its benefit.

Providing suggestions on use, Jacob Teitelbaum, MD, says ".25 to 2 milligrams of Klonopin at night can have a dramatic effect. Start with low dose and work up gradually because Klonopin is initially quite sedating. I use Klonopin as a last resort because it is potentially addictive."

Elavil (amitriptyline) Elavil is an antidepressant commonly used in low dosages for CFS and FM patients to improve sleep and reduce pain. Elavil can actually restore the deeper delta stages of sleep. Peter Manu, MD, observes that a trial in Elavil's use with FM revealed "highly significant levels of improvement for the severity of pain, fatigue, and sleep disturbance." Nevertheless, because Elavil can cause daytime grogginess it should be used at the lowest possible dosage yielding the best results. Many CFS and FM sufferers not excessively bothered by its side effects including dry mouth and possible weight gain feel this medication is a godsend.

Flexeril (cyclobenzaprine) Flexeril is similar to Elavil in make-up and is used for its muscle relaxant, anti-inflammatory properties. Some studies in Flexeril use for FM have found it able to reduce pain and increase quality of sleep. Flexeril can be used to normalize altered sleep patterns found in CFS and FM patients. Like Elavil, however, it can have the side effects of dry mouth and mild weight gain.

Desyrel (trazodone) Many others swear by the drug Desyrel (trazodone). According to Dr. Lapp, "if you are one of those persons who fall asleep pretty readily, but then wakes up every hour, or wakes up and can't go back to sleep, Trazodone may be the thing you want to take because it works best for that sort of problem." Dr. Lapp also notes that Desyrel can induce the more beneficial deeper sleep stages. Because Desyrel in addition to be an anti-depressant is a calming agent it can be helpful for those whose sleeping difficulties are coupled with anxiety.

What makes many people prefer this medication is what it does not do. Desyrel does not cause the same degree of dry mouth or weight gain as some sedating medications do. Also since Desyrel does not reduce respiration, it does not aggravate sleep apnea. This medication may not be for all males, though, since can cause prolonged erections of an hour or more in time.

Antihistamines (diphenhydramine, doxylamine) The antihistamines diphenhydramine and doxylamine found in many over the counter sedatives such as Nytol, Sleep-Eze, Tylenol P.M. or Unisom have been used regularly by many. These ones have found that such medications help them to get to sleep and prevent awakenings during the night. This class of antihistamines has few side affects especially for younger persons and does not cause dependence or withdrawal symptoms. However, since they can negatively impact sleep cycles antihistamine sedatives are best for occasional use.

When To Use Drug Therapy When should one turn to medications to assist with sleeping problems? When insomnia is chronic, that is, lasting more than several weeks and not the result of a condition such as medication side affect that should remedied differently. Additionally, it is wise to first attempt behavior changes that may resolve the sleep difficulty. These include avoidance of alcohol and caffeine, especially late in the day, exercising early in the day and keeping regular bed times and wake times. (For on behavioral modifications see Breaking Fibromyalgia's Sleepless Cycle) Further, before turning to drug therapy, it is important to that sleep apnea or restless legs syndrome first be ruled out as a possible cause of the difficulty, since some sleep aids can actually worsen such conditions. Sleep apnea is a nighttime breathing difficulty usually caused by obstruction of the windpipe. A common sign of sleep apnea is heavy snoring and pauses in breathing during sleep. One study found that almost 50% of men with fibromyalgia had significant sleep apnea. Restless leg syndrome is more obvious to the patient as it is characterized by an uneasy sensation in the legs when trying to rest, relieved by moving the legs or walking. To best diagnose these kinds of sleeping difficulties a study of a patient's sleeping patterns may need to be done in a special sleep lab.

Finally before trying heavier medications used for sleep, one might want to first try the more natural sleep aids available without a prescriptions. These include melatonin and valerian with lemon balm. To learn more about these natural sleep aids see the article written by Jacob Teitelbaum, MD, "Importance of Solid Sleep in Chronic Fatigue Syn-drome and Fibromyalgia Sufferers," www.immunesupport.com/library/showarticle.cfm?ID=1420.

Sleeping Difficulties A little background on the nature of the sleep difficulties in CFS and FM will round out this discussion. Normal sleep cycles through four stages becoming deeper and deeper followed by a dream stage called REM (rapid eye movement). Stages 1 and 2 of sleep are lighter and are called alpha whereas stages 3 and 4, referred to as delta, are much deeper. The progression through these stages repeats throughout the night with the deeper delta stages of sleep occurring more in the first part of the night and REM becoming more predominant in the latter stages of the night.

Studies done have shown that some CFS and FM patients have deviations in the normal sleep cycle. A Belgium study observed "sleep initiation and sleep maintenance disturbances" in a group of CFS patients. Similarly in England it was reported that "CFS subjects showed significantly higher levels of sleep disruption by both brief and longer awakenings."

Susan M. Harding, MD, states that the normal sleep pattern "is altered in FM patients showing an increase in stage 1, a reduction of delta sleep, and an increased number of arousals." Devin Starlanyl, MD, says that the irregularities in sleep causes persons with FM to be "jolted awake or into shallow sleep so that they either wake up many times during the night or sleep very shallowly." Many CFS and FM patients concur that insomnia, whether the inability to get to sleep, stay asleep, or sleep soundly is one of their more difficult symptoms.

Conclusion Sound, restful, restorative sleep while more difficult for CFS and FM patients, may still be possible at least part of the time. Diet and other behavioral changes, sleep labs, natural sleep aids, over-the-counter sleep inducing medications and prescription drugs are all remedies we have at our disposal. And as research reveals why these sleep disturbances occur in the first place, other even more effective long-term resolutions may be available.

Sleep Medication Chart (This list is not comprehensive but represents some of the most common medications used in several classes of drugs. Even with the over the counter medications, it is best to consult with one's physician before use.)

---

Posts: 1251 | From california | Registered: Apr 2005 | IP: Logged |

ConnieMc
Frequent Contributor (1K+ posts)
Member # 191


posted

---

Watch out for weight gain with Amiltriptyline/Elavil. This drug is notorious for causing severe weight gain. Increases appetite. Also causes difficulty waking up in the morning. A really intense drugged feeling. If you force yourself to get on up, the feeling passes quickly.

---

Posts: 2274 | From NC | Registered: Oct 2000 | IP: Logged |

kam
Honored Contributor (10K+ posts)
Member # 3410


posted

---

looks like we are both hoping to get a good nights rest tonight.

I'll let you know if the new meds work for me tonight.

---

Posts: 15927 | From Became too sick to work or do household chores in 2001. | Registered: Dec 2002 | IP: Logged |

CatWoman
LymeNet Contributor
Member # 10900


posted

---

I can't take antidepressants because they make me manic.

I notice no one mentioned Xyrem on this thread. Xyrem is supposed to really help deep sleep (stages 3 and 4).

-catwoman

---

Posts: 255 | From where we don't have Lyme disease | Registered: Jan 2007 | IP: Logged |
Contact Us | LymeNet home page | Privacy Statement

Powered by UBB.classic™ 6.7.3

---
The Lyme Disease Network is a non-profit organization funded by individual donations. If you would like to support the Network and the LymeNet system of Web services, please send your donations to:
The Lyme Disease Network of New Jersey
907 Pebble Creek Court, Pennington, NJ 08534 USA
http://www.lymenet.org/
---
Home | Flash Discussion | Support Groups | On-Line Library
Legal Resources | Medical Abstracts | Newsletter | Books
Pictures | Site Search | Links | Help/Questions
About LymeNet | Contact Us
---
© 1993-2020 The Lyme Disease Network of New Jersey, Inc.
All Rights Reserved.
Use of the LymeNet Site is subject to Terms and Conditions.
---