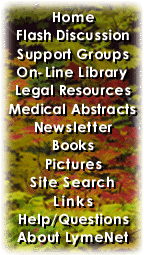 ---
LymeNet on Facebook
LymeNet on Twitter
---
---
The Lyme Disease Network receives a commission from Amazon.com for each purchase originating from this site.
When purchasing from Amazon.com, please
click here first.

Thank you.




Dedicated to the Bachmann Family


LymeNet needs your help:
LymeNet 2020 fund drive

The Lyme Disease Network is a non-profit organization funded by individual donations.

| | |
| --- | --- |
| | |
Author
Topic: Medical Malpractice

Getting Better
LymeNet Contributor
Member # 8919


posted

---

I thought I would share a little bit of this story with all of you. I am not going to give specifics.

This all happened before I realized what a political nightmare Lyme is.

Basically, I wanted to sue my primary care physician for malpractice when I found out I had Lyme and that doctor, and HMO, had never tested me for it. They diagnosed it first as depression (wrong) and then fibromyalgia and basically said sorry, there is nothing we can do. I had to lobby hard to even get pain medicine, and I was quite, quite sick with a lot of lyme arthritis and muscle pain, and fatigue.

After consideration by one of the best lawyers and her MD consultants, the advice was not to pursue the case. That is because they believed that the current standard of care is that the physician must see evidence of a tick bite in order to be compelled to test for Lyme. So I did not pursue it.

We all know how ridiculous this standard of care is. We should be grateful (I am) for finding a brave LLMD and I feel lucky that my HMO is paying for months of oral antibiotics.

Knowing what I know now about the political landscape, I bet my previous HMO would have brought all the Steere camp to the table to fight it, because otherwise it would set a precedent.

I wish we could mobilize a test case somewhere to begin to sue for malpractice over a number of the issues -- diagnosis, length of treatment -- to start to get some legal precedence.

Sometimes I wonder whether we could do a class action lawsuit. I wonder who would be interested in pursuing it -- ACLU?

The problem is most of us are too sick to pursue this, and as we get better, we want to go out and live our lives.

Just think of it. All the people who come to this site, each of their voices being heard. The first ethic: Do no harm. Doctors are harming us by not treating. Class action lawsuits can be a form of political action. (Maybe I should have posted this there.)

Our doctors should not be afraid they are going to come up before medical boards. We should fight back.

I am too sick right now to fight the system, and appreciate ILADS and Pat Smith and all those who are trying to change the standard of care.

Any thoughts?

by the way ... I wrote to every doctor who treated me and my daughter and missed the Lyme diagnosis, to tell them that is what the problem was. I haven't heard from any of them (naturally) but I hoped, perhaps naively, that my letter would make them think twice when the next patient comes in with a clinical-looking lyme case.

--------------------
Jeff


---

Posts: 533 | From CA | Registered: Mar 2006 | IP: Logged |

tickedntx
LymeNet Contributor
Member # 5660


posted

---

"Two Standards of Care'' by Lorraine Johnson, M.B.A., J.D.: http://www.ilads.org/insurance.html

Lorraine is an Executive Director with CALDA (California Lyme Disease Association)

--------------------
Suzanne Shaps
STAND UP FOR LYME Texas (www.standupforlyme.org)
(Please email all correspondence related to protecting Texas LLMDs to [email protected] with copy to [email protected])


---

Posts: 977 | From Austin, TX, USA | Registered: May 2004 | IP: Logged |

Getting Better
LymeNet Contributor
Member # 8919


posted

---

Thanks, Suzanne. Very interesting article.

Quoting from it:

"When more than one standard of care exists, the critical question becomes who decides the appropriate course of treatment for the patient. Under the medical ethical principle of autonomy, the treatment decision belongs to the patient. Hence, the American Medical Association requires that the physician disclose and discuss with the patient not only the risks and benefits of the proposed treatment, but also the risks and benefits of available alternative treatments (regardless of their cost or the extent to which the treatment options are covered by health insurance).[20] For example, patients with prostate cancer (where significant uncertainty exists regarding long-term treatment outcomes) must elect between watchful waiting, radiation and surgery. The legal doctrine of informed consent also requires that patients be advised of material treatment options. Treatment choices involve trade-offs between the risks and benefits of treatment options that only patients-who know the kinds of risks they are willing to run and the types of quality of life outcomes that matter to them-are uniquely suited to make."

We know that they don't do this. So if the AMA requires it, and if a doc doesn't do it, what are the consequences?

--------------------
Jeff


---

Posts: 533 | From CA | Registered: Mar 2006 | IP: Logged |

humanbeing
LymeNet Contributor
Member # 8572


posted

---

Hi Jeff,
I live ten minutes from lyme, ct and have been going to school at the Lyme Academy for five years.

Eight docs did everything in their power to talk me out of lyme disease.

Here is the letter I fired my PCP with, the one I trusted to understand this disease...who kept telling me I had fibromyalgia and needed to excercise and take an antidepressent. She told me twice "I don't want to go down the lyme road".

A lawsuit? If the "standard of care" for lyme was 'in the face of a negative test but clear symptoms....you must first do no harm and treat for lyme'...I guess that would mean negligence...

...unfortunately, for lyme, the 'standard of care' is because it is so rare and you didn't see a tick bite, there is no reason to test for it from a reputable lab

and there is certainly no reason to jump to conclusions like treating with dangerous antibiotics... but if you are sniffling, I will give you a ZPACk.

I agree with you that this is insanity and something needs to be done in a big loud way to wake people up. If not ducks than patients...I mean if we can't get real about this devastating illness in Lyme, Connecticut..we are really sunk...

Dear Dr. -,

As you know, recently I have been through some of the darkest months in regards to my health. Indeed, there were times when my headaches, neurological pain and other systemic ailments left me feeling hopeless.

In my struggle to find answers, I have learned a great deal about Lyme disease and the many misconceptions regarding diagnosis and treatment. Most tests are less than 30% accurate and therefore treatment is based on a clinical diagnosis of symptoms.

The first set of blood work done by Dr. S was inadvertently not sent to Stonybrook as he had requested--therefore the same lab (Quest) tested my blood twice--both negative.

In early January, Dr. S drew blood again and resent it to Stonybrook in Long Island. After two weeks it came back CDC positive for IgM, which would indicate a current active infection of Borrelia burgdorferi.

Additional tests are currently being done for co-infections that often accompany Lyme disease. Drenching night sweats, which I have been having, are often caused by the co-infection babesia, which requires additional treatment to the Lyme infection.

Needless to say, I am disappointed in the months of suffering I endured but I now realize that misdiagnosis is very common with patients--some suffering for many years without proper diagnosis.

At this point, all I can do is help spread the word of my experience and help the ongoing education of physicians. From what I've read, this is the most prevalent bug-borne illness and a major public health problem and growing crisis.

I have attached a packet of information including a copy of my lab results, articles and studies on Lyme disease, current labs recommended for Lyme disease testing and a copy of my medical claims, which puts the cost of my misdiagnosis over $20,000.

It is my hope that future patients with my history of illness in your practice be given a careful look for Lyme. I hope you understand why my family is currently in the process of finding a new Primary Care Physician. My battle with this illness will take time and careful assessment of antibiotic regimens as it relates to this complex disease.

--------------------
We are spiritual beings on a human journey...

www.ruggierogallery.com


---

Posts: 906 | From CT | Registered: Jan 2006 | IP: Logged |

Bflat
Member
Member # 7275


posted

---

As a follow up to tickedntx's post on "Two Standards of Care," please read the page from the AMA on the subject of informed consent:

http://www.ama-assn.org/ama/pub/category/4608.html

Note that the AMA states that it is an ethical requirement and a legal obligation in all 50 States to inform a patient of treatment options, the pros and cons of each and to do so regardless of consideration of cost. The decision is that of the patient as to which protocol to choose.

Two major standards are easily identified as illustrated by the positions of the IDSA and ILADS.

Yet, how many medical professionals are even aware of either? How many have taken the time to become informed and make their own conclusion based on sound scientific reasoning?

How many are practicing within AMA Ethics requirements and more importantly State law?

J. David Kocurek
STAND UP FOR LYME Texas
[email protected] Please copy [email protected] on all correspondance.

[ 29. March 2006, 06:48 PM: Message edited by: Bflat ]

---

Posts: 20 | From DFW,TX, USA | Registered: May 2005 | IP: Logged |

tickedntx
LymeNet Contributor
Member # 5660


posted

---

Further to Jeff's posts, if I recall correctly, there have been two successful malpractice suits for failure to diagnose Lyme disease. One was in MD and the other in SoCal.

Does anyone remember these and possibly have the related press?

--------------------
Suzanne Shaps
STAND UP FOR LYME Texas (www.standupforlyme.org)
(Please email all correspondence related to protecting Texas LLMDs to [email protected] with copy to [email protected])


---

Posts: 977 | From Austin, TX, USA | Registered: May 2004 | IP: Logged |

lucy96734
LymeNet Contributor
Member # 8372


posted

---

What I don't understand is that it isn't just about the $$$. My insurance company is going the way more expensive route.

They prefer to pay for more and more tests rather than give me a few months of oral antibiotics.

How much money do they want to waste on:
spinal tap
MRIs (brain, lumbar, and cervial)
nerve conduction studies
hysterosomething or other
not to mention the different specialists
neuro
rheumo
ID
Gyno
uro
Ortho

and all they do is scratch their heads and say that one of the other ones is missing something and if I continue to listen to my out of network and out of state LLMD I will be putting my life in danger.

But if I don't jump through their hoops they won't check my liver and give me scripts to manage my symptoms.

I pay for my LLMD and my Lyme meds.

They really suck.

My case isn't helped that I saw all these same specialists and had most of these tests in another insurance network in another state. We just moved 6 months ago and these Ducks need to repeat all the tests.

--------------------
Lucy


---

Posts: 342 | From Hawaii | Registered: Nov 2005 | IP: Logged |

tickedntx
LymeNet Contributor
Member # 5660


posted

---

Here's the Maryland (USA) suit: http://www.canlyme.com/cecilaward.html

Jury awards $1.7 million to Cecil teen

By Carl Hamilton, Whig Staff Writer (Maryland, USA)

ELKTON - A civil jury awarded more than $1.7 million Monday to a Port Deposit teen who suffers long-term health problems because local physicians failed to diagnose his Lyme disease. This is believed to be the highest award of damages in Cecil County history, according to veteran lawyers and court officials.

The six-member jury deliberated nearly eight hours before concluding that Chesapeake Family Practice Group on High Street in Elkton breached the standard of medical care when treating Aaron Murray. That breach, according to the jury, directly resulted in Murray's physical problems, including his IQ reportedly dropping as much as 29 points.

Murray was 14 when he became a patient at Chesapeake Family Practice Group in 1995. He is now 18. The jury also decided that Dr. Joseph K. Weidner Jr. breached the standard of care. However, his breach didn't directly lead to Murray's physical problems. Weidner still practices medicine at Chesapeake Family Practice Group. In addition, the jury exonerated the remaining defendant, Dr. Leila A. Kirdani, concluding that she didn't breach the standard of care. Kirdani now practices medicine in Buffalo, N.Y. The jury originally awarded a total of $3.2 million, but Circuit Court Judge O. Robert Lidums reduced damages on one count because it exceeded a state cap. Under a count addressing the plaintiffs' pain and suffering, the jury wanted to award Murray and his mother, Gail Johnson, 41, $2 million. The cap is $515,000, however. It awarded more than $1.2 million to cover Murray's loss of future earnings. And the jury awarded $64,000 to cover past medical expenses. The defendants' attorney, Robert C. Morgan of Baltimore County, could not be reached Tuesday for comment.

Ira C. Cooke of Towson, Md., who represented the plaintiffs, believes this verdict will caution other doctors. "I think this is an important case because it puts the medical profession on notice that anything less than top-flight medical care will not be tolerated in Cecil County,'' Cooke said. Cooke handled this case with Elkton-based lawyer Douglas R. Cain. In October, Cain represented a local plaintiff who was awarded more than $1.6 million in damages. Until this verdict, that was the highest amount of damages awarded in this county. The jury in this most recent case returned its verdict after a two-week trial.

Chesapeake Family Practice Group failed to offer its physicians training or directives relating to the prevention and detection of Lyme disease, the plaintiffs maintained. Cecil County is a high-risk area for the disease. According to the lawsuit, Johnson and her son sought medical attention at Chesapeake Family Practice Group on April 1, 1996 because the teen exhibited numerous symptoms indicative of Lyme disease.

The teen had "every single'' symptom, including fatigue, a rash, swollen glands, nausea, flu-like symptoms and aches and pains in the joints, Cooke charged. But Murray's condition went undiagnosed despite several more visits to the medical practice, Cooke said. The defendants didn't even conduct the simplest of diagnostic tests - a blood test, he added. Staff doctors diagnosed Lyme disease after Murray collapsed with seizures in a hospital emergency room in August 1996.

Hospital doctors relied on blood test results. The defendants countered, however, that Murray had Lyme disease only a few weeks before collapsing at the hospital - not several months before the incident. Approximately six weeks before the episode, the teen discovered a rash that could have been a telltale of Lyme disease, according to Morgan. Yet, Murray and his mother didn't seek medical attention at Chesapeake Family Practice Group between the time of his rash discovery and his collapse, Morgan maintained. The plaintiffs contended that there was an unnecessary delay in treatment and that it caused Murray's IQ to drop significantly.

His IQ was measured at 115 in 1995, they reported. Two recent tests registered Murray's IQ at 86, and a third placed it at 103, according to testimony.

His lawyers claimed Murray was unable to complete the ninth grade as a result. Last week, Murray provided emotional testimony about the various abilities he has lost in the wake of his prolonged bout with Lyme disease. If detected early enough, according to his attorneys, Lyme disease can be easily treated without lingering health problems.

The teen broke down on the witness stand, reducing jurors, the judge, his lawyers and others in the courtroom to tears. During his closing statement last Friday, Cain reminded jurors that Johnson made 72 unanswered phone calls to Chesapeake Family Practice Group in several months.

She was concerned about her son's worsening condition, Cain said. Weidner called Johnson a "hysterical mom'' while talking with the woman about her son's case, the mother testified. Morgan didn't dispute that Murray visited the medical practice numerous times since January 1995, when his family became clients.

He also didn't deny that numerous phone calls were made on Murray's behalf. But many of those phone calls and visits related exclusively to the teen's asthma and other ailments, such as sinus infections and stomach problems, Morgan said. Morgan called the plaintiffs' case a "fishing expedition,'' and he accused their lawyers of preying on the emotions of jurors.

"Clearly, the medical care rendered in this case met the standard of care,'' Morgan said in his opening statement.

--------------------
Suzanne Shaps
STAND UP FOR LYME Texas (www.standupforlyme.org)
(Please email all correspondence related to protecting Texas LLMDs to [email protected] with copy to [email protected])


---

Posts: 977 | From Austin, TX, USA | Registered: May 2004 | IP: Logged |

Getting Better
LymeNet Contributor
Member # 8919


posted

---

The teen had "every single'' symptom, including fatigue, a rash, swollen glands, nausea, flu-like symptoms and aches and pains in the joints, Cooke charged.


This is a wonderful resource, and still goes to the issue: What if you don't have the rash?

As more cases like this come in, perhaps the landscape will change.

--------------------
Jeff


---

Posts: 533 | From CA | Registered: Mar 2006 | IP: Logged |

timaca
Frequent Contributor (1K+ posts)
Member # 6911


posted

---

My case involves latent lyme that was activated from a steroid injection to the knee. I began to fall apart 3 weeks later with bizarre symptoms.

Prior to this I was an extremely healthy and active person. (very active)

Following knee surgery I had a J-H reaction to the vancomycin given during the surgery. The orthopedic doctor had NO idea that the steroid shot had activated lyme in me and that I was now having a herx reaction to the vanco.

He watched me fall apart over a year and a half. We were also friends. He asked at one point in time "What happened to you before all this started." I replied "You gave me a steroid shot. Could a steroid shot have done all this?" His reply "No. A steroid shot stays localized."

I've since learned that a steroid shot can certainly activate lyme and cause all the hell I've been through.

Last year my medical expenses were in the range of $65,000.

I wrote him a long, polite letter (since he had moved) indicating what had happened to me (steroid shot, etc). Included were articals on lyme disease, and a report from Columbia University Medical Center which mentioned the steroid shot and the J-H reaction to the vanco.

Did I hear back from my doctor (who was a friend?) Sadly, no. Do I feel like suing him? Yes. Not for not knowing what had happened to me....but more for not responding. I want him to know what I've gone through the last couple of years.

But, I won't sue. He was a friend, even if he isn't acting like one now. I won't turn on him, even if he has turned away from me.

But, I do hope to educate orthopedic doctors. I was hoping he would be the one to spread the word to others since he saw me fall apart so dramatically....but I guess he isn't the one.

I'm praying for the right doctor to come along.

Today I did have the opportunity to educate an Ear, Nose, Throat doctor. He knew nothing about the disease as well.

It's not unusual for these doctors to not know about it. It gets really sad when they turn their backs on you....

It's like rubbing salt in our wounds. And that hurts.

Timaca

---

Posts: 2872 | From above 7,000 ft in a pine forest | Registered: Feb 2005 | IP: Logged |

psano
LymeNet Contributor
Member # 7785


posted

---

tickedinTexas,

Thank you for posting that article about the successful case in MD. How did you locate it? If you can point me in the right direction to locate the one in So Calif I'd really appreciate it.

Patti

---

Posts: 449 | From Pasadena, CA, usa | Registered: Aug 2005 | IP: Logged |

Lymetoo
Moderator
Member # 743


posted

---

quote:

---

Originally posted by JeffM:
by the way ... I wrote to every doctor who treated me and my daughter and missed the Lyme diagnosis, to tell them that is what the problem was. [/QB]

---

I did the same thing, Jeff. Sent letters to about 6 doctors.

Great letter, humanbeing!

--------------------
--Lymetutu--
Opinions, not medical advice!


---

Posts: 95876 | From Texas | Registered: Feb 2001 | IP: Logged |

lou
Frequent Contributor (5K+ posts)
Member # 81


posted

---

This has come up a lot on the forum. Unfortunately, the outcomes have not been good. I have posted some of these in the past. Anyone considering this route needs to have looked into this extensively, not just fueled on the sense of injustice that is normal and understandable in lymies.

The case posted above had a good outcome except that I don't think the attorney or patient ever collected any money from the win. Bankruptcies were declared, practice dissolved, etc. Someone please correct me if they know for a fact that the award was ever collected. Plus, the expert witness for the patient's side lost his job.

You must have someone to serve as an expert witness, and how hard do you think that will be, given how few treating docs there are? Dunno, maybe someone retired and in good financial shape would do it. But this would not be easy, and patients must have a lot of stamina to pursue a lawsuit.

Here is another case you should know about, copied from a lyme newsletter. It is my understanding that one of the patients in the case died before it was concluded. And as you can see, Jeff is right, the opposition brought out all the camp A big guns.

Yes I know this is a terrible injustice, but maybe each of us suing doctors who didn't diagnose us is not the best way to change the situation. Don't know what is!

--------------------------------------

In late 2000, a New York appellate court ruled against a group of Lyme patients who were suing Empire Blue Cross and Blue Shield for denying intravenous (IV) antibiotic treatment. The patients were asking for punitive damages based on "tortious conduct" during the period from 1993 to 1996. In 1993 Empire Blue Cross began requiring preapproval of Lyme disease treatment and limiting IV treatment as part of their new medical necessity standard for the disease.

Although the judges did not rule out breach of contract, punitive damages are excluded as a result of their decision on this case. Their ruling said that it was reasonable to update the company's medical necessity standards based on "the latest research and findings within the medical community concerning what is appropriate treatment for a given medical condition."

Expert witnesses for the insurance company included Ray Dattwyler, Thomas Rush, Eugene Shapiro, Gordon Moore, and Eric Logigian. The first three are also co-authors of the recently released guidelines for Lyme disease treatment formulated by the Infectious Diseases Society of America. Dr. Alien Steere was also a co-author.

These guidelines say that the efficacy of long-term treatment for chronic Lyme disease has not been proven. Dr. Logigian was a co-author of the infamous Steere article on the "overtreatment" of Lyme disease.

Contributing to the poor outcome of this case is Dr. Alien Steere's authorship of most of the Lyme disease chapters in medical reference books. Also, the research funding that goes inordinately to his school of thought has produced many published articles. As a result, it is easy for insurance companies to compile a supportive bibliography.

---

Posts: 8430 | From Not available | Registered: Oct 2000 | IP: Logged |

Nebula2005
LymeNet Contributor
Member # 8244


posted

---

My insurance company was willing to pay for all the testing every doctor ordered.

The doctor who refused to prescribe antibiotics for me when the blood work was "negative" for Lyme told me this:

"I could prescribe antibiotics, but they will make you sick."

That was when he tried to sell me the expensive detox program, which would have taken three weeks and made me sick. After which, I would still be sick.

As i understand it, someone who DOESN'T have Lyme probably WON'T get sick from antibiotics, except for the digestive problems or allergies.

What the ****! What was he thinking? Either I have Lyme and the antibiotic would make me herx, or I don't have it and it won't. What do we have to lose?

The issue here wasn't even IV antibiotics! It was plain old-fashioned cheap doxycycline! Maybe that was the problem--he can't make any money prescribing doxy, and he couldn't do IVs without a positive test.

I think it was an ego issue with him, and that he wanted to be right even if he was wrong. Sheesh.

Is this malparactice? I think it is. I was sitting in front of him in horrendous pain, with my face and ear writhing and twitching.

I had to insist on at least a pain prescription.

He should be the leader of a cult, or the dictator of a small country, not a doctor!

Sorry--I just had to since I can't sue!

---

Posts: 353 | From Florida boonies | Registered: Nov 2005 | IP: Logged |

vitch
LymeNet Contributor
Member # 8094


posted

---

A few years ago, a Deep River, CT woman's doctor told her that her positive test was a false positive. Long story short... She got $300,000.

There's a Lyme Literate lawyer in White Plains, NY. He is Ira (I can't remember his last name).

--------------------
[email protected]

www.lymediseaseassociation.org/Conflicts.doc

Worthless tests & labs, a dangerous vaccine, insurance companies refuse to pay, undertreatment the norm, all about money. MO.


---

Posts: 281 | From CT | Registered: Oct 2005 | IP: Logged |
Contact Us | LymeNet home page | Privacy Statement

Powered by UBB.classic™ 6.7.3

---
The Lyme Disease Network is a non-profit organization funded by individual donations. If you would like to support the Network and the LymeNet system of Web services, please send your donations to:
The Lyme Disease Network of New Jersey
907 Pebble Creek Court, Pennington, NJ 08534 USA
http://www.lymenet.org/
---
Home | Flash Discussion | Support Groups | On-Line Library
Legal Resources | Medical Abstracts | Newsletter | Books
Pictures | Site Search | Links | Help/Questions
About LymeNet | Contact Us
---
© 1993-2020 The Lyme Disease Network of New Jersey, Inc.
All Rights Reserved.
Use of the LymeNet Site is subject to Terms and Conditions.
---