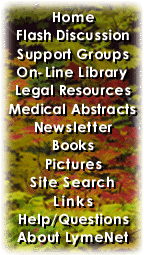 ---
LymeNet on Facebook
LymeNet on Twitter
---
---
The Lyme Disease Network receives a commission from Amazon.com for each purchase originating from this site.
When purchasing from Amazon.com, please
click here first.

Thank you.




Dedicated to the Bachmann Family


LymeNet needs your help:
LymeNet 2020 fund drive

The Lyme Disease Network is a non-profit organization funded by individual donations.

| | |
| --- | --- |
| | |
Author
Topic: What has helped your myoclonic jerking?

cutie
LymeNet Contributor
Member # 8468


posted

---

I have it so bad and it drives me crazy. At least that's what I think it is. It's not muscle "twitches". It's my whole arm, leg or any other part of my body (affects all parts at different times) moving.

Can anything other than Lyme cause this? My neuro (when I originally started searching for a diagnosis) said "not to worry about it". Well easy for him to say.

Thanks,
Cutie

--------------------
Cutie


---

Posts: 125 | From Atlanta | Registered: Dec 2005 | IP: Logged |

vachick
LymeNet Contributor
Member # 8353


posted

---

Cutie,
Welcome to my world. Myoclonic jerking and muscle weakness are big symptoms for me, too.

Yes, other things can cause jerking, including neuro issues (certain epilepsies, Parkinsons, Huntingtons, etc), some cancers and a host of other reasons. I have seen multiple neuros and they are stumped. Lyme can cause jerking, too. It is so hard to figure out what it is.

I think staying hydrated and rested helps mine. Although I have been on abx for over five months so maybe the Lyme is getting better. I honestly think the warm weather helps too. Weird.

If you find something that helps, please pass it on because the jerking is ANNOYING and SCARY.

---

Posts: 331 | From virginia | Registered: Nov 2005 | IP: Logged |

hiker53
Frequent Contributor (5K+ posts)
Member # 6046


posted

---

Various seizures meds can help the jerking. Keppra worked for awhile for me and now klonopin is helping. They are not 100% gone, but improved on these meds. Hiker

--------------------
Hiker53

"God is light. In Him there is no
darkness." 1John 1:5


---

Posts: 7739 | From Illinois | Registered: Aug 2004 | IP: Logged |

LYMESCIENCE
LymeNet Contributor
Member # 9259


posted

---

Yep I do da jerking thing too. If you have some video of your movement disorder, I'd actually like to see it. I think its a rather specific kind of movement disorder with Lyme patients.

As far as treatment, huh, kill the infection, but as far as symptomatically, I don't believe anything will stop it. I don't think they are tradional seizsures, my mother is on a good dose of an antiseizure medication, and sure enough after taking her antibiotics, and if they are working, she has a movement disorder, and a speech disorder.

So, either she needs a different antiseizure, or something else entirly is going on.

I know what you're referring too though. My advice is similar to that original doctor's, although I have a much better idea of what I'm talking about.

I believe the movement disorder will dissapate with time, and successfull treatment, mine has.

I still have problems time to time, but as I near closer to health, they get farther and farther between.

If you can find something to stop them, wonderful, you're one up on me, but as I understand this problem, FOR THOSE WHO HAVE DEFINITE LYME, the movement disorder is actually a good thing if it comes in response to either an improvement in other sypmtoms such as cognitive ones, or if it is in response to antibiotics.

However, if the movement disorder is not in response to antibiotics, or an improvement in other symptoms, and it is also associated with a definite worsening of other symptoms for several days--- thats bad, your disease is getting worse (at least that is what I found with Lyme for me, and I also had that movement disorder)

Please send me some video if you can, so I can see if its the same thing.

I know this thing is hard to deal with, especially when the jerks become violent because your shoulders, and other muslces end up hurting badly, heck I've even hit myself in the head a coupe times with the jerking, so it certainly isn't pleasant.

The only possible thing I can think of would be some kind of muslce relaxer taken durring the episode, but only if it is particuarly painful, otherwise, just wait it out my friend, and pray for the courage to keep fighting

---

Posts: 559 | From Cary, NC | Registered: May 2006 | IP: Logged |

cutie
LymeNet Contributor
Member # 8468


posted

---

Thanks for all your replies.

The jerking doesn't hurt, and it' s more than just my muscles. It's the muscle, the bone, everything...the whole limb, head, or whatever.

As far as sending a video, I don't think you'd even be able to see it! No one has ever said, "Hey, are you jerking?" It's not like that. I don't think anyone would notice it except for me.

And it comes and goes. For a few months I will barely notice it and right now (I've been on abx for a month and 1/2), it's driving me nuts. Yet everyone on this board says I'm not taking enough doxy to kill the lyme. But it's all my doc will give me and no LLMD's are around.

--------------------
Cutie


---

Posts: 125 | From Atlanta | Registered: Dec 2005 | IP: Logged |

micul
LymeNet Contributor
Member # 6314


posted

---

IV magnesium sulfate has eliminated mine over time. I did 2cc's 3 x's a week for a year. Others do it IM in a shot. Maybe you are not absobing the oral? Dr B says that IV is needed to bring levels back up. I think that his guidelines say once or twice a week.

--------------------
You're only a failure when you stop trying.


---

Posts: 945 | From U.S | Registered: Oct 2004 | IP: Logged |

Lesley
LymeNet Contributor
Member # 8678


posted

---

Hey Cutie,

I get this all the time as well. no one can really see it i just feel it...if i look closely i can see it though. I hate it. It happens with me when i am really tired and have done something very physical. I have no idea how to control it other then resting.
good luck.

lesley

---

Posts: 120 | From NB Canada | Registered: Jan 2006 | IP: Logged |

cutie
LymeNet Contributor
Member # 8468


posted

---

Mine happens more when I'm tired too. Or if I've been lifting something heavy, etc. Very wierd.

--------------------
Cutie


---

Posts: 125 | From Atlanta | Registered: Dec 2005 | IP: Logged |

elley0531
LymeNet Contributor
Member # 9434


posted

---

I'm on 200 mg of doxy a day...you can't really say what will and won't work for someone else, only time will tell.

Magnesium supplements are supposed to help with this...I just started one so I don't know the outcome yet, but yes I get it too. My fiance also has it, although his is caused by mild epilepsy.

As for drugs that help, my fiance is on Klonopin, and has been for the past 6 years. It helps alot, with this and other symptoms of lyme. Be careful with this drug though...its a benzo (like xanax) and is HIGHLY addictive and the withdrawal can be brutal.

My fiance was getting weened off it to try something else, it took a total of a year and a half to get off of it. You can't stop it cold turkey because it can cause what it is supposed to treat=seizures, heart attack, etc.

I take some of it every once in a while though, and it does help me emntally and physically if I need to get through a tough day or situation.

---

Posts: 594 | From NJ/NY | Registered: Jun 2006 | IP: Logged |

LYMESCIENCE
LymeNet Contributor
Member # 9259


posted

---

From your responses, it seems to be that the jerking is not incredibly pronounced, thats a good sign. Your jerking is very mild in nature. The movement, jerking condition I refer to is pictured on the Lyme movie preview that recently came out. Remember the girl in the bed moving strangly? Or the guy whose shoulders keep going up and down?

Thats the kind of overt movement disorder to which I refer. There are varieties of this disorder, but as a general rule, it seems to be that it occurs as a sudden, rather violent jerk of the muscle, and bone, ect, as you can see pictured.

For this condition, I am not aware of any successful therapy. Myself, I wouldn't take Klonipine because I already have brain fog, and klonipine makes you tired, more brain fog.

As, I've said earlier, which this condition, the only thing I can reasonably think helpful would be some kind of muscle relaxer, only taken durring a bad episode.

The logic behind not taking something every day such as a anti convolsant is because I'm not completely convinced these are classical epileptic seizures, therfore, these meds which are designed to work for such things, wouldn't be effective for these Lyme seizures which are theorized to originate from the brain stem as opposed to epileptic seizures which orginate from the temporal lobes.

I will tell you one thing that has worked for me, and that is something I only used once, durring a bad episode, alcohol.

The side effects the next day, in my opinion only justified its use durring a bad episode.

However, if your problem is small in the sence that other people can't tell you have a movement disorder, my suggestion is to be happy.

There are many of us who clearly have a movement disorder, so, while what you are experiencing may be uncomforable, it could be worse. It is for myself, and for my mother, as well as others I know.

This kind of thing is rather embarassing in public. I was at the Jemsek hearing, and was having a bad movement day in front of all kinds of people I didn't know. Everyone was staring at me, and it felt unsettling.

So, be happy for your blessings, and pray for peace to deal with those things in life which can be difficult to view as a blessing.

PS:

I also have had the movement disorder durring times when I have overexterted myself, or have become very tired. It is my opinion that this represents a bad sign, signiling a kind of mini relapse, wheras when it comes in response to antibiotics or an improvement in cognitive function, this movement disorder represents improvement.

---

Posts: 559 | From Cary, NC | Registered: May 2006 | IP: Logged |

Carol in PA
Frequent Contributor (5K+ posts)
Member # 5338


posted

---

Have any of you read "A Remarkable Medicine has been Overlooked," by Jack Dreyfus.

Low dose Dilantin, which the book is about, stabilizes the bioelectrical activity of the cells.
This can help stop twitching.

http://www.amazon.com/gp/product/193005114X/


Carol

---

Posts: 6947 | From Lancaster, PA | Registered: Feb 2004 | IP: Logged |

cutie
LymeNet Contributor
Member # 8468


posted

---

Again, thanks for the replies.

For those of you who have noticeable, recognizable jerking, what do your dr's say about it? That it is just part of Lyme and to deal with it?

I do take Klonopin. .5 mg at night.

--------------------
Cutie


---

Posts: 125 | From Atlanta | Registered: Dec 2005 | IP: Logged |

psano
LymeNet Contributor
Member # 7785


posted

---

Antibiotics cured mine, along w/a lot of other symptoms.

Patti

---

Posts: 449 | From Pasadena, CA, usa | Registered: Aug 2005 | IP: Logged |

cutie
LymeNet Contributor
Member # 8468


posted

---

Patti - How long did you take abx before it cured the jeking?

Thanks...

--------------------
Cutie


---

Posts: 125 | From Atlanta | Registered: Dec 2005 | IP: Logged |

Aniek
Frequent Contributor (1K+ posts)
Member # 5374


posted

---

I was working with a lyme friendly (not lyme literate) neurologist on my jerking. He diagnosed it as a motor tic disorder. He did some research between visits and found that it does occur with Lyme and is often temporary. He said it can go away even without treatment.

We did a range of tests which showed no obvious cause. He believes Lyme is the direct cause, and does not understand exactly why.

He said that the medication he would give to somebody without Lyme with these tics would be low dose Haldol, which is an anti-psychotic. It is often given to people with Tourette's. He said he could give me a small dose prescription, but I passed.

This symptom first appeared before diagnosis, when I was on Effexor, and anti-depressant used to control pain. It went away soon after stopping. It returned on and off during treatment and got much worse when I really cut back on abx for a few months.

It gets worse when I herx on Flagyl. Stress is a huge aggrivator. And physical activity can get it going.

My symptoms vary from my finger tapping uncontrollably, to a tremor in my arm or legs, to my whole arm moving so that I repeatedly tap my shoulder, to turning my head to look over my shoulder, to flopping over in bed. Many different types of movement.

--------------------
"When there is pain, there are no words." - Toni Morrison


---

Posts: 4711 | From Washington, DC | Registered: Mar 2004 | IP: Logged |

docjen
LymeNet Contributor
Member # 7510


posted

---

Try magnesium, magnesium, magnesium...via IV if you can. It helps tremendously (with lots of things related to lyme).

I have gotten relief by taking 1mg Klonopin at bedtime, as well as dopamine at bedtime.

I think the movement disorders are caused by neurotoxicity from the active pathogen, as well as from die off.

My symptoms cleared up after I did about 10 weeks of phospholipid exchange therapy.

Good luck!

---

Posts: 393 | From Washington, DC | Registered: Jun 2005 | IP: Logged |

Jill E.
Frequent Contributor (1K+ posts)
Member # 9121


posted

---

Klonopin is the only thing that helps me sleep through all the movement and jerking. I hate being on it because it can be addicting but I was desperate to get some sleep.

Like others have posted, stress and exercise can make mine worse, but it's the most noticeable when I'm falling asleep, asleep or trying to wake up. But I've had it happen when fully awake in broad daylight and it's scary and embarrassing.

Jill

--------------------
If laughter is the best medicine, why hasn't stand-up comedy cured me?


---

Posts: 1773 | From San Diego | Registered: Apr 2006 | IP: Logged |

seibertneurolyme
Frequent Contributor (5K+ posts)
Member # 6416


posted

---

This is one of hubby's main symptoms -- began as a Parkinsonian tremor and progressed to myoclonus and seizure-like episodes.

There are many variables involved which may cause these types of symptoms.

Hubby's LLMD's have said that either Lyme, Babesia or Bartonella -- any of these 3 -- could cause these types of movement problems.

I am about 95% convinced that hubby's remaining movement problems are caused by Babesia.

In the beginning -- the 1st 1 1/2 years when he was undiagnosed -- we saw about a dozen neuros. They had no clue and all said anxiety/depression.

They could give me all the reasons that hubby did not have Parkinson's -- his tremor was too fast (anxiety tremors are the fastest). Plus he had all 3 types of tremors -- resting tremors (classic Parkinsonian tremors), intention tremors (example -- hand shakes when reach for something) and action tremors (tremors continue during actual movement).

But they could not explain why he shook in his sleep (NOT a symptom of anxiety/depression). Sometimes it would wake him up and other times the bed shaking would wake me but not him. Sometimes it might be just his hand shaking on the pillow or other times his whole body would shake.

The other thing that totally confused the neuros was the fact that tremors were worse in his left arm and right leg. They couldn't understand why it was not one-sided or equal on both sides.

During this 1 1/2 years before antibiotics hubby shook almost 24/7. One doc almost figured out one piece of the puzzle, but we didn't realize it until years later. Hubby lost almost 40 pounds the 1st 6 months as his other primary symptoms were nausea/vomiting/dry heaves. Chronic gastritis led to malabsorption of fats, protein (amino acids and neurotransmitters), vitamins and minerals.

Hubby had many nutritional tests done and took many many supplements. Based on his test results at the time and what I have since learned about Lyme and tick-borne illnesses, these are my observations.

The standard American diet is often deficient in B vitamins and gastritis prevents their absorption from food as well as the normal production of B12 and others by the good bacteria. B6 is required to either absorb or utilize magnesium (I forget which). B6 is also required to convert tryptophan from food into serotonin. Serotonin is needed for sleep. Low serotonin can also have many negative impacts on mood -- especially anger.

Anyway, the doc told hubby to take 50 mg 5HTP (5 hydroxy tryptophan) every 30 minutes or every hour (forget which). It would stop hubby's tremors temporarily (for maybe 30 minutes after each pill) but it made him feel much worse physically. We only did this for 2 or 3 days and then abandoned it. Hubby did continue taking the 5HTP before bedtime and continued to wake up in the middle of the night with tremors and dry heaves.

From reading the Healing Lyme book I discovered that when there is an infection in the brain the body uses an alternative pathway and converts tryptophan to quinolinic acid -- a very potent brain neurotoxin!!!.

Hubby did have a nutritional test done during this time frame which showed elevated quinolinic acid in the bloodstream or urine (I forget which). Also had elevation in one of the serotonin metabolites involved in this alternative pathway.

The solution is to take Resveratrol to block this alternative pathway. By doing this hubby can take 5HTP and sleep through the night -- after being woken up 1 or 2 times nightly with seizure-like episodes for over 3 years this comes pretty close to being a miracle. The Japanese knotweed source of Resveratrol seems to work best for hubby.

As for the SSRI's -- hubby was prescribed several of them -- made things worse. Trying to artificially keep a brain chemical active does not work unless the supply side (5HTP) is boosted as well. Hubby's neurotransmitter tests show decrease in serotonin metabolites while on SSRI's and increase to more normal levels while on 5HTP.

I believe the excess quinolinic acid may contribute to tremors and also possibly a deficiency of serotonin may cause tremors as well.

Hubby's 1st Lyme treatment was herbal. Things went wrong very quickly -- looked up my notes and he was in the ER 7 times and hospitalized 5 times (1 psychiatric admit and 1 for probable encephalopathy -- unconscious 15 hours and elevated protein in spinal fluid). This all happened in the course of 2 months.

During these herxes (this was before I found LymeNet and we really didn't have a clue!)the tremors changed to episodes of myoclonus and some actual seizures which later lessened in intensity to become what I call seizure-like episodes. At this time hubby had already been on Depakote (an anti-seizure med for a year). Some EEG's were normal and others slightly abnormal, but none showed actual seizure spikes.

After a second treatment disaster several months later using IPT (insulin potentiation therapy) and only 125 mg IV Rocephin, hubby landed in the ER again. Taken by ambulance from the doc's office when they could not wake him up following a seizure-like episode.

It is my opinion that the IPT treatment drove the infection deeper into his tissues. He came out of the hospital with severe sleep apnea and a cough -- may or may not have been caused by Babesia. Also was diagnosed with bilateral hilar adenopathy plus several nodules found in his lungs.

After this, to counteract the multiple times daily instead of once a week or so seizure-like episodes we got stuck using IV Ativan. He is still on this 3 plus years later. Ativan is a muscle relaxer (short acting 4 - 6 hours) and does control both the dry heaves and neuro symptoms fairly well.

Valium is a weak Benzodiazepine -- then Ativan is next strongest -- with Klonapin being the strongest. Hubby stayed on Depakote as well for another year. Also tried 5 or 6 other seizure meds that did not help.

When we finally got to an LLMD hubby started doing IV magnesium. He has found that this does help with what he calls fine tremors -- the ones like Cutie describes that others can't really see.

The IV Phosphatidylcholine has helped as well. Hubby tried to take Rifampin for Bartonella (clinical diagnosis). Had really bad herxes -- tremors returned almost 24/7 -- it was like stepping back in time 3 years. Tremors had been reduced to maybe 20% of the time at that point.

The Phosphatidylcholine works to balance out the neurotransmitters acetylcholine and dopamine -- see previous threads discussing Parkinson's. As Marnie as pointed out lecithin is a cheap version of phosphatidylcholine, but must be very careful of the source or it could be rancid.

The best source of choline in the diet is egg yolks. A doc suggested hubby eat 3 egg yolks daily -- only the yolks. For some reason the whites negate some of the choline if you eat the whole egg.

Hubby only managed to take a total of 20 Rifampin over about 20 days. Ended up doing about 65 vials of IV Phosphatidylcholine (P.K. protocol) over 45 days. Tremors and myoclonus decreased to prior levels and seizure-like episodes continued.

Now for the clincher. This is something that I stumbled into totally by accident. Hubby developed skin sensitivity and couldn't tolerate heparin shots so I started giving it to him by IV. There is a journal article that concludes heparin may be beneficial in treating babesia.

The 1st time hubby treated babesia the quinine helped tremendously with muscle movement. He described it as "He didn't feel like he needed to shake anymore." The 1st 2 months he felt 75% recovered and began walking for exercise for the 1st time in about 4 years. The last 2 months of treatment the tremors and seizure-like episodes were acting up more -- never totally stopped.

Fast forward a year to the present -- hubby has been able to continue walking, but still has tremors/myoclonus/seizure-like episodes. Tried to retreat babs with quinine/clindamycin protocol. Had to stop after 45 days due to G.I. iritation.

However, here is the interesting part. The 1st time he treated babs he just seemed to get better and not have any herxes. This time the herxes were horrible -- almost constant sweats, headaches, eyepain, one actual seizure and then things seemed to be turning the corner. But within 2 or 3 days of stopping babs meds things are right back where they were before.

I think the difference is that I added in some additional herbs for babesia and this time if he could have stuck it out I think the tremors/myoclonus/seizure-like episodes would be virtually gone.

The other trick is the IV Heparin. During his worst seizure-like episodes he has myoclonus in his head -- his head shakes in a no motion. He usually has a headache and could be slightly confused as well. If I give him the IV Heparin during these episodes it will stop the myoclonus.

I feel the myoclonus is a result of hypercoagulation from the babesia causing restricted oxygen and bloodflow thru the brain capillaries. That is my theory anyway.

Per hubby's LLMD IV Heparin is only effective for about 30 minutes versus 4 - 6 hours I think for the heparin shots. I use 5000 units of heparin 3 times per day.

Plan to retest hypercoagulation after finally finish babs treatment and will adjust heparin dose (hopefully stop) at that time.

I think I have written a book, but at least it gives you some things to experiment with.

The other factor, that in my opinion is critical to brain function and may indirectly affect tremors and myoclonus and seizures is antioxidants and supplements to increase blood flow to the brain.

Hubby takes COQ10 (400 mg minimum),pychnogenol (pine bark extract), feverfew, Vitamin E, gingko, vinpocetine, and there are probably a couple of others I am leaving out. Taurine is good also.

In the past we have let a couple of docs talk hubby into decreasing or stopping supplements -- within a couple of days tremors and seizure-like episodes have increased. Can't say which specific nutrient -- more likely was the combo which has evolved over the years.

Good luck getting your tremors/myoclonus under control.

Bea Seibert

[ 11. July 2006, 12:11 AM: Message edited by: seibertneurolyme ]

---

Posts: 7306 | From Martinsville,VA,USA | Registered: Oct 2004 | IP: Logged |

elley0531
LymeNet Contributor
Member # 9434


posted

---

Bea-

Do you guys know what caused your hubby's gastritis? I have chronic gastritis...it doesn't hurt much since I'm on Prilosec but I know its there. I'm nervous about what you said about not being able to absorb nutrients.

Does chronic gastritis prevent you from absorbing nutrients from supplements as well or just from food?

---

Posts: 594 | From NJ/NY | Registered: Jun 2006 | IP: Logged |

Carol in PA
Frequent Contributor (5K+ posts)
Member # 5338


posted

---

Bea,
Thank you so much for your account.

Resveratrol gave me back my ability to think, but I had to stop within a couple days due to kidney pain.

That is VERY interesting about using the 5HTP and Resveratrol together at bedtime.

I have been incorporating suggestions from Marnie and many others into my regime.

Please tell your husband that his trials and trevails may be helping us on this board.

Best wishes,
Carol

---

Posts: 6947 | From Lancaster, PA | Registered: Feb 2004 | IP: Logged |

seibertneurolyme
Frequent Contributor (5K+ posts)
Member # 6416


posted

---

Elley,

Depends on how bad the gastritis is as to how much it effects absorption. Can affect absorption from both food and supplements. Also antacids affect absorption as well.

The 1st time hubby had bad gastritis it was caused by 3 different G.I. parasites -- giardia, trichostrongylus, and ascaris. He took a very strong Nigerian herbal formula only available to his doc's patients. I personally think the tickborne illnesses weakened his immune system and that is why he got the parasites.

Dr B clinically diagnosed Bartonella because of all his G.I. problems. The Levaquin for Bartonella never really helped his G.I. symptoms, but that was a couple years after the initial infection and the Bartonella could have moved to his brain if he has it.

Current gastritis -- haven't figured out yet if it is simply from irritation from meds (quinine is very hard on the stomach) or if he actually has Lyme or one of the tickborne illnesses in the G.I. tract.

I had a phone consult with a LLMD gastro in NJ yesterday. He says hubby is on the right meds for gastritis -- Carafate to coat the stomach, Zofran for nausea, and Ativan for cramps and mucscle spasms. We are in the process of scheduling an endoscopy and plan to send biopsies to MDL to test for tickborne diseases.

The Carafate can interfere with absorption, but so far does not seem to be an obvious problem -- no undigested food in his stool. Doc recommended either Prilosec or Prevacid also -- we told him he had tried both before and they were no help.

LLMD gastro agreed that nausea and dry heaves are most likely related to elevated Bilirubin caused by Babesia. Especially since he has positive response to babs meds -- if he takes babesia meds the Bilirubin returns to normal and the nausea and dry heaves improve.

LLMD gastro did say that Bartonella frequently causes heartburn symptoms. Hubby does not have that problem.

If you have not read it then you should read the article, "Bell's Palsy of the Gut." Explains how tickborne illnesses can affect the G.I.

Carol,

Glad to help. Sorry that the Resveratrol caused you problems. Did you have any prior kidney problems? It is a very powerful antioxidant -- wondering if the Resveratrol could be trying to heal a low-grade kidney infection? I know cranberry extract keeps bacteria from sticking in the kidneys and urinary tract -- wonder if resveratrol could work in a similar manner (especially if it was from grapeseeds)?

Bea Seibert

---

Posts: 7306 | From Martinsville,VA,USA | Registered: Oct 2004 | IP: Logged |

cutie
LymeNet Contributor
Member # 8468


posted

---

While we were talking about videotape, does anyone know of a good website where they show movement disorders so i can see if any of them resemble my own?

Thanks,
Cutie

--------------------
Cutie


---

Posts: 125 | From Atlanta | Registered: Dec 2005 | IP: Logged |

ksparks
Member
Member # 8098


posted

---

Hi Cutie,
My myoclonus started after a dose of IV levaquin. I actually had a myoclonic seizure. Before I had tremors, trouble walking and talking. I am on Lyrica and Lamictal and Klonopin PRN. They fixed my myclonus, but now I feel dumb as a rock.

Kristen

---

Posts: 24 | From Oxford, NC | Registered: Oct 2005 | IP: Logged |

cutie
LymeNet Contributor
Member # 8468


posted

---

Kristen - I take Klonopin PRN too, otherwise I don't think I'd ever go to sleep!

When you say trouble talking, what do you mean? I have this too - it comes and goes but feels like I can't get my tongue to do what I want it too, kind of tongue tied and like I just ate cold ice cream.

--------------------
Cutie


---

Posts: 125 | From Atlanta | Registered: Dec 2005 | IP: Logged |

Jill E.
Frequent Contributor (1K+ posts)
Member # 9121


posted

---

There is a website at www.wemove.org that another wonderful person here on Lymenet once posted. It's not focused on Lyme (in fact, I don't know if it even mentions it) but has lots of good info on various movement disorders and the various medications that can treat them.

Jill

--------------------
If laughter is the best medicine, why hasn't stand-up comedy cured me?


---

Posts: 1773 | From San Diego | Registered: Apr 2006 | IP: Logged |

ksparks
Member
Member # 8098


posted

---

Cutie,
My speech is slurred ( I sound like I have an Italian accent)- sometimes I studder-sometimes I babble. I know what you are describing, I have had that too. Interestingly, it was after IV glutathione.


My lyme doc thinks my problems including myoclonus are from bartonella. Have you been treated for that? Their running theory is that bart can affect the limbic system in the brain. Which can cause all sorts of problems like seizures, tremors, speech problems, and myoclonus. That is the extent if my understanding right now.


Lymescience- do you have a better understanding of this theory and how it related to myoclonic activity?

Kristen

---

Posts: 24 | From Oxford, NC | Registered: Oct 2005 | IP: Logged |
Contact Us | LymeNet home page | Privacy Statement

Powered by UBB.classic™ 6.7.3

---
The Lyme Disease Network is a non-profit organization funded by individual donations. If you would like to support the Network and the LymeNet system of Web services, please send your donations to:
The Lyme Disease Network of New Jersey
907 Pebble Creek Court, Pennington, NJ 08534 USA
http://www.lymenet.org/
---
Home | Flash Discussion | Support Groups | On-Line Library
Legal Resources | Medical Abstracts | Newsletter | Books
Pictures | Site Search | Links | Help/Questions
About LymeNet | Contact Us
---
© 1993-2020 The Lyme Disease Network of New Jersey, Inc.
All Rights Reserved.
Use of the LymeNet Site is subject to Terms and Conditions.
---