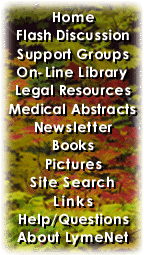 ---
LymeNet on Facebook
LymeNet on Twitter
---
---
The Lyme Disease Network receives a commission from Amazon.com for each purchase originating from this site.
When purchasing from Amazon.com, please
click here first.

Thank you.




Dedicated to the Bachmann Family


LymeNet needs your help:
LymeNet 2020 fund drive

The Lyme Disease Network is a non-profit organization funded by individual donations.

| | |
| --- | --- |
| | |
Author
Topic: Lone star tick

ssmillik
Member
Member # 9635


posted

---

Hi, I have a question. I read that the Lone Star tick doesn't carry Lyme disease, only Rocky Mountain Spotted Fever. This seems silly to me. Ticks don't discriminate as to who their host is. If they latch onto a lyme-infested animal, they can transmit Lyme disease, right? Can anybody shed light on this? Also, what is Rocky Mountain Spotted Fever and how different is it from Lyme?

Thanks

---

Posts: 39 | From Massachusetts | Registered: Jul 2006 | IP: Logged |

bettyg
Unregistered



posted

---

Welcome, and please change MY PROFILE to allow PM, private messages, to you. I would have sent the below info to you that way; but couldn't since you chose NOT to enable PMs.

Here are my newbie links for you to visit including Treepatrol's many newbie links!

Yes, lone star ticks carry LYME. Read, read, read below the info ok. It's overwhelming, so take it in pits & pieces ok! Bettyg

Welcome to this 24/7 LYME support group board!

Before I forget about it, all PM, private messages go to YOUR HOME email address.. If you want to keep info, file it in your HOME FILE FOLDERS. Lymenet PM allows 60 notes only & they add up fast; so delete them promptly from lymenet folder.

Make sure on ``MY PROFILE'' you edit it to show you ALLOW PMs so folks can send you a private email vs. On public board. Also change the viewing notes to VIEW ALL NOTES vs. 30-60 days only. Very helpful when you do searches on specific topics.

Here's TREEPATROL's and Tincup's combination newbie links.

http://flash.lymenet.org/ubb/Forum1/HTML/029917.html

Print off the links then check them off as you read as you could spend several months reading all of this.

print & read Dr. Burrascono's 2005 info first; you will come back to this often.

Extensive info in Treepatrol''s newbie links about the meaning of WESTERN BLOT IGM/IGG test results from Igenex! Be sure to read or print this info IF Igenex tested you ok!


Also, see Cheryl''s extensive web sites on: LD DIAGNOSIS, SYMPTOMS, & TREATMENT ... wonderful! Read the area on CO-INFECTIONS! You could have from 1-10 other illnesses that tick is carrying...lyme, malaria, etc.

http://www.lymeinfo.net/lymediseasetreatment.html

If you are showing symptoms of co-infections, I would like to suggest being tested for co-infections when you have LYME western blots done. It isn''t cheap!! But if you are positive, you can treat the co-infections first, and then work on LYME symptoms.


EYE SENSITIVIES & NOIR, no infrared sunglasses info., 2-28-06 updated YES, I have what you have! Are you on doxy too? That made my extreme eyes

200% MORE sensitive than they we were earlier.
I learned a lot about eye sensitivity/lighting on
www.marshallprotocol.com board.

Look for AUSSIE BARB'S EAST FINDER and then eyes/sunglasses, etc. Wealth of info there.

I ordered the NOIR sunglasses.
http://www.noir-medical.com/noir_amber.htm
You will need 2% amber and 10% amber ... Style no. 901 and 910.
1-800-521-9746 TOLL- FREE

mention you have lyme and marshall protocol, they will give you 20% off!
I'm NOT on MProtocol, but mention it anyway. I was on their new board almost 12 months!

Also they have been kind enough to replace the SCRATCHED LENSES & BROKEN BOWS! How's that for service?

I don't drive often at night, but I can wear NOIR's 901 lenses at night while driving; it creates soft candle lights coming at me...tolerable. NOT to wear in town with all the action of people crossing where they shouldn't be, etc.

Also if you get a SUPER WIDE post, go to the BOTTOM of the screen. Look to the left hand side and chose PRINT FRIENDLY VIEW or it's worded something like this ... on the same line as GO TO ______ section ...medical or general, etc. Carol in PA passed this along to me.
I use it daily now

from LOU to Betty on LONG web links and Thank You Lou!:
"If you hit the return key in the middle of a link, I don't think it will be clickable anymore. An alternative that maybe Betty should be telling people about is the tiny url website. I have it on my tool bar at the top of the page and use it for
those incredablylongwebsiteaddresses.

All you have to do is ask tiny url to produce a short version, which it will do with a unique address, which you then use instead in your post. Works just the same when clicked! Here is the website, spread the word!
http://tinyurl.com/

3-1-06, fyi, I tried dragging tinyurl to my toolbar without success, so that''s why I currently have LONG addresses vs. short tiny ones! I''ll keep trying.

UNDERSTANDING HERXING REACTIONS
http://flash.lymenet.org/ubb/ultimatebb.php?ubb=get_topic;f=1;t=041517


Site of photos of ticks from Iowa State University Entomology Dept.
http://www.ent.iastate.edu/imagegal/ticks/defaulttn.html


RASH ITCHES -- use ``rubbing alcohol`` on it especially the corners good. Hubby suggested; worked great for me; rash cleared up in 2 days vs. weeks/month

Tincup''s explaination of Camp A and B, Steere vs. Burrascano, on short term antibiotics vs. long-term CHRONIC abx.
http://flash.lymenet.org/scripts/ultimatebb.cgi?ubb=get_topic;f=1;t=021395

Lymetoo/TUTU's links: yeast & candida:
Candida diet and elimination:http://flash.lymenet.org/ubb/Forum1/HTML/021412.html
http://www.wholeapproach.com/diet/
Lyme symptoms list compared with yeast symptoms
http://flash.lymenet.org/ubb/Forum1/HTML/021412.html

Tincup posted March 8, 2005, 2218

Lyme Disease Survey Responses

February 27, 2005 - March 9, 2005

1. How many doctors did you have to see before being properly diagnosed? 112 responses
Average number of doctors consulted before being diagnosed - 14
Answers ranged from 1- 120 different doctors

2. Have you had problems getting insurance to pay for doctors or treatment?
87 responses? Yes- 63 No- 24

3. Have you lost income because of Lyme disease? 106 responses
Yes- 99 No- 7

4. How much does it cost you (average) per month for Lyme related expenses? 61 responded
Average cost per month per patient- $4,472.49
Low- $500.00 High- $21,492.00

5. How many different medications do you take per day? 77 responded
Average - 14 different medications per day
Low- 3 High- 25

*****************************************************
SSDI, SSI, LTD procedures:

Here is what I post for all on SSDI/SSI/LTD... I tried the link of the female MD ``template''; you are right; it's no longer good!

2 alternatives: use what I provide below as guidance since you have LYME disease and not filing for chronic fatigue.

OR go to the bad web site, click on REFRESH, and go to that site! Ask Mary, web owner, the question since she posted this on disinissues; SHE started that site! It was her close friend who okd to post her info for others.
Betty Gordon

TRYING TO GET SSDI, SS DISABILITY INSURANCE BENEFITS OR LTD:

Hi! I know what you mean about memory & typing, etc....it's the pits!

I do suggest you join the FREE DISINISSUES and read thoroughly or just print it all off of the FEMALE MD with chronic fatigue, etc. she gives wonderful, detailed examples that DDS, disability reps, want to approve/deny you.

Also have you looked thru the ADULT APPROVED LIST OF IMPAIRMENTS? That's critical also!

http://www.ssa.gov/disability/professionals/bluebook/1.00-Musculoskeletal-Adult.htm

note 1.04; look at the rest of the 14 other specific areas too....

I printed off 1-14 sections showing what brief guidelines were for each section. I used that against ALL my medical reocrds, 3" thick!! Then I went to their DETAILED specifics for the sections that applied to my illnesses!

TIMECONSUMING....TOOK ALL 7 WEEKS from my notice of my ALJ hearing date!

So you have NOT submitted your INITIAL APP TO SS OFFICE, correct? Good, you want this to be as complete as possible so they can NOT turn you down on the 1st step as they do us all!!

\=============================================
What I did with an online friend was this: prepared a chart noting the specific section of 1 - 14 that my diagnosed illnesses showed the wording, dr. seen & date.

Example, 14.09 LYME disease is mentioned in but doesn't give any examples. So I showed 14.09 with my drs. name & date plus specific details about each visit where lyme symptoms were stated..

I hope you have a copy of ALL MEDICAL REPORTS...drs., xrays, all blood labs, etc.
It's critical that you KEEP A COPY FOR YOURSELF!
========================================

On mine, I showed the date mailed to ALJ & LAWYER PLUS I kept a copy. Then I went to copy center nearby & copied and mailed promptly to lawyer per his request.

WHY THIS IS IMPORTANT:

if you have an ALJ hearing, request thru your local SS office to REVIEW your complete SSDI app at THEIR local office!

When you see things you submitted with your writing on, don't look at them!

Look & read only the secretative ``RFC & MFC''
done by the the in-staff DDS DRS & PSYCHOOGISTS!

You want to make copies of ALL the stuff they have & other stuff you don't have so you can use that info against them!


NOTE: I'D DO THIS DIFFERENTLY NOW!

SEND 1 COPY TO ALJ and 1 to your lawyer!

Lawyer did NOT SEND MY REPORTS TO DDS STAFF PROMPTLY;

they didn't see many things when they denied me although I had good medical info!

Examples, 2 RFC, residual function capacity done by PCP dr. of 26 yrs. & rheumatologist;

plus 2 MFC, mental function capacity, done by psychiatrist & psychologist....the 1st person was the one judge used in APPROVING my 2nd claim for severe depression/effective disorder & anxiety.

ALJ's don't like working with LYME, FIBRO, CHRONIC FATIGUE. MENTAL is on approved list of adult approved impairment list! So don't fight it, go with it!

============================================
This message is sent upon subscription, and again monthly.

There are links to helpful websites found by clicking on 'Links'
on the Disinissues website or by going directly to
http://groups.yahoo.com/group/Disinissues/links

There are many more links, as well as advice and "useful" messages
in the Files area of the website. Go to
http://groups.yahoo.com/group/Disinissues
and click on Files.

The website provides compilations of several areas of interest which
are commonly requested and mentioned. They reflect the collected wisdom
of this group. Check them out - you just might find the information
you were looking for! Take a look at Files that are not specific to
your situation, because they might be helpful anyway - what works for
Social Security may work for LTD claims, what applies to CFS, chronic fatigue syndrome, may apply to your medical condition.

The Welcome Message and Group Guidelines are in the Files section, if
you need a refresher on how this group works.

You must register with Yahoo to use the website, but note:
Be careful not to permit your address to be put into the directory
when you register. Put as little as possible into your public profile.
You do not need a Yahoo address to use the website. Your email address
is what Yahoo calls your "alternate address."

Please let the moderators know if any links have changed.

Contact the moderators at
[email protected]m
or for AOL subscribers:
Click here

BETTY NOTE: Look at the female MD''s DETAILED BACKGROUND right below this paragraph. Print off her detailed responses as to why she could NOT do her job, and then apply that to YOUR own job as to why you no longer can do any type of sustainable work now nor in the foreseeable future!
NO LONGER GOOD 5-17-06: http://www.cfids-me.org/socsec.html
*************************************
An online friend of mine from disinissues web site posted this info today, so I have copied it over here.

Subject: fibro/CFS disability info [Disinissues] what does an Functional Capacity Exam entail?

Lyme, fibro, & CFS support group members who are/will be filing for SS Disability insurance benefits, please go to the web page shown below.

There were 9 pages of info I printed below area where you can order from fibro network a 70 page packet.

I too plan on including this info when I send my FINAL packet of info to chief ALJ before my June 16, 2005 hearing...my last chance!
=======================================

Please read the site mentioned on: WHY DISABILITY TESTING FOR FMS IS OFTEN MISLEADING ADVICE FOR FM/CFS PATIENTS AND THEIR DISABILITY TEAM.....

Also after this article are the following articles:

WHAT COULD BE CAUSING DELAYED-PHASE FLARES?

BENNETT'S METHOD FOR ASSESSING FUNCTION IN FMS..

TECTONIC CHANGES IN DISABILITY LAW by lawyer Joshua Potter, CALIF.

MEDICALLY DETERMINABLE IMPAIRMENT REQUIREMENTS FOR CFS & FMS

DOCUMENTIONATION...VIEW IT AS AN INSURANCE POLICY

I printed this out in larger print for my eyes....9 pages! Will read it thoroughly and mark up 2nd copy to go to ALJudge for my 2nd hearing as medical evidence also....
*********************************
Lymeneter Kay found this list of symptoms at http://www.lymediseaseaction.org.uk/symptoms.php
It says it all:

Tick Borne Disease - Symptom A to Z
Lyme Disease is systemic, it can effect the whole body.
This page lists the possible symptoms.

Abdominal Pain
Achiness (Generalised)
Acrodermatitis Chronica Atrophicans/ ACA
Alcohol - Extreme Effects Of
Anorexia
Anxiety Attacks
Arthritis
Back Pain
Balance Problems
Bell's Palsy
Bladder Problems
Blindness
Blood Pressure - Raised
Bone Erosion
Bone Pain
Bowel Problems
Bradycardia - Slow Heart Beat
Brain Fog
Breast Discharge
Breast Pain
Breathlessness - Air Hunger
Carpal Tunnel Syndrome
Chest Pain
Chills
Cholesterol - Raised
Choroiditis
Clicking Joints
Cold Feet
Confusion
Conjunctivitis
Constipation
Costochondritis / Ribcage Pain
Cough (Non-Productive)
Cramps
Deafness / Hearing Loss
Dental Pain
Depression
Diarrhea
Difficulty Concentrating
Disorientation
Diverticulosis / Spastic Colon
Dizziness
Dyslexia
Ear Pains
Encephalitis/ Encephalopathy
Erythema Migrans Rash
Facial Pain
Facial Palsy
Fasciculations / Muscle Twitches
Fatigue
Fever
Fibromyalgia
Floaters
Flu-Like Symptoms
Fluctuations of Symptoms
Foot Pain
Forgetfulness
Hair Loss
Hallucinations
Headache
Hearing Loss
Heart Block
Heart Problems - ECG Abnormalities
Heartburn
Hepatitis
Herxheimer
Hoarseness
Hyper Sensitive Hearing
Hyperacusis - Sound sensitivity
Inability to Concentrate
Inability to Remember Words
Insomnia
Involuntary Jerking, Limbs and Trunk
Iritis
Irritable Bowel
Jaw pain/ Temporomandibular joint disorder
Joint Problems
Joint Swelling
Knee Joint Pain
Libido - Loss Of
Light Sensitivity
Liver Problems - Raised Enzymes
Malar (Facial) Rash
Marked Personality Changes
Memory Loss
Meniere's Disease
Meningitis
Menstrual Irregularities
Miosis - Decreased Pupil Size
Mood Swings
Motion Sickness
Muscle Aches
Muscle Spasm
Myoclonic (Involuntary) Jerking
Nausea
Neck Pain
Nerve Conduction Defects
Nightmares
Numbness
Optic Neuropathy
Palpitations
Panic Attacks
Paraesthesia / Abnormal Skin Sensations
Paranoia
Photophobia
PMS - Pre-Menstrual Syndrome
Psychiatric Problems
Ptosis - Drooping Eyelid
Rash
Retinal vasculitis
Reynauld's Syndrome - Cold Hands & Feet
Seizure
Shivering
Shooting Pains
Shortness of Breath
Shoulder Pain
Skin Sensitivity
Sleep - Excessive
Sleep Apnea
Sleep Disturbances
Sleep Inability
Slurring of Speech
Smell Sensitivity
Sore Throats
Speech - Slurred, Slow
Speech Errors
Spinal Disc Problems
Stiff Joints
Stiff Neck
Swallowing Difficulty / Dysphagia
Sweating (Profuse)
Swollen Glands
Symptom Flares - Approx 4 Weekly
Tachycardia - Fast Heart Beat
Tendonitis
Testicular Pain
Tingling of Extremities
Tinnitus / Ringing in Ears
TMJ - Jaw Pain / Stiffness
Tongue Numbness
Tongue Pain
Tooth Pains
Tremors / Shaking
Uveitis
Vasculitis - Circulation Problems
Vertigo
Vibration Sensitivity
Visual Disturbances
Vomiting
Weakness or Paralysis
Weight Gain
Weight Loss
Word Block

---

IP: Logged |

ssmillik
Member
Member # 9635


posted

---

Oh wow! Thanks for all the info! I changed my profile to allow PM.

I had Lyme back in 2000, got treated, then another tick attached itself to me in 2003, bringing back some chronic symptoms. I was on antibiotics on and off for 2 years (mostly on), and for now, I'm off antibiotics and symptom-free except for some fuzzy brain. I also have Addison's Disease (no adrenal function), which came around the time the second tick attached itself to me, which I've always wondered if it was related.

Anyway, thank you for all the information. I've been researching Lyme for years, so I'm familiar with chronic Lyme and all the controversy.

But this lone star tick thing just really seemed stupid, especially if they're cropping up in southern New England, lyme territory.

Again, thanks for the info
Susan

---

Posts: 39 | From Massachusetts | Registered: Jul 2006 | IP: Logged |

Lymetoo
Moderator
Member # 743


posted

---

The Lone Star Tick does INDEED carry Lyme. They tend to call it STARI in the Midwest. It's just another strain of Lyme. Same symptoms, same treatment.



--------------------
--Lymetutu--
Opinions, not medical advice!


---

Posts: 94524 | From Texas | Registered: Feb 2001 | IP: Logged |

LYMESCIENCE
LymeNet Contributor
Member # 9259


posted

---

Diddo, The lone star tick does in fact carry Lyme Disease. However, the disease doesn't seem to be from Borrelia Burgdorferri sensu stricto, or, think of it as the Lyme that is caused by Deer ticks in New England.

Lyme Disease as caused by Lone Star Ticks is theorized to be caused either by Borrelia Lonestari (a recently described spirochete), Borrelia Burgdorferri Sensu Lato (just the name referring to all genetic diversity within the Borrelia Burgdorferri family) or some combination of both.

My preference is to say that its probally both, and unfortuantly there is no relyable test yet for this disease as its considered new (though it has been known since the mid 1980's when it was discovered by Ed Masters MD in Missouri)

However, it is incorrect to say that Lone Star Ticks do not cause Lyme Disease. They do. Its just that the Lyme isn't the exact Bacterioliogical difinition of "classical" New England Lyme.

However, its still Lyme.

---

Posts: 559 | From Cary, NC | Registered: May 2006 | IP: Logged |

cbb
Frequent Contributor (1K+ posts)
Member # 788


posted

---

Welcome to LymeNet.

A little more info on STARI -
Southern Tick Associated Rash Illness is called a Lyme-like illness.
I don't know why because it is transmitted by a tick bite, can cause a bull'e eye rash, same symptoms as LD, & treatment is the same.

To me, one of the biggest problems is in testing. Since the strain of bacteria is slightly different from Lyme disease, most Lyme tests will not detect it. This could be one reason that so many Lyme tests in the South are negative.

One word of warning -
A study done in the South some years ago, concluded that even with no treatment, the disease clears up on its own, which minimized the seriousness.
I have no medical background & I'm no scientist, but I had a lot of questions about the results of this study.
As I remember, no followup was done to see if any health issues developed later.

---

Posts: 4638 | From South Carolina | Registered: Mar 2001 | IP: Logged |

Thomas Parkman
LymeNet Contributor
Member # 3669


posted

---

Dear members of the list:

A study of borrelia in the southeast a few years back located some 56 variant strains of borrelia, broken into three geonspecies and two probable hitherto unknown genospecies. Testing was seriously deficient and remains so today. After that study Stari-a southern associated tick borne rashness was discovered and then a new strain of borrelia which was tentatively name borrelia lonestari.

The original study indicated that the infection seemed to clear up of its own accord. Knowing what we know about spirochetal infections in general and certainly borrelia infections this was a dubious and unproven assumption. That is the problem with "lyme disease" it is a range of related illnesses based on a serious of largely unproven and dubious assumptions. I refer you to the CDC and the IDSA.

Nobody knows how many variant strains are out there. Rocky Mountain Fever, if my memory serves me, is a relapsing fever and may be distantly related to borrelia. If so it is part of a broad family of realted bacteria causing untold and unrecognized havoc. Cheers. Thomas Parkman

--------------------
Thomas Parkman


---

Posts: 341 | From Columbia SC 29206 | Registered: Feb 2003 | IP: Logged |
Contact Us | LymeNet home page | Privacy Statement

© 1993-2020 The Lyme Disease Network of New Jersey, Inc.
All Rights Reserved.
Use of the LymeNet Site is subject to the Terms and Conditions.

Powered by UBB.classic™ 6.7.3

---
The Lyme Disease Network is a non-profit organization funded by individual donations. If you would like to support the Network and the LymeNet system of Web services, please send your donations to:
The Lyme Disease Network of New Jersey
907 Pebble Creek Court, Pennington, NJ 08534 USA
http://www.lymenet.org/
---
Home | Flash Discussion | Support Groups | On-Line Library
Legal Resources | Medical Abstracts | Newsletter | Books
Pictures | Site Search | Links | Help/Questions
About LymeNet | Contact Us
---
© 1993-2020 The Lyme Disease Network of New Jersey, Inc.
All Rights Reserved.
Use of the LymeNet Site is subject to Terms and Conditions.
---