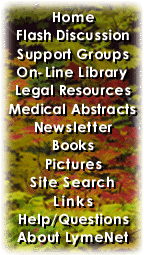 ---
LymeNet on Facebook
LymeNet on Twitter
---
---
The Lyme Disease Network receives a commission from Amazon.com for each purchase originating from this site.
When purchasing from Amazon.com, please
click here first.

Thank you.




Dedicated to the Bachmann Family


LymeNet needs your help:
LymeNet 2020 fund drive

The Lyme Disease Network is a non-profit organization funded by individual donations.

| | |
| --- | --- |
| | |
Author
Topic: What should I do next?

ErinP
Junior Member
Member # 11300


posted

---

I've been seeing my primary for a few months now for periodic muscle weakness in my right leg and arm. I also have tingling sensations, twitching, and loss of balance-walking into things.

I have had a clear MRI of the brain and spine and will be having a lumbar puncture from a Neurologist as both Doctors suspected MS.

To rule out other possibilities the Neurologist ran TONS of bloodwork to rule out other posibilities. ANA did come back at 630 which is high and by b-12 was borderline low.

ELISA was negative.

I went to primary today with results and to my surprise he ordered a Western Blot through Quest. He said let's just see what this shows before I send you to a Rhuemie because he suspects lyme.

I saw him in 2002 with a weird bug bite rash but he said it was more like a spider bite and I was 32 months pregnant so he didn't want to put me on ABX.

Last year I was diagnosed with IBS- diarea prodominant. It was horrible for months. Many tests were done to rule out other disease. This all started after being on Prednisone for a month from a severe case of Poison Ivy. Left hip pain started with this.

I also have a murmur, minor chest pain (more like a fullness) and fluttering.

Anxiety attacks come VERY strong when my Neuro Symptoms flare (I actually had myself convinced I had ALS because I drop things and have heavy muscles/weakness) But Als is not intermittent like this.

So know that you know my story (sorry it's long-but there's so many symptoms and minor complications. What should I do next if the Quest test is negative? If it's positve I already have a LLMD that I could go see, but I'd have to leave my current Primary- So far he hasn't been a total Duck about this.

---

Posts: 6 | From MA | Registered: Mar 2007 | IP: Logged |

Annxyz
LymeNet Contributor
Member # 9097


posted

---

I would get an Igenex test . The symptoms sound VERY MUCH like lyme.

I would also try to take abx ASAP , as long as the doc will prescribe them .

Do you feel sick or fluey ? If you do , then I doubt you have MS .

I had a similar experience and MS ruled out . From day one I have felt sick all over, like a flu infection.

MS does not usually start with flulike symptoms. Lyme can mimic MS !

--------------------
ANNXYZ


---

Posts: 744 | From Mineola | Registered: Apr 2006 | IP: Logged |

panicbegone
LymeNet Contributor
Member # 10760


posted

---

Wow Erin

You sound SO much like me. I have ALL The same symptoms (plus like 20 more than your list) but am also seeing a neurologist! He suspected MS but my MRI was clean. I have the anxiety big time also! its like general anxiety but pretty severe.

Also, i had a negative elisa test also. I dont think relying on a WB Quest test is a good idea but doesnt hurt to see the results.

Ive been told i have CFS and Fibro but my symptoms are out of this world. My legs are week, my body hurts , i feel like im on a moving boat, my balance is totally off and i cant walk right anymore, i have anxiety, heat intolerance, exhaustion, cognitive problems, etc etc.

Let us know your test results and keep us posted!
Feel free to send me a message privately if you want. I dont always go back to threads more than once.



---

Posts: 160 | From california | Registered: Dec 2006 | IP: Logged |

ErinP
Junior Member
Member # 11300


posted

---

No, I don't really feel flu like ALL THE TIME just very fatiqued when I have these Flare ups. Is Lyme intermitent like that?

I have been on Macrobid for a week now for a UTI and I haven't experienced any Herxing. I'm only on it for 2 more days....

Should I still go for the spinal tap? At least I'll know the Quest WB results befor that. My DR. wouldn't sign for Igenex yet...I'm sure it has something to do with money or maybe convenience as the lab is right accross from his office. At least he's open minded and not ruling out Lyme from a neg ELISA..

---

Posts: 6 | From MA | Registered: Mar 2007 | IP: Logged |

Lou B
Administrator
Member # 64


posted

---

Erin,

Here is some information that may help you:
Lyme disease is known as the great imitator because it imitates so
many other diseases and medical problems and this is sometimes confusing
to the average medical doctor. Also, the tests for Lyme disease are
unreliable and many people who actually had Lyme disease received false
negatives on tests that are currently available for Lyme however a positive
test should be taken seriously as false positives are rare.

A rash (sometimes described as a bulls eye but the rash can take on any shape)
occurring within days or weeks of a bite by an infected deer tick is a positive symptom of Lyme disease.
The rash occurs in approximately 50% of the people who get Lyme disease. Anyone who has been
bitten by a tick or who develops symptoms of Lyme disease should be concerned!!!

The best diagnosis is done by a Lyme Literate Medical Doctor (LLMD).
This is a doctor who is highly experienced in the diagnosis and treatment of Lyme disease.

If you are looking for Lyme Literate Medical Doctors (LLMD)
I suggest you do the following:
For Online Doctor Referrals, please click on the following URL for the
Lyme Disease Association Doctor Referral page:
http://www.lymediseaseassociation.org/Doctor_Referrals.html

You may also locate a LLMD in your area by
posting in the Seeking a Doctor forum.
http://flash.lymenet.org

Much information about Lyme and other tick borne diseases is available on LymeNet at:
http://www.lymenet.org

If you need to know more about Lyme disease I recommend the following:
http://library.LymeNet.org/domino/file.nsf/bbf2f15334c1f28585256613000317cc/eee9f15bfb66a105852567c700120022?OpenDocument
Note: This is the "LymeNet Guide to Lyme Disease".
This document will give you a good overview of Lyme disease, the symptoms
and treatment recommendations.

If you need additional information, click on the "On-Line Library" topic on the left menu bar.
You can find a complete and very comprehensive set of Lyme symptoms,
testing, diagnosis and treatment information at:
http://www.ilads.org/burrascano_0905.html
Note: This is Dr. Burrascano's "Diagnostic Hints and Treatment Guidelines for
Lyme and Other Tick Borne Illnesses"

My daughter had Lyme disease for over 10 years before she was correctly
diagnosed and began treatment. She has regained her health and is symptom free.
Her story is at:
http://www.angelfire.com/nj/lorib

Good luck,
Hopefully, some day soon, we'll beat this disease.

--------------------
Lou B



---

Posts: 2200 | From Mount Hope, New Jersey, USA | Registered: Oct 2000 | IP: Logged |

bettyg
Unregistered



posted

---

welcome erin, i'll send you by PM, private message, my 46 pages of newbie links/advise.

look for detailed info on IGENEX blood tests that someone else mentioned above.

you mentioned IBS, i found out last year thru food allergy testings i'm allergic to:

gluten ... wheat and rye;

casein ... cow's milks, cheeses, egg whites, and garlic.

IBS is normally a sign of gluten intolerance/CELIAC disease. info about that is in what i'm sending you too.


lou b, can you use the tinyurl on that link causing this to go SUPER wide. not able to read it even using going to bottom to read PRINTER FRIENDLY VIEW! thanks my friend.

---

IP: Logged |

groovy2
Frequent Contributor (1K+ posts)
Member # 6304


posted

---

Hi erin

Lyme and co infections symptoms can come and go-
it can do this for a perty long time
until it wares your body down --
and then the symptoms mostly stay and get worse--

Some folks dont get the Flu type symptoms
but it is perty rare--

Watch the Lyme video I posted here --
the man in it has lyme and basicaly
feels good but the germs attacked his knees-
so bad he had to have a knee replacement

He is the only person I know that did not
really have the flu type feelings but
he is proof that it dose happen --

Herxing-- some folks dont herx--
but the vast majotity do --

For some reason it is usually men
that dont herx --about 20%

I did not herx until about the 6th
month of treatment and then BAM --

Hammered me like a Armiadillo on the Freeway--

You do sound like you have Lyme and or
co infections--

The tests for lyme are Very Poor and
perty much Useless at the moment--

Every test that I have ever take
comes back super Clean--

Ducks tell me I must be super man
to be this healthy- and clean --

My Igenex tests came back IND--
but 20 yrs ago I had a picture perfect
lyme bruse on the back of my leg weeks
before I started getting sick--

So I have Zero doubt that I have both
Lyme and Babs--

The spinal tap is not recomended for
DX of lyme ect--

I dont think anyone on LN that I know
of has gotten Any Answers form getting a ST --

From you post I gather that you have only
been on ABX for just a few days and most likely
a LOW dose--

ABX at the Standard Dose(LOW) will kill many
types of germs --Not Lyme tho --

Lyme is perty much a super bug once
it gets going--

I hope this helps you--Jay--


--

---

Posts: 2999 | From Austin tx USA | Registered: Oct 2004 | IP: Logged |

ErinP
Junior Member
Member # 11300


posted

---

Thanks for all the helpful info!!!! I'm going to wait and see what Quest results come back as and I'm going to go for the Spinal Tap-this isn't for a diagnosis of lyme, but more to see if there are bands in the fluid commonly seen in MS. Like how antibodies aren't always found in Lyme tests, MS scars aren't always shown on MRIs. Why is nothing ever definate in these areas? You would think by now medicine would have a clear cut answer for diseases.

I'm not quite convinced it's Lyme yet myself, so I do need to rule out MS since they're both a clinical diagnosis.

As for the IBS- it's been under control lately- I was tested(not fun tests!) for Chrohns, colitis, Celiac, allergies, hepatitis......etc all normal/neg.

---

Posts: 6 | From MA | Registered: Mar 2007 | IP: Logged |

Beverly
Frequent Contributor (5K+ posts)
Member # 1271


posted

---

Hi Erin,

You have been given wonderful advise and information, there is nothing I can add, just wanted to drop by and say Hello and Welcome.

Keep us posted and hang in there.


Nice to see you posting Lou B.

Huggss to all....

---

Posts: 6626 | From Michigan | Registered: Jun 2001 | IP: Logged |

tory2457
LymeNet Contributor
Member # 10384


posted

---

Welcome,

[QUOTE] I also have tingling sensations, twitching, and loss of balance-walking into things

I too, have those same symptoms:
and I do have an MS diagnosis....with NEVER getting a spinal tap.

You might want to read about the debate on needing a spinal tap for a diagnosis.

(NIH) National Institue of Health
NEUROLOGICAL ASPECTS OF LYME DISEASE

NIH GUIDE, Volume 22, Number 5, February 5, 1993

PA NUMBER: PA-93-49
P.T. 34
Keywords:

Infectious Diseases/Agents

0715038

Epidemiology

Disease Model

Pathogenesis

Immunology

National Institute of Neurological Disorders and Stroke

National Institute of Allergy and Infectious Diseases

PURPOSE

The National Institute of Neurological Disorders and Stroke (NINDS)

and the National Institute of Allergy and Infectious Diseases (NIAID)

invite research grant applications seeking support of a wide spectrum

of research directed at generating improved knowledge concerning Lyme

disease of the nervous system.


Lyme borreliosis is a multi-system disease caused by the spirochete

Borrelia burgdorferi. It may affect skin, joints, heart, eye, and

the nervous system. Reported neurological consequences of Lyme

borreliosis may range from minor to serious. The infectious vector

is a tick commonly harbored by many sylvatic and domestic animals,

but the principal reservoirs of the adult infective tick are deer and

field mice.

Well described neurological disorders, meningoradiculitis and chronic

neuropathy in patients with acrodermatitis chronica atrophicans, and

an array of central and peripheral nervous system complications of

Lyme disease have all been found to result from borrelia infection.

Between 1982 and 1990 over 30,000 Lyme borreliosis cases were

reported in the U.S.

Reported neurological manifestations of the disease include one or

more of the following: meningitis, cranial neuritis,

radiculoneuritis, peripheral neuropathy, meningoencephalitis,

myelitis, ataxia, psychoses, encephalopathy, cognitive abnormalities,

pain, fatigue, and sleep disorder. It has been reported that up to

half of patients with late Lyme neuroborreliosis (LNB) may exhibit

encephalopathy evidenced by impairment of memory and intellect.

Encephalopathy is probably caused by subacute infection of the

central nervous system. Some patients may display small white matter

lesions visualized by magnetic resonance imaging.

Cerebrospinal fluid abnormalities may include lymphocytic

pleocytosis, intrathecal IgA, IgG, and IgM synthesis, anti-myelin

basic protein antibodies, oligoclonal bands, and increased total

protein. CSF anti -B. burgdorferi specific antibody is helpful in

diagnosing the disease but may only be indicative of exposure, not

necessarily of active disease. Peripheral blood may have B.

burgdorferi specific antibody and reactive T cells. None of the

laboratory diagnostic tests is totally reliable because of false

negative and positive readings.

The cause of damage to the nervous system is unknown. It may be due

to direct damage from spirochetes, tissue inflammation, or immune

response, separately or in combination. Diagnosis of Lyme

neuroborreliosis is a major challenge because neurological signs and

symptoms may imitate those of multiple sclerosis, peripheral

neuropathy, Guillain-Barre syndrome, neurosyphilis, and many other

diseases of the nervous system.

HEALTHY PEOPLE 2000

The Public Health Service (PHS) is committed to achieving the health

promotion and disease prevention objectives of "Healthy People 2000,"

a PHS-led national activity for setting priority areas. This PA,

Neurological Aspects of Lyme Disease, is related to the priority area

of infectious diseases. Potential applicants may obtain a copy of

"Healthy People 2000" (Full Report: Stock No. 017-001-00474-0) or

"Healthy People 2000" (Summary Report: Stock No. 017-001-00473-1)

through the Superintendent of Documents, Government Printing Office,

Washington, DC 20402-9325 (telephone 202-783-3238).

ELIGIBILITY REQUIREMENTS

Applications may be submitted by foreign and domestic institutions,

for-profit and non-profit organizations, public and private, such as

universities, colleges, hospitals, laboratories, units of State and

local governments, and eligible agencies of the Federal government.

Applications from minority institutions, minority individuals, and

women are particularly encouraged. Foreign institutions are not

eligible for FIRST Independent Research Support and Transition Awards

(R29) or Research Program Projects (P01).

MECHANISM OF SUPPORT

Research support may be requested through application for an

individual investigator-initiated research project grant (R01).

Applications from new investigators who have not received previous

PHS research grant support may apply for a First Independent Research

Support and Transition (FIRST) award (R29). FIRST award applications

must include at least three sealed letters of reference attached to

the face page of the original application. FIRST award applications

submitted without the required number of reference letters will be

considered incomplete and will be returned without review. To apply

for the support of a more broadly based multidisciplinary research

program, the Research Program Project (P01) mechanism is suggested.

NINDS also provides support for the career development of clinical

investigators (K08) and support for clinical investigators through

individual fellowships (F32) and institutional national research

service awards (T32).

RESEARCH OBJECTIVES

Neurological involvement is a frequent clinical manifestation of Lyme

disease. In addition, it has been suggested that the CNS may serve

as a reservoir for persistent infection. Central issues about

neurological aspects of Lyme disease are unresolved, including the

definition of the neurological disease in adults and children in the

U.S., the appropriate criteria to use for diagnosis, and the optimal

choice and duration of therapy. The pathogenetic mechanisms which

produce central and peripheral nervous system syndromes are unknown;

in particular, the etiology of persistent post-infectious symptoms

and their optimal management is unclear.

Examples of research goals, many of which could be studied in humans

as well as animal models and tissue cultures and are appropriate for

pursuing an application in response to this PA, include, but are not

limited to:

o The epidemiology of the neurological aspects of Lyme disease,

especially in endemic areas. Identification of neurological

syndromes in children and adults that can be reliably attributed to

this disorder, including both primary and post-infectious syndromes.

o Studies of diagnostic laboratory abnormalities which correlate

with the various syndromes, including cerebrospinal fluid, serum,

neurophysiological, and neuroimaging testing.

o Studies of mechanisms of pathogenesis in development of

encephalopathy, encephalomyelitis, and neuropathies.

o Characterization of the severity and frequency of cognitive

impairments in LNB, and studies of correlated laboratory parameters,

and their response to therapy.

o Studies of immune-mediated and other pathogenic mechanisms role in

injury to the nervous system. This may involve spirochete

interactions with the immune system, and definition of immune and

inflammatory abnormalities, including studies of auto-antibodies,

cytokines, cellular immune responses, and immune complexes.

o Development of effective treatment regimen(s). Optimization of

antibiotics, drug dosage, and treatment duration. Development of

therapeutic approaches for patients who have persistent neurological

symptoms. This could be accomplished by controlled clinical trials.

o Studies of the molecular basis for B. burgdorferi neurotropism and

the role of strain differences in pathogenesis.

o Development of reliable animal models for studies of the nervous

system infection and studies of viral latency neuropathogenicity.

STUDY POPULATIONS

SPECIAL INSTRUCTIONS TO APPLICANTS REGARDING IMPLEMENTATION OF NIH

POLICIES CONCERNING INCLUSION OF WOMEN AND MINORITIES IN CLINICAL

RESEARCH STUDY POPULATIONS

NIH policy is that applicants for NIH clinical research grants and

cooperative agreements will be required to include minorities and

women in study populations so that research findings can be of

benefit to all persons at risk of the disease, disorder, or condition

under study; special emphasis should be placed on the need for

inclusion of minorities and women in studies of diseases, disorders,

and conditions which disproportionately affect them. This policy is

intended to apply to males and females of all ages. If women or

minorities are excluded or inadequately represented in clinical

research, particularly in proposed population-based studies, a clear

compelling rationale should be provided.

The composition of the proposed study population must be described in

terms of gender and racial/ethnic group. In addition, gender and

racial/ethnic issues should be addressed in developing a research

design and sample size appropriate for the scientific objectives of

the study. This information should be included in the form PHS 398

in Sections 1-4 of the Research Plan AND summarized in Section 5,

Human Subjects. Applicants are urged to assess carefully the

feasibility of including the broadest possible representation of

minority groups. However, NIH recognizes that it may not be feasible

or appropriate in all research projects to include representation of

the full array of United States racial/ethnic minority populations

(i.e., Native Americans (including American Indians or Alaska

Natives), Asian/Pacific Islanders, Blacks, Hispanics). The rationale

for studies on single minority population groups should be provided.


For the purpose of this policy, clinical research includes human

biomedical and behavioral studies of etiology, epidemiology,

prevention (and preventive strategies), diagnosis, or treatment of

diseases, disorders or conditions, including but not limited to

clinical trials.


The usual NIH policies concerning research on human subjects also

apply. Basic research or clinical studies in which human tissues

cannot be identified or linked to individuals are excluded. However,

every effort should be made to include human tissues from women and

racial/ethnic minorities when it is important to apply the results of

the study broadly, and this should be addressed by applicants.


For foreign awards, the policy on inclusion of women applies fully;

since the definition of minority differs in other countries, the

applicant must discuss the relevance of research involving foreign

population groups to the United States' populations, including

minorities.


If the required information is not contained within the application,

the review will be deferred until the information is provided.


Peer reviewers will address specifically whether the research plan in

the application conforms to these policies. If the representation of

women or minorities in a study design is inadequate to answer the

scientific question(s) addressed AND the justification for the

selected study population is inadequate, it will be considered a

scientific weakness or deficiency in the study design and will be

reflected in assigning the priority score to the application.


All applications for clinical research submitted to NIH are required

to address these policies. NIH funding components will not award

grants or cooperative agreements that do not comply with these

policies.


APPLICATION PROCEDURES


Applications are to be submitted on the grant application form PHS

398 (rev. 9/91) and will be accepted for any of the three application

receipt dates: February 1, June 1, and October 1. NINDS Application

Guidelines (rev. 4/92) for Program Project (P01) and Center (P50)

grants are available upon request from the Program Administrator

identified below.


Application kits are available at most business and grants and

contracts offices and may be obtained from the Office of Grants

Inquiries, Division of Research Grants, National Institutes of

Health, Westwood Building, Room 449, Bethesda, MD 20892, telephone

(301) 496-7441.


On the face page, item 2a, of the application, the word "yes" must be

checked and the title and number of the announcement typed in the

space provided: "Neurological Aspects of Lyme Disease" PA-93-49.


The original and five copies of the application must be sent or

delivered to:


Application Receipt Office

Division of Research Grants

National Institutes of Health

Westwood Building, Room 240

Bethesda, MD 20892**


The Division of Research Grants, NIH, serves as central point for

receipt of applications.


Applicants from institutions that have a General Clinical Research

Center (GCRC) funded by the NIH National Center for Research

Resources may wish to identify the GCRC as a resource for conducting

the proposed research. If so, a letter of collaboration from the

GCRC Program Director or Principal Investigator should be included

with the application.


REVIEW CONSIDERATIONS


Applications received under this PA will be assigned to the Initial

Review Group (IRG) in accordance with established PHS referral

guidelines. The IRGs, which are composed primarily of non-federal

scientific and technical experts, will review the applications for

scientific and technical merit. Following IRG review, the

applications will receive a second-level review by one or more

appropriate Advisory Councils.


AWARD CRITERIA


The standard review criteria will be used to assess the scientific

merit of applications.


Applications will compete for available funds with all other

applications. The following will be considered when making funding

decisions quality of the proposed projects as determined by peer

review; availability of funds; and program balance among research

areas.


INQUIRIES


Written and telephone inquiries are encouraged. The opportunity to

clarify any issues or questions from potential applicants is welcome.

Direct inquiries regarding programmatic issues to:


Dr. A. P. Kerza-Kwiatecki

Division of Demyelinating, Atrophic, and Dementing Disorders

National Institute of Neurological Disorders and Stroke

Federal Building, Room 804

Bethesda, MD 20892

Telephone: (301) 496-1431

FAX: (301) 402-2060


Dr. Robert L. Quackenbush

Division of Microbiology and Infectious Diseases

National Institute of Allergy and Infectious Diseases

Solar Building, Room 3A04

Bethesda, MD 20892

Telephone: (301) 496-7728

FAX: (301) 402-2508


Direct inquiries regarding fiscal matters to:


Ms. Laura Williams

Grants Management Branch, Division of Extramural Activities

National Institute of Neurological Disorders and Stroke

Federal Building, Room 1004

7550 Wisconsin Avenue

Bethesda, MD 20892

Telephone: (301) 496-9231

FAX: (301) 402-0219


Mr. Todd Ball

Grants Management Section

National Institute of Allergy and Infectious Diseases

Solar Building, Room 4B35

Bethesda, MD 20892

Telephone: (301) 496-7075


AUTHORITY AND REGULATIONS


This program is described in the Catalog of Federal Domestic

Assistance No. 93.853 and 93.854 and 93.856 - Microbiology and

Infectious Disease Research. Awards are made under authorization of

the Public Health Service Act, Title IV, Part A (Public Law 78-410,

Public Law 97-219, as amended by Public Law 99-158, 42 USC 241 and

285), Public Law 99-500; and Report 99-711 to accompany HR 5233 and

administered under PHS grants policies and Federal Regulations 42 CFR

52 and 45 CFR Part 74. This program is not subject to the

intergovernmental review requirements of Executive Order 12372 or

Health Systems Agency review.

http://grants2.nih.gov/grants/guide/pa-files/PA-93-049.html


I personally was always so thankful my neuros at the time didn't make me go through a LP.

Please remember that Lyme and MS is a clinical diagnosis..

After many years, and also taking a CRAB drug, I am now treating the cause of my MS with antibiotics, and not just the symptoms.

I was tested through IgeneX, and although I had a negative test result (CDC criteria), I have Lyme specific bands that are positive. And my LLMD clinically diagnosed me, and I began antibiotics...

Good luck and the best,
tory

[ 03. March 2007, 03:52 PM: Message edited by: tory2457 ]

---

Posts: 158 | From PA | Registered: Oct 2006 | IP: Logged |

ErinP
Junior Member
Member # 11300


posted

---

I'm a little confused Tory..
Are you talking about the debate of a spinal tap for diagnosising ms or lyme? I'm doing it for MS.
What are CRAB drugs?

---

Posts: 6 | From MA | Registered: Mar 2007 | IP: Logged |

Doomer
LymeNet Contributor
Member # 11013


posted

---

Why is a LP (lumbar puncture) spinal tap indicated if you have a negative MRI.

If you had a questionable MRI for MS then it would be indicated to do a LP to confirm MS dx.

Do a lot of research on LP's, doctors will tell you that they are nothing to worry about but others who have been through the experience will tell you otherwise.

---

Posts: 188 | From ID | Registered: Jan 2007 | IP: Logged |

Boomerang
Frequent Contributor (1K+ posts)
Member # 7979


posted

---

Oh my gosh, Tory....that was TOO LONG. jmho.

Lou, so glad to see you back. Hope you are well.

Best wishes to all.

---

Posts: 1366 | From Southeast | Registered: Sep 2005 | IP: Logged |

tory2457
LymeNet Contributor
Member # 10384


posted

---

Boomerang,

Sorry you found it too long, but because it explains finding in the CNS I found it worth reading. Especially because it comes from the NIH website..

ErinP:

Yes, If I am convinced because of my reading and searching that a spinal tap is an iffy test at best to diagnosis MS. Neuros are even questioning spinals at this point, many years later.

I say that because I have been diagnosed, and never (thankfully) was subjected to a spinal.

As for the CRAB drugs: Copaxone- Rebif-Avonex-Betaseron

I must say again MS like Lyme is a clinical diagnosis.

Best to you,
tory

---

Posts: 158 | From PA | Registered: Oct 2006 | IP: Logged |
Contact Us | LymeNet home page | Privacy Statement

Powered by UBB.classic™ 6.7.3

---
The Lyme Disease Network is a non-profit organization funded by individual donations. If you would like to support the Network and the LymeNet system of Web services, please send your donations to:
The Lyme Disease Network of New Jersey
907 Pebble Creek Court, Pennington, NJ 08534 USA
http://www.lymenet.org/
---
Home | Flash Discussion | Support Groups | On-Line Library
Legal Resources | Medical Abstracts | Newsletter | Books
Pictures | Site Search | Links | Help/Questions
About LymeNet | Contact Us
---
© 1993-2020 The Lyme Disease Network of New Jersey, Inc.
All Rights Reserved.
Use of the LymeNet Site is subject to Terms and Conditions.
---