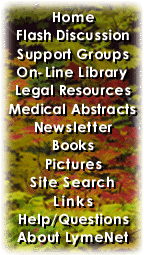 ---
LymeNet on Facebook
LymeNet on Twitter
---
---
The Lyme Disease Network receives a commission from Amazon.com for each purchase originating from this site.
When purchasing from Amazon.com, please
click here first.

Thank you.




Dedicated to the Bachmann Family


LymeNet needs your help:
LymeNet 2020 fund drive

The Lyme Disease Network is a non-profit organization funded by individual donations.

| | |
| --- | --- |
| | |
Author
Topic: Need some personal experiences... I don't know whats going on

david1097
Frequent Contributor (1K+ posts)
Member # 3662


posted

---

Hello all,

I have been a more or less textbook case of Lyme + co-infection. The only significant difference is its persistent nature depite extensive IV antibiotics and the fact that it relapses & remits every 2 weeks (instead of the more typical 4). WB is strong positive, babesia is positive, both via antibody and blood thin film, mycoplasma fermentis PCR positive and some of the old symptoms responded to bartonella drugs. While the severe neuroloical symptoms are getting better (as long as I stay on the IV abx I do not relapse) a new and totally unfamiliar symtom is now occuring. Every 2 weeks the joints and neurological symtoms will still return to a lesser degree, but now the symtoms flare up is accompanied by 102 degree fevers which last a couple of days then clear up until 2 weeks later when the whole thing starts again.

Has anyone ever seen this type of effect, it appears to be something like relasping fever, but way after the fact. It might be that there is yet another sequestered infection coming to the fore front now that some of the other stuff is being suppresed, but I have no idea?

What's changed since all this started? The drug regime has been modified to also target the mycoplasma infection AND I am back on ceftriaxone. Another change has been to change the babesia medications. The babesia has been refractor to permamnent cure with relapse occuring when antiprotozoal drugs were stopped or efficacy reduced. The anti babesia regime was modified to include a different family of antimalarials, to good effect. Also the whole thing seemed to be triggered by a bad cold, which just happend to overlap one of the two week flareup cycles.
Also CBC is 100% normal even during the fever. I have not done stained blood smears to see if there is anything obvious but I may do that soon during a fever spike.

So the question is this;

Has anyone here seem a similar symptom cascade, what was its cause, when did it clear up and what was done to clear it up if anything.


Thank you.

---

Posts: 1184 | From north america | Registered: Feb 2003 | IP: Logged |

Tincup
Honored Contributor (10K+ posts)
Member # 5829


posted

---

David...

This is puzzling. Thinking out loud here, so please excuse me. Brain is mush tonight.

If you were a female my first thought would be possibly two monthly cycles.. the keets and the females. But will have to think harder on that.

You said.. "It might be that there is yet another sequestered infection coming to the fore front now that some of the other stuff is being suppresed, but I have no idea?"

I have seen that happen quite often and have experienced it myself. Also have seen Ehrlichia act in that manner.. in myself. It fooled me as I thought it was Rocky Mountain Spotted Fever hitting again.. especially with the higher than normal fevers. THAT is the key here, I would think. Looking for one of the coinfections that cause a higher fever.

I am frustrated.. as I read something a while back about one of the coinfections acting in this manner.. and can NOT remember what I read exactly or where. Sorry!

I do remember relapsing fever does act that way... so is it possible to check for it? Also seem to be thinking the word leptospirosis.. but would have to check that out as I just can't think!

My other concern here.. and it is blended with one of my off the wall theories.. but they often are proven to be true.. long after the fact... so I can't complain... but..

Let's say a person has more than one strain of Lyme... and/or has been infected multiple times.

My question would be.. can the various strains cause flares at different times?

BABESIA!!! It's coming back to me. It was Babesia. It was new strains they were mentioning finding in animals and humans.. and the relationship to maleria.. which causes 2 week flares. Could your new Babs meds NOT be getting the job done? Could Maleria be a possibility?

If I am able later I will try to locate the stuff I was reading. Too burned right now to be any good.

My BIGGEST concern here though.. and don't say NO immediately.. do consider it.

Have you been reinfected? Often that possibility is overlooked or scoffed at because we ALL think it WON'T happen to us AGAIN!!!

Might a round of plain old doxy be in order? It would reach the RMSF and/or Ehrlichia IF they were the cause from reinfection or surfacing after the fact... and would address several other infections.... like a new case of Lyme.

OBVIOUSLY I should be in bed.. not jumbling up your head here.. but I hope you know I AM trying.

Maybe in the daylight my brain will wake up? If I think any clearer.. and have solid anything going.. will let you know.

Oh.. one other dribble here...

When I am relapsing I notice the bad days start becoming longer and the good days shorter. I also notice the 2 week flares.. because I think WHAT THE HECK is going on. Then slowly but surely the bad days start filling in and the good days start to disappear... until I have mostly all bad days scattered rarely with a not so horrible day tossed in here and there.

Sooooooooo.. got that straight? I am sure I haven't helped... cause I don't have a positive answer.. just some jumbled thoughts.

And just for fun... I'll just say the word Bartonella. ONLY because it is one I haven't tossed in your face ahnd added to my confusion. HA!

Sorry.. just can't help you much. Will think though. If you come up with anything.. do let us know.



--------------------
www.TreatTheBite.com
www.DrJonesKids.org
www.MarylandLyme.org
www.LymeDoc.org


---

Posts: 20353 | From The Moon | Registered: Jun 2004 | IP: Logged |

CaliforniaLyme
Frequent Contributor (5K+ posts)
Member # 7136


posted

---

Have you been thoroughly evaluated for relapsing fever>? There are relapsing fever strains like Borrelia Miyamotoi (which is in California btw to anyone from CA) which is VERY like LYme!!!!
A doctor COULD miss it!!!!!!!!!!!!!! We think of them as being so different in presentation but often they are not-

There are also TBE viruses in ticks which can cause recurrent fevers- and Bartonella can cause recurrent fevers- so can Anaplasmosis/Ehrlichiosis which is OFTEN seronegative eveni n acute/fatal cases!!!

I would think eitehr an RF strain or bartonella-
Relapsing fever can be really hard to get rid of!! We had one Borrelia hermsii guy and one Borrelia Parkeri woman locally- she died with cancer- he last I heard was still fighting RF-
both were VERY Lymelike- which they are not "supposed" to be- she more than he- was almost exactly like us other Lymies!!!

Also- have you traveled- malaria exposure>?
I have spent years of my life in India because my parents are/were (one dead) PhDs in Indian history and had malaria twice and that always makes me wonder if I still have bits of it still tucked away in my tissues- you never know!!!

Yes, I also had the changing presentation of my disease when Lyme got almost 100% abolished by Rocephin the Babs came to the forefront except I didn't know it until symptoms vanished on mepron- and then my remaining symptoms vanished on Cipro!!! (until I got pregnant and they ahve stuck around but one day after breastfeeding i will go back on cirpo and see if it happens again*)!

I guess you will find out!!! You sound like a fighter and I bet you will make a good recovery if you keep it up*)!*)!
Best wishes,
Sarah

--------------------
There is no wealth but life.
-John Ruskin

All truth goes through 3 stages: first it is ridiculed: then it is violently opposed: finally it is accepted as self evident. - Schopenhauer


---

Posts: 5639 | From Aptos CA USA | Registered: Apr 2005 | IP: Logged |

Michelle M
Frequent Contributor (1K+ posts)
Member # 7200


posted

---

David, have you done a viral panel? That's coming in to my mind. Depending on results, perhaps a trial of a month or so of an antiviral med to see if it makes the fevers disappear?

Michelle

---

Posts: 3193 | From Northern California | Registered: Apr 2005 | IP: Logged |

troutscout
Frequent Contributor (5K+ posts)
Member # 3121


posted

---

This is very similar to what happend to me in December and January when I went on IV Doxy.

My thought here...deep brain Bartonella. Then Babesia. Then Erlichia or anaplasmosis.


Good Luck...Trout

--------------------
Now is the time in your life to find the "tiger" within.
Let the claws be bared,
and Lyme BEWARE!!!
www.iowalymedisease.com
[/URL]


---

Posts: 5262 | From North East Iowa | Registered: Sep 2002 | IP: Logged |

Vermont_Lymie
Frequent Contributor (1K+ posts)
Member # 9780


posted

---

Now that I am treating babs with malarone, and lyme with increasingly high-dose amoxy, I have new symptoms coming to the fore. Low grade fevers, lots of chills and new joint pain in new joints that weren't problematic before.

Before reading your post, I had come to the conclusion (or at least surmised!) that you are asking about: that now that some infection was being suppressed, new stuff could come to the foreground.

Or, as some here have proposed, (and we need microbiologists to investigate this), that the borrelia or other bacteria (or viruses?) live inside the protozoa, so when we kill those, perhaps all symptoms flare?

I don't know, but please keep up posted and feel better. What are you taking for babs?

---

Posts: 2557 | From home | Registered: Aug 2006 | IP: Logged |

Patrick
LymeNet Contributor
Member # 8108


posted

---

Another disease that has relapsing/undulating fever is called Brucella. After pounding my Lyme with two 8 week courses of IV Rocephin and numerous oral abx's I still kept slipping back. On a hunch my doc tested me for Brucella and it can back strongly positive.

Brucella usually presents with an undulating fever, lower back pain and groin pain. Its rare but could be a possibility.

Its treated with 8 weeks of Rifampin and Doxycycline. This did the trick for me.

---

Posts: 142 | From Florida | Registered: Oct 2005 | IP: Logged |

david1097
Frequent Contributor (1K+ posts)
Member # 3662


posted

---

Thanks for the replies. Most of the items mentiomned have been looked at in some detail. Lepto spira - negative and no clear liver involvement

Brucella - Negative (ut the test is not that good for long term infection)

Malaria - Maybe but I have been on mega doses of several anti malarials so this is not high on the list of positibilties, also blood smear is currently negative.

Virals - a numebr tested for and WBC rfile does not change with fever, but other possibilites exist that can't be tested for.

In terms of drug regimes, I have been on a lot of them. Some have had very some positive effect eliminating one of more of the symptoms. (i had many bad ones when all this started). Some drugs comb's just plain faield with a rapid decline resulting.

I have had oral and IV doxy, rifampin, ceftriaxone, imipenum, rulid, zith, (oral and IV), fluconazol, nystantin, ketek, malarone, mepron, clindimycin, biaxin, flagyl, sulfatrim, suprax, levequin, acyclovir ,larium, quinine, hydroxocloriquine, tinizol and (keep in mind that this has been over a 5 year period)I am sure there are some more that i can't remember at this late hour, it was only the IV's that would keep things from sliding down hill again. When a drug works, it usually works quickly, about 2 to 3 weeks max and seems to remove one symtom group. They only stay gone if the treatment is continuied for a few weeks more.

I have been very lucky in this regard as I personally know some other fellows (and yes as the name implies I am a he) in a similar situation that are now bed bound, effectively non functional and totally dependant on 24 hour a day professional medical care- I am very lucky indeed.

The current developments are very interesting in that the fevers are substantial (102.7 yesteday) and then totally disappear within 2 days, only to re-appear again in 2 weeks with the EXACT same pattern. I think this "objective" symptom is direct proof that anyone who honestly says the "post lyme" is an auto immunue disease is smoking something illegal (and we are not talking misdemenor type here)

Anybody here seen a 2 week cycle. I remember that there was one person a few years back "poochini" who saw this, i beleive they were from california and that may support the M. Borriela observation. M.bori. is known to cause a 2 week relape - remit cycle but my question is Why now?

It may have something to do with the use of the new antimalarial larium or may the hydroxocloriquine. Larium is well known to penetrate the brain and maybe it allows better penetration of ceftriaxone above a certain critical level. If this was the case then the 2 week fever cycles could easily be a herxhimer reaction. The fever would then make sense. In any case it is severe, more severe than anything except the first horrific herxhiemer episode with cefrtriaxone (which helped incredibly) years ago.

Any additional comments appreciated.

---

Posts: 1184 | From north america | Registered: Feb 2003 | IP: Logged |
Contact Us | LymeNet home page | Privacy Statement

Powered by UBB.classic™ 6.7.3

---
The Lyme Disease Network is a non-profit organization funded by individual donations. If you would like to support the Network and the LymeNet system of Web services, please send your donations to:
The Lyme Disease Network of New Jersey
907 Pebble Creek Court, Pennington, NJ 08534 USA
http://www.lymenet.org/
---
Home | Flash Discussion | Support Groups | On-Line Library
Legal Resources | Medical Abstracts | Newsletter | Books
Pictures | Site Search | Links | Help/Questions
About LymeNet | Contact Us
---
© 1993-2020 The Lyme Disease Network of New Jersey, Inc.
All Rights Reserved.
Use of the LymeNet Site is subject to Terms and Conditions.
---