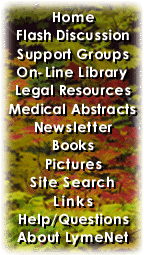 ---
LymeNet on Facebook
LymeNet on Twitter
---
---
The Lyme Disease Network receives a commission from Amazon.com for each purchase originating from this site.
When purchasing from Amazon.com, please
click here first.

Thank you.




Dedicated to the Bachmann Family


LymeNet needs your help:
LymeNet 2020 fund drive

The Lyme Disease Network is a non-profit organization funded by individual donations.

| | |
| --- | --- |
| | |
Author
Topic: Depression - need some help

Health
Frequent Contributor (1K+ posts)
Member # 6034


posted

---

I am going through incredible depression.

I cant deal with it like I use to. It is the feeling like I cannot cope with being ill anymore, the constant need to keep getting

well is just taken its toll. I was going to ask the LLMD the last time i saw him about what antidepressant is good to take while

ON antibiotics but I thought I would be ok.

I cannot handle what is going on anymore. It is a constant fight to survive, and not knowing what is what. I think if I get a 2nd opinion I would feel better? I am awaiting my passport, 2 months it takes. I am in Canada.

I dont want to take my life, but I just cannot take this horrid feeling of living in my head, because I CANNOT handle reality.

I have had depression before and taken St Johns Wort and it helped Sooooooo much, but it interacts with antibiotics I had this happen.

What is a safe antidepressant to take while ON antibiotics? What if I go on Rifampin for posible Bartonella, I know that many medications interact with Rifampin.

I am down, and in a can of worms, there is no light, I am on a planet that is so dark, with no life, with nothing but sickness and hell, I am living hell, and I want out.

It is depression, and I cannot deal with it anymore. I am thinking to try a safe antidepressant that does not interact with anything.

anyone?

I cannot handle that everything I love has been taken away from my from this illness. First sick from the sun, then the severe dryness, then the air hunger, then the light, then allergic to all food,

It is just on and on, things get better, then a little worse, then stay the same, not all better though, it is just so tough to keep at it,

when I have nothing left to give, and if I dont give, I die.

I feel like I am going to have a breakdown of the mind, I feel like my mind is going to die.
I feel like my mind is going to NEVER come back, like when you see someone

on the street and they are mentally ill and have just lost it, and they dont come back. I dont want to go, and never come back.
But I am going there, and I have to stop it before I cant.

It is the stress to of not knowing what is what.
My breathing is bad again, and I got a cold, and
I feel to collapse, the LLMD said to stop the antibiotics for 2 days, to see if it is too much toxins, I did stop the antibiotics for 1 day,

then the dryness was so severe in the breathing, I near went insane, so took the tetracyline and within a few hours dryness better,

but then just so sick, and now i had the hives, and bad breathing, so have to stop antibioticss to see what is what.

THIS is what is making me insane in the mind, NOT knowing what is going on. I just have to hang on and get a 2nd opinion, maybe that will help.
Trish

---

Posts: 1250 | From Canada | Registered: Aug 2004 | IP: Logged |

catalysT
LymeNet Contributor
Member # 10786


posted

---

Whoa hang in there Trish, there are plenty of options for you to try!

I've not taken any real "anti-depressants", although I'm going to ask my psychiatrist next time I see him, if he will consent with me ordering Stablon/Coaxil (Tianeptine) online from overseas.

I know how your feeling. I know some people are sort of against taking "anti-depressants", but whatever. They are just chemicals/drugs that do a certain action which has been deemed generally as "anti-depressant".

There are SSRI's like zoloft, lexapro, and fluvoxamine. Those are the only SSRI's that I would consider taking, because they are the only ones that look worthwhile from my standpoint. Some of them DO enhance neuroplasticity, and are neuroprotective (protect the brain from insults/excitotoxins). That is probably the reason why some actually help some people with lyme disease so much.

There are also other drugs that have anti-depressant qualities that are not SSRI's. There are tricyclics, which are generally "dirty" and I would not take, except for tianeptine as I mentioned earlier, which is only partially a tricyclic.

There is also drugs like the EMSAM patch (l-deprenyl), which is an MAO Inhibitor. There are a lot of things that can help with depression. Provigil (Modafinil) has helped a lot of people significantly, but can be very expensive.

Why did St. Johns Wort interact with your antibiotic? Was it because it's a cytochrome P450 inducer? Rifampin is also a cytochrome P450 inducer....

There are also a lot of non-prescription options you could investigate. I think a lot of the depression is caused by lack of neuroplasticity, and too many toxins and insults in the brain. It is very important to take neuroprotectant supplements and drugs when you have Lyme Disease.

What's important to remember, is that everyone is different. You have to find what works for you.

I find benefits in supplements that increase neuroplasticity, blood flow to the brain, are neuroprotective, and adaptogenic.

Piracetam, Vinpocetine, Idebenone, CoQ10, L-Theanine, Rhodiola Rosea, a GOOD multivitamin, garlic extract tablets, magnesium, time release melatonin at night, anti-oxidants, and prescription drugs. Right now I'm taking namenda (memantine), and it's actually helping a lot.

What's IMPORTANT to know, is that there ARE solutions, they can just take time to find. I really think you're doing the right thing by asking for help (here), because there ARE people out here that I'm sure would like to lend a hand helping you in whatever way possible. So just remember that, and don't give up.

Do some research and experimentation, and if you can, find a GOOD psychiatrist who is literate in treating Lyme Disease.

Do feel free to message me about anything, I honestly hope you find some solutions soon and enhance your road to recovery.

--------------------
"You know, the worst, meanest, nastiest, ticks in the world are politicks," - Steve Nostrum


---

Posts: 242 | From South NJ | Registered: Dec 2006 | IP: Logged |

luvdogs
LymeNet Contributor
Member # 9507


posted

---

Hi Trish,

I don't know how far along in treatment you are, but it will get better with time. As you said, you probably need to find an antidepressant to help you in the meantime. I do not know what abx you are on, but possibly the herx is too strong for you and causing your extreme depression. I know that when I went on tini, I enetered a black hole that I could not get out of and would have killed myself had I stayed on it. I will not go on it again until my bugload is way down. Some LLMDs do not seem to get the magnitude of the depression that we can get when we are on difficult abx and so do not have us cut back or pulse, but I feel that it is necessary.

2 years ago when I was going back into the black hole when I was on mepron and zith, I finally sought professional help. We tried many antidepressants and I had strange reactions to many of them. The tricyclics are the hardest for us probably because of their interactions with the macrolides - zith, eryth, and biaxin... they mess with the heart (double check these reactions but I think it is the macrolides).. I finally found remeron which saved my life. The recommended dose is about 30 mgs. per day - but because of the Lyme and weird reactions, I found that if I did more than an eigth of a 15 mg pillI would get wired. So, I still do 1/8th of 15 mgs at night and it helps me to sleep and brought me out of my deep depression.

I am now on rifampin for bart and found that I had to decrease the dosage of the remeron because some weird interaction was causing it to wire me even at the very low dosage (even though it is supposed to make the remeron less active - go figure).

I find that with us, it is much trial and error and patience, but eventually you can find the right one. You have to find a good doctor to work with.

Another option for you is 5 HTP - NOT to be taken with other antidepressants. It is a natural source of serotonin from the griffonia nut. For years that kept my depression at bay until I went on a very strong med combo and then it was not enough.

St. John's wort has strange interactions with many meds and I do not recommend it (like you said), and it also seems to tweak many people's nervous systems.

Don't give up - just know that this is temprorary and the depression will lift with time (believe it or not the rifampin is tremendously clearing my depression!) and the right anitbiotics and also the right antidepressants. I feel that I might no longer need my remeron now that I am on rifampin because it has liften my depression so much. You will know when and if you do not need to antidepressants anymore.

Good luck and feel free to PM me if you need any support.

Sara

---

Posts: 584 | From Rhode Island | Registered: Jun 2006 | IP: Logged |

ByronSBell 2007
Unregistered



posted

---

I have found low dose Ativan helps me 1-2 mg's. It always helps when I am in a relly bad herx it calms me down some and relaxes me. It also helps with sleep but can give you that drunk feeling (not like narcotic drunk but just a really relaxed feeling)

I might not have been sick as long as you but I am 4.5 months into treatment and go through depression bouts when I go through a bad herx or flare. Sometimes I force myself t go out and see some friends or try to watch a good movie and it always helps. I know what it is like to lose everything because I had everything I wanted/needed before getting sick, now I have just about none of it.

---

IP: Logged |

catalysT
LymeNet Contributor
Member # 10786


posted

---

luvdogs - Good information. Yea, I don't trust St. John's Wort, after I read a study saying Hyperforin DEPLETES monoamines.

And you are right again, that tricyclics are cardiotoxic (tianeptine is safe though, but is only partially a tricyclic).

Some people find relief with 5-HTP too, although I don't necessarily like the idea of peripheral serotonin floating around. Some people also claim relief with SAMe.

Feel free to PM me. Also, if you think you'd feel better talking on the phone I would be available that way. Just keep in touch and let us know how you're doing.

--------------------
"You know, the worst, meanest, nastiest, ticks in the world are politicks," - Steve Nostrum


---

Posts: 242 | From South NJ | Registered: Dec 2006 | IP: Logged |

clairenotes
Frequent Contributor (1K+ posts)
Member # 10392


posted

---

Acupuncture really helped me in the darker days of my illness. I was really poor at the time and went to a TCM student clinic, which I am not necessarily recommending. But it really helped.

The drawback is that regular sessions are a bit more expensive than medicines or remedies.

Claire

---

Posts: 1111 | From Colorado | Registered: Oct 2006 | IP: Logged |

Carol in PA
Frequent Contributor (5K+ posts)
Member # 5338


posted

---

Are you taking magnesium and Omega 3's?

Google for magnesium and depression,
or fish oil and depression,
to find lots of articles.


Carol

---

Posts: 6947 | From Lancaster, PA | Registered: Feb 2004 | IP: Logged |

HaplyCarlessdave
Frequent Contributor (1K+ posts)
Member # 413


posted

---

With Lyme you have to summon all possible strength (though sometimes there might not seem to be enough available!) and fight it every way you can. There are so many different approaches medically to Lyme; a good lyme doc is aware of this and will know many things to try, some of which will be better for you than others.
Certain supplements helped me tremendously. "omega's" are good. Gingko is good for depression, but probably should not be taken in conjunction with pharma blood thinners. garlic has antibiotic properties and other good effects. Grapefruit seed extract and olive leaf extracts (caution- GSE is very strong stuff (acidic, it seems) and must be dilluted tremendously- I put 20 to 25 drops in a tall glass of water most mornings in my "critical stage"). B vitamins seemed to help me fight lyme, too.

But I think there may not be a "silver bullet" that works for everyone. This even includes pharma antibiotics. Lyme, (etcetera) is one nasty (or sometimes, one nasty bunch of) disease(s).
It's insidious in that it saps your energy and causes depression, which reduces one's immune strength. Prayer, meditation, music, or art, etc, may help with that issue.
DaveS

---

Posts: 4567 | From ithaca, NY, usa | Registered: Nov 2000 | IP: Logged |

kam
Honored Contributor (10K+ posts)
Member # 3410


posted

---

Not sure what to write.

Just know that I hope I am coming out of and will stay out of the place I was in not to long ago.

I think posting here for help is a good start.

I know not seeing my LLMD every 3 months as I once did is a big factor.

So, I think your goal to get your passport and get help is good and will help.

haven't been able to read the other posts. I just started on 5HTP. (Hoping to get off of sleep meds)

I did not think about it interactions to the abx.

I hope it is OK. I think it helps with seratonin naturally.

I also was gifted Xango. I am on my 3rd bottle.

It does not make sense to me how an ounce of juice 3 times a day helps with the brain but I am finding myself doing things that I was not able to do before.

I had been waking up for quite some time thinking I did not want to do today each day.

My service dog helps me get out of bed and get out of the house in the power chair as she needs to toilet.

But, the past two days, I have not woke up thinking...I don't want to do today.

This is not like me. I have been through a lot in my life and have never been like this.

Anti depressants depressed me when I was given them when this first hit in 2001.

But, each one is different. I know it helps many people.

Hopefully, life will turn around for you soon too and continue to look better each day.

In the back of my mind...I have always wondered about detox and down time.

I tend to try and get back on doing a detox tea and making sure I drink the amount of water I am supposed too, eat, get my sleep, etc.

---

Posts: 15927 | From Became too sick to work or do household chores in 2001. | Registered: Dec 2002 | IP: Logged |

Health
Frequent Contributor (1K+ posts)
Member # 6034


posted

---

I want to thank everyone for posting here .

I spoke to the LLMD and he wants me off antibiotics for now, I had a huge rash on my arms and hives on them as well, the other night.
I am in close contact with him if things get worse,

One hive was about 2 inches by 5 inches, it has gone away now. He thinks it is the medications.

My head is a bit better, it was some toxins, but it is also NOT knowing what is going on.
I have to stop the antibiotics to see what is what.

I have the flu/cold so this is making it more difficult to tell what is what. Especially with breathing.

Something is wrong, my head is not usually this bad, either toxins, or maybe Bartonella? because of the marks on my body, that look like bartonella.

I am dealing with untreated lyme and tick infections for about 15 years so it could be toxins too. Have been treating for 3.5 years, but also...

have to stop, cant take anymore.

Thanks so much, and will read more of this later.

Trish

---

Posts: 1250 | From Canada | Registered: Aug 2004 | IP: Logged |

groovy2
Frequent Contributor (1K+ posts)
Member # 6304


posted

---

Hi Trish--

You and I have been sick about the
same amount of time- maybe longer for me-
Lyme and Babs --

Its hard not to get down --
Ive thought about doing myself in
thousands of times --

Being sick SucKkks -For Sure--

Today I read a post that I wrote
in Jan-3-2005 -

At that time I was Super Sick and was
hours away from doing myself in -

I just could not take it anymore -

After some thought I decided
I would Go One more year and if I was
not getting any better I promised
My Self to end all of this pain --

Over the next year I found a LLMd
and things started getting better
slowely --

I did get sicker for a long while --
It was no fun -- Painful-

The germs dont give up easy --

Trish -
Today I Was going to write a
post on LN and tell everyone
--- How Good I Feel ---

Almost back to My Self Again --

Its Nice --

So I will write this post to You -

You can get Well Too --

------------

The Mental stress from this is large-

I think smoking pot helped me Alot -
to get threw all of this hell --
Good effects are Many
Side effects are few --

Hope this helps you --Jay--

---

Posts: 2999 | From Austin tx USA | Registered: Oct 2004 | IP: Logged |

stymielymie
Frequent Contributor (1K+ posts)
Member # 10044


posted

---

Trish
as a believer in western medicine i would go with a ssri

zoloft is a good choice if titrated in to the correct dose.
a new drug called snri ie Cymbalta claims to work on pain receptors in the brain along with effecting serotonin and norepiphrine receptors for depression.

ativan is not an antidepressant, it is an antianxiety drug.
it will not change the chemical imbalance, causing depression in the brain.

i take zoloft in the morning and trileptal
and trazadone at night.

the trileptal is an antiseizure drug used for the relief of neuralgia and some nerve pain.

trazadone is also an antidepressant.

these drugs should not be given out by your llmd
they should be prescribed by a competant
psychiatrist with a known diagnosis.

my depression turned to bipolar, so a
competant psychiatrist is need to get a
correct diagnosis.
also important in lyme is a PSYCHOTHERAPIST,
AND If, MARRIED A JOINT SESSION.

it is very important your spouse is
including in and understands, what is going
on with your body ,mind and soul.

modern medicine works and is predictable.


docdave

---

Posts: 1820 | From Boone and Southport, NC | Registered: Sep 2006 | IP: Logged |

db
LymeNet Contributor
Member # 733


posted

---

Dear Lyme Fog Heaven,

If it is any help at all, I DO knos exactly how you feel. During my abx treatment for Lyme I went through severe depression, anxiety, insomnia, and obssesive complusion. I couldn't stop cleaning and I couldn't cut off my brain from overworking. I thought I was losing my mind. It was too much with all the other things I was dealing wtih physically. BUT there was hope and help. For me it was a delicate balance in every way. An adjustment in my abx for a while, getting on a good anti depressant, anti anxiety med, sleeping med (yep that, too...I needed it I was exhausted.) IT ALL helped. I was so scared one afternoon because I, too, had become paranoid I called my best friend from grade school and We spent time together. I knew she knew who "I" was and that I wasn't crazy. (My Mom had been so anti Lyme treatment and thought I had lost my mind anyway so it was awful for me) The med change helped a lot, also. SO IT WASN'T JUST ONE THING. i JUST KNOW i HAVE NEVER, NEVER, NEVER BEEN THROUGH anything MORE TERRIFYING, MISERABLE, AND ANXIETY RIDDEN AS THOSE TIMES. MENTAL AND INTENSE PHYSICAL PAIN ARE VERY DIFFICULT. I also went to see a very loving therapist and she helped me a lot. Her support meant the world to me, also.I was safe with her and in her office. Safety means a lot you know? I felt your pain when I read your posting and I wanted you to know you are not alone and that if there is anything I can do to support you; I will do so if I can. Please take good care. You're healing from this stuff and I consider it a holy hell. BUT I do know it's going to be ok, I promise you that. It really is. You write me anytime.
Debbie

---

Posts: 153 | From Texas | Registered: Feb 2001 | IP: Logged |

Visual Afterimage Man
LymeNet Contributor
Member # 10435


posted

---

Trish,

Long before I was dx with Lyme, I was depressed to the point where I was afraid to be alone because I thought I was going to end the entire thing.....

I never told that doc that, but I knew that I needed to get that under control, and fast. He put me on Zoloft, and that was bad bad bad. It made me worse and I ever thought I could be.

He then put me on Paxil CR. That is an amazing drug. It cleared up the depression and anxiety to the point where I could keep going on.

The bad thing about Paxil, is that it was very hard to come off of. It was harder than I expected to wean myself off of it. Since it's a 'CR' "controled release" you can't cut then in half. So, I went cold turkey, and probably shouldn't have.

Since then, I have moved over to Lexipro. Lexipro is not nearly as agressive as Paxil, but since being dx with Lyme, now I can understand what is going on with me.

My point is... if you are feeling down down down, to the point where you can't keep going on.. I would recommend Paxil CR to you. Even though it's difficult to come off of... it's worth it if you are to the point where you feel like you can't keep going.

Please consider talking to your primary care doc. It can make a HUGE difference in how you feel.

Oh and it also helps with alot of pain. Since it seems to numb many parts of your body (including your reproductive parts), it helps with pain.

Please.... if you feel yourself falling into that dark spot.. consider a STRONG SSRI. When you start to clear up the Lyme, you will no longer need the SSRI's.

Check in with us, and let us know how you are doing. Many many many of us have been in the same place that you are. Everyone gets better, it just takes time. Do what you must to get through the difficult times!

Mike

--------------------
26 months of treatment. And counting.......


---

Posts: 298 | From Northeast Kansas | Registered: Oct 2006 | IP: Logged |
Contact Us | LymeNet home page | Privacy Statement

Powered by UBB.classic™ 6.7.3

---
The Lyme Disease Network is a non-profit organization funded by individual donations. If you would like to support the Network and the LymeNet system of Web services, please send your donations to:
The Lyme Disease Network of New Jersey
907 Pebble Creek Court, Pennington, NJ 08534 USA
http://www.lymenet.org/
---
Home | Flash Discussion | Support Groups | On-Line Library
Legal Resources | Medical Abstracts | Newsletter | Books
Pictures | Site Search | Links | Help/Questions
About LymeNet | Contact Us
---
© 1993-2020 The Lyme Disease Network of New Jersey, Inc.
All Rights Reserved.
Use of the LymeNet Site is subject to Terms and Conditions.
---