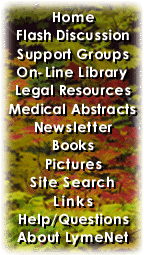 ---
LymeNet on Facebook
LymeNet on Twitter
---
---
The Lyme Disease Network receives a commission from Amazon.com for each purchase originating from this site.
When purchasing from Amazon.com, please
click here first.

Thank you.




Dedicated to the Bachmann Family


LymeNet needs your help:
LymeNet 2020 fund drive

The Lyme Disease Network is a non-profit organization funded by individual donations.

| | |
| --- | --- |
| | |
Author
Topic: anyone pass out from lyme?

diana
LymeNet Contributor
Member # 7466


posted

---

Yes, I had a couple of episodes right before being diagnosed last March-very scary because I was driving when both of them happened.

All of a sudden I felt a wave come over me like when you get sea sick and your whole body goes into shock. I barely managed to pull over to the side of the road and got so dizzy I had to sit by the side of the road with the air on and my head on the steering wheel for 1/2 hour before attempting to drive home.

Diana

---

Posts: 202 | From vancouver, canada | Registered: Jun 2005 | IP: Logged |

Lymetoo
Moderator
Member # 743


posted

---

I've passed out cold twice. Not even a bit of warning.

Alot of my past dizziness I blamed on babesia. Haven't passed out in about 2 yrs now.

Hope you run this by your LLMD. He may want to order some tests.

--------------------
--Lymetutu--
Opinions, not medical advice!


---

Posts: 95453 | From Texas | Registered: Feb 2001 | IP: Logged |

seibertneurolyme
Frequent Contributor (5K+ posts)
Member # 6416


posted

---

Before Lyme diagnosis (but after illness onset) hubby went thru a period where he would pass out up to 5 or 6 times a day. At first he passed out about once a week and I took him to the ER several times. The problem kept getting worse and worse.

This could be caused by orthostatic hypotension, but hubby's tilt table test was supposedly normal.

Also could be caused by hypoglycemia which he did have according to 2 glucose tolerance tests. The strange thing was that he passed out during the 1st test when his insulin was the highest but only had worsening tremors when his blood sugar (glucose) was the lowest.

He was the worst 1st thing in the morning. He could make it to the bathroom but would pass out on the way back to bed. He would then often pass out a couple of more times before he got up -- could be triggered by just rolling over in bed.

The thing that stopped this was low dose Cortef -- total of 5 mg per day taken in 2 or 3 doses.

Both orthostatic hypotension and hypoglycemia are frequently triggered by adrenal fatigue.

Hubby has been on the Cortef for 3 plus years now. Would like to stop but don't think he can. He needs to take Florinef (an antidiuretic) with the Cortef to try to balance his hormones but even so he has been having problems with low sodium for about a year now.

Cortef is steriods but at a small dose his LLMD's do prescribe it. The dose the labs suggested he take was 20 - 30 mg I think, but at a higher dose he has way too many problems sleeping.

Hubby takes all the nutrients for adrenal support but it dosen't seem to help -- high dose Vitamin C and B5 (pantothenic acid). Has also tried Ginseng and is currently trying Licorice.

Good luck and don't just ignore this symptom.

Bea Seibert

---

Posts: 7306 | From Martinsville,VA,USA | Registered: Oct 2004 | IP: Logged |

cantgiveupyet
Frequent Contributor (1K+ posts)
Member # 8165


posted

---

I had this happen to me before. Its scary, i have never passed out, but have come very close to it about five times now.

The most recent one my vision went all blury...it was scary. I also had nausea...it just overcame me all of a sudden.

Run it by your LLMD.

There is also a stomach bug goin around that is very bad this year.

Im glad there was an EMT around to save the day.

--------------------
"Say it straight simple and with a smile."

"Thus the task is, not so much to see what no one has seen yet,
But to think what nobody has thought yet, About what everybody sees."

-Schopenhauer

pos babs, bart, igenex WB igm/igg


---

Posts: 3156 | From Lyme limbo | Registered: Oct 2005 | IP: Logged |

blackbirdsings
LymeNet Contributor
Member # 7972


posted

---

I have positive tilt table tests and Postural Orthostatic Tackycardia Syndrome (POTS).

It's a version of NCS, but with the heartrate going high.

I was passing out everyday ALL day long, with lots of pre-syncope mixed in there before I started my lyme treatment.

Now faints are more rare and I have the pre-sync episodes.

Increasing fluids, adding sald, using a drink with electrolyets will help.

When you stand in line DON"T stand still! Constantly shift your weight, cross and un-cross your legs, do heel raises, squeeze your muscles VERY tight if you start to feel funny.

Those manuevers will help deley the fainting and hopefully get you out of the situation and to a chair, etc.

Good luck! Fainting is a real pain and just makes me more tired.

---

Posts: 114 | From USA | Registered: Sep 2005 | IP: Logged |

MizMo
LymeNet Contributor
Member # 8389


posted

---

I have an appt with my cardio doc to check into the Postural Orthostatic Tackycardia Syndrome myself.

I've had lots of lighthead/almost passing out moments where I sit down on the floor or I'll fall down. I've passed out twice..but both times were in the intial weeks of Cipro so we attributed it to the adjustment to the abx. Now not so sure....

--------------------
http://scottsbt.com/maureen/mo2.htm


---

Posts: 145 | From Mystic Island, NJ 08087 | Registered: Dec 2005 | IP: Logged |

HaplyCarlessdave
Frequent Contributor (1K+ posts)
Member # 413


posted

---

Things like this were happening to me when I was in the worst part of it. At first I thought it was coming from the abx, but I realize now that it was the lyme, probably parly the result of the "Herxheimer reaction", and perhaps the babesia was also partly responsible, too.
DaveS

---

Posts: 4567 | From ithaca, NY, usa | Registered: Nov 2000 | IP: Logged |

beachcomber
Frequent Contributor (1K+ posts)
Member # 5320


posted

---

Yes, happened to me several times. Very scary when driving. Woke up on the floor of the grocery store twice. Think it was from the bright lights and commotion. Babs treatment has helped with this.

---

Posts: 1452 | Registered: Feb 2004 | IP: Logged |

DolphinLady
LymeNet Contributor
Member # 6275


posted

---

This was one of my most debilitating symptoms. Tested positive on the tilt table test. Now after 3 years of treatment for lyme and babesia, it is much improved.

---

Posts: 925 | From California | Registered: Sep 2004 | IP: Logged |

HEATHERKISS
Frequent Contributor (1K+ posts)
Member # 6789


posted

---

I have siezures which can be triggered if I'm uncomfortable for too long a time. Feels like fainting to me.

2 other triggers are airplane rides and blood draw.

My last seizure I was drenched in sweat when I woke up. It was triggered from sympothy pains for my husband in the er.

I have had loss of bladder control in the past. I hope I never do a number 2 while having a seizure. That would be sooooooooo humilating!

LOL It's ok you can laugh!

--------------------
HEATHER




---

Posts: 1974 | From ABERDEEN, NJ 07747 | Registered: Jan 2005 | IP: Logged |

ChrisBtheLymie
LymeNet Contributor
Member # 8916


posted

---

HEATHERKISS, what was your suizure like?

The other night I was really bad. I was just watching T.V (24) and suddenly I relised I really wasn't feeling right. Everything felt really unreal and I felt like I was going to faint. I started sweating ALL over my body and my head suddenly went extremey hot, then my legs started to go into spasm. It only lasted about 5-10 minutes but was extremely scarey.

It has only happened twice throughout my whole illness, but it scares the hell out of me. The last time I told me doctor she said it's an anxiety attack. I don't believe this because I was just watching the TV, I wasn;t worrying or thinking about anything...

---

Posts: 263 | From UK | Registered: Mar 2006 | IP: Logged |

Marnie
Frequent Contributor (5K+ posts)
Member # 773


posted

---

If you feel it coming on, you could try crossing your legs. This will help send additional blood to your brain.The nausea is one of the first signs.

The article is titled:

"Crossing Legs Helps Frequent Fainters"

---

Posts: 9403 | From Sunshine State | Registered: Mar 2001 | IP: Logged |

trails
Frequent Contributor (1K+ posts)
Member # 1620


posted

---

I passed out at work and they couldnt stabilize my blood pressure and temp.

But it is our thinking it was a herx from babesia while treating with mepron/zith.

It was very scary.

---

Posts: 1950 | From New Mexico | Registered: Sep 2001 | IP: Logged |

shizuko
LymeNet Contributor
Member # 8213


posted

---

Hi, I am finally catching up with you all here on the subject.

I passed out back in October, probably from sudden drop in BP and extreme dehydration (I vomitted a lot, but I started with dizziness, then nausea came.

Probably in Fabruary, I experienced what my LLMD thinks is Optic Migraine. I had no headache, but I first felt very stiff and "heavy" around shoulders and arms, then felt nauseated, got dizzy, had temporary vision loss (I mean i coulde only "see" bright light - not flickering or anything), got high-pitched ringing in the ears, and got hyperventilated.

I didn't pass out that time, but it was very scary.

I am ususally in bed by 9:30 pm or so because of pain and fatigue, but I felt pretty good all day long last Friday and decided to stay up a little late.

I got on my computer to check on emails, and all of a sudden, I passed out and fell face down to the keyboard.

I remember the computer screen started looking weird, like wavy.

I managed to call for my hubby right before I passed out, so he came over and tried to move me to my bed, but he said I had no strength in my legs.

What I remember is that every time I tried to sit up or move, I fell down and felt as if I had no strength at all in any part of my body.

My hubby called "Char", who then told him to call 911 and my LLMD. It was scary.

I got to the ER probably around 11 pm and was later on admitted for 23-hour observation.

I got CT scan and MRI of the brain, some blood test, heart monitor, and simple test for orthostatic hypotension. All were normal. I went home on Saturday.

Early yesterday morning (around 3 am) when I woke up ansd went to the bathroom, I passed out again.

At the beginning, I felt the same way as I had felt on Friday night. The wall started looking weird, then I got very dizzy.

I managed to stand up but apparently fainted right after, hitting my head against the glass shower door, my hubby said. I don't remember the part after standing up.

Because of ER visit and hospitalization last week, the NP at My LLMD's office wanted me to come in, and that was yesterday - the day I passed out early in the morning.

She told me not to drive until my neurologist rules out any seizure disorders as I could be causing an accident.

I saw my neurologist today, and he ordered a 48-hour EEG test. I have to have these electrodes on my head for that long at home!

That test is scheduled on 5/22-5/24.

I still need to see a cardiologist and do 30 day Holter monitor this time (24-hour one was normal.) A Tilt Table test will be the next one after this.

My neurologist said that seizures would follow the same pattern each time. He doesn't think I had seizure, but he is not ruling it out either.

Could these fainting episodes be related to medications, particularly antibiotics?

Could they be Lyme symptoms or just Herxing?

How many of you have actually been diagnosed with seizure disorders?

Or have any of you found out that your fainting/dizziness are heart related?

My life is getting too complicated!

I can't drive (leagally, you are not supposed to drive for 6 months after fainting, my neurologist told us today.)

shizuko

---

Posts: 110 | From Northern Virginia | Registered: Nov 2005 | IP: Logged |

Carol B
Unregistered



posted

---

I have been diagnosed with complex partial seizures by a neurologist-it actually was the final straw that made me say- THAT's IT-no more of this bullcrap I'm going to an LLMD. I was put on Keppra 500 mg 3 times daily. I do experience aura like episodes-but no more seizures.

What freaked me out so much about this is that my husband has had epilepsy since childhood-most likely from lead based paint chips.

Anyway-his seizures became uncontrollable by the time he was 50-and he had a right temporal lobectomy-they removed the right side of his brain-the miraculous thing is that the left side of his brain had already taken over.

Amazing-he is back to work and doing well-as long as he remembers to take his medicine.

Braving it in BALTO,
Carol

---

IP: Logged |

klutzo
Frequent Contributor (1K+ posts)
Member # 5701


posted

---

I would like to suggest that the person about to have the month long Holter monitor insist on having a Cardiac monitor instead.

Cardiac monitors are much easier to wear, and MUCH more sensitive. I had two Holters over a 12 yr. period, and they failed to find my problem.

With the newer cardiac monitor, which is only the size of a deck of cards, they found the problem in ONE NIGHT!

To answer someone else's question.....my problem turned out to be due to my heart, a total surprise, since nausea and diarrhea were the first symptoms, and I kept thinking it was my stomach.

I have an extra loop of electrical tissue which has grown there, and this sometimes happens in people with an MVP, which 75% of us have. The heart problem I have is called PSVT. It can be fixed 90% of the time by having the extra heart tissue burned away with radio-frequency, but this is contra-indicated in those with low BP, and it will not fix the dysautonomic symptoms, so I use medication.

I urge any of you who have these symptoms and have not already done so, to ask for a Cardiac monitor to rule this out. I suffered for 12 yrs. for no reason and developed panic disorder because of the frequent attacks.

Klutzo

---

Posts: 1267 | From Clearwater, Florida, USA | Registered: May 2004 | IP: Logged |

DR. Wiseass
LymeNet Contributor
Member # 6777


posted

---

Azure -

Gee - what is it about grocery stores, huh?

I didn't actually pass out - but I was at a point where I was barely conscious -- very surreal....and yes, I was almost at the check-out stand.

To read about my experience, go to my blog post:
Always Wear Clean Underwear - Part I

There have been other times I thought I might hit the floor, but so far I've been quite lucky.

I, too, went to a cardiologist to see if I had P.O.T.S. - but if a cardiologist doesn't understand the Lyme picture - s/he can dismiss you quite readily.

Yes, I'd like to find a Lyme cardiologist.

But I also think that part of the problem was my Babesia & air hunger. Once I started heparin shots, I started feeling better.

Hoping you stay upright more often than not!

Hugs &

--------------------
DR. Wiseass
NOT a real doc - just a real wise



---

Posts: 792 | From USA | Registered: Jan 2005 | IP: Logged |

Bluetick
Member
Member # 8467


posted

---

Yes, I do.

Lyme has caused orthostatic hypotension, aka, neurally mediated hypotension, aka, neurocardiogenic syncope.

I have to take florinef now to help raise my BP. Basically it is a form of dysautonomia because of vagus nerve inflammation (the nerve between your brain and your heart) that doesn't tell my body to increase my BP when I am standing up or standing in one place. A rotten symptom.

If I get stuck waiting in line somewhere and can't wiggle around, down I go.

It was diagnosed by my cardiologist with a tilt table test but it is something between a neuro problem and a cardio problem.

---

Posts: 98 | From MA | Registered: Dec 2005 | IP: Logged |

shizuko
LymeNet Contributor
Member # 8213


posted

---

I called my cardiologist's office and found out that 30 day Holter Monitor is actually Cardiac Event Monitoring.

Holter Monitor is usuful for those who have frequent irregular heart rate.

If you have infrequent ones, then Cardiac Event Monitoring should be used.

Interestingly, I "feel" my heart beat fast at rest from time to time throghout the day, but the 24 hour Holter Monitor was normal.

I had to keep a diary of activities and symptoms, and the timing I noted didn't match what the monitor recorded (something like that.)

I wish to find Lyme cardiologist, neurologist, etc too.

It was just crazy that doctors and nurses at the hospital where I stayed last weekend had no clue what I was talking about - salmonella, Lyme, ehrlichia, Herxing, etc.

At least my neurologist admits that he doesn't know much about these things and let my LLMD figure out most of the issues.

We will see what my cardiologist will say. I have done echocardiogram and 24 hour Holter monitor at his office, but this is the first time I will actually have an appointment with him.

So, somebody mentioned Heparin Shots. What is it? My LLMD suspects that I have Babesia....

My LLMD related my "air hunger" to Ehrlichia. Chronic Ehrlichiosis affects muscles (spasm/ myositis), and diaphram is a mucsle too, she said.

shizuko

---

Posts: 110 | From Northern Virginia | Registered: Nov 2005 | IP: Logged |

mountainmoma
LymeNet Contributor
Member # 6503


posted

---

Look up NMH, nuarally mediated hypotension (or is it hypertension ? and I am sure I miss spelled ths) I have this, it is another thing that can be caused by Lyme. I mean, not all NMH is Lyme caused, but in many Lyme patients the Lyme causes these symptoms.

This is confirmed by my LLMD. She said she could give me some drug for it, but I just take salt. I have normally quite low blood pressure, and extra salt increases blood volume which is enough to keep my symptoms at bay.

mostly I add lots of salt to my food, and I dont have too many issues and I can drive etc... But, sometimes if I start to feel light headed, prefaint feelings, I go and take 1/2 spoonful of salt. I use a good sea salt of course.

---

Posts: 222 | From Santa Cruz Mountains, CA USA | Registered: Nov 2004 | IP: Logged |

shizuko
LymeNet Contributor
Member # 8213


posted

---

I will look up NMH, thanks.

My BP fluctuates throughout the day sometimes, and it got as high as 153/113 or something like that (usually at a doctor's office).

It got as low as 90/57 when I was sitting one time (I have a digital BP monitor, and I try to measure particularly when I feel my heart beat very fast at rest.)

When I saw a NP last week, my BP was 134/85 (sitting) and 124/90 (standing).

I passed out again last night when I was trying to take my clothes off.

I felt something coming, and I had enough strength to yell for my hubby. By the time he came, I was down.

I had more body strength left this time than when I had to go to ER, so I managed to climb up on my bed with my hubby's help and fell asleep.

I think I did something to my right leg as I tried to pull myself up or something, and it has still been very sore (it was actualy very painful in the middle of the night.)

I sent a 4-page fax to Dr.Z yesterday, explaining what's going on and asking so many questions.

Well, I got a call from her office this morning that Dr. Z got my fax and wanted me to come see her this Friday.

Since my hubby needs to drive me, he can come in and ask many more questions and even take a note!

Has anybody had to change ABX because of repeated passing out or any other worsening symptoms?

I have been on Doxy (100 mg twice a day)since mid March and added Biaxin (250 mg twice a day)since the end of April.

The last three episodes of passing out happened after I had started Biaxin (well, also, Soma and Robaxin, for that matter.)

We will see.

shizuko

---

Posts: 110 | From Northern Virginia | Registered: Nov 2005 | IP: Logged |

tailz
Unregistered



posted

---

What's the tilt table test? Do they do this test in the US and is it a go-ahead for babs treatment? I KNOW I have babs.

I have had to turn the water off in the shower numerous times to even get through it.

---

IP: Logged |

Geneal
Frequent Contributor (5K+ posts)
Member # 10375


posted

---

I have had this happen often.

Actually had been feeling rather sick.

Went to Walmart by myself as kids had just started Mother's Day Out.

As I continued throught the store, I got sicker and sicker.

Couldn't get a good breath of air, heart was pounding. It really panicked me.

Got to the register...Saw black.

Somehow made it to the car.

Called my husband to tell him that I thought I was having a heart attack or there

Was something really wrong with me.

It felt like my sugar just bottomed out.

Thus began my journey to getting diagnosed with Lyme disease.

I've battled with this off and on.

Getting up makes me dizzy, even if I do it slow.

Saw LLMD last week with children acting like holy terrors.

My pressure should have been higher than normal given my children's behavior.

It was 64/44.

My LLMD started me on Cortef for NMH.

Just 2.5mg a day. It is helping.

Lovely disease.....

Hugs,

Geneal

---

Posts: 6250 | From Louisiana | Registered: Oct 2006 | IP: Logged |

savebabe
Frequent Contributor (1K+ posts)
Member # 9847


posted

---

Yup, I passed out several times in the past. I went out cold two weeks before my wedding and had a nice big bump on my forehead for everyone to see.

This symptom has improved since lyme treatment, and taking inderal.

It is a horrible and scary symptom, but it will get better with treatment.

---

Posts: 1603 | From ny | Registered: Aug 2006 | IP: Logged |

tailz
Unregistered



posted

---

Hmmm, I just remembered. I passed out cold in a Circuit City Superstore once buying a fridge. My ex slid me down the wall, and I woke up with a crowd around me. I begged him to stop for a soda somewhere.

I was 20. I'm 42 now. I had a freaky itchy rash on my forearm around that time, too.

A Navy doc told me it was 'scabies'. I didn't think so, but I took the Kwell Cream - hoping it would work. It didn't, but steroid cream did.

---

IP: Logged |
Contact Us | LymeNet home page | Privacy Statement

Powered by UBB.classic™ 6.7.3

---
The Lyme Disease Network is a non-profit organization funded by individual donations. If you would like to support the Network and the LymeNet system of Web services, please send your donations to:
The Lyme Disease Network of New Jersey
907 Pebble Creek Court, Pennington, NJ 08534 USA
http://www.lymenet.org/
---
Home | Flash Discussion | Support Groups | On-Line Library
Legal Resources | Medical Abstracts | Newsletter | Books
Pictures | Site Search | Links | Help/Questions
About LymeNet | Contact Us
---
© 1993-2020 The Lyme Disease Network of New Jersey, Inc.
All Rights Reserved.
Use of the LymeNet Site is subject to Terms and Conditions.
---