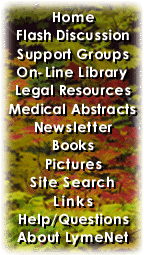 ---
LymeNet on Facebook
LymeNet on Twitter
---
---
The Lyme Disease Network receives a commission from Amazon.com for each purchase originating from this site.
When purchasing from Amazon.com, please
click here first.

Thank you.




Dedicated to the Bachmann Family


LymeNet needs your help:
LymeNet 2020 fund drive

The Lyme Disease Network is a non-profit organization funded by individual donations.

| | |
| --- | --- |
| | |
Author
Topic: Hopkins fails another young girl- she needs our help

Tincup
Honored Contributor (10K+ posts)
Member # 5829


posted

---

I don't think there is much worse than having a child in need and no way to get them help.

Unless it would be the fact that HOPKINS is allowed to remain open and continues to destroy the lives of people with Lyme.

Ahhhhhhhhhhhhhhhhhhhhhhhhhhhhhhhhhhh!!!!!!!!!!!!!

May I suggest...

Anyone who can contribute to this benefit so this young girl can get help.. please do.

AND SHAME ON HOPKINS!!!! PIGS!!!




http://news.mywebpal.com/news_tool_v2.cfm?show=localnews&pnpID=541&NewsID=837923&CategoryID=1441&on=1


Benefit For Sami Sigel Set


09/13/07
Special To The News
Email this story to a friend

Samantha ``Sami'' Sigel, teenage daughter of Travis and Brenda Sigel, of Warfordsburg, has been seriously ill since February 2006. She has been unable to attend school or participate in any other normal activities of a teenage girl.

Sami has always been an excellent student, being very active in the National Junior Honor Society. In addition to her schoolwork, Sami has always excelled in sports, especially basketball. And, like any other teenager, she also enjoyed going to the mall with her sister and friends.

But everything in Sami's life has changed. She has been subjected to every medical test imaginable, from local hospitals to Johns Hopkins and the University of Maryland, but with no diagnosis of Sami's illness.

Finally, in January of 2007, Dr. Jones in New Haven, Conn., diagnosed Sami with Lyme disease. Jones has treated more than 8,000 children with Lyme disease, and he has determined that the bacterium have now infected Sami's brain, heart and joints.

She has extreme sensitivity to light, joint pain, severe headaches, vomiting, panic attacks, shortness of breath and rib soreness. Concentration is also a problem for her. After reading only one paragraph of text, she has already forgotten what she has read.

Sami has been taking a combination of oral and injectable antibiotics, but Jones has advised that she would be better served if antibiotics could be administered via a PICC(peripherally inserted central catheter) line.

Since Jones is not ``within the network'' of participating doctors for the medical insurance provider, Blue Cross/Blue Shield, the expenses would not be covered to insert the PICC line.

Even though a ``network'' doctor was located, Dr. Grossberg, who supported Jones' diagnosis and had ordered the insertion of the PICC line, Blue Cross/Blue Shield still denied coverage.

Finally, on August 27, 2007, once more the request for insertion of the PICC line was submitted to Blue Cross/Blue Shield for approval.

Having been denied not once but twice, the family had little hope. Much to their surprise, the PICC line insertion was approved this time.

But, the approval notice had also left them to question what portion of the expenses would be covered. Regardless, this was Sami's only hope for recovery. Without delay, on August 28, 2007, the PICC line was inserted at Chambersburg Hospital.

So what does all of this mean? Sami has at last been able to receive the first step in medical treatment that she so desperately needs to get well. Because her condition went undiagnosed for nearly a year, her symptoms have continued to worsen.

Sami was 14 when this terrible nightmare began. One can only imagine how painful it has been for her parents to watch helplessly as their daughter's condition has deteriorated during the past 18 months.

Financially, the family's situation has become one of desperation.

Brenda, Sami's mother, has been the primary caretaker, so she, of course, has not been able to work. They have been forced to rely on one income.

With all of the costs for the trips to Connecticut (about $1,200 per trip) coming out of their pocket, not to mention all of the other expenses that insurance has not covered, the family really needs help.

Please join in the effort to help Sami and her family through this very difficult ordeal. It's times like this when our community must stand together to help those in need.

In an effort to raise community awareness on Lyme disease, there will be free brochures available, courtesy of the Sigel Family. Their sincere wish is that no other family will have to experience the same heartache.

A benefit basket bingo for Samantha will be held at Southern Fulton High School Sunday, October 7, at 1:00 p.m. Refreshments will be available. Doors open at noon.

All baskets are dated from 1989 to 2006 and JW Corn basket and 2000 Founders basket will be two of three raffled. There will also three large Boyds Bears raffled.

Cost of the bingo is $20 for 24 games. For tickets, contact S&M Transport at 717-573-2401; Tana Unger at 717-573-2519; after 4:30 p.m. at 717-294-3438; or Patti Mills at 717-294-3676. Tickets are also available at the door.

--------------------
www.TreatTheBite.com
www.DrJonesKids.org
www.MarylandLyme.org
www.LymeDoc.org


---

Posts: 20353 | From The Moon | Registered: Jun 2004 | IP: Logged |

bettyg
Unregistered



posted

---

what a sad, typical story!


tincup; could you use www.tinyurl.com to shorten that 2 line address that made the post go superwide and then delete the LONG address leaving the short one only.

thanks tc; click pencil icon to edit post.
click edit send when done.

nicely written article.

---

IP: Logged |

lymeout
LymeNet Contributor
Member # 8045


posted

---

I wish this event was on a different date. It is the date of our local (Washington DC area) lyme support meeting. It would be fun to get a group to go and offer support.

I can so sympathize with the experience at Hopkins. When I took my daughter there for her gastric problems, the doctor informed me that borrelia burgdorferi was not a spirochete! When, on our return visit, I took him documentation confirming that it is spirochetal, he all but threw me out of his office!

The number of lyme literate medical practitioners in this area is growing! We have a wonderful "lyme mom group" ; and even though we are not close enough for the family to join us, we communicate a lot by email. We would be happy to offer support in that way. Among us, we have seen just about every llmd along the east coast!

I wish there were a way to organize to apply pressure to the insurance companies. I find it appalling that the private Blue Cross does NOT cover long time abx therapy while the federal Blue Cross DOES! How can they justify that?

Our meeting on the 7th is about disabilities. Maybe we will learn some things to help us mount a campaign for parity in coverage.

---

Posts: 422 | From Herndon, Virginia | Registered: Oct 2005 | IP: Logged |

CaliforniaLyme
Frequent Contributor (5K+ posts)
Member # 7136


posted

---

Yup- you guys SHOULD all go en masse- have the meeting AT the bingo place!!! I bet it would be a great group trust building exercise!!! ANd it would help this kiddo!!!!!!!!!!!!

--------------------
There is no wealth but life.
-John Ruskin

All truth goes through 3 stages: first it is ridiculed: then it is violently opposed: finally it is accepted as self evident. - Schopenhauer


---

Posts: 5639 | From Aptos CA USA | Registered: Apr 2005 | IP: Logged |

lymednva
Frequent Contributor (1K+ posts)
Member # 9098


posted

---

Sarah,

The problem is that the support group meeting has several scheduled speakers about disability, including attorneys (my great SSDI one!).

It has been planned for quite a while, and I'm sure there are many who are anxiously awaiting the guidance this will provide.

I recall how I felt when I attended a meeting where there was a speaker (my attorney) about getting SSDI. I learned so much from attending, and discovered I could use him rather than the one my LTD company would provide free.

I figure that one wouldn't have known enough to get get me anything, which would have been in their best interest. They then could have stopped paying me!

If this were just a discussion meeting for support, it might be easily turned into a field trip for the Bingo, but this is too important to too many people to miss.

--------------------
Lymednva


---

Posts: 2407 | From over the river and through the woods | Registered: Apr 2006 | IP: Logged |

mikej2323
LymeNet Contributor
Member # 8913


posted

---

It's horrible for kids to go through this. As I read the article, there are definite similarities with this story and my niece's story [see below article].

I'm not that harsh against Hopkins, but I am about the others. It astonishes me at this plague of ignorance.


Diagnosis eludes hopeful family

Alex Hermstad can't move. She can't talk. She can't breathe. In the last 30 months, her body has deteriorated little by little. Her parents searched the world for a cause, but with no luck.


By MIKE KILEN
REGISTER STAFF WRITER

August 19, 2007

Storm Lake, Ia. - This is a mother's dream.

A brilliant doctor travels to this beautiful brick home with high, vaulted ceilings in Storm Lake, gazes upon Alex Hermstad, 13, lying in a hospital bed in the living room, able to move only her eyes, and says the mystery affliction just might be ...


Today, only a reporter gazes upon Alex. But this is her mother's hope:

A doctor would read what follows, look into the determined eyes of a girl whose curly red hair spills over the back of her pillow, and have an answer.

Alex reminded her mother when she could still speak that she doesn't want to be seen as an invalid who others pity.

She has also told her parents that she wants to keep up this fight. To do everything possible.

The only sounds now are the ventilator breathing for Alex, and dad, Jeff Hermstad, suctioning the spit that gathers on her lips.

Lori Hermstad starts to tell the story of how a healthy girl who played sports two years ago and rode horses with her twin sister, Jaci, was gradually robbed of movement.

First her left arm, followed by the left leg, right arm and right leg. Then she couldn't breathe, move her neck or, as of last month, speak. No doctor has told them what has caused it or how to treat it.

For 30 months, Lori and Jeff have chased one medical theory after another. They now chase down any high-profile person in the media who can communicate an SOS.

They talked with cyclist Lance Armstrong during RAGBRAI. A couple of weeks ago it was Larry King, the cable TV talk show titan.

The Hermstads learned of Jim MacLaren of California, the former college football player who lost a leg in an accident but went on to compete in the Ironman Triathlon.

Then he was struck by a vehicle while riding his bike and became a quadriplegic. Instead of giving up, MacLaren became a motivational speaker and launched the Choose Living Foundation to help others find inspiration and help in desperate situations.

Alex was one of his first. He placed her story and photo on his Web page and sent the family $500.

"Get busy living," he told Larry King as a guest on a recent show, "or get busy dying."

King asked him about the little girl from Iowa, Alex Hermstad.

"Doctors don't know why she is dying," MacLaren told him. "She's dying."

It was hard to hear, but it was the kind of national plea the Hermstads needed.

It's one of the few things that have gone well in months.

When she was little, Alex constantly carried around athletic wrap. She wanted to heal people with broken arms and legs. She even went so far as to ask for crutches for her childhood medical practice.

Oddly enough, she was never ill. She and her twin sister were strong partners in nearly every outdoor pursuit. They rode horses together. They drove four-wheelers and competed in soccer and softball.

In spring 2005, Alex returned from a softball game with a sore elbow. Lori's brother, Mike Hadden, is an athletic trainer at Simpson College, so he looked at it. He figured the soreness would get better with rest.

It got worse. Soon Alex couldn't raise her arm without pain. She would catch the softball by letting it drop into her glove.

By June, doctors in Sioux City told the Hermstads her shoulder muscle had begun to atrophy but offered no cause.

More medical tests followed. One doctor thought it might be a brain tumor. The Hermstads let Alex play her last softball game that year, knowing the news.

"I'm not sure I even watched her," Lori said. "I should have taken pictures. I was trying to be brave."

That night, they prayed it wasn't a brain tumor.

It wasn't.

Yet Alex continued to fail and began experiencing tremors. She was taken to Mayo Clinic in Minnesota.

"Mayo told her she was going to die," Lori said. "Right in front of her."

"Am I going to die? Am I going to high school?" Alex asked her dad afterward.

"We're all going to die someday," he said. "We just don't know when."

The chase for life began, increasingly leading to theories that in hindsight sounded far-fetched.

The Hermstads are bright people. Lori was a kindergarten teacher; Jeff was a manager for General Electric.

A woman heard of Alex's problem and said she could tell if a home contained health-threatening mold.

Sure enough, Lori said, the woman walked in the door and said she reacted to mold, her stomach suddenly protruding as if she was pregnant.

The Hermstads remembered how Jaci had severe acid reflux for months after they had moved into the home two years before. Maybe it was mold. Jeff tore away the dry wall and found it. Mold.

The family moved away from the house for eight months and drove to Texas to see a physician whose speciality was health problems related to mold.

"He took our money - $10,000 - and our valuable time," Lori said. "It was all a hoax. We were grasping for anything."

Once back home, Jeff walked to the horses on their acreage one day, a daughter on each side. It was how they spent many days together.

He looked around and Alex had disappeared. She had dropped to the ground, her legs giving away.

Soon, she was in a wheelchair.

The Hermstads sent urine samples to Holland. The results indicated it might by Lyme's disease.

So in early 2006, the couple made the rounds to Lyme's disease experts and started antibiotic treatments.

Alex stayed at home, her parents at her side. Friends sent notes and photographs. But there was no improvement.

And on Feb. 22, 2006, Alex wouldn't wake up.

"She couldn't breathe," Lori said.

Her body was no longer able to exhale. The Hermstads were faced with a decision: Hook her up to a ventilator or let her go.

"That's where some major arguments started," Jeff said. "I wanted to take her home. I didn't want her to suffer anymore.

"But Alex is the one who wanted to fight. That's what made me want to keep trying."

The family soon settled into defined roles.

Jeff took on day-to-day logistics of care. He slept by his daughter's bed at night, holding her hand.

Sister Jaci was often at Alex's bedside during the day, talking of good times - days on the ball field or on horses or Alex's dream of playing football.

Lori and her brother searched every corner of the online world to find answers.

"I kind of feel like I haven't slept in two years," Hadden said. "But as long as Alex wants to fight, I will keep fighting for her."

He read of a man in New York City who took on medical mysteries.

Medical mystery TV shows have been among Alex's favorites in the last two years. She saw doctors take on the unexplainable and help people.

He may be the last resort.

Already explored were theories that it was a form of childhood ALS (amyotrophic lateral sclerosis) or an enlarged thymus gland.

Neither panned out. Lori even researched an equine disease, which horses contract from raccoon waste and that has never before been seen in humans.

Doctors from Minnesota to Colorado read her case and found nothing.

Even Dr C. is stumped.

A professor of pediatrics and neurology at Johns Hopkins School of Medicine in Baltimore, Md., is known for challenging textbook diagnoses.

If a sound theory can be put forth, he said, it's worth consideration as long as it isn't harmful to the patient.

The major question was whether Alex suffered a genetic disorder or an acquired problem. Because Alex has a twin sister, a genetic problem was less likely.

Jaci is healthy. His general description of what has happened to her body is some kind of neuropathy or nerve disorder.

"I talked to a dozen of my colleagues around the world to see what anybody comes up with. There is nothing," he said.

"Lori is truly an exceptional parent. Her persistence in trying to get people aware is truly unbelievable. I truly wish I could give her and answer."


Discover magazine wrote a story on Dr. Thomas Bolte last month. He is known for taking on cases that no one else can solve.

"Neurological issues are difficult to treat. But I'm going to do my best to see what is overlooked," said the New York City doctor, whom the magazine likened to the character played by actor Hugh Laurie on the Fox TV series "House."

"Of course there could be a miracle," Jeff said. "People in comas come back. But motor neurons are a black area of medicine."

He is preparing for the worst. He knows his wife is not there yet.

"She is still looking for the one answer. Denial is a big drive. It truly is. For a long time, Lori was in denial. I don't think so much anymore," he said.

His wife wakes up every day exhausted but with faith that this day is as good as any for a miracle.

She wants doctors to realize that not all cases are found in a textbook. She wants them to think outside the box. She wants them not to give up, like she said they have given up on her little girl.

"How far would they go for their loved one?" she said.

Jaci sits by her side, nodding. The twins will celebrate their 14th birthday on Wednesday.

She has just returned from volleyball practice, and it is hard for her to talk about her sister. She sends an e-mail later.

"I want everyone to know that even if you're going through something extremely hard in your life to never give up," Jaci writes. "Keep fighting and remember there's always an answer somewhere.

Life isn't always about who makes the most baskets or how many free throws you make in a game, or who is the prettiest. It's about living life to the fullest potential you can. And do not take life for granted.

"I would do anything to be able to have Alex hug me back, just once."


Mike
[email protected]

---

Posts: 252 | From Iowa | Registered: Mar 2006 | IP: Logged |
Contact Us | LymeNet home page | Privacy Statement

Powered by UBB.classic™ 6.7.3

---
The Lyme Disease Network is a non-profit organization funded by individual donations. If you would like to support the Network and the LymeNet system of Web services, please send your donations to:
The Lyme Disease Network of New Jersey
907 Pebble Creek Court, Pennington, NJ 08534 USA
http://www.lymenet.org/
---
Home | Flash Discussion | Support Groups | On-Line Library
Legal Resources | Medical Abstracts | Newsletter | Books
Pictures | Site Search | Links | Help/Questions
About LymeNet | Contact Us
---
© 1993-2020 The Lyme Disease Network of New Jersey, Inc.
All Rights Reserved.
Use of the LymeNet Site is subject to Terms and Conditions.
---