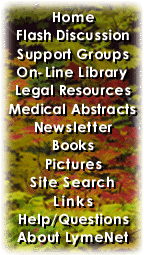 ---
LymeNet on Facebook
LymeNet on Twitter
---
---
The Lyme Disease Network receives a commission from Amazon.com for each purchase originating from this site.
When purchasing from Amazon.com, please
click here first.

Thank you.




Dedicated to the Bachmann Family


LymeNet needs your help:
LymeNet 2020 fund drive

The Lyme Disease Network is a non-profit organization funded by individual donations.

| | |
| --- | --- |
| | |
Author
Topic: I have CFS as well as Chronic Lyme..question..

Lymejul25
Member
Member # 9564


posted

---

I was diagnosed with CFS (Chronic Fatigue Syndrome) in October of 2003..I basically never recovered from mononucleosis. In August of 2004, I was bitten by a tick..transmitting Ehrlichiosis to me. Luckily, I was treated adequately, but the testing was inaccurate..as it did not reveal that I also had Lyme Disease, Bartonella and Babesia. It was then that I saw Dr. R., who put me on 7 weeks of IV Azithromycin therapy, along with a bunch of supplements. He moved to NYC, which was far for me to travel, so I changed my LLMD to Dr. H. I tried the Cowden Protocol as well as the Vitamin C/Salt Protocol..all with modest effects. Now, I am not on any treatment, and feel I should be, as my symptoms are not going away. Doctors are at a standstill in terms of what to do with me. My case is so complex, and I worry that I will be sick for the rest of my life. Any suggestions/further treatment plans? I am allergic to penicillin, sulfa drugs, levaquin, darvocet, percocet and prednisone. Thank you very much in advance for any suggestions. :-)

--Julie

---

Posts: 26 | From Ma. | Registered: Jul 2006 | IP: Logged |

sixgoofykids
Moderator
Member # 11141


posted

---

Is your Dr. H an LLMD?

I would be seeing an LLMD to sort out the best thing to do. A regular doctor won't treat Lyme long enough. It sounds like you still need treatment.

--------------------
sixgoofykids.blogspot.com


---

Posts: 13449 | From Ohio | Registered: Feb 2007 | IP: Logged |

Lymejul25
Member
Member # 9564


posted

---

Yes, Dr. H. is an LLMD..in NY. I really like and respect him, but even he doesn't know what to do at this point, and is grasping at straws.

---

Posts: 26 | From Ma. | Registered: Jul 2006 | IP: Logged |

sixgoofykids
Moderator
Member # 11141


posted

---

Honestly, all Lyme treatment is grasping at straws to determine what will work for each individual.

Are you sure you are allergic to the abx and not experiencing a Herxheimer Reaction?

My suggestion would be treating with abx again .... that is what worked for me. When I tried to come off them too early and switch to herbs, symptoms would increase.

[ 07. September 2008, 06:32 PM: Message edited by: sixgoofykids ]

--------------------
sixgoofykids.blogspot.com


---

Posts: 13449 | From Ohio | Registered: Feb 2007 | IP: Logged |

Lymejul25
Member
Member # 9564


posted

---

Ok, I may try again..just not sure what to do at times, and it frankly scares the hell out of me, but sometimes taking the more difficult road is worth the struggle..especially if I can get my life back. Thank you for the response!

---

Posts: 26 | From Ma. | Registered: Jul 2006 | IP: Logged |

jblral
LymeNet Contributor
Member # 8836


posted

---

Are you addressing detoxification issues? What about yeast and mold? Those can make it harder to get well from the other stuff.

---

Posts: 991 | From California | Registered: Feb 2006 | IP: Logged |

LymeMECFSMCS
LymeNet Contributor
Member # 13573


posted

---

In my experience, CFIDS doctors tend to simplify the Lyme problem, and Lyme doctors tend to simplify the CFIDS problem.

I've had some improvements from antibiotics over the past year, but I'm still homebound and mostly bedridden. Still, that's an improvement.

Have you tried antivirals? Valcyte? Nexavir?

I'm doing a lot of detox strategies but most don't do much for me. I have found far infrared sauna mildly useful but depleting in other areas as I can't seem to keep my minerals balanced. I find coffee enemas for detox helpful but you have to do them following careful directions.

I just started a simplified protocol for methylation cycle repair, which seems to be benefiting some CFIDS patients and does assist in detox capacities. You might look into this.

I feel hopeful that the methylation cycle stuff might be a missing piece in all of this, especially considering that many with autism (who often benefit from methylation cycle supplements) also have Lyme. The idea for CFIDS is that CFIDS is sort of like a late-onset version of autism on a physiologic level, even though symptomatically it can look very different.

Keep turning over stones. In a complex case, you have to treat every piece of the puzzle.

---

Posts: 929 | From Massachusetts | Registered: Oct 2007 | IP: Logged |

Keebler
Honored Contributor (25K+ posts)
Member # 12673


posted

---

-

just a couple notes: you mentioned you are allergic to prednisone. It's contraindicated with lyme, anyway as it can cause the infection to blossom. In emergencies, however, special care w/ abx at the same time, but talk to a LLMD about it.

You may already be familiar with the CFIDS Association. They've done much research on some of the physiological stuff and have suggestions on what can help during recovery.

a Dr. Peckerman also has written articles concerning CFIDS and cardiac function that may be helpful. Sorry, I just can't hunt for my links right now, but google will come up with that.

-

---

Posts: 48021 | From Tree House | Registered: Jul 2007 | IP: Logged |

bunnyfluff
LymeNet Contributor
Member # 14117


posted

---

he-he

you said "Peckerman"

--------------------
4 strong winds that blow lonely,
7 seas that run high.

All those things that don't change
Come what may.


---

Posts: 103 | From Dallas/ Fort Worth. TX | Registered: Dec 2007 | IP: Logged |

daisys
LymeNet Contributor
Member # 11802


posted

---

I'm being treated for lyme, and for CFS too, which I've had for 30 years.

CFS, for me, has been caused by Epstein Barr Virus. My LLMD has me on olive leaf extract for that. Of course, I'm also taking a lot of supplements that support the immune system. I'm getting better.

Hopefully, you'll find abx that you can tolerate, and get better too.

---

Posts: 521 | From New Mexico, USA | Registered: May 2007 | IP: Logged |

Keebler
Honored Contributor (25K+ posts)
Member # 12673


posted

---

-

Although cardiac symptoms and mitochrondial damage can be connected with lyme/TBI or viruses, these researchers give some advice on how to respect what is happening if this occurs and advice for how to proceed with caution and still see progress.

d-Ribose may be mentioned in the pdf of the second article by Peckerman. If not there, in some of his other works. d-Ribose seems to help with energy and production of ATP.

-

http://drmyhill.co.uk/article.cfm?id=381

Sarah Myhill Limited :: Registered in England and Wales

Excerpts:

CFS is Low Output Heart Failure Secondary to Mitochondrial Failure

Low cardiac output explains the symptoms of CFS

Related Test[s]
MITOCHONDRIAL FUNCTION PROFILE

Mitochondrial Function Profile test - practical information for non-UK residents

July 2007

From the feedback I have had from the many doctors and patients doing the MFP, there is no doubt that this is a centrally important part of diagnosing and managing patients with chronic fatigue syndrome.

What the test does is to identify the biochemical lesions that are causing the fatigue.

It is thanks to Dr John McLaren Howard that we have this test and he is always coming up with further refinements. This, therefore, allows us to be more effective at diagnosing where the problem lies.

There are two new tests which we wish to be part of the profile, namely extracellular superoxide dismutase (SODase) together with routine measurement of glutathione levels.

As a result of these two extra tests, the cost of the Mitochondrial Function Profile, which will now include the mitochondrial function studies (ATP profiles), levels of Co-enzyme Q10, glutathione peroxidase, zinc copper SODase, manganese SODase and extracellular SODase together with NAD levels and cell-free DNA will increase by £20 to £195.

John McLaren Howard is currently looking at specialist equipment to refine these tests further, particularly in respect of oxidative phosphorylation. This will allow us to further refine the necessary package of supplements.
. . .

cont'd at link above.

=============
=============

www.cfids-cab.org/MESA/cardiac-1.html

Abnormal impedance cardiography predicts symptom severity in chronic fatigue syndrome

Journal: Am J Med Sci. 2003 Aug;326(2):55-60.

Authors: Peckerman A, LaManca JJ, Dahl KA, Chemitiganti R, Qureishi B, Natelson BH.

Affiliation: Department of Neurosciences, CFS Cooperative Research Center, University of Medicine and Dentistry of New Jersey, Newark, NJ, USA.

NLM Citation: PMID: 12920435

BACKGROUND: Findings indicative of a problem with circulation have been reported in patients with chronic fatigue syndrome (CFS). We examined this possibility by measuring the patient's cardiac output and assessing its relation to presenting symptoms.

METHODS: Impedance cardiography and symptom data were collected from 38 patients with CFS grouped into cases with severe (n = 18) and less severe (n = 20) illness and compared with those from 27 matched, sedentary control subjects.

RESULTS: The patients with severe CFS had significantly lower stroke volume and cardiac output than the controls and less ill patients.

Postexertional fatigue and flu-like symptoms of infection differentiated the patients with severe CFS from those with less severe CFS (88.5% concordance) and were predictive (R2 = 0.46, P < 0.0002) of lower cardiac output.

In contrast, neuropsychiatric symptoms showed no specific association with cardiac output.

CONCLUSIONS:

These results provide a preliminary indication of reduced circulation in patients with severe CFS. Further research is needed to confirm this finding and to define its clinical implications and pathogenetic mechanisms.


- Link to full article PDF. . . or Google first half of title for other formats and publications. Arnold Peckerman, M.D. for cross reference.

-

---

Posts: 48021 | From Tree House | Registered: Jul 2007 | IP: Logged |

Lymejul25
Member
Member # 9564


posted

---

Wow, thank you for everyone's help! So much to think about, but that is a good thing! :-) Thanks again!

--Julie

---

Posts: 26 | From Ma. | Registered: Jul 2006 | IP: Logged |

TerryK
Frequent Contributor (5K+ posts)
Member # 8552


posted

---

I'm also looking into the methylation angle per my LLMD. Your sensitivity to sulpha drugs may indicate that this is a problem for you.

My understanding at this stage in my research is that if one has a methylation problem, depending on the severity and which mutations, one may have difficulty deactivating viruses and getting rid of parasitic infections. You may have immune system difficulties thus you will have problems getting rid of bacterial infections. It would not be unusual to have all kinds of infections that have accumulated over the years.

You may have high ammonia or not be able to handle sulfates in supplements, drugs and food. You may not be able to detox from environmental toxins. The list goes on and on.

Some people can't process folate correctly and need a special form of folate. Without that, many things can go wrong. Genetic testing for this is worthwhile if you think you may have this problem. My understanding is that many with CFIDS likely have a methylation problem.

Here are some links for you to check out:
http://health.groups.yahoo.com/group/CFS_Yasko/messages

http://www.knowyourgenetics.com/The%20Methylation%20Pathway.html

http://www.ch3nutrigenomics.com/phpBB2/index.php?sid=6ddb9f1180ebc6eeaebc66541c1d3f04

http://health.groups.yahoo.com/group/YaskoEurope/

You might also look into the neurotoxin protocol. Some of us don't make antibodies to get rid of certain types of biotoxins. This would be the toxins from borrelia, spider bites or mold. If you do have this problem, you won't get better even if you conquer the infections because the toxins stay in your body unless you take something to bind them and get them out of your system.

Have you been using something to bind metals as you kill bugs? Viruses and bacteria hang onto heavy metals. When you treat to get rid of infections, metals are released and must be bound and removed. I'm sure Dr. H. is very good at dealing with these issues but it never hurts to double check and make sure you are appropriately covered.

Terry

---

Posts: 6285 | From Oregon | Registered: Jan 2006 | IP: Logged |

Munch
LymeNet Contributor
Member # 11323


posted

---

I've been doing Rich Van K's methylation protocol for over a year. I didn't notice benefits until I got to higher doses of Folapro and Intrinsi Factor.

It's best to start out slow with these supplments. Some persons detox on very low doses something like an 1/8 of a tablet. Whereas, I have a high tolerance to meds and need high doses of everything to make things work.

When methylcobalamine shots were added instead of oral B12, my fatigue and constipation issues went away. My Spectracell analysis showed I have issues with Foltate.

I also nebulize glutathione for MCS per Dr Grace Zeim's protocol. That has been very helpful. Part of the reason the methylation cycle works is it raises glutathione levels.

You may want to check out Prohealth's board for more on methylation protocol. There are a ton of old posts. Just type in methylation or GD-MCB (glutathione depletion methylation cycle block) to get to old posts.

---

Posts: 192 | From Dwight, IL USA | Registered: Mar 2007 | IP: Logged |

Lymejul25
Member
Member # 9564


posted

---

Munch, I looked up the methylation protocol, and have bookmarked several sites already on it. It looks quite helpful, and may be something I could try. Thank you for telling me about this. I will definitely talk to my LLMD about it, as he has mentioned raising my glutathione levels before, and I think he'd be interested in this particular protocol. Thanks again! :-)

--Julie

---

Posts: 26 | From Ma. | Registered: Jul 2006 | IP: Logged |

LymeMECFSMCS
LymeNet Contributor
Member # 13573


posted

---

On the heart stuff:

Here are the best reads/views about CFIDS and heart issues -- all SO important.

Dr. Paul Cheney and Heart
http://www.dfwcfids.org/medical/cheney/heart04.htm

Information on Peckerman, Lerner, and other CFIDS/heart stuff:
http://www.cfids-cab.org/MESA/Lerner.html

Very interesting video by Dr. Martin Lerner (CFIDS heart doc, really the only one still practicing):
http://www.youtube.com/watch?v=c_7ok7kFgG4
(watch all three videos -- this is part 1)

What's most amazing about this facet of CFIDS research is that the two main CFIDS/heart docs now in practice, Cheney and Lerner, both had their own serious heart problems before figuring out how central the heart is to CFIDS.

---

Posts: 929 | From Massachusetts | Registered: Oct 2007 | IP: Logged |
Contact Us | LymeNet home page | Privacy Statement

Powered by UBB.classic™ 6.7.3

---
The Lyme Disease Network is a non-profit organization funded by individual donations. If you would like to support the Network and the LymeNet system of Web services, please send your donations to:
The Lyme Disease Network of New Jersey
907 Pebble Creek Court, Pennington, NJ 08534 USA
http://www.lymenet.org/
---
Home | Flash Discussion | Support Groups | On-Line Library
Legal Resources | Medical Abstracts | Newsletter | Books
Pictures | Site Search | Links | Help/Questions
About LymeNet | Contact Us
---
© 1993-2020 The Lyme Disease Network of New Jersey, Inc.
All Rights Reserved.
Use of the LymeNet Site is subject to Terms and Conditions.
---