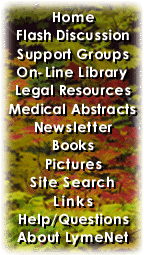 ---
LymeNet on Facebook
LymeNet on Twitter
---
---
The Lyme Disease Network receives a commission from Amazon.com for each purchase originating from this site.
When purchasing from Amazon.com, please
click here first.

Thank you.




Dedicated to the Bachmann Family


LymeNet needs your help:
LymeNet 2020 fund drive

The Lyme Disease Network is a non-profit organization funded by individual donations.

| | |
| --- | --- |
| | |
Author
Topic: Which of Bb's lipoproteins is ROS attacking

Marnie
Frequent Contributor (5K+ posts)
Member # 773


posted

---

Hold onto your seats...

The response of Borrelia burgdorferi to the challenge of reactive oxygen species (ROS) is a direct result of its limited biosynthetic capabilities and

lack of biologically significant levels of intracellular Fe.

In other bacteria, the major target for oxidative damage is DNA as a consequence of the reaction of ``free'' intracellular with ROS through the Fenton reaction. Therefore, cellular defenses in these bacteria are focused on protecting this essential cellular component.

This does not seem to be the case for B. burgdorferi. In this chapter, we describe methods that were used to analyze the potential targets for ROS in B. burgdorferi.

***Surprisingly, membrane lipids (e.g., linoleic and linolenic acids) derived from host are the major target of ROS in the Lyme disease spirochete.***

http://www.springerprotocols.com/Full/doi/10.1007/978-1-60327-032-8_17?encCode=Q0lNOjcxXzgtMjMwLTcyMzA2LTEtODc5&tokenString=QCtgQ7vZuhLRmreVCT8yvQ==&access=denied

Want more?

---

Posts: 9403 | From Sunshine State | Registered: Mar 2001 | IP: Logged |

sparkle7
Frequent Contributor (5K+ posts)
Member # 10397


posted

---

Do you have the full article?

It's alittle hard to understand for the lay person.

Can you translate?

I'm also interested in your studies on gallium!

---

Posts: 7772 | From Northeast, again... | Registered: Oct 2006 | IP: Logged |

Marnie
Frequent Contributor (5K+ posts)
Member # 773


posted

---

It appears our system is trying to destroy the proteins in Bb's outer cell walls by using ROS...free radicals...reactive oxygen species...

Those proteins are made of

linoleic and linolenic acids.

Whoa...that means the Omega 3 OILS maybe potentially harmful.

For the linolinic acid in them which is used to MAKE EPA and DHA.

Long chain omega 3s EFA and DHA come from the shorter chain omega 3 ALA.

EFA and DHA are okay, but it appears Bb's proteins contain the shorter chain omega 3 ALA.

DHA maybe especially beneficial.

Want more?

---

Posts: 9403 | From Sunshine State | Registered: Mar 2001 | IP: Logged |

Dawn in VA
Frequent Contributor (1K+ posts)
Member # 9693


posted

---

We know the body makes Omega 3's from ALA

(although it's often a limited conversion, which is why we take EPA/DHA directly)

Marnie, is the reverse also true; can the body convert DHA/EPA back down to ALA or is it a one-way street?

--------------------
(The ole disclaimer: I'm not a doctor.)


---

Posts: 1349 | From VA | Registered: Jul 2006 | IP: Logged |

Marnie
Frequent Contributor (5K+ posts)
Member # 773


posted

---

Alpha-linolenic acid - an omega-3 fatty acid found in many vegetable oils

Second, clinical studies that are available suggest that alpha-linolenic
acid may actually be dangerous for prostate cancer patients.

An epidemiology study that examines the association of alphalinolenic
acid and prostate cancer risk has just been published.

Dr. Eduardo
De Stefani and colleagues from Registro Nacional de Cancer, Montevideo,
Uruguay, examined the association between prostate cancer and alphalinolenic
acid, linoleic acid, total fat, saturated fat, and monounsaturated
fat.

Addit-ionally, they tested whether there was a difference between
alpha-linolenic acid obtained from animal or vegetable sources. One of the
reasons this study is interesting is that Uruguay has one of the higher
death rates from prostate cancer, as well as one of the highest rates of
red meat consumption.

This study found that the major risk factors associated with the
development of prostate cancer were family history of this disease and
intake of alpha-linolenic acid.

When the risk was adjusted for intake of
linoleic acid, saturated fat, monounsaturated fat, and red meat intake,
those with the highest intake of alpha-linolenic acid had a 440% increase
in risk compared with those at the lowest level.

Also, alpha-linolenic acid
from both vegetable and animal sources was associated with an increase
in the risk of prostate cancer.

There are now six epidemiology studies that have examined the
association between dietary alpha-linolenic acid and risk of prostate
cancer.

Five out of six of these studies found an increase in the risk of
prostate cancer associated with alpha-linolenic acid. The one negative
study is from Swe-den.

It is important to note that the Swedish study
found this fatty acid had no impact and therefore did not show any benefit
from alpha-linolenic acid.

Thus, six out of six studies found no benefit to
in-creased alpha-linolenic acid, while five found potential harm!

I should
also note that our laboratory, as well as others, found that alpha-linolenic
acid is one of the most powerful growth stimuli for human prostate
cancer cells.

I have been asked to comment on flaxseed compared with flaxseed
oil.

My major concern is with flaxseed oil,

which permits patients to
ingest very large a-mounts of alpha-linolenic acid in a short period of
time.

While flaxseed contains alpha-linolenic acid, it is quite unlikely
that someone will eat enough flaxseed to match the alpha-linolenic acid
content of even a modest dose of the oil.

Addition-ally, flaxseed contains
a number of phytochemicals, such as lignans, that are of potential value.

One of the major lignans in flaxseed is secoisolariciresinol, a
phytoestrogen and antioxidant.

While I am not as concern-ed about the safety of flaxseed, I
certainly do not recommend it as treatment for prostate cancer. In
preparation for this issue of the newsletter, I have reviewed every paper
on the health benefits of flax-seed in the National Library of Medicine
database, Medline.

There is no evidence that flaxseed slows or prevents
the growth and spread of prostate cancer. Rats fed flax-seed for their
entire life have smaller prostate glands, but the dose required to do this
altered the sexual performance and anatomy of both sexes.

Flaxseed and
its lignans do appear to alter the development and spread of breast cancer
and melanoma in animal models and may have benefit for patients with
these diseases.

There is considerable evidence that flaxseed intake can
reduce your risk of heart disease and ameliorate the damage caused by
rheumatoid arthritis.

Some patients have written to say that they have
heart disease, and my stance means they must chose whether to treat
their heart and stay on flaxseed oil or discontinue it to treat their
prostate.

There are other effective options available for preventing or
treating heart disease.

For example, cholesterol-lowering drugs, such as
Pravachol, Lipitor, and Zocor are effective at lowering cholesterol and
have a favorable influence on the outcome of heart disease.

I might also
mention that there are other sources of antioxidants and phytoestrogens
with greater evidence to support their use by prostate cancer patients:

green tea and soy products come to mind.


http://www.prostateforum.com/Flaxseedoil.pdf


(Opposite viewpoint)
An alpha-linolenic acid-rich Mediterranean diet seems to be more efficient than presently used diets in the secondary prevention of coronary events and death.
PMID: 7911176

Deficiency of the n-6 fatty acid linoleic acid leads to poor growth, fatty liver, skin lesions, and reproductive failure (1).

In contrast, the symptoms of n-3 -linolenic acid deficiency are more obscure and have only been well demarcated in experimental animals and human infants.

n-3 Fatty acid deficiency causes reduced vision, abnormal electroretinogram results, and, perhaps, impaired cognition and behavior (2).

The metabolism of -linolenic acid in humans has been well characterized.

***After -linolenic acid is ingested, the body converts it to very-long-chain polyunsaturated fatty acids: readily to eicosapentaenoic acid (20:5n-3) and more slowly to docosahexaenoic acid (22:6n-3).***

***A major consequence of -linolenic acid deficiency is that its chief synthetic end product, docosahexaenoic acid, is not adequately produced (2).***

Because docosahexaenoic acid is a major component of the phospholipid membranes of the brain and retina, its deficiency in these organs then leads to abnormal function (3).

n-3 Fatty acid deficiency is accentuated when there is simultaneously a high content of linoleic acid in the diet, which tends to inhibit the synthesis of docosahexaenoic acid from linolenic acid.

Thus, diets rich in corn, safflower, sunflower, and peanut oils, all of which are high in linoleic acid and low in -linolenic acid, can lead to n-3 fatty acid deficiency

Thus, a high ratio of n-6 to n-3 fatty acids in the diet accentuates n-3 fatty acid deficiency.

http://www.ajcn.org/cgi/content/full/69/5/827

ALA->DHA

***Long chain omega 3s EFA and DHA come from the shorter chain omega 3 ALA.***


Both 5,8,11,14,17-eicosapentaenoic acid and 4,7,10,13,-16,19-docosahexaenoic acid, major constituents of fish oils, inhibited adenosine diphosphate-induced aggregation of platelets and the accompanying release of mitogens.

These effects are dose dependent. Linolenic acid the biosynthetic precursor of eicosapentaenoic acid, also inhibited platelet aggregation and mitogen release.

Eicosapentaenoic acid also inhibited mitogen release from human monocyte-derived macrophages, which, in vivo, are an additional source of mitogens during atherogenesis.

Potent inhibition of human platelet aggregation and mitogen release was also seen with dihomo-γ-linolenic acid (8,11,14-eicosatrienoic acid ), whose levels are reportedly elevated in Eskimos subsisting on marine diets.

We conclude that diets that elevate plasma and/or tissue levels of eicosapentaenoic acid, docosahexaenoic acid and dihomo-γ-linolenic acid precursor γ-linolenic acid ) may exert antiatherosclerotic effects by inhibiting the release of mitogens from platelets and other cells.

http://www.springerlink.com/content/t56v320628r6k237/

Docosahexaenoic Acid and Eicosapentaenoic Acid, but Not -Linolenic Acid, Suppress Deoxynivalenol-Induced Experimental IgA Nephropathy in Mice1

Taken together, both DHA and EPA, but not ALA, ameliorated the early stages of IgAN, and these effects might be related to a reduced capacity for IL-6 production.

http://jn.nutrition.org/cgi/content/abstract/134/6/1353

In contrast to the omnivorous diet, the vegan diet is devoid of the long-chain (n-3) fatty acids, eicosapentaenoic acid (EPA)and docosahexaenoic acid (DHA)...

Fatty acid analysis revealed that maternal dietary AA (arachidonic acid) + DHA (docosahexaenoic acid), compared with feeding the dams the control diet or the low LNA diet,

***increased 20:4n-6 in phosphatidylserine***

and 22:6n-3 content of SMP phospholipids. (synaptic plasma membrane).

http://www.ingentaconnect.com/content/bsc/jnc/2002/00000083/00000004/art00003;jsessionid=4nr882eaaj62o.alexandra

Note: phosphatidylserine is used to rebalance the HPA axis.

This study shows that a metabolite of an essential dietary fatty acid, linoleic acid, can modulate tyrosine phosphorylation and activity of key signal transduction proteins in a growth factor mitogenic pathway.

http://www.jbc.org/cgi/content/abstract/272/31/19269

But if linoleic acid is oxidized, it can't do the above (modulate tyrosine phosphate transfer)

OXIDIZED PRODUCTS OF LINOLEIC ACID STIMULATE ADRENAL STEROIDOGENESIS

Steroidogenesis is the process wherein desired forms of steroids are generated by transformation of other steroids.
Products of steroidogenesis include:
· androgens
o testosterone
· estrogens and progesterone
· corticoids
o cortisol
o aldosterone


These results suggest that Cu(II) complexes can not only oxidize linoleic acid, but also decompose LOOH generated from it.

ROS can harm/destroy cysteinyl residues, iron-sulphur clusters, DNA and polyunsaturated lipids, leading to inhibition of growth or cell death.

Unlike most bacteria, B. burgdorferi incorporates ROS-susceptible polyunsaturated fatty acids from the environment into their membranes.

It intentionally adds the fatty acid that *is the most easily oxidized* into its protein cell wall(likely to protect its "innards".

ALPHA.-Linolenic Acid-rich *Diacylglycerol*

The enzyme was named phospholipid: diacylglycerol acyltransferase (PDAT).

Bb uses the above enzyme. It is listed here:

http://www.genome.jp/kegg-bin/get_htext?htext=bbu01000.keg&filedir=%2Fkegg%2Fbrite%2Fbbu&hier=3

Conjugated linoleic acid (CLA) IS GOOD...very good. Entirely different.

[ 21. July 2008, 12:50 AM: Message edited by: Marnie ]

---

Posts: 9403 | From Sunshine State | Registered: Mar 2001 | IP: Logged |
Contact Us | LymeNet home page | Privacy Statement

Powered by UBB.classic™ 6.7.3

---
The Lyme Disease Network is a non-profit organization funded by individual donations. If you would like to support the Network and the LymeNet system of Web services, please send your donations to:
The Lyme Disease Network of New Jersey
907 Pebble Creek Court, Pennington, NJ 08534 USA
http://www.lymenet.org/
---
Home | Flash Discussion | Support Groups | On-Line Library
Legal Resources | Medical Abstracts | Newsletter | Books
Pictures | Site Search | Links | Help/Questions
About LymeNet | Contact Us
---
© 1993-2020 The Lyme Disease Network of New Jersey, Inc.
All Rights Reserved.
Use of the LymeNet Site is subject to Terms and Conditions.
---