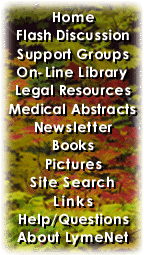 ---
LymeNet on Facebook
LymeNet on Twitter
---
---
The Lyme Disease Network receives a commission from Amazon.com for each purchase originating from this site.
When purchasing from Amazon.com, please
click here first.

Thank you.




Dedicated to the Bachmann Family


LymeNet needs your help:
LymeNet 2020 fund drive

The Lyme Disease Network is a non-profit organization funded by individual donations.

| | |
| --- | --- |
| | |
Author
Topic: encephalitis?

maureen2174
LymeNet Contributor
Member # 11471


posted

---

I hear people talking about this all the time- what exactly is it and what are the symptoms (in simple terms)?

I could google it but thought I would just ask all of you other lymies....

thanks

---

Posts: 871 | From NJ | Registered: Mar 2007 | IP: Logged |

Keebler
Honored Contributor (25K+ posts)
Member # 12673


posted

---

-


Both Encephalitis and Encephalopathy are common in lyme (neuroborreliosis) and other tick-borne infections.

Simple terms: proper treatment is essential.

www.ilads.org - to download the ILADS guidelines


-------------------------

Lyme books and articles have more specific detail. Wiki is just one place to begin with the definition:


Encephalitis is an acute inflammation of the brain, commonly caused by a viral infection. It can be caused by a bacterial infection such as bacterial ...


http://en.wikipedia.org/wiki/Encephalitis


=============


Encephalopathy literally means disease of the brain. In some contexts it refers to permanent brain injury, and in others it is reversible. ...

http://en.wikipedia.org/wiki/Encephalopathy


-

---

Posts: 48021 | From Tree House | Registered: Jul 2007 | IP: Logged |

Mo
Frequent Contributor (5K+ posts)
Member # 2863


posted

---

yep, what keeb said.
and the symptoms can vary greatly as the brain conrols most everything, so it depends which specific brain centers and functions are effected.

mo

---

Posts: 8337 | From the other shore | Registered: Jul 2002 | IP: Logged |

adamm
Unregistered



posted

---

The possibility that a tick-borne illness is present should be investigated
whenever a person develops this symptom.

---

IP: Logged |

Clint31
LymeNet Contributor
Member # 16420


posted

---

Come on folks...

what are the symptoms

--------------------
DX'ed Lyme Disease: 7/7/2008
DX'ed Babesia, Epstein Barr, Liver Parasite 8/15/2013.


---

Posts: 739 | From Columbus, Ohio | Registered: Jul 2008 | IP: Logged |

bettyg
Unregistered



posted

---

this is in my newbie package link below ... gives detailed symptoms and i used this for my ssdi disability claim!!!

i'm breaking it all up for us neuro folks!!
*******************************************


Distinct Pattern of Cognitive Impairment Noted in Study of Lyme Patients .....MUST READ!! EXPLAINS EVERYTHING !!


written by Marian Rissenberg PhD & Susan Chambers MD,

The Lyme Times, Vol. 20, Jan-Mar 1998, pp. 29-32


http://flash.lymenet.org/scripts/ultimatebb.cgi?ubb=get_topic&f=1&t=040118#000023


Distinct Pattern of Cognitive Impairment Noted in Study of Lyme Patients


Marian Rissenberg PhD & Susan Chambers MD, The Lyme Times, Vol. 20, Jan-Mar 1998, pp. 29-32


I. Cognitive Characteristics of Chronic Lyme Encephalopathy
*****************

On the basis of both a formal neuropsychological study of 49 patients (APA 5/96) and on clinical observation and comprehensive neuropsychological examination of well over 100 patients, a distinct pattern of cognitive impairment occurring chronic Lyme disease can be described.


These patients consistently demonstrate deficits in directed, sustained and divided attention, planning and organization of responses, temporal ordering, verbal fluency, abstract reasoning, speed of processing, and motor programming.


The overall pattern of intellectual impairment is not unlike that seen with diffuse brain injury, and it most often results in some degree of work-related disability.


Although performance is impaired on measures of cognitive functions associated with specific brain regions -- receptive and expressive language, visuospatial problem solving and memory -- the quality of performance is not suggestive of focal lesions in these areas.


Rather, deficits are secondary to impairment of higher level integrative functions, likely mediated by complex neuronal systems.


Specifically, the receptive language deficit is secondary to impaired auditory tracking and slowing of mental processing.


The expressive language deficit is secondary to impaired word retrieval and response planning,


The visuospatial problem solving deficit is secondary to impairment of mental flexibility, conceptualization and the ability to compare and contrast necessary in decision making.


Finally, deficits on test of memory function are most often secondary to impairment of the encoding or initial processing of information, which depends on attention, and the retrieval of stored information.


The storage of new information, or memory per se, is rarely impaired.


This pattern suggests that cognitive dysfunction in chronic Lyme, while expressed variably across individual patients, results from a common factor -- the breakdown of diffusely represented processes involving both integration and activation, and impacting primarily on attention and reasoning.


The fluctuation of impairment over short periods of time suggest that a physiologic rather than a structural mechanism is responsible.


II. Neuropsychological deficits in chronic Lyme disease ***********************************


(A study presented at the annual meeting of The American Psychiatric Association , May 1996)


The neuro-psychological characteristics of 49 patients with Lyme disease were examined. The study set out to answer three questions:


1) Do all patients with subjectively perceived cognitive dysfunction have measurable intellectual impairment on objective testing?


2) In those without measurable impairment, does depression account for the perception of cognitive dysfunction?


3) What is the nature of the cognitive impairment in Lyme disease when it does occur?


Subjects were patients seen consecutively between 1990 and 1994 in a private neuropsycological practice with complaints of cognitive dysfunction and a symptom complex consistent with Lyme disease.


Diagnosis was based on former CDC criteria.
*****************************************


Mean duration of illness, defined as the time from the onset of general symptoms to the neuro-psychological exam, was 4.7 years (range: 3.3 to 14 years).


Mean age was 39.9 years (range: 21 to 58 years) from 18 to 60 years.


Mean level of education was 15.3 years (range 12 to 20 years).


Subjects were interviewed and administered a comprehensive battery of tests, including the complete WAIS-R and WMS-R, and additional test of language, attention, reasoning, visuospatial processing and complex motor function.


They also completed the Beck Depression Inventory and a symptom checklist.


Tests were divided into seven groups based on the cognitive functions they are presumed to measure:


Attention, Memory, Language, Visuospatial Processing, Reasoning, Verbal Fluency and Motor programming.


Subjects were grouped into three levels of impairment based on their neuropsychological performance:

Intact (N=11; 22%), with no functions impaired,

Moderate (N=31; 63%) with two functions impaired, and

Severe (N=7; 14%) with three or more functions impaired.


Subjects in the Severe group met diagnostic criteria for dementia.
**********************


The correlation between depression and cognitive impairment was nonsignificant, but the trend was positive, rather that negative.


Anxiety by self report was significantly greater in the impaired groups that the Intact group.


Duration of illness was greater in the Severe group (nonsignificant).


Of the 38 subjects with cognitive impairment, deficits of attention were most common, occurring in 26 subjects

(68%) Deficits of memory storage were least common,

occurring in 8 subjects (21%), Motor, Verbal Fluency, Visuospatial, Language and Reasoning deficits occurred in 24, 26, 29, 36 and 36% of the subjects respectively.


III. Possible Pathophysiologic Mechanisms of Cognitive Impairment in Lyme Disease
************************************


Based on these findings and on patients' reports, two characteristics of Lyme Encephalopathy arise which provide insight as to possible neurophysiologic mechanisms:
*************************************


One, the nonfocal nature of the cognitive functions affected, and


Two, the subtle fluctuations and reportedly abrupt and global shifts in cognitive function from one day to another in a given patient.


Four broad categories of possible neurophysiologic mechanisms might be compatible with this pattern:


1) Diffuse cerebral diffusion abnormalities -- Single photon emission computerized tomography (SPECT) scans of the brain in Lyme disease often display a diffuse pattern consistent with heterogeneous areas of hyperfusion and/or diminished neuronal metabolism.


While vasodilators are often capable of reversing these abnormal patterns on SPECT scan, this reversal does not consistently correlate with a symptomatic improvement in cognitive function.


2) Alterations in cellular metabolism at the cortical level -- Evidence of alterations in neurotransmitter function is suggested by clinical evidence of cognitive improvement following treatment with selective serotonin reuptake inhibitors (SSRI's) which appears to be independent of their antidepressant effect.


Systematic studies of the impact of SSRI's on cognitive function, as well as the role of other transmitters, are required.


3) Neuro transmitter abnormalities (imbalances of synthesis and/or receptor activity) --


Neurotoxic substances may well play a role in Lyme Encephalopathy, given the neurotropic nature to Treponema pallidim, and the close parallel between syphilis and Lyme disease,
*****************************************

it is possible that Borrelia burgdorferi could produce intracellular or extracellular neurotoxins which we have yet to identify.


4) Neurotoxic substances produced endogenously or possibly exogenously --


Endogenous neurotoxins have been identified as by-products of the humoral immune response.


Among these is quinolinic acid, a product of the interleukin cascade system, which accumulates as a result of the humoral response to acute infectious agents and functions as a neuronal excitotoxin.


As there are many similarities between Lyme Encephalopathy and the nonspecific mental dysfunction of acute systemic infections, such as influenza, it is quite possible that continued stimulation of production of quinolinic acid and other cytokines plays a role in the pathophysiology of Lyme encephalopathy.
********************************************


IV. Clinical Impressions and Implications for Diagnosis and Treatment in Chronic Lyme Disease
*********************************************


This study demonstrates that for the majority of chronic Lyme patients with cognitive complaints, there is in fact a measurable and significant decline in intellectual acuity.


The nature and severity of the cognitive impairment is such that it interferes with all aspects of normal functioning:


employment, home, marriage, social interactions, and general emotional well-being.


Rather than the cognitive complaints being secondary to anxiety or depression, as is sometimes suspected,


depression and anxiety increase with, and are apparently secondary to, cognitive impairment and the emotional and practical impact of a loss of competence.


Thus, while patients with chronic Lyme disease can present a confusing and "psychiatric" picture to the clinician, it is important that their concerns be properly investigated and addressed.


Patients with Lyme encephalopathy complain of problems with memory and concentration, word retrieval, confusion, problems with thinking, "mental fogginess", a decline in job performance, difficulty with calculations, directions, and judgment.


Decreased initiative, manifest as difficulty getting started with or following through with projects is often noted.


Mood disturbance is common with complaints of irritability, explosiveness or "a short fuse," sadness, hopelessness or guilt, increased anxiety or mood swings.


Sleep disturbance is also common, and can present as initial, middle or terminal insomnia or some combination of these.


Fatigue is universal.

Headache is common, and of course joint and muscle pain.

Increased sensitivity to light and noise, visual disturbance, and tingling in the extremities are also common.


On interview, patients with Lyme encephalopathy tend to be vague and disorganized in the presentation of the history of their illness.


This is despite their close attention to their symptoms and having recounted them many times before.


Although in most cases memory of discreet events - tests, dates, diagnoses, responses to medications - is intact, the patient is unable to recall them spontaneously or organize them in temporal order. ********************************


They may be unclear as to their chief complaint.


They may completely lose track of what they were saying, sometimes repeatedly, or of what the question was.


They may get off on a tangent and have trouble re-orienting themselves.


Frequent prompting and refocusing will be necessary; beginning the interview with an open-ended question like "Tell me what the problem is" will allow these qualities to become clear.


Often patients with chronic Lyme disease will seem overly focused on their illness, or overly concerned with convincing the clinician that they are ill.


The clinician may be tempted to interpret this as evidence of a primary psychiatric disorder.
**********************************************


It is important to understand that the frustration many of these patients experience is real, and results from the general attitude of doubt toward Lyme disease as a serious and chronic illness,

the invisibility of their symptoms,

the difficulty in getting a definitive diagnosis

and getting approval for extended treatment from insurance carriers.
******************************


Many have been accused of hypochondriasis or malingering. ********************************


As with head injury, the patient may "look fine" though they are having difficulty with very basic work, social and day to day functioning.


The cognitive deficits in chronic Lyme disease involve primarily attention and arousal mechanisms.


Patients have difficulty keeping track of external and internal events, retrieval of information from memory and with planning and sequencing, as occurs in attention deficit disorder.


However their experience is different from that of ADD, in that rather than having the experience that there are many thoughts competing for attention, the Lyme patient has difficulty bringing any thought into clear focus.


They experience difficulty thinking.

One patient described it as the universe ending six inches from his face. He can't process information that is not immediately apparent, immediately experienced.


Another said that when he tries to think about something, or figure something out, all he can do is repeat the question -- he can't get to the meaning.


This is like the idea of "surface" versus "deep" processing in cognitive psychology.


Reading a passage for typing errors would be surface processing, while reading for meaning is deep processing.


One patient, a physician, described it as a "mental intention tremor" -- the more she tries to focus on something the more out of focus it becomes.


The clinician should proceed with empathy and reason.

Specific cognitive complaints in previously high functioning individuals are unusual and indicative of serious illness, either psychiatric or neurologic.


Comprehensive neuropsychological evaluation will most often differentiate the two.


Where the neuropsychological exam is normal or there is a significant psychiatric component, a psychiatric evaluation is advised.


Psychiatric symptomatology is not uncommon in Lyme and the presence of depression, anxiety, obsessive compulsive symptoms, flat affect and so on may cloud the issue of significant cognitive decline.


Both the cognitive and psychiatric symptoms would be expected to improve with antibiotic treatment in Lyme encephalopathy.


However sometimes concurrent treatment with psychotropic medication is necessary.


Unfortunately for some patients, significant cognitive impairment persists even after years of antibiotic treatment. *************************************


These patients may never be able to return to their premorbid level of employment, or be gainfully employed at all.


Cognitive remediation can help them learn strategies for improving memory and concentration and relieving stress.


Support and advice in regard to living with a chronic condition is equally important.


Strategies include reducing work hours when possible, taking regular rest periods during the day, limiting the number of outings in a week, and using a calendar to stay organized and structure their time.


V. Cognitive impairment in Lyme disease: specific functions and the impact of deficits
********************************************


1. Attention and mental tracking.

Includes directed and sustained attention:

the ability to direct and maintain one's focus on a particular event or idea, whether in the environment or internally;

and divided attention: the ability to simultaneously attend to two events, or do two or more things at a time, or to retain awareness of one thing while doing another.


Impact:

difficulty functioning effectively in many situations,

remembering what one was doing before a distraction,

keeping track of conversation,

taking notes while someone is speaking,

remembering that someone is on hold,

or what you were about to say.


2. Memory: Retaining new information.

Impact:
secondary to impaired attention,

slowing of processing and the retrieval of stored information, but not storage per se;

a tendency to lose or forget things;

miss appointments;

repeat oneself.


3. Receptive language: understanding spoken or written language


Impact:
secondary to impaired attention and speed of processing;

difficulty participating in meetings or social conversation;

difficulty with reading comprehension.


4. Expressive language: Using spoken or written language to express ideas


Impact:
difficulty finding the right word;

using the wrong word and not noticing;

not being able to express oneself or communicate.


5. Visuospatial Processing:
Efficient scanning of the visual field,
making sense of how things are related in space; visuospatial conceptualization and problem solving.


Impact:
a tendency to get lost;
difficulty with reading comprehension.


6. Abstract reasoning:
The ability to generalize from the particular;

to identify the common factor between related concepts;

to compare and contrast two things or ideas;

to see the "big picture";

to identify the critical factor in a situation;

to anticipate consequences and make inferences regarding cause and effect.


Impact: difficulty with decision making, planning, and problem solving.


7. Speed of mental and motor processing:

The ability to think and respond quickly; critical to understanding speech which occurs at a fairly constant rate.


Impact:
difficulty understanding or keeping up a conversation;
functioning in a timely manner in day to day situations;
meeting deadlines.
***************************

wow, i'd forgotten how long this was especially breaking it up! uffda

---

IP: Logged |

Keebler
Honored Contributor (25K+ posts)
Member # 12673


posted

---

-

Clint,

if you clink onto the Wikipedia links, you can see the basic symptoms.


BettyG's post is more specific and beyond that, you can cross search the term with lyme or with borrelia or borreliosis and find many articles from Google or PubMed.


-

---

Posts: 48021 | From Tree House | Registered: Jul 2007 | IP: Logged |

Wimenin
LymeNet Contributor
Member # 15294


posted

---

Ok, Ive been diagnosed with enceph and menin..

Heres my length list of symptoms that come and go, wax and wane of Ive encountered ever since this started:

-Headaches, mild & severe
-Pressure in Head
-Twitching of face areas
-Facial numbness
-Tingling of lips, cheeks, nose
-Facial flushing and flushing of neck
-Hot flashes
-Scalp turns pink and enflamed
-Stiff or painful neck (creaks, cracks, gravel feeling)
-TMJ, jaw pain &/or stiffness
-Clearing throat a lot, phlegm, lt sore throat & cough, especially morning
-Runny nose, especially in the morning
-Droopy eyelids
-Watery eyes & often just on one side
-Double or blurry vision
-Hard time focusing eyes
-Increased floating spots (floaters)
-Pain in eyes, or swelling around eyes
-Oversensitivity to light
-Flashing lights/waves/auras/phantom images
-Unusual dilation of eyes
-Decreased hearing in one or both ears, ears feel plugged
-Buzzing or ringing in ears
-Pain and pressure in ears (earache)
-Painful earlobes, ears turn red
-Oversensitivity to sounds
-Irritable bladder (trouble starting, stopping)
-Uncontrollable bladder/unaware going (wetting)
-Upset stomach (nausea or pain), bloating and/or GERD (reflux disease)
-Irritable bowel syndrome (cramps, to diarrhea)
-Bone pain (especially shin), joint pain/swelling, carpal tunnel syndrome
-Stiffness of joints, especially hands/fingers/wrist, neck, knee, back arthritic feel
-Muscle pain & cramps
-Shortness of breath, can't get full/satisfying breath (like asthma)
-Chest pains & rib soreness
-Night sweats, chills, cold feet, sweating soles of feet
-Tremors, riggors, unexplained shaking
-Jerking of limbs, especially at night
-Burning, stabbing or electric sensations in the body
-Unusual weakness, legs feel wobbly
-Numbness in body, tingling, pinpricks
-Poor balance, dizziness, difficulty walking
-Increased motion sickness
-Lightheadedness, wooziness
-Surreal, out of body feeling
-Mood swings, irritability, bi-polar feeling
-Personality changes
-Unusual depression
-Crying for no reason
-Disorientation (getting or feeling lost)
-Feeling as if you're losing your mind
-Loss of time sensing, track of time off
-Over-emotional reactions, quick to anger, unusual use of profanity
-Difficulty falling or staying asleep (waking in middle of night)
-Sleep apnea (sudden gasping for breath)
-Un refreshed sleep
-Increase in nightmares
-Panic attacks, free floating anxiety
-Low ability to handle stress, no patience
-Blank staring
-Memory loss (mostly short term)
-Confusion, difficulty in thinking
-Difficulty with concentration
-Difficulty in finding the right word to use, or doing math
-Forgetting how to perform simple tasks
-Loss of sex drive
-groin region pains
-huge weight loss, then Up and down loss & gain
-Extreme fatigue
-Glands feel swollen/lymph nodes tender
-Pain in carotid artery
-Symptoms seem to change, come and go, change hourly, daily, weekly
-Pain migrates to different body parts
-Early on experienced "flu-like" illness, & haven't felt well since
-Recurring bouts with the flu, stomach flu or cold
-Low body temperature
-Inability to handle outdoor/indoor temperature changes
-Allergies/Chemical sensitivities
-Drinking alcohol makes me feel horrible
-Symptoms worsen/flare up on a monthly cycle (every 28-30 days)

Yeah...as Ive told others, I may look great, but at times...welcome to Hell...another word for lyme.

---

Posts: 514 | From . | Registered: Apr 2008 | IP: Logged |

Clint31
LymeNet Contributor
Member # 16420


posted

---

isnt it rare though

--------------------
DX'ed Lyme Disease: 7/7/2008
DX'ed Babesia, Epstein Barr, Liver Parasite 8/15/2013.


---

Posts: 739 | From Columbus, Ohio | Registered: Jul 2008 | IP: Logged |

Wimenin
LymeNet Contributor
Member # 15294


posted

---

lyme encephalitis...

All it takes is for the Bb to get past the bbb which it can in hrs, days, and then it wreaks havoc on the brain (swelling of the brain, meninges).

Heres a great site for encephalitis...

http://www.encephalitis.info/recovery/BuildBrain.html

Reading this info really put my mind at ease that what I was going thur was common for menin/enceph. The big thing is to be patient. It can take years to get back to normal, although sometimes damage is permanent.

---

Posts: 514 | From . | Registered: Apr 2008 | IP: Logged |

Keebler
Honored Contributor (25K+ posts)
Member # 12673


posted

---

-

Wimenin

What a wonderful site. Great suggestions.

thanks so much. My brain thanks you, too !


-

---

Posts: 48021 | From Tree House | Registered: Jul 2007 | IP: Logged |

Alv
Unregistered



posted

---

Wimenin

Did we live together all these years ?

You just included all my symtoms:(

---

IP: Logged |

tickssuck
LymeNet Contributor
Member # 15388


posted

---

Wimenin...


Were you describing my symptoms or yours??? I guess I know where my Lyme and Co's are focusing their attention. That is me in a nutshell and it shifts, waxes/wanes literally from hour to hour.


Ok...so why when I had a brain MRI (2 of them - 8 months apart, prior to Lyme dx) is this not apparent? How did someone actually put this "label" on it for you? Was it obvious in a scan or imaging or what? I have told my LLMD before, it's in my brain, I can "feel" it.


What I don't like to read is that some of it can be permanent...that scares the $%#)&*#& out of me. Okay...now I'll go read the link you posted, thanks. TS

---

Posts: 566 | From West Coast | Registered: May 2008 | IP: Logged |

adamm
Unregistered



posted

---

I developed it within 10 days of getting bitten,

and I had been taking 200mg doxy/day for the

entirety of that period.

---

IP: Logged |
Contact Us | LymeNet home page | Privacy Statement

Powered by UBB.classic™ 6.7.3

---
The Lyme Disease Network is a non-profit organization funded by individual donations. If you would like to support the Network and the LymeNet system of Web services, please send your donations to:
The Lyme Disease Network of New Jersey
907 Pebble Creek Court, Pennington, NJ 08534 USA
http://www.lymenet.org/
---
Home | Flash Discussion | Support Groups | On-Line Library
Legal Resources | Medical Abstracts | Newsletter | Books
Pictures | Site Search | Links | Help/Questions
About LymeNet | Contact Us
---
© 1993-2020 The Lyme Disease Network of New Jersey, Inc.
All Rights Reserved.
Use of the LymeNet Site is subject to Terms and Conditions.
---