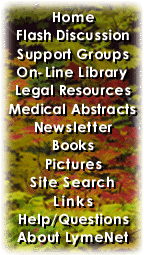 ---
LymeNet on Facebook
LymeNet on Twitter
---
---
The Lyme Disease Network receives a commission from Amazon.com for each purchase originating from this site.
When purchasing from Amazon.com, please
click here first.

Thank you.




Dedicated to the Bachmann Family


LymeNet needs your help:
LymeNet 2020 fund drive

The Lyme Disease Network is a non-profit organization funded by individual donations.

| | |
| --- | --- |
| | |
Author
Topic: Hyperbaric Chamber Therapy

kennl
Junior Member
Member # 20197


posted

---

Hey all,
Does anyone have any experience with hyperbaric chamber therapy or has anyone heard anything at all about it?
Thanks in advance!

---

Posts: 6 | From Mass & Florida | Registered: May 2009 | IP: Logged |

NMN
LymeNet Contributor
Member # 11007


posted

---

Not yet but I have my first session on Tuesday. I will be doing 5 session a week for a few weeks. I will let you know how it goes.

--------------------
Pos BB and Bart(Q & H IGG pos)
Began treat 1 year after start of illness. Diagnosed Feb 2007.


---

Posts: 648 | From Ireland | Registered: Jan 2007 | IP: Logged |

Abxnomore
Frequent Contributor (5K+ posts)
Member # 18936


posted

---

I have done it. I think it is a great adjunct therapy and it helped move me up several notches with my struggle. However, I don't think it's curative but I am happy I that I did it.

---

Posts: 5187 | From Lyme Zone | Registered: Jan 2009 | IP: Logged |

m0joey
LymeNet Contributor
Member # 13494


posted

---

Depending on your financial situation, you may want to check out ozone sauna and insufflation. This has a proven track record for lyme and seems to do a better job of avoiding the babesia & other aerobic organism problem due to the singlet oxygen in ozone. The cost of owning a top-of-the-line medical grade package is the same as about 60 sessions of HBOT. As I understand, owning a HBOT chamber is in the 5-digit range, and the consensus seems to be that you need continual use for HBOT to be successful. I just made the ozone sauna purchase last week after doing much research on it, and I'm really excited about starting the therapy.

For more info, check out the ozone thread I started

---

Posts: 713 | From Los Angeles | Registered: Oct 2007 | IP: Logged |

Bugg
Frequent Contributor (1K+ posts)
Member # 8095


posted

---

I did about 45 sessions in a monoplace chamber. I was not "cured" from it. It seemed to boost my immune system and help with inflammation. There are many conflicting reports in PubMed and other medical journals about antioxidant stress with HBOT....I don't know, though.

Good luck...

---

Posts: 1155 | From Southeast | Registered: Oct 2005 | IP: Logged |

ICEiam
LymeNet Contributor
Member # 7519


posted

---

My Daughter did it for 2 months 5 days a week. She has hearing loss in one ear and it also affected her eye sight.

She also started having panic attacks and heart palps while doing HBOT treatment.

I am in no way saying it doens't work, I just know of several people that it didn't help......may have even made them worse.

I have also heard of people it helped, so like any other treatment for this GOD forsaken disease. What works for one doesn't always work for the next person.

--------------------
ICEY


---

Posts: 468 | From Las Vegas NV | Registered: Jun 2005 | IP: Logged |

Parisa
LymeNet Contributor
Member # 10526


posted

---

It sent my husband into a horrible downward spiral. At the time, we didn't know about the Lyme and Babesia. Maybe if he had treated with antibiotics it wouldn't have?

I've also heard that it can make Babesia worse. So, I'd make sure you had treated for Babesia prior to any HBO.

---

Posts: 984 | From San Diego | Registered: Nov 2006 | IP: Logged |

gforce
Member
Member # 18211


posted

---

It has been paramount in my treatment. I did 40

sessions with IV Rocephin while also taking

Mepron/Azithromycin, Doxycycline and herbal

treatment...


I am now doing my second round of 40 treatments

doing the same regimen. You do herx a lot- I get

a lot of burning in my arms, legs and back and

feel very fatigued after... but I am getting my

mind back, am less emotional and anxious... and I

am sleeping better.

I do believe it is important to continue to take

meds for the co-infections... but the hyperbaric

treatments are repairing my joints, muscles,

blood vessels and my immune system. I feel it. I

feel like my body was like an old abandoned house

with cobwebs, cold drafts and spooky ghosts.

After I started treatment (about #20), I felt

like someone moved in, turned on the heat, opened

the blinds and started doing spring cleaning


WildCondor who is also on this site had a great

experience using it as an adjunctive treatment as

well. Her story is here: http://www.wildcondor.com/lyme.html

--------------------
"We must be willing to get rid of the life we've planned, so as to have the life that is waiting for us."- Joseph Campbell.


---

Posts: 22 | From San Francisco | Registered: Nov 2008 | IP: Logged |

Raymond
LymeNet Contributor
Member # 13980


posted

---

Question on HBOT.....What will it do for Decreased Cortical perfusion????

With that being said isn't decreased cortical perfusion related to intracarnial pressure??/

--------------------
Raymond
Leave the gun, take the cannolis


---

Posts: 214 | From Rhode Island | Registered: Nov 2007 | IP: Logged |

Keebler
Honored Contributor (25K+ posts)
Member # 12673


posted

---

-
Raymond,

Do you mean HYPOperfusion? If so, from what I understand, it has helped others with brain hypoperfusion (too little blood reaching the brain during peak need).

Related to intracranial pressure, though, you'd sure want to ask your LLMD. Lyme, itself, causes increases in intracranial pressure and however it can be done, treating the infection usually helps lower the intracranial pressure.

I know HBOT can cause an increase in pressure in the inner ear and in the eyes (but, as WildCondor points out below problems can be avoided with preliminary steps)

I'm not sure how HBOT would affect cranial pressure but, ultimately, it is supposed to help the abx better reach the cells - and also the oxygen is supposed to help, too.

I don't know if these articles in the next post mention intracranial pressure. Be sure to also search the archives here at LymeNet.

=================

http://www.ncbi.nlm.nih.gov/sites/entrez

PubMed Search:

HBOT - 136 abstracts

HBOT, intracranial+pressure - 3 abstracts

HBOT, hypoperfusion - 2 abstracts
-

---

Posts: 48021 | From Tree House | Registered: Jul 2007 | IP: Logged |

Keebler
Honored Contributor (25K+ posts)
Member # 12673


posted

---

-
www.hbotreatment.com/lyme.htm

Lyme and Hyperbaric

Clinical Studies on Hyperbaric Oxygen Therapy for the Treatment of Lyme: Testimonials and Case Studies Utilizing HBOT for Lyme Disease . . .

===================

www.hbotoday.com/lymediseasearticle.htm

Lyme Disease & Hyperbaric Oxygen (HBO) Therapy

Lyme disease is now being treated with hyperbaric oxygen (HBO) therapy. A new first person article has just been published on treating Lyme disease with HBO . . .

==========================

http://tamaragebhardt.blogspot.com/2006/11/no-worries-its-just-herx_15.html

Tamara Gebhardt's blog -

Right hand column, Scroll down to see two photos: ``My Hyperbaric Oxygen Chamber & Me''

It does not look like this has been updated lately. Another link for her:

http: //www.linkedin.com/pub/tamara-gebhardt/4/9ab/b14
-
=========================


We all know this could be because autism is often caused by lyme or other chronic stealth infections however, it's good to see how HBOT helps here:

From BBC.com News

http://news.bbc.co.uk/2/hi/health/7940149.stm

Page last updated at 00:14 GMT, Saturday, 14 March 2009


Oxygen therapy benefit in autism: A decompression chamber may help children with autism, say researchers.


. . . After 40 hours of hyperbaric treatment autistic children showed significant improvements in social interaction and eye contact compared with controls. . . .

. . . .

- Full article at link above.
-

---

Posts: 48021 | From Tree House | Registered: Jul 2007 | IP: Logged |

WildCondor
Unregistered



posted

---

You have to get your ears and eyes checked during treatment, Those problems could have easily been avoided had you had proper care.

The best way to do HBOT is while on antibiotics, the most powerful combination possible. If you waste your time and $ on mild chambers, or multi-place chambers you will not be treating Lyme the right way. It has to be done in a monoplace chamber at 2.4 ATA. You can have babesia and still do HBOT, I did it, and all the patients I was doing treatment with did as well, and it only helped.

Here are the articles I did.

http://www.wildcondor.com/hyperbaric.html


The trick is to keep it up, not do 30 or 60 dives and then STOP. You have to keep going, do maintenance for about a year afterward. I would say to do 30 initial dives 2x per day, then 30 more 6 weeks later, ten take 4 weeks off and go back for 6 dives every 8 weeks. Then stretch this out to every 10, then every 12 weeks. Keep it up, don't stop cold, and pulse your antibiotics during HBOT sessions so you get maximum benefit.

Another thing, anyplace that charges you more than $175 per treatment is ripping you off. Don't buy into that, there are cheaper places, you just might have to travel. I have heard ridiculous rates of $250-$375 per dive which is just INSANE.

---

IP: Logged |

Raymond
LymeNet Contributor
Member # 13980


posted

---

Keebler...

Thanks...that's my point...the SPECT said decreased cortical perfusion....says nothing about hypo....hyper....but point is wonder what it would do with ICP....that's why I want a transcranial doppler ultrasond....but it is to little blood.....have problems with eyes anyway...now Thursday I do up in plane....first time I went and flew Angel Air small plane...got sick as dog....I wonder now if that was hypoxia...hmmmmmm

--------------------
Raymond
Leave the gun, take the cannolis


---

Posts: 214 | From Rhode Island | Registered: Nov 2007 | IP: Logged |

Keebler
Honored Contributor (25K+ posts)
Member # 12673


posted

---

-
"Decreased cortical perfusion" IS hypoperfusion. Just another way to say it. Decreased is hypo - whatever. Hypo always means low.

I would be very hesitant with ultrasound on the brain. Very - for a couple reasons far to lengthy to detail now but, basically, the brain of a lyme patient is very different than that of a person without lyme. Lyme patients are much more sensitive to ultrasound in general and sensory overloads (from even the slightest thing) can send the spirochetes in the brain into a seizure spin. Never a good thing.


I also don't think it would tell you much you don't already know. The picture is pretty clear . . . treating the infection is the number one goal. Just figuring out how is something your LLMD should be guiding, I hope.
-

---

Posts: 48021 | From Tree House | Registered: Jul 2007 | IP: Logged |

Raymond
LymeNet Contributor
Member # 13980


posted

---

Here is the other side Keebler....you say hypo I say hyper....let's call the whole disease off


Hyperperfusion encephalopathy (HPE) is a condition due to
increased perfusion of the brain which is clinically characterized
by headache, seizures, and other neurologic signs associated with increased (or not) systemic blood pressures and edema in the subcortical white matter (predominantly in the occipital lobe).
Patients with critical carotid stenosis treated with endarterectomy or carotid artery stenting may develop a HPE syndrome of the ipsilateral hemisphere which closely resembles the
unilateral HPE and that usually involves the vascular area subjected ipsilaterally to the carotid stenosis.

Not sure?? But called a HBOT place today and explained how I thought perfusion is a TBI (Traumatic Brain Injury) and if it is vasculitic or encephalitis means edema...Two questions can edema cause decrease blood flow, logical???? I do not know and if it is edema


why not covered by HBOT insurnace??????? A friend of mine who had no teeth could not pronounce a$$ holes so he used to say ahh hole.....yeap....But I talked to a guy at a HBOT place today in MO who told me the pressure we expierence now is 1ata so like Wild said we want something above 2 at least so the 2.4 would seem to fit.....

Now here is the other side....my perfusion is either vasculitic or encephalitis....no seizures, headaches like the old head is a 10 lane bowling alley, 30% carotid and white matter....edema causing the perfusion hmmpppppp let mes know whats yous think.

Oh one other thing Keeb, don't believe to many LLMD's know the dam theory behind the neuro stuff all to well....CIDP, Autonomic, AIDP, ADEM, the man on this stuff is not the neuro lyme guy in NYC. I am sure he has helped many so I will not question.....I would love to get into see NL...in NYC.....

When one has pressure the body has ways of releasing that pressure, by varices (sp) through the hemmroids....but this could be portal vein or aorta....makes me wonder.....

--------------------
Raymond
Leave the gun, take the cannolis


---

Posts: 214 | From Rhode Island | Registered: Nov 2007 | IP: Logged |

Keebler
Honored Contributor (25K+ posts)
Member # 12673


posted

---

-
Raymond,

If they said you had decreased perfusion, that would not be Hyperperfusion, though, but hypo. But, I do like the idea of "calling the hole thing off"

I also think things can change. You've probably read from Brian Fallon and Jenifer Nields' work with all this but, just in case, you can cross search with their names and these terms.

-- I'm no expert in this and am really toast so I hope others can guide you and that you something fun finds you tonight - somehow . . . somewhere (someone is breaking into a show tune).

======
Oh, I find that andrographis and also curcumin really help to alleviate pressure for me. Magnesium, to some degree, too.

Liver support will help relieve pressure to prevent esophageal varices. The better the liver works, the less pressure to all things connected.

--

You said: " . . .now Thursday I do up in plane . .. "

Do you mean that this Thursday you are to go up in a plane? Last time, the inner ear could have caused what you experienced. Be sure to get some ginger capsules. That is an anti-inflammatory that can help settle the inner ear - in turn, it calms down a lot of other symptoms.

There are also some homeopathics that work pretty well with motion sickness. Sit over the wing if you can, aisle seat. Look straight ahead as much as you can. Cool cloth or ice bag to the neck veins before take-off and landing and during turbulence.

BOIRON Tabacum 30 is one of those. Cocculus 6 is another.

I NEVER drink soda and as much as they lyme diet says no sugar, I gotta say that 7-up or Sprite has kept me from barfing all over the plane. Ginger capsules are not always enough.

Good luck flying. Be sure to keep blood sugar stable, too.

This all can get better. Really.
-

---

Posts: 48021 | From Tree House | Registered: Jul 2007 | IP: Logged |

laceyj
LymeNet Contributor
Member # 13862


posted

---

oh yeah i agree about the price

when i was considering it, i negotiated a cheaper price then they had advertised after checking with my insurance it wouldnt cover

---

Posts: 187 | From FL | Registered: Nov 2007 | IP: Logged |

Raymond
LymeNet Contributor
Member # 13980


posted

---

I throw this out there I was diagnosed with pseudo papilldema.......


under pressure.....neurological....

--------------------
Raymond
Leave the gun, take the cannolis


---

Posts: 214 | From Rhode Island | Registered: Nov 2007 | IP: Logged |
Contact Us | LymeNet home page | Privacy Statement

Powered by UBB.classic™ 6.7.3

---
The Lyme Disease Network is a non-profit organization funded by individual donations. If you would like to support the Network and the LymeNet system of Web services, please send your donations to:
The Lyme Disease Network of New Jersey
907 Pebble Creek Court, Pennington, NJ 08534 USA
http://www.lymenet.org/
---
Home | Flash Discussion | Support Groups | On-Line Library
Legal Resources | Medical Abstracts | Newsletter | Books
Pictures | Site Search | Links | Help/Questions
About LymeNet | Contact Us
---
© 1993-2020 The Lyme Disease Network of New Jersey, Inc.
All Rights Reserved.
Use of the LymeNet Site is subject to Terms and Conditions.
---