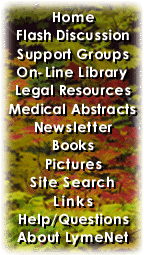 ---
LymeNet on Facebook
LymeNet on Twitter
---
---
The Lyme Disease Network receives a commission from Amazon.com for each purchase originating from this site.
When purchasing from Amazon.com, please
click here first.

Thank you.




Dedicated to the Bachmann Family


LymeNet needs your help:
LymeNet 2020 fund drive

The Lyme Disease Network is a non-profit organization funded by individual donations.

| | |
| --- | --- |
| | |
Author
Topic: how to find an assistant

dguy
LymeNet Contributor
Member # 8979


posted

---

I find myself no longer able to get out and do basic things like food shopping, banking, post office, etc., and don't have any friends/family willing to help. Sounds like time for a personal assistant.

Any recommendations on how to locate a reliable one? Advice, and experiences welcome. Thanks.

---

Posts: 727 | From USA | Registered: Mar 2006 | IP: Logged |

dmc
Frequent Contributor (1K+ posts)
Member # 5102


posted

---

can try local social services office in your town Try the "blue pages" in phone book.

They may have a program or hook you up with a church program.

Here in my town we have a program that even has volunteer drivers take someone to appts. too.

It's under the own's social service...even has wheelchairs to borrow.

good luck.

---

Posts: 2675 | From ct, usa | Registered: Jan 2004 | IP: Logged |

Lymetoo
Moderator
Member # 743


posted

---

OR .. call a home health care agency and ask if they have any referrals.

--------------------
--Lymetutu--
Opinions, not medical advice!


---

Posts: 95654 | From Texas | Registered: Feb 2001 | IP: Logged |

njlymemom
LymeNet Contributor
Member # 15088


posted

---

some pharmacys deliver

some grocery stores do too, you can even order online

--------------------
This is NOT medical advice - and should NOT be used to replace your MD's advice. Info is only the opinion of those who publish the site.


The shortest way to do many things is to do only one thing at a time.

cb


---

Posts: 669 | From somewherebetweentherocks | Registered: Mar 2008 | IP: Logged |

Keebler
Honored Contributor (25K+ posts)
Member # 12673


posted

---

-
I have lots of ideas as I've had to rely on others for everything. I'm not very well organized so while I wait for food on stove to heat up, I'll just work off the top of my head.

As suggested above, many stores offer a delivery service. Even if they don't you might arrange something with stores in your area. This is much cheaper than paying someone to shop for you - MUCH cheaper.

You can also order so much on line. For what you need done in person:

* Prioritize what you need to be done.

* Set your budget (that priority list may need an edit, then).

* Find out your obligations as an employer regarding employment and tax laws; DMV records, etc.

* Do you need to have property insurance in case of accident? If not, do you need to disclose that to an employee up front?


Regardless of if you are hiring for 4 hours a month or 40 a week, the same precautions apply. For some, they require a certain number of minimum hours or in blocks of time.

If you will be riding with them, check with the DMV as to their driving record, if you can do that. You must have proof of their auto insurance coverage and be sure you get the updates upon renewal. You can't afford to be in a car that is not properly insured.

I've also paid for a AAA membership with extended area towing in the zones where we'd be traveling. If stranded, I need to have that protection and actually the AAA membership would be YOURS - regardless of the vehicle you are in.

For someone driving you, you should cover mileage and a little extra for upkeep. Do a practice run to be sure you can tolerate their driving. This is no joke. It's hard to do but important and if you have a friendly demeanor, they should understand.

Hiring from an agency will be very expensive. Most doing domestic service will charge $25 or more an hour. And they are worth it and more, actually. But in our positions, well . . . .

Unfortunately, I just can't do that. However, I seem to rotate with out-of-works friends for about $15.00 an hour for housework and taking laundry over the the next building.

I don't think you can find anyone for less and I'd rather cut hours than pay anyone less than that for labor intensive work. If they fall on the stairs with the laundry basket, etc, I'm not covered by any insurance so you might want to see about any policies you have. It would be good to have some sort of homeowners' or apartment dwellers' insurance but I can't and I tell them that on the first interview.

You might also offer to pay a little exra for gas if that seems appropriate to the situation.

As far as how to find someone. Making up a flyer and emailing to your friends is good in case they know of someone. Any organizations where you are a member, the library, colleges nearby (deal specifically with the office that posts job openings).

As for interviewing, I have a page on that somewhere but that can be a minefield and no easy task figuring out what to tell them about your health- not too much, just what they need to know to do the job. You have no need to defend or explain yourself at all.

Too often those who are ill get into bad pattern here. You are simply hiring for housework. They need not know your history. However, if you will be home when they are there what works best for me is to simple say I have an inner ear condition. They need know no more than that.

Be sure to check not only the references they give you but some you come up with on your own from their resume (or work history).

I also suggest finding out in your interviewing conversations how they feel about disabled people. I swear I've had some apply how just hated sick people. Listen closely.

After some time with one person we were out and she saw a group of very elderly and disabled people board a bus for an outing. She actually said that there should be law that at a certain age, if someone could not work and could not longer support themselves on savings that they should be euthanized - just put down like a dog. She actually meant that, too.

This was not the first veiled insult she had thrown my way but it confirmed her stance and I just could not be around her knowing she thought I had no right to live being so disabled.

I once had seizure out in public and she just walked away and pretended to not even know me. She did take me home, though. As she was the only person I could find to help, I just overlooked that as her maybe being too embarrassed. But I really knew that I disgusted her and she just needed a few extra buck.

But that "putting sick people down like dogs" comment clearly ended our relationship. Had she not been just an acquaintance - just getting few bucks for a causal working relationship I would not have been legally able to fire someone for their attitude (but I would have for them ignoring my needs during a seizure).

But, you really don't want to hire someone who is going to be like that.

Moving along, now. Sometimes, you can get reliable high school student. You may have to train them a bit more but it may be well work it.

You will need to check the law to be sure whomever you hire is a citizen and copy 2 or more pieces of ID, etc. You must keep that information in a locked drawer for legal privacy matters.

As for taxes: I don't know the cap now but it used to be $1,000 per quarter and you would be required to pay payroll taxes.

You might be able to contact the IRS or a small business organization at your nearest college for some guidance. Your local United Way or Employment agencies may be able to help with suggestion both for organizing your search and with those who may be interested.

Never hire someone on the spot. Always think it over for at least a day or two. You might also do a trial period for one or two work sessions to get an idea of their work ethic and strength.

You will likely have people apply who may not physically be able to do the job. It is heart wrenching when that happens. So, it helps to have a list of chores outlined in advance.

I don't know the law about asking if they can do the job or training for someone who does not even know the proper body mechanics for operating a vacuum but walks with an obvious back injury. These are considerations.

You also have to decide if you can handle someone who smokes - at all. I'm so allergic that I can't even be around someone is around another smoker. Same for perfumes, etc. This can be clear from the start. I make sure they know it's about my allergies.

Cell phones and emails should also be addressed. With friends who are being paid, this can get tricky if they just take a break or get personal calls.

Find out the law about breaks and lunch time.

Regarding errands - if they also do their own when out for you, the time must be adjusted. And, it just makes sense if they are in a place where they might pick up a thing or two it would be nice but this can get a little blurry.

It's not easy to find the right person and it's even harder if they just don't show up one day when you were counting on them to drive you to the doctor. However, you also don't want them to come when ill. So, all that has to be discussed up front.

I found that just letting the person talk about themselves and what they value in life will tell me a lot about their work ethic.

Your personal and financial safety: Driving drunk, arriving drunk is immediate grounds for dismissal. I had a guy once who drove me across town to an appt., barely missing many wrecks. When we got back home (by the skin of our teeth) I picked up his 7up can and could smell the alcohol.

I also had a drug dealer who has a criminal history that became clear to me only after a month (and he came through an agency who called me while he was there and told me to call the police). His being married to his text messages should have clued me in.

You will want to have a secured lock place for your checkbook, address book, wallet, etc. for when your helper comes. If they are around your computer and you rest in another room, turn off the computer and make sure it is accessible only with a password.

You should be able to find a basic legal document that covers this sort of thing but if you sense something is wrong trust your instincts. I should have done that with the drunk driver but I kept thinking, "noooo, that can't be" because it is just incomprehensible. But it happens. You cannot tell by how a person looks.

All this is not to scare but to prepare you. If you make this sort of screening process very professional you can weed out those who are not serious.

Always keep the conversation professional, too. They are not there to be your buddy, they are there to work. A friendly relationship is good but, beyond that, and things can start to fall apart.

Oh, if you work alongside of the helper for some tasks, be prepared for judgment. I once had someone say: "I saw you lift that - how dare you be on SSD or collect food stamps."

Seriously, they had no idea that my lifting a bucket one day meant I'd be knocked out for week - or how much that hurt. I was only trying to get the work done because my worker was not doing the job correctly. That really backfired.

One avenue to be very careful of: conversation. This can really cost you big bucks and also be emotional costly, so be mindful of the standard you set from day one. You can be very friendly but, again, you are not paying for a buddy.

Sorry that all is not on a more readable list. It's not complete but it gives you a start. I've need help since '95 (sigh !) and I've had a few disasters but also some very nice connections. If you picture exactly what you need done and the kind of strength and energy (including a positive attitude) needed for that you may find just the right person.

-

[ 02-14-2010, 10:26 PM: Message edited by: Keebler ]

---

Posts: 48021 | From Tree House | Registered: Jul 2007 | IP: Logged |

Alana
LymeNet Contributor
Member # 14077


posted

---

Good luck dguy. I'm sure everyone here feels for you...a lot of us are in the same predicament.

Keebler, this advice is awesome! Thanks so much!

We are in the process of looking for a "helper" too.

I've found a few agencies online. On one, I sent messages to those who seemed to fit what we need. I explained in detail what we need. Most "candidates" didn't bother replying, and if they did, they already had jobs!!

Another agency had a $1200 fee!!

There's another agency that seems to be better, and I will speak with the director of the company next week. The hourly rate is expensive ($25), but potential "helpers" have been interviewed, pre-screened, and extensive background checks have been done on them.

One lady that we interviewed from the first agency was so irate that we ordered a background check on her (told her we'd do this during the interview). She said the "only" reason we did this was to find out the details of her divorce. Yeah, we have nothing better to do.

As someone said previously, you can now shop for groceries online (depending on where you live) and have them delivered (small fee). This is extremely convenient, and allows you to really take advantage of sales.

Also some of those same grocery stores have pharmacies too, so you could also have your meds delivered. And, private pharmacies often deliver too. If yours doesn't, call them and ask if they'd be willing.

---

Posts: 214 | From where ticks flourish | Registered: Dec 2007 | IP: Logged |

dguy
LymeNet Contributor
Member # 8979


posted

---

Thanks for all the replies, lots of things I would not have thought of on my own.

Supermarket delivery can be helpful, and I do make use of that service, but between dizziness and pain, I have trouble unloading what arrives. Some stuff can just sit around, but of course other stuff needs to go in the freezer, etc. and the delivery folks won't do that. And after all, like many lymies, I appear basically healthy to the eye.

Hmm, it looks like hiring an independent assistant directly introduces all sorts of paperwork and liability issues. My thought is to therefore go through some sort of agency that worries about that, which then makes this similar to hiring a temp at a normal workplace. However, that probably drives up the cost.

My searches online haven't turned up much, but I might not be searching the right keywords. A few minutes ago it occurred to me to search for elder care services. I'm middle aged, but the services I need are like those needed by an elderly person. I doubt they'd refuse me because I'm "too young".

I haven't begun to study if Medicare (via disability) would cover any of the cost of an assistant.

---

Posts: 727 | From USA | Registered: Mar 2006 | IP: Logged |

Keebler
Honored Contributor (25K+ posts)
Member # 12673


posted

---

-
Medicare does not cover assistants or care-giving.

To qualify for in-home caregiving services through your state medicaid, you have to be able to qualify for medicaid. Not everyone who is disabled qualifies. Nor does everyone who is low income.

Call your county Adult and Family Services. Although each state has different medicaid regulations, each COUNTY can also have their own criteria and that can vary widely from one county to the next.

You can search on line for the guidelines for your county but, be aware, it sounds much better on line. When you actually talk to them they can give you more details.

You could ask for an in-home evaluation but most lyme patients simply do not fit into the questionnaire categories.
-

[ 02-16-2010, 04:52 PM: Message edited by: Keebler ]

---

Posts: 48021 | From Tree House | Registered: Jul 2007 | IP: Logged |

LightAtTheEnd
LymeNet Contributor
Member # 24065


posted

---

Schwan's will send a truck once a week with frozen food, and you can place your order on the internet ahead of time.

I have heard of them bringing it in and putting it in someone's freezer for them, but I don't know if that's usual or was just an extra-friendly delivery person going beyond the call of duty.

They made it to an extremely remote location I heard about, though only every 2 weeks, and they are in my town as well, so I think they go all over the US.

Laundromats near me will charge by the pound to wash, dry and fold your laundry, if someone can drop it off and pick it up.

Someone may have a home-based business running personal errands for people, and you could pay them as an independent contractor instead of an employee and avoid some of the legal and tax issues, if they work for several clients and not just you.

There are some online meal delivery services that send meals once or twice a week. Some of them even have fresh food instead of frozen. Depends where you live, and it's expensive.

Expensive services look more attractive if the cost of an employee would be even higher than that.

But if you're buying services from somebody's business, such as housecleaners, etc., it doesn't matter if you're sick or not. You're just paying them to do a job for you and that's it.

Online banking can be great for paying bills--besides managing your accounts, some banks let you use online bill pay free or inexpensively, and besides electronic transfers to major utility vendors, they can issue and mail a check to anyone, so you don't have to buy stamps or drop off mail at the post office.

If you have mail delivery at your home, usps.com has some online services. You can buy postage online and print it, or request your mail carrier to bring you stamps. I think you can call the post office to come and pick it up if you send priority mail, unless it is over 13 oz.

There are mobile services that will come to your home or office and wash your car or change your oil, depending on where you live. Maybe you don't need that, if you can't get out to drive yourself places.

If you have pets, there are pet sitting services of people who come to your house to walk your dogs when you're on vacation. No reason they couldn't walk your dogs or change your kitty litter, etc., while you're home.

You really can buy almost anything online and have it delivered to your door, especially if you're usually home to sign for it.

I guess that doesn't help with finding an assistant, but those are some ideas for how to try to get by without one until you find somebody.

Your local newspaper or giveaway paper may have ads from people who have their own businesses doing freelance work, which could include handypersons, housecleaners and errand runners. They might also put up flyers in public libraries and laundromats.

--------------------
Don't forget to laugh! And when you're going through hell, keep going!

Bitten 5/25/2009 in Perry County, Indiana. Diagnosed by LLMD 12/2/2009.


---

Posts: 756 | From Inside the tunnel | Registered: Jan 2010 | IP: Logged |

dguy
LymeNet Contributor
Member # 8979


posted

---

Keebler - wonderful info, thanks so much for it.

I can understand your concern about personal info. I have a credit card company (Discover) taking advantage of my being disabled. There was a fraudulent charge on my account which they agreed in writing to credit. They did not post the credit, and instead came after me for the money after I cancelled the card. Being too sick to defend, I sent them a check.

In that sequence they found out I am disabled, so the next month they demanded the same payment again! It was making me too sick, so I crumbled and paid them again. A few months have passed, and now they are demanding the same money from me for a third time! Letters to Discover's president go unanswered.

[ 02-15-2010, 06:41 PM: Message edited by: dguy ]

---

Posts: 727 | From USA | Registered: Mar 2006 | IP: Logged |

steelbone
LymeNet Contributor
Member # 14014


posted

---

If you live near franklin mass i would personally try and help you the best i could

--------------------
All The Best,
Paul
[email protected]

The harder you work the luckier you get!


---

Posts: 965 | From Nebraska Cornhuskers fan in Massachusetts | Registered: Dec 2007 | IP: Logged |
Contact Us | LymeNet home page | Privacy Statement

Powered by UBB.classic™ 6.7.3

---
The Lyme Disease Network is a non-profit organization funded by individual donations. If you would like to support the Network and the LymeNet system of Web services, please send your donations to:
The Lyme Disease Network of New Jersey
907 Pebble Creek Court, Pennington, NJ 08534 USA
http://www.lymenet.org/
---
Home | Flash Discussion | Support Groups | On-Line Library
Legal Resources | Medical Abstracts | Newsletter | Books
Pictures | Site Search | Links | Help/Questions
About LymeNet | Contact Us
---
© 1993-2020 The Lyme Disease Network of New Jersey, Inc.
All Rights Reserved.
Use of the LymeNet Site is subject to Terms and Conditions.
---