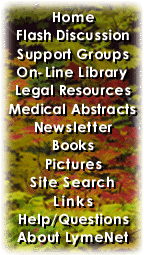 ---
LymeNet on Facebook
LymeNet on Twitter
---
---
The Lyme Disease Network receives a commission from Amazon.com for each purchase originating from this site.
When purchasing from Amazon.com, please
click here first.

Thank you.




Dedicated to the Bachmann Family


LymeNet needs your help:
LymeNet 2020 fund drive

The Lyme Disease Network is a non-profit organization funded by individual donations.

| | |
| --- | --- |
| | |
Author
Topic: Why won't the toxins go away???

kday
LymeNet Contributor
Member # 22234


posted

---

I am familiar with how my body detoxes. However, the toxins won't go away. My nervous system is very agitated and I hate giving into taking more benzodiazepines. I took a break today from my protocol today because I felt too ill to keep going, and I've been down the take it anyway road with antibiotics. That approach doesn't do anything except make my life miserable.

I've tried:
*áNAC
* Whey
* Milk Thistle
* Vitamin E/Selenium
* Burbur 3x
* Activated Charcoal
* Apple Pectin
* Lots of water with trace minerals

I didn't use things like Chlorella, because it my case, it can intensify things. A warm epsom bath sounds horrible in my mind.

I know what being toxic feels like. It's like being poisoned. These are toxins, and my body is not ridding them.

I was going to take a break from the forum, but this is just irritating the crap out of me. I have been herxing, but I can usually clear the toxicity within 2-3 days (with supplement help).

I also feel like I am burning up, but my temperature is normal. I am known to feel cold, so perhaps I have caught some type of bug as well. My little brother is sick with a bug with unspecific symptoms and no fever. I feel like I want an ice cold bath, which is just so unusual since I am always cold.

My heart rate was about 140 all day on during the worst part of the herx. Everything is normal now, but I feel worse than when my heart rate was 140.

I am so frustrated. My head is so fogged too. This disease makes no sense. Going from doing well, to hell in 3 seconds.

---

Posts: 967 | From A deserted island without internet access | Registered: Sep 2009 | IP: Logged |

TF
Frequent Contributor (5K+ posts)
Member # 14183


posted

---

My now famous lyme doctor told me to eat 4 lemons per day and drink plenty of water to detox.

I was to do this throughout lyme treatment. It made my herxes mild. It worked really well.

In the morning you can squeeze a lemon into warm or hot water to make a sort of lemon-water tea.

If you like your water cold or with ice, you can squeeze the lemons into that. Drink it all day long.

Lemons are natural cleansers of the body is what he told me. Worked for me.

To help your nerves, get sublingual Vit B12 at a health food store. Take as many as it says to take in a day. You let them dissolve under your tongue. Do NOT swallow them.

I really, really believe the lemons will give you relief. Eat a lot of them. Cut them up and squeeze them into the water, and then eat what is left of the fruit.

I hope you feel better speedily!

---

Posts: 9931 | From Maryland | Registered: Dec 2007 | IP: Logged |

Keebler
Honored Contributor (25K+ posts)
Member # 12673


posted

---

-
As long as there are spirochetes, there will be toxins. As long as we are alive, there is metabolic waste our bodies need to remove via the colon.

If the liver is supported, it is easier. If you can't do lemons (for some they are too acidic and tear up the stomach), there are many other ways. Milk Thistle works is a different way and offers protection in a way that lemons don't. Lemons do help stuff move on through but so do dark berries.

I also could never afford 4 organic lemons a day. That's nearly a month's food budget right there. We all just do the best we can.

It gets easier. But, still, it is an on-going dance. Good luck.
-

---

Posts: 48021 | From Tree House | Registered: Jul 2007 | IP: Logged |

WildCondor
Unregistered



posted

---

How do you know the difference between what are toxins and what are the infection(s)?

---

IP: Logged |

massman
Unregistered



posted

---

Sounds like your detox organs - not just the liver - are not working well. Could be any or all of them.
________________________________________________
Reality is more important than theory. Every time.


---

IP: Logged |

Marrit
LymeNet Contributor
Member # 25454


posted

---

See my post on Parasites, Headaches, and the J-H Reaction. Parasites might be adding to the load.
It's always a possibility.
Be advised though that according to med research, it can take 5-10 stool samples to catch and detect the parasite because of the intermittent shedding.

---

Posts: 277 | From Pennsylvania | Registered: Apr 2010 | IP: Logged |

gwb
Frequent Contributor (1K+ posts)
Member # 7273


posted

---

Jerniagan's Neuro-Antitox ll is what worked effectively for me. I was tested as having ammonia in my brain, heart and liver. First I was on Neuro-Antitox Cardio now I'm on Neuro-Antitox Musculo-Skeletal.

If you go to this link here http://abc.eznettools.net/jernigannutraceuticals/Neuro-Antitox2.html you can read the four different formulas they have and pick out the one the closest matches your symptoms. The most popular one is the CNS/PNS formula but read each one of them and see which best fits your symptoms.

All of these formulas are very effective at removing toxins and they do not cause harsh herxes either. It's completely removed the ammonia from my body and has been a very effective toxin remover for me.

You might find this article interesting related to lyme toxins being the primary cause of our symptoms:

http://findarticles.com/p/articles/mi_m0ISW/is_285/ai_n19170382/?tag=content;col1

Gary

---

Posts: 1349 | From OK | Registered: May 2005 | IP: Logged |

kday
LymeNet Contributor
Member # 22234


posted

---

quote:

---

Originally posted by WildCondor:
How do you know the difference between what are toxins and what are the infection(s)?

---

I think it's fair to say it may be both. The infection causes toxins. I had a herx, and the best way I can describe it is that I feel very toxic. As if you ingested a poisonous substance (and I have been poisoned before).

Thanks Gary, but at the moment, it would be nice to find something that removes ammonia that I can find locally.

I've read that Goji detoxes ammonia. Is this true? I'm feeling a little better today, but the chest pain (left-sided) is killing me. I'm familiar with this type of chest pain as well, and EKG is always ok. I've had some pain in my feet this morning which makes me think my kidneys aren't doing their job. I don't think it's bartonella because I don't usually have pain in my feet in the morning.

---

Posts: 967 | From A deserted island without internet access | Registered: Sep 2009 | IP: Logged |

gwb
Frequent Contributor (1K+ posts)
Member # 7273


posted

---

Transformation TPP Protease good for kidneys and much more. See below.

* Impaired Kidney Function
* Heavy Metal Toxins
* Modulation of the Immunce System

TPPTM Protease is a proprietary blend of highly active proteolytic enzymes with a wide range of pH stability. Proteolytic enzymes taken orally under certain conditions have been shown to be absorbed in substantial quantities into the blood.

Once in the blood circulation, the enzymes in this blend bind to serum proteins, particularly alpha 2-macroglobulin (a2M), and impart immunomodulatory benefits. One of the best-established functions served by the oral proteases in TPPTM blend is in the maintenance of normal blood flow.

This is accomplished by breaking down blood clots (fibrinolysis) and platelet aggregation within blood vessels and breaking down excess extra-vascular plasma proteins as in edema. TPPTM Protease will also enhance the hydrolysis of food proteins for enhanced bio-availability of amino acids.


INDICATIONS:

IMPAIRED KIDNEY FUNCTION - Glomerulonephritis: In this disease there is a build up of protein in the basement membrane of the glomeruli of the kidneys. Fluids must pass through this basement membrane in the initial phase of the filtration of the blood by the kidneys.

Recent research using an animal model of this disease "lends further support to the concept that enzymes capable of degrading immune complexes in situ can ameliorate glomerulonephritis".

HEAVY METAL TOXINS - Heavy metals such as lead (Pb) and mercury (Hg) exert their poisoning effect by binding to ionizable or sulfhydryl groups of proteins, including vital enzymes. Once these metals bind to an essential functional protein, such as an enzyme, they denature and/or inhibit it.

This interaction of heavy metals to proteins can lead to degenerating diseases, nerve damage or even death. When taken on an empty stomach, it should be noted that protease is readily taken up into the mucosa cells of the intestine and passed into blood circulation.

Clinical observations have noted that upon high intake of TPPTM Protease, heavy metal concentrations have been significantly decreased in the blood.

MODULATION OF THE IMMUNE SYSTEM - As a result of their coupling to a2M, Tzyme˘ proteolytic enzymes exhibit an increased binding of several very important cytokines (hormones-like molecules which have a powerful influence on immune cells) such as Transforming growth factor-beta (TGF-b), and Tumor Necrosis Factor-alpha (TNF-a).

Studies have indicated that oral hydrolytic enzymes affect cytokine synthesis and modulatory effects. For instance, TNF-a synthesis, which is a necessary step in host defense against tumor cells, is impaired when experimentally inactivated oral proteolytic enzymes were used.

Thus, active, GI stable and functional oral enzymes that are absorbed in the blood stream can provide therapeutic applications. In addition, studies have shown that oral proteolytic enzymes increased the tumoricidal and cytotoxic activities of polymorphonuclear neutrophils.

COMPONENT BENEFITS:

TzymeTM Protease Blend in TPPTM Protease provides vital systemic benefits that include support of adequate blood rheology for optimum flow of immune cells, their meditating molecules, hormones, blood cells and other vital molecules and cells.

The superb absorption abilities and high functionality of this product are certain to enhance and optimize overall protein hydrolysis. These benefits, in turn, facilitate and support a wide array of metabolic processes.

Bromelain, an important addition to the TzymeTM Protease Blend, is a protease derived from the pineapple plant. It has been used for many years as a digestive aid, anti-inflammatory and burn debridement agent. Its actions help to prevent swelling/edema, promote smooth muscle relaxation, inhibit platelet aggregation, and enhance antibiotic absorption.

Bromelain is also used in cancer treatment, ulcer prevention, sinusitis relief, appetite inhibition and shortening of labor. Proteolytic enzymes administered orally improved the survival time, the hematological parameters of spontaneous lymphoblastic leukemia in rats, and the metastasis and survival time of mice with Lewis lung carcinoma.

Several hypotheses have been put forth as to the mechanisms by which proteolytic enzymes modulate the immune system to control and eliminate tumors.

Some studies indicated that proteolytic enzymes selectively remove some adhesion molecules such as CD4, CD44, B7-1, ICAM-1, B7-2, CD45RA, CD6, CD7, E2/MIC2, and Leu81/LAM 1 from cell surfaces According to Hale et al. the removal of these surface molecules has markedly enhanced CD2 mediated T-cell activity.

Some studies have implied that by removing the glycoprotein CD44, some proteases help control the tumor growth of certain types of cells. This selective removal of some mediator proteins, and the regulation of cytokines constitute some factors by which proteolytic enzymes are thought to modulate the immune system and act as biological response modifiers."

Source: http://www.enzymes.com/tpp_protease.html

---

Posts: 1349 | From OK | Registered: May 2005 | IP: Logged |

WildCondor
Unregistered



posted

---

Okay so you can tell the difference then. Have you tried FIR sauna? It really helps for detox.

---

IP: Logged |

djf2005
Frequent Contributor (1K+ posts)
Member # 11449


posted

---

Try Pekana drainage kit.

It is better than any of the stuff you listed IMO.

--------------------
"Experience is not what happens to you; it is what you do with what happens to you."

[email protected]


---

Posts: 2269 | From Lansdowne, Pa | Registered: Mar 2007 | IP: Logged |

zil
LymeNet Contributor
Member # 12048


posted

---

I did this and it was just too much die off for my body to handle. I went off the antibiotics for about a week then started back at a lower dose. If your taking numerous antibiotics at the same time it's too much. An epsom salt bath would really help you feel better if you can get your mind around it. There is a lavender epsom salt at wal-mart. I don't know how much it helps detox but it is relaxing.

---

Posts: 383 | From Ar | Registered: May 2007 | IP: Logged |

kday
LymeNet Contributor
Member # 22234


posted

---

Bart symptoms intensifying now. Perhaps the depakote really was helping. I hate this bull****. Stabbing head pains, falling feeling, etc. Where can I go to get evaluated and treated inpatient?

I'm done with this. Nearly had someone call the ambulance at the grocery store. Had Xanax in my pocket. However, it only helps so much. What I need is a Bart drug and IV tranquilizers. I don't think treating Lyme is realistic (naturally or pharmaceutically) until Bart is suppressed. I'll fly anywhere.

To be fair, I felt like crap, so perhaps my nervous system reacts more to the Bart symptoms?

---

Posts: 967 | From A deserted island without internet access | Registered: Sep 2009 | IP: Logged |

lymebytes
Frequent Contributor (1K+ posts)
Member # 11830


posted

---

I recommend trying Infrared Sauna - best investment I have ever made.

Activated Charcoal works very well, maybe try a different brand?

--------------------
www.truthaboutlymedisease.com


---

Posts: 2003 | From endemic area | Registered: May 2007 | IP: Logged |

massman
Unregistered



posted

---

Amen lymebytes ! I love them too.

---

IP: Logged |

seibertneurolyme
Frequent Contributor (5K+ posts)
Member # 6416


posted

---

kday,

There are at most a half dozen LLMD's who have hospital admitting priviledges -- actually I can only think of 1 off the top of my head -- but do think there are a couple of others. And unfortunately the one I know is not a very big believer in bart and did not believe hubby's Fry slide at the one appointment we had with him.

When I read your post earlier today my first thought was that your problem was bartonella rather than toxins.

Hubby had an LLMD appointment this past Tuesday -- it lasted about twice as long as normal. He saw a new P.A. and spent half the time trying to convince her that his tremors which were the worst they have been in 6 months or more and all his other symptoms which have gotten worse were from bart. She thought his babesia was coming back.

Hubby's symptoms became much more bothersome after he increased the oral zithromax from 300 mg daily to 600 mg daily. He stayed on this dose for a month and just continued going downhill. In desperation 3 days before the appointment we added back factive. As we expected the factive made him feel better.

His LLMD agreed that bart was probably the primary infection and decreased his zith dose back to 300 mg daily and had him add 1/2 a factive pill daily. Hubby is doing much better. The other thing we did about a week ago was increase his lumbrokinase from 2 pills daily to 3 pills daily.

Hubby had previously taken zithromax at 300 or 600 mg 3 days per week for an entire year. Even so, obviously he still has a high load of intracellular pathogens (bartonella, BLO, mycoplasma or whatever). And the mino and rifampin were not enough to kill whatever was being released. But the factive seems to be working fairly well -- headaches are better, sweats have decreased, off balance feeling is slightly improved.

At this time his LLMD did not want hubby to stop antibiotics to repeat the Clongen bloodslide and to do the Galaxy test. We felt the test was too expensive to take while still on antibiotics. I so wish we actually knew what the specific pathogen is, but at least for now we have a plan for the next couple of months for treatment.

Hopefully hubby's liver enzymes have dropped back to normal and we can continue on the 900 mg daily of rifampin. The zithromax was actually the med which raised his liver enzymes.

I still think at some point it may require some sort of IV meds to get rid of the bart or whatever. We have been treating this fairly aggressively for 2 1/2 years now and obviously are not done yet.

For hubby at least when treating bart too aggressive treatment is just as hard to tolerate as too little treatment. When he first started treating bart in the hospital they tried IV Doxy, IV Amoxycillin, IV Cipro and oral Rifampin. At that time he could not tolerate any of those meds. And at the time he was on 8 mg of IV Ativan plus IV Phenergan.

Then he tried oral levaquin at 1/2 pill for a couple of months before increasing it to a whole pill for 2 more months. We have continued gradually increasing bart meds from there. Orginally he could only tolerate one antibiotic at a time. He eventually got to the point he was on 5 antibiotics but has had a couple of crashes along the way and had to back down on meds.

I do believe slow and steady is the way to go with very severe infections. You will get there eventually. Hopefully you can find a good PCP who can work with your LLMD.

Take care.

Bea Seibert

---

Posts: 7306 | From Martinsville,VA,USA | Registered: Oct 2004 | IP: Logged |

kday
LymeNet Contributor
Member # 22234


posted

---

When I first started treatment, I stopped doxy after 4 days because of a massive herx (hospital). I struggled on every antibiotic. Now I am trying to do things naturally, and hell, it really isn't easier than antibiotics. You would think so. Not for me.

Like I posted before, I have massive spirochetemia found under live darkfield microscopy. I talked to the doctor that originally diagnosed me (I would call her Lyme aware as she insisted I test through Igenex after one visit) and told her that my strain can be seen under live darkfield microscopy. She told me she already knows that, and she refers people to a clinic in Reno, NV for confirmation. She said it was a shame that doctors generally don't recognize that you can see certain strains in the blood. I was surprised she actually knew this, as everyone on the forum here was arguing with me. She even told me she was interested in purchasing her own scope. There seems to be some awareness about this approach in NV and parts of Northern California according to her.

I wonder if it's the massive amount of spirochetes that cause such extreme anxiety and palpitations, or if it's really bart. Clongen seems reputable, and for $100 maybe it's worth to see if I really have the organism.

While it seemed I had a brain herx on every dose of Cipro, Cipro made CNS stuff worse (and by worse I mean torture) for many months (and still probably to this day), so I am a little worried about anti-bart meds. Unfortunately I do have the majority of the symptoms, but of course, not a positive test for it.

---

Posts: 967 | From A deserted island without internet access | Registered: Sep 2009 | IP: Logged |
Contact Us | LymeNet home page | Privacy Statement

Powered by UBB.classic™ 6.7.3

---
The Lyme Disease Network is a non-profit organization funded by individual donations. If you would like to support the Network and the LymeNet system of Web services, please send your donations to:
The Lyme Disease Network of New Jersey
907 Pebble Creek Court, Pennington, NJ 08534 USA
http://www.lymenet.org/
---
Home | Flash Discussion | Support Groups | On-Line Library
Legal Resources | Medical Abstracts | Newsletter | Books
Pictures | Site Search | Links | Help/Questions
About LymeNet | Contact Us
---
© 1993-2020 The Lyme Disease Network of New Jersey, Inc.
All Rights Reserved.
Use of the LymeNet Site is subject to Terms and Conditions.
---