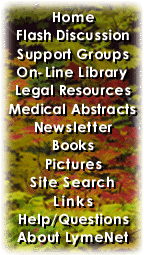 ---
LymeNet on Facebook
LymeNet on Twitter
---
---
The Lyme Disease Network receives a commission from Amazon.com for each purchase originating from this site.
When purchasing from Amazon.com, please
click here first.

Thank you.




Dedicated to the Bachmann Family


LymeNet needs your help:
LymeNet 2020 fund drive

The Lyme Disease Network is a non-profit organization funded by individual donations.

| | |
| --- | --- |
| | |
Author
Topic: Will somebody please explain what is going on?

worldsaway
Junior Member
Member # 27624


posted

---

I do not understand what is going on with this Chronic Lyme debate thing. Will somebody please explain this? I have been reading SO MUCH about Lyme over the past few weeks, and still, it makes no sense. I can't figure out if I am dumb or what. I have read so many horrible stories from suffering people, and also read the ever so intelligent and sane sounding 2-4 week guildlines for treating Lyme. They make it sound like they know everything and the people who say Nay! are insane and ridiculous, but if their guidelines really worked, WHY for the love of God would anyone spend thousands and thousands of dollars of their own money for IV antibiotics? What is happening? @[email protected] Sorry if this is a dumb question, but these experts are all making me feel utterly insane.

I was in the hospital for the neurological symptoms of Lyme, which have now progressed to nearly every symptom of Lyme. I'm from PA, so you'd think that this would be, you know, at least some kind of indicator. The only thing I've gotten from doctors is that I must be nuts or have some random untraceable thing they can't do anything about, like CFS. Oh, and a prescription for Vicodin and thousands of dollars in medical bills. First, they tested for MS, then, Lyme, which they said was negative, so, being oblivious to all these debates, ruled out, then, to a Rheumatologist, who tested for Lupus, said ANA titer was too low of a positive, told me I had fibromyalgia but I should be tested for POTS, and now I have an appointment with an ID, another doctor who will not fine anything as she is testing things that have been tested 10000 times, a Rheumatologist who specializes in Chronic Fatigue, and finally, an LLMD in two months.

I am getting sicker and sicker, people who seem to genuinely care and are very sick themselves tell me to see an LLMD, and tell me I almost certainly have Lyme. All these people with similiar stories of being told their nuts (a social worker actually tried to send me to my school's disability office with a notice I had to be monitored for mental health issues) and doctor after doctor keeps having no clue, telling me I'm overreacting, telling me it's all in my head, telling me I have fibromyalgia, etc. If so many people are like me, who keep having these problems, why are the doctors so ignorant?

I spent the last three days homebound. Aches and pains of everyday living my a$$.

---

Posts: 4 | From Pittsburgh | Registered: Aug 2010 | IP: Logged |

LSG Scott
LymeNet Contributor
Member # 21624


posted

---

man i am living it and there are so many entangables that i don't even know where to begin

i wish you luck on this answer getting its due dilaginse

yes i know my spelling stinks sorry

Scott

--------------------
LSG Scott


---

Posts: 506 | From Boston, Cape Cod, Mass | Registered: Aug 2009 | IP: Logged |

Paul Mall
LymeNet Contributor
Member # 27581


posted

---

Mainstream doctors are following a set of guidelines that are worthless when diagnosing lyme disease

50 percent of doctors believe in chronic lyme but only like 2 percent will treat it.

all the symptoms and conditions that you have mentioned are symptoms of lyme.

have you had a western blot done?

Paul

---

Posts: 925 | From Connecticut | Registered: Aug 2010 | IP: Logged |

worldsaway
Junior Member
Member # 27624


posted

---

Thank you a lot--don't worry about the spelling!

I don't know about the Western Blot test, but I'm pretty sure. I've ordered my medical records but they haven't come yet. All I know is that they did blood tests for Lyme and a spinal tap, which my old PCP used to convince me that I was totally overreacting and psychological while I kept trying to convince HER I was having trouble breathing. XD;

---

Posts: 4 | From Pittsburgh | Registered: Aug 2010 | IP: Logged |

janet thomas
Frequent Contributor (1K+ posts)
Member # 7122


posted

---

Use your energy wisely, find a Lyme doctor and forget those who don't help you.

To find local support click on the link below and then select a state

http://www.lymenet.org/SupportGroups/UnitedStates/

--------------------
I am not a doctor and this is not medical advice but only my personal experience and opinion.


---

Posts: 2001 | From NJ | Registered: Mar 2005 | IP: Logged |

LSG Scott
LymeNet Contributor
Member # 21624


posted

---

great advice Janet

--------------------
LSG Scott


---

Posts: 506 | From Boston, Cape Cod, Mass | Registered: Aug 2009 | IP: Logged |

LightAtTheEnd
LymeNet Contributor
Member # 24065


posted

---

The book Cure Unknown by Pamela Weintraub is the best explanation I have found so far, if you want all the details and the history of how things got like this.

Your assessment of the situation is entirely accurate. In fact, being told there's nothing wrong with you and it's all in your head, many times by "reputable" doctors, is so common that it's almost a Lyme symptom in itself. This was utterly baffling to me too when I first encountered it.

The DVD "Under Our Skin" www.underourskin.com is an excellent short summary of the reason for the Lyme controversy and the difficulty people have getting properly diagnosed and treated.

Run to the LLMD for real help. Skip the ID duck unless you like being abused.

"Controversy contintues to fuel the Lyme war" is a short article that is a summary of the issues you are asking about.
http://www.clinicaladvisor.com/controversy-continues-to-fuel-the-lyme-war/article/117160/

Welcome to the Twi-Lyme Zone.

--------------------
Don't forget to laugh! And when you're going through hell, keep going!

Bitten 5/25/2009 in Perry County, Indiana. Diagnosed by LLMD 12/2/2009.


---

Posts: 756 | From Inside the tunnel | Registered: Jan 2010 | IP: Logged |

TF
Frequent Contributor (5K+ posts)
Member # 14183


posted

---

See this article about lyme disease which is appearing on the Verizon home page.

http://www.verizon.net/newsroom/portals/newsroom.portal?_nfpb=true&_pageLabel=newsroom_portal_page__article&_article=3063181

When discussing what doctors believe about lyme disease, it says "nearly one-half did not believe chronic Lyme disease is a legitimate diagnosis, while 48 percent were undecided."

The 48 percent that are undecided DO NOT KNOW whether or not to believe in chronic lyme disease. So, nearly half of the U.S. doctors do NOT believe chronic lyme is a legit diagnosis, and 48% don't know what to believe.

That pretty much explains what is going on with you. There are only 2% of American doctors who know lyme disease can be chronic and require more than 28 days of antibiotics to get rid of. And, they will treat chronic lyme.

It's your job to find someone in that 2%. That's where we come in. Glad you found this site.

---

Posts: 9931 | From Maryland | Registered: Dec 2007 | IP: Logged |

WIGGY
LymeNet Contributor
Member # 15377


posted

---

Worldsaway,
I feel your pain and haven't had the energy to get to the bottom of it and I have been diagnosed for 2 years. Have been trying to get on IV for 2nd time for a month. I have a LLMD doctor in MI who is totally supportive but 2 hours away. My insurance will cover IV for 28 days but I need to find local Dr. to put me in hospital outpatient for IV. I next meet with ID doctor on Tues. to see if he can help me. If not I am ready to go on my own - so tired of the entire mess. I'm going to order that book - cure unknown

---

Posts: 128 | From MICHIGAN | Registered: May 2008 | IP: Logged |

nefferdun
Frequent Contributor (1K+ posts)
Member # 20157


posted

---

Cure Unknown clarified so much for me - yet you still sit there after getting all the answers and think, "this can't be happening, it's crazy!"

What I discovered in that book was a few (one in particular) research doctors wanted to make a name for themselves and manipulated the research to fit their theories. Over and over again they were proved wrong, only to come back with new theories.

For instance they said Lyme was caused by a virus so it could not be treated by abx. Well, totally by accident Willie Bordorfer discovered the spirrochete causing lyme so that theory was disproven.

Then then decided they had found a new species of tick, the only one they said that carried lyme, and they made lyme boundaries where they said this tick resided, outside of which the disease could not exist. Well the new tick was taken off the books when it was proven world wide not to be a new species but the lyme boundaries were harder to remove.

So for years, if you lived in an area that was not in the "lyme zone" you could not have lyme disease.

Too many people out of the lyme zone were passing the original lyme test, ruining the theories that lyme was a rare disease only existing in a few states, so the scientists whose theories were being threatened, decided to raise the bar making it much more difficult to get a positive result.

They also stuck to their theories that lyme was cured in a few weeks of abx. To explain away all the sick people they decided to divide lyme into the acute stage of the disease and the post lyme state or late manifestation. Now the late manifestations were supposed to be either not related to lyme at all or just some sort of left over damage to the body. But these late manifestations are what everybody is dying from.

These doctors insist it is just a coincidence that these post lyme patients now happen to have MS, RA, ALS, Parkinsons chronic fatigue, fibromyalgia and Alheimers - and a multitute of other diseases, many of which have no known cause. The body decided to attack itself. Of course many people are just crazy, seeking attention and faking it.

Well currently it is sinking in that the lyme zone is darn near everywhere. Even the common wood tick is carrying lyme although the scientist prefer to call it a "lyme like disease". I was bitten in the lyme free zone by an ordinary wood tick but I tested positive, even according to CDC standards, for lyme - not lyme like disease.

These egomaniacal doctors have done everything to manipulate science to fit their theories. They ignore the research of other doctors. Most of the doctors making recommendations for CDC guidelines of treatment have direct ties to insurance companies and other institutions profiting from their opinions.

Doctors are afraid to treat lyme. They risk being attacked and drug through court trying to defend themselves. They can have their license to practice medicine removed and/or sued by the insurance companies for millions. That is why LLMD's are expensive and there are so few of them.

It is crazy. It is immoral. There is a huge epidemic that is not being addressed. There are more people infected with lyme than AIDS or West Nile.

--------------------
old joke: idiopathic means the patient is pathological and the the doctor is an idiot


---

Posts: 4676 | From western Montana | Registered: Apr 2009 | IP: Logged |

steve1906
Frequent Contributor (1K+ posts)
Member # 16206


posted

---

Just keep reading and posting on this site...This is your home away from home.

Go to seeking a doctor and find an LLMD.

--------------------
Everything I say is just my opinion!


---

Posts: 3529 | From Massachusetts Boston Area | Registered: Jul 2008 | IP: Logged |

WIGGY
LymeNet Contributor
Member # 15377


posted

---

Nefferdun,
Thank-you for your explaination. I will pick up

that book. Fear to treat is understandable but

I am just trying to get my 28 days than I will be

on my own - feel like not asking for much. But

that is life.

Steve1906 - I am so thankful for this site and

for LLMD - I thank him every appointment for

being here.

---

Posts: 128 | From MICHIGAN | Registered: May 2008 | IP: Logged |

Marnie
Frequent Contributor (5K+ posts)
Member # 773


posted

---

It is "okay" to get/allow a "different" diagnosis which will enable you to get some treatment - be it CFS or fibromylagia or lupus or even "autoimmune". Those persons get insurance covered medicines and therapies.

It is "okay" to "settle for" a different Dx - whatever it is.

More people (friends/family) will be "understanding" of your situation if you say you have a disease they are somewhat familiar with.

You need support!!!

Lyme Dx - esp. chronic - is not accepted/recognized by the vast majority of physicians and the insurance companies are not friendly to ongoing lyme treatment.

We aren't supposed to know how bad this infection truly is.

We wait to deal with the "consequences" and THEN we treat.

Lyme is a "slower" progressive disease - usually. In a way, "triage" is in effect i.e., cancer, HIV, etc. FIRST.

Many lyme patients are angry about this (understandable!!!).

Yes, it is very very likely Bb is at the "root cause" of your symptoms, but if you can get ANY help by "allowing" a different Dx...IMO...go for it.

If you are Dx'd (ever) "autoimmune", you WILL be offered med. help (insurance covered) to deal with the symptoms.

This is the sad reality. It is very sad and IMO, very very wrong.

If you chose to fight the system and look for "outside" help, be aware that it costs a LOT of money...thousands and thousands of dollars out of pocket and many persons who really can't CURE you, will love to take your dollars.

MANY people (including myself) are looking for the SAFEST, CHEAPEST and MOST EFFECTIVE way to destroy - completely - this extremely (understatement) complex pathogen...without ANY monetary compensation whatsoever - EVER.

I am looking for a CURE, not simply a way to alter our immune response/deal with symptoms, but a CURE which I believe is very very possible from more than one "route" i.e., we can "blend" traditional medicine and nutrition or use "alternative therapies" which to date include the use of light therapy or sound therapy.

For certain, antibiotics ALONE do not cure lyme, but that is not to say that a COMBINATION of things can't work OR treatments that are "outside of the box".

My sister has stage 3 lyme. She was misdiagnosed and given steroids ten years ago. She is in tough physical shape...very.

I am devoted to finding a CURE for her and for all here.

Others here are working from different angles...getting information out, getting institutions involved, etc.

We are all pulling together.

God Bless you on your journey back to health.

It IS possible, but it will take TIME!

Never ever forget that.

Your health is in YOUR HANDS.

When the "worse" situation happened, even a medical DOCTOR changed her ways and changed the outcome:

http://hubpages.com/hub/Alternative-Cancer-Treatment-The-Immune-System-Dr-Lorraine-Day

And a pediatrician (in Tampa) has figured out how to reverse her husband's AD.

http://www.faim.org/guestwriters/marynewportalzheimers.html

It IS possible. A real cure IS possible even for the most devastating diseases.

---

Posts: 9403 | From Sunshine State | Registered: Mar 2001 | IP: Logged |
Contact Us | LymeNet home page | Privacy Statement

Powered by UBB.classic™ 6.7.3

---
The Lyme Disease Network is a non-profit organization funded by individual donations. If you would like to support the Network and the LymeNet system of Web services, please send your donations to:
The Lyme Disease Network of New Jersey
907 Pebble Creek Court, Pennington, NJ 08534 USA
http://www.lymenet.org/
---
Home | Flash Discussion | Support Groups | On-Line Library
Legal Resources | Medical Abstracts | Newsletter | Books
Pictures | Site Search | Links | Help/Questions
About LymeNet | Contact Us
---
© 1993-2020 The Lyme Disease Network of New Jersey, Inc.
All Rights Reserved.
Use of the LymeNet Site is subject to Terms and Conditions.
---