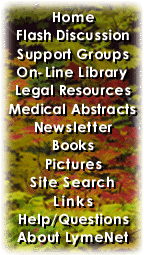 ---
LymeNet on Facebook
LymeNet on Twitter
---
---
The Lyme Disease Network receives a commission from Amazon.com for each purchase originating from this site.
When purchasing from Amazon.com, please
click here first.

Thank you.




Dedicated to the Bachmann Family


LymeNet needs your help:
LymeNet 2020 fund drive

The Lyme Disease Network is a non-profit organization funded by individual donations.

| | |
| --- | --- |
| | |
Author
Topic: Feel like I'm going crazy - thyroid change

Marz
Frequent Contributor (1K+ posts)
Member # 3446


posted

---

I was expecting Eleuthero to improve my thyroid function and possibly reduce the amount of synthroid I take.

Instead, after several months on Buhner, my TSH went up to 12.45. PCP increased rx from 100 mcg to 125 mcg.

After 6 weeks I was retested and TSH dropped to .6.

I'm feeling hyper, more frequent, loose bm.s, joint aches, out of breath, etc.

I've been pretty stable with thyroid meds since diagnosed in 1992 so I don't understand why it would change that direction now especially taking eleuthero.

I called PCP on Tuesday and he wants me to continue for two weeks before being tested. (I was using up my 100 mcg tablets into 4 parts, taking 1 1/4 per day. He didn't like that so wants me to take new rx- 1 tablet 125 mcg.) I'll have been on that dose for 9 weeks by then.

I'm afraid I'll be crazy by then. I know I test within the normal range, but this is not normal for me!

Anyone else have this happen on Buhner?

I've made no other changes like eating soy, or anything.

I've considered a bart flare, but never had loose movements or joint aches with that.

---

Posts: 1275 | From USA | Registered: Dec 2002 | IP: Logged |

chiquita incognita
Unregistered



posted

---

I would suggest call your doctor immediately and ask to be evaluated, in person. If you are not satisified with the evaluation, go for a second opinion, with an endocrinologist if possible.

I am not a physician and cannot diagnose, but I can offer my personal experience. When my own thyroid was severely hyper in the past, I had heart palpitations, loose/frequent bm's, nervousness, all the things you are talking about which have me concerned immediately. Breathlessness could be other things, or it could possibly be related to a racing/thumping heart as happens with hyperthyroidism.

Hyperthyroidism has to be extremely advanced to be dangerous, so no worries, but it also can get there and this is not something to allow to happen. It needs taking care of, right away.

I would (as professionally trained herbalist) suggest you immediately stop the eleuthero (doubling it up with the thyroid meds could be putting you over the top, possibly. There is no danger in stopping it as with medications) and insist on being seen by your doctor, immediately and without any delay.

Again the immediacy in my message is not meant to alarm you. Thyroid storm happens only in truly severely advanced hyperthyroid cases. Again though, I don't suggest stalling for time either or being a "nice", compliant patient. Insist in this case and ask for a second opinion if the doc currently treating you is not "Getting it". There are so many things that all mimic the same condition, and keep that in mind too. THat's where misdiagnosis is perfectly easy for a doctor to do, and no they should not be sued for this. Medicine is not an exact science, it is tricky. Keep pressing on until you get the solutions which work best, for you.

---

IP: Logged |

chiquita incognita
Unregistered



posted

---

PS and let me qualify again, that I am wondering if you could possibly be showing signs of hyperthyroidism. I don't know that for a fact, of course.

If this is something different, then the eleuthero/medication combination may not be the problem. To stop the herb for now until you are properly diagnosed, could be important even if only for the temporary diagnostic interval. And thereafter, should hyperthyroidism be diagnosed.

It is generally not a good idea to double up herbs and medications that duplicate similar bodily functions. Eleuthero does affect adrenal and thyroid hormones, and to double that up with thyroid medications might be too much for you.That is, if my hunch is correct. And again, it is only a hunch, this is not a diagnosis.

Best wishes and I hope/am sure all will resolve soon, and well, for you!

---

IP: Logged |

chiquita incognita
Unregistered



posted

---

Sorry about this, last message here: DOes your doc know that you are doing the eleuthero alongside the meds? That is terribly important to let him/her know. Never do herbs/vitamins alongside medications without your doctor's supervision. You would be surprised: MOst herbs and drugs don't interact, but a few of them do. And the same holds true even of seemingly innocent vitamin supplements. Anytime you duplicate medical actions in supplements/ medications, you are taking a risk. Words of the wise. Talk to your doctor!

---

IP: Logged |

ukcarry
Frequent Contributor (1K+ posts)
Member # 18147


posted

---

A similar thing happened to me 120 months ago; similar in that, after 14 years of hypothyroidism [on a similar doasage of meds], I suddenly went hyper and I let the symptoms continue for a while before going to my doctor because I was used to getting palpitations, breathlessness, dizziness etc with the Lyme.

I don't know why the sudden change [I have been on Buhner herbs before, without impact on my thyroid and was NOT on them at this point; instead was on abx] , but it seemed to escalate until I was in a really bad way. The problem with becoming hyper is that thyroid levels take a long time to change and can be very uncomfortable if your heart rhythms are already irregular, as mine were. The adrenals can also be badly over-extended from the illness and the extra task of transporting the thyroid meds, which could be building up in your system. I ended up taking some Cortef for a while, but managed to wean off it. Now I am on no thyroid meds at all.

I would be reluctant to be taking thyroid meds at that level with your symptoms, so go and see your doctor in person to talk it through. Clearly, the eleuthero should also be stopped for the moment, as Chiquita advises.

Hope you soon find out more and get on an even keel,


Carry

---

Posts: 1647 | From UK | Registered: Nov 2008 | IP: Logged |

chiquita incognita
Unregistered



posted

---

AAAK!!!!!
Let me brief you in, in advance. Again we can' t diagnose and don' t know for a fact that you havef hyperthyroidism. FYI if you have hashimoto's thyroiditis, it can flip from being hypo to hyper and cause the gland to go crazy. That said, I must must must brief you in to a very dangerous drug used for calming the hyper thyroid (if that turns out to be your case) and what the safer alternatives are.

When my thyroid went hyper, the endocrinologist said he wanted to give me radioactive iodine which would basically kill the thyroid gland, or a certain number of cells in it, and thus reduce the amount of hormone in the blood and bring it back to normal (or sub-normal, in many cases).

Instinctively I reacted. Hmmm....really, this is supposed to irradiate *only* my thyroid, yet it is going down my esophagus, into my intestinal tract...won't the radiation cause cancer?

I researched it on the government medical database, www.pubmed.gov you can enter it there search for radioactive iodine or I-131.

WHOA!!!! Here is what turned up:

I looked at clusters of studies, not one study alone. 6 European studies----from England, Germany, Italy----were unanimous. And vociferous.

"This is an extremely dangerous drug. Use it only as a last resort, when operations are contra-indicated. The side effects of leukemia are widely under-reported".

Leukemia? As "side effect" ? Oh my. Some "Side effect". Again I am quoting word for word, the European studies all called it an "extremely dangerous" drug.

I looked at the American studies. Again they were unanimous. They praised the drug, saying what a good thing it is, and that the "occasional" side effect of leukemia was just that, "occasional".

Why such a discrepancy? I was taking a herbalism course at the time, and consulted a nurse practitioner in the class .SHe socked it right to me: "Many of the drug studies are done in the pockets of the pharmaceutical industry". Another physician told me that physicians are "encouraged" by the insurance companies to prescribe this drug, because it is a one-time treatment, requires only one hospital night stay, and very little if any follow up. So it is basically cheaper for them. Well how nice for them, eh?

My endocrinologist had a shouting match with me, trying very hard to intimidate me. I dug my heels in and refused the drug. With my hormone levels at 4 1/2 times the normal amount, it took two months to get into a new endocrinologist's door, but I switched doctors (after the current doc put me on methimazole, also called tapezol, which calms the thyroid down. Propanolol was prescribed to protect me from going into thyroid storm, I was in some danger and could have gone there).

The two medications worked. Again my thyroid was severely hyper and the endocrinologists all said that my thyroid was "very large" and the hormone levels were dangerously high. Even so, the meds worked and it took two years (may not have to take as long for other people with a less severe case than mine had been) and now my thyroid tests consistently normal. I have been off the meds for at least four years.

Words of the wise. AVOID THE RADIOACTIVE IODINE LIKE THE PLAGUE!!!!Don't believe what American doctors will tell you about it, they are either brainwashed or quite frankly, *criminally* bought off. Even if they offer you a lowered dose to protect you, I would never advise taking the risk.

Oh and one last thing. They do use a lower dose of radioactive iodine to stain your thyroid and measure its uptake, thereby getting an idea of various diagnostic things with the gland.

I happen to be extra sensitive to the tiniest amount of medications, and not everybody may react the same way I did. For me, even the tiny dose of the radioactive isotope used for diagnostic purposes, gave me such a headache that I felt later as if a hatchet was splitting my head open. I can't ever remember any headache so vicious.

It's a slightly different form of the radioactive iodine than that used for "treating" the thyroid, but hey wouldn't it too have its side effects?

How important or critical is it for them to do this diagnostic procedure? If I had to do it all over again, I would ask my doctor that question, and refuse even that low dose if I had to.

Any doctor or nurse who tells you it is safe is full of it. They just are taught by the memorized textbook formulas and don't even bother to think. They are idiots, if you ask me. PEople assume that doctors are always so smart, and many of them are. But then again, I have seen many who are just plain *memorized* and aren't even putting 2+2 together. They are fools adn they are stupid, to repeat. Sorry if this sounds arrogant/heated but yes, I am mad you had better believe it. What criminals in practice, with a license! Should medicine be practiced as a license to kill? I should hope not. Apparently, in some cases, it is. They ought to be jailed, and so should the pharmaceutical manufacturers.

Just wanted to share this info with you.

---

IP: Logged |

Marz
Frequent Contributor (1K+ posts)
Member # 3446


posted

---

Thanks for all the info Chiquita and Uk.

I'm sort of stuck with this PCP. Mine quit his practice in December and I'm seeing this one in a clinic where I'm on the list to see a new LLMD, but not until June unless there's a cancellation.

I know my new LLMD will give me Armour, but this PCP won't. I'll call to get tested this week.

The funny thing is this hyper feeling started during the two weeks I was taking a break from the Eleuthero as per my LLMD. The month while I was on it was when I tested with high TSH.

I couldn't figure out why I was so much more tired than usual when I was on eleuthero which was supposed to give me energy.

It doesn't make sense to me except if like you say the Hashimoto's is causing all this.

Thyroid issues run in my family. My niece had hers radiated about ten years ago. I was very upset because no one in my family even told me she had the problem until after it was done.

I would have talked her out of it because I know how dangerous it is. She was left with almost no thyroid function. Her husband was livid with her MD for doing this to her.

A friend had her Grave's controlled with a thyroid suppressant and is now just on low dose Armour.

I'm not feeling quite as hyper today. Yesterday, I wasn't able to form a thought in my brain, but my mind is quieter today. Almost feel I could nap.

---

Posts: 1275 | From USA | Registered: Dec 2002 | IP: Logged |

chiquita incognita
Unregistered



posted

---

Hello Friend
It may not be the eleuthero acting in and of itself that is affecting your thyroid. Technically speaking, an adaptogenic herb balances endocrine function, neither stimulating or dropping it. However as before, when you mix herbs with meds that duplicate similar (ie hormonal) functions, that is when you can get the drug-herb interaction. In and of itself, eleuthero *shouldn't* over-stimulate your thyroid. But you never know, because bodies are different and paradoxical reactions can occur, on rare occasions.

What are the other herbs you are taking? Are you doing any ashwaganda? That too can boost your T3 and particularly your T4 thyroid levels.

Lemon balm, bugleweed and motherwort herb together are often recommended for hypERthyroidism, but you would need the extract (much stronger than the herbs alone) and it would have to be a low-moderate hyperthyroidism case. In advanced hyperthyroidism I would not recommend the herbs, medication is needed.

You can read more about those herbs here, the lemon balm and bugleweed block thyroid hormone uptake and motherwort strengthens a run-away palpitating heart. www.healthy.net look on the HErbal Medicine center.

See also www.christopherhobbs.com

None of the above information has been evaluated by the FDA. This information does not diagnose, cure or prevent any disease. Drug-herb interactions may occur, check with your doctor before adding any herb or supplement to your regimen. Never self-treat and never self-diagnose.

---

IP: Logged |

Marz
Frequent Contributor (1K+ posts)
Member # 3446


posted

---

Chiquita, I'm pretty sure my hyper state now is due to the increased dose of synthroid from 100 to 125 mcg.

I don't dare stop because I want it to be accurately reflected if I go in for a test this week.

My mind is so exhausted right now and headache has gotten worse so that I'm wondering if I'm having a bartonella attack.

I will read your links tomorrow when my brain is not so addled.

I'm just wondering if I might have become more HYPOthyroid because of Buhner herbs.

I usually test around 3.0 tsh and it jumped to 12.45. That test was end of December. Been on full Buhner since November. Started with stephania in August.

At that time (and still am) on cats claw, stephania, resveratrol and eleuthero. Also doxy. Have been off of eleuthero for two weeks.

I'm supposed to start eleuthero tomorrow, but think I won't.

I've taken things like ashwaganda and ginseng years ago and it didn't affect thyroid.

I don't mean to sound like I'm expecting a diagnosis. I just appreciate your ideas very much!

I didn't tell PCP I'm on herbs. He's new, but I get the impression he'd tell me to quit.

Don't want to tell LLMD because she'd tell me to drive there (100 miles) and I'm waiting to see new LLMD she recommended nearby.

Just going through the process of writing this is getting me to think I should call former LLMD and see if I could get a phone consult.

Thanks much for "listening."

---

Posts: 1275 | From USA | Registered: Dec 2002 | IP: Logged |

chiquita incognita
Unregistered



posted

---

You're very welcome, Marz! Take it easy and please take excellent care of yourself.

The herbs you mentioned shouldn't affect the thyroid either way.

May you heal rapidly and well! And find just the right practitioner. They say that when one door closes, the other one is opening. And that one is usually the right one, because that is how guidance works. :-)

---

IP: Logged |
Contact Us | LymeNet home page | Privacy Statement

Powered by UBB.classic™ 6.7.3

---
The Lyme Disease Network is a non-profit organization funded by individual donations. If you would like to support the Network and the LymeNet system of Web services, please send your donations to:
The Lyme Disease Network of New Jersey
907 Pebble Creek Court, Pennington, NJ 08534 USA
http://www.lymenet.org/
---
Home | Flash Discussion | Support Groups | On-Line Library
Legal Resources | Medical Abstracts | Newsletter | Books
Pictures | Site Search | Links | Help/Questions
About LymeNet | Contact Us
---
© 1993-2020 The Lyme Disease Network of New Jersey, Inc.
All Rights Reserved.
Use of the LymeNet Site is subject to Terms and Conditions.
---