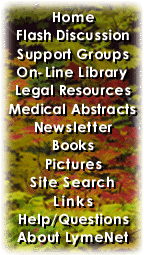 ---
LymeNet on Facebook
LymeNet on Twitter
---
---
The Lyme Disease Network receives a commission from Amazon.com for each purchase originating from this site.
When purchasing from Amazon.com, please
click here first.

Thank you.




Dedicated to the Bachmann Family


LymeNet needs your help:
LymeNet 2020 fund drive

The Lyme Disease Network is a non-profit organization funded by individual donations.

| | |
| --- | --- |
| | |
Author
Topic: Just Found Out

Fogged
Member
Member # 32388


posted

---

Yup... got Lyme. Not a club I'm happy to be a member of, but it is what it is.

Parts of the the following was posted on another thread, but it was suggested I post it here as well:

I was at a friend's house and I started to get a real strange headache. Advil didn't really help and when I went to bed early my wife said I felt hot. Took my temp - 101ºF. I suddenly got the chills, big, whole body shakes I couldn't control. She thought I was kidding but I couldn't even talk to tell her I wasn't.

Woke up the next morning and felt a little better, but we almost cancelled a visit to see a friend I haven't seen since I was a kid, that's how blah I felt. Nice cookout, but I had absolutely no appetite. Fever came back so we left for home. Got home and took my temp - 102.5º and shaking like a dog after a bath.

Next day was worse. All day high fever. 103º was as low as I could get it alternating Advil and Tylenol to the max daily dosage. Laid in bed all day Monday, shaking and feeling nauseous and a screaming headache that wasn't touched by the meds. My temp went to 104º and my wife thought she'd get some water and a sponge to cool me down. That's when she saw the rash on my hip.

I'd been looking up stuff on the Internet using my phone while lying in bed. I thought it might be West Nile, but there hasn't been a case in my county yet, so I thought that was unlikely. Lyme symptoms seemed very possible, but I hadn't recalled having a tick on me. Now with the rash (not a true bulls-eye, but a 5-6" oval with a slight clearing zone), I was fairly certain it was Lyme. By morning the rash was close to 7" across, and my right jaw and temple were swollen up like sausages and all red looking (not a rash, just inflamed). My wife took the day off to take me to urgent care.

Well, they put me through just about everything and it all came back negative. If it wasn't for the RN who drew my blood, they wouldn't even have ordered a Lyme titer. I showed her the rash and she said, "That's Lyme. I'm drawing an extra tube now so I don't have to stick you again later." 36 years experience, she said.

Went home with a script for 100mg doxycycline BID for 21 days. Three days later they called to tell me the test was negative. The rash was almost gone, so I contemplated going off the doxy, maybe it was something else. I was feeling a lot better, then that evening all hell broke loose. My entire right side of my face suddenly lost all control. Tea I was sipping was pouring out the right side of my mouth and I could hardly swallow, stuff just lingered there in my throat.

I called my primary to ask what I should do. I was so dizzy I couldn't even stand and the headache was back. I told them I couldn't come in until my wife got home in the afternoon. I told them about the facial paralysis (by then I knew it was called Bell's Palsy) and they said not to worry about it. My wife left work early so she could take me to the doc, but just before she got home I get a call form the doc's nurse saying he wanted to switch the meds to cephalexin because he thought the doxy didn't seem to be doing the trick on my acute Lyme. I looked it up only to find out that it is not recommended for Lyme. In fact, The U.S. Dept of Health specifically warns not to prescribe cephalexin for rashes that appear like they may be cellulitis if you live in a Lyme endemic area and it is tick season because if it is Lyme it is not effective in treating it. This guy really didn't have a clue, and Lyme is without a doubt endemic in this area and has been for some time now.

When I called and confronted him with this info (known about for at least a decade or more) he just shrugged his shoulders (well, it was on the phone, but I've seen that shrug dozens of time) and said that was the only other drug he knew of to threat Lyme with. He said he isn't all that concerned because my ELISA came back negative. But I know I have it, I say, because of the look of the rash (he hadn't even seen it), high fever (104ºF), severe headaches, etc. I even have Bell's Palsy on the right side of my face already, which seems to be affecting my ability to swallow. But the doc is smug and condescending as usual, since I have multiple health issues that don't conform to any syndromes he is aware of. He's getting ready to retire, and all I hear about every time I go in there is I got GERD. Why I have GERD is never addressed. I need to cut this old guy loose, I've been taking his bad advice way too long now.

I want to get the very best treatment as soon as possible. I'm nervous that my face won't recover. I can't eat any solid foods because they just won't go down. They taste like total crap anyway, so I have zero urge to eat. Maybe the doxy? I don't know, I'm so dizzy and confused and miserable I can't even type never mind work.

It seems that the doxy would have licked this thing by now, or at least killed the bugs that are active and the symptoms would be gone, at least for now. Why do I keep feeling worse? I read about that Herxheimer thing, but this has been going on for almost a week after I first started feeling better and the rash disappeared. I think the Bell's was caused by the infection getting into my parotid gland, I've read that can happen. Will it go away, or will I be stuck like this for life? Not only is it ugly (looks like I've had a stroke), I can't chew well, or swallow easily, or even blink my eye rapidly. It barely closes, and that eye suffered a devastating injury three years ago which leaves it dry anyway. I have an eye patch on it, but even then it opens under the patch when I open my left eye, so I have to keep them both closed or take off the patch and put some wetting drops in it.

Any clue about what is making me still sick? Is it an autoimmune reaction, or a reaction to the doxy? I can live with this for a awhile, but I really don't want to be stuck this way forever. I thought by catching it early the initial symptoms would at least be gone, why is it coming back. No temp, though. 98.6º right on the money with my trusty old Sunbeam digital thermometer, same as it always is when I'm not sick.

I'm as clueless as my primary doc.

---

Posts: 50 | From Saratoga Springs, NY | Registered: Jun 2011 | IP: Logged |

sixgoofykids
Moderator
Member # 11141


posted

---

I'm sorry your'e feeling so badly. Please check out www.ilads.org for more info on treating and diagnosing lyme. According to the protocols there, you are on too low a dose of doxy. Usually it's 200 mg BID.

The guidelines there will also tell you what other meds treat Lyme. Symptoms should go away once it's adequately treated. I was extremely ill for years and got better, so you should be able to as well as long as you get proper treatment. You're in NY, so you should be able to find a good doctor there (post in seeking a doctor for a referral).

Regarding GERD, I also have it, but found this info helpful - http://www.drdebe.com/stomach-acid-assessment.html It's not an exaggeration to say this information changed my life.

I hope you get adequate dosages of your meds soon. I also hope you got a picture of that rash!!

--------------------
sixgoofykids.blogspot.com


---

Posts: 13449 | From Ohio | Registered: Feb 2007 | IP: Logged |

payne
Frequent Contributor (1K+ posts)
Member # 26248


posted

---

yes, lymetoo sent you a PM about a LLMD,
get there ASAP,
they may take months to see, dont wait.
their cancelation list, get on it, as others mis their spot you may be able to get in quicker.
best wishes in sorting through this..
there is a wealth of info in the search.
there is not a quick fix, slow and steady beats lyme..

--------------------
TULAREMIA/rabbit fever ?


---

Posts: 1931 | From mid-michigan | Registered: Jun 2010 | IP: Logged |

Fogged
Member
Member # 32388


posted

---

Wow! Thanks for all the prompt replies.

Yes, Lymetoo sent me a list of docs. I'll check them out one by one on Monday. Looks like most of them are way, far away from me. With such a long waiting list, I may be well served to get put on a list for follow-up. Still, it looks like if I want to nip this thing in the bud I better get more aggressive with my own primary, or at least get him to refer me to an infectious disease doc or an immunologist who will agree to up my meds.

I think this may be in my brain now since I am already having neurological symptoms. I've read that Zithromax may be used to cross the blood-brain barrier. I have a few Z-pacs that I may self-medicate with once the doxy is done if no one will agree to pursue this more aggressively. I'm afraid to do them simultaneously without somebody checking my liver and kidneys and such. Hopefully it won't come to that, I really don't believe in self-medicating, at least for me - I dropped out of med school before they got to the "Z"s. lol

Yes, I got pics of the rash, will take pics of the face today. Can't tell if it's getting better or not, mornings seem better, at least for the paralysis. When I first wake up I can slowly close the right eye while keeping the left one open. Maybe because at the end of the day the muscle are tired from trying to contract without proper nerve stimulus, I know that's why the hands have gotten so weak over the years from the carpal tunnel. As for the rest, mornings are much worse. I can hardly get out of bed to pee in the morning.

I'll call my ophthalmologist and go in on Monday. I read this can cause macular edema, and since I've already suffered from that after my eye surgeries, he makes the call on the eye. He's really brilliant, without him I would surely be blind in that eye. I must have seen him over two hundred times in the last three years, every day for the first month alone... more than any other patient he's ever had, he told me. They know me by name as soon as I walk into the lobby. He's one doc I trust without question.

Weird about the taste thing. This all started out with a hyper sensitivity to smells. I can smell fine, I even felt good enough to make burritos for my wife and I for dinner last night. The cooking food smelled so good (except my salivary glands seem shut down, very strange), but as soon as I put the food in my mouth I just wanted to spit it out. It feels and tastes so foreign, like smashed styrofoam and soggy leather or something. Little nibbles I can get down, but a meal is impossible. Lost over 20 pounds in three weeks. I can spare it, trust me, but this is not the way I envisioned losing it.

Again, thanks so much, I'll make follow up posts as things progress... in either direction.

---

Posts: 50 | From Saratoga Springs, NY | Registered: Jun 2011 | IP: Logged |

sixgoofykids
Moderator
Member # 11141


posted

---

quote:

---

Originally posted by Fogged:

Looks like most of them are way, far away from me.

---

It's all relative. I'm in Ohio and flew to NY for treatment .... at least you're already in NY!!!

--------------------
sixgoofykids.blogspot.com


---

Posts: 13449 | From Ohio | Registered: Feb 2007 | IP: Logged |

Rene
LymeNet Contributor
Member # 4870


posted

---

I'm not a Dr., however with your weight loss and high fevers would definitely suspect co infections along with the lyme. Would get the soonest appointment available with an LLMD. You may have to wait several months. Take the first appt. available and ask to be put on the cancellation list. Best of luck to you.

---

Posts: 366 | From Louisville KY. | Registered: Nov 2003 | IP: Logged |

Fogged
Member
Member # 32388


posted

---

I suspect tick co-infections myself. Not only that, I may have been sick with what my granddaughter Cadie just had as well as the Lyme. She was diagnosed with a "nasty virus" after having conjunctivitis and a high fever for days. Her face looked like hell, all swollen up like she had hives. I assumed I might have contracted the same thing until the rash and Bell's appeared. I asked my daughter (an RN) to check her over carefully for tick bites or a rash. Little tyke spends a lot of time playing in the outdoors. Then her infant son and husband came down with identical symptoms. My SIL said, "Man, if this is what your dad had, I can see why he was so concerned." The two boys got over it in a couple days, unlike Cadie, who was still recovering after they were up and around. Who knows? You can't test for everything under the sun, and even if you did, half the results would be wrong. My feeling is, if I'm feeling fine, I am fine... until I'm not. This is always a clinical diagnosis, I just have bad clinicians at the present.

In the meantime, I'll be hyper-vigilant for any symptoms of tick-borne disease. I believe the doxy will already be working on any ehrlichiosis. I'm not jaundiced, so no signs of babesiosis at present. No bartonella markings on the skin anywhere, but the doxy and a follow up of zithro is supposed to treat that. All other blood work seems normal, but I do intend to get to a specialist ASAP to run the proper tests.

As far as things being relative, well, what can I say? I'm relatively broke. Flying into anywhere would be virtually impossible... unless I robbed a bank, but I'm too sick to do that right now. We both went back to school in our 40s and incurred massive student loans for careers that never came close to panning out (I wasn't kidding, I was trying to get into med school). The Feds are all over us, and take every blessed cent beyond what they say we need to survive, and will continue to do so until we are retired. Ever then, we were well warned that they will garnish what little social security we bring in. You think the insurance companies are bad, don't run afoul of the federal government, they have zero mercy. Trying to better yourself and make the world a better place only counts in this society if you succeed. The road to financial hell is paved with good intentions.

---

Posts: 50 | From Saratoga Springs, NY | Registered: Jun 2011 | IP: Logged |

merrygirl
Frequent Contributor (1K+ posts)
Member # 12041


posted

---

You do not need a blood test to be diagnosed with Lyme. The rash in itself is diagnostic for lyme, end of story. Infact you WILL NOT test positive for lyme for at least 4-6 weeks after the bite. It takes that long for your body to make antibodies which is what they are testing for.

Thats if you test positive at all.

take pictures.

200mg doxy is not enough to get rid of it, you need at least 300mg a day.

The synptoms do not go away fast. It takes time.

Also watch out for the sun you will get a serious burn even if you are wearing sunscreen.

Good luck.

---

Posts: 3905 | From USA | Registered: May 2007 | IP: Logged |

Beth22
LymeNet Contributor
Member # 30232


posted

---

I am shocked that someone told you not to worry about Bell's Palsy. I went to the ER with it and the standard treatment now is antivirals (zovirax) and predisone. Steroids not recommended with lyme, but Zovirax won't hurt.
Bell's can resolve completely or not, everyone is different, but you should be treated! I had to patch my eye with ointment at night like Carol said.
Bell's paralyzes the facial nerve, which supplies part of the tongue nerves. My taste is still not right.

---

Posts: 236 | From Zionsville IN | Registered: Jan 2011 | IP: Logged |

Fogged
Member
Member # 32388


posted

---

Yeah, I guess I have to get more aggressive with my primary on Monday. You get tied to them like a boss or something. You leave the bad boss only after you have another job lined up. Problem is finding a new primary that I know anything about and is accepting new patients and that isn't a Nazi. Last guy I had before this one was a cocky little s*** that had absolutely no bedside manner. I disagreed with him once and he started screaming at me. All I could do to unclench my fists, then I was out of there for good.

Ironically, that was about 10 years ago, and the argument was about whether or not I should be tested for Lyme. He finally agreed and he was "right" - it came back negative. Now I wonder if that illness wasn't Lyme as well, just got tested too soon. I was a fishing guide back then, so I was out in the thick all spring. Felt sick for a very long time after that, and now that I remember, the symptoms were eerily similar to this, but nowhere near as bad.

Same kind of onset, but then the whole family came down with a terrible respiratory infection and I finally came to the (possibly incorrect) conclusion that it was all the respiratory thing. May have been Lyme, then we all caught the other thing at the same time and I forgot about the Lyme possibility. Sure is hard to piece it altogether. Not only other tick-borne diseases to add in there, but you could have anything else under the sun at the same time, or back-to-back.

---

Posts: 50 | From Saratoga Springs, NY | Registered: Jun 2011 | IP: Logged |

Rumigirl
Frequent Contributor (1K+ posts)
Member # 15091


posted

---

Get your PC to rx 200 mg of doxy twice a day while you try to get in to see an LLMD ASAP. 200 mg/day is way not enough.

ANd be nicely aggressive about getting in to see one of the recommended LLMD"s ASAP. Tell the sec'ys how acutely sick you are, ask to see the NP or PA instead of the main dr (you get in faster that way), and to put you on the cancellation list. Get on the list of several docs to increase your chances of getting in sooner.

And traveling? People travel from other continents to see NY LLMD's!!! So traveling is the norm. Your life and well-being are at stake here.

And research all of this well here on Lymenet, etc., so you are as educated as possible from here on in----you'll need to. Step by step, if you're persistent, you will get better, but it does take grit and determination, as you can see.

It kills me that living in such an endemic place neither you nor the medical people knew more about Lyme!! Not as a blame to you, just that it shouldn't be this way. Lyme has been known for way too long to be so wrapped in ignorance and denial.

---

Posts: 3748 | From around | Registered: Mar 2008 | IP: Logged |

kidsgotlyme
Frequent Contributor (1K+ posts)
Member # 23691


posted

---

Whatever you do, DON'T go to an infectious disease doctor!!

Do whatever you have to do to get to a LLMD.

--------------------
symptoms since 1993 that I can remember. 9/2018 diagnosed with Borellia, Babesia Duncani, and Bartonella Hensalae thru DNA Connections.


---

Posts: 1470 | From Tennessee | Registered: Dec 2009 | IP: Logged |

Razzle
Frequent Contributor (1K+ posts)
Member # 30398


posted

---

Vitamin B12 is essential to treating the Bell's. No Steroids...that will entrench the Lyme/coinfections more and make them much harder to treat.

See http://thehumansideoflyme.net/viewarticle.php?aid=62 for more info on the reason you have trouble with the swallowing and loss of sense of taste, etc.

--------------------
-Razzle
Lyme IgM IGeneX Pos. 18+++, 23-25+, 30++, 31+, 34++, 39 IND, 83-93 IND; IgG IGeneX Neg. 30+, 39 IND; Mayo/CDC Pos. IgM 23+, 39+; IgG Mayo/CDC Neg. band 41+; Bart. (clinical dx; Fry Labs neg. for all coinfections), sx >30 yrs.


---

Posts: 4166 | From WA | Registered: Feb 2011 | IP: Logged |

Fogged
Member
Member # 32388


posted

---

Again, thanks so much for all the input.

I'll go out and get some B-12 today. The paralysis has diminished slightly, at least enough so that I can blink my afflicted eye without the other one automatically closing as well. Swallowing is a bit easier, and I even had an omelet and an English muffin for Father's Day breakfast. But I will add the B-12, maybe it will speed up the recovery.

Yes, we should know more about Lyme here in NY, no doubt about that. Still, I have close friends that have had confirmed Lyme, both tested and clinically diagnosed and have had complete recovery in a very short time with the standard antibiotic treatment as recommended by the CDC. I also know at least one person with chronic Lyme that was diagnosed after several years of suffering. He's been on heavy IV antibiotics for a few years now and has only gotten worse.

I just got a call the other day from a friend whom I remembered had Lyme several years ago. He was shocked when I told him how much I was suffering. He had downplayed the whole thing at the time, and it is these personal interactions that influence our perception about such things as much as the lack of general information available to the public.

While I can forgive myself and others for being somewhat misinformed, I cannot forgive the local medical community at large for its seeming unwillingness to embrace the health risk these insects pose to the community living within their area of practice. I fully understand how individual physicians can't just go jumping onto every medical bandwagon that comes along, but this is not some controversial syndrome, this is a recognized pathogen that did not just appear on the scene last week. The risks and treatments should be more clearly outlined to them by whichever board governs and oversees their particular specialty.

And it's not all insurance company driven, either, at least in the case of acute treatment. My 21 days of doxycycline cost me exactly zero dollars and zero cents, and I'm sure that doubling the dosage would merely amount to doubling that cost. Military contracts for drugs like doxycycline and ciprofloxin have brought the cost of these drugs down to that of common chemicals, it's the long-term IV antibiotics that they are balking on paying for.


As with any disease, there is no simple and elegant solution that fits all, and when it comes to radical treatments, we are all guinea pigs of a sort until enough data comes in to form a proper statistical analysis. That could take decades. However, in the present, we as individuals have no real choice in the matter. If you get sick enough you don't want to live anymore, well, you have to try every treatment and hope that one of them hits the target.

Unfortunately, that approach is the antithesis of science. Thank God, most physicians aren't scientists. They have taken the Hippocratic Oath to act as healers, not as investigators. I just hope that they document and record their treatments and results so they can be shared and scrutinized by the scientific community as well. That type of cooperation is what is needed to effect a cure for any disease. As individuals who are desperately ill, we sometimes forget about a real cure in our search to just get ourselves better.


The big problem with Lyme seems to be that this issue has become highly politicized, and that always creates distinct camps that practitioners feel a need to join in order to not be isolated. Nothing dangerous to a physician occurs if he simply follows the CDC recommendations for treatment, so this is the easiest thing to do.

There are many other life-threatening illnesses out there that internists and family practice physicians face besides Lyme. I was also unlucky enough to come down with Swine Flu when it came around here a few years ago and the same doctor got me Tamiflu, which turned the course of the disease around rather dramatically. So he's not all bad, just pushed into the wrong Lyme camp I my opinion.

I maybe spoke too harshly about this man, he has been a kind and gentle physician for my family for over 30 years, but in this case I think he isn't not taking this illness seriously enough. I plan to talk to him again on Monday about stepping up my meds. And he isn't the only one who erroneously mentioned I may need to be put on cephalexin, the urgent care PA also told me that, so that information has to be coming to them from somewhere.

Consider the source, and also consider that we all have to finally make a decision on whom and what to believe on a controversial issue. There are probably both Bush lovers and Bush haters on this forum, now all afflicted with the same disease. I won't say which camp I fell into into on the Bush thing, but there were very few that followed the middle road back then. People usually pick a side on controversial issues to avoid being persecuted by both sides. It is merely a survival instinct. I once asked a friend who had fallen afoul of the law and ended up in the big house how he survived prison life. "It's easy", he said. "You pick a club and you join it fast." There is always greater safety in numbers.


One more thing while I'm up on my soapbox here. It may be well-intentioned, but I do not appreciate the comparisons with others who had to/were able to travel from other states and countries to get help from the fine doctors we have in NYS. This is not helpful to me at all. I know my situation just like I know my own symptoms.

I simply have no means to do so. No money, no credit, no job, enormous business debts, wage garnishments on my wife's salary for unforgivable catastrophic student load debt, impounded tax returns... the list goes on and on. And even if I had the money, I can't even back my car out of the driveway, never mind just jump behind the wheel at a moment's notice and travel 5 hours to Buffalo because an appointment just opened up.

To imply that my closer proximity to these LLMDs automatically makes it possible to get to them is a demonstration of a lack of understanding that is no less forgivable than a physician who doesn't understand Lyme. If it's possible for others to do this, maybe they can send PayPal contributions to my e-mail account to fund the trips. I can assure you they will not be used for anything else. The person who gives me that ride to Buffalo can attest to that.

Again, I don't mean to offend anyone, but please be sensitive to the fact that I am embarrassed enough about my lot in life without having it trivialized in public by others.

---

Posts: 50 | From Saratoga Springs, NY | Registered: Jun 2011 | IP: Logged |

Beth22
LymeNet Contributor
Member # 30232


posted

---

whoa, you said a lot there.
i really like the way you phrased the lyme controversy in a nutshell.
i believe no one is trivializing your situation, but so many people think that you are lucky to be somewhat close to good llmd's, because they are not.
i certainly don't agree that it compares to ignorant doctors who don't even care about their suffering patients, but i understand your indignance.

---

Posts: 236 | From Zionsville IN | Registered: Jan 2011 | IP: Logged |
Contact Us | LymeNet home page | Privacy Statement

Powered by UBB.classic™ 6.7.3

---
The Lyme Disease Network is a non-profit organization funded by individual donations. If you would like to support the Network and the LymeNet system of Web services, please send your donations to:
The Lyme Disease Network of New Jersey
907 Pebble Creek Court, Pennington, NJ 08534 USA
http://www.lymenet.org/
---
Home | Flash Discussion | Support Groups | On-Line Library
Legal Resources | Medical Abstracts | Newsletter | Books
Pictures | Site Search | Links | Help/Questions
About LymeNet | Contact Us
---
© 1993-2020 The Lyme Disease Network of New Jersey, Inc.
All Rights Reserved.
Use of the LymeNet Site is subject to Terms and Conditions.
---