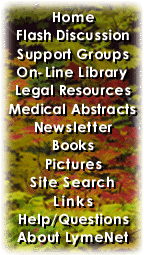 ---
LymeNet on Facebook
LymeNet on Twitter
---
---
The Lyme Disease Network receives a commission from Amazon.com for each purchase originating from this site.
When purchasing from Amazon.com, please
click here first.

Thank you.




Dedicated to the Bachmann Family


LymeNet needs your help:
LymeNet 2020 fund drive

The Lyme Disease Network is a non-profit organization funded by individual donations.

| | |
| --- | --- |
| | |
Author
Topic: Vitamin A and Bb and another case for berberine

Marnie
Frequent Contributor (5K+ posts)
Member # 773


posted

---

This is another long post. Bear with me. I will try to simply talk you thru this rather than link a ton of information (much of which I have linked elsewhere).

Ready,set, go.

(I've capitalized A and O in retinAl and retinOl to see the distinction.)

Fat soluable vitamin A.

Beta carotene containing - vitamin A -> retinAl (a light absorbing PIGMENT)

RetinAl (PIGMENT)+ opsin (PROTEIN) = rhodopsin

Repeating…

Rhodopsin = retinAl (PIGMENT) plus opsin (PROTEIN).

Rhodopsin then binds to retinOl (vitamin A = all trans retinOl).

So now we have: beta carotene containing Vitamin A -> retinAL + opsin (rhodopsin) which binds to retinOL.

RetinOl is extremely sensitive to oxidation…leaving behind rhodopsin. The body, to protect rhodopsin pumps out more retinOL.

I believe Bb is a "photosynthetic" gram negative bacteria that has "bacterial rhodopsin".

That is a major problem.

Berberine lowers the retinOl binding protein 4…which would (theroretically) then expose Bb's rhodopsin (which binds to retinOl) to oxidative stress.

When retinol binding protein 4 (RBP4) - a ***cytokine ***secreted by fat cells - is up,

a glucose transporter protein called GLUT4 is down.

If Bb has rhodopsin, WE send in a binding protein which then protects Bb's rhodopsin by binding to it - rhodopsin-retinOl.

Berberine helps restore GLUT4 - glucose transport and lowers a retinOl binding protein.

Vitamin A as a fat soluable vitamin is STORED in fat cells.

Retinol is a diterpenoid ( antimicrobial and antiinflammatory) and an alcohol.

Retinyl ester derivative of the alcohol serves as

the storage form = retinyl acetate or retinyl palmitate of vitamin A in our fat cells.

Got that? We store vitamin A in fat cells as retinyl acetate or retinyl palmitate and call upon them to use as needed.

(The use of retinyl palmitate -storage form of Vitamin A - in sunscreens is currently being investigated…helpful or harmful? 2011…it might speed the formation of tumors when the sunscreen is applied to the skin in the presence of sunlight. The use of that form of vitamin A in sunscreens is being very hotly debated right now.)

(It would appear Bb prefers to use fats for "his" energy (ATP) rather than glucose!

Specifically, Bb uses NADPH to make his energy - ATP - and his cell walls. NADPH is used for the synthesis of fats…lipoprotein cell walls = fat + protein.

Bb has an enzyme that reduces NADPH to get at NADH which he uses to make his ATP. I linked in another post.

But in lyme, the infected, starving immune defense cells become resistant to insulin and then glucose can't go into the cells (insulin carries glucose into the cells) and the cells.

It is like the body is saying, "Hey, the infected cells don't need glucose, they need amino acids from proteins and fats because those nutrients are being depleted."

So glucose transport is severely curtailed.

In order for those cells to function, must rely on another fuel…from fats…making Bb one happy camper.)

If Bb is a photosynthetic bacteria and has bacterial rhodopsin (which I think he is and which I think he has and have linked elsewhere),

Bb's rhodopsin binds to retinOl – as a protective mechanism i.e., let retinOl take the oxidative free radical "hit" not rhodopsin? Bb's Rhodopsin is thus preserved.


Rhodopsins belong to the G-protein-coupled receptor family and are extremely sensitive to light, enabling vision in low-light conditions.

Light accelerates the depletion of retinoids i.e., it depletes rhodopsin...which Bb needs.

So...Bb likes to work in the dark, does "he"?

Instead of retinAl combined with opsin (= rhodopsin)…light breaks them apart. Now the light absorbing pigment is separate from the protein. Got that?

Red pigment + blue opsin = purple = rhodopsin is called "visual purple".

Color wise, "purple" rhodopsin does not ABSORB red and blue...it reflects them. It absorbs different colors i.e., green-blue.

Red and blue are additive primary colors (green is the other one).

To function, red-blue rhodopsin absorbs green-blue.

So, we know that rhodopsin is purplish.

(I am fighting hard with myself to not go into "colors" much deeper, but I see the connections because I've done a ton of research into color and light.)

Now the WFL has lots of eye rods so it can pick up any available light (sort of like having great night vision).

But eye CONES are responsible for COLOR vision…red, green and blue.

We humans have BOTH rods and cones - to see light and to see in color, but we have more cones than rods. Whereas, the WFL has lots of rods - to only pick up light.

So the WFL is thus likely color blind. Think of it as the difference between seeing a black and white picture instead of a colored picture. This maybe how the WFL sees things i.e., in black and white and shades of grey.

The opposite i.e., not being able to see at night, is called "night blindness'. Persons with that problem can't pick up any available light at all. Their eye rods are damaged. They can see color in the daytime though.

Night blindness comes from a DEFICIENCY of vitamin A.

Remember...vitamin A to retinAL...

RetinAl can reversibly convert to retinOl i.e.,

(retinAl to retinOL and

retinOl to retinal (via zinc)

So it is retinAl <-> retinOl.

or

RetinAL (PIGMENT) can be oxidized irreversibly to retinoic acid which cannot function as a vitamin in our eyes…not good.

Back to the Western Fence Lizard (esp. for newbies):

Cyan (blue) is the color of the chromophores (unique blue belly) of the WFL which hunts for food at NIGHT…has lots of eye rods in order to do so and has something in its blood that is capable of destroying Bb in the ticks feeding on that lizard during the night.

Ticks feed on that lizard all night. Those ticks are full of Bb. But when they are full and fall off, they are no longer infected.

Why this happens, researchers don't currently know.

Researchers think there is something in the blood of the lizard (they speculate it is an enzyme i.e., a protein) that does the job because when the lizard's blood is boiled, the protective enzyme/protein is destroyed.

I wonder if the protective enzyme is PDE6…if that enzyme cleaves (chops apart) rhodopsin into retinal + opsin because

activated PDE6 closes the cGMP gates…so long sodium, so long calcium (no more allowed in), so long glutamate ***release.*** And excess glutamate is very toxic…

toxic to Bb?

Sort of repeating for emphasis...

Rhodopsin in rods most strongly absorbs green-blue light and, therefore, appears reddish-purple, which is why it is also called "visual purple". It is responsible for monochromatic vision in the dark.

So even though rhodopsin LOOKS purple (red and blue), it is absorbing green and blue wavelengths.

Because the WFL has to see at night and looks to have monochomatic vision in the dark, the WFL must make / produce a lot of rhodopsin…

robbing Bb of the same nutrients it needs to survive i.e., retinAl (red pigment) and opsin (blue protein) = rhodopsin?

Does the WFL "steal" retinAL (pigment) and opsin (protein) = rhodopsin from Bb so "he" can't make rhodopsin

OR…

does the LIGHT the WFL "captures" (to see in the dark i.e. night vision), deplete Bb's rhodopsin?

Does the light energy (2 photons) oxidize retinOL leaving retinAL to be oxidized -> retinoic acid making "Vitamin A" unavailable to to Bb?

How does fat soluable vitamin A function in our bodies?

Vitamin A plays a role in a variety of functions throughout the body, such as:

Vision,

***gene transcription***,

immune function,

embryonic development and ***reproduction***,

bone metabolism,

haematopoiesis (the formation of blood cellular components),

skin and cellular health,

***antioxidant activity***

Does Bb use our "vitamin A", i.e., retinAl to make rhodopsin (= retinAl + opsin) which binds to retinOL to keep available light activated rhodopsin sheltered from oxidative stress?

MORE IMPORTANT: Does Bb, like us, need vitamin A, for gene transcription, reproduction, and antioxidant protection?

I think so. Furthermore, I think it may well be PDE6 (enzyme - protein) in the WFL that is capable of breaking apart Bb's "bacterial rhodopsin" -> his death and destruction.

Okay..great...so where do we get that enzyme? Would it be safe to take for us (vision wise)? Likely not or very dangerous for us vision wise.

Generally speaking, we like to find inhibitors of the PDE's. We don't want certain proteins chopped up.

So what to do?

Currently photon therapy (LIGHT energy transfer) looks to help. It maybe working in a way similar to how the WFL works...taking in a lot of light while it hunts at night to activate PDE6 -> closure of cGMP channels.

Okay...so you are not flowing in money and can't afford photon light treatments...what else might help?

Take a very close look at berberine...very.

It inhibits HMG CoA reductase (like statin drugs and Mg) and shuts down the "cholesterol pathway" that Bb uses to build his cell walls.

It restores glucose transport into the cells instead of fats (which Bb needs).

And...

Berberine sulfate is bacteriostatic

Berberine has been found to inhibit some biofilms (CWD - cell wall deficient- Bb hides out in biofilms in macrophages)

Berberine may have a synergetic effect with Rx's - unknown at this time, but speculated.

Berberine has a hypotensive effect, at least in part, via the inhibition of ACE and direct release of NO/cGMP in the vascular tissues (dilates blood vessels – lowering blood pressure).

Berberine lowers blood glucose levels

Berberine lowers LDL and triglycerides - the bad forms of cholesterol

Berberine is an adjunct in cancer treatments

Berberine is as effective as Rx's for late onset diabetes

Berberine exerts a minor anti-depressant action

Berberine is anti-bacterial, anti-protozoal, and anti-viral.

Berberine is antiinflammatory

Berberine lowers the retinOL binding protein 4 and up goes GLUT4...now glucose is allowed in the cells.

Berberine may inhibit the production of TNFa, MCP-1, and IL-6 in AcLDL stimulated macrophages

Berberine additional general info. here – including dosage

http://examine.com/supplements/Berberine/#summary2-0

PLEASE discuss this with your doctor! Do NOT take berberine without doing so.

P.S. I'd LOVE for researchers to get the blood from the WFL and boil it (we know already the boiled blood won't kill Bb) and then ADD back in transducin-PDE6 and see what happens.

---

Posts: 9403 | From Sunshine State | Registered: Mar 2001 | IP: Logged |

Catgirl
Frequent Contributor (5K+ posts)
Member # 31149


posted

---

Good stuff Marnie. I remember reading about the WFL when we lived in CA (ten years ago). I think UC Berkeley discovered it (can't remember).

You would think that CA would have less lyme. That's actually were I originally got lyme. But increasing population probably killed off a bunch of them. We hardly saw them at all at our last house.

--------------------
--Keep an open mind about everything. Also, remember to visit ACTIVISM (we can change things together).


---

Posts: 5418 | From earth | Registered: Mar 2011 | IP: Logged |

MichaelTampa
Frequent Contributor (1K+ posts)
Member # 24868


posted

---

Thanks for your recent posts Marnie. I'm following at least portions of them, and appreciate getting your point of view.

---

Posts: 1927 | From se usa | Registered: Mar 2010 | IP: Logged |

Marnie
Frequent Contributor (5K+ posts)
Member # 773


posted

---

Berberine sulfate or better yet...berberine chloride?

---

Posts: 9403 | From Sunshine State | Registered: Mar 2001 | IP: Logged |
Contact Us | LymeNet home page | Privacy Statement

Powered by UBB.classic™ 6.7.3

---
The Lyme Disease Network is a non-profit organization funded by individual donations. If you would like to support the Network and the LymeNet system of Web services, please send your donations to:
The Lyme Disease Network of New Jersey
907 Pebble Creek Court, Pennington, NJ 08534 USA
http://www.lymenet.org/
---
Home | Flash Discussion | Support Groups | On-Line Library
Legal Resources | Medical Abstracts | Newsletter | Books
Pictures | Site Search | Links | Help/Questions
About LymeNet | Contact Us
---
© 1993-2020 The Lyme Disease Network of New Jersey, Inc.
All Rights Reserved.
Use of the LymeNet Site is subject to Terms and Conditions.
---