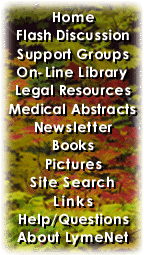 ---
LymeNet on Facebook
LymeNet on Twitter
---
---
The Lyme Disease Network receives a commission from Amazon.com for each purchase originating from this site.
When purchasing from Amazon.com, please
click here first.

Thank you.




Dedicated to the Bachmann Family


LymeNet needs your help:
LymeNet 2020 fund drive

The Lyme Disease Network is a non-profit organization funded by individual donations.

| | |
| --- | --- |
| | |
Author
Topic: Spiro? An herbal solution for lyme?

Nobody
LymeNet Contributor
Member # 16041


posted

---

Got this article from a friend. I don't know if its a cure, but the concept sounds promising. Anyway, the stuff is on backorder already.
(I have no personal interest in this company and have not tried the product myself).

Quoted article:

"At last! A life-changing solution for an "incurable" disease that attacks your entire body

When Maryland resident Marie C. started having eye problems, she chalked them up to irritation from a new soap. Then her problems got worse, exploding into extreme light-sensitivity and headaches. An MRI showed brain lesions. Fourteen different specialists and other doctors couldn't tell her why. Nobody could tell her what was wrong with her.

Meanwhile, her husband, Frederick, came to her and confessed that he'd been feeling depressed. This was out of character for the energetic truckdriver. When he revealed that he often would take his hands off the wheel, hoping the truck would roll over into a bank, Marie knew something had to be done.

Frederick was put on five different medications. Like his wife, Frederick received no answers as to the cause of his mysterious illness. He became reclusive, sleeping over 22 hours a day, and was nearly institutionalized.

Two years later, stricken with meningitis and encephalitis, Marie had all but given up. She started preparing for her own death, making sure the bills were paid and the freezer was full.

That's when two years of research started shedding some light on the trials she and her husband were going through. She made a few calls, and was put on a two-month waiting list for an appointment with a specialist for some very expensive testing for both of them.

The verdict in both cases? Lyme disease.

The scary thing? Marie firmly believes she caught Lyme disease from her husband, just as one might catch a cold or the flu. Frederick, ever the outdoorsy type, had found a tick on his calf right before Marie started having her eye problems. He'd pulled it off and gone back to work.

The memory of the incident had faded as quickly as the red bite mark. Marie, who works as a secretary and only spends a small amount of time on her porch outside, thinks it's highly unlikely that she was bitten by a tick herself.

She knows mainstream doctors would call her crazy, but in the years since her ordeal with the disease she's spoken to scores of families in which the mother, the father, and all the kids have Lyme disease. It's enough to make her think the Lyme disease epidemic is far more serious than conventional medicine would have us believe.

The rainforest formula that finally eradicates Lyme disease

HSI panelist Dr. Leslie Taylor shares Marie's sense of urgency when it comes to Lyme disease. Concerned that the disease has mutated to spread via casual contact, her search for a cure had become desperate. And her work paid off. This month, she's unveiling Spiro, a formula of six rainforest botanicals that targets Lyme disease at the source, the Borrelia burgdorferi bacterium that causes it.

This modern-day medicine woman, who spends her days trekking through the Amazon rainforest researching and documenting medicinal plants, had been searching for a cure for Lyme disease for five years. In her private practice in Austin, Texas, she'd seen "tons of patients" with Lyme disease and was desperate to find something that worked.

She thought she'd get lucky when she started her work in South America. In exploring the jungles and interviewing natives, Leslie has documented countless antimicrobial plants. But in lab testing, nothing worked on the insidious spiral-shaped bacterium that causes Lyme disease.

This got Leslie thinking. B. burgdorferi is different from most bacteria. It's not like Salmonella or E. coli. With its long, heavily coiled cells, it is in fact part of the same family of bacteria as Treponema pallidum, which causes syphilis. Natives of South America have been treating and curing syphilis with plants for generations. Syphilis becomes extremely difficult to stamp out as the infection progresses, but these plants do the job. Perhaps syphilis could provide a model for her research on Lyme disease, Leslie thought.

Sure enough, when she turned her attention to those plants that had been used to kill syphilis, she hit the jackpot. In vitro testing revealed that the components of Spiro attacked B. burgdorferi directly. Lyme disease could finally be addressed head-on, and without the side effects or contraindications that are risked with conventional treatment.

Leslie knew it was time to put the formula to the test. A hundred people, including quite a few HSI members, enrolled in a three-month study of Spiro. Participants had been diagnosed with Lyme disease within the five years leading up to the study, with the diagnosis confirmed in each case by one of four available tests.

Most of the people in the study were suffering from chronic Lyme disease-despite treatment, their disease had not gone away. Leslie believes this is because the bacteria become dormant, going into remission, and rear their heads again when the body is under stress. This brings the symptoms of Lyme disease back in full force.

Baseline symptoms (100 of them-Lyme attacks nearly every system of the body) were rated on a scale of 1-5. This rating was repeated every month for three months, during which time participants took Spiro two times a day.

As testing went on, more and more people saw their symptoms improve. Many patients called Leslie, urging her to launch the product. "It's changed my life," more than one exclaimed. Though retesting was not required at the end of the trial period (Lyme disease testing can be very expensive), 10 of the participants chose to be tested. All 10 tested negative.

Leslie has not finished compiling all of the data from the study, so we don't have any concrete numbers yet. But the preliminary response was so strong that she felt she had to get Spiro into people's hands as soon as possible.

Eliminate bacteria with six previously unknown powerhouse plants

The six plants that make up Spiro have been used to combat a variety of illnesses through the ages, and are particularly known for their antibacterial properties. Before starting her research on Lyme disease, Leslie Taylor had never heard of these plants. Now she has them grown and harvested especially for her.

Matico (Piper aduncum, angustifolium), an evergreen shrubby tree, is used by many Indian tribes of the Amazon as an antiseptic wound healer. Known as a "cure all" in Peru, it speeds healing and prevents infections. According to various laboratory studies, chemicals found in the leaves are toxic to bacteria, including the one that causes Lyme disease. Matico is also used for digestive problems and venereal diseases.

The tamamuri (Brosimum acutifolium) is a large canopy tree of the Amazon rainforest. The Wayăpi Indians of Guyana attribute magical properties to the tree, believing that the latex it produces will help protect them from witchcraft. Both the bark and the latex are very common remedies for syphilis, and the balm from this tree is also well-respected as a treatment for arthritis. In laboratory studies, it has shown antibacterial action.

A second canopy tree shows up in the blend-the huacapu (Minquartia guianensis). Commonly uses as foundation house poles, this is one of the most durable, heaviest, and hardest tropical woods. In a 1996 study, an extract of the bark demonstrated antibacterial activity against two antibiotic-resistant strains of Staphylococcus.

Called "false garlic" for the flavor of its crushed leaves, ajos sacha (Mansoa alliacea) is a shrubby vine native to the Amazon rainforest. The plant is considered spiritual and is used for good luck. The leaves and flowers contain the known antibacterial plant steroids beta sitosterol, stigmasterol, daucosterol, and fucosterol.

The bark and latex of bellaco-caspi (Himatanthus succuba) have a long history of use among Amazonian Indians. The bark is powdered and sprinkled onto wounds and sores. The latex is rubbed on bot-fly bites to kill the larvae under the skin. Studies have shown that the plant contains two antibacterial chemicals, and researchers in Brazil determined that the latex showed pain relieving ability in laboratory animals.

Rounding out the formula is chanca piedra (Phyllanthus niruri), a small herb called "stone breaker" for its ability to eliminate kidney stones. Leslie included this component because of its clinically proven liver protective properties. In chronic Lyme disease, B. burgdorferi can collect in the liver, lying dormant until the body is under enough stress to ensure a successful attack. Chanca piedra helps to detoxify and strengthen the liver as the rest of the formula goes to war against the infection.

On their own and in combination as Spiro, these plants are free of side-effects. Spiro should be taken twice a day on an empty stomach.

MSD
Spiro. Raintree Nutrition, Inc., www.rain-tree.com. Ph (800)780-5902 or (775)841-4142. Concentrated liquid extract sold in 4 oz bottles for US$29.95.
"

---

Posts: 111 | From Nowhere | Registered: Jun 2008 | IP: Logged |

Keebler
Honored Contributor (25K+ posts)
Member # 12673


posted

---

-

This sounds promising.


Rain-Tree is a well respected company with a great record of protecting the environment regarding herb harvest - and being fair trade to those who grow, tend and harvest plants. That matters a great deal in regards to the quality of the product.


-

You wrote: " . . .Rounding out the formula is chanca piedra (Phyllanthus niruri), a small herb called "stone breaker" for its ability to eliminate kidney stones. Leslie included this component because of its clinically proven liver protective properties . . . ."

--

I know from reading one of the articles on the site that stonebreaker has also been used for babesia. One of the citations had that in the title.

-

You can look up each one of the ingredients and see many research articles and look at the citations for each, too.


-

---

Posts: 48021 | From Tree House | Registered: Jul 2007 | IP: Logged |

Keebler
Honored Contributor (25K+ posts)
Member # 12673


posted

---

-

While I think the Rain-Tree Spiro may be very good . . .

For anyone new to all this and considering alternative methods, I find it's helpful to read first the ILADS guidelines - www.ilads.org

then, each of these books below offers something unique. It's good to have the collective knowledge and overview from a variety of respected sources. I also count the author with Rain-Tree among those


This book, by an ILADS member LLMD, hold great information about pharmaceutical and complementary treatments:


http://tinyurl.com/6lq3pb (through Amazon)

THE LYME DISEASE SOLUTION (2008)

- by Kenneth B. *S , MD; James A. Duke. Ph.D. (Foreword)

You can read more about it here and see customer reviews.

=================================


http://tinyurl.com/5vnsjg

Healing Lyme: Natural Healing And Prevention of Lyme Borreliosis And Its Coinfections - by Stephen Harrod Buhner

www.gaianstudies.org/lyme-updates.htm


Note: there are a few changes from the book that can be found on the web site as this protocol evolves, notably the addition of CRYPTOLEPIS.


==================================
http://tinyurl.com/5drx94

Lyme Disease and Modern Chinese Medicine - by Dr. QingCai Zhang, MD & Yale Zhang

you can access his web site through www.hepapro.com or try www.sinomedresearch.org and use "clinic" and then "clinic" for the passwords or call Hepapro.

**Removed Lyme Dr Name per Lymenet rules**

---

[ 06-18-2012, 12:37 AM: Message edited by: Dogsandcats ]

---

Posts: 48021 | From Tree House | Registered: Jul 2007 | IP: Logged |

Angelica
Unregistered



posted

---

I am taking "break stone' at the moment for my gall blamer and that is not a typo. Being an original thinker I have extra body parts.

---

IP: Logged |

Al
LymeNet Contributor
Member # 9420


posted

---

Forgive me if I'm skeptical but I've tried many
products over 14 years claiming to have a cure
only to find out the product did not hold up to the claims made.

Today I have a policy that the co. send me their product for 3 months or the time they claim to get well ,(FREE). If the product works I will send them 2 times the cost; If it fails there is no charge.The money will be put in escrow at the start, (A trust account).
Guess what "No takers"

Yet they ask you to trust them and buy their product.

What if your symptoms are from a co infection
and their product works for lyme but you are still very sick??

---

Posts: 789 | From CT, | Registered: Jun 2006 | IP: Logged |

Keebler
Honored Contributor (25K+ posts)
Member # 12673


posted

---

-


It is important to have a doctor guide treatment but many don't have that luxury.

It's a very good point about coinfections, etc. Education certainly is on-going.


-

---

Posts: 48021 | From Tree House | Registered: Jul 2007 | IP: Logged |

catalysT
LymeNet Contributor
Member # 10786


posted

---

Could be useful. But I won't be taking it. I don't do alcoholic tinctures. I hate alcohol. Half of the time, the doses you need to take of these tinctures for lyme, you end up consuming the equivalent of a few beers in a day! Maybe if they made a glycerin extract or powder I'd try it though.

--------------------
"You know, the worst, meanest, nastiest, ticks in the world are politicks," - Steve Nostrum


---

Posts: 242 | From South NJ | Registered: Dec 2006 | IP: Logged |

seibertneurolyme
Frequent Contributor (5K+ posts)
Member # 6416


posted

---

Hubby is using an alcohol based tincture of chanca piedra or breakstone herb. The manufacturer is Whole World Botanicals and it is labeled as Royal Breakstone Kidney Support.

Started this a couple of weeks ago when he increased Alinia and started having severe babesia attacks. His Bilirubin has been elevated and although he does not have gallstones per ultrasound I was concerned about biliary sludge.

Anyway, it is hard to say if this herb is helping or not as I added a lot of new things at the same time. His herbalist was on vaction and I was at the point of doing anything and everything to avoid the ER.

Symptoms have improved somewhat and now attacks are only every 3 days or so.

Have worked up to 12 drops of the tincture 1 or 2 times daily. Also added in Quina tincture from NutrMedix later -- up to 5 drops 2 times a day on that.

Hubby also has a kidney stone that has not changed in over 3 years so I thought the herb might help with that as well.

Nobody -- Thanks for posting. This is something I will definitely research further. Not familiar with any of the other herbs listed.

Bea Seibert

---

Posts: 7306 | From Martinsville,VA,USA | Registered: Oct 2004 | IP: Logged |

jellybean
Member
Member # 16575


posted

---

my nutritionist recommended chanca piedra tea for my gallstones that took me to the emergency room last week. I got the stuff from whole world botanicals too. She said no more than 2 cups of tea per day so they don't dissolve too quickly. She told me this stuff will work and she's pretty brilliant so I'm trusting her.

As long as I don't eat hardly any fat, my gall bladder doesn't hurt.

My doctor also had me on chanca piedra capsules from rain-tree.com for a long time a year or 3 ago for lyme.

Now that I'm back on chanca piedra tea (aka royal break stone tea), I'm getting my lyme headaches back so I'm really wondering if it is attacking my lyme.

---

Posts: 57 | From oregon | Registered: Jul 2008 | IP: Logged |

seibertneurolyme
Frequent Contributor (5K+ posts)
Member # 6416


posted

---

Sometimes it is interesting to go back and read what I posted years ago. I had forgotten that hubby had much of a reaction to alinia when he tried that for babesia 4 years ago.

He did not stay on the chanca piedra tincture all that long as I remember it. But I did try much higher doses of powder which I made into capsules at one point -- did not seem to do much of anything that I could tell.

The spiro is still on my list of things that I have not tried. But I can't recall any glowing accounts about that particular supplement.

Bea Seibert

---

Posts: 7306 | From Martinsville,VA,USA | Registered: Oct 2004 | IP: Logged |

momindeep
Frequent Contributor (1K+ posts)
Member # 7618


posted

---

I will give you a glowing account of Spiro...it is one of the things that turned my daughter around...she energy tested for it and used/uses it in conjunction with other things.

I cannot say enought about it...but also stress that she did it along with other things that are/were necessary to her particular make-up...under the care of a LLMD LLNP etc...

---

Posts: 1512 | From Glenwood City WI | Registered: Jul 2005 | IP: Logged |
Contact Us | LymeNet home page | Privacy Statement

Powered by UBB.classic™ 6.7.3

---
The Lyme Disease Network is a non-profit organization funded by individual donations. If you would like to support the Network and the LymeNet system of Web services, please send your donations to:
The Lyme Disease Network of New Jersey
907 Pebble Creek Court, Pennington, NJ 08534 USA
http://www.lymenet.org/
---
Home | Flash Discussion | Support Groups | On-Line Library
Legal Resources | Medical Abstracts | Newsletter | Books
Pictures | Site Search | Links | Help/Questions
About LymeNet | Contact Us
---
© 1993-2020 The Lyme Disease Network of New Jersey, Inc.
All Rights Reserved.
Use of the LymeNet Site is subject to Terms and Conditions.
---