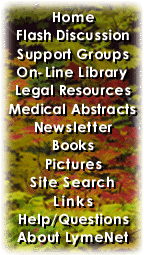 ---
LymeNet on Facebook
LymeNet on Twitter
---
---
The Lyme Disease Network receives a commission from Amazon.com for each purchase originating from this site.
When purchasing from Amazon.com, please
click here first.

Thank you.




Dedicated to the Bachmann Family


LymeNet needs your help:
LymeNet 2020 fund drive

The Lyme Disease Network is a non-profit organization funded by individual donations.

| | |
| --- | --- |
| | |
Author
Topic: Kidneys and lungs now. Please as predictor for death

HK
LymeNet Contributor
Member # 45290


posted

---

This may be scrambled, but I am dealing with extreme fatigue and memory loss right now, so as long as it's even somewhat readable, it will be a success.

Yes, the fog is way worse than when I was treated for lyme.

For those who already know my history please skip and see below.

Brief history- Was sick for 3 years w lyme and co. Recovery wasnt 100% at the end, but with opiod drugs I felt like it was. And that was good enough for me after the hell I endured.

I have been feeling Ill for a little over a yr now, after 6 years of feeling pretty great.

Have a positive ana (not anca) which could be caused by leftover lyme particles of course... but no diagnosis yet of which ana.

Mind you, besides brain fog and fatigue, I had NOT ONE of these sx symptoms with lyme n co.

Vascular/heart sx began last march followed by severe liver pain, extreme burning dry eyes, inability to properly tolerate medications, rashes. Then severe back pain, and what def felt like mini strokes and heart attacks. Missing some sx I'm sure, but those are the significant ones

Findings - liver lesion
Lesions in pelvis
Dry eyes, very painful, n infections. I used to keep my contacts in for months at a time w no issue and now i can barely keep my contacts in for the day. They constantly burn. Some Loss of night vision. Astigmatism in both Eyes, one a few months earlier.

- tachcardia heart is always above 100. Arrhythmia (they say sinus) something wrong w left side (forget)
-nail changes
-vascular things such as livedo riticularis and hundreds of veins (I'm 29 aND a yr ago didn't even have one)
These symptoms all seem to come and go. I will feel fine for a few weeks, then like death for a couple.


See below NEW


Okay so here are my symptoms and untold diagnosis in the last 2 weeks. I'll try and write it so it's not all scattered but please bare with me. Also I visit to different hospitals and different doctors due to judgment n what do not so none of the rude, nasty, and ignorant er docs put anything together. Nor would they if they could. Ugh sooo mad.

Trouble breathing (I have NEVER EVER had any type of lung/breathing issue and then suddenly I just couldn't breathe. And couldn't believe it either! Air hunger? No. Totally different feeling. Went to hosp that night due to that, syncope feeling, fatigue, severe back pain, bad heart arrhythmias, and abnormAL urine analysis performed earlier by urgent care

Found bronchiesctas (incurable lung disease)
Found partially collapsed lung
Found a 0.3cm nodule.

What? !

I'm now on augmentin for pharyngitis too, but am scared as like I said I have developed allergies to so many meds. N not talking just a rash and flu feeling.

My mouth swells and burns, I get severe chills, fever, n syncope like fatigue. (Also doc didn't even tell me about lung findings, only said I have a very slight uti... which I think he made up.

And now the most worrisome. Only because the breathing difficulties come and go throughout the day. this i feel may be the death of me very soon. And nobody knows. Or cares. BECAUSE EVERYTHING IS LYME TO EVERYBODY. THESE DOCS. MY MOM. Everyone. OH YOUR LEG WAS SEVERED AFTER THAT BUS RAN YOU OVER? I KNOW ! DON'T WORRY. IT'S ONLY LYME! UGH


OK so
I've been having a lot of kidney sx these last few months. But I had bouts of it so wasn't concerned. bad mid back pain which migrates to sides sometimes and dometimes only on one side

Fever/fluish feels after eating and taking ANY medication. Extreme fatigue. CONFUSION. I can do nothing but stare at my phone. If you were to tell me something I'd forget it in 30 Seconds.

So I pulled out old lab work and found that from last Aug til now my gfr has dropped steadily,and VERY RAPIDLY.

Gfr went from 165 to now 99 in just 9 months !

Of course i researched this, and all med web professionals explain a drop of even 5 points gfr in 1 year in a non kidney patient is cause for a dr visit. Mine had dropped over 66 points in less than a year ! 40% of my kidney function gone. Just like that.

Plus protein, keytones, nitrates rbcs, wbc all in pretty high Amounts in urine.

They did u/s n said nothing... but that would only show if there was some sort of obstruction or in esrd patients anyway. Ugh.

All of my organs are failing one by one. And nobody helps. I've been to every hospital 3 times in the state also and because I stupidly told them I had lyme (so they knew why I was immunocompromised) they all think I'm an anxious hypochondriac. I am not. I am just very ill and their ignorance is killing me.

So thanks in advance. Any advice is greatly appreciated. I don't know where to turn. Or where to start. I did however call 3 pulmonogists on Friday n all were unreachable besides one. The appt isnt for another month tho. Which is not fine. I really can't breathe.

Thanks guys

--------------------
Back At It


---

Posts: 203 | From NJ | Registered: Feb 2015 | IP: Logged |

Jordana
Frequent Contributor (1K+ posts)
Member # 45305


posted

---

Okay...

. Hi.

It's not that bad. It's manageable.

What you're having right now is an exacerbation of the bronchiecstasis, which is probably horrifying. However with antibiotics -- actually even without them, they clear up. If you are having trouble breathing that's unmanageable, go to the hospital and get help. Hospitals suck but they will help you breathe.

It's not wonderful. It will not kill you tomorrow, either. You can work on pulmonary function, do pulmonary therapy at home, etc.

Many people have liver lesions that are not symptomatic. you know, the healthy controls have them. They are not wonderful either but they, as well, will not kill you right away, or actually at all. But it would be good to figure out why.

My kidney function went down horrendously this year too. No one mentioned it to me until I checked it.

Your organs aren't in the best shape obviously but they are not failing -- 99 GFR is actually not bad at all. You've got a ton of kidney function left but it would be a good idea to see a specialist so he can tell you what to do to protect it.

One reason doctors don't like to do a lot of "unnecessary"investigation is because they always find something. I found out all kinds of things about my body I would have been better off not knowing this year since there's nothing I can really do about any of it anyway.

The fact that you now have some lung remodeling is terrible and I'm sure the anxiety of all this other news is unbearable at the moment. I'm quite sure having a collapsed lung is torture. But what happened is that you got an infection that went crazy because you're slightly immunosuppressed. The abx should take care of it.

It is not a death sentence. It's not. It's just a lot of bad news at once. OK?

Also - if you can not tolerate the augmentin go back there with your collapsed lung (!) and get them to find you something you can tolerate. They have sequestered drugs they don't use every day and they also have people there whose job it is to figure out which one to give you.

[ 05-21-2016, 10:57 PM: Message edited by: Jordana ]

---

Posts: 2057 | From Florida | Registered: Feb 2015 | IP: Logged |

tulips
LymeNet Contributor
Member # 44773


posted

---

Good advice. And once you've handled the emergency stuff, if you can't find an LLMD to handle the rest, maybe you should consider trying out the Buhner protocols in "Healing Lyme." For example, Cat's Claw crosses the blood/brain barrier as does Andrographis. Both herbs kill the spirochettes in the brain and fight Lyme Borrelia.

I think a really ill person has trouble taking as much stuff as is recommended in the Buhner books but maybe you can select the principal ones and take at least one a day. When I was really sick and decided to start fixing myself, I only took one Cat's Claw a day in the beginning

because I was too weak to tolerate very much but Cat's Claw brought me along.

---

Posts: 653 | From Northern Virginia | Registered: Oct 2014 | IP: Logged |

Winter Park
Member
Member # 41655


posted

---

I improved my eGFR by changing diet. Too much chocolate and nuts and beans. Chocolate was probably the main culprit. eGFR went up 25 points in 4 weeks when I tweaked my diet and heart rate went down 20 beats a minute.

---

Posts: 30 | From Winter Park Florida | Registered: Aug 2013 | IP: Logged |

bluelyme
Frequent Contributor (1K+ posts)
Member # 47170


posted

---

Sounds like possible small vessel vasculitis and other inflammation .do you have cpn or mycoplasma infections?...something invaded the lining of blood vessels...i too have gone through horrendous changes in the last year...i did find a protozoan infection in my blood ..how is your iron?...

--------------------
Blue


---

Posts: 1538 | From southwest | Registered: Dec 2015 | IP: Logged |

HK
LymeNet Contributor
Member # 45290


posted

---

Thanks friends. Sorry it takes so long to respond but im not functioning in any way. I feel like alice in OZ. Just so sick, broken spirited, angry, sick, disappointed, neglected, tired. Oh did I mention sick.

Jordana. Hiii (: I don't know you, but i see your posts and adore you. I can tell you have a beautiful soul.

I wish i could hug all of you for even responding as my symptoms are depressing and hard to help. Thanks so much for your input. I will explain more below.

I have 0 strength but am giving this one more go. To live. I will fight my damned hardest too. Life is too precious. When you're living that is.

I can't tolerate most meds now. I get syncope like reaction almost immediately after swallowing, and my mouth and lips burn. Zith is the only one I seen to be okay with.

My gfr is fine, yes, bUT is dropping 10 points every month in the last 3 months. Of course the protein, and pain too.

Also the lungs I've never so much as wheezed in my life, and now I have 3 very serious lung conditions pop out very suddenly. It started with a very strange dry cough that lasted 3 to 4 months.

I say strange bc it was. indescribable. It was just an extremely weird cough. Wasn't bothersome though, but i did seek help anyway. No help found. And then this cough progressed to trouble breathing pretty much overnight and now more of a wet cough n not coughing as often. The breathing problem along with other sx only seem to be getting worse too.

What I think is wrong: miliary tb, progessive glomerulonephritis, and lupus aND other auto immune diseases. This is after much research with a brilliant friend of mine.

--------------------
Back At It


---

Posts: 203 | From NJ | Registered: Feb 2015 | IP: Logged |

HK
LymeNet Contributor
Member # 45290


posted

---

Also the nrbc cells. Not good.

But here is what is.

I had an echocardiogram performed Friday and am waiting for results. Stress test sometime next month, I hope.

I have an appointment w a pulmonogist wed, an appointment with my lyme specialist Thursday and a referral for a nephrologist. Hopefully I'll find some answers soon (:

--------------------
Back At It


---

Posts: 203 | From NJ | Registered: Feb 2015 | IP: Logged |

HK
LymeNet Contributor
Member # 45290


posted

---

My iron levels were good last time I had them checked back in august(:

Thanks. I need help asking for what to be tested for. N yes def believe I have small vessel vasculitis but no diagnosis. Of course

--------------------
Back At It


---

Posts: 203 | From NJ | Registered: Feb 2015 | IP: Logged |

HK
LymeNet Contributor
Member # 45290


posted

---

Also @ jordana. Again your the sweetest. I was actually in the hospital (this was back in feb) for chest aND severe back pain along with extreme fatigue and dizzyness. The doc did a cat scan and told me nothing about my lung conditions. NOTHING. I saw the paperwork at home, bUT since my breathing at that time was fine I didn't even research exactly what the 3 diagnoses were and forgot about it since there was so many other health problems going on.

Augmentin was prescribed for pharyngitis

--------------------
Back At It


---

Posts: 203 | From NJ | Registered: Feb 2015 | IP: Logged |

Jordana
Frequent Contributor (1K+ posts)
Member # 45305


posted

---

I had this happen with my adrenal gland. When I got a scan for my gallbladder, there was a part of the report that talked about an "adrenal adenoma."

If i had never read the report no one would have ever followed up or notified me that my adrenal gland was growing a Thing.

back then, eight months ago now, I had "Lyme" in the back of my head but not in the front, and so I went to see some endocrinologist who charged my insurance 500 dollars and told me to make an appointment to follow up in three months.

Which I did not, because by then I figured out my problem was not at all an adrenal adenoma. I figured out that Lyme was unstitching my body one thread at a time.

Also, I had read Amy Tan's Lyme story a couple of times. I don't know if you read this but she also had an adrenal adenoma and got it cut out to no avail because she really had Lyme.

Somewhere I read that in Lyme dx there is always some weird red herring. But I think that's partially because we have all this powerful imaging equipment that brings our bodily flaws out in the light of day but that doesn't necessarily mean they're a problem.

My GFR is now 70 btw. Because Lyme attacked my kidneys last year and no doctor thought this was a problem. They think my kidneys are fine because the GFR is above 60. So I'm not in renal failure. So why bring it up.

We all have stuff wrong with us that's really disquieting. The regular population hasn't had all these tests done so they just don't know the half of what's really going on with themselves.

Seems like your problem at the moment is a really bad lung infection, which is going to get better. And...maybe - your Lyme/etc...seems like it wants to go another round with you. Dr. R Seattle says the second time is never as bad as the first time. You got this.

---

Posts: 2057 | From Florida | Registered: Feb 2015 | IP: Logged |

HK
LymeNet Contributor
Member # 45290


posted

---

Thank you for your comforting informative reply jordana !(: made me feel a lot better.

What about the nrbc cells that keep coming up in my bloodwork? Are you familiar with this at all?

Idk I began dating a guy from the military which is when i became ill. I know he was sick (claimed to have a heart condition but idk, we only dated for a month n then poof he disappeared) Began taking adderall to counter the weakness n sickness bUT didn't work. I've been tested for hiv twice which was negative since him, but thinking tb now.

Then I had taken 120 tylenol pm within 2 days after a bout of suicidal feelings. Became even more Ill about a month later.

Idk if that caused my body to slowly shut down or if it's lyme coming back fulll force. It's just I know lyme and this doesn't feel like it.

--------------------
Back At It


---

Posts: 203 | From NJ | Registered: Feb 2015 | IP: Logged |

Jordana
Frequent Contributor (1K+ posts)
Member # 45305


posted

---

Immature rbcs show up in different kinds of anemia -- and in babesia/malaria.

The HIV test is nearly, really nearly -100 percent accurate - especially if you've taken it twice.

You can go to Walgreen's or any other "minute clinic" and get a TB test.

The only thing that would have happened with those tylenols is liver damage which can heal over and probably is. As long as your lft's are relatively ok, you're probably okay there.

I don't know the answer but if it were me... I'd be thinking Lyme and co.

---

Posts: 2057 | From Florida | Registered: Feb 2015 | IP: Logged |

randibear
Honored Contributor (10K+ posts)
Member # 11290


posted

---

I have fatty liver disease. plus several large umm I think they call them liver cysts. they told me not to worry about them.

--------------------
do not look back when the only course is forward


---

Posts: 12262 | From texas | Registered: Mar 2007 | IP: Logged |

yancync
Member
Member # 46999


posted

---

Sorry to hear you are struggling. The dry cough comes with babesia and I can't remember if it's with mycoplasma too.

Also I recently learned of histoplasmosis which there is an accurate test for. It's my understanding it's spread by bats and can cause lung lesions.

--------------------
Parent of teen with late stage Lyme, mycoplasma, bartonella and babesia. Dx Nov '15, in remission early to mid '18.

Started site for parents looking for Lyme/tick info: www.ParentsofLymeKids.com


---

Posts: 33 | From Northern VA | Registered: Nov 2015 | IP: Logged |

HK
LymeNet Contributor
Member # 45290


posted

---

Ok so the pulmonogist I saw yest was awesome. There is major scarring all over my lungs (I saw the picture myself) He took an xray (like the 12th one I've had in the past 12 mos) and I woke up with a bad wheeze/crackling in my back and cheat area and a wet cough with the usual breathing problems.

But the crackling is new so I just called the office to see if he woold prescribe promethazine or something similar to help, but he can't without seeing me and wanted me to go to straight to the er where he would meet me.

I declined as I'm weak and of course despise the er bUT told the receptionist I would if it got worse.

Without me saying a word other than mentioning I'm also having problems w my kidney problems, he said just by xray n ct pretty much, it looks like lupus or collagen vascular disease. Now he's the third doc to mention this.

Saw my affordable lyme specialist today, who I despise since he doesn't talk, isn't thorough, and the appt lasts about 5 minutes.

Showed him my positive speckled ana and nrbc cells along with very serious kidney and lung malfunctions.

All he said was it's lyme (made my mother believe everything was fine and now she believes him so there goes my help n support from her) n since ana was 140 (borderline but positive) that it wasn't autoimmune.

It is ! 1t clearly states on my result positive. Speckled also indicates lupus. Plus when sx started I had EVERY sx. Bad Mouth ulcers, bloodshot eyes, chest rash and others.

Anyway the pulmo ran tb, ana, lupus specific ana, lyme test (which will be the fourth negative one I have this year) and other tests. He promises he's going to figure this out

What do you guys think?

--------------------
Back At It


---

Posts: 203 | From NJ | Registered: Feb 2015 | IP: Logged |

HK
LymeNet Contributor
Member # 45290


posted

---

Thanks randibear (:

Hey jordana. Nrbc cells only show up in hemolytic anemia I believe

--------------------
Back At It


---

Posts: 203 | From NJ | Registered: Feb 2015 | IP: Logged |

bluelyme
Frequent Contributor (1K+ posts)
Member # 47170


posted

---

Military guy coulda had mycoplasma fermjntans incognitus. ...idk ..praying for you hk

--------------------
Blue


---

Posts: 1538 | From southwest | Registered: Dec 2015 | IP: Logged |

Lymetoo
Moderator
Member # 743


posted

---

It also sounds like Sjogren's is a possibility. It can cause trouble with lungs and kidneys. It's very similar to Lupus.

--------------------
--Lymetutu--
Opinions, not medical advice!


---

Posts: 95670 | From Texas | Registered: Feb 2001 | IP: Logged |

Catgirl
Frequent Contributor (5K+ posts)
Member # 31149


posted

---

Maybe it's me, but I think lupus is lyme, babs, mold and more (co infections). I think your lyme doc is right.

What does your lyme doc say about your collapsed lung? Is it from bronchitis and coughing so much? Whenever you can't breathe, just go to the ER. Who cares what they think (just ignore their ignorance, at least they can check your lungs and help you breathe).

It really does sound like your symptoms are from lyme and company though. what about a new lyme doc?

--------------------
--Keep an open mind about everything. Also, remember to visit ACTIVISM (we can change things together).


---

Posts: 5418 | From earth | Registered: Mar 2011 | IP: Logged |
Contact Us | LymeNet home page | Privacy Statement

Powered by UBB.classic™ 6.7.3

---
The Lyme Disease Network is a non-profit organization funded by individual donations. If you would like to support the Network and the LymeNet system of Web services, please send your donations to:
The Lyme Disease Network of New Jersey
907 Pebble Creek Court, Pennington, NJ 08534 USA
http://www.lymenet.org/
---
Home | Flash Discussion | Support Groups | On-Line Library
Legal Resources | Medical Abstracts | Newsletter | Books
Pictures | Site Search | Links | Help/Questions
About LymeNet | Contact Us
---
© 1993-2020 The Lyme Disease Network of New Jersey, Inc.
All Rights Reserved.
Use of the LymeNet Site is subject to Terms and Conditions.
---